College Basketball Nation:

Eric Hayes
October, 20, 2010
10/20/10
3:00
PM ET
Each Wednesday, your humble college basketball hoops blogger (er, me) will respond to your questions, comments and nonsensical rants in this space. To submit,
visit this page
by clicking the link under my name in the upper right-hand corner of the page. You can also
email me
or send me your entries
via Twitter
. Let's begin with a couple of video responses about the worst team in the NCAA and how much Kansas needs freshman point guard
Josh Selby
:
Julie Haeussler from Bartlett, Ill. writes
: Thanks for
not totally counting Purdue out
. In fact, I kind of wish you were a little more pessimistic. I believe the more the media counts Purdue down and out the the more Purdue has to prove and will prove in a big way. After Robbie's injury last February everyone counted Purdue out and we proved we belonged with or without Robbie on the floor. We still have two top players and as you said a little depth. Matt Painter is an excellent coach and you can look for Purdue to be a title contender.
Eamonn Brennan
: Hey, no problem! And also, um, sorry? I will say this: It's good to see Purdue fans keeping the faith. If something similar happened to my favorite college hoops team, I would be locked in my room listening to Joy Division and posting miserable, depressing things on my Facebook wall.
As for your other assertions, though, I'm not sure the media's reaction will matter all that much. Purdue will have something to prove this season one way or another. Intangible stuff aside, the Boilers are still an awfully good team with or without Hummel, and given the timing of the injury, they'll have time to figure out their style without the star forward in the lineup. That's the good news. Unfortunately, I have to disagree with your last sentence: Without Hummel, Purdue is unlikely to remain a national title contender. They'll be a top 15 team, and they will make a run at the Big Ten title, but it's hard to imagine them retaining that elite, top-three status they would have had with Hummel in the fray. (And hey, there's some pessimism for you, Julie. I hope my work here is done.)
---
Ryan from Dayton, Ohio writes
: Eamonn, what are your predictions on the
Dayton Flyers
for this year?
Brennan
: The Flyers have an extremely interesting returners/departures dynamic happening this season. They return their most talented players:
Chris Wright
, who might be the favorite for A-10 player of the year honors this year, eschewed an NBA jump to return for his senior season.
Chris Johnson
, the team's second leading scorer in 2009-10, took a big step forward last year. And
Paul Williams
, the team's best defender, is still around. But Dayton also lost five seniors from last year's NIT-title team, and while that sort of core attrition can be hard to quantify, it can also be hard to overcome. (For example: Does Dayton man up and streak to an NIT bid if those five seniors aren't around? Maybe, but maybe not.)
Fortunately, there's a pretty great recruiting class arriving this season. That class includes one player ranked in the ESPNU 100, point guard
Juwan Staten
, the
No. 12-ranked player at his position in 2010
. That's a big addition as Staten could start immediately. How he plays, and how coach Brian Gregory incorporates the rest of his young guys around the talented mainstays will be the difference between another NIT season and a top-two finish in the Atlantic-10 and NCAA tourney berth. In other words, I don't know! Like I said, it's a strange dynamic. But if I had to lay a bet, I'd say Dayton makes the tournament. There's still an awful lot of talent there.
---
Jeff from Venice, Calif. writes
: Maryland has three returning seniors and two returning starters. Why are they getting no love from the pollsters?It seems to be all about recruiting stars, not actual performance. The Terps tied for the ACC championship with Duke. Shouldn't they start in the top 20?
Brennan
: I'd say I'm more bullish on the Terrapins than many.
Jordan Williams
is becoming a legit big man,
Sean Mosley
is an efficient scorer and a very good perimeter defender,
James Padgett
could take a big sophomore leap, and the three seniors you mention (
Adrian Bowie
,
Cliff Tucker
, and
Dino Gregory
) are all solid contributors with a variety of individual skills on offer. The Terrapins aren't without talent, and in a down ACC, they could make some noise.
But top 20? To start the year? Come on. Any team that loses three seniors is going to take a preseason rankings dive. That goes double when those seniors are Greivous Vasquez (the ACC player of the year), Landon Milbourne, and Eric Hayes (one of the more underrated and efficient scorers in the country last season). The Terps have some reasons for optimism, and Williams is a solid centerpiece to build around, but the 2010-11 Terps are going to have to earn their way out of the ACC's muddled lower half. Top 20? Simmer.
---
Micah P. from Charlotte, N.C. writes
: Now that the Tarheels have kicked Will Graves off the team they have gotten even younger! Do you think that Roy and the boys have still have a shot at winning the ACC this year over Duke?
Brennan
: Another question, another bit of overzealous wishful (I assume it's wishful, anyway) thinking in the ACC. Sure, if there's any team that can hang with Duke in the conference this year, it's North Carolina; the Tar Heels are extremely talented. But that "if" is exactly as big as the gap between Duke and the rest of the conference, even with all that talent at UNC.
---
Scott from Eugene writes
: With Tre'von Willis looking like he is only going to miss one regular season game, and some intriguing new pieces like Karam Mashour and
Quintrell Thomas
, is UNLV a legitimate top 25 team?
Brennan
: I think so. The main thing holding most from placing UNLV in that group this offseason was
Tre'Von Willis
's domestic abuse-related drama. Since those issues in June, Willis has entered a no-contest plea to a misdemeanor charge and has been ever-so-gingerly suspended for three games -- two of which will apparently be exhibitions -- by UNLV coach Lon Kruger. Willis could be suspended for longer than three games if he doesn't meet Kruger's expectations, but it's hard to imagine the head coach keeping his star player out for too long. (I would find myself somewhat queasy about all this were I a UNLV fan; suspending a player for two exhibition games seems less like a punishment than a knowing wink in the direction of propriety.)
Of course, there's
also Willis' minor offseason knee surgery to contend with
, which forced him to the sidelines for a practice last Friday. But yes: UNLV returns all five starters from a team that made the NCAA tournament last year, and given what we now know about Willis' senior season with the team, that alone is enough for me to consider them among the top 25 fray.
---
Mark from Boulder, Colo. writes
: What are Michigan State's chances of going to the Final Four again? They are returning a number of key players, but have an panoply of injuries (Lucas, Lucious, Bryd, etc.).
Brennan
: First off, Mark, extra credit for working "panoply" into a Hoopsbag question. Gold star.
Second, yes, Michigan State will have to deal with their share of injuries, but I'm not all that concerned. Tom Izzo is famous for rounding his teams into tournament shape just in time for February and March, and there might not be a better tournament coach in the country. That's to say nothing of the fact that this is one of the most talented MSU teams Izzo has ever had. Even with those injuries -- all of which should be good and healed sooner rather than later -- would you bet against a loaded Spartans team in March? I wouldn't.
---
Hank Morris from New York writes
: How is Steve Lavin doing it so well and so quickly? What's the magic? Everyone in New York is excited and amazed. Also, do you think a team of mostly freshmen can challenge in the Beast next year?
Brennan
: How's Lavin doing it? I think it's a mix of charm, charisma, enthusiasm -- the tools that made Lavin one of the more likable television presences in college hoops for nearly a decade -- with a good understanding of how to use those tools in a crowded media market. Lavin has been out there, and the chatter about St. John's is at a higher level than it's been in years. He's also leveraging the program's two most important recruiting assets: location (New York City) and location (Madison Square Garden). It's still very early, but the fact that Lavin has already landed a class that has fans this excited bodes well for his future in the city.
Before St. John's fans get too far ahead of themselves though, the program is still probably a couple years away from contending in the Beast, as you call it. Those freshmen will be good, but these things don't happen overnight.
---
Dennis from Owensboro, Ky. writes
: Rick Pitino met with Wake Forest transfer
Tony Woods
this past weekend. Does this do more damage to U of L's program than help it? Thanks.
Brennan
: First off,
as Andy Katz reported yesterday
, Pitino is merely considering Woods's desire to transfer to Louisville. Nothing is final yet, and Pitino seems to be doing a fair amount of diligence before he makes any major commitments.
That said, I think it hurts. I'm not sure how you could think otherwise. Here's what we know: Woods, a promising but unproven forward at Wake Forest, was accused by police of kicking and pushing down his girlfriend in front of their 8-month-old child. His girlfriend fractured her spine in the process. Woods pleaded guilty to misdemeanor assault on a female and was given a suspended 60-day sentence and 100 hours of community service. Woods's lawyer says he's a good kid who learned his lesson and wants a chance to move on.
All well and good. Maybe Woods deserves a second chance; maybe he doesn't. The vagaries of his case are very troubling, but whether or not he deserves a second chance is, for Louisville, entirely beside the point. I
tend to agree with Louisville Courier-Journal columnist Rick Bozich
, who wrote a forceful column on the topic Monday: Pitino's is a program in need of a serious image revamp, and if he agrees to take on a player who pleaded guilty to misdemeanor assault
after breaking his girlfriend's back
, that image takes another major hit. Yes, winning matters too. With John Calipari down the road, the pressure is on. But if I'm a Louisville fan, I don't care how talented Woods is. I just want my coach to stay away.
Maybe it's different for other programs. Maybe the rehabilitation process could be seen as genuine elsewhere. And maybe -- because we really don't know, and it'd be silly to condemn a person forever based on one bad mistake -- Woods is a good kid who made a bad mistake and will one day make good on his second chance. All of that is entirely possible. But at Louisville? Bad idea blue jeans.
March, 26, 2010
3/26/10
4:07
PM ET
By
Diamond Leung
| ESPN.com
Kansas star
Sherron Collins
is one of four players selected so far to head to the Final Four to participate in the 3-point shooting contest, according to a release issued by New Mexico.
Also selected were New Mexico's
Roman Martinez
, Maryland's
Eric Hayes
and Cal's
Jerome Randle
.
The others yet to be named are still playing in the NCAA tournament.
March, 21, 2010
3/21/10
6:27
PM ET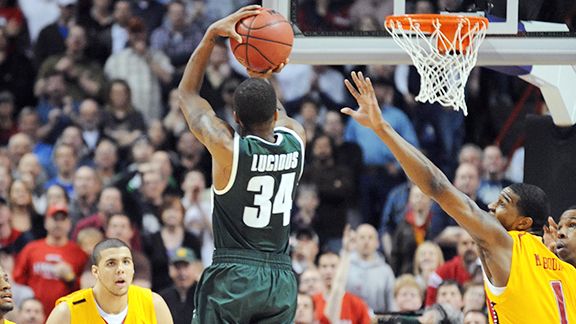 Steve Dykes/US PresswireMichigan State's Korie Lucious (34) lines up his dramatic buzzer beater against Maryland.
SPOKANE, Wash. -- It was one of the great comebacks in NCAA tournament history. And then it wasn't.
Maryland trailed Michigan State by nine points with two minutes left. Then it took the lead -- twice -- in the final 35 seconds.


It was stunning.
Yet the final toss of fairy dust turned out to be green.
Korie Lucious
, the Spartans backup point guard, playing at the end only because
Kalin Lucas
was out with a torn Achilles tendon, ripped a fade-away 3-pointer at the buzzer and Michigan State escaped with an
85-83 victory
in the second round of the Midwest Regional.
It was stunning, take 2. As breathless a final two minutes as you'll see.
Heartbreak?
"It seemed like we were going to win the game and then it was taken away from us," said a stricken Maryland coach Gary Williams.
And euphoria: The Michigan State players piled on Lucious after his game-winner. Even Sparty joined the fray.
"Time was running out," Lucious said. "I just tried to get it up and it went in."
Spartans coach Tom Izzo is now 15-3 in second-round games as his team tries to reach its sixth Final Four in 12 seasons.
The Spartans dominated 38 minutes of the game. They did so with Lucas out the entire second half -- he's likely done for the tournament -- with fellow starting guard
Chris Allen
only able to play four minutes with a sprained foot and with forward
Delvon Roe
nursing bum knees.
It was another plot twist in a season that has been all over the place. From high rankings to player suspensions, to critical injuries and inconsistent play to -- now -- a third consecutive Sweet 16.
"Three weeks ago, we wouldn't have won this game," said
Draymond Green
, who thought he might have shot the game winner when he hit a jumper for an 82-81 lead with 20 seconds left.
But after Green's shot, Maryland raced down the court and
Greivis Vasquez
, who struggled against the physical defense of
Raymar Morgan
much of the afternoon, nailed a short jumper with six seconds left that put the Terrapins up 83-82.
Vasquez scored seven of his 26 points over the final 1:27.
"We had the game won for a moment," said Maryland's
Eric Hayes
, who scored 18 points with seven assists.
Only for a moment. The Spartans controlled the vast majority of the contest because they dominated the boards -- outrebounding Maryland 42-24 -- and their lone remaining starting guard,
Durrell Summers
was lights out.
Summers, who's been in Izzo's doghouse at various times this year, scored 26 points, hitting 6-of-7 from 3-point range. It's the season scoring high for any Spartan player.
"Durrell, he grew up a lot in the last two weeks," Izzo said.
He and the Spartans appear to be maturing at exactly the right time.
March, 21, 2010
3/21/10
3:48
PM ET
SPOKANE, Wash. --
Michigan State leads Maryland 48-39
at the half, but it may be without floor leader
Kalin Lucas
, who scored his first basket with 4:27 before the break, but then re-injured his sprained ankle on the ensuing Maryland possession.
Lucas, who had a career-high 25 points in the first-round win, couldn't put any weight on the ankle.


The Spartans came out in a frenzy, and it took a while for Maryland to match the pace, but the Terrapins woke up and it's hard to believe this one won't be still in question in the waning moments, particularly if Lucas can't return.
Some thoughts:
Michigan State jumped ahead 22-10 with a dominating early run. The Spartans were 9-of-14 from the field -- Maryland was 3-of-13 -- and outrebounded the Terrapins 10-3. The Spartans had three blocked shots -- zero for the Terps.
Lucas wasn't the only star who started slowly. Maryland's Greivis Vasquez didn't score until the 12:42 mark. Freshman Jordan Williams, who posted twin career-highs with 21 points and 17 rebounds in the win over Houston, didn't get his first bucket until the 7:22 mark. Vasquez ended up with nine points at the break and Williams had seven and four rebounds.
Michigan State guard Chris Allen, typically a starter, didn't enter the game until the 10:16 mark. Allen injured his foot against New Mexico State. He played just three minutes and didn't score.
Maryland is losing the battle on the glass. The Spartans have a 25-11 rebounding advantage.
The Spartans have nine turnovers, Maryland has four.
Raymar Morgan leads the Spartans with 13 points. Durrell Summers has 12. Eric Hayes, who hit two of the Terps' four 3-pointers, has 10 points and three assists.
Midway through the half, a frustrated Vasquez sought out an official and said, "Both sides, both sides. Call it physical on both sides."