College Basketball Nation:

Evan Gordon
May, 15, 2013
5/15/13
3:05
PM ET
It seems like a lifetime ago. Before the phone calls and the sanctions that earned Kelvin Sampson a show-cause penalty, before proud Indiana fans were sent reeling, before Tom Crean was hired to pen a redemption song (a task he completed in five tidy years), Sampson's one unmarred season was punctuated by the signing of the kind of recruit that is supposed to keep a coach gainfully employed for quite some time. Sampson convinced Eric Gordon, Jr., who had previously verbally committed to Illinois, to leave the Illini and come to IU instead. It was a big deal.
We know how that 2007-08 season ended: Gordon and forward D.J. White were good, and Indiana went 25-8. But when IU compliance staff self-reported phone violations by Sampson, the program soon fractured into smithereens. Gordon left for the NBA. Everyone else transferred. Recriminations abounded. When Crean got close enough to gaze into the abyss, Kyle Taber and Brett Finkelmeier were all that gazed back.
Shudder.
Gordon's experience -- from the sanctions and turmoil to teammates who preferred getting high to playing basketball, as
he later told reporters
-- was not the kind that leaves a tight-knit family like his particularly predisposed to a repeat performance.
Which is why it was such a surprise to see his younger brother,
Evan Gordon
, announce his decision to transfer to Indiana for the 2013-14 season,
as first reported by the Indianapolis Star Wednesday morning
. But Gordon, who played two seasons at Liberty before transferring to Arizona State in 2012-13, wanted to move closer to home to pursue his a graduate degree in sports administration. After making visits to Butler and IU, Gordon chose the Hoosiers.
Inside The Hall's Alex Bozich
spoke to Gordon about the decision, and neither he nor Eric seem to harbor any ill will over the past.
In any case, Gordon brings a handful of things to Indiana. In the immediate future -- he can play right away -- he offers a capable, veteran guard who can score, albeit one who could be a bit more accurate from the field: Gordon shot 45.5 percent from two and 34.7 percent from 3 in 2012-13, averaging 10.1 points, 2.9 rebounds and 2.2 assists per game. He can also handle the ball without turning it over often, which will help alleviate some of the pressure the team's lone returning starter, sophomore point guard
Yogi Ferrell
, will feel in his new role as both lead scorer and facilitator.
In the long run, Gordon might just offer an inroads to the other Gordon brother, Eron Gordon, a class of 2016 prospect from Indianapolis considered by some to be the best player of the three. That can't hurt, either.
February, 17, 2013
2/17/13
1:17
AM ET
A few observations from another exciting Saturday evening in college basketball ...

Let's talk about Alex Len
: The 7-foot-1 sophomore from Ukraine got paid Saturday. Settle down, NCAA. No runners were involved. But the young man clearly elevated his NBA draft stock with his grown-man performance in Maryland's
83-81 victory
over No. 2 Duke, a crucial victory for the Terrapins' at-large résumé.
Seth Allen
's late free throws sealed the win after a furious late push by the Blue Devils turned Maryland's 80-72 lead into an 81-all tie in the final seconds. But Len's performance was the difference. He was a star (19 points, 9 rebounds, 3 blocks), while Duke counterpart
Mason Plumlee
(4 points, 2-for-7) struggled.
The Terrapins don't have any postseason guarantees right now. It's a soft bubble but they're still on it. Right now, the Terps are on Joe Lunardi's "First Four Out" list, but every game on their remaining ACC slate is winnable. Maryland, however, needs
this
Len every night. He had failed to crack double figures in three previous losses. But on Saturday, he showcased the talent that has fueled the NBA lottery buzz that currently surrounds him. If he gives the Terps that juice over the next six games, they might not lose again in the regular season.
[+] Enlarge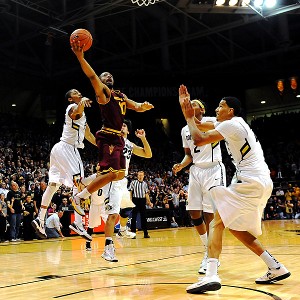 Ron Chenoy/USA TODAY SportsEvan Gordon knifes in to give Arizona State the OT win at Colorado with this buzzer-beater.
Arizona State stays in the Pac-12 race with crazy win
: The Pac-12 has given college basketball fans multiple exciting finishes this season. And the conference did not disappoint Saturday, when both Oregon-Washington State and Arizona State-Colorado were decided in overtime. The latter matchup ended on
Evan Gordon
's buzzer-beating layup. The Sun Devils'
63-62 road win
was significant in their pursuit of the Pac-12 crown.
Freshman
Jahii Carson
(18 points, 4 assists) can take Herb Sendek's program there. It won't be easy, especially since the Sun Devils have road games against UCLA and Arizona in the coming weeks. But at least they'll face two of the Pac-12 teams slotted ahead of them in the standings. Arizona State just made the Pac-12 race more interesting.
UNLV needed this one
: The Runnin' Rebels were desperate Saturday. They're now 6-5 in the Mountain West, three games behind first-place New Mexico. But a lot can happen over the next five games, especially in a volatile league such as the MWC. A loss Saturday, however, would have certainly removed the Runnin' Rebels from the conversation. And their so-so at-large résumé would have taken another hit, too.

They played like a team that understood the stakes in the
72-70 victory
over San Diego State.
Khem Birch
blocked
Jamaal Franklin
's shot in the final seconds as UNLV preserved the win, completed a sweep of the Aztecs and maintained a place in the Mountain West race.
Anthony Bennett
(21 points, 12 rebounds) and Birch (16 points) could lead the Rebels to a strong finish and help the team solidify a bid. The latter seems far more reasonable and feasible. I don't think I would have felt that way about either if UNLV had lost.

Kansas State recovers:
On Monday, the Wildcats went to the Phog and suffered a 21-point loss to archrival Kansas. On Saturday, they beat Baylor by 20 points. No better way for a team to clear its head after a tough loss. I think the
81-61 win
says a lot about Kansas State's mental makeup.
Sure, Baylor has been inconsistent all season. But the Bears also are one of the Big 12's top defensive teams. The 81 points they surrendered to Kansas State were the most they'd given up in Big 12 play this season.
Angel Rodriguez
led the Wildcats with 22 points and 10 assists. Four Wildcats recorded double figures in a game that helped K-State remain in the Big 12's three-way tie for first place (Kansas and Oklahoma State both won Saturday, too). And it helped the program move past Monday's lopsided loss to the Jayhawks.

Memphis?
I think the Tigers have the athleticism and talent to compete with other top-25 teams at neutral sites. Their problem is they don't have many opportunities to show it right now due to the limited competition in Conference USA. Much like Gonzaga or Florida, the only way for the Tigers to prove their value nationally is to stomp opponents in league play.
To their credit, they've won three games by 13 or more in February. They returned to the national rankings last week based on that dominance. They beat Marshall (
71-59
) on Saturday. There were highlights for the Tigers. But there also were a few confusing moments.
Like the fact that Memphis scored 43 points in the first half but just three points in the first 10 minutes of the second half in a matchup against a Marshall squad that is at the bottom of C-USA and had lost five of its previous seven entering the game.
The Tigers might have the skill to make noise in March. That ugly second half, however, didn't convert anyone.
On the Horizon:
Detroit and Valparaiso might have played the best game of the night. Detroit was down by 15 points with 10 minutes remaining in its road game against the Crusaders. But the Titans launched a 17-2 run over the next
five
minutes. They eventually won by 10 points,
84-74
, and now they're a half-game behind Valpo in the Horizon League standings.
Nick Minnerath
and
Jason Calliste
scored 21 points apiece, while
Ray McCallum Jr.
added 15 points, 5 rebounds, 6 assists and 3 steals. In the first meeting between the two teams, Detroit led by 18 at halftime and 11 with three minutes to play -- but lost by one. Sweet revenge tonight.
January, 26, 2013
1/26/13
8:27
PM ET
TEMPE, Ariz. -- Arizona State was trying to politely run the clock down, with
Evan Gordon
dribbling aimlessly at the top of the key in the final seconds of a would-be rout of UCLA, when
Jordan Adams
swiped the ball and headed downcourt for a meaningless dunk.
Carrick Felix
wasn't having it. He followed Adams and, at the last second, blocked the shot from behind. The game ended with the Sun Devils stomping the Bruins
78-60
, that final play all but summing up the effort for both teams.
Afterward, both Adams and Felix said the same thing -- that they were taught to play until the final buzzer sounded.
The thing is only one team decided to play when the first buzzer sounded in the desert -- and that was Arizona State.
The Sun Devils all but mopped the floor with a UCLA team that many (present company included) thought was ready to reclaim its position as preseason darling.
Instead, one game after a Gucci performance against Arizona, the Bruins played more like a cheap knockoff.
[+] Enlarge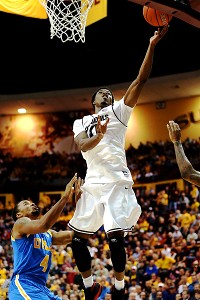 Mark J. Rebilas/USA TODAY SportsCarrick Felix goes up for two of his game-high 23 points in Arizona State's victory over UCLA.
They were oddly flat and lifeless, equal opportunity awful on offense (shooting 34.7 percent for the game) and defense (allowing ASU to shoot 46.9 percent) and wiped clean on the boards 49-29.
"They really outplayed us," UCLA coach Ben Howland said. "They really played well today, and we didn't. You have to give them credit."
In this case, the otherwise-boring coachspeak has a point.
You do have to give the Sun Devils credit, not just for this game but for this entire season.
The vultures were circling over Tempe in the fall, waiting to pounce on coach Herb Sendek as soon as this season expired. Back-to-back seasons with 12 and 10 wins, respectively, warmed his seat much more than the desert sun.
Arizona State was picked to finish 11th in the Pac-12 this season, which seemed neither unfair nor unreasonable considering the lack of recent accomplishment.
Now the Sun Devils are sitting third, 5-2 in the conference and 16-4 overall. Regardless of how Arizona State fares next week in Washington, it will have a winning record at the Pac-12 halfway point for the fourth time in the past 18 seasons.
In a conference desperate for someone aside from the established three (Oregon, UCLA and Arizona) to assert itself, the Sun Devils are building a case.
In "Three Little Pigs" parlance, it's a case built on sticks -- slightly better than straw but not as solid as bricks. There's not much beside this victory to bulk up an NCAA tournament résumé, but there is at least the semblance of a foundation.
"I've been at this a long time, so I know how fragile this all is," Sendek said. "You can look great one day and then be absolutely awful before the next TV timeout. I think this team has a sense of confidence, but in no way are they getting carried away by it."
The game plan to beat UCLA wasn't complicated. Without
Travis Wear
(out with concussion-like symptoms after a blow to the head against Arizona), the Sun Devils wisely pounded the ball inside. The Bruins were equal parts unable and unwilling to stop them, allowing
Jordan Bachynski
to score a career-high 22 to lead a 46-26 edge in the paint. (Felix added a game-high 23.)
The catch for Arizona State is the same as it is everywhere else in the country: There is a pandemic of inconsistency sweeping college basketball.
The one thing you can count on this season is that the court dimensions won't change. Other than that, it's anarchy. This season is wildly and, at times, inexplicably unpredictable. ASU has to try to avoid the roller-coaster flu.
The win here was big, especially partnered with a nice overtime victory Thursday against USC. But a trip to Washington State and Washington looms, and well, who knows how that will go?
Ask UCLA. Just two nights ago, the Bruins were touting their ability to bounce back after losing to Oregon, pointing to the victory against Arizona as a sign of their maturity and growth.
How's that looking about now?
The Sun Devils sounded all the right notes after the win.
"I don't know that it's necessarily sending a message," Felix said. "The Pac-12 is a very good league, and every team is going to come to play every night. You have to sure you match that and come ready."
Saying it and doing it are two different things, just like playing until the final buzzer and playing from the opening one.