College Basketball Nation:

Evan Roquemore
September, 6, 2011
9/06/11
9:14
PM ET
By
Diamond Leung
| ESPN.com
Santa Clara hangs a banner in the Leavey Center to honor Steve Nash, who was the man on campus the last time the Broncos consistently went to the NCAA tournament.
Coach Kerry Keating refers to another Canadian as the current "poster child" for the program he is trying to build.
Marc Trasolini
, the team's leader in rebounds, blocked shots and grade-point average, is set to become the first player Keating will have guided as a head coach from recruiting until graduation.
And as the Broncos begin their preseason tour of Trasolini's native Vancouver with a game Tuesday night, the team's lone scholarship senior has hopes of leaving an NCAA tournament legacy of his own.
"It's a wide-open conference," Trasolini said. "Anything can happen.
"We're going to finish first. That's where we expect to be and where we want to be. Saying that, it's not going to be easy."
Santa Clara will be tested in the West Coast Conference, with Gonzaga having won or shared the past 11 straight regular-season titles and defending Mountain West Conference champion BYU joining the league.
"It's a challenge that's waiting for us at the end of December," Keating said. "Our goal is to win the conference."
Keating was awarded a contract extension after his fourth season as coach resulted in the Broncos winning 24 games on their way to the CIT championship. They return their top three scorers in backcourt duo
Kevin Foster
and
Evan Roquemore
along with Trasolini, who averaged 12.8 points and 6.1 rebounds.
The gangly 6-foot-9 Trasolini said he put on weight in the offseason so he can better match up with the big men in the conference and also with the hopes that he can play professionally. If the pro career doesn't work out, the finance major does carry a 3.55 grade-point average.
Trasolini's academics was the message that Keating emphasized while
speaking to students at the player's high school
, where the team held its shoot-around.
Trasolini said he expected hundreds of his friends to come and support the Broncos during the team's four-game slate in the Vancouver area. Keating said the school reached out to Nash, but it's unclear whether the Phoenix Suns star will be paying the team a visit even if he is
nearby practicing soccer
with the Vancouver Whitecaps MLS team he co-owns.
Either way, it should be a memorable trip for Trasolini, who said he was taking on more of a leadership role and wanted to show his teammates where he was raised. Keating is hoping they're listening carefully.
"That's the model," he said.
March, 28, 2011
3/28/11
9:58
PM ET
By
Diamond Leung
| ESPN.com
Santa Clara has made a run to the championship game of the CollegeInsider.com tournament in its first trip to a postseason tournament in 15 years. That the Broncos are able to give their young players experience playing in late March and a trip to New York to play at Iona on Wednesday has been meaningful.
The team has gotten an chance to dine in Times Square, practice in Madison Square Garden, and also learn a little bit more about coach Kerry Keating. He grew up in Long Island and today took his players to Ground Zero, where the Twin Towers of the World Trade Center stood 10 years ago.
[+] Enlarge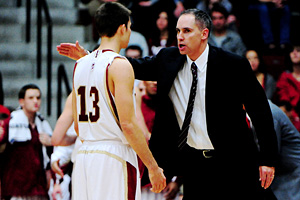 Kyle Terada/US PRESSWIREKerry Keating and his Santa Clara Broncos have a chance to hang a banner.
"It's hard for me to not choke up about it. I lost friends," Keating said. " It's just hard to put into words. It's hard to describe to these guys the magnitude of what happened and how big these buildings used to be and who used to be in there and how many times I've been there.
"You draw that skyline as a kid when you're learning in art class. It's hard. It's going to be hard. But it's also something that I want them to see, how much it affects me. I want them to see how it's hard for me to not get emotional about it because that's the most important thing for me is that they know how to live the rest of their lives the right way."
Keating was an assistant coach at Tennessee during the Sept. 11, 2001, attacks. He knew people working in the World Trade Center that day.
"Cantor Fitzgerald was a pretty big firm that a lot of people from Long Island, that a lot of our friends worked at," Keating said. "There were a lot of people that were friends and friends of our family and people that I knew. Fortunately no one that I would consider a best friend. I'm lucky to still have all those guys that could have been in that building that weren't."
Santa Clara, after finishing fourth in the WCC and falling to Saint Mary's in the semifinal round of the conference tournament, has gotten hot in the CIT. The Broncos beat Northern Arizona, Air Force, WCC foe San Francisco and Southern Methodist to reach the title game.
The tournament has given the Broncos' talented underclassman backcourt of
Kevin Foster
and
Evan Roquemore
time to grow. Foster has averaged 32 points over the past three games, and Roquemore had a 30-point game against San Francisco.
Santa Clara is playing late into the year and will get an early start next season as well with a preseason trip to Vancouver. But right now, Keating wants to emphasize to his team the opportunity to win a postseason championship.
"As much as we're talking about wanting it to happen again, we may never hang another banner again," Keating said. "You never know how final things can be. Maybe you can keep appreciating that. Maybe they'll appreciate each other and be able to smile and still be able to cry, too."
January, 21, 2011
1/21/11
1:44
AM ET
By
Diamond Leung
| ESPN.com
SANTA CLARA, Calif. -- Santa Clara coach Kerry Keating acted as if he'd been there, calmly walking back toward his bench coming out of the handshake line as hundreds of students engulfed his players on the court.
That's when assistant coach James Ware grabbed Keating from behind and messed up his hair a little bit, just to let it be known this wasn't any other win. The Broncos'
85-71 triumph
against Gonzaga on Thursday was, in fact, the biggest win of Keating's young head coaching career and the Broncos' first at home against the Zags in 10 years.
"If you want to establish yourself, Gonzaga's proven you have to do it through them," said Keating, who is in his fourth year at Santa Clara and is in search of his first winning season. "They set the bar, and that bar's pretty high."
Kevin Foster
hit 3-point daggers from all over the court to score a career-high 36 points and freshman point guard
Evan Roquemore
added 13, forming a winning backcourt that has Keating's fingerprints all over it.
It was Keating who demanded that Foster lose weight this offseason to minimize his chances of suffering another foot injury like the fracture and subsequent surgery that ended his 2009-10 season. It was Keating who signed the under-the-radar recruit Roquemore in July and saw him develop into a floor general after
Robert Smith
transferred last month.
After recently suffering losses to Delaware and San Francisco at home before getting trounced by 25 at rival Saint Mary's, the Broncos (11-9) came out and aggressively hounded Gonzaga into 19 turnovers while Foster was unstoppable from long range, hitting six 3-pointers.
[+] Enlarge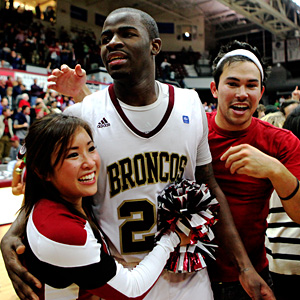 Phil Carter/US PRESSWIRESanta Clara's Kevin Foster scored 36 points in a win over Gonzaga, giving the Broncos and their fans reason to celebrate.
"To be able to rebound from getting your butts handed to you, and now play the team that's been the best team, that says a lot about our team," Keating said. "Maybe this is a chance for us to grow."
In the final minutes, Foster dominated. At one point, he scored 11 straight points for the Broncos to give them an eight-point lead with 2:35 to play, draining three 3-pointers during the stretch.
With 45 seconds left, the Leavey Center shook as Gonzaga coach Mark Few told his Bulldogs to stop fouling. For good measure, Foster hit another 3-pointer with 18.7 seconds left and some Broncos soon took to the top of the radio broadcast table as students rushed the court.
"He just carried us on his shoulders tonight," forward
Marc Trasolini
said of Foster.
Gonzaga (13-6, 3-1 WCC), which saw its nine-game winning streak snapped, couldn't stop Foster nor find any sort of rhythm with its Big 3 --
Steven Gray
(17 points),
Robert Sacre
(16 points) and
Elias Harris
(six points) -- saddled with foul trouble. Foster put an end to any thoughts of Gonzaga getting back into the national rankings after struggling in the early part of the season.
"He hurt us on the drive, and we just couldn't get stops at all the entire second half," Few said. "We had a bunch of silly turnovers. They beat us to the ball over and over and over again.
"Hey, it's life on the road. I'm disappointed. We went back to turning the ball over. We did not defend well. And we didn't rebound well. Those are pretty good recipes for a loss."
Gonzaga entered the game having won 23 of its past 25 meetings against Santa Clara, which had no players on its roster that had experienced beating the 10-time defending regular-season WCC champs. All five starters ended up scoring in double figures, and Keating said he was especially happy for the seniors.
The freshman Roquemore was also able to get a feel for what it's like to score a big win -- one that he felt confident in getting even earlier in the day while talking with fellow students.
"They asked, 'Are you guys going to win?'" Roquemore said. "Of course I said yes."