College Basketball Nation:

Evan Wessel
March, 29, 2013
3/29/13
3:43
AM ET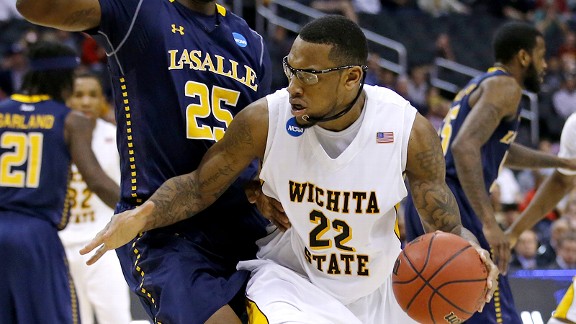 AP Photo/Jae C. HongCarl Hall's 16-point, 8-rebound, 3-block night powered Wichita State into the Elite Eight.
LOS ANGELES -- A few years ago,
Carl Hall
told his mother that he was willing to risk his life to play basketball.
Jackie Fields was understandably disturbed by the idea, because her son's heart condition, which prompted fainting spells, had disrupted his career shortly after high school.
"I was willing to live with the situation I put myself in," Hall said Thursday night after guiding Wichita State to a
72-58 victory
over La Salle in the Sweet 16 at Staples Center. "If anything happened, like if I possibly died or something on the court, I told her I would've died happy because I would have died doing something that I loved to do."
On Thursday, the Shockers toyed with the Explorers to reach the Elite Eight for the first time since 1981.
On film, Hall had noticed that La Salle's
Jerrell Wright
-- the only big man in his team's starting rotation -- encountered problems whenever he tried to run with agile post players. At Staples Center, Hall pushed the pace.
He made his first six shots. By the time he missed, Wichita State had a 25-14 advantage.
The Shockers led 38-22 after outscoring the Explorers 24-10 in the paint before halftime. Nearly a minute into the second half, they were ahead by 22 points (44-22 with 18:48 to play).
La Salle played hard but couldn't cut its deficit to single digits. From 9:03 to 6:40,
Malcolm Armstead
recorded nine of his 18 points. The 13th-seeded Explorers didn't rally again.
Wichita State went 4-for-7 from the 3-point line in the second half. Four Shockers scored eight points or more. And they frustrated La Salle star
Ramon Galloway
(4-for-15, 11 points).
The victory began with Hall's effort inside.
"Carl Hall set the tone with just outrunning their bigs, and then we got some good stops," Shockers coach Gregg Marshall said. "We had a commanding lead early, and just were able to play with that cushion throughout. So congratulations to them, and we're really excited to be moving on to the Elite Eight."
Neurocardiogenic syncope is defined by the National Center for Biotechnology Information as "a transient loss of consciousness."
Hall said he fainted for the first time while in high school. Doctors told him he was dehydrated. And then it happened again. And again.
He was finally diagnosed with the condition, which temporarily derailed his career. He was playing for Middle Georgia College at the time.
And then, suddenly, he was working at a factory.
"It was hard for him," Marshall said. "[Doctors] shut him down. The one thing that he loved in life was playing basketball. And they said 'You can't play.'"
So he spent two years painting fluorescent lights for a local business.
He stayed in school, though. Hall worked the graveyard shift, then attended morning classes.
In the meantime, he stayed close to basketball by competing on playgrounds. As the desire to return to the organized game grew and his reservations subsided -- months after doctors had given him medical clearance to compete -- he spoke to the staff at Middle Georgia and asked for another chance.
He returned to that team for the 2009-10 season and transferred to Northwest Florida State for the 2010-11 campaign.
That's where Marshall saw him.
"I said to my staff, 'I want that guy right there. The guy with the hair,'" Marshall said about Hall, who cut off his dreadlocks before the NCAA tournament.
But Marshall was also fearful.
[+] Enlarge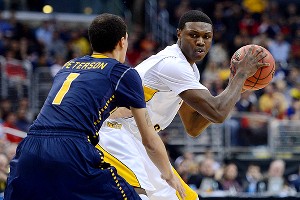 Harry How/Getty ImagesCleanthony Early (8 points, 7 rebounds) was one of five Shockers with at least 7 points Thursday.
Shortly after he accepted the Wichita State job in 2007, he witnessed a high school player collapse and die on the floor. Guy Alang-Ntang, a prospect from Cameroon competing at a New Hampshire prep school,
had just re-affirmed his commitment to Wichita State
before the tragedy.
"He says, 'I want to come. I'm going to re-affirm my national letter of intent,'" Marshall said. "So I'm watching him play pickup and 15 minutes later he just lurches back and it's over. That was my second day on the job."
Although Hall hasn't fainted since he played for Northwest Florida State, Marshall didn't want that to happen to Hall when he arrived last season. But he also wanted the forward to be in playing shape.
It was a difficult task, however, because Hall was so nervous about strenuous drills. When he felt tired, he would just sit down while the rest of his teammates continued to run. He didn't want to take the risk. Neither did Marshall.
"I didn't want to be the coach who made him pass out or worse," Marshall said.
So he told Hall that he had to push himself. Alone. And that's what he did in the offseason. He rode his bike. He ran laps on the school's track. And he conditioned his body so that it would allow him to race up the floor at Staples Center on Thursday.
The man who helped Wichita State reach the Elite Eight for the first time in more than 30 years is the product off a work ethic that defines Marshall's entire program.
The Shockers have a blue-collar vibe that's driven their unlikely success. This is a squad that will compete against Ohio State on Saturday for a shot at the Final Four, despite losing six Missouri Valley Conference regular-season games.
Injuries have been an issue all season, though. Hall (thumb),
Ron Baker
(foot),
Evan Wessel
(finger) and
Ehimen Orukpe
(ankle) all missed time with injuries.
But the ninth-seeded Shockers (29-8) are jelling at the right time now that most of the team is healthy.
And they're winning with a tenacity, edginess and grit that Hall displays each night. It's a spirit that the program has showcased throughout this run.
"We've had our share of adversity this year and these guys just keep finding a way," Marshall said.
As he walked off the court Thursday, Hall looked toward the Shockers fans in the stands and smiled. When he waved his arms, they all rose and cheered.
It was a blissful ending for Hall and his teammates -- but definitely not one that the senior envisioned when his medical condition halted his career.
"It's like I'm in a dream right now, you know, and I'm just trying to take advantage of this whole opportunity," he said.
March, 28, 2013
3/28/13
1:15
AM ET
LOS ANGELES --
Wichita State
took the difficult route to the Staples Center.
The Shockers' Sweet 16 run has been littered with drama. First, they lost their top five scorers from last season. Then they suffered a variety of injuries throughout 2012-13.
Carl Hall
missed time with a thumb injury.
Ron Baker
was affected by a stress fracture in his foot.
Evan Wessel
's season ended following surgery on a broken finger.
Ehimen Orukpe
dealt with a sprained ankle.
Plus, Wichita State lost six games in Missouri Valley Conference play alone. Even a few weeks ago, who would have projected this?
It's only fitting that the obstacles give the Shockers' tale that Hollywood feel.
"You've got to have your team clicking at the right time of the year, and it just so happens we got all our guys back, and we're kind of playing good defense and getting stops," Hall said.
[+] Enlarge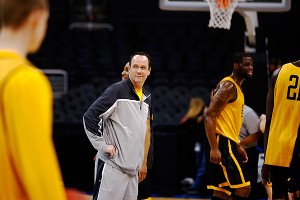 AP Photo/Jae C. HongWichita State's Sweet 16 run has only made Gregg Marshall a hotter coaching commodity.
The drawbacks of Wichita State's success are that it magnifies speculation that coach Gregg Marshall will not remain at the school. Right now, USC, UCLA and Minnesota are all searching for coaches. The openings, once filled, will spark another rotation of the coaching carousel.
Marshall has been floated as a potential candidate for high-major jobs in the past. But he's even hotter this year. With one or two wins at the Staples Center this week, he could easily move to the top of the list -- if he's not already a front-runner -- for top vacancies throughout the country.
Like any reasonable coach, however, Marshall dismissed the rumors on Wednesday and repeated his desire to remain in Wichita.
"I really don't deal with it. I do my job," Marshall said. "Doing my job is always, for me, been the No. 1 goal. We live well in Wichita. We love Wichita. Everything is in place for us to be there for a long time. ... My focus is on
La Salle
and trying to get to Saturday for an Elite Eight game."
But Marshall can't control the coaching conjecture.
And that places him in a difficult position. He wants to enjoy the moment. He wants players (current and future) to know that he plans to stay. He wants to focus on Thursday's game.
The reality, however, is that Marshall's name will continue to float. It's a byproduct of victory for a coach in his position. His players said they've tried to ignore the chatter.
"You kind of have to because you understand the position he's in and the position we're in, and we've got to understand that we've got to live for today and continue to play through that,"
Cleanthony Early
said.
Marshall, however, won't be the only coach on the floor who's dealing with the issue. La Salle coach John Giannini could be a viable candidate for multiple programs as a result of his team's NCAA tournament run.
"It's like anything else we've talked about. It's what matters and it's what's real," Giannini said. "No one has called me. No one is talking to me. ... If a school's not talking to you, it doesn't matter."
WHOM TO WATCH
La Salle's Ramon Galloway:
The senior is a phenomenal athlete, but his game goes beyond his dunking ability. Galloway is a complete player. He's averaging 17.4 points per game. He's shooting 41.4 percent from beyond the arc and 83.2 percent from the charity stripe. He also averages 1.9 steals.
"[My teammates] don't just push me and say, 'Ramon, go score.' They tell me to help us win, do it all," Galloway said. "So I'm just glad that I'm blessed that I got this opportunity, and I'm blessed that I'm a well-rounded player."
Wichita State's Early:
The Shockers' junior star has been a matchup nightmare for teams all season. Early (13.9 PPG, 5.2 RPG), a 6-foot-8 forward, can affect the game inside or outside. "I think he's got a chance to play at a really high level someday," Marshall said.
WHAT TO WATCH
3-point shooting:
Wichita State hit 50 percent of its 3-point attempts in its upset of No. 1 seed Gonzaga last weekend -- an impressive performance. But La Salle led the Atlantic 10 in 3-point field-goal percentage defense. The Explorers held A-10 opponents to a 28.4 percent clip from beyond the arc.
March, 27, 2013
3/27/13
10:00
AM ET
Call Wichita State shocking or surprising or an upstart for making its first NCAA Sweet Sixteen since 2006.
Just not "Cinderella."
For this team, at this time, the label doesn't quite stick.
"Maybe a lot of people will be surprised that we're here -- but we're not," Shockers guard
Tekele Cotton
said Saturday after his team upset top-ranked and top-seeded Gonzaga to advance. "We're confident that we can match up with any team from anywhere … that's why I don't feel like we are a Cinderella."
[+] Enlarge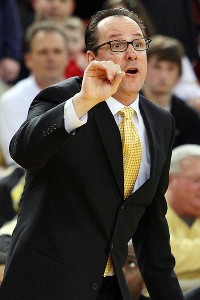 Jeremy Brevard/US PresswireGregg Marshall's Wichita State team has advanced to the Sweet 16 behind stellar defense.
Plus, the Shockers should be the favored team when they play 13th-seeded La Salle in Los Angeles on Thursday night. Part of that has to do with the bracket; even as a No. 9, they are the third-highest seed remaining (behind No. 2 Ohio State and No. 6 Arizona) in what has been a wild West Region. But part of that has to do with depth, stick-to-itiveness and the varying ways they can get under your skin.
WSU is known first and foremost for its defense. Forged from mentalities so competitive that freshman
Fred Van Vleet
once got mad at coach Gregg Marshall's daughter for not performing better as his shuffleboard partner, the Shockers believe in bruising and contesting and rebounding on every possession.
In the round of 64, for example, they out-defensed defense-minded Pitt, holding the Panthers to 35.2 percent shooting -- including 5.9 percent from 3-point range.
Then against usually sharpshooting Gonzaga, the Shockers frustrated the Zags into a 35.6 percent night from the field -- while also showing another dimension themselves: the ability to score. And score a lot.
"When you walk in the door in October, the first thing that comes out of our coach's mouth is defense and rebounding; that's definitely something we strive for," said redshirt freshman
Ron Baker
, who accounted for four of WSU's 14 3-pointers Saturday. "Defense comes first, offense comes later. … But what people may not know is that we can shoot it, too."
And people might not know it, because the makeup of this team is so relatively new.
Gone, at the beginning of the season, were five seniors from the squad that won the Missouri Valley Conference regular season in 2012, then lost in its first game of the NCAA tournament. But with replacements such as Oregon transfer point guard
Malcolm Armstead
, junior college transfer
Cleanthony Early
and experienced forward
Carl Hall
, WSU won its first nine games this season and picked up a Top-25 ranking.
Then came the setbacks: Hall broke his thumb and was out for a month; Baker was shelved for 21 games because of a stress fracture in his foot; starter
Evan Wessel
was lost for the season after breaking his pinkie. The Shockers had to persevere through a three-game losing streak in late January/early February, rally after back-to-back losses at the end of the regular season; and bounce back from a three-point defeat by Creighton in the MVC tournament final.
But in the long run, those tough breaks (and losses) might have helped the Shockers become tougher and more resilient, because they allowed more teammates to develop. And for the team to ultimately play 10 deep.
And now, perhaps, advance even deeper into the NCAA tournament.
"The stars are aligned for the Shockers right now," Marshall said this week during a conference call.
Not because they are a Cinderella. But because they are tough and focused and ready to prove it.
"All our guys believe they play with anyone, anywhere -- and we can," Cotton said. "We're confident. There may be [people] out there who think of us as underdogs, but we don't."