College Basketball Nation:

Ferrakohn Hall
March, 21, 2013
3/21/13
6:45
PM ET
AUBURN HILLS, Mich. -- Josh Pastner walked out of the tiny Memphis locker room late Thursday afternoon, saw the crowd of media waiting and tried to gather them in a huddle.
The 35-year-old appears forever happy, working through media lines and all over the Palace of Auburn Hills the past two days. Since he took over at Memphis for John Calipari four years ago, he had won 105 games and done almost everything he needed to so Memphis would remain at its previous level.
[+] Enlarge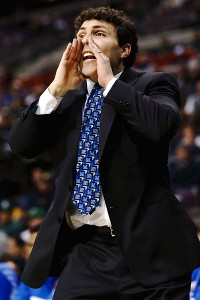 Rick Osentoski/USA TODAY SportsMemphis' Josh Pastner directs his team during the second half against Saint Mary's in what would be his first NCAA tournament win as a head coach.
Except win a game in the NCAA tournament.
Pastner tried to not make a big deal of his Tigers holding on to beat Saint Mary's
54-52
, yet his team understood the implications. The players had heard all about the one thing Pastner hadn't done.
"It's a major monkey off his back in the grand scheme of things, but right now he's thinking to the next game," senior forward
Ferrakohn Hall
said. "Definitely a big deal, going to the tournament three years in a row and not being able to get over the hump and now you can; it's a great achievement."
It is an achievement the Memphis players took personally. They knew they were still a good team -- 31 wins this season and counting after winning 25-plus games the prior two seasons -- but in past years, they couldn't replicate their regular-season success.
And it almost happened again, as Memphis had a 15-point lead in the first half dwindle to two with 1.9 seconds left. Point guard
Joe Jackson
had lost the ball, giving Saint Mary's one final chance to send Memphis home for the third straight year without a win.
Saint Mary's guard
Matthew Dellavedova
took the ball on the wing and attempted a 3-pointer.
"It came off, and once it left, I knew it was long," Pastner said. "So it was good. It was a good win.
"... I was totally at peace. I really was. You might not believe me, but I was. I really was at peace."
As it sailed over, Pastner and his players stayed calm. They had waited three seasons for this moment, to say they won an NCAA tournament game.
The players talked about it in huddles during Thursday's game. They constantly reminded each other of the importance of getting past this, of being able to finally reach the second game in the NCAA tournament.
"We've been here with him, so we say, 'We. It's a we thing,'" Hall said. "The whole staff and team, everyone in our locker room -- it's the thing we definitely have talked about.
"It's a group thing. It's pretty much understood. Even in the huddle, we'd say, 'Let's get past this. Let's get over this hump.'"
Pastner's players understood. As they left the locker room, just after Pastner came out of it himself,
D.J. Stephens
yelled out, "Congrats, Coach." And Pastner smiled.
Then Stephens gave Pastner what he might have wanted to hear the most: "We ain't done yet."
September, 14, 2011
9/14/11
1:37
PM ET
By
Diamond Leung
| ESPN.com
New Memphis strength and conditioning coach Frank Matrisciano is an interesting guy. A trainer to top NBA and college players, he was hired this offseason by Memphis coach Josh Pastner, who probably won't be putting a photo of the guy in a media guide.
That's because Matrisciano does not wish his face to be shown. When
Andy Katz did a story on Blake Griffin
working out a few years ago, Matrisciano showed up "wearing his usual attire: boots, wraparound shades, a military desert sun hat, a weight jacket and long-sleeved shirt, shorts and, just in case the sand starts swirling, a pullover face-mask hood."
Pictures of Matrisciano have appeared
with his face covered
, and now that the workout guru is working for Memphis, the mystery continues.
As if he were after Bigfoot,
Jason Smith of The Commercial Appeal
recently came close to getting a glimpse of Matrisciano, who has not been interviewed since joining the program.
I heard a voice from the behind the blue partition screaming. I gathered it was Frank, and wanted so badly to peep around the tarp to watch Matrisciano in action. From his tone, I could tell he was pushing one of the players to give him more, but I couldn't tell which one he was yelling at.

"Is that Frank yelling?" I asked senior guard Preston Laird as he walked past me.

"I'm not saying anything," Laird answered, smiling.

...

As I made my way out of the Finch Center, I passed by the partition and looked at the players working out with a middle-aged man in a vest jacket and shorts. "That must be Frank!" I thought to myself. "It's gotta be." I looked up and spotted a worn out Ferrakohn Hall watching from the second level of the Finch. I asked Hall, "Is that him? Is that Frank?" Hall smiled and shrugged his shoulders.
What we do know is that Matrisciano is effective. He's worked with such players as Griffin and Gilbert Arenas and developed a cult following that has resulted in a gig with Pastner.
Already, it's paying dividends for Memphis, as
Smith reports
that freshman Adonis Thomas, ESPNU's ninth-ranked recruit in the nation has put on a tremendous amount of muscle.
Having spent the last two-and-a-half weeks getting accustomed to college-level coaching and conditioning, University of Memphis freshman Adonis Thomas stood before the media Tuesday, his arms and chest bulging underneath his white T-shirt.

During his senior year at Melrose High, the PARADE and McDonald's All-American weighed about 205 pounds.

Fast forward to now, with the Tigers in the midst of individual workouts and following a summer in which he trained regularly with first-year strength and conditioning coach Frank Matrisciano, and the 6-7 Thomas is a much thicker 230 pounds.
The results of Matrisciano's work can be found in the muscles of Memphis players. The resulting smile from him apparently won't be seen.