College Basketball Nation:

Field Notes
March, 16, 2011
3/16/11
5:27
PM ET
Still agonizing over your bracket? Field Notes is one college hoops writer's attempt to guide you through the process as the Thursday deadline looms. Note: Said writer may or may not have a horrendous recent tourney history, which is why he'll rely so much on advice from others in this series. Consider it a thinking fan's guide to the bracket.
[+] Enlarge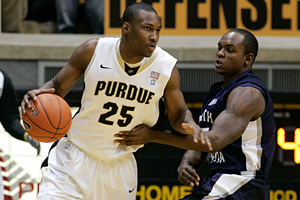 Michael Heinz/US PresswireWhen filling out your tournament bracket, don't overlook JaJuan Johnson and Purdue.
We've already discussed the importance of having one bracket to rule them all, as well as how to use tempo-free stats to your advantage. Last but not least, let's dig into some of the best advanced bracket tips from folks much smarter than I.
Now that you have a base understanding of a) what tempo-free stats are and b) how much easier they make the agonizing bracket selection process, it's probably time to move on to slightly more advanced* stuff, some of which builds on tempo-free stats to help you find that all-important value in selections.
(*By the way, "advanced" doesn't mean this stuff is all that tricky. Most of it is common sense. But compared to yesterday's "best shorts" strategy, the adjective certainly fits.)
Why does value matter? Because value is how you win your bracket.
The
scoring in the ESPN.com Tournament Challenge is as follows
:
First round: 10 points per pick

Second round: 20 points per pick

Sweet Sixteen: 40 points per pick

Elite Eight: 80 points per pick

Final Four: 160 points per pick

Championship: 320 points per pick
That's how most bracket pools work: You get a few points for picking the first-round games correctly, but even if you miss a huge number of first-round games, you can still nail the Elite Eight, Final Four, and national championship and win your pool. The national championship is especially crucial. The problem is that if you pick the same team as everyone else to win the title -- as of Tuesday night, 25.9 percent of ESPN.com bracket-pickers selected Ohio State to win it all -- you're not leaving yourself much room for error. You're stuck hoping Ohio State wins it all, but if you flub the rest of the bracket, predicting an obvious winner might not help you all that much.
Of course, going off the beaten path also requires a huge amount of risk. (What if you nail the majority of the bracket but lose because you picked the wrong champ? Ouch.) That means balancing risk by finding value. Who is the crowd picking? Who is the crowd overlooking? Where do the value gaps exist?
Allow Slate's Chris Wilson to explain
:
As it turns out, the wisdom-of-crowds information is extremely useful. The statisticians and expert bracketologists I talked to all urged one central point: Don't think about guessing the most games correctly. Instead, think about finding "bargains" in the bracket where collective wisdom runs askance of more objective measurements. Exploiting games where your fellow bracketologists are likely to guess wrong -- even if the odds of that happening are still against you -- will give you the best shot at jetting ahead of the pack. An NCAA bracket, then, is more like a long-shot stock than a game; the odds of winning may be low, but the big pot makes the gamble worth it -- if you know how to maximize your investment.
In other words, check out the
national bracket and see who most people are picking
to advance to the Elite Eight, Final Four and national title game. Chances are they're picking teams primarily based on seeds. Chances are there are other teams in the field that could win the tournament and stand a pretty decent chance of doing so, but thanks to their seed or their recent play aren't getting a whole lot of love.
How do you recognize such teams? That's step two, in which we refer to
Ken Pomeroy's log5 projections for the NCAA tournament
. According to Pomeroy, the No. 1 seeds are the obvious favorites to advance to the Final Four -- no surprise there -- but two teams, Texas and Purdue, both present really intriguing values. Provided you live outside Texas and northern Indiana, I'd guess you don't have too many friends picking Texas or Purdue to win the national title. But they're not exactly longshots.
In other words, as Wilson wrote at Slate, a solid bracket-picking strategy embraces risk, but focuses that risk on the later rounds. For example, you might feel really good about a particular 5-12 upset, but even if that upset pans out, all you get is a measly 10 points. But if you pick Texas to beat Ohio State in the Final Four and Kansas in the national title, you could totally finish in last place ... but you'll be in pretty solid winning position even if you don't rack up points in the rounds of 64 and 32.
Really, why not take the risk? The bracket game is zero-sum: Either you win or you don't. There are no marginal rewards for playing it safe. You might want your real life financial analyst to play it safe and produce solid gains, but if you use that strategy in your bracket you're just as likely to come in second, or third, or 10th, and there is no March glory in that. You might as well take smart, educated guesses, sprinkle in a few respectable but unpopular picks, embrace intelligent risk, and go for the gold.
Just don't do it blindly. To that end, here are a few more tips culled from various intelligent purveyors of bracket-related prognostication. Just like tempo-free stats and your own gut feelings, none of these should be relied on as a magic bullet. But if you combine them all, it's hard to imagine you not feeling prepared by the time you finally submit your bracket within the next, oh, 12 hours:
Look at the preseason poll. Wait. What? (Seriously, look at the preseason poll.)
Earlier this season, Pomeroy pointed out that -- believe it or not -- the
preseason poll is actually a better predictor of teams in the national title game
. The New York Times' Nate Silver, who spends most of his time and energy predicting political races with frightening accuracy, delved deeper into this idea last week.
Silver found that teams that outperformed their preseason expectations
can occasionally revert to the mean during the NCAA tournament and are often good candidates for upsets:
Even though the college basketball season is fairly long, however, it turns out to be a mistake to entirely dismiss preseason expectations, even late in the year. Instead -- I've studied this issue in preparation for the N.C.A.A. tournament projections that we're going to release next week -- the optimal blend for predictive purposes turns out to be something like five parts in-season performance to one part preseason expectations.

Obviously, this implies that in-season performance -- such as measured by computer power ratings -- ought to be weighted much more heavily. But preseason expectations do deserve some consideration, and accounting for them might allow you to win an extra game or two in your tournament pool.
Two such teams to watch this year? No. 2 seeds Notre Dame and San Diego State. Of course, that's not to say those teams are locks to be upset, and you shouldn't necessarily dismiss them out of hand. The point is, the preseason poll might offer more useful information than you'd think. Which isn't difficult, because if you're like me, you'd assume the preseason poll has absolutely
nothing
to offer. Not always true!
Use the Las Vegas lines.
Pretty obvious one here. The gambling lines can be a major advantage, because they're a quick, crowdsourced snapshot of the way people who wager on games feel about certain outcomes. Even better, you don't have to worry about the spread in your picks. You just need a winner and loser. When gamblers feel so strongly about a game to bet on it at a certain spread, you can be fairly confident there's something behind those odds bet. Of course, like the national bracket, this is also a good way to exploit inefficiencies and find values. If you feel particularly strongly about a certain pick based on your other research, that might be a good time to go against the grain and try to notch some extra points that many of your bracket competitors could leave on the table.
Don't put too much emphasis on recent play.
Do you remember when Florida lost three of its last four regular season games in 2006 and 2007? No, you don't. Know why? Because those teams won the NCAA tournament. It didn't matter that they had apparently faltered down the stretch. It didn't matter that they lacked momentum coming into the NCAA tournament. Jon Wertheim and Tobias J. Moskowitz, authors of "
Scorecasting
: The Hidden Influences Behind How Sports Are Played and Games Are Won,"
hammered this point home this week
:
When picking fund managers, too many investors have made the mistake of focusing on recent extreme performance in hopes it presages future success. It doesn't. Likewise, don't put too much stock in momentum when making picks. For as often as we hear about teams "coming in on a roll" or "getting hot in time for the tournament," there's little indication that good teams that win their conference tournament fare better statistically than good teams that don't. The worst recent performers are likely to do just as well as the best recent performers. For as often as we hear about the teams "riding the wave of momentum" (see: Jim Valvano's 1983 North Carolina State team) there's seldom much predictability to it.
In other words: Don't overrate recent slides or recent boosts. I don't think you should totally discount a team's recent performance, especially if you believe it's more representative of that team's ability over the long-term ... but best not to get carried away.
Take the measure of the entire bracket.
This is supposed to be a "wide-open" NCAA tournament. Is it really?
The Audacity of Hoops's David Hess ran a few projections and calculated a few odds
, and the answer is basically yes, but with plenty of caveats. No. 1 seeds are still obvious favorites, for one. But because the committee did such a strange job seeding this year's bracket (especially relative to efficiency numbers) seeds could end up meaning even less than usual in determining who advances to the later rounds.
Some seeds are not as beneficial as you think.
Piggybacking off that last point, the chance of individual seeds' success and the relationship of seeds to team strength is not linear.
As Nate Silver wrote the other day
, because No. 1 seeds are typically so much stronger than the rest of the field, you'd rather be a No. 10 seed (which plays the No. 2 seed in the second round) than a No. 8 (which plays the No. 1).
Don't forget about geography.
And one last point from Silver -- dude has been killing it on the tournament front lately -- is this:
Where teams play matters
:
Since 2003, for instance, teams playing an N.C.A.A. tournament game within 50 miles of their campus are a remarkable 24-2. One of the two losses came in last year's championship game, when Butler -- playing just miles from its campus in Indianapolis -- came within 2 points of defeating a heavily favored Duke team.

By contrast, teams travelling at least 1,000 miles to play their game are 121-174, having won just 41 percent of the time.
Some of that has to do with how the selection committee seeds the field. As everyone knows, the selection committee gives top teams the benefit of tourney sites as close to their campus as possible, and you expect top teams to win regardless of venue. But that doesn't explain the huge correlation between minimal travel distance and success in the NCAA tournament. In other words, fire up the Google Maps.
Step back, relax, take it all in, and fire that bracket off.
You did the research. You dove into tempo-free. You read the very helpful and intelligent words of the aforementioned writers above. You scoured the Internet and found your own sources of guidance. You compared mascots, just to be safe. You're ready.
Now take a step back and inhale. Close your eyes and count to 10. Find your zen, your center, or what Happy Gilmore would call his happy place. ("We've only just begun ... to live.") Make peace with the first rule of bracket predictions: No matter how much you think you know, by this time Sunday, your bracket will probably be torn to shreds. It's the first rule of the NCAA tournament, and while everyone basically knows it, it's all too easy to forget by mid-day Friday.
But remember: You gave it your best shot. You went in with the best possible knowledge. You made the picks you believed were right. The rest is up to the players, the coaches and the insanity that makes this tournament so very special. Embrace it, and remember: Whether you dominate your bracket contest or finish dead last, the next three weeks won't be anything but awesome. In a competition that thrives on uncertainty, there are few things quite as certain as that.
Good luck, everyone.
March, 15, 2011
3/15/11
7:11
PM ET
Still agonizing over your bracket? Field Notes is one college hoops writer's attempt to guide you through the process over the next couple of days. Note: Said writer may or may not have a horrendous recent tourney history, which is why he'll rely so much on advice from others in this series. Consider it a thinking fan's guide to the bracket.
Next up: How tempo-free stats can help.
The 2010 Elite Eight were an eclectic bunch. There were No. 1 seeds and surprises, bluebloods and upstarts, high-tempo thrillers and low-tempo grinders, and a fifth-seeded Cinderella that featured a bowl-cut-sporting NBA lottery pick and a coach that appeared to be younger than most of his players. Not to mention
a dog that used Twitter
.
For all their differences, though, there was one overriding on-court theme in the 2010 Elite Eight: offensive rebounding.
Of the eight teams that made it to the end of the 2010 NCAA tournament's second weekend, five (West Virginia, Kansas State, Kentucky, Duke and Michigan State) ranked among the top 10 teams in the nation in offensive rebounding rate
as tracked by Ken Pomeroy's adjusted efficiency data
. A sixth team, Baylor, ranked No. 22 in the nation in the stat. Only Butler and Tennessee counted as legitimate rebound-rate outliers. In Butler's case, that was largely by choice, as the Bulldogs eschewed the offensive glass in favor of establishing the defensive shell that carried them all the way to the title game.
[+] Enlarge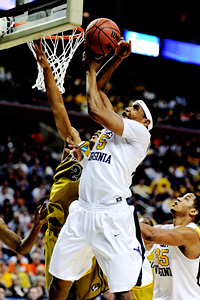 Richard Mackson/US PRESSWIREFive teams that ranked in the top 10 in offensive rebounding reached the Elite Eight last year, including Kevin Jones and West Virginia.
In other words, if you picked your bracket based on offensive rebounding rate alone last season, congratulations: you probably won your pool. At the very least, you did very well.
The question is: Should you do the same this year? If you missed out on last year's board-cleaning bumper-crop of rebounding machines, should you now get on the bandwagon once and for all? Can OR% carry you to bracket glory?
The answer: Maybe, maybe not. But OR% -- not to mention Dean Oliver's other Four Factors -- are a pretty good place to start.
In other words, if you're one of those college hoops fans that ignores tempo-free statistics ... well, don't. Tempo-free stats, and the very smart people who analyze them (Pomeroy,
John Gasaway
of Prospectus and ESPN Insider, and many others), are your friends.
(Frequent readers of the blog don't need a primer on tempo-free stats and the Four Factors, but in case you're one of those college hoops tourney tourists -- hi there! -- I'd advise you visit
here
and
here
for definitions and explanations. Don't worry too much about the math. Trust me, I'm terrible at math, and while I'm certainly no one's idea of a tempo-free guru, the nice thing about tempo-free stats is that they're actually really easy and intuitive. We're not doing rocket science here. Heck, we're not even calculating
VORP
.)
If there's one general takeaway from this bit of bracket advice, it's that. Use tempo-free stats to your advantage. They're not a magic wand, and the NCAA tournament is too crazy to abide by any numerical logic, but odds are you'll be looking up all sorts of statistics tonight and tomorrow in the hopes of gaining an advantage over your competition. If you're looking at statistics anyway, you might as well look at the most informative, reality-based numbers out there.
That's tempo-free. Tempo-free stats are, to paraphrase the immortal Dennis Green, what they sound like they are. (OK, that's not as catchy, but the spirit of Green's rant lives.) They tell you what teams do on each and every possession. That's what success college basketball is: maximizing every opportunity to put points on the board. In other words: efficiency.
You might know all this already, and you might not. You might have heard that it's helpful to "take a look" at
Ken Pomeroy's rankings
; maybe you already glance at KenPom while you're filling out your brackets. Good work. But Pomeroy's tempo-free data is much deeper and more nuanced than that, and you should be using that nuance to your advantage.
We hear this all the time about college basketball: It's all about matchups. Which is true. Most of the time, though, that sentence is used to describe the physical attributes of the two teams at hand. Which team is quicker? Which team is bigger and stronger? Who has the best guards? Who can stop Player X in the block? All of that stuff is important, but it's hard to quantify that unless you've watched every team in the bracket play more than once this season, and I'm betting you don't have that kind of time. Instead, take 20 minutes or so and pit each matchup in your bracket on tempo-free terms.
For example: Maybe you really like No. 11 Missouri to beat No. 6 Cincinnati in Washington D.C. Thursday. You've seen Missouri play on national TV, you know they like to press and force turnovers, and you don't think the Bearcats can handle that style. You may be right. But you should also know that Missouri is one of the worst teams on the defensive glass in the country -- the Tigers allow opponents to grab 36.1 percent of their misses, which ranks them No. 317 out of 344 teams -- while Cincinnati happens to be one of the best teams in the nation (rank: No. 10) at chasing down its own misses.
That doesn't mean Cincinnati is definitely going to win. That doesn't mean the Tigers can't force Mick Cronin's team into an unusually high number of turnovers. But it does give you some idea of what to expect. I bet that idea is more than most fans have when they see No. 6 vs. No. 11 on their bracket sheets. This applies everywhere, to every game, to every matchup. Crazy stuff happens, but that craziness is usually governed by performance.
The nice part about all this?
ESPN's Bracket Predictor has each of the four factors built in
, which makes examining each of these matchups much easier; you don't have to spend five hours tonight (even though you totally should, because it's not like you had anything better to do tonight; it's tourney week) going through each and every team's profile page.
But however you acquire this knowledge, the important part is that you're acquiring it all. The NCAA tournament is incredibly difficult to predict -- just ask this guy -- and no metric or statistic or stat serves as an easy
this-can't-possibly-fail
toy. But in the pitch-black room that is the NCAA tournament, the least you can do is bring a flashlight.
A few other caveats worth chewing on:
If you want to understand how to apply the stats you see with the games you're watching, go mind-meld with the folks at Basketball Prospectus. The dynamic between what you see and what the stats say is never as wide as you think, and Prospectus is the best place to get a dose of context with your numbers.

Do pay attention to offensive rebounding rate. As you read above, it was, shall we say, a pretty big deal last year. It had many leather-bound books, and its apartment smelled of rich mahogany. The same was true in 2009, when the Elite Eight featured four teams (Michigan State, Connecticut, Pittsburgh, North Carolina) ranked no lower than No. 21 and seven teams (that group plus Oklahoma and Villanova) that ranked no lower than No. 51 nationally in offensive rebounding rate. This makes sense: Excellent rebounding is built on more reliable traits -- style, size, strength, athleticism, intuition, determination -- and is thus usually more consistent than, say, shooting. More often than not, we see this with elite teams. The best explanation is that offensive rebounding is a great way to get easy buckets even when shots aren't falling, and thus a great way to prevent an unexpected upset in the tournament when shooters go cold.

Look for hot-shooting low seeds as your upset picks. This likewise dovetails with what we see on the court. Shooting can be unreliable in small sample sizes, but if one of your upset picks is a sneaky-good shooting team, they have a solid chance to take out a sleepy high seed in the first round. (Given the parity in this year's bracket, I'm not sure how many "upsets" will actually be upsets, but you get the idea.)

Observe style of play. Does a team play a lot of man? A lot of zone? Do they like to run or grind it out? You might think these are things you can only observe with your eyeballs, but Pomeroy actually maintains this data as well. Compare a team's pace and style with its other stats, and see if that team frequently exerts its own brand of basketball on unwitting foes. See: Butler 2010.

Don't forget luck. A team's ability isn't always measured in wins or losses. Did that team underperform its record? Or did a team lose a bunch of close games and thus receive a lower seed than it should have based on its other indicators? Be sure to dig a little deeper: Is a team's bad luck really a product of style, or a penchant for falling apart late in games? See: Illinois 2011.

And, as always, get the most up-to-date information available. The ESPN Bracket Predictor, like KenPom, provides tempo-free data over the entire course of the season, which is good, because that's the biggest sample size possible. Duh. That said, some teams' figures could be deceptive at this stage of the season. See Texas, which is ranked No. 1 overall in adjusted defensive efficiency. The Longhorns played so well on the defensive end for two months that even a recent slide wasn't enough to drop them behind Florida State, Duke, or San Diego State. But it's worth knowing that since Feb. 19's loss at Nebraska, Texas has allowed opponents to score 1.05 points per possession, well above the Longhorns' season average. How you balance late-season play vs. the total body of work is up to you. But you should balance it all the same.
Again, tempo-free isn't the be-all, end-all, and it certainly doesn't come with any guarantees attached. Given the nature of the tournament, and that dude in the cubicle who won last year's pool based on his "who has the coolest shorts" criteria, throwing darts at your bracket doesn't seem like the worst idea. But if you're the type that likes to make decisions based on as much knowledge as possible, tempo-free statistics are your buddies. Show them a little love, and they'll have your back all month long.
(Hey, now that I think about it, who
does
have the coolest shorts in college basketball? Texas is up there. Kansas? Ohio State? Florida? You know, maybe this could work. I'll have to get back to you on that one.)
March, 15, 2011
3/15/11
2:00
PM ET
Still agonizing over your bracket? Field Notes is one college hoops writer's attempt to guide you through the process over the next couple of days. Note: Said writer may or may not have a horrendous recent tourney history, which is why he'll rely so much on advice from others in this series. Consider it a thinking-man's guide to the bracket.
First up: On picking one bracket and one bracket alone.
I like to think of myself as non-judgmental.
In your free time, you like to take photos of your cats and submit them to meme generators. Your favorite movie is "anything with Dwayne Johnson," and you don't mean that ironically. ("What, I like action! So sue me.") You were one of the people
outraged about the Arcade Fire winning a Grammy
, because you had never heard of the Arcade Fire. You vastly prefer the musical stylings of Justin Bieber. You're
Team Jacob
. You -- gasp -- like the RPI.
No judgment here. Promise. It's a free country. Culture is yours to consume as you please. That's like,
your journey
, man.
Which is why you should not take the following words as a lecture. Instead, consider them a friendly nudge in a hopefully positive direction:
When you submit your NCAA tournament pool picks this year, don't fill out more than one NCAA tournament bracket. Make one set of picks. Fill out one master bracket. Choose one path to NCAA tournament glory or scorn.
Trust me: You'll enjoy the process so much more.
Longtime readers of the blog will know I
deliver this nudge in some format every year
. Repetitive though it may be, this year is no different. In fact, I'd argue that this principle or maxim or screed or whatever you want to call it only gets more important with each passing year. Each year, more people participate in ESPN.com's Tournament Challenge. Each year, more and more people buy more and more shiny devices, and more and more people develop applications for said shiny devices that make it easier and easier to fill out more and more brackets. Each year, the temptation only grows.
Which is why you must be strong. You must persevere. You must fill out on bracket sheet, apply it to every pool you join, and stick with it as the tournament rolls along.
"Hey, Eamonn," you might be asking, "What's the big deal? So I like to fill out 10 different brackets. I'm trying to win this thing! What's the problem with that?"
Well, dear reader, I'm glad you asked. The answer is pretty simple: The more bracket combinations you use, the less fun you will have during the NCAA tournament. And if you can't have fun during the NCAA tournament, what's the point?
If you fill out more than one bracket, you won't have one set of picks to refer to. You'll have 10. Instead of knowing whether you picked Ohio State to make the Final Four and, oh man, George Mason's up by five in the second half, this game's close,
I need to turn this on immediately COME ON Buckeyes
... you'll be that guy saying "Well, I took them to win it all in one bracket, but I had them losing in a couple of others, so no big deal." No big deal? Ohio State's down by five! No big deal?!
Instead of knowing you picked Morehead State to upset Louisville, and being either thrilled or crushed with the result, you'll shrug your shoulders and say, "Meh. I had that pick on six sheets, but I should be good on the other four."
Instead of being a college basketball
fan
, someone who lives and dies with every bounce and break and buzzer-beater, you'll be a college basketball portfolio manager, the type of person who applies the joyless clinical principles of risk aversion to the most joyful, thrilling competition in sports. You'll have taken all the fun out of your March. Why would you consciously do such a thing?
If you're the kind of person who would consider the latter option, you have to ask yourself why. The answer is probably: "Because I want to win a pool. I want to win 'units' from my friends. I want bragging rights. I want to be King of the Mountain." Which is fine, of course. That's why people do pools. But if you fill out five brackets, or 10, and one of them does well, how impressive is that, really? You didn't really
win
. Your picks weren't actually
good
. You merely lucked upon one combination of results that happened to work in your favor, most likely at random. Um ... congratulations?
If "units" are your concern, how many brackets will it take you to find a winner? Five? 10? How many "units" are you really going to win? Are you in the NCAA tournament to make marginal gains on your investments? Can't you do that with, like, every other commodity in the entire world? Shouldn't the tournament be an exception?
Compare that attitude to the fan who selects one field and applies it to all his different pools. She still gets the variance of chance from pool to pool, and she still has more than one chance to win. But if she does win, she gets to say she won with her picks. She gets to say she got the field right. She gets legitimate bragging rights.
And if she loses? Well, big deal. In this madcap month, chances are she was going to lose anyway.
Thing is, as cliché as this sounds, unless your team has a legitimate shot to win the national title, the NCAA tournament fan experience is not about winning or losing. The aforementioned fan gets to watch the NCAA tournament with a singular focus in mind. She doesn't have to juggle results. She doesn't have to distribute risk. She gets to enjoy the NCAA tournament and her bracket's place in it with the requisite love this brilliant month demands. She isn't waffling. She isn't equivocating. She isn't desperate for approval. She's just a fan.
Her bracket may be horrible, and it may not win her a thing. But I bet she'll have plenty of fun on the way. Here's another cliché: It's not the destination. It's the journey.
Like I said: I think of myself as non-judgmental. I hope I'm a pretty accepting guy. If you want to treat the NCAA tournament like a commodities derivative, hedging on your risk in the pursuit of one,
just one
, successful bracket ... well, feel free. That's your call.
In the meantime, the rest of us will be over here enjoying our pools the way they were meant to be enjoyed. We know what our picks are. We're hoping for the best. We're prepared for the worst. We're willing to accept anything in between.
When you react to a thrilling first-round upset with a shrug, when you tell us "had that in a couple of brackets, I think," pardon us if we kindly roll our eyes.
OK, so maybe we
are
judging you. Just a little. Fact is, you're not very much fun. Frankly, we'd rather listen to Justin Bieber.