College Basketball Nation:

Final Four
September, 20, 2013
9/20/13
10:15
AM ET
1. The Final Four is accepting offers for future sites for 2017-20. The deadline for the bids is Oct. 11. Let's clear this up a bit. Indianapolis, host again in 2015 after North Texas in 2014, has a deal with the NCAA that they will host at least every five years through 2039. Indianapolis is a great host city with its proximity between venues and passion for the sport. The plan for a new dome in Atlanta, tentatively scheduled to open in 2017, would put that city back in the mix. New domes are always looking for huge events. If North Texas is a success, then putting the event back in Jerry's World will likely happen. I'm hopeful San Antonio and New Orleans will continue to bid for the event, as both cities have been terrific hosts and are accessible for fans. You need destinations for an event like the Final Four. That's why Houston was not a great host. The Final Four was too spread out at three different locations with nothing happening around the dome itself. Houston somehow got two Final Fours the last time the bids were handed out. Houston hosted in 2011 and will again in 2016. Phoenix/Glendale failed to host the last time around. So it will be interesting to see if they make a play again for the event. The 60,000-seat minimum and 10,000-hotel room minimum will limit some from bidding.
2. Practice starts next Friday in college basketball and teams are looking for creative ways to get fans interested early. Duke will host an open practice next Saturday from 10 to noon. But my favorite is Pitt. The Panthers had a successful late-night event on campus. This time, the Panthers are hosting an event in advance of Pitt playing Virginia in football near Heinz Field. So the morning madness next Saturday at 10:30 a.m. will try to get Panthers fans jazzed. There will be a special guest, though.
Check him out here
.
3. BYU coach Dave Rose is home and resting after having cancerous spots removed. But he is well enough to host recruits this weekend. If anything, the recruits should see the courage and fight in Rose that should provide quite a sales pitch to play for someone who is going through something much harder than they would ever dream about while playing at BYU. The plan is still for Rose to be ready to go for the start of practice on Oct. 7. The Cougars are choosing to wait a week to start.
September, 7, 2012
9/07/12
9:30
AM ET
You can call it cold-hearted and sterile. You can call it egalitarian and celebratory. Whatever you call it, it's a fact: The NCAA has long since decided that it is much better off hosting its most important event -- the Final Four of the men's NCAA tournament -- in very large stadiums.
These gigantic structures are football buildings built on the back of the NFL's
Buy n Large
-sized popularity. They house many people (which means more money and more opportunity for fans to get in the building) and many media members (which, let's be honest, we could all do without) and generally they do a pretty good job of hosting Final Fours. These buildings are also awkwardly cavernous, vaguely clinical, and basically just not at
all
designed for basketball.
These are the facts. They have become accepted. They may or may not be ideal, but they make sense.
Which is why
this story, from ESPN.com's Andy Katz
, caught me by such surprise Thursday night:
The NCAA and the men's basketball selection committee have discussed the possibility of moving the Final Four out of a dome and into an arena in a major metropolitan city.
Oh, yes, you read that right. The NCAA is actually considering moving its understandable-if-not-particularly-ideal Final Four host sites to -- gasp --
actual basketball arenas
. And not because the NCAA basketball folks are suddenly feeling like it would just be nice to see a Final Four game in a modern building designed by experts to house basketball, or
in a charming old fieldhouse complete with sunbeam streams
. No, the NCAA -- specifically, vice president for championships Mark Lewis -- is at least somewhat concerned about geography:
Lewis told ESPN.com on Thursday that when he was hired earlier this year, he took out a United States map and saw that both coasts are largely left off from hosting the Final Four.

"I don't know where this will lead, if anywhere, but the right thing is to sit down and have these conversations and see if we want our championship in more than eight cities or do we like playing exclusively in domes," Lewis said.

"None of the cities where we play our championship is named New York, Boston, Los Angeles, Chicago or Miami," Lewis said. "We don't play on a campus. We play in professional football arenas."
I don't care if the reasons (attention, spectacle, footprint, money) are essentially the same as what got the Final Four into large domes in the first place. I don't care if the potential flaws are glaringly obvious. (A lot of fans could end up being priced out of a 17,000-seat stadium more easily than a 70,000-seat stadium, at least on the secondary market. The ancillary Final Four events -- conventions, ceremonies, outdoor concerts, "fan experiences" and big tents full of T-shirts and comestibles -- may lack for space.) I don't care if the idea is just that: an idea. I don't care if the chances of this happening are incredibly slim. (They are.)
Honestly, it's just nice to hear the idea discussed. Broached. Bandied about. It's refreshing. Maybe it will never happen, maybe it can't happen, maybe it doesn't make enough sense.
But come on. Final Four in a fieldhouse? A guy can hope.
May, 11, 2012
5/11/12
10:15
AM ET
Understatement alert: In the NCAA, change never comes easy. There are various committees and vying constituencies and a democratic process and, sure, a long-standing resistance to change for no other reason than that -- it's change. NCAA president Mark Emmert has been more proactive than many of his predecessors during his tenure at the top, and the NCAA is going through a tumultuous time, but in general, when you're talking NCAA, you're talking about things that have been and always will be, and that's just the way it is.
Which is why it's kind of refreshing to see the organization make a small but nonetheless welcome tweak. Beginning at the 2013 Final Four in Atlanta, the NCAA will hold the championships not only for our beloved Division I, but for all three men's basketball divisions.
From the Associated Press
:
Both the Division II and Division III champions will be crowned on April 7, with the tentative site being Philips Arena. Next season's men's Division I national semifinals are April 6 at the Georgia Dome, as is the national championship game on April 8.

The NCAA says the moves are being made in part to add to the 75th anniversary celebration of college basketball's annual championship tournament.

"We're looking to create a bit of history and really allow more and more people to see all three championships at the same time," NCAA executive vice president for championships Mark Lewis said.
I don't really care about the whole 75th-anniversary thing. It's nice, I suppose, but it's not like the NCAA tournament as we currently know it has been around for three-quarters of a century. It's changed too often and too significantly to feel like a continuous thing.
I am, however, excited for Division II and Division III men's basketball at the Final Four. I will totally go watch those games!* I would imagine many of the fans in town for the Final Four will do the same. It's college basketball, after all, and even if the level isn't as high, it will be hard-fought and at least three or four steps above your typical high school basketball game, and high school basketball games can be plenty entertaining in their own way.
Plus, it's just good public relations, right? The NCAA gets to showcase the work it does away from the billion-dollar TV contracts, and emphasize the importance of the student-athlete in a much more tangible way. And the schools involved get some of the attention and spotlight, if only for a day, otherwise spent parsing players' quotes and talking about national championship strategy.
I might be too excited for this. I am probably too excited for this. But it is a pretty great idea.
The NCAA has a lot of things on the to-do list these days, but hey -- credit where it's due.
*Provided my mean old editors don't make me, like, work. Pshh. Work.
April, 26, 2012
4/26/12
5:00
AM ET
1. The NIT contract with Madison Square Garden is up this year. The NIT Season Tip-Off could live with being in Indianapolis (where the NCAA is headquartered) if it couldn't be at MSG. But the postseason NIT really should be at the Final Four site if it can't be in New York. The perfect scenario to save the event, if an MSG deal falls through, would be to play the games at the Final Four in an adjacent college building (next year at Georgia Tech) on the Wednesday and Thursday nights at the Final Four. You can clear out the fans when most arrive by Friday morning.
2. Murray State coach Steve Prohm said he is desperately seeking a tournament for next season and is attempting to get into the Charleston Classic. He said he's willing to open up against a high-major on the road or in the first week, but needs a home-and-home series with the home game being next year. This is the price a school like Murray pays for having an outstanding season and returning an all-American candidate in
Isaiah Canaan
.
3. Xavier coach Chris Mack won't say anything more about
Mark Lyons
. But the Musketeers did need to move on from this crew. They excelled to get to the Sweet 16 in Atlanta. But the time was now to sever the relationships from last season's team. Xavier is too proud, too strong a program to be tainted by that one incident; having a fresh start with the main combatants gone allows for a new era.
January, 10, 2012
1/10/12
6:15
PM ET
With New Orleans hospitals, schools and basic infrastructure in dire need of rebuilding following Hurricane Katrina, many taxpayers wondered aloud why the Federal Emergency Management Agency would allocate $156 million for a renovation of the Superdome.
Sure, the stadium was eligible for FEMA funding because it was state-owned, open to the public, and it sustained damage during Katrina. Yet questions came, anyway.
But for Louisiana, it marked an "If You Build It, They Will Come" idea. Fast-forward six years, and note that the Mercedes-Benz Superdome -- on the heels of a $336 million, multiphase renovation -- is in the midst of playing host to a string of the country's major sporting events.
[+] Enlarge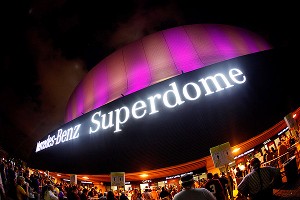 Chris Graythen/Getty ImagesThe Mercedes-Benz Superdome before the All-State BCS National Championship Game.
In addition to the annual Sugar and New Orleans bowls, the city that hosted the Allstate BCS National Championship Game Monday night also has Saints playoffs games this winter, the SEC men's basketball tournament and men's Final Four this spring, the Super Bowl in February 2013, and the women's Final Four a few months later.
Landing such events was part of the post-Katrina recovery plan, says Mark Romig, chief executive officer of the New Orleans Tourism Marketing Corp., and a member of committees for the Super Bowl and Sugar Bowl. "We knew for us to come back and to lift ourselves up, we had to go through this process."
Romig says New Orleans annually ranks at or near the top of the list in hospitality jobs nationally, with between 70,000 and 80,000 positions. He says that number is "very close" to pre-Katrina levels and that there are more restaurants in New Orleans than before the hurricane, and hotel numbers are comparable.
John Williams, interim dean for the University of New Orleans' College of Business Administration, attributes much of the city's jump from $4.3 billion in tourism spending in 2009 to $5.5 billion in 2010 to sports. Business travelers are staying an average of 2.2 days longer than their business plans, he says, often to attend sporting events.
Williams says studies also show fans visiting for sporting events are more likely to patronize local restaurants than other tourist segments, like day visitors or business travelers. It's why he thinks the city has seen a jump in restaurants from 805 pre-Katrina to 1,230 today. "Sports are really key to that," he says.
Williams says the city saw a 6.6 percent growth in tourism-related jobs in the first quarter of 2011 alone. While numbers have not yet been vetted for the remainder of 2011, he says the city has been experiencing a snowball effect since hosting Saints playoff games in 2009.
Romig says hosting events like the BCS game Monday essentially provides the city with immeasurable free advertising to help boost tourism unrelated to sporting events. ESPN logged more than 36 hours of programming on sets around New Orleans in the week leading up to the game, not counting the game itself, pre- or postgame shows or halftime shows.
Asked to estimate the value of the advertising New Orleans received around the BCS National Championship Game, Malcolm Turner of Wasserman Media Group says, "There's no question we're talking in the tens of millions of dollars."
The projected economic impact from the recent Sugar Bowl and BCS National Championship Game was $400 million. The R&L Carriers New Orleans Bowl played on Dec. 18 and the Saints playoff game last Saturday were expected to contribute another $45 million. But the Super Bowl is the big revenue generator, with estimates at about $900 million.