College Basketball Nation:

Florida International
May, 29, 2012
5/29/12
2:29
PM ET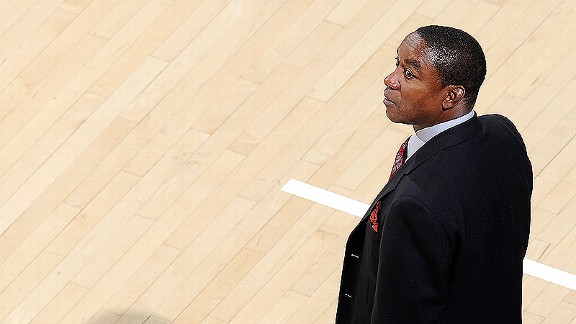 G Fiume/Maryland Terrapins/Getty ImagesIsiah Thomas, 51, says he hasn't given up on his quest to stay close to the sport of basketball.
You have to hand it to Isiah Thomas: The man clearly loves basketball.
Whatever his other motivations for taking the Florida International job three years ago, it's hard to argue that a love of basketball wasn't at least partially behind it. The sport had bruised and battered Thomas at every level since his playing days; whether he was running the now-defunct Continental Basketball Association into the ground or signing Zach Randolph and Eddy Curry as his luxury-tax-engulfing starting New York Knicks frontcourt, it was long since clear that the gift Thomas had for the sport as a player had failed to carry over into management or coaching. And yet, he wanted back in, wanted to keep coaching, wanted to start over at a place that would offer him the chance to directly affect young players.
Even after the FIU experiment flamed out in epic fashion -- Thomas went 26-65 in three seasons, never winning more than 11 games in any one year -- the man remains determined to be near the sport, whether as an executive, NBA coach, or even, believe it or not, in the college ranks. That's what
he told ESPN Chicago's Scott Powers this weekend
, anyway:
"I definitely want to be in basketball again whether it be coaching or as a general manager," Thomas said by phone. "My gift is basketball. I would love working with the kids. If it's the right college program, I would consider it. If it's the right GM job or coaching job in the NBA, I would consider it. I love the game. I just want to be in the game." [...]

Thomas felt he wasn't given enough time to succeed at Florida International. With the players he had coming in this season and the ones returning from last season's 8-21 team, Thomas believed the program was on the rise.

"College sports finds itself in a transition right now," Thomas said. "There's old-school guys who know it takes time to build and do things right. Then, there's the new school that probably thinks you can get it done in 2-3 years. That's not how it goes. If I can find the right people with the right program, I'm confident I can put together a good college program."
That last bit is difficult to swallow. It's not like Thomas was obviously on the verge of a breakout season at FIU. He recruited some talent to the school, sure -- forward
Dominique Ferguson
, though troubled, was a highly touted recruit when he chose to play for the Panthers -- but he wasn't revolutionizing the way people viewed FIU. He
wasn't even winning games
. FIU athletic director Pete Garcia decided to end the experiment quickly; given Thomas's record, few have questioned that decision. Throw in Zeke's failures before FIU, and his on-again-off-again dalliance with the Knicks during his time at the school, he probably didn't deserve to keep his job.
So when I was catching up on all the weekend college hoops news this morning (I turned my computer off for the entirety of Memorial Day weekend, and I remain very happy with this decision) I read this story and immediately thought of ways to make fun of Thomas anew. That's what we do with Thomas now. He does something or says something worthy of ridicule, and then we ridicule him. Rinse, repeat.
This time, I'm going to pass. (In case you are interested in some good Zeke
schadenfreude
, the finest example
may be the first comment on the above story by Howdy220
, who wrote "You know what they say, if you can't make it at Florida International you can make it anywhere." +1.) It's not just because it's all been done before, though it has. It's more because the man clearly loves the sport of basketball and all it entails. He wants to be in it -- to compete, to observe, to analyze, to mentor, to fuel his own ego, whatever -- and he doesn't seem interested in much else.
For better or worse, I can identify with that. Can't we all?
But now Zeke's options are running thin. The FIU debacle has done little for his standing in the game, whether at the college level or in the pros. What athletic director would want to take a shot on Thomas now? What NBA front office -- other than the Knicks, it seems -- would want him around? Very few. And yet he keeps smiling and hoping for another chance, one he probably doesn't deserve, for the same reasons that made him the legendary player he was in the first place: The game is in him.
Sooner or later, the game won't want him anymore. It happens to almost everyone, one way or the other. The game moves on. For Isiah Thomas, that day may be coming far faster than he is willing to admit.
October, 4, 2010
10/04/10
10:41
AM ET
Florida International coach Isiah Thomas got some very exciting, and then some very disappointing news in the matter of 24 hours. And both pieces of news came from the same recruit.
Cedrick McAfee, the No. 59-ranked player in the class of 2011,
told Thomas that he would be coming to FIU after Thomas met McAfee in a face-to-face visit at McAfee's home in Memphis
. Then, a day later, McAfee told Thomas he jumped the gun. Instead, he'd re-open his commitment and make his other scheduled recruiting visits to Auburn (this past weekend) and Baylor (later this month).
Now? McAfee appears to have spurned FIU for good,
according to Gary Parrish
. The guard committed to Auburn coach Tony Barbee this weekend and, barring another quick change of his decision, appears set to attend Auburn.
That has to be doubly disappointing for Thomas, because McAfee would have been the best player he's recruited to FIU since his arrival at the school two years ago. Thomas has been in on a handful of high-profile guys -- he notably went after eventual Cincinnati recruit Lance Stephenson when it became clear the hesitancy of other schools gave FIU a legitimate chance -- but he's failed to land many of them. Like any other coach, Thomas' goal isn't just to compete for recruits. He needs to land them. Having McAfee, only to watch him rescind his commitment and quickly end up elsewhere, has to feel like the ultimate tease.
September, 22, 2010
9/22/10
12:29
PM ET
You have to feel for Isiah Thomas. Maybe just a little bit. Maybe just for this one situation. But still, you have to kind of of feel for him.
Imagine, if you would, how excited Zeke must have been this Sunday. It was Sunday, after all, when
the No. 59-ranked player in the class of 2011, Cedrick McAfee
, told Thomas
face to face that he would indeed be committing to Florida International
. Imagine how happy Isiah must have been! Imagine the elation he felt upon leaving McAfee's house! You can almost see him clicking his heels in a mid-air leap as he jumps down the McAfees' front sidewalk. Huzzah!
The elation would have been warranted. After all, for all of Thomas's high-profile attempts at recruiting thus far in his FIU tenure, few players of McAfee's stature have considered Florida International seriously, let alone delivered on those considerations. It would have been a pretty big deal.
And there's the key phrase: "would have been." Because a day -- not even 24 hours -- after Thomas did his imaginary skip down McAfee lane,
Cedrick's high school coach told the Memphis Commercial-Appeal that McAfee had a change of heart
. Instead of locking in at FIU, McAfee was going to re-open his recruitment. According to the coach, he'll be visiting Auburn this weekend and Baylor in October. Ouch.
Zeke still has a chance to get McAfee. The player isn't ruling out FIU; he's just taking his time in making a decision, which is probably the smart thing for everyone involved.
But, still, yeah: poor Isiah. That one has to sting.
August, 19, 2010
8/19/10
12:40
PM ET
In a summer teeming with Isiah Thomas offseason news --
from his stated desire to be an NBA general manager
to his questionable (and quickly squashed) bid to
remain an official consultant to the Knicks during his FIU tenure
-- this might be the one that most disappoints Florida International basketball fans.
Dominique Ferguson
, Thomas' top recruit in the class of 2010, will be academically ineligible for the coming fall semester,
according to Fox's Jeff Goodman
. This, obviously, is bad news: Ferguson was the biggest recruiting coup of Thomas' young tenure. His
top 100 ESPNU ranking
-- No. 58, to be exact -- would make him the most talented player at FIU since the Halcyon Days of Carlos Arroyo and Raja Bell (1998-2001).
Ferguson was also recruited by Kentucky, Duke, Indiana, UCLA, and Arizona, but
many of those programs ended up getting cold feet because of perceived academic and attitude issues
. Ferguson struggled with his grades at Indianapolis' Lawrence North High School before transferring to Hargrave Military Academy (Va.) for his senior season.
In any case, with or without Ferguson, it was unlikely FIU was going to burst on the national scene this season; a handful of good-but-not-great recruits wasn't going to turn the 7-25 Panthers into the Gonzaga of the east quite so quickly. But if Ferguson continues to struggle to get eligible, Thomas' ability to prove he can lure top recruits -- without these sort of
Lance Stephenson
-esque warts -- will be an issue.
August, 12, 2010
8/12/10
10:41
AM ET
Well, that didn't take long.
Isiah Thomas and the New York Knicks set off something of a firestorm last week, somehow managing to confuse both NBA and college hoops observers with the tenuous announcement that Thomas would serve as a front-office consultant for the pro franchise while also serving as the head coach at Florida International. It
wasn't hard to spot the glaring conflict of interest at work there
, especially given Thomas' stated Knicks duties, which included "player recruitment."
Both
sides of the deal had reason to question the arrangement
: Would Thomas use his ties to the Knicks to ensure pro chances for his star recruits? Would Thomas tout FIU players to the Knicks even if they weren't as good as other prospects? Why would either FIU or the Knicks allow this to happen? And just where is the NCAA in all of this? If the organization doesn't have a rule against the practice, what's to stop it from happening elsewhere?
Turns out, the NCAA didn't need to do anything. Thomas was oh-so-politely informed by NBA commissioner David Stern that the NBA doesn't allow league personnel to have any contact with players who aren't eligible for the NBA draft.
From the AP
:
"We have been informed by the Knicks that Isiah Thomas has rescinded his consulting agreement with the team. As a result, it is not necessary for the league to take any formal action on the proposed arrangement," Stern said. "However, we have reminded the Knicks of NBA rules that prohibit team personnel, including consultants, from having contact with players not eligible for the draft."
Yours truly assumed the NCAA would have to step in and classify NBA consultants and front-office personnel as akin to agents, thus closing a loophole that allowed Thomas' creative job situation in the first place. Alas, the NBA did its college counterpart one better. Easy enough.
So, um, thanks, NBA! Now, if we could just have a few more minutes of your time, we were hoping to talk to you about the one-and-done -- what's that? Oh. Yeah. I can hold.
August, 11, 2010
8/11/10
9:30
AM ET
Jim Boeheim and Mike Krzyzewski aren't the first college hoops observers to notice the massive conflict of interest at the heart of Isiah Thomas' job as a consultant with the New York Knicks. Our own
Dana O'Neil tackled that last week
. The calculus is pretty clear: At best, Thomas' dual jobs as Florida International head coach and Knicks consultant -- with responsibilities that include "player recruitment" -- make for a rather unseemly use of a loophole the NCAA would do well to close.
Interestingly enough, Jim Boeheim and Mike Krzyzewski agree. From
Adam Zagoria
:
"I would decline to do that just because I shouldn't be perceived to have an advantage in whatever way over another college coach, so that's why I wouldn't to do it," Krzyzewski said Tuesday. "I don't think there's anything ethically wrong with it or whatever, I just think that it's probably better to keep it separate."
"Have we served as consultants to the pros? Yeah," Krzyzewski said. "People call us before the draft, 'What do you think of this, what do you think of that?' I think it's better to have it like that."
Coach K was more diplomatic about the situation than Boeheim, who said the conflict of interest applied to both the NBA and college teams:
"It's a conflict [of interest] either way, from college or from the NBA, I just don't understand why it wouldn't be," Boeheim said. "You know, you're a college coach involved with kids and the NBA wants your players or evaluations of your players. ... It seems like it's kind of a conflict a little bit that you're coaching kids and then recommending them to pro guys."
Per the usual, Boeheim hits it on the head. The notion that Thomas could utilize his position in the Knicks front office as a recruiting ploy ... well, just what message does that send? And if you're a college coach, and you see this strategy work, why wouldn't you do the same? How long would it take for any college coach looking to compete on the recruiting trail to tie himself to an NBA team? It's another paycheck, and the NCAA doesn't have a rule against it, so, hey, why not?
Of course, there are problems on the NBA's side. If I'm the Knicks, and Thomas is touting a star FIU player over other draft prospects, am I going to trust his evaluation? Probably not. I'm going to assume he's fulfilling his side of a quid pro quo, or at the very least doing his best to build a league-straddling pipeline to the pros. What good does that do my franchise, exactly?
In any case, it will be the NCAA's job to step up and end the discussion. Thomas' roles are currently legal. But they're only an ethical fraction removed from the NCAA's rules about contact with agents and prohibitions on hiring "individuals associated with prospects" (read: AAU and high school coaches). It shouldn't take much to close that loophole.
February, 10, 2010
2/10/10
11:15
AM ET
Make no mistake: Getting a coach like Isiah Thomas to come to Florida International was a major coup for that school. Sure, Isiah has had his fair share of struggles elsewhere -- OK, he's had, like, five times his share, but who's counting? He's also a big name that can lure the occasional top recruit on celebrity status and NBA knowledge alone, and in the Sun Belt that might be enough to put FIU basketball over the top.
This was the thinking when Thomas was hired last year. How's that going for FIU?
Thus far, not so great
. Working with a depleted lineup, the Panthers are last in the Sun Belt, fan attendance is low and very few people -- notably deep-pocketed boosters -- have taken note:
Nor has Thomas's arrival led to a surge in alumni interest or cash. Although FIU has invested more than $55 million in building a new football stadium and upgrading the arena — while cutting back more than $32 million on academics — so far, there's nothing to show for it.
The gridiron Panthers had a dismal year, and the basketball team has averaged a paltry 120 attendees per home game this season. The arena seats 6,000.
Yeesh.
Of course, Rome wasn't built in a day, and programs aren't built overnight. Even a place like Indiana, with its deep basketball tradition, saw a downtick in seat sales when the program took a Kelvin Sampson-piloted nosedive. FIU is not Indiana. You have to give people a reason to care, and that reason has to be more than: "Hey, it's Isiah Thomas!" (Plus, say you lived in Miami. Of all the things you're going to spend your time on, are you going to attend a college basketball game? And if you do attend a college basketball game, is it going to be FIU?
Beautiful morning here in Miami. What should I do today? South Beach ... Isiah Thomas. South Beach ... Isiah Thomas. You know, I'm going to go with South Beach again today. South Beach remains undefeated!
)
That said, 120 attendees per home game? In a 6,000 seat arena? No matter how low your expectations, this must be considered a failure, at least for now. Thomas deserves plenty of time -- he has to prove he can coach, remember -- but, um, yeah. Thus far, the Isiah Thomas experiment is not going well.
(Hat tip: SB Nation)
January, 22, 2010
1/22/10
10:05
AM ET
The Morning After is our semi-daily recap post. Try not to make it awkward.
Seton Hall 80, Louisville 77
: Wednesday was a night of streaks. Memphis lost its conference win streak; DePaul broke its conference losing streak; Pitt ceded its Big East home game streak, and so on. Louisville might as well have played on Wednesday night, as the Cardinals lost for the third time in a row for the first time since 2005-06. If that seems confusing, it's not just the awkward phrase. That's how good Louisville has been in the Big East for the past three years, and in 2009-10, for whatever reason, the Cardinals are managing to post efficient statistics and numbers and still look utterly mediocre in the win column. That's what's most confusing: Why isn't this Louisville team better? Or, more precisely, why isn't this Louisville team,
which appears on paper to be one of the best four or five teams in the Big East
, so apparently unable to turn that efficient profile into wins?
No. 20 Butler 48, Loyola (IL) 47
: Perhaps the most important thing for Butler is they survived, and won, a game in which they made .08 points per trip, posted a 38.4 FG percentage, went to the free throw line on a mere 17 percent of their possessions, and were out-rebounded on the offensive end almost 2-to-1. Still, though, that is an ugly performance. Even against mediocre Horizon League teams like Loyola, Butler won't be able to play this badly and expect to make it through the conference slate unbeaten,
which is pretty much what they have to do
to secure an at-large bid and not worry about the pressures of the conference tournament come March. If you wanted to over-analyze the game, you could say that surviving and winning on the road on such a bad night was a good thing, that it proved Butler's mettle, or something. Or you could just call it what it is: a bad game that Butler can't afford to replicate all that often.
Indiana 67, Penn State 61
: Indiana fans have had a weird relationship with this year's IU team. Most went into the season with some cautious optimism, only to have that optimism simultaneously piqued and dashed week in and week out. Tom Crean's team is
capable of beating Pitt in Madison Square Garden
, only to
lose Loyola (MD) at home a week later
. This is the kind of up-and-down, tweener season Crean is having right now: His team can play inspired, coherent basketball and challenge and even topple superior teams ... and then a night later can toss in horrid, ugly performances that have some of the more strident IU fans already questioning the length of Crean's contract. (Kentucky fans get a bad rap for being too hard on coaches, but IU fans deserve a shout-out: That some are already nibbling at the edges of his popularity is kind of shocking. What did you expect? Things were screwed up before, and Crean is trying to make them less screwed up, and you're going to blame him when the process takes longer than you hoped? Note that you could, were you so inclined, substitute Barack Obama's name in for Tom Crean's ... but let's not go down that road.)
Anyway, the point is that Thursday night was one of IU's Dr. Jekyll nights. Penn State is a bad team, but Big Ten road wins were an absolute impossibility last season. Crean has his team at .500 after 18 games. Given the circumstances he inherited, that's worthy of some measure of respect.
No. 10 Gonzaga 91, Pepperdine 84
: Today's AP wrap makes note of the history of Pepperdine-Gonzaga, when both teams used to contend for the WCC every year, when both teams used to make it to the NCAA tournament, when both teams were mid-major darlings (even if Gonzaga hogged most of the press). Those days are basically over: Gonzaga has emerged the victor, becoming a national power a ubiquitous national profile and Nike shorts in every sports good store in the country. Pepperdine has receded in WCC mediocrity. But last night, the two teams had one of their trademark duels, the kind that harkened back to the glory days of the late 1990s, and Gonzaga needed a career-high 32 points from Matt Bouldin and a 20-and-13 from freshman Elias Harris to get past the Waves at home. One more note on Harris: Most reading this blog will already know this, but Elias Harris should be in contention for every freshman award there is. It's not that he'll win all of them -- John Wall, John Wall, John Wall -- but Harris' performance deserves national attention. He's special.
Everywhere else
:
Florida notched a big SEC road win over Arkansas, 71-66
...
Utah State cruised in Fresno
... Siena stayed unbeaten in the MAAC with a
six-point win over Loyola (MD)
... Isiah Thomas' FIU team dropped to 6-16 overall with
a 15-point loss to Arkansas State at home
...
Cal utterly destroyed Oregon in Berkeley
...
Oregon State scored 35 points in a 60-possession game and promptly lost to Stanford
; more on this later ...
Washington State beat a lifeless USC team in L.A.
... and
UCLA caused its fans to rush the court with a home win over Washington
. More on this later, too. In the meantime be sure to
check out Diamond's live coverage of the game from Pauley Pavilion
.
January, 1, 2010
1/01/10
3:48
PM ET
[+] Enlarge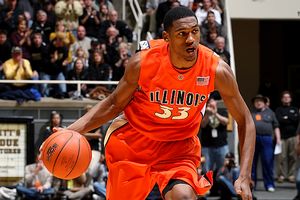 Joe Robbins/Getty Images Alex Legion is getting another chance to prove himself, this time at FIU.
Hey, more
Alex Legion
news! The former Illinois and Kentucky guard --
who never really quite caught on under Bruce Weber
, despite plenty of hype to the contrary -- has decided to take his services to Florida International, home of one Mr. Isiah Thomas. From
Fox Sports' Jeff Goodman
:
"The decision to leave the University of Illinois basketball program was difficult, however, leaving University of Illinois was in the best interest of my basketball development and collegiate career," Legion said in a statement. "I am very excited, encouraged and humbled to have the opportunity to play for and learn the professional game of basketball from coach Isiah Thomas, an NBA great and legend."
This is what Thomas can do. Will blue chip recruits want to come play at Florida International when they have their choice of any other school in the country? Probably not. But if Thomas can go this route and improve FIU almost by default. We saw it this summer, when Thomas briefly flirted with recruit
Lance Stephenson
, the uber-talented Cincinnati guard who scared away larger programs with a litany of personal issues. Thomas didn't land Stephenson, but he revealed a viable strategy in the process: Find talented players that other schools don't want or won't take, and convince them that FIU is the place to learn how to be an NBA star. This can work. This is what Thomas can do.
And hey, if it doesn't work out? Zeke can always go back to the NBA. (Just kidding. I'm pretty sure Thomas is not allowed anywhere near the NBA.)