College Basketball Nation:

format change 071210
July, 12, 2010
7/12/10
5:37
PM ET
NORTH AUGUSTA, S.C. -- Beleaguered by worry of tournament expansion and exhausted with conversations about conference expansion, coaches finally found something they could get their arms around in this summer of upheaval -- compromise.
News that the NCAA selection committee decided on a hybrid format for its expanded field of 68 was greeted with almost universal approval as the Elite Youth Basketball League Finals at Peach Jam got underway here on Monday.
Certainly everyone has their own self-interests -- coaches at the smaller schools wished winning the conference tournament title meant a little more, while coaches at power leagues argued that their résumé was greater than that of your typical 16-seed -- but recognizing that there is no recipe to satisfy everyone, the coaches I talked to conceded this was the best of a difficult situation.
[+] Enlarge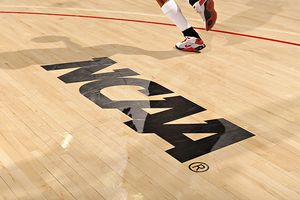 G Fiume/Getty ImagesThe NCAA seemed to come to a compromise with the hybrid format of its new 68-team bracket.
"It's probably a good compromise," said Central Michigan coach Ernie Ziegler, echoing the sentiments of many. "This gives an opportunity for the low- to mid-majors, but also the teams on the bubble as well. Nothing will be perfect, but this is good."
Coaches at the non-power conferences admitted they were worried.
They know who brings in the big bucks, the fans and the television viewership and worried that the NCAA would err on the side of the big schools and turn the four opening-round games into low-major play-in games.
"I thought they would protect those seventh-, eighth- and ninth-place teams from the major conferences," Toledo coach Tod Kowalczyk said. "I personally don't think rewarding an eighth-place team is what the NCAA tournament should be about. The last four in should have to work a little harder, so I think this is the best of both worlds.''
Fran McCaffery knows most all of those worlds. As a coach at the College of Charleston, he saw the view as a low major. As the boss at Siena, he got a picture as an emerging mid-major. And now at Iowa, he'll be reminded of what life is like among the pack in the power leagues -- much like when he was an assistant at Notre Dame.
From his various vantage points, McCaffery thinks the committee finally got it right.
"I always thought it should be the last four in,'' he said. "I think if you're one of those teams, you ought to just be happy to be in.''
Ah, but therein lies the rub.
No one is naïve enough to think this is going to eliminate the annual event known as post-Selection Sunday caterwauling, where coaches whose programs were left out argue they should have been let in.
In fact, this could add more work for the complaint department.
Fielding the NCAA tournament always has been a subjective process; now the committee has added more to its burden -- determining which teams are the last four in and will therefore be subjected to an impossible schedule.
After nodding their heads in approval of the new format, coaches had two immediate questions -- where and when will these additional games be played?
"So you could play in your conference tournament on a Friday or Saturday, find out you're in [the NCAA Tournament] on Sunday and have to travel and play on Tuesday?'' Pittsburgh coach Jamie Dixon said. "That's pretty tough.''
And then Dixon paused, offering up an addendum that coaches would be wise to remember come March.
"But it beats the alternative,'' he said.
July, 12, 2010
7/12/10
4:08
PM ET
In the NCAA's ongoing effort to make the best of a bad decision, it unveiled a 68-team basketball tournament Monday that has some appeal.
Unfortunately, the appeal wanes when you remember that there was no good reason to expand the field at all.
We don't need more games. We don't need more mediocre teams in the tourney. We don't need more system tweaks designed to benefit the schools from big-money conferences while further marginalizing the little guys.
This has been the Division I Men's Basketball Committee's approach under outgoing chair Dan Guerrero, who is the athletic director at UCLA when not wearing the hat of March Madness Great Compromiser. Twice now, Guerrero's group scared us into thinking it would ruin the NCAA tournament, then delivered something not nearly as terrifying.
It scared us with the specter of 96, then delivered 68. It let us fear a banishment of eight small-conference champions to a four-game play-in round of no intrinsic value, then delivered a hybrid format combining both at-large teams and small-school automatic qualifiers.
[+] Enlarge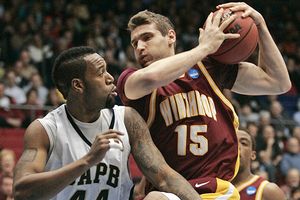 AP Photo/Skip PetersonWinthrop and UAPB played in the one opening-round game in March. Now, such teams will have company.
So it hasn't been all bad.
Then again, it hasn't been all good.
Keep that in mind -- the NCAA was willing to mess with perfection, and that's still a mistake. But if it is going to force-feed us more Big Dance, it at least is making it semi-tasty.
I like the idea of the last four at-large teams playing each other for two spots in the 64-team bracket. I can warm up to the idea of some watchable, ratings-friendly basketball on the first Tuesday of the tourney -- or maybe the first Tuesday and Wednesday. (The NCAA, for all its deliberation and delays in announcing this, still hasn't given up firm facts on when and where those games will be played.)
I'm glad they didn't simply create a four-game play-in round matching the eight lowest-seeded teams in the entire tournament. I even like the trademarked "First Four" moniker.
But here's what I would have liked more: The last eight at-large teams playing for four spots. That would produce either a reasonably interesting quadrupleheader, or a pair of reasonably interesting doubleheaders. And it would have removed the small-conference champions completely from playing in the Stepchild Round.
As it is, we will go from two low-profile league champs to four now involved in the play-in round. While it's nice to win an NCAA tourney game, beating a fellow pipsqueak and diminishing your chances against a No. 1 seed isn't the ideal.
So if you're scoring at home, we have another net gain for the big boys: three more of them will get into the tournament, and two more small schools will be dispatched to Dayton (or wherever they play these First Four games). They should be celebrating at perennial bubble dweller Virginia Tech, but not so much on campuses in the MEAC, SWAC and Northeast Conference.
What remains to be seen is how much the First Four will impact what happens in the round of 64. No winner of an NCAA play-in game has ever pulled a first-round upset – but that's largely because the winner was a No. 16 seed playing a No. 1.
Now that will no longer be the case.
It stands to reason that a team which wins the battle for a 12-seed on a Tuesday night will be at a disadvantage traveling to a new site to play a more rested No. 5 seed on a Thursday -- and as even half-hearted bracketologists know, those 5-12 games are where upsets often are found.
Will those upsets become less common? If so, it will diminish one of the great charms of the tourney.
The first round's immense popularity is largely tied to upsets. If the NCAA has lessened the quality of that round in order to modestly beef up the opening Tuesday, that's a net loss for basketball fans.
July, 12, 2010
7/12/10
3:12
PM ET
You know, this tournament expansion thing went pretty darn well.
If you had told me at the Final Four, as the NCAA stumped endlessly for a 96-team tournament, that by the second week of July we'd all be singing the new-look NCAA tournament's praises, I probably would have slapped you. "No! I'll never like tournament expansion! You can't make me!" Then I would have gotten in my bunker and started working on a WiFi connection. Necessities.
Yet here we are. After stepping back from the precipice and discarding the 96-team idea (at least for now) in favor of a minimal expansion to 68 teams, the NCAA has shared with the world its new tournament format. And guess what? It's actually kind of cool.
That format is as follows: Two play-in games -- now called "first round games," but that won't fool anyone -- will be played between automatic qualifiers for the No. 16 seed, much as the current play-in game did. The other two play-in games will pit the last four at-large teams in the tournament against one another for those at-large seeds, based on the larger tournament seeding. In other words, at-large teams can play for a No. 10 seed, or a No. 12, or whatever, at which point they will begin their tournament as those seeds have in the past.
So this "first round" is a combination of the two popular formats the men's basketball committee was debating after its tournament announcement. Many assumed the NCAA would choose the No. 16-seed format for all four games. The at-large idea seemed slightly more radical, and thus much more unlikely.
But the NCAA surprised us again. It chose a mix of the two. Who saw
that
coming?
I certainly didn't. To his credit, our
own Andy Katz floated the possibility back on July 2
, and Ohio State athletic director
Gene Smith, who is also the NCAA tournament committee chairman, acknowledged the option as a legitimate one in late June
. But seeing the hybrid format go from whimsical possibility to cold, hard reality still requires a mental leap on par with "Wow, it's not 96 teams. That's actually not all that bad! Sweet!"
The final four at-large teams will no doubt have a good whinge at what they will perceive as a new second-class status, but oh well. Those teams -- which will be revealed publicly for the first time in the tournament's history -- are typically schools from BCS programs that have every advantage in the race for a favorable NCAA tournament seed. By tourney time, those teams will have little reason to complain.
The format also adds an element of entertainment: The play-in game, which previously went ignored by most fans and media, will now feature four teams with larger national profiles and fan bases. Fans of those teams will have a reason to tune in before the first Thursday of the tournament to see which of the at-larges can scrap their way into the tournament, and casual hoops viewers will surely appreciate those games more than the old format.
The NCAA managed to create this scenario without punishing smaller, less attractive TV options -- the "first round" will be televised on TruTV -- four of whom will still compete in traditional No. 16-seed play-in games. I believe the term for this is "win-win."
Sure, the tournament was probably better with 64 teams. It was certainly less unwieldy. If there's a downside to the hybrid format, it's that lack of simplicity. It makes the tournament bracket more difficult to understand, and in an age where casual college hoops viewership is under siege from all entertainment sides, that's not a good thing.
But expansion was always going to happen. At the end of the day, the NCAA tournament will now feature more teams, the play-in rounds will actually provide entertainment and fans will be able to watch every game on one network or another throughout the entirety of the tournament. That doesn't sound so bad, does it?
No, it doesn't. Which means it might be time to admit something horrifying: NCAA tournament expansion might actually be a good thing. Bunker sold separately.
July, 12, 2010
7/12/10
3:09
PM ET
The NCAA took the most sensible path in re-bracketing the new 68-team men's basketball championship field.

The new-look first round is not necessarily the cleanest solution -- that would simply have been a pairing of the bottom eight teams in the field as No. 16 and No. 17 seeds -- but the hybrid model of "First Four" games involving automatic qualifiers vs. automatic qualifiers and at-large selections vs. at-large selections is a fair way to recognize the importance of conference champions while at the same time adding overdue sizzle to the former opening-round games.

Really, what's not to like? Only two additional conference tournament winners (instead of eight overall) are added to the first-round mix, and -- with the last four at-large selections now identified for "First Four" matchups -- the identity of the highly speculated "Last Four In" will now be known. Bracketologists from coast-to-coast should rejoice!

Also, we all know what we'll be doing during the opening round now: watching four games that really matter. Take those games to the most historic arenas in the country, and my day will be complete!