December, 3, 2014
Dec 3
9:00
AM ET
Arguably the No. 1 center in college basketball -- Duke's
Jahlil Okafor
-- squares off Wednesday night against the player who could be labeled No. 1A -- Wisconsin's
Frank Kaminsky
.
Okafor's traditional, dominant play in the post meets Kaminsky's versatility and ability to step out on the perimeter. Okafor represents the latest, greatest potential one-and-done talent against the old-school, four-year formula of improvement by Kaminsky.
[+] Enlarge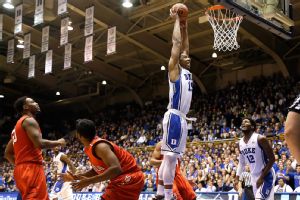 AP Photo/Gerry BroomeJahlil Okafor has proven powerful in the paint for Duke, averaging a team-best 17.7 points per game.
There's intrigue and contrasts aplenty in the matchup of the Blue Devils freshman and potential 2015 top overall NBA draft pick versus the Badgers' quirky senior leader.
Except Okafor's not buying into the matchup hype. If anything, he's downplayed it.
"Frank Kaminsky, he's had a great career and he's a proven big man with myself who's a freshman who's only played seven games in college basketball," Okafor said. "So that's going to be a challenge in itself."
Okafor's ability not only to score but to open up shots for the rest of the Blue Devils will challenge the Badgers' defense. Okafor leads Duke with 17.7 points per game, is second on the team with 7.9 rebounds and is shooting 63.6 percent from the floor.
Wisconsin coach Bo Ryan said he was most impressed by Okafor's size and maneuverability.
"I haven't seen him dance, but I bet he can dance, he's got good feet," Ryan said. "That baseline move he has, he's pretty good that way. You can put names on guys -- McDonald's All American, Player of the Year, freshman Player of the Year, but he backs it up, just like the guy before him."
Kaminsky can dance, too, sort of. At least he goofs around in a viral video to Taylor Swift's "Shake It Off."
"I didn't see it," Okafor said. "How was he?"
Good enough to know he'll stick to basketball, where Kaminsky leads the Badgers with 16.6 points, 8.7 rebounds and is shooting 40.7 percent from the 3-point line. Asked about the challenge of guarding Kaminsky on the perimeter, Okafor shrugged.
"I feel fine," he said.
Okafor deflected questions about the matchup with Kaminsky with the ease that he blocks shots. It wasn't in Marshawn Lynch's don't-care-to-be-bothered kind of way, either. Okafor didn't repeat one-word answers until reporters got tired of asking.
He simply doesn't believe in making it a personal battle. Frankly, he's never had to make a name for himself by outperforming another top player.
"I never had to worry about putting a target on somebody else's back. Usually the target was on my back," Okafor said. "So, I never had that problem."
[+] Enlarge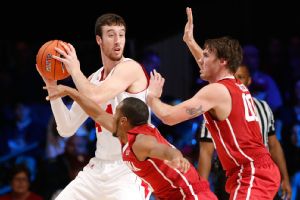 Kevin Jairaj/USA TODAY SportsFrank Kaminsky has developed the ability to score in the post and on the perimeter in his four-year career.
Okafor said he watched the Badgers' 68-65 win over Georgetown last week in the Battle 4 Atlantis. But it wasn't to scout what Kaminsky was doing. The Chicago native was supporting the Hoyas'
Paul White
, his former teammate at Whitney Young High School.
It's not an act for the media. His Duke teammates say they haven't noticed Okafor having an extra bounce because of the opponent.
Freshman guard
Tyus Jones
has known Okafor since grade school and was also his teammate on the U.S. Under-17 national team.
"Many people are talking about it but Jah's really good at looking at it as a whole and not really making it him against Kaminsky," Jones said. "He'll be ready to play and we'll be ready to play."
Okafor said playing against Kaminsky is no different than preparing to face
Kevin Ferguson
, the starting center at Army whom Okafor faced in the Blue Devils' 93-73 win on Sunday.
Okafor said he was a little nervous before that game the same way he's nervous before every game. That game was in Cameron Indoor Stadium.
Wednesday's game at Wisconsin marks Duke's first true road game.
"We'll see, I've never played in any game like I'm about to play in Wednesday night," Okafor said. "I'm looking forward to it. I really don't know what to expect."
Maybe not from the Kohl Center crowd, but he's quickly gotten up to speed on what to expect from Kaminsky.
"He's just a different type of post man, he averages the most 3-point field goals on his team, he's also made the most," Okafor said. "He's just a phenomenal player. Like I said, he's proven and has had an amazing career. It's definitely going to be a hard test for me. I'm looking forward to it."