College Basketball Nation:

Frank Mason
August, 27, 2014
Aug 27
10:00
AM ET
Earlier this year, Kansas announced that Naadir Tharpe had chosen to transfer to another school for personal reasons. And a promising preseason for a team that has won or shared the last 10 conference titles was pre-empted by the perennial point guard drama that's become the norm in Lawrence.
The Jayhawks have a point guard situation? Yeah, and the sun came up and Beyonce just won another award and the Cubs are struggling and another Kevin Hart movie will hit theaters soon. What's new?
Nothing, really.
The race remains open. It's always open.
And that's the problem. And that should be the fear in Lawrence.
[+] Enlarge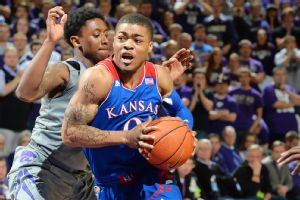 Peter G. Aiken/Getty ImagesFrank Mason has experience but Kansas is likely to explore different combinations of players at point guard.
Sure, there's
Frank Mason
. He's experienced and a solid leader for a Jayhawks squad that will boast a robust roster of future NBA draft picks, including
Cliff Alexander
,
Kelly Oubre
, Wayne Selden Jr. and
Perry Ellis
. Last season, Mason was 10th in the Big 12 in assist rate, per KenPom.com. But he logged only 16.2 minutes per game. It's unclear how the sophomore will perform with extended action this year.
Freshman
Devonte' Graham
, a late signee, will compete for the slot, too.
"I think Devonte' will be an immediate-impact guy for us," Bill Self said via the press release that accompanied Graham's signing. "We certainly solidified our situation in the backcourt by bringing in a quality guy, and I think Devonte' is one of the premier point guards in the country."
There's also the
Conner Frankamp
conundrum. The sophomore can play both guard spots, but his defense could be a challenge for Self's scheme. Frankamp shot only 31 percent on 3-pointers last season, but if he regains the stroke that made him a prep star in his hometown of Wichita, Kansas, Self will have to use the guard.
That's not the country's most appealing crop of point guards, especially in comparison to the other top-10 teams. Duke will be led by
Tyus Jones
and
Quinn Cook
. Arizona has
T.J. McConnell
. Kentucky has
Andrew Harrison
and
Tyler Ulis
.
Fred VanVleet
is still at Wichita State. The road to the Final Four will be paved with elite PGs.
Still, Self cobbles together point guards the way MacGyver made explosives from a toothbrush, napkin and cheeseburger wrapper. The coach will figure it out.
In recent seasons,
Tyshawn Taylor
, Elijah Johnson and Tharpe all played the position for the Jayhawks. But their sometimes erratic efforts and sloppiness were a problem. They weren't fits for Self's system. That didn't stop the Jayhawks from manhandling the Big 12 or advancing in the NCAA tournament.
But it kept them from their peak performance during some of those seasons.
Once again, KU is in a situation that features so much potential yet so many potential problems if Self can't find the right point guard.
Johnson and Taylor weren't pure point guards. But they could create shots and push the ball and run the break. They were playmakers.
With Mason, Graham or Frankamp, Kansas won't have that. Not to that degree. There's enough talent on the roster, however, to capture the Big 12 title without dynamic point guard play. And there's still a chance that Self will use Graham and Mason together.
But they need a point guard who's comfortable in that role and a team that's comfortable with that player embracing that role, too.
The Jayhawks never seemed at peace with Tharpe at point guard last season. When a Joel Embiid-less Jayhawks team came undone (14 turnovers) in its third-round loss to Stanford in the NCAA tournament, there were clearly some leadership and ballhandling problems that contributed to that loss.
Kansas will be favored to win another Big 12 title. The Jayhawks will crack the preseason top 10 again, and they'll be equipped with a squad that should compete for Self's second national title.
That's assuming the staff reaches some conclusion, some solution, at point guard. Mason, Graham and Frankamp are all options. They aren't stars. And they're all young.
But someone usually emerges for Self. You don't win 10 consecutive Big 12 crowns without a serviceable point guard.
Yet Kansas' season centers on what happens there. Will it be Mason, Frankamp or Graham? What if Selden has to move over and help? What if these young Jayhawks don't find a point guard they trust?
Well, they'll eventually figure it out.
Unless they don't.
If that happens, Kansas might be left behind come March.
March, 21, 2014
Mar 21
9:15
PM ET
ST. LOUIS -- There he sat on Friday, a 7-foot specimen -- taller in shoes -- on the bench, dressed in that familiar blue warm-up.
The breakout star of this Kansas basketball season, freshman
Joel Embiid
didn't play in Kansas' tough test of an NCAA tournament opener, an
80-69 victory over 15th-seeded Eastern Kentucky
.
His presence at the Scottrade Center, no doubt, torments some of the thousands who drove across the state of Missouri this week. Nursing an injured back, Embiid won't play in St. Louis. He didn't play at the Big 12 tournament as Kansas exited in the semifinals.
[+] Enlarge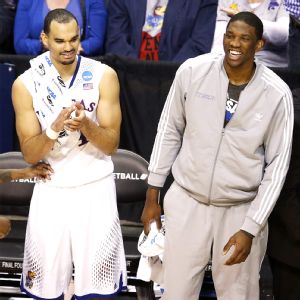 MCT via Getty ImagesJoel Embiid, right, has become a fixture on Kansas' bench but could return to the lineup if the Jayhawks advance to the second weekend of the tournament.
He might return next week if the Jayhawks beat Stanford on Sunday and advance to the Sweet 16.
And all of it mattered very little on Friday.
Forget those longing looks to the bench. Kansas trailed 23-14 less than 12 minutes into the game, and it had almost nothing to do with the absence of the imported big man from Cameroon.
The Jayhawks committed 13 turnovers in the first half against EKU's frenetic-paced defense. Kansas owned the inside, even without Embiid. It did not make a 3-point field goal all day, attempting only seven.
But if it can't take care of the basketball, even Embiid can't help.
Which is why the second half on Friday ought to provide hope.
The Jayhawks entered the tournament with a national ranking of No. 299 in turnover margin. Against the Colonels, they hit their per-game figure in the first half -- then lost the handle just once in the final 20 minutes.
Credit
Conner Frankamp
. He's another freshman. He's the antithesis of Embiid, 12 inches shorter and from Wichita, Kan. On Friday, Frankamp understood exactly what the Jayhawks needed.
"There's a lot of pressure on Conner to be a calming influence on us," Kansas coach Bill Self said. "I thought he handled everything beautifully. He ran our team."
Frankamp started tournament play right there alongside Embiid, figuring he might sit all day. Before Friday, he played 1.8 minutes per game.
Against the Ohio Valley Conference champion, Frankamp stayed on the court for 25, a season high.
"I just try to get in there and feed the ball to whoever is open as best I can and play sound on the offensive end and defensive end," Frankamp said.
He said he focused on taking care of the basketball. He committed no turnovers, scored 10 points and dished four assists.
Mission accomplished. Little man to the rescue.
Self said the Jayhawks felt fortunate to escape Eastern Kentucky, which used a 10-0 run in the second half to regain a 48-45 lead after Kansas began to assert control.
"The key was to pound the ball inside," KU forward
Perry Ellis
said, "and we did that."
[+] Enlarge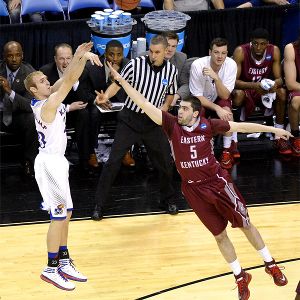 Icon SMIConner Frankamp's poise and patience helped push Kansas past Eastern Kentucky.
Tarik Black
and
Jamari Traylor
took over. Embiid himself couldn't have done better work in the paint.
Kansas didn't need him on Friday. It needed Frankamp, who watched Duke fall to No. 14 seed Mercer before KU took the floor in St. Louis. The game in Raleigh, N.C., reminded the Jayhawks that anything can happen in the tournament.
Still, Self said, he didn't know if his players "totally respected" Eastern Kentucky's ability to create havoc.
Senior guard
Glenn Cosey
led the charge early for the Colonels, hitting four of his first five 3-pointers. He was everywhere on the offensive and defensive ends.
Eastern Kentucky shook Kansas with a tricky zone defense for a few possessions before halftime.
"I didn't think we attacked it well at all," Self said.
Once Frankamp entered to restore some order, though, another Kansas freshman, leading scorer
Andrew Wiggins
-- the rookie who began this season with all the hype -- sent a message with a pair of sky-high dunks en route to 19 points.
The first dunk, an alley-oop in transition from
Frank Mason
, forced an immediate timeout from EKU coach Jeff Neubauer. The Colonels recovered.
With each slam from Wiggins and Black, who delivered an array of his own after halftime, the Jayhawks looked closer to hammering their way to victory.
But EKU never cracked. The key to victory existed elsewhere on the court.
"We knew that Kansas was a great rebounding team," Neubauer said, "and we absolutely had to steal it before they could rebound it. In the first half we did that really well."
Not so well after halftime.
Credit the secret weapon on the bench, the 6-foot freshman who saved the day.
Thanks to Frankamp, that
other
freshman may soon shed his warm-up and receive an opportunity to return.
December, 11, 2013
12/11/13
11:30
PM ET
GAINESVILLE, Fla. --
Andrew Wiggins
held the ball above his head and screamed in desperation.
With the game on the line in the final minutes of No. 19 Florida's 67-61 win over No. 13 Kansas on Tuesday night, his teammates had abandoned him on the baseline, nearly prompting a turnover on the inbound pass before
Frank Mason
rescued him.
That moment was a metaphor for this entire troubling start. Wiggins can't overcome Kansas' weaknesses alone. Even if he could walk on water – and he was otherworldly in his definitive 26-point, 11-rebound, two-block performance – the rules wouldn't let him pass to himself.
The Jayhawks need a combination of a deliberate Wiggins, efficient starters, reserves who make an impact and a defense that protects the paint and the perimeter (the Jayhawks rank seventh in the Big 12 in 3-point field goal percentage defense).
They didn't have that combo in Gainesville. They didn't have it in Boulder, where they lost to Colorado, or at the Battle 4 Atlantis, where they lost to Villanova, either.
"I think it's on everybody," Wiggins said. "No one on the team lets all the pressure or all the negativity go to one person."
Wiggins needs someone, anyone, to ensure that he never goes another five minutes without a touch in the middle of an opponent's 21-0 run. He needs someone, anyone, to alert him when
Patric Young
's gladiator screens are threatening his livelihood. He needs someone, anyone, to recognize that it's not all on him. Can't be.
Read the rest of this story
here
.
December, 7, 2013
12/07/13
11:15
PM ET
A year later, Colorado finally got the reversal it deserved. The buzzer-beater it was owed finally, officially counted. The upset it earned was finally recorded as a win.
OK, so it has been more like 11 months. And, OK, the officials didn't have anything to do with it. Colorado's Jan. 3 loss to Arizona -- when Buffaloes guard Sabatino Chen banked in a last-millisecond 3-pointer that looked like it should have counted, but was stunningly reversed -- didn't, say, get an official review from the NCAA that passed just this week. Horrifyingly plausible though that scenario might seem.
No, Colorado's lost upset was remitted karmically. The funds hit the account in Boulder, Colo., on Saturday afternoon just before 5:30 p.m. ET, and boy did they make a splash.
[+] Enlarge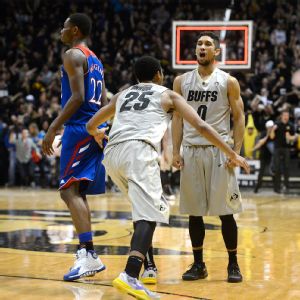 Andy Cross/The Denver Post via Getty ImagesAskia Booker's face says it all: He hit the winning 3 at the buzzer as Colorado stunned Kansas.
Fortunately,
Askia Booker
's Euro-stepping, buzzer-beating 3-pointer -- the one that gave Colorado a 75-72 walk-off win and sent Colorado students careening to the Coors Event Center floor -- should be less controversial than Chen's was in January, even if it didn't look that way at first. Live, Booker's shot looked like a travel (not that it could have been reviewed, anyway). But the replay soon made clear that he had (somehow) wrong-footed his two-step pre-shot maneuver, gliding past Kansas's
Frank Mason
at mid-court just before (again:
somehow
) flicking the ball into the Buffs' home net. It was Manu Ginobili-style stuff, and even Manu would have had second thoughts about the technique.
"It felt really good," Booker said just afterward, as he was swarmed by fans, teammates and the ESPN broadcast crew.
He was talking about the release of the shot, not its result, but the phrase surely applies to both. Insane as the final play was, it was preceded by 39 minutes, 57 seconds of efficient, tidy, advantage-seeking basketball from the Buffaloes. Colorado scored 1.17 points per possession, avoiding turnovers on all but 12.5 percent of their offensive trips. They were balanced, too: Four starters finished with either 14 (
Xavier Johnson
,
Josh Scott
) or 15 (Booker,
Spencer Dinwiddie
) points apiece.
Which is not to say they were always pretty. Colorado shot only 41 percent, 31 percent from 3. How, then, did Tad Boyle's manage its efficiency? Not from fluidity, but assertion. Kansas' main defensive weakness to date -- really, its chief weakness as a team -- is its tendency to foul. The Jayhawks were whistled for 26 fouls on Saturday, 13 in each half. One late, key stretch was dominated by fouls: Dinwiddie blew by a Kansas defender and muscled his way to the rim, earning a foul and knocking down two free throws. With 1:44 left, his drive sent Kansas center
Joel Embiid
to the sideline. The Buffaloes shot 37 free throws. They made only 22, but they were enough.
Kansas' collection of young talent showed plenty of flaws. The Jayhawks are struggling from beyond the arc: They entered Saturday averaging 30.7 percent from 3, and their 5-of-20 night in Boulder won't raise that tally. Kansas' outside shooting woes have helped opposing teams take away its chief strength -- namely, its insane one-on-one talent.
Andrew Wiggins
had one of his best games on Saturday. He is the rare player whose games can seem both impressive and oddly quiet at the same time. He finished with 22 points and five rebounds on 7-of-11 shooting.
But it was only occasionally -- as in his late half-court-length drive that ended in an effortlessly improvised left-handed finish. Maybe three players in the country could conceive of putting that play together, and you watch Kansas waiting for more. But because the Jayhawks can't stretch the floor and force teams to guard them man-to-man, Wiggins' lithe frame is often wasted on the perimeter. He floats.
Beyond that? The Jayhawks foul to their own detriment far too often; their high-screen defense was wildly suspect, both at the point of attack and in rotation; and, despite their physical advantages, they were outrebounded on both ends on Saturday. This is Bill Self's youngest team. It shows, subtly and not.
And yet Self, once he has processed the sting of the loss, can probably walk away from Boulder feeling pretty good. Last Saturday, after a limp trip to the Bahamas, Self was openly disappointed in his team's energy, its effort, his coaching, the whole nine. A few days later, his young team executed well down the stretch in an environment far more hostile than the Atlantis casino floor. The game was tied, after all, thanks to his clever play-calling out of a timeout and forward
Perry Ellis
' decisive finish with 5 seconds remaining. Colorado is a good and well-coached team. The Buffaloes are experienced; Dinwiddie and Booker are excellent. True road games are brutal. And so on.
Self gave his young group the toughest schedule in the country this season for a reason: He'll happily trade a loss or two for learning. He can say as much about Saturday's trip to Boulder, and while he'll hope for a different outcome Tuesday in Gainesville, Fla., against Billy Donovan's Gators, he might acquiesce to the same trade there.
After all, sometimes the game you claw into overtime doesn't get there. Sometimes, some basketball god somewhere owes your opponent a year-old debt, and sometimes that debt is repaid at your expense.
The game owed Colorado a buzzer-beating upset. Saturday, finally, the Buffs got what they deserved.