College Basketball Nation:

Fred Glass
December, 20, 2013
12/20/13
12:15
PM ET
When announcing a $40 million private gift to a college athletics department — the largest in its history and one of the largest in school history, too — an athletic director probably shouldn't need to gird for backlash.
Not in Indiana. On Thursday,
Fred Glass was fully be-girded
.
"I think if people are willing to look at this, they'll see it as really terrific and appropriate naming," Glass said. "Not everybody will, and I get that. But my responsibility is to be a good steward of the department."
Glass was speaking, of course,
about the big news out of Bloomington, Ind., on Thursday
, when the school announced that philanthropist (and heir to Simon Malls, the nation's largest mall company) Cindy Simon Skjodt had donated $40 million, the most immense sum in the history of IU athletics, to pay for renovations to Assembly Hall.
(Let's leave aside, for the moment,
the entire logistical and philosophical questions of university spending on facilities and salaries in lieu of salaries for revenue-generating players
, because that is a rabbit hole we already spend far too much time burrowed in. Moving on.)
[+] Enlarge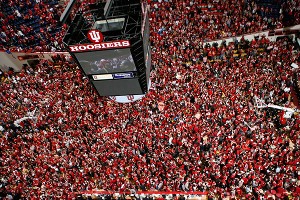 Brian Spurlock/US PresswirePerhaps Indiana fans aren't as enthusiastic about the name change to their arena as they were after beating Kentucky in 2011, but it's the best solution to fix an aging Assembly Hall.
The only catch? Simon Skjodt's name is going on the building. Beginning in 2016, the building will officially be called Simon Skjodt Assembly Hall.
There are a half-dozen reasons why this is a good thing: Assembly Hall is 42 years old. Amid renovations to Memorial Stadium and the introduction of Cook, the university has internally debated the merits of renovation against a more expensive, long-term construction project. Glass has been steadfast in his determination to keep Assembly Hall around; the problem was getting enough money to renovate it. In Simon Skjodt, he has done so: The $40 million will pay for all (or nearly all) of Indiana's planned renovations, including luxury seating, jumbotron installation, entryway and restroom refreshes and escalators in the place of some of the building's notorious balcony stairwells.
That all of this might be accomplished without public funds
— or further stress on a football-agnostic athletic department's budget — is a legitimate win.
But, of course, the price of that donation was a slight tweak to Assembly Hall's name. Glass knew it might not go over before he even had a chance to announce it. And he was right:
"Give um back the money I don't have a problem with the bathrooms" … "what a shame! ... sell outs--no one will accept that name!" … "Donation or not, if truly cared about IU's traditions it wouldn't be so important to have your name on the building. It's self aggrandizing and prideful." … "Why not donate and keep your name OFF the building? What a narcissistic stab in the gut to the tradition of IU BB. I need it to have my name on it so everyone knows that I'm so amazing and generous."
To be fair, this is just a minor sample of the debate going on in the comments of
Inside the Hall's (otherwise incredibly positive) renaming post
; there are just as many commenters unbothered by the change. But that is the dynamic Glass was preparing for in his announcement,
when he stressed the deep ties to Indiana basketball Simon Skjodt and her family share
:
"Cindy's one of us," Glass said. "She went to games as a little girl with her dad. She was a student here. She's been a season-ticket holder. She's from one of the most philanthropic and sports-minded families in the state of Indiana.
"I don't think it's too much of an overstatement to say (Simon Skjodt is) saving Assembly Hall for Indiana University," Glass said. "I think it's incredibly appropriate that this terrific arena is going to be graced by the name of someone who is in many ways every Hoosier, every member of Hoosier Nation."
Glass is right about that, too. Without Simon Skjodt, Assembly Hall could have decayed to the point that a $40 million renovation wouldn't cut it, to the eventual point that it would make more sense to just build a new building and be done with it. Or, perhaps, Indiana could have sought out a partnership like Illinois, turning its arena (
now the "State Farm Center"
) into one more generically leveraged corporate branding module. How violated would the Indiana traditionalists feel
then
?
No, sorry, this is the real world. And in the real world, massive facilities upgrades cost money, same as any other building on the campus, and sometimes the people willing to make those donations like to get just a little something — their name — in return. Don't like it? Leave off college sports. It's a business. Don't pretend it's not.
Also, no one calls the Willis Tower
"Willis Tower."
Call it what you want. Sheesh.
May, 30, 2012
5/30/12
6:05
PM ET
Yes, yes, it's what you've all been waiting for: More Indiana-Kentucky drama. Fun! (And by fun I mean: tedious!)
The Indiana-Kentucky rivalry -- which has been played every year since 1969 -- has been more or less dead
since the start of the month
. You know the story by now: Tom Crean wanted to continue the current home-and-home format, in place since 2005, while John Calipari wanted to schedule the games on a neutral court, their home from 1991 to 2005. Kentucky
is adjusting to its new "nontraditional" scheduling strategy
, and Calipari later revealed that strategy to mean, in essence, lots of neutral-court games at future NCAA tournament venues, lots of big buzzy events, a potential series with Duke, and nothing that isn't 100 percent in Kentucky's best interest.
[+] Enlarge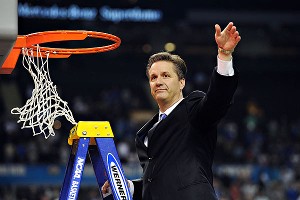 Richard Mackson/US PresswireKentucky coach John Calipari clearly doesn't have a problem finding willing opponents these days.
That was supposed to be the end of it. Not so much.
Thanks to a public records request, the
Bloomington Herald-Times reported Wednesday that Indiana athletic director Fred Glass in fact reopened negotiations with Kentucky on May 10
. He did so with a compromise -- a four-year contract including two years at neutral sites and two years back on campus -- starting with two years at Lucas Oil Stadium in 2012 and 2013, followed by a year at Rupp Arena and a year at Assembly Hall:
"We were trying to find something that worked well for everyone," Glass told the Herald-Times. "That was a suggestion that a number of people had written in to me had made. That four-year plan struck me as a fairly good idea. We reached out in the spirit of compromise to save the series and to save the ability for our students to see at least one Indiana-Kentucky game on campus in their tenure."
According to Glass, the letter reignited the discussion between the schools, and he spoke with Kentucky AD Mitch Barnhart and other administrators on both sides in a conference call about the idea. This was before Calipari released
last week's aforementioned blog post
, which detailed a variety of plans, including a new series with Duke, the 2013 Cowboys Stadium event versus Baylor, a continuation of the series with North Carolina after a break in 2012-13 and an ongoing commitment to the four-team Champions Classic. That's a full plate, and that's where the Indiana-Kentucky negotiations -- if you can even call them that -- again broke down:
Glass said he called Barnhart to find out if that meant that negotiations were off. According to the letter, IU director of basketball operations Jayd Grossman received a call from Kentucky executive associate athletics director DeWayne Peevy saying that Kentucky would refuse a contract lasting more than two years.

"In other words," Glass said in the letter, "we were back to Kentucky's take it or leave it demand that we play on a neutral court with no opportunities to play on our campuses in front of our students and other season ticket-holders."
Sadly, this is not at all surprising. Indeed, it is in keeping with the strategy Calipari has pretty clearly outlined for Kentucky in the coming seasons: He does not want to schedule contracts longer than two years under any circumstances. That includes North Carolina, Louisville and presumably every other school in talks to play Kentucky in the next few seasons.
Why? Because being "nontraditional" means recruiting so well, and turning over so often, you never really know who's going to be on your roster. Calipari doesn't want to make four-year commitments, because he doesn't know what his team will look like in four years. The Hoosiers -- whom he is clearly ambivalent about anyway -- are no different.
You can practically feel the frustration seeping out of Bloomington, where this game remains, or remained, a high priority even after the initial talks broke down in early May. And you have to hand it to them for the attempt at compromise. All in all, it's a pretty good compromise! Thing is,
Calipari doesn't compromise
. He never has. Coming off his first national title, riding a wave of unquestioning fan support rarely seen this side of Nick Saban (ROLL TAHDE), he has decided that he's not about to start now.
Unfortunately, as I've argued before, what's good for Kentucky or Indiana specifically -- or what the schools perceive that to be -- is not always what's good for the game of college hoops at large. A yearly rivalry with Indiana, with both programs in top form, would have been
great
for the sport. And, you could argue, just as good for Kentucky.
Calipari doesn't care. That's his prerogative. But that's a pretty disappointing prerogative.
In any case, good news: Kentucky will use the spot it saves from not playing one of its traditional rivals on a neutral-court, NCAA tournament and Final Four atmosphere. Which,
if I'm understanding the man's logic correctly
...
"We would have won the 2011 national championship,'' Calipari said. "I'm convinced of it. Would you rather I play games home-and-home or get this team ready for the NCAA tournament? You can't tell me to do both. It's one or the other.''
... means Kentucky will be winning the national championship every year, forever. It's just that easy! Right.