College Basketball Nation:

Fred Van Vleet
March, 23, 2014
Mar 23
5:30
PM ET
ST. LOUIS -- No. 8 seed
Kentucky
ended the magical run of No. 1 seed
Wichita State
with a
78-76 victory
in the NCAA tournament round of 32 on Sunday as
Fred VanVleet
's 3-pointer at the buzzer bounced away.


Andrew
and
Aaron Harrison
combined for 39 points and
Julius Randle
added 13 with 10 rebounds for Kentucky, which advances to play rival Louisville, a No. 4 seed, in the Sweet 16. The Shockers, after an unprecedented 35-0 start, are done.
Here are five observations from the thrilling Kentucky victory:
This game was a joy to watch. It justified the hype. Kentucky came out with something to prove -- that it could play to its potential on the biggest stage in college. Wichita State was just Wichita State, operating with precision on both ends as VanVleet ran the controls of perhaps the nation's most balanced team. Thing is, the Shockers, despite the questions about schedule quality that followed its 35-0 start, didn't play with a chip on their shoulders. They played WSU basketball, which is something to behold, even in defeat.
Credit to Kentucky coach John Calipari, who obviously pushed the right buttons with the Wildcats in the locker room. Andrew Harrison, nursing an elbow injury and questionable to play, and his twin brother, Aaron, ran things early like veterans. Kentucky controlled the glass, and when Wichita State asserted control with a run in the first half, the Wildcats did not act like freshmen. They continued to hit big shots and used their superior skill to complete the comeback after halftime.
Take nothing away from Wichita State for ending its season in the round of 32. Kentucky was far from a normal No. 8 seed, and this game was played at the level of a Final Four contest. The selection committee offered no favors to the previously unbeaten Shockers with this draw. Couldn't Wichita State have matched against Pittsburgh or Gonzaga? Any team but Kentucky, which entered the tournament with a ceiling as high as the all the top seeds. It was a great feat to start 35-0, never accomplished before, and there is no shame in bowing out against the Wildcats.
Randle simply took over. The 6-foot-9, 250-pound freshman was quiet in the first half with just one field goal and four rebounds. But somebody said something to the future first-round NBA draft pick at halftime that awoke the giant. He slammed home a miss on the first UK possession of the second half, then converted another offensive rebound and punctuated Kentucky's sensational open to the second half with a spinning bucket and three-point play. When Randle is on, the Shockers -- like every team in the college game -- can't stop him.
Let's hope the NCAA never considers moving these second- and third-round games into the big domes that host the next four rounds of tournament play. The environment on Sunday at the Scottrade Center, with more than 19,000 fans packed into it, was phenomenal as Kentucky and Wichita State traded punches. The fans in blue and yellow were engaged from tip to finish. The drive to St. Louis was manageable for fans of both teams, just how it should be as often as possible for these early-round games.
November, 27, 2013
11/27/13
2:07
AM ET
On Tuesday night, Wichita State justified its No. 12 ranking and might have made a case for elevation.
The Shockers' 75-62 win over BYU in the CBE Classic in Kansas City was a boost for the Missouri Valley Conference favorites.
The Cougars have been one of the toughest squads in the country in the first chapter of the 2013-14 season.
Tyler Haws
(26.0 PPG) is the best player on a Cougars team that beat Stanford on the road and nearly knocked off nationally ranked Iowa State at home last week. But they couldn't finish Wichita State even though the Shockers were shaky early.
A
Fred VanVleet
3-pointer helped the Shockers separate in the final minutes. But the 13-point margin of victory is not an accurate depiction of the true battle that unfolded between the two squads.
The final result only seemed lopsided because a
Nate Austin
flagrant foul in the last minute of the game led to a greater cushion for the Shockers. But things were tight throughout.
[+] Enlarge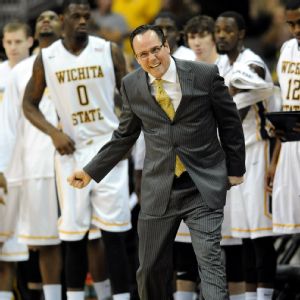 Denny Medley/USA TODAY SportsGregg Marshall's team isn't getting love nationally, but Wichita State looks to be a national title contender again.
Gregg Marshall lost some key pieces from last year's Final Four team, including former starting point guard Malcolm Armstead. But
Cleanthony Early
was an honorable mention on the Associated Press All-American preseason squad. VanVleet, a former top-100 recruit, has been fluid in his transition to a starting point guard role. And
Ron Baker
(game-high 23 points on Tuesday) is a star now that he's healthy.
Entering Tuesday's matchup, the Shockers were 19
th
in adjusted offensive efficiency and 32
nd
in adjusted defensive efficiency, per KenPom.com.
It's easy to forget how close the Shockers came to a national championship last season. With 13:40 to play in that Final Four matchup in Atlanta, Wichita State had a 12-point lead over Louisville. The Shockers lost 72-68, but the admirable effort seemed more impressive after Louisville won the national title.
But the Shockers didn't receive the VCU treatment after last year's Final Four.
They're not the new Butler. They're not viewed that way, at least.
Past mid-major darlings became top storylines in the months that followed their surprising postseason rallies. Not so much for Wichita State.
That's because there are fabulous freshmen all over the country. Some talented second-year standouts -- see Oklahoma State's
Marcus Smart
-- are out there, too.
There are new rules. New leagues.
The national radar is crowded.
Marshall's program was ranked 16
th
in the AP and USA Today Coaches preseason polls.
Syracuse lost Michael Carter-Williams, James Southerland and Brandon Triche. Michigan lost Wooden Award winner Trey Burke and NBA first-round pick Tim Hardaway Jr. Louisville lost Gorgui Dieng and Peyton Siva.
Wichita State was the only member of last season's Final Four that failed to earn a top-10 slot in the preseason polls.
With matchups against St. Louis and Tennessee in the coming weeks, Wichita State will have opportunities to garner more national attention and potentially convert doubters who might think that last year's Final Four run was a fluke, as both will be tough tests for the Shockers.
But then they'll enter a watered-down Missouri Valley Conference that no longer features Creighton, a former mid-major powerhouse.
Without Creighton on their slate, the Shockers won't get a ton of credit even if they torch the MVC.
And if they lose to Saint Louis and/or Tennessee in the coming weeks, the voters might kick them out of the top 25 and banish them until they prove something in the postseason.
The win over BYU on Tuesday night, however, should boost Wichita State's national standing in terms of the teams viewed as legit national title contenders.
You'd think that the Shockers did enough to earn that tag in Atlanta last season.
Yet, here they are still seeking a slice of the spotlight. They deserve it.
But they might have to make another NCAA tournament run to get it.
April, 2, 2013
4/02/13
11:30
AM ET
Four for Four is our quick look at a few things you need to know right here and now about the 2013 Final Four. We did it last April too, but I can't remember why the introduction was so long.
"Guards win in the tournament."
There are a lot of cliches in sports, and pretty much all of them drive me crazy -- grit, toughness, any and all war-related analogies, we're taking it one day at a time, we move on to the next play, etc. -- mostly because they often make it maddeningly difficult to get to the actual thing itself.
How
are you taking it one day at a time? What kind of discipline does that entail? How can you move on to the next play when failure is so fresh in your mind? What about high-level athletes fosters that mindset?
But if we're going to use a cliche, it better at least be true, rather than a nonsense series of words designed to prevent anyone from having to actually say anything. Many seemingly pedestrian cliches began as simple, obvious truths.
Here's one: Good guards win in the NCAA tournament.
[+] Enlarge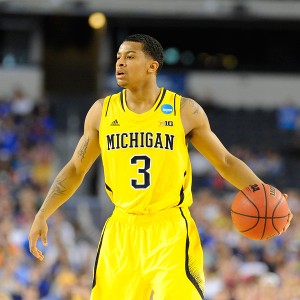 Cal Sport Media via AP ImagesMichigan's Trey Burke is proof that elite guard play can be a huge advantage in the NCAA tournament.
It is easy to bristle at this, because it feels like the basketball equivalent of some of baseball's silliest arguments. Actually, no, I don't want that gritty guy who bunts for a living and plays chill music in the clubhouse; just give me the best players, please.
Thing is? The best players in this year's Final Four most frequently happen to be guards.
Of course, none of these players got to the Final Four by sheer individual skill. Louisville might not get here without
Gorgui Dieng
. Michigan certainly doesn't without McGary. Syracuse's back line is nearly as imposing as its front, with
C.J. Fair
really blossoming into a dangerous all-around player. Wichita State's best players -- the aforementioned Early and
Carl Hall
-- are both 6-8.
But as we saw in Michigan's win against Kansas, it really does help to have a guard who (a) knows what he's doing, and (b) knows he knows what he's doing. Having Burke on their team is an incredible advantage for the Wolverines in a big game, because he can handle it all the time, facilitate offense, get scoring when he needs to. Smith and Siva have some of that too, but they're great for entirely different reasons -- their unique ability to speed the whole thing up, rather than slow it down or make it more manageable. Certainly, none of the four teams at the Final Four would be here without good guard play, which is also obvious. But the extent to which each team relies on that position is a clear theme -- and, if we're willing to admit it, some proof of a hoary old cliche.
March, 30, 2013
3/30/13
9:46
PM ET
LOS ANGELES -- Quick reaction to Wichita State's
70-66 victory
over Ohio State in the Elite Eight at Staples Center on Saturday night:


Overview:
Ohio State entered the game riding an 11-game winning streak. The second-seeded Buckeyes hadn't lost since mid-February. But they were tense early. And Wichita State exploited their struggles.
Midway through the first half, the ninth-seeded Shockers launched a 12-2 run that ended with
Demetric Williams
' 3-pointer with 6:28 remaining in the half. Wichita State, the underdog, expanded its lead the rest of the way. The Missouri Valley Conference standout entered halftime with a 35-22 advantage.
The Buckeyes shot 2-for-10 from the 3-point line in the first half after entering the game shooting 50 percent from beyond the arc.
Deshaun Thomas
shot 4-for-13 in the first half and missed all five 3-point attempts before the break.
With 12:28 to go, Wichita State led 51-31. That's no typo. But the Buckeyes kept fighting. With 8:22 on the game clock, they had cut the deficit to 13 points (56-43).
It didn't help that
Cleanthony Early
suffered an ankle injury midway through the second half. But Early returned a few minutes later, and the Shockers continued to battle.
Fred Van Vleet
's three-point play with 7:03 to go gave the Shockers a 60-46 lead.
The Buckeyes had opportunities to cut Wichita State's lead to single digits with the clock ticking down past the six-minute mark, but they couldn't do so until Thomas scored on a putback after a
Carl Hall
turnover. Wichita State 60, Ohio State 52.
Ron Baker
hit a pair of free throws that allowed Wichita State to regain a double-digit lead with just less than four minutes to play; a
LaQuinton Ross
3-pointer on OSU's next possession cut the Shockers' lead to seven. Ross forced a turnover that eventually led to a pair of free throws with 3:13 to play. He made both, and the Buckeyes were down just five.
A Van Vleet offensive foul call gave the Buckeyes another possession.
Shannon Scott
hit two free throws with 2:45 to play. Wichita State 62, Ohio State 59.
A huge
Tekele Cotton
3-pointer extended the lead; Thomas answered with a lay-in.
With 2:07 to go, the same Wichita State that had a 20-point lead early in the second half was up just 65-61.
Van Vleet's bucket with 59 seconds to go, a drive and a drop, was huge. Ohio State missed on the other end, and Baker went to the free throw line with 51.3 seconds to play and the Shockers nursing a 67-61 lead. He made both.
Wichita State 69, Ohio State 61.
The Buckeyes failed to convert on a series of chances until
Aaron Craft
's 3-pointer gave Ohio State one final slice of hope. Wichita State led 70-66 with 6.8 seconds to play. Cotton took the next inbounds and drew a foul but missed the free throw. Craft put up a 3-pointer on the other end that didn't fall.
Game over. Wow.
Turning point:
When the Buckeyes (29-8) finally started making shots in the second half. They were 8-for-33 in the first half. Couldn't get much worse. Midway through the second half -- as Thomas began to take smarter shots -- Ohio State began to play like the team that won the Big Ten tournament title in Chicago two weeks ago. But Wichita State was just too strong in the end.
Star of the game:
Malcolm Armstead
, a transfer from Oregon, finished the game with 14 points, 7 rebounds, 3 assists and 3 steals.
Stat of the game:
Ohio State went 5-for-25 from the 3-point line. The Buckeyes had shot 50 percent from beyond the arc in three previous tourney games.
Up next:
Wichita State (30-8) will face the winner of Sunday's meeting between Louisville and Duke next Saturday in Atlanta.
March, 27, 2013
3/27/13
10:00
AM ET
Call Wichita State shocking or surprising or an upstart for making its first NCAA Sweet Sixteen since 2006.
Just not "Cinderella."
For this team, at this time, the label doesn't quite stick.
"Maybe a lot of people will be surprised that we're here -- but we're not," Shockers guard
Tekele Cotton
said Saturday after his team upset top-ranked and top-seeded Gonzaga to advance. "We're confident that we can match up with any team from anywhere … that's why I don't feel like we are a Cinderella."
[+] Enlarge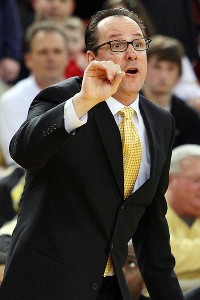 Jeremy Brevard/US PresswireGregg Marshall's Wichita State team has advanced to the Sweet 16 behind stellar defense.
Plus, the Shockers should be the favored team when they play 13th-seeded La Salle in Los Angeles on Thursday night. Part of that has to do with the bracket; even as a No. 9, they are the third-highest seed remaining (behind No. 2 Ohio State and No. 6 Arizona) in what has been a wild West Region. But part of that has to do with depth, stick-to-itiveness and the varying ways they can get under your skin.
WSU is known first and foremost for its defense. Forged from mentalities so competitive that freshman
Fred Van Vleet
once got mad at coach Gregg Marshall's daughter for not performing better as his shuffleboard partner, the Shockers believe in bruising and contesting and rebounding on every possession.
In the round of 64, for example, they out-defensed defense-minded Pitt, holding the Panthers to 35.2 percent shooting -- including 5.9 percent from 3-point range.
Then against usually sharpshooting Gonzaga, the Shockers frustrated the Zags into a 35.6 percent night from the field -- while also showing another dimension themselves: the ability to score. And score a lot.
"When you walk in the door in October, the first thing that comes out of our coach's mouth is defense and rebounding; that's definitely something we strive for," said redshirt freshman
Ron Baker
, who accounted for four of WSU's 14 3-pointers Saturday. "Defense comes first, offense comes later. … But what people may not know is that we can shoot it, too."
And people might not know it, because the makeup of this team is so relatively new.
Gone, at the beginning of the season, were five seniors from the squad that won the Missouri Valley Conference regular season in 2012, then lost in its first game of the NCAA tournament. But with replacements such as Oregon transfer point guard
Malcolm Armstead
, junior college transfer
Cleanthony Early
and experienced forward
Carl Hall
, WSU won its first nine games this season and picked up a Top-25 ranking.
Then came the setbacks: Hall broke his thumb and was out for a month; Baker was shelved for 21 games because of a stress fracture in his foot; starter
Evan Wessel
was lost for the season after breaking his pinkie. The Shockers had to persevere through a three-game losing streak in late January/early February, rally after back-to-back losses at the end of the regular season; and bounce back from a three-point defeat by Creighton in the MVC tournament final.
But in the long run, those tough breaks (and losses) might have helped the Shockers become tougher and more resilient, because they allowed more teammates to develop. And for the team to ultimately play 10 deep.
And now, perhaps, advance even deeper into the NCAA tournament.
"The stars are aligned for the Shockers right now," Marshall said this week during a conference call.
Not because they are a Cinderella. But because they are tough and focused and ready to prove it.
"All our guys believe they play with anyone, anywhere -- and we can," Cotton said. "We're confident. There may be [people] out there who think of us as underdogs, but we don't."
March, 24, 2013
3/24/13
1:56
AM ET
SALT LAKE CITY -- With less than eight minutes left and his team looking shaken after losing a once-double-digit lead, Wichita State coach Gregg Marshall gathered his players and asked them a pointed, poignant question:
"Back on Oct. 15, if I told you that you would be down by five with seven minutes to go against top-seeded Gonzaga, would you have taken it?"
The answer: A bunch of nods.
Then a bunch of shots.
And now, a trip to the Sweet 16.
The ninth-seeded Shockers on Saturday shocked just about everybody -- except, maybe, themselves -- by knocking off the top-seeded, top-ranked Zags
76-70
.
They did it with what they're known for: sticky, aggravating, aggressive, angry defense, holding Gonzaga to 35.6 percent shooting.
But they also did it by adding a key jolt of offense, making 50 percent of their 3-pointers (14-of-28) after hitting only 2-of-20 in Thursday's win over Pittsburgh. They also shot 50 percent overall for the game.
When they can do that, watch out.
"I've always said, if we shoot the ball well, we're hard to beat, and tonight we shot it well," Marshall said. "It was one of those nights where it went in. It was young players making big-time plays, big-time shots."
And in a great big spotlight.
[+] Enlarge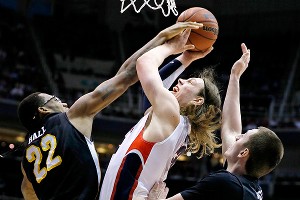 AP Photo/George FreyKelly Olynyk's game-high 26 points weren't enough to get Gonzaga past Carl Hall, left, and Wichita State.
The Shockers led by as many as 13 points in the first half, but saw the advantage flip-flop by the 5:31 mark in the second, when Gonzaga guard
Kevin Pangos
buried a 3-pointer to push his team ahead 61-54.
But that's when Shockers forward
Cleanthony Early
(16 points) hit a 3-pointer. Then redshirt freshman teammate
Ron Baker
-- who had missed most of the season with a foot injury -- followed with a 3.
And then senior
Carl Hall
followed with a jumper that gave WSU the lead (62-61) -- and the momentum -- back.
"It just felt like everything was going in," said Baker, who was 5-for-7 (4-for-6 from outside) with 16 points.
Especially when it counted.
After the teams traded free throws, Baker (again) and freshman teammate
Fred Van Vleet
bookended Gonzaga 7-footer
Kelly Olynyk
's jumper with more 3-pointers, pushing the Shockers to a 70-65 lead with 88 seconds left. It was more than enough to hold up.
Yes, it was a wild finish -- but perhaps not a surprising one in the wild West region, where now the top seed (Gonzaga), 3-seed (New Mexico), 4-seed (Kansas State) and 5-seed (Wisconsin) have all lost.
Thus, Wichita State, seeded ninth, should be favored in its Sweet 16 game in Los Angeles next week against either No. 12 Ole Miss or No. 13 La Salle. Especially if the Shockers continue to combine this sort of shooting with their bruising brand of defense.
Not, several Shockers pointed out, that projections or predictions matter, especially this time of year.
"It just goes to show that seeding means nothing," Baker said. "We're just so happy to be moving on."
So happy -- and boisterous -- that their postgame celebration extended from the court into the locker room, where the team could be heard chanting and screaming and singing the school's alma mater even before the doors opened to the media.
Back in October, if Marshall would have told his players that this would be the scene in late March, would they have taken it?
"Definitely," said Hall, who finished with 10 points and a great big grin. "Definitely."
March, 23, 2013
3/23/13
11:13
PM ET
SALT LAKE CITY -- C'mon. You know you want to do it. Go ahead. Insert your "shock" pun here.
Because the ninth-seeded
Wichita State Shockers
did just that Saturday, knocking off top-seeded Gonzaga,
76-70
, to advance to the Sweet 16.


A quick look at the upset:
Turning point(s):
Wichita State, known for its hard-nosed "Play Angry" defense, showed it off in the first half, holding the Zags below 33 percent shooting while building as much as a 10-point lead on a
Jake White
3-pointer with 5:01 before the break. Gonzaga inched back to within five points by halftime thanks to
Elias Harris
and
Kelly Olynyk
. Then, with 13:38 left, Zags guards
Kevin Pangos
and
Mike Hart
buried back-to-back 3s to give their team back the lead, 43-41 -- and also jump-started a 12-0 run that gave the Zags as much as an eight-point advantage.
It didn't last.
The Shockers kept battling and regained the lead with 3:29 left when
Carl Hall
followed teammate
Ron Baker
's triple with a bucket to make it 62-61. The teams traded free throws, then Baker hit another 3 with 3:09 left to give his team a 67-63 cushion. Olynyk scored, but WSU's
Fred Van Vleet
hit an improbable-looking, high-arcing trey to extend the lead to five. And on a night when it seemed like the Shockers couldn't miss, it was enough.
Key player(s):
Baker and
Cleanthony Early
scored 16 points apiece for Wichita State. Olynyk, the 7-foot player of the year candidate, finished with 26 points for Gonzaga (32-3).
Key stat:
The Shockers, who hit just two of their 20 3-point attempts in a victory over Pitt on Thursday, made 53.8 percent (14-for-26) on Saturday.
Up next:
Wichita State (28-8) advances to play either No. 12 Ole Miss or No. 13 LaSalle in a West Region semifinal Thursday in Los Angeles.