College Basketball Nation:

Fred VanVleet
March, 9, 2014
Mar 9
7:43
PM ET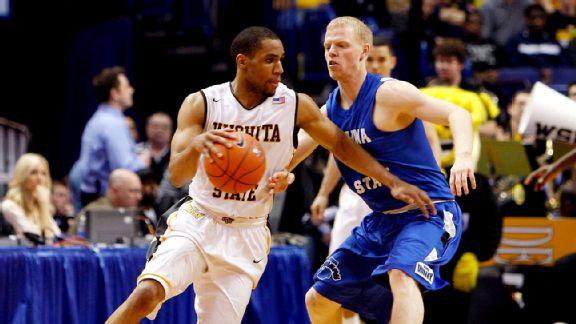 ST. LOUIS -- The commemorative T-shirts
Wichita State
received for winning the
Missouri Valley Conference tournament
Sunday were far from perfect. The back of the shirt contained the tournament bracket, and it had Indiana State listed as the winner.
"That's crazy, right?" Shockers senior forward
Cleanthony Early
said. "I guess they predicted that we were going to lose."
[+] Enlarge
Scott Kane/USA TODAY SportsFred VanVleet scored 20 points in the Shockers' win over Indiana State.
The mix-up was the result of an error by the T-shirt printer, one which conference officials didn't catch before handing out the shirts. Yet you didn't exactly need to be a true detective to recognize the yellow king of Arch Madness.
The Shockers
turned back Indiana State 83-69
at the Scottrade Center to keep their loss column a flat circle and capture their first conference tournament title in 27 years. By doing so, they joined the 1990-91 UNLV Runnin' Rebels as the only Division I teams ever to start a season 34-0. No other team has entered the NCAA tournament with 34 victories, as Wichita State will do next week, with a chance to set the record for perfection against a No. 16 seed.
So the Shockers weren't about to lose here this weekend, not even against a sturdy and determined
Indiana State
squad fighting for its own NCAA bid. The crowd that suggested Wichita State would have been better off losing before the real madness begins overlooked this program's hunger for an MVC tournament title after many disappointments in this city.
"Now that it's all said and done," guard
Ron Baker
said, "it's a big relief. There was quite a bit of pressure on us, because it hasn't happened in so many years."
Relatively speaking, Indiana State put as much pressure on Wichita State as anyone had in a few weeks. After winning their first two tournament games by a combined 47 points, the Shockers found themselves clinging to a four-point lead with a little more than 13 minutes left.
But as they've done so often, they answered every thrust with a rally.
Fred VanVleet
and
Tekele Cotton
sank back-to-back 3-pointers to push the advantage back to double digits. The Sycamores pulled back within five points a few minutes later, but then Wichita State ripped off a 13-0 spurt to go up 68-50, and that was pretty much that.
"I didn't have enough timeouts to stop their runs, but that's what they do," Indiana State coach Greg Lansing said. "If you turn it over, have any quick shot or lose it at one end, they put it in the basket at the other end. That's why they're undefeated. That's why they're hoisting the trophy."
Even with leading scorer Early disappearing offensively in the second half and Baker uncharacteristically struggling with his shot (3-for-11 from the field, 0-for-6 on 3s), the Shockers didn't need to sweat. Point guard VanVleet, who focused mostly on distributing the ball during his first two tournament games, scored 20 of his 22 points in the second half to tie a career high. Cotton, the Valley's defensive player of the year whom opponents used to sag off, had 20 points and went 4-for-6 behind the arc en route to tourney MVP honors.
"People kind of sleep on that part of my game," Cotton said of his improved jumper. "But my whole team and my coaches give me confidence to overcome that."
Nobody will ride into the NCAA tournament with more momentum than these Shockers. For the first time in a while, they actually had to execute down the stretch Sunday to secure a victory. But, as VanVleet noted, "It shows how far you've come when somebody being within four or five points is a heck of a test for you."
They will have nearly two weeks now to rest up, savor the accomplishment of going 34-0 and get ready for the next assignment. The odds are good that they will be back in St. Louis as the No. 1 seed in the Midwest Region. Good thing they exorcised some demons in this city.
"It would be something that we're comfortable with," coach Gregg Marshall said. "There would not be any 'Ooh, aah' moments. I think we'd actually be staying, if we get the right seed, in the same hotel, which we're very comfortable with. We know the routine there. The breakfasts are very good."
Going 34-0 brings certain expectations for the rest of the way, especially for a team whose schedule and conference have constantly been knocked. Wichita State got to the Final Four last season. Would anything less than 40-0 now qualify as a disappointment?
"I don't think we
have
to win it all," Early said. "But we want to win it all. We understand that a 34-0 season is just as rare as a Final Four, and what we've accomplished as a group is very special.
"Some people might say if we don't win it all now it's a failure. But those are people who can't get past their own simple minds."
Know this: Until the Shockers actually lose a game, it's probably wise to hold off on printing any more completed brackets without them.
March, 7, 2014
Mar 7
3:07
PM ET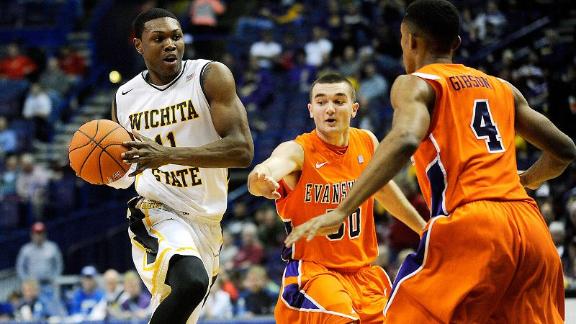 ST. LOUIS -- Make it 32-0.
No. 2 Wichita State continued its flawless record into the postseason on Friday afternoon, rolling past Evansville
80-58
in the Missouri Valley Conference tournament quarterfinals at the Scottrade Center.


The Shockers are now one of only five teams in Division I history to start a season 32-0 or better, although right now they're more interested in winning their first MVC tournament title since 1987. Here are five things to know from the start of their Arch Madness run:
1. New season, same result:
Wichita State players insisted during Thursday's interview sessions that they're viewing this tournament as a new season and that their perfect regular season no longer matters. Evansville (14-19), the No. 9 seed in the field playing with nothing to lose, took a 20-19 lead in the first half. Pressure? Nah. The Shockers answered with a quick 11-3 run triggered by
Cleanthony Early
's four-point play. They led by 10 at halftime and methodically pulled away in the second half, much as they have all season. The Aces lost by 16 and 14 points in the two regular-season meetings between these teams. Wichita State has won its past seven games by double-digit margins.
2.
Shockers put on the second-half squeeze:
Gregg Marshall couldn't have been real happy with his team's defense at halftime. Evansville shot 48.1 percent in the first half, and MVC leading scorer
D.J. Balentine
drilled four 3s on his way to a 17-point half. The Shockers looked more like their normal selves on defense after intermission, forcing the Aces to miss 16 of their first 20 shots and limiting them to 26.7 percent for the half. Balentine sank some long-range jumpers late to finish with 31 points. The defensive play of the game actually came just before halftime, as Early chased down Evansville's
Blake Simmons
from behind on a fast break and swatted his layup attempt into a row of cheerleaders. Wichita State's hustle stats included nine steals and 11 blocks.
3. Does size matter?
One of the major concerns for Wichita State heading into the NCAA tournament is matching up against size and length, as Marshall's team does not start a player taller than 6-foot-9. Evansville's 6-10
Egidijus Mockevicius
gave the Shockers a little trouble inside on Friday. Although the Lithuanian had trouble finishing in the post, the Valley's leading rebounder pulled down a game-high 11 boards and had some good looks in the paint. Evansville battled Wichita State to a draw in the rebounding battle, only the sixth time all season the Shockers haven't outrebounded their opponent.
4. Keeping their balance:
The Shockers are hard to guard because they're so balanced offensively. Four Wichita State players scored in double figures Friday, and conference player of the year
Fred VanVleet
added nine points. Early and
Ron Baker
each scored 17 as the Shockers shot 50 percent from the floor in both halves.
5. Feels like home:
As if the Shockers don't have enough advantages coming into this tournament, they should enjoy something resembling a home-court advantage in St. Louis. Nearly three-quarters of the crowd that turned out for Friday's early session at the Scottrade Center wore yellow and black, and Wichita State fans are clogging the downtown streets and restaurants. All other fans likely will coalesce around whatever underdog the Shockers face going forward, but they still might be outnumbered in the stands.
March, 2, 2014
Mar 2
4:10
PM ET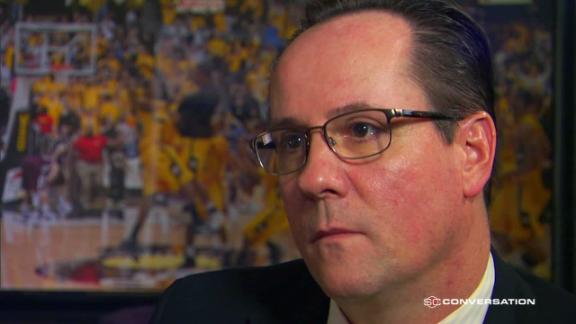 WICHITA, Kan. -- The first time Gregg Marshall coached Wichita State in the Missouri Valley Conference tournament, he didn't get to coach for very long.
Marshall was ejected in the opener before Indiana State ejected the Shockers from the tournament.
"I had a lot of time to myself in the locker room," Marshall said. "I was trying to do something to kill the time, so I wouldn't break anything."
Waiting for the game to end, Marshall flipped through a media guide. And then, he discovered just how disastrous the Valley tournament had been for the Shockers.
Saturday, Wichita State completed its magical run through the regular season, topping Missouri State to move to 31-0 and become the first team in 10 years to go into college basketball's postseason undefeated.
But if the Shockers are to assure themselves of that coveted No. 1 seed in the NCAA tournament, they first must accomplish a feat that has escaped them since 1987.
Win the Valley tournament.
"The only thing left to do is win it," Marshall said.
[+] Enlarge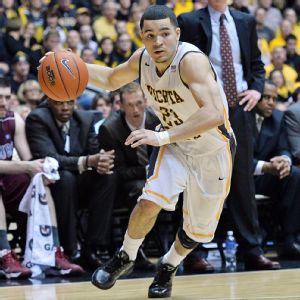 Peter Aiken/Getty ImagesPoint guard Fred VanVleet said he and his teammates know there is little time to celebrate the regular season.
The goal of winning the Valley tournament has eluded the Shockers, even since the resurgence of the program under Marshall.
Before he arrived for the 2007-08 season, Wichita State had never even reached the Valley tournament championship game since it had moved to St. Louis in 1991.
After a rough exit in Marshall's inaugural trip, Wichita State finally got to the championship game in 2010 but fell to Northern Iowa. The Shockers returned to the tile game last season but lost to Creighton after missing a potential tying 3-pointer at the buzzer.
"We've been to the championship game now," Marshall said. "But now we need to win it."
That could also be the difference in securing a No. 1 seed for the NCAA tournament and slipping to a No. 2.
Saint Joseph's, the last team to go through the regular season unbeaten, lost in the first round of the Atlantic 10 tournament, yet was still handed a top seed in 2004.
After Saturday's win, Marshall avoided politicking for similar treatment.
"They're not going to ask me. You can ask me, but my opinion doesn't mean anything," he said when asked if the Shockers deserved a No. 1 seed regardless of the Valley tournament outcome. "I think so. But I don't get a vote. I'm not going to be in that room. I'm going to be very excited wherever they place us, wherever they seed us. I think if we play well, we have a chance to play with and beat anybody in the country."
But this Missouri Valley is not that Atlantic 10, which put three teams other than Saint Joseph's into the NCAA tournament. At the moment, Wichita State looks like the only Missouri Valley team in line for an at-large bid. As a result, despite being second in the polls, the Shockers' RPI is just eighth. Their strength of schedule is only 112th.
Which is why conference pride won't be the only thing on the line in the Valley tournament.
"That's the bad part about the world we live in," point guard
Fred VanVleet
said. "We can't even celebrate this great accomplishment we just had. We've just got to keep focusing and look ahead to what's in front of us."
Other than history, there's no reason to believe the Shockers won't win their first Valley tournament in 27 years.
Wichita State dominated conference play, with only three teams playing the Shockers to within double digits. Missouri State came the closest to pulling the upset, holding a 19-point second-half lead that Wichita State quickly erased before prevailing in overtime. Saturday, the Shockers jumped to an 18-6 lead in a return game against Missouri State by the second media timeout and led by double digits the rest of the game.
Indiana State was the last Missouri Valley team to go through the season undefeated. And that team not only won the Valley tournament but advanced to the national championship game.
These Shockers don't have a star like the Sycamores did in Larry Bird. But they have the requisite pieces to make another deep run into the tournament a year after advancing to the Final Four.
VanVleet has proven he can control a game with his vigilant ballhandling and pinpoint passing. He ranks among the nation's leaders in assist-to-turnover ratio.
Cleanthony Early
is a versatile scorer who can post up a defender one possession then knock down a 3-pointer the next.
Ron Baker
is a steady perimeter scorer. And the bench is deep, with nine players logging at least 12 minutes a game.
"This [NCAA] tournament is wide open," Marshall said. "There's probably at least two handfuls of teams that could win the whole thing this year, and I think we're in that conversation."
Of course, that path would be made easier with a No. 1 seed. But to secure it, the Shockers might have to go through another, lesser tournament that hasn't been so kind.
"That's the challenge that this team has now," Marshall said. "Anything short of that would be a disappointment."
February, 20, 2014
Feb 20
1:00
AM ET
CHICAGO -- Here's the thing about these
Wichita State Shockers
, the boy wonders-turned-bullies who absorbed yet another hard right Wednesday from their latest Missouri Valley Conference victim: They have stared down this remarkable unbeaten run and welcomed it like a sun-soaked day in the midst of this miserable Midwest winter, tempting fate seemingly every step of the way -- from assigning pregame jersey numbers matching their win streak to bickering over who gets to pose for magazine covers.
It's 28 games and counting now for Wichita State after an 88-74 win over Loyola of Chicago, a victory with a storyline that took a backseat to what went down earlier in the evening some 700 miles away in Central New York.
The zeroes had barely settled onto the Gentile Center scoreboards here by the time Shockers coach Gregg Marshall was over by the broadcast table, pre-empting a post-game interview by asking: "Syracuse lose? Really?"
Yes, really. Not that Marshall and his band mind the extra attention.
"It just goes to show you that you can lose to anybody any night in college basketball, home, away," Marshall said. "The other team has a coach – [I'm] assuming he has a decent salary -- and they've got 13 scholarship players, and when that ball is tossed up, they want to win."
That's all his Shockers have done since their Final Four loss to Louisville a year ago, running roughshod over any and all comers through this season's first three months.
Loyola became another two-time knockout, a human canvass for the visitors to go all Adrian Peterson (No. 28) on before they began their search for casualty (and athlete) No. 29.
"I haven't thought about that; I'm going to enjoy this one," Marshall said. "Adrian, I did a little research, and his nickname as a youngster was All Day, because he ran all day. He stuck with that nickname as an adult because he saw some tragedy in his life. He's persevered. He's overcome. His younger brother died. His father was arrested. And he said, 'All Day. I'm gonna run as hard as I can all day, because I wanna bring the pain on every play.' And that was our slogan today."
Opposing gyms are growing louder now, with fans of the Ramblers, an MVC newcomer, swelling this arena's stands beyond capacity. They tried everything from mocking
Ron Baker
's hair to harassing homecoming king
Fred VanVleet
, who excelled playing before roughly 40 familiar faces who made the two-hour trek from Rockford, Ill.
Yes, the unbeaten guests took note. And no, they weren't exactly rattled.
[+] Enlarge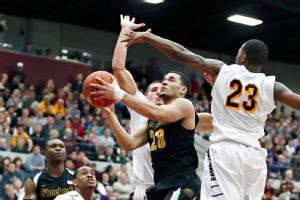 AP Photo/Charles Rex Arbogast Fred VanVleet scores despite pressure from Loyola of Chicago defenders.
VanVleet gave his pocket of supporters plenty to cheer about with 22 points, eight rebounds and six assists. He made all six of his shots, all 10 of his free throws and turned the ball over just once.
Darius Carter
, the sixth man against Loyola, keyed an underneath attack that helped Wichita State win the battle of the boards 41-24, as it broke the game open early in the second half after entering intermission with a seven-point lead.
"Actually that helps us some, because we come out, the crowd's booing us and stuff, and that motivates us to want to shut them up," Carter said. "We go out there and play harder when they do that, so I like when the crowd sells out."
Carter finished with 13 points and five rebounds, capping a day that began with him as the odd man out on a Sports Illustrated cover that was unveiled with the headline: "Go Ahead, Try To Jinx Us."
How did he get snubbed in favor of
Cleanthony Early
and
Chadrack Lufile
, two-thirds of what his coach calls his three-headed monster?
"We had to draw straws," Marshall said.
Luck and history are working against these Shockers now, the Orange falling to Boston College and the nation's attention falling on a program seeking unprecedented heights.
Well, almost unprecedented.
This team has been playing one-and-done ball for 10 months now, Marshall reasoned. Each plateau -- be it reaching double-digit wins or setting league milestones -- has brought on new accolades that his guys keep eating up.
"Unfortunately we lost that Louisville game," he said of last year's national semifinal. "We'd be playing for the national championship."
That's one blemish this run still hasn't allowed them to shake. Another surfaced late Wednesday when VanVleet eyed his box score.
"I think the turnover they gave me was a blocked shot," the point guard corrected at the podium.
Marshall's reaction -- "Recount!"-- suggests these Shockers will get over that one just fine.
February, 6, 2014
Feb 6
12:38
AM ET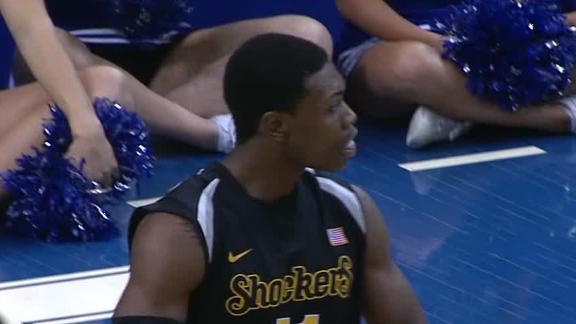 It continues.
The streak. The unblemished campaign. The possibility of perfection.
The idea that 24-0, still-playing-angry Wichita State will finish the 2013-14 regular season without a loss becomes less incredulous by the day.
A snowstorm created travel problems for the fourth-ranked Shockers, who didn't reach Terre Haute until Wednesday morning. But it didn't seem to impact the team during its 65-58 win at Indiana State.
It wasn't easy, though. Per ESPN Stats & Information data, Wichita State lost the rebounding battle for only the second time this season, and its nine forced turnovers was its second-lowest tally of the year.
Indiana State's
Manny Arop
hit a deep jumper at the buzzer before the break, when Wichita State had just a one-point lead despite maintaining a nine-point advantage earlier in the half.
In the second half,
Ron Baker
helped Wichita State quiet Arop, who had 13 points in the first half and just three points after halftime. With 10 minutes to play, the Shockers had a comfortable double-digit lead, but the Sycamores didn't break.
[+] Enlarge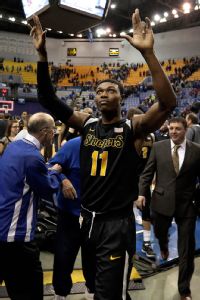 AP Photo/AJ MastCleanthony Early showed again Wednesday that he's Wichita State's rock and its ace in the hole as the Shockers prep for another tournament run.
The game wasn't sealed until
Cleanthony Early
(19 points, five rebounds) finished a three-point play with 1:03 to go. Early, a member of the Wooden Award Midseason Top 25, drove from the top of the arc, drawing a foul as he scored. The free throw gave Wichita State a five-point cushion.
Chadrack Lufile
made four of six free throws in the final 43 seconds. Game: over. Spotless record: preserved.
Ken Pomeroy gives Wichita State a 78 percent chance of defeating Northern Iowa on the road on Saturday. He gives the Shockers more than a 90 percent shot at defeating their final six Missouri Valley opponents after that. Even if that happens, the Shockers will still endure criticism.
Until its postseason journey begins, Wichita State will be scrutinized. If the Shockers lose in conference play, the naysayers will call them frauds. If the Shockers enter the postseason without a loss, those same people will put an asterisk next to their noteworthy accomplishment.
Not that the Shockers worry about negative opinions regarding their accomplishments thus far -- they weren't exactly favored to make the Final Four last season after finishing second to Creighton in the MVC -- but that's not something that they'll overcome until the NCAA tournament arrives.
But they have Early now. And if he's on the floor, Wichita State can play with anyone.
He scored 15 points in the second half Wednesday night. In a contentious game that included a quiet outing by the typically sound
Fred VanVleet
(2-for-5 shooting, two turnovers, six points) and foul trouble for Baker (eight points), Early gave the Shockers a much-needed boost.
The Shockers can finish the regular season with a perfect record. And they can make a return trip to the Final Four because Early can guide them there. But not by himself.
Baker, VanVleet,
Tekele Cotton
(14 points), Early and a fleet of capable reserves are all valuable to this program. But Early can be a closer when the Shockers need one, whether they're playing MVC competition in the coming weeks or high majors in the Big Dance.
Early had 24 points, 10 rebounds and a block against eventual national champion Louisville in the Final Four last season. He was an honorable mention on the Associated Press preseason All-American squad this year. He has the highest offensive rating in the MVC (114.9) among players who've participated in a minimum of 25 percent of their team's possessions, per Ken Pomeroy data.
Early is capable of doing what he did on Wednesday against top-25 teams. He has already proven that.
That's significant in this polarizing discussion about Wichita State, a team that's clearly equipped with individual playmakers who aren't simply products of Gregg Marshall's system. You don't tussle with Louisville and dismiss Pittsburgh, Gonzaga, La Salle and Ohio State because you're lucky or just abiding by a system.
You do it because you have the athletes to compete at that level.
Early and his teammates can play with anyone. He's more than a great tale -- he arrived in Wichita after a stint at a low-level junior college. He's the next-level competitor who will lift the Shockers in the tough matchups they'll encounter the rest of the way.
If you don't believe in Wichita State's defense (ninth in adjusted defensive efficiency, per Ken Pomeroy data) ...
If you don't believe the Shockers have faced adequate competition (won at Atlantic 10-leading Saint Louis) ...
If you don't believe VanVleet will maintain his poise against elite guards (he entered Wednesday's game ranked third nationally in assist-to-turnover ratio) ...
Then believe this: Early would be a star on any level, in any league, against any opponent. And the players around him anchor a squad that can clearly compete with the best.
Don't believe it?
Let's see how you feel when Early & Co. end up in your favorite team's region on Selection Sunday. Maybe you'll change your mind.
July, 17, 2013
7/17/13
10:30
AM ET
Editor's note: Over two days, we're releasing the brackets/matchups for 11 of the top early-season events. A thread of previews and info for all 11 tourneys can be found here.
When and where:
Nov. 25-26 at the Sprint Center in Kansas City, Mo.
Semifinal schedule for the CBE Hall of Fame Classic:
Nov. 25: Texas vs. BYU (7:30 p.m., ESPNU); Wichita State vs. DePaul (10, ESPN3)
Nov. 26: Consolation game (7:30 p.m., ESPNU); Championship game (10, ESPN2)
Initial thoughts:
Wichita State couldn't have picked a better year to travel three hours northeast on Interstate 35 for a game in Kansas City. The Shockers, who have a large alumni base in the area, are riding high after last season's Final Four appearance. And no one would be surprised if Gregg Marshall's squad is even better this season. Wichita State returns three starters (
Ron Baker
,
Cleanthony Early
and
Tekele Cotton
) along with its top reserve (point guard
Fred VanVleet
) from its 30-win team. ... DePaul was a massive disappointment in 2012-13, when it won just 11 games. But the Blue Demons could be on the cusp of a breakthrough season thanks to the return of leading scorers
Cleveland Melvin
and
Brandon Young
. ... BYU has reason for optimism as well. Led by
Tyler Haws
, the Cougars return nearly every key piece from the squad that won 24 games and reached last year's NIT semifinals at Madison Square Garden. ... Texas went 16-18 last season and failed to reach the NCAA tournament for the first time in Rick Barnes' tenure. Things could get even worse in 2013-14. The Longhorns lost their top three scorers and signed a lackluster recruiting class compared to past seasons.
[+] Enlarge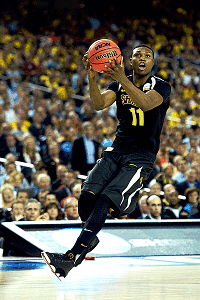 Robert Deutsch-USA TODAY SportsWichita State's Cleanthony Early gained national attention with his performance in the Final Four.
Matchup I can't wait to see:
DePaul is athletic and physical enough to upset Wichita State in the semifinals. Both teams feature veteran players, so chemistry won't be as big of an issue as it will be for other schools this early in the season. I won't be shocked if this is a competitive game, especially compared to the other semifinal.
Potential matchup I'd like to see:
Wichita State vs. BYU. These are clearly the best two teams in the field, so it'd be fitting for them to end up in the title game. The Cougars averaged 76.5 points per game last season, a mark that ranked 18th in the country, but it will be interesting to see how they fare against an aggressive Wichita State squad that is known for its toughness and intensity on defense.
Five players to watch
Cleanthony Early, Wichita State:
The top NBA prospect in this field averaged a team-high 13.9 points per game last season and ranked second on the squad in rebounds (5.4). The 6-foot-8 small forward is an incredibly difficult matchup because he spends most of his time outside the paint. Early scored 24 points against Louisville in the NCAA semifinals and was named to the All-Final Four team.
Tyler Haws, BYU
: The guard averaged 21.7 points a game last season -- dropping 42 on Virginia Tech -- and 28.8 points in the NIT. Haws is a volume shooter who hoisted 15.9 attempts per game in 2012-13. He connected on 48 percent of his attempts, so for the most part he's taking quality shots. He's the type of guy who can beat a team by himself.
Cleveland Melvin, DePaul:
The rising junior has hinted on Twitter that the 2013-14 season could be his last before entering the NBA draft. Melvin has certainly posted some head-turning numbers. He averaged 16.6 points a game as a sophomore last season along with a team-high 6.8 boards. Melvin, who is 6-foot-8, averaged 17.5 points and 7.4 rebounds a game as a freshman in 2011-12.
Ioannis Papapetrou, Texas:
The 6-8 small forward was one of the few bright spots for Texas last season, when he averaged 8.3 points per game, which makes him the Longhorns' leading returning scorer. He also snared 4.4 boards per contest. Along with producing on the court, Texas needs Papapetrou to assume more of a leadership role in 2013-14.
Fred VanVleet, Wichita State:
The sophomore point guard will be under a lot of scrutiny early in the season as he moves into the starting lineup to replace graduated senior
Malcolm Armstead
. VanVleet certainly shouldn't have any jitters. He averaged 16.2 minutes per game last season and logged 23 minutes in Wichita State's NCAA semifinal loss to Louisville. VanVleet's transition into a starting role needs to be seamless if the Shockers hope to avoid taking a step back.
Title game prediction:
Wichita State over BYU
Along with the confidence gained from last season's Final Four appearance, the Shockers will have something else going for them in the CBE Classic: home-court advantage. Wichita State already had a lot of supporters in the Kansas City area before last season. That number probably doubled following its magical postseason run. Still, even though the Shockers return four key players, they'll also be incorporating some new pieces. This is a game BYU can win, especially because of the Cougars' ability to score and the presence of a marquee player such as Haws. This should be a great game between two strong programs led by two of the country's most underrated coaches (Wichita State's Marshall and BYU's Dave Rose). The Shockers are the slight favorite.
Who others are picking:
Eamonn Brennan:
Wichita State over BYU
Jeff Goodman:
Texas over Wichita State
Andy Katz:
Wichita State over Texas
Myron Medcalf:
Wichita State over BYU
Dana O'Neil:
Wichita State over BYU
May, 28, 2013
5/28/13
10:00
AM ET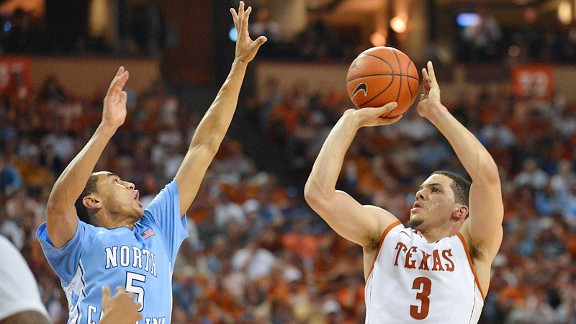 Brendan Maloney/USA TODAY SportsThrust into a leadership role as a freshman, Javan Felix will carry a bigger load for Texas next season.
In five months, the 2013-14 college basketball season will begin.
It's always tough to make projections in the weeks following any season. But the dust has settled.
The following list highlights sophomores who will be asked to carry more weight next season. Some of these young men might have to carry an entire team.
April, 5, 2013
4/05/13
4:38
PM ET
ATLANTA -- As the lowest remaining seed (No. 9) and the only team left from a mid-major conference (Missouri Valley), Wichita State, at least on paper, may have the most difficult route this weekend to a national championship.
But playing in their first Final Four since 1965, the Shockers don't see themselves as underdogs. After all, few of them took an easy route to even get to WSU in the first place.
"You've got a kid from Nigeria, you've got a kid from Rockford, Illinois ... you've got guys who have transferred, walked on, had times when they didn't know if they would play again,'' said redshirt freshman
Ron Baker
.
"It's remarkable how we're all on the team, and we've got all our individual stories -- but it makes for a great big giant story, in itself."
Indeed, top-seeded Louisville on Saturday will face a bruising, confident, defensive-minded team that Shockers freshman
Fred VanVleet
affectionately calls a "band of misfits." And boy, do they fit well together.
Leading scorer
Cleanthony Early
is a transfer who played Division III his first two seasons because he wanted to stay close to his family after the drowning death of his older brother. Leading rebounder
Carl Hall
spent two years sidelined because of a heart condition -- and at one point, he was painting light bulbs on the night shift in a factory to pay tuition.
[+] Enlarge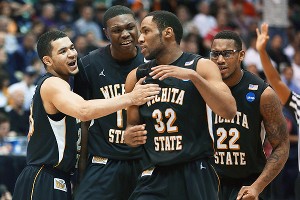 Streeter Lecka/Getty ImagesFor some of the Wichita State Shockers, it's been a long road to the Final Four.
"I made about $12 an hour,'' Hall said Friday. "... I wouldn't recommend that job to anybody. It was just a hot, nasty job."
Even though WSU didn't have a scholarship immediately available for him, point guard
Malcolm Armstead
transferred from Oregon last season and took a part-time job at a car dealership to help pay the bills. Sharpshooter Baker, from tiny Scott City, Kan., was a preferred walk-on last season -- and said his second choice would have been a Kansas community college if WSU hasn't worked out.
And it doesn't end there.
Senior
Ehimen Orukpe
is from Lagos, Nigeria, by way of Three Rivers Community College.
Transfer Kadeem Coleby is from the Bahamas.
Junior
Nick Wiggins
-- whose younger brother Andrew is a No. 1 high school prospect -- and freshman
Chadrack Lufile
are from Canada.
Having so many players come from so many places and backgrounds makes Early, for one, believe this is a team of destiny.
Maybe so. But it's also the result of coach Gregg Marshall and staff his finding the right mix at the right time. This team, after all, lost five seniors from last season's regular season conference-winning squad.
And then it lost Hall for seven regular-season games because of a thumb injury. Baker for 21 games because of a hurt foot.
Yet here they are.
"We want winners,'' Marshall said. "We want guys that really want to win, that want to commit to something bigger than themselves. We want guys that are tough and athletic so they can defend and rebound at a high level. And ultimately, [we want] some guys that can put it in the basket.
"I think we have a great blend of those guys, but the biggest thing is we have character guys."
Guys who know the seedings and see the challenges ahead, but who Friday were loose and smiling and eager to play -- and who refuse to see themselves as underdogs.
"We've got a lot of guys on this team who have been through a lot, experienced a lot -- and that's helped us all relate to each other, win together,'' VanVleet said. "... Some people might see us as underdogs, but when you get to the Final Four, seedings are just a number."
NOTES:
Where's that?:
Baker wasn't exactly surprised Friday when couple of workers on the Georgia Dome concourse asked the location of Wichita State.
After all, some of his teammates didn't exactly know where the school was when they were first recruited, either.
"I had to Google it, see how big the city was,'' Hall said. "When I first heard the word 'Wichita,' I'm thinking a small country town, people walking around with cowboy boots on, things like that."
Armstead's thoughts went worlds beyond that.
"First thing came to mind was 'Wizard of Oz,' like Dorothy,'' he said. "That was the only thing I knew about it."
Baker, a Kansan, knew exactly how to answer the question, though.
"I told them it is in the middle of Kansas, kind of in the middle of nowhere,'' he said, then broke into a smile. "Everybody knows where Kansas is."
Taking a compliment:
Louisville coach Rick Pitino recently described the Shockers' defense as "Marquette on steroids."
Marshall's response: "We're not on steroids, [but] other than that, I think it's a definite compliment. Buzz Williams does a marvelous job. He's one of the great coaches in our country. Rick Pitino, who I have the utmost respect for and admiration, for him to say that is certainly a compliment. I hope that it's true ... if we're 'Marquette on steroids' defensively tomorrow, that will gives us a great chance."