College Basketball Nation:

Game Plan
February, 24, 2014
Feb 24
9:00
AM ET
Game Plan is our Monday morning primer, designed to give you everything you need to know about games that were and the games that will be in college hoops this week. Send us feedback and submissions via email and Twitter.
ICYMI: TOP STORIES
Duke's win hinges on late block call; Boeheim goes ballistic, and then viral.
Jim Boeheim is not a man who upsets easily. Save an exhibition game in 2005, Boeheim has never, in 38 years as the head coach at Syracuse, been ejected from a basketball game. He broke that streak Saturday night, and it was
epic
.
The call that earned Boeheim's rage was undeniably questionable, and suitably pivotal: Down 60-58 with 10 seconds remaining, Syracuse forward
C.J. Fair
drove baseline and caught a whistle that seemed subject to the new block-charge rule (wherein defenders have to be set
before
the offensive player makes his move at the basket). When the official signaled a charge instead, Boeheim pointed toward the new rule, and he was probably right. The problem is that he did so after ripping his jacket off and running on the floor and providing his opinion so vociferously he earned two quick technicals and was ejected from the game. At which point, the block-charge no longer mattered. The game was over.
[+] Enlarge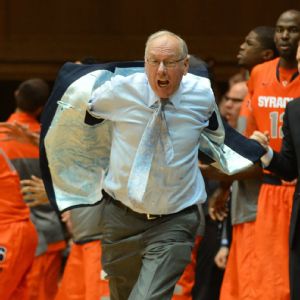 Chuck Liddy/Raleigh News & Observer/Getty ImagesJim Boeheim's first career ejection on Saturday sent the Internet into a meme-creating frenzy.
In the long term, Saturday's game will be rememembered as a second chapter in what is immediately becoming a marquee post-realignment ACC rivalry. For now, though, the legacy of this game is the explosion of hilarity Boeheim inspired on the Internet. There was
Baywatch Boeheim
,
Breaking Boeheim
,
WWE Boeheim
,
Kool-Aid Boeheim
,
"This Is It" Boeheim
and, my favorite,
Operation Boeheim
. And surely many more.
Jim Boeheim went 38 years without an ejection. If you didn't know better, you'd think he was waiting for the Internet to catch up.
Michigan sweeps Spartans in regular season, move into Big Ten lead, with a 79-70 win Sunday.
Remember January? Back when Michigan was playing insanely effective offensive basketball, and
Nik Stauskas
was positioning himself as an All-American candidate? Remember the Wolverines going to East Lansing, Mich., on Jan. 25 and sealing the whole impressive run with a win over their in-state rivals? That team was back again Sunday afternoon. The Wolverines scored 79 points in 62 possessions, good for 1.27 points per trip, the same average as on Jan. 25. Stauskas scored 21 of his game-high 25 points in the second half,
Caris LeVert
was brilliant, Tom Izzo left shaking his head about his team's inability to stop Michigan -- "We didn't guard. We ran for 300 yards, passed for 400 yards, but you've gotta check someone," he said -- and the Wolverines swept their rivals and put their Big Ten title hopes firmly in their own hands. Not bad for one afternoon's work.
SMU likely seals tourney bid with 64-55 win at UConn.
The one thing holding back the fighting Larry Browns from a surefire NCAA tournament bid was their lack of work away from home. All of SMU's notable successes this season had come in their own building -- including Jan. 4's statement win over Connecticut. On Sunday, the Mustangs repeated the feat against the Huskies on the road with a brilliant defensive performance, and a win that filled that last real hole on their résumé.
STAT OF THE WEEK
: UNC's win over Duke made the Tar Heels the first team in
history
-- dating back to the very first Associated Press poll in 1961-62 --
to beat the AP preseason Nos. 1 (Kentucky), 2 (Michigan State), 3 (Louisville) and 4 (Duke) in the same campaign
.
THE GAMES YOU NEED TO SEE
(For two more in-depth previews of two games earlier in the upcoming week -- and this one is especially back-loaded -- check back for Monday morning's "Planning for Success" series.)
Saturday
Cincinnati at UConn, 12 p.m. ET, ESPN:
There are some decent games throughout the week, but nothing comes close to what we've got on deck Saturday -- it's an absolutely loaded slate, and Cincinnati-UConn kicks it off. The American features maybe the three best point guards in the country, and two of them (Cincy's
Sean Kilpatrick
and UConn's
Shabazz Napier
) will check each other on both ends of the floor in one that should get the blood pumping early this weekend.
Louisville at Memphis, 2 p.m. ET, CBS:
Cincy-UConn will be followed immediately by
Russ Smith
's trip to the FedEx Forum in Memphis to play a Tigers backcourt that is rather talented in its own right. Louisville locked up its NCAA tournament prospects with Saturday's win at Cincinnati, and Memphis should be pretty safe, too, but this one is about more than tournanment seeds or even short-term conference tables.
Syracuse at Virginia, 4 p.m. ET, ESPN:
And then, of course, there's this. For weeks now, our own Andy Katz has been touting Virginia as a possible, even probable, ACC regular-season champion, and the scheduling of this game is part of the reason why. On Monday, Syracuse has to turn around from Saturday's loss at Duke with a road trip to Maryland (which should be a relatively easy win, but you never know). On Saturday, it completes its three-game road swing with an absolutely brutal game against one of the nation's most difficult defensive setups. Big, big game.
Saint Louis at VCU, 6 p.m. ET, ESPN2:
Last week, VCU nearly went to Chaifetz Arena in Saint Louis and did the unthinkable. Instead, the Billikens held on and extended their winning streak. Assuming it handles dreadful Duquesne Thursday, SLU will arrive in Richmond on Saturday having won its past 20 games. The last time the Billikens lost was Dec. 1 to Wichita State. Their only other defeat came by six to Wisconsin. They're having an
insane
year.
Kansas at Oklahoma State, 9 p.m. ET, ESPN:
Marcus Smart
's first action since the infamous Jeff Orr shove was more than impressive: It was the kind of all-court command we hadn't seen Smart deliver since December. He finished with 16 points, 10 assists, 6 steals and 3 rebounds. He shot 5-of-7 from 2 and his team beat Texas Tech (oh, the revenge) by 22; the only negative was his 0-for-3 mark from 3-point range. Which raises the question: Is Oklahoma State ready to get back to the serious, elite form it displayed early in the season? Might a visit from Kansas -- remember, Oklahoma State nearly left Lawrence with a come-from-behind win on Jan. 18 -- redeem the past month of futility? Is Smart ready to be a star once more?
PHOTO

VIDEO OF THE WEEK
This space is usually reserved for our favorite single image, but this week, there is no way to confer that honor without relying on the miracle of motion video. I'm talking, of course, about the Kansas bench's reaction to
Tarik Black
's huge dunk against Texas in the second half. There is the usual assortment of hold-me-back hugs and jumping, but the Jayhawks so thoroughly lost it that the ensuing celebration included a)
Wayne Selden
leaping over chairs and into a teammate's arms and, best of all, b)
Naadir Tharpe
doing a spinning robot through the fracas à la that recurring character on "Chappelle's Show." Black's dunk was good. That bench celebration was an all-timer.
February, 17, 2014
Feb 17
9:00
AM ET
Game Plan is our Monday morning primer, designed to give you everything you need to know about games that were and the games that will be in college hoops this week. Send us feedback and submissions via email and Twitter.
ICYMI: TOP STORIES
Doug McDermott ties season-high 39 as Creighton dominates Villanova again, this time 101-80. The line: 39 points, 13-of-17 shooting, 4-of-6 from 3, 9-of-9 from the free throw line. The milestone: Those 39 points pushed McDermott above Larry Bird -- Larry Bleeping Bird -- to 13th on the all-time scoring list. The upshot: Creighton is now in the Big East driver's seat in its first season in something called the Big East, its first not as a member of the Missouri Valley Conference. That's all impressive. The conference change, the Bluejays' bonkers offense, and especially the 6-foot-8 Iowan at its center, whose statistical brilliance and locked-in national player of the year status offers us a chance to sit back, relax and savor it all. So, you know, do that. Savor it. Even Jay Wright is on board.
[+] Enlarge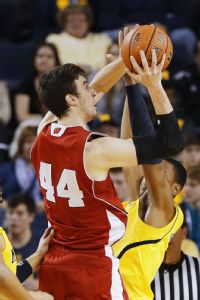 AP Photo/Carlos OsorioWhen Wisconsin needed him, Frank Kaminsky came up big, almost single-handedly ending Michigan's comeback attempt.
Wisconsin locks up its tournament bid with 75-62 home win over Michigan.
Our own Chantel Jennings had the story on Badgers forward
Frank Kaminsky
,
who put up a McDermott-esque night
: "Kaminsky was the difference in the Badgers' 13-point win. He scored 25 points on 16 field goal attempts, shot 11-of-16 from the floor, and picked up 11 rebounds, one block and one steal in just 29 minutes of play against Michigan. Defensively, he held the Wolverines in check. With strong perimeter defense not giving up anything easy from the outside, Kaminsky stayed solid inside, holding the Michigan post combo of
Jon Horford
and
Jordan Morgan
to just eight points and 11 rebounds combined. ... Kaminsky felt himself being more confident, being more vocal on Sunday. He said he wanted the ball on every single possession and that he felt his teammates trying to feed the hot hand. Never was that more important than when the Wolverines cut Wisconsin's 15-point halftime lead to just three points with six minutes remaining in the game. The Michigan crowd had found itself invested again in the game and Kaminsky -- demanding the ball, imposing all 7 feet of his height -- hit a jumper, rebounded a Michigan miss, hit another jump shot and then another one and an and-1."
Temple upsets SMU. Let's pause for a moment and consider how upside-down that headline is. How strange a college basketball world we live in when Temple beating SMU in its own gym is considered an upset? But it really was an upset. Temple, 7-17 and 2-10 in the American, playing without Anthony Lee, knocked off Larry Brown's No. 23-ranked Mustangs 71-64 on Saturday afternoon. The win has more than just catharsis for Temple, or a letdown for SMU. It was also a really bad loss where the Mustangs' NCAA tournament hopes are concerned. For one thing, Temple's RPI is down in the 200-ish range. For another, it cements the notion that SMU -- which played a bad nonconference schedule and hasn't beaten a good team on the road all season -- can't replicate the high-level stuff it does on its own floor elsewhere in the country. The Mustangs' profile is still much better than most of the bubble teams you'll see in the next few weeks, but the schedule/road knocks are key selection committee pet peeves to be avoided at all costs.
Stat of the week: In two games against Villanova, Creighton scored 197 points in 135 possessions, an average of 1.46 points per possession. It also shot 30-of-50 from 3. Against every other team in the country, Villanova is a daunting defense. Against Creighton, it's Boston College.
One more thing about McDermott, via ESPN Stats & Information: Doug McDermott has been held scoreless once in his career and has been held to fewer than 10 points in 10 of his 135 career games. Seven of those games were during his freshman season (2010-11).
GAMES YOU NEED TO SEE
(For two more in-depth previews of big games to come earlier in the week, check back for Monday morning's "Planning for Success" series.)
Thursday
Duke at North Carolina, 9 p.m., ESPN: The weather issues that strained the entire east coast last week are coming back around on the Blue Devils just eight days later. On Thursday, Duke plays the first of a two-games-in-three-days series at North Carolina and versus Syracuse. At least there's not much travel involved, because ouch.
VCU at UMass, 7 p.m. ET, ESPN2: The Rams suffered just their third loss of the A-10 season Saturday at Saint Louis, while UMass spent last week pulling off some sort of weird, inverted win-at-GW-lose-to-George-Mason-at-home D.C. combo platter. Anyway, this is a really good A-10 game, not only for standings purposes or tournament seeding but because both teams are athletic and fast and a lot of fun to watch.
Saturday
Louisville at Cincinnati, 12 p.m. ET, CBS: The last time these two met, it was at the Yum! Center, and Cincinnati came away with one of the more impressive road victories of the season -- putting Louisville into so deep an early hole that loads of turnovers and defensive pressure in the final 20 minutes weren't enough to climb out. Sean Kilpatrick is the big matchup for Russ Smith on the offensive end, but Justin Jackson's insane defensive versatility is really what makes that Bearcats' defense go.
Syracuse at Duke, 7 p.m. ET, ESPN: The latter half of Duke's crazypants Thursday-Saturday turnaround is also the reprise of the best game of the season to date. It seems hard to imagine Syracuse at Duke coming anywhere close to the Feb. 1 classic that the Orange won 91-89. But then again, we thought Creighton might cool off against Villanova the second time around, and you saw how that went.
San Diego State at New Mexico, 10 p.m. ET, ESPN2: After last week's results -- when SDSU lost for the first time since Nov. 14 (at Wyoming) and New Mexico fell to Boise State 71-70 on the road -- the Lobos still trail the Aztecs by one game in the Mountain West Conference race. This game is slightly important, in other words, and it's also a rather awesome matchup of really good Aztecs defense and a really good, underrated Lobos offense led by sneaky All-American candidate Cameron Bairstow.
PHOTO OF THE WEEK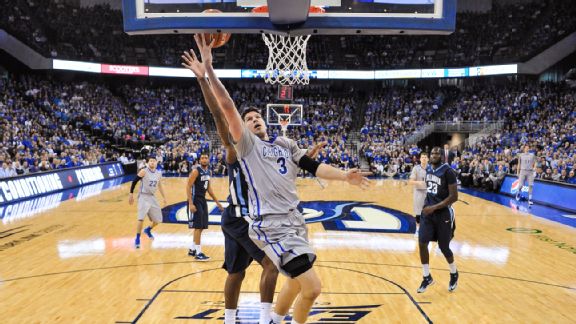 Eric Francis/Getty ImagesTwo of Doug McDermott's 2,863 career points ... and counting.
February, 10, 2014
Feb 10
9:30
AM ET
Game Plan is our Monday morning primer, designed to give you everything you need to know about games that were and the games that will be in college hoops this week. Send us feedback and submissions via email and Twitter.
So,
Marcus Smart
pushed a guy. Maybe you heard a little bit about this? Maybe your entire Sunday was dominated by it! I hope not, for your sake.
[+] Enlarge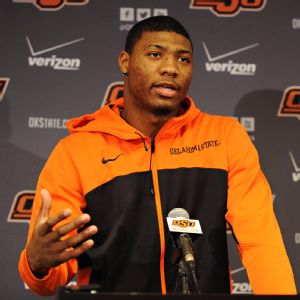 Mark D. Smith/USA TODAY SportsA severe lack of judgment cost Marcus Smart three games. Will it cost his Oklahoma State team even more than that?
Still, folks will be talking on this Monday morning --
although not nearly as much after that other far more important thing that happened in sports Sunday night
-- so you may want to get caught up. Here's the deal:
Our news story, with all of the pertinent info -- heavily reported by Andy Katz, Jeff Goodman, Jake Trotter and the Associated Press -- is available here. On Sunday night, Oklahoma State announced that Smart would be suspended three games for shoving a fan after an altercation. Smart accepted that punishment and apologized, but did not take questions from reporters. Neither he nor coach Travis Ford provided details on exactly what was said. The Texas Tech fan involved, Lubbock-based air traffic controller Jeff Orr, also apologized in a statement, and said he would not go to any home or road games. He also insisted he did not use a racist slur.

The overheated reaction to what was essentially a slight shove -- Orr was moved backward, but never fell down -- cooled Sunday night, in large part because all of the parties involved handled their damage control exceedingly well, but also because the freakout was pretty silly in the first place.

In the end, the only party that didn't come out looking well was Ford, as our own Dana O'Neil unsparingly detailed Sunday night: "Ford has done nothing to help Marcus Smart this season. His failure to act is as much to blame for Smart's meltdown as Smart's own immaturity and lack of self-control. Given the opportunity during Sunday night's news conference to either own up to his blame or at least admit Smart had issues that led to this mess and three-game suspension, issues that he could have addressed, Ford demurred. Rather, he spoke about Smart, placing the totality of blame on his player's already overburdened shoulders."
Now the Cowboys -- and hopefully everyone else -- will move forward, with lessons learned the hard way, beginning with Tuesday night's game at Texas.
I think that just about covers it.
ICYMI: TOP STORIES
Wisconsin survives Michigan State 60-58, in thrilling finish.
On Saturday,
Adreian Payne
started for the Spartans for the first time since an early-January injury robbed him of seven key games in the heart of Michigan State's conference season. He looked better than ever all afternoon, constantly challenging and pressing Wisconsin's defense, finishing 9-of-16 for 24 points. His final three points -- a deep shot off a double curl screen that coach Tom Izzo dialed up down 3 with 15 seconds to play -- should have made him the hero. Instead, it only momentarily delayed Michigan State's loss. Wisconsin guard
Traevon Jackson
got the ball out of the rim, raced downcourt and iced a too-easy step-back midrange jumper that gave Wisconsin the win. (Oh, and for the record,
Travis Trice
's last-second return heave was agonizingly close.) It was a massive win for the Badgers, aided by a 3-for-20 night from
Gary Harris
, that helped ease their monthlong struggles in the Big Ten. Did they turn the corner?
[+] Enlarge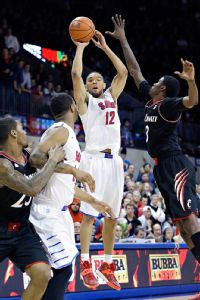 AP Photo/LM OteroNick Russell and SMU made a statement in their rout of a Cincinnati team that entered the game undefeated in the American Athletic Conference.
SMU ends Cincinnati's 15-game win streak in rout and is really, genuinely good.
Back on Jan. 4, when the Mustangs handled UConn and star point guard
Shabazz Napier
with relative ease in their suddenly vibrant home gym,
we issued an official greeting to the "new SMU"
-- the result of legend Larry Brown's rapid-fire turnaround. Five weeks later, the Mustangs haven't missed a step. On Saturday, they routed -- not just beat, but routed -- Cincinnati, an indefatigable team riding a 15-game winning streak that included wins over Pittsburgh, UConn, Memphis and Louisville, the latter two on the road. If there is one area where SMU might be lacking, it is reproducing these kinds of performances on the road. This week presents a fascinating little challenge: The Mustangs have road games at Rutgers (Thursday) and Temple (Saturday).
Memphis got a nice win against Gonzaga.
Saturday's featured "GameDay" special was almost immediately overshadowed by the Marcus Smart mess, but for posterity's sake, let's note that the Tigers played about 32 minutes of very so-so basketball before turning it on down the stretch and edging Gonzaga on its own floor, 60-54. It wasn't a statement win, or even particularly impressive. But it was a nice win all the same.
STAT OF THE WEEK
: Creighton was upset by St. John's Sunday night, but
Doug McDermott
's 10 field goals pushed him to 1,000
on the season
for his career, making him the first player since 1992-93 to score 1,000 field goals in a
season
career.
THE GAMES YOU NEED TO SEE
(For two more in-depth previews of big games in the week to come, check back for Monday morning's "Planning for Success" series.)
Tuesday
Oklahoma State at Texas, 7 p.m. ET, ESPN2
: The Oklahoma State-related reasons for tuning in to this game Tuesday night are pretty self-apparent. But what about Texas? The Longhorns rose all the way to No. 15 last week after a series of impressive wins (Iowa State, Kansas State, Baylor, and Kansas) but fell flat in a 74-57 turnaround loss at K-State Saturday. Smart-related drama aside, this is a big one for both teams.
Wednesday
Syracuse at Pitt, 7 p.m. ET, ESPN
: Wednesday offers a massive ACC doubleheader on the mothership network, and for all the heat and pomp of the Duke-North Carolina rivalry, Syracuse at Pitt looks like the better game. The Panthers, and star
Lamar Patterson
, have struggled lately, losing home games to Duke and UVa and needing overtime to win on the road at Miami and Virginia Tech, two teams with a combined 19 wins between them. But the Panthers, who don't turn the ball over often and record an assist on 63.8 percent of their made field goals -- sixth best in the country -- are inherently designed to work well against Syracuse's 2-3 zone, and nearly knocked off the 'Cuse in the Carrier Dome on Jan. 18. It should be a good one.
Duke at North Carolina, 9 p.m. ET, ESPN
: Just because Syracuse-Pitt looks like the better game doesn't mean this one will be bad. Quite the contrary: Duke's scorching-hot offense -- the Blue Devils have averaged a ridiculous 1.24 points per possession against ACC opponents -- will meet with UNC's defense, one of the few things that the Tar Heels have been remotely consistent at this season.
Jabari Parker
& Co. should be able to get stops against a UNC offense that still hasn't really figured things out. But if Duke's scoring dips slightly, we could get a close, exciting addition to this legendary rivalry.
Saturday
Florida at Kentucky, 9 p.m. ET, ESPN
: How about this week for Florida? On Tuesday, the Gators will be expected to beat Tennessee in Knoxville, despite the Vols being this season's best example of a team that is much better on a per-possession basis (KenPom rank: No. 24) than their losses indicate. Then, on Saturday, it's on to Lexington, Ky. to face the uber-talented Wildcats, their keyed-up offense and an insane "GameDay"-juiced Rupp Arena crowd. A split would be more than satisfactory. Two victories will speak volumes.
Sunday
Villanova at Creighton, 5 p.m. ET, Fox Sports 1
: The last time these two Big East title contenders met, Creighton submitted one of the great offensive performances in the history of college basketball. The Bluejays also exploded Villanova's previously stout defense into smithereens, and on its home floor to boot. The Wildcats could have fallen apart; they would have had good reason. Instead, they've rattled off five straight wins, the first three of them on the road, keeping themselves very much in the conference championship hunt. It's safe to bet Creighton won't go full
Metal Gear Solid "Extreme" difficulty mode
in the rematch. But can Villanova do enough to earn redemption?
PHOTO OF THE WEEK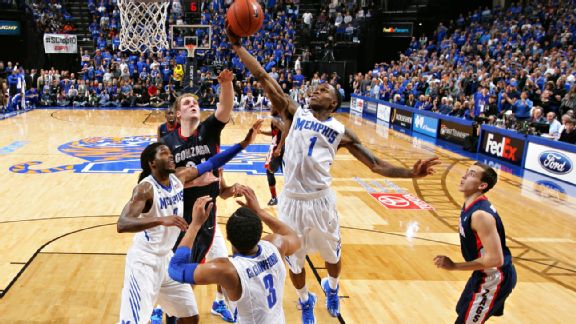 Joe Murphy/Getty ImagesMemphis guard Joe Jackson grabs a rebound over Gonzaga forward Przemek Karnowski. Jackson's second-half block of the 7-foot-1 Karnowski helped spur the Tigers to a thrilling come-from-behind win late against the Zags on Saturday.
February, 3, 2014
Feb 3
9:00
AM ET
Game Plan is our Monday morning primer, designed to give you everything you need to know about games that were and the games that will be in college hoops this week. Send us feedback and submissions via email and Twitter.
It is a testament to how good Arizona has been for so long that today, Feb. 3, is the first in which it is appropriate to talk about what they can't do, what they don't have, what adjustments they need to make.
It is also, of course, a testament to Brandon Ashley.
On Saturday night, the best and most balanced team in the country lost its first game of the season. It did so at Cal in a brutal shooting performance that persisted until the final minute, when guard Nick Johnson earned a great 15-foot look at a go-ahead bucket and just plain missed. Cal's Justin Cobbs took a much more difficult shot on the other end -- a 17-foot step-back baseline jumper over Kaleb Tarczewski -- and banged it. Cal fans stormed the court with time on the clock, Mike Montgomery screamed at them like a frustrated high school dean of discipline and then Cal fans stormed the court again, joyously and officially, when the clock said zero.
[+] Enlarge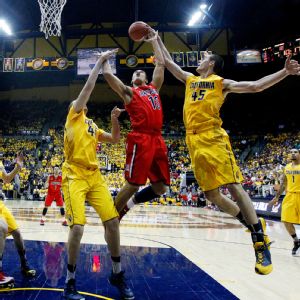 AP Photo/Marcio Jose SanchezNick Johnson and Arizona finally fell, but the Wildcats -- even with the loss of Brandon Ashley -- are still set up to be a championship contender.
All of this was very fun. It was also no big deal to Arizona. The Wildcats shot horribly and lost a conference game on the road in the final minute; these things happen. In a vacuum, Sean Miller would have left that game feeling fine. No thinking fan's impression of Arizona would have changed.
But Arizona's loss was much greater than any single game. It lost Ashley, its starting power forward, to a broken foot that ended his season.
Miller's immediate pessimism after the game Saturday proved prescient. Now he and the Wildcats have to figure out exactly what to do without one of their most important players. They have to find out whether a team without Ashley can be as good as one with him.
There is some good news. If there is one position the Wildcats could afford an injury to, it is the frontcourt. Losing either point guard T.J. McConnell or All-American-level shooting guard Johnson would leave Miller with a gaping hole in his rotation. Losing Ashley still leaves the Wildcats with one of the best centers in the country (Tarczewski) and one of the most athletic, active forwards (freshman Aaron Gordon).
But that's also kind of the downside: Being bigger and more physical and more active in the paint is exactly the thing that has separated Arizona from most of the country's national title contenders. And not only was Ashley great around the rim and on the glass, his ability to step outside and make spot-up shots (his second most-frequent play type, according to Synergy) kept the Wildcats from becoming too crowded and bogged down. It kept a strength from morphing into a weakness.
On Saturday night, Miller said his staff needs to get back to the proverbial drawing board and "make sure we can move forward if Brandon is not with us." That if is now when. So what will that entail?
It appears Miller has two options. The first is a simple insertion of Rondae Hollis-Jefferson, Arizona's other hyper-athletic freshman, and maybe moving Gordon to the power forward spot. The problem with this is that both players do similar things, and neither spaces the floor like Ashley. (Cal all but begged Gordon to shoot Saturday night. He usually demurred.) The other option is Gabe York, the Wildcats' best 3-point shooter. York forces defenses to be honest out to the 3-point line, but he's also 6-foot-3 and offers little in the way of penetration. The latter option might make Arizona's offense more efficient, its personnel less redundant. But it could cost the Wildcats their identity.
The answer is not cut and dry, of course; Miller will play a combination of lineups, just as he has all season. Situation and opponent will often dictate the decision, and adjustments will be made. Still, just because Arizona lost a player at a loaded position doesn't mean the injury won't profoundly change its season.
ICYMI: TOP STORIES
[+] Enlarge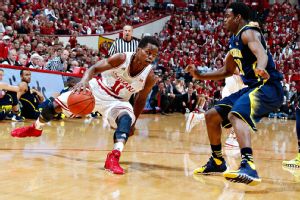 Brian Spurlock/USA TODAY SportsYogi Ferrell scored 27 points in Indiana's win over Michigan, continuing the Hoosiers' schizophrenic season.
Indiana beats No. 10 Michigan 63-52 and steals North Carolina's mantle as the most utterly confusing team on Planet Earth.
So here's Indiana's past six results: Home win over Wisconsin, home loss to Northwestern, a hard-fought loss at Michigan State, home win over Illinois, road loss to Nebraska and home win over Michigan. How does one attempt to make sense of such a thing? Maybe things aren't quite as strange as they seem at face value: For starters, Nebraska isn't all that bad. The Hoosiers are often a mess offensively, but they've guarded well all season, and when they get big nights from
Yogi Ferrell
(and don't turn the ball over that often) they can be effective enough on offense to beat good teams. Michigan spent the month of January in a state of offensive hotness that was bound to regress eventually. Ferrell scored 27 points. Combine all of these things, and you're getting closer to understanding the mystery that is the
Indiana Hoosiers
. But still: What a list of scorelines, huh?
Malcolm Brogdon stuns Pitt on last-second 3, Cavaliers remain factor in the ACC race. On Saturday night's "College Basketball Live," Andy Katz made special note of the Virginia Cavaliers; he reminded people that while Syracuse still looks like the favorite to win the ACC (especially after Saturday night's thrilling win over Duke), the Cavaliers and their much easier schedule were lurking. And that was before Sunday. The Cavaliers came away with a great -- if slow-paced, defensive, and often ugly -- 48-45 win at Pittsburgh thanks to a last-second 3 from Brogdon and a brilliant defensive effort that held Lamar Patterson to just 3-of-14 from the field. There are immediate implications for Pitt, namely that the Panthers still have anything resembling a marquee win on their résumé. But just as important is what the win means for Virginia. It's close to a guarantee of an NCAA tournament bid, for starters, but it also establishes Tony Bennett's team as the one obvious disruptor of Syracuse's ACC title march.
Oh, and then there's Syracuse. If you somehow missed Saturday's 45-minute expression of basketball beauty, ESPN.com's Dana O'Neil was there: "Syracuse beat Duke 91-89 in overtime. That's the short story. The long version is almost too hard to explain, played as much on guts as talent, with as much intensity as heart. It went an extra five minutes. It still didn't seem like enough. It was that good. Rasheed Sulaimon hit a buzzer-beating 3 to force overtime. Rodney Hood missed a one-handed, would-be game-winning dunk that would have been so monstrous had it gone down instead of off the back of the rim, it would rank as a top 10 for the season. C.J. Fair scored 28 on every sort of floater and muscle drive you could conjure. A record 35,446 Orange juiced fans filled the Dome, cheering so loudly that even Seattle Seahawks fans had to be impressed. That's a season's worth of highlights in one game. 'How many people can say they were a part of a game like this?' Krzyzewski said."
STAT OF THE WEEK: Stat of the week has spent most of its existence serving as the default Creighton-Doug McDermott dumping ground, so let's change it up and honor another 3-point wizard. On Saturday, Oakland guard Travis Bader broke J.J. Redick's record for most 3-pointers in the history of college basketball. Let's go to Oakland coach Greg Kampe: "You've got a guy sitting in the room that's the greatest of all-time at something, and we're not talking about flipping a tiddlywink or something like that. This game's been played for a long, long time, and he's the best ever. And he's still got seven, eight games left."
THE GAMES YOU NEED TO SEE
(For two more in-depth previews of big games week to come, check back for Monday morning's "Planning for Success" series.)
Wednesday
Wichita State at Indiana State, 8:05 p.m. ET, ESPN3: Wichita State's quest for perfection rolls on. The Shockers had their hands full against Evansville Saturday; they trailed by 15 at one point in the first half, but, just as they did weeks ago at Missouri State, Gregg Marshall's team rallied in time to put yet another win on the board. They also set up this massive contest. The Sycamores are the second-best team in the Missouri Valley Conference and difficult to beat on their own floor. If Wichita State escapes Terre Haute, Ind., with a win, the chances of it finishing the regular season unbeaten -- and making it to the NCAA tournament without a loss -- will be a statistical probability.
Thursday
Oregon at Arizona, 9 p.m. ET, ESPN: The good news for Arizona is that its first game in the post-Ashley era comes against a flailing Oregon team that has (A) lost five of its past seven games and (B) doesn't really have post players.
UConn at Cincinnati, 7 p.m. ET, ESPN: Cincinnati's defensive brilliance has been documented at length in this space before, but it was on full display last week at Louisville, when it held the Cardinals -- a truly efficient offensive group -- to a seven points in their first 20 possessions. Louisville's full-court pressure made it a game late before Sean Kilpatrick took matters into his own hands, but it was that ability to put good opponents in a hole (and generally make life miserable for 40 minutes) that earned Cincy the win.
Saturday
Michigan at Iowa, 2 p.m. ET, ESPN: From the first week of January onward, no team in the country was as hot as Michigan, and it was probably only a matter of time before the Wolverines experienced a brush with the regression of the real world. That came Sunday at Indiana. Iowa, meanwhile, can no longer rely on its win at Ohio State to secure its reputation. RPI-wise? Maybe. Perception-wise, no. This is a big game for both, but far bigger for the Hawks.
PHOTO OF THE WEEK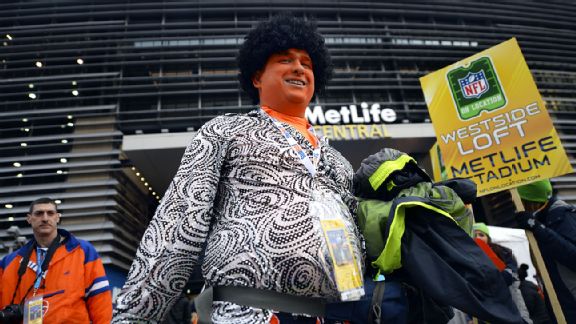 Hyoung Chang/The Denver Post/Getty ImagesBenjamin Okun of Syracuse, N.Y., heads into MetLife Stadium before Super Bowl XLVIII Sunday afternoon. I don't know if he came straight from the Syracuse-Duke game without changing clothes, but I'm pretty sure Benjamin had the
best weekend ever
.
January, 27, 2014
Jan 27
9:00
AM ET
Game Plan is our Monday morning primer, designed to give you everything you need to know about games that were and the games that will be in college hoops this week. Send us feedback and submissions via email and Twitter.
Do Michigan State's injuries matter? In the words of Orlando Jones' magazine salesman in "Office Space": that all depends.
On Saturday, when the Spartans fell at home to hated rival Michigan -- a hard-fought and thrilling game that included a "Just-in Bei-ber" chant, Mitch McGary's brilliant coaching advice ("win the game") and a loving Nik Stauskas farewell -- they did so without forwards Branden Dawson and Adreian Payne. Payne, foot be-booted, missed his fifth straight game. Dawson, who broke his hand in a self-inflicted outburst during an apparently intense Thursday film session, missed his first, with many more to come. Tom Izzo found himself plunging deep into his frontcourt reserves: Alex Gauna and Gavin Schilling made appearances. Matt Costello's 28 minutes were a season high. Russell Byrd, who hadn't played more than five minutes in any non-guaranteed blowout all season, ran for 13.
It was tempting, then, to attach an asterisk to the entire affair, a temptation ESPN's Chantel Jennings discussed -- and convincingly dismissed -- Saturday night. The Wolverines were missing McGary, after all, and the adjustments they've made since December have been stunning. Besides, Izzo wouldn't hear of it.
[+] Enlarge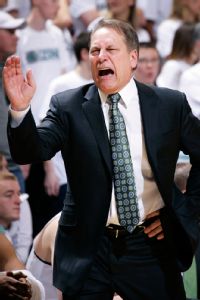 AP Photo/Al GoldisInjuries have forced Tom Izzo to look for answers on Michigan State's bench.
Whatever caveats Spartans fans will use to defend themselves from their Wolverine tormentors, let's be clear: In a micro sense, of course the injuries mattered. Payne and Dawson make Michigan State a different team from the still-good-but-incomplete version the Spartans had at their disposal Saturday night.
The real question is how these injuries will affect Michigan State in the long run. For starters, there is the Big Ten race, where the Spartans are now staring down a one-game deficit and a much more difficult remaining schedule than John Beilein's team. But the most interesting fallout could be in the NCAA tournament seeding.
The selection committee weighs a team's performance during and after injury, and does its best to take the "true" measure of a team based on the gulf between the two. If Michigan State doesn't slide too far in Dawson's (and Payne's) absences, and then looks brilliant upon their various returns, they'll be seeded accordingly. But if the Spartans nosedive for the next two weeks? Or the next month? The committee can apply only so many asterisks. It's unlikely, but what happens then?
On Tuesday, Michigan State faces Iowa's offensive onslaught in Iowa City. On Saturday, they play an even-more-hobbled Georgetown. How the Spartans look next time this week should tell us a lot about just how important their injuries will look in March.
ICYMI: TOP STORIES
Arizona shrugs off Utah, moves to 20-0. Just after the Wildcats finished their 65-56 brush-off of Utah Sunday night, the Fox Sports 1 crew placed the rosters of the greatest Arizona teams of all time next to Sean Miller's team -- Steve Kerr, Kenny Lofton, Miles Simon, Richard Jefferson and all the rest. It was a sobering comparison: On paper, this Arizona team now ranks above the greatest Wildcats teams of all time. On the floor, it's hard to argue otherwise, something the dominant final few minutes of an otherwise so-so performance showed. (It was also, for what it's worth, a pretty impressive performance from Utah, which continues to look miles removed from the six-win disaster of 2011-12.)
Cincinnati keeps winning. Sshh. You can look at Cincinnati's 80-76 win at Temple Sunday night one of two ways. You could note that the Bearcats were outscored 29-15 in the final 10 minutes against a bad team. Or, you could note that Cincinnati was outscored 29-15 in the final 10 minutes and went ahead and won anyway. You should also note that the Bearcats have ever so quietly jumped out to an 8-0 AAC record, are 19-2 overall, suffered their last loss Dec. 14 against Xavier, beat Pitt three days later, rebound 40 percent of their own misses and have one of the stingiest per-trip defenses in the country.
North Carolina avoided ignominy. Given North Carolina's horrendous January -- which included a road loss to Wake Forest, a home loss to Miami, a 45-point effort at Syracuse and a throttling at Virginia -- and Clemson's surprisingly capable defense, you could practically hear people getting ready to laugh at UNC when it inevitably lost its first-ever game to the Tigers at home. Giant clouds of schadenfreude were gathered on the horizon. It was going to be a thing! And then Roy Williams had to go and reminded his team it beat Louisville and Michigan State. North Carolina scored 80 points in 61 possessions Sunday, and the storm broke apart in the atmosphere.
STAT OF THE WEEK: Creighton. That is all.
THE GAMES YOU NEED TO SEE
(For two more in-depth previews of big games week to come, check back for Monday morning's "Planning for Success" series.)
Tuesday


Michigan State at Iowa, 7 p.m. ET, ESPN: How's this for a quick Saturday-Tuesday turnaround? As we discussed above, Michigan State's road trip week starts in Iowa City and ends vs. Georgetown in Madison Square Garden, and the first fixture is the more challenging by a factor of 10. The Hawkeyes, who rank with the nation's best by every meaningful statistical measure, drilled Northwestern in Evanston, Ill., after Wednesday's loss in Ann Arbor, Mich.
Wednesday


Iowa State at Kansas, 9 p.m. ET, ESPN: For most of the season, Iowa State's offense ranked among the nation's best; it was certainly, in all its shape-shifting uptempo glory, one of the most entertaining. Since the start of Big 12 play -- and roughly coinciding with DeAndre Kane's sprained ankle at Oklahoma -- the Cyclones' offense is scoring just 1.06 points per trip, ninth best in the Big 12. What better time for a trip to Lawrence?!
Thursday


Cincinnati at Louisville, 7 p.m. ET, ESPN: For all its travails this season -- the bad nonconference slate, the loss at rival Kentucky, the departure of Chane Behanan -- the Louisville Cardinals have, for the most part, played pretty excellent basketball. (The latest? A 41-point win at South Florida Saturday.) Cincinnati can identify with the whole "good basketball going largely unnoticed" thing. Thursday's winner should get everyone's attention.
Saturday

Arizona at Cal, 10:30 p.m. ET, Pac-12 Network: Before we get all crazy: Arizona still has to play at Stanford on Wednesday. It still has a back-to-back road trip to Arizona State and Utah in mid-February. It still has two dates against Oregon. And now, with those important caveats out of the way, if the Wildcats win at Cal on Saturday, it is conceivable -- not likely, not probably, barely possible, but conceivable -- they could run the regular-season table. Gird loins accordingly.


Duke at Syracuse, 6 :30 p.m. ET, ESPN: Two weeks ago, this game would have been a harder sell, because two weeks ago the Blue Devils were coming off back-to-back losses against Notre Dame and Clemson, and freshman star Jabari Parker looked like his face had become intimately acquainted with the notorious freshman "wall." No more: Duke has won four straight, the latest, a 78-56 rout of Florida State (in 63 possessions) its most complete performance of the season. OK, so it's Duke-Syracuse in the Carrier Dome. It was never actually a hard sell. But now the Orange don't look quite so likely to dominate.
PHOTO OF THE WEEK
Christian Petersen/Getty ImagesArizona's Nick Johnson reacts after his two-handed second-half dunk in a 65-56 win on Sunday. If the whole basketball thing doesn't work, a career in professional wrestling isn't a bad Plan B.
January, 13, 2014
Jan 13
9:00
AM ET
Game Plan is our Monday morning primer designed to give you everything you need to know about games that were and the games that will be in college hoops this week. Send us feedback and submissions via email and Twitter.
When
Grant Gibbs
lost four to six weeks of his final season at Creighton
, it wasn't just bad news for the Bluejays, or a sad break for a 24-year-old senior who is a senior precisely because he has so frequently been injured. It was also -- or at least it appeared to be -- very bad news for senior
Doug McDermott
.
After
Sunday's 35-point, 7-rebound, 5-assist, 13-of-24-from-the-field clinic
in Creighton's win over Xavier, let's just go ahead and issue a correction:
[+] Enlarge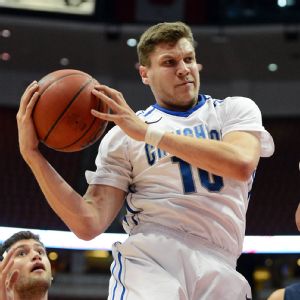 Jayne Kamin-Oncea/USA TODAY SportsIt seemed as if the injury to Creighton's Grant Gibbs would complicate teammate Doug McDermott's player of the year candidacy. But the Bluejays adjusted well against Xavier.
Never mind.
Not that the concern wasn't well-founded. The two-time All-American has always drawn the lion's share of the Bluejays' headlines, and rightfully so: He is one of the best and most thrilling offensive players in recent decades. The last time any college basketball player scored like this -- this often, and this efficiently -- his name was Kevin Durant.
But few realize just how important Gibbs has been to that three-year run of success.
As Gibbs himself pointed out to SI.com's Luke Winn in November
, McDermott maintains his crazy combination of efficiency and usage in large part because he "often scores while holding the ball for less than a second." Since McDermott's breakout sophomore season, the majority of his possessions have taken place on the low block. This season, per Synergy data, nearly 28 percent of his trips end in post-ups. And when McDermott posts up, he doesn't back dudes down for six seconds like, say, Anthony Mason. ("Compare Doug McDermott to Anthony Mason" achievement unlocked.) He pivots and seals and works over either shoulder, depending on where the defender has left himself exposed, often before that defender even knows what's happening. It is immediate and intuitive.
If McDermott is defended well, he'll fade off his back foot, or he'll kick and repost or slide to the wing. But most of the time, he's posting up, and for the past two seasons no player has been better at slinging low pinpoint bounce passes to exactly the place McDermott needs them than has Gibbs.
It was fair to ask whether Gibbs' sudden absence -- to say nothing of the sprained shoulder McDermott suffered in the same game -- would lessen the ease with which the forward racked up his patented buckets. Creighton's sublime offense hinges on McDermott's ability to score frequently and efficiently at the same time, and Creighton's overall chances hinge on its offense. For McDermott, the individual stakes were clear. What if Gibbs' absence diminished his status as the front-runner for national player of the year? What if it cost him his chance to score 3,000 points -- a historic feat only a handful of college basketball players have ever achieved?
Never mind all that. Sunday's by-the-book outburst against a good Xavier group is a one-game sample, sure, but it was also a pretty clear statement: Both the Bluejays and their generational star are versatile enough on the offensive end to thrive without Gibbs, at least for the time being. In the process, McDermott leapt from 36th to 28th on the all-time scoring list, passing Jimmer Fredette, Joe Dumars, Don MacLean, Mark Macon and Calbert Cheaney.
The Bluejays will be fine. McDermott will be fine. So get your Google Alerts aligned, and get your Twitter saved searches on point. The chase for 3,000 is officially on.
ICYMI: TOP STORIES
Iowa 84, Ohio State 74: The Hawkeyes finally finish.
"Last season's Iowa squad would not have won Sunday's game at Ohio State because it would not have finished. The 2012-13 Hawkeyes were a frustrating bunch. Although clearly boasting a strong roster, they didn't know how to win big games, how to finish them. The latter is all that matters in college basketball. … That's why No. 20 Iowa's 84-74 win at No. 3 Ohio State was such a meaningful victory for the program. Sure, it's the team's first true signature win of the season. And even though it's early in the conference season, the win puts the Hawkeyes in solid position for Big Ten contention. Beyond that, however, Iowa proved it could finish a marquee game on the road. That's the most significant lesson of this moment for Iowa basketball." —
Myron Medcalf, ESPN.com
Knee injuries sideline Colorado's Spencer Dinwiddie, Pitt's Durand Johnson.
In the big scheme of things, a road loss to a rebuilding Washington team in Pac-12 play is no big deal. Far more important to Colorado is whether guard Dinwiddie,
who had to be carried off the court in the first half after a gruesome-looking knee injury Sunday
, will be able to return this season. "My gut says it's not good," Colorado coach Tad Boyle said. "But we'll see." The loss would for Colorado would be immense; no player has been more important to the Buffaloes' rebirth under Boyle. Meanwhile, Pittsburgh already knows the sad truth about emerging sixth man Johnson:
He's out for the season with a torn ACL
.
Oregon just keeps losing.
During its 13-0 start, the inverse of that headline -- "Oregon just keeps winning" -- appeared in this exact location. Heady days, those. In a matter of two weeks, the Ducks have dropped three straight games, the latest of which (Thursday's 96-83 loss to Cal and
Sunday's 82-80 loss to Stanford
) both came on their home floor. The Ducks are still among the nation's best offenses, but they allow more than 1.03 points per possession, and it's killing them. (Oh, and don't look now, but Stanford has recent wins at UConn and Oregon, and is looking more like a tournament team by the day.)
STAT OF THE WEEK
: What happens when bad North Carolina offense meets ruthless Syracuse defense? A 57-45 loss that yielded two remarkable statistics: (1) The Orange won despite shooting just 35 percent. (2) The Tar Heels scored fewer points than any UNC team since 1997. The last time a North Carolina team scored fewer than 45 points in a game was a 1985 -- 1985! -- NCAA tournament loss to Villanova. In the words of noted North Carolinian Marty Huggins:
It's a mess
.
THE GAMES YOU NEED TO SEE
(An all-Saturday slate follows here, but check back Monday morning for separate previews of two of this week's big early games.)
Saturday


Pittsburgh at Syracuse, 4 p.m. ET, ESPN:
Here are a few things you can expect from Pittsburgh-Syracuse: A physical rebounding battle on both ends of the floor (Pittsburgh rebounds 39.1 percent of its misses; Syracuse grabs 40.2). A lot of prodding, probing offense by the Panthers, who record an assist on nearly 64 percent of their possessions and rarely give opposing teams steals -- and are sure to lose if Syracuse can force them. And a lot of "Get ready for a Big East conference matchup oh wait" jokes on Twitter.


Michigan at Wisconsin, 4 p.m. ET, ESPN:
Whether Wisconsin will still have its status as one of the nation's four remaining unbeatens come Saturday is to be determined; the Badgers visit Indiana Tuesday night. But either way, Iowa's win at Ohio State Sunday makes Wisconsin's tight victory over the Hawkeyes last week even more impressive in retrospect, and further establishes the Badgers as a neck-and-neck Big Ten favorite alongside Michigan State.


Michigan State at Illinois, 8 p.m. ET, BTN:
Speaking of Wisconsin, Illinois' 95-70 loss to the Badgers in Madison Wednesday wasn't nearly their worst result of the week. That came Sunday, when John Groce's team scored 43 points in 58 possessions at -- wait for it -- Northwestern. Yeah. That sound you just heard is every Illini fan smashing their head against their desk. But hey, what better way to recuperate than a chance to upset Michigan State in Champaign, Ill.?


Oklahoma State at Kansas, 4 p.m. ET, CBS:
Last February, Oklahoma State did something no Oklahoma State team had done since 1989: win in Allen Fieldhouse. They have the chance to do it again this weekend, only this time, the win won't break an extended Kansas home winning streak, and it wouldn't come as much of a shock -- just another sign that this is the year the Big 12 may finally shake loose of the Jayhawks' iron grip for the first time in a decade.


Louisville at Connecticut, 9 p.m. ET, ESPN:
It's hard to decide which team needs this game more: The Connecticut team that opened American play by dropping back-to-back road games at Houston and SMU, and that plays at Memphis on Thursday night? Or the Louisville group that just fell to Memphis in its own building, and is desperately searching for some frontcourt balance to match its backcourt in the wake of Chane Behanan's dismissal? Let's call it a draw.
PHOTO OF THE WEEK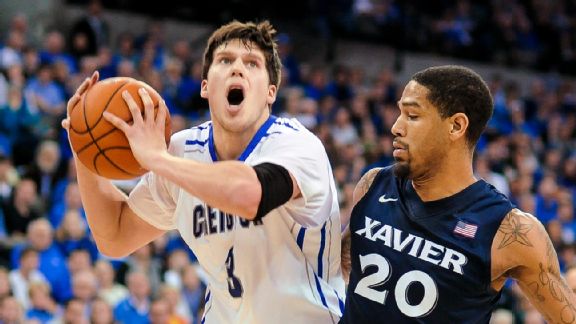 Eric Francis/Getty ImagesCreighton forward Doug McDermott draws a foul, and screams, against Xavier's Justin Martin in Sunday's 95-89 win over the Musketeers. Note to prospective McDermott defenders: If you find yourself in this position, you've already lost.
January, 6, 2014
Jan 6
9:00
AM ET
Game Plan is our Monday morning primer designed to give you everything you need to know about games that were and the games that will be in college hoops this week. Send us feedback and submissions via email and Twitter.
There's a great detail in the Associated Press recap of San Diego State's 61-57 win over Kansas on Sunday, the Jayhawks' first nonconference home loss in more than seven years and almost certainly the biggest win in SDSU basketball history. How, exactly, did the Aztecs end KU's 68-game home nonconference streak? What set them apart from so many who came before?
"Our coach never gets rattled," San Diego State forward Winston Shepard said. "He's always even-keeled. … After every timeout, he tells us to take a good thought out there."
"He just tells you to think something positive, whether it's basketball, family, whatever. Think something positive," guard Xavier Thames said. "I think that really helps."
Think happy thoughts. It is brilliant and endearing in its simplicity, a testament to the work Steve Fisher has done -- is doing -- with yet another of his irrepressible San Diego State teams.
[+] Enlarge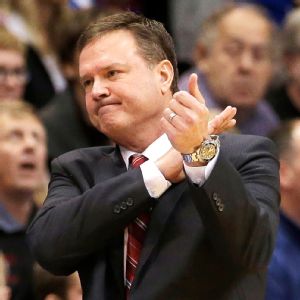 AP Photo/Charlie RiedelBill Self didn't like what he saw against San Diego State on Sunday.
It is also, let's face it, a timely prescription for Kansas fans.
If Sunday night was a bellwether in the long-term arc of Fisher's program, it was also a noteworthy status update on the compressed short-term development of Bill Self's 2013-14 Jayhawks. Back in November, we noted that this season would be the first in a decade in which Self would have to work with a team almost entirely composed of inexperienced players, freshmen or both.
There are no classic Self-ian four-year projects made good on this team, no one who's had the intricacies of the high-low motion offense burrowed into his head every day for four years. Instead, there is talent. So compressed is the key word: Could Self get this team where it needed to be in a few months' time?
On Sunday night, the answer was a resounding "not yet, anyway." Rarely has so much talent been such an inconsistent viewing experience: When the Jayhawks unleash Andrew Wiggins and Joel Embiid, as they did against New Mexico and Georgetown in the three weeks since that Dec. 10 loss at Colorado, the result can be thrilling. But just as often, they look like they did Sunday night: stagnant, predictable, easy to guard.
Shooting remains the issue: The Jayhawks are one of the nation's most efficient teams around the basket but are merely sub-mediocre from the perimeter. Against inferior opponents, this doesn't matter; Kansas gets points anyway. But against elite defenses with intelligent game plans that sink in and destroy KU's spacing, the whole thing slows to a crawl. Twitter keeps telling Wiggins to "take over" and "be more assertive" without noticing the cluster of defenders standing between him and the rim.
Still, context is key. Kansas is in no risk of disappointing in any severe way; we're talking about a would-be national title contender reaching its true potential (or not). These young Jayhawks have played the nation's most unforgiving nonconference schedule and acquitted themselves fairly well. The upside potential is, to use an old NBA draft joke, tremendous. And, hey: When someone breaks your 68-game nonconference home win streak, it means you won that many games in the first place.
See? Happy thoughts.
ICYMI: TOP STORIES
1. Wisconsin 75, Iowa 71. You wouldn't like Fran when he's angry (VIDEO): "What I feel bad about is getting the second one. The first one, I think it's safe to say I kind of went after that one a little bit. The second one -- I'm not so sure about that." That was Iowa coach Fran McCaffery after Sunday night's 75-71 loss at Wisconsin. Late in the second half, McCaffery received two technical fouls in quick succession -- the latter of which he received after crossing midcourt and bumping into an official. The four points Wisconsin got at the free throw line were equal to the game's final margin, which, of course they were. The narrative gods must be sated. The real takeaway, barring any discipline from the Big Ten office, is that two years on, this Iowa team keeps losing important, close, hard-fought and very winnable games.
2. Wake Forest 73, UNC 67: Signs of life in Winston-Salem. The past three years have been about as bad as it gets for basketball fans in Winston-Salem. Fans hated coach Jeff Bzdelik, then turned ire toward Wake Forest athletic director Ron Wellman, then moved to some weird hybrid of pity, apathy and depression, and I'm not sure which is worst. You know the fastest way to cure all of that? Beating North Carolina, of course! Bzdelik got his first big win as Wake's head coach and moved to 11-3 on the season; Wellman got his first real sign of progress from a coach on whom his reputation is staked. Big, big win.
3. Southern Illinois: Mother Nature's Boys: How much of a mess is the entire upper Midwest right now? Southern Illinois spent the night on I-57 in Illinois stranded on its team bus. Also, it was 50 below in Minnesota. That's how messy.
STAT OF THE WEEK: Colorado was so good in its 100-91 win over Oregon on Sunday -- the first loss of the Ducks' season, by the way -- that the Buffaloes turned the ball over on nearly 22 percent of their possessions and still scored 100 points on 75 possessions. They shot 57 percent from the field, 42 percent from 3 and went 33-of-36 from the free throw line. They scored 56 points in the second half. Forget it: This entire box score is your stat of the week.
THE GAMES YOU NEED TO SEE
Tuesday: Ohio State at Michigan State, 9 p.m. ET, ESPN: January is kind of the worst for a whole lot of reasons (again: 50 degrees below zero!); college basketball is not one of them. This is a massive game, the Big Ten's two clear favorites squaring off in the Breslin Center, made more so by the fact that it feels like the first calling-card conference road game of the season. I love January.
Baylor at Iowa State, 7 p.m. ET, ESPN: For all of Baylor's lanky, NBA-bound talent, the Bears actually play shockingly methodical basketball -- through Sunday they averaged 63.3 possessions per game, 339th in the country. Iowa State, on the other hand, likes to churn possessions as quickly as any team in the country. The stylistic matchup here is good in and of itself; when you throw in the talent and a Big 12 up for grabs, it's a no-brainer.
Thursday: Memphis at Louisville, 7 p.m. ET, ESPN: An old C-USA rivalry from when the C-USA was still a thing. Let's hope these two pick things back up next season, when Louisville is a member of the ACC. In the meantime, Louisville fans are still smarting from that loss at Kentucky, while Memphis was outclassed by Cincinnati on its own floor Saturday afternoon. Both have much to prove.
Arizona at UCLA, 9 p.m. ET, ESPN: The Bruins have shown zero signs that they can put together a 40-minute defensive effort good enough to stop the best team in the country. But Kyle Anderson and Jordan Adams are playing thrilling offensive basketball, and if the Bruins can get hot on their own end, the smattering of fans in the Pauley Pavilion might actually, like, applaud or something.
Saturday: North Carolina at Syracuse, noon ET, ESPN: Can someone explain the North Carolina Tar Heels? No? OK. For now, just know that they've beaten Louisville on a neutral court and Michigan State in East Lansing and, as of Sunday, lost to UAB, Belmont, Texas and Wake Forest. So obviously they could win at Syracuse.
PHOTO OF THE WEEK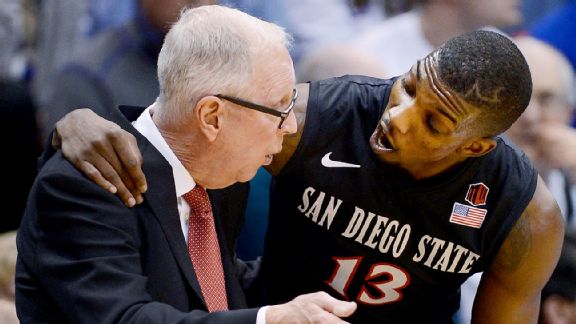 Rich Sugg/Kansas City Star/MCT/Getty Images"Coach, help! I'm out of happy thoughts!" "OK, Winston: Remember how we thought the 'Assassin's Creed' series was over for us forever after III? Assassin's Creed IV is amazing, son. You're a pirate and you sail around and --" "Thanks, Coach. I got this."
December, 30, 2013
12/30/13
9:00
AM ET
Game Plan is our Monday morning primer, designed to give you everything you need to know about games that were and the games that will be in college hoops this week. Send us feedback and submissions via email and Twitter.
Can you feel it? That fresh new-conference-play smell? Hope unfolding anew, hope everywhere, hope infecting even the most rational of certain cellar-dwellers? It's an exciting time! It's the start of conference play!
It's also kind of weird. We try to process two months of nonconference stuff, try to figure out what it all means, try to preview and project it ... but our impressions rely on some combination of small(er) sample sizes, fortune, savvy scheduling or all of the above. It's fickle. November and December set guidelines -- however vague, however mental -- for where individual leagues stand. This is how we form our hazy impressions. But how much can we really know?
Louisville's loss at Kentucky on Saturday means the Cardinals will enter their first and only season as members of the AAC with zero quality wins on their résumé. Seriously: Louisville's best win is probably the blowout victory over Louisiana-Lafayette on Dec. 7. The Cardinals have played a soft schedule and lost to their only notable opponents (North Carolina, Kentucky), and this leaves them forced to earn their plaudits in the American. But how good is the American, anyway?
[+] Enlarge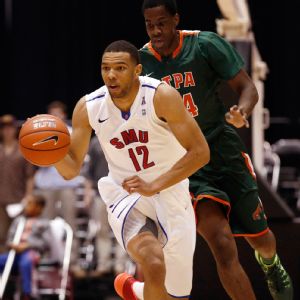 Jim Cowsert/USA TODAY SportsNick Russell and the upstart SMU Mustangs could be the AAC's trump card when it comes to discussing the new league's overall strength.
The answer might rest with the SMU Mustangs. See, I told you it was weird.
In case you needed proof that Larry Brown was really, really good at coaching basketball, in the matter of one season he has taken a 15-win SMU team ranked No. 186 in the Pomeroy adjusted efficiency rankings and turned it into a 10-2, top-50-level squad, whose most recent result was a 62-54 road win at a not-bad Wyoming. SMU didn't beat either of its notable nonconference opponents, but it played them both close. It lost to Virginia, most notably, 76-73. Brown's assistant coaches have been recruiting like madmen; there is a lot of turnover on that roster. But the fact is, the Mustangs are playing more-than-respectable basketball.
SMU sits -- or appears to sit -- at the fulcrum of the American in its first season. There are four teams you would consider definitively better: Louisville, Memphis, UConn and Cincinnati. Everyone else is pretty clearly worse. (Temple is 5-5 and lost to Texas and Texas Southern at home in back-to-back games, to list one example.)

Which is why, for Louisville, it is important that SMU is good, that Cincinnati holds up its end up of the bargain, that UConn's slight offensive slide in recent weeks is more of a blip than a lasting trend. It's important that the American is good. The Cardinals are almost certainly national title contenders, but without a little help from their league -- beginning with Memphis on Jan. 9 -- their seed won't show it. Stay tuned.
ICYMI: TOP STORIES
1. Has Kentucky turned a corner? The dirty little secret about the "best college basketball recruiting class ever assembled" is that with the exception of Julius Randle, it has been pretty mediocre. Andrew Harrison and Aaron Harrison have been inconsistent and James Young has been streaky with his shooting. Only Randle has been steady. ... In place of eye-rolling or shoulder-sagging from the much-maligned Harrison twins, there was a combined 28 points and (mostly) smart decisions with the ball. From Young, there were three made treys, but also 10 key rebounds. And from the Cats in general there was a sense of urgency and purpose. ... With the better part of this roster only a few months removed from the ease of winning, it was hard to convince them things had to be done differently in college. Now there is evidence -- not just how a team can lose when it doesn't work together, but how a team can win when it does. -- Dana O'Neil, ESPN.com
2. Eight unbeatens remain. Syracuse's win over Villanova on Saturday afternoon eliminated one of the final nine undefeated teams left in college basketball. Eight remain. They are Arizona (13-0), Syracuse (12-0), Ohio State (13-0), Wisconsin (13-0), Wichita State (12-0), Iowa State (11-0), Oregon (11-0) and, last but not least, Toledo (12-0).

Wait, Toledo? Yes, Toledo! The Rockets are playing hyperefficient offense and not-great defense, and their best wins have come over Stony Brook and Cleveland State, but hey -- 12-0 is 12-0.

A fun R/CollegeBasketball post asks which teams will be the first to lose, and the last. The latter category should go by default to Wichita State, which finished nonconference play 13-0 last night and enters the rest of the season with a roughly 8 percent chance of making it to the end of the regular season unbeaten.
3. Joseph Young just keeps scoring. The aforementioned unbeaten Ducks have made a habit of playing on Sundays the past two months, so they've shown up in this space a bit more often than you'd expect ... but they also keep winning, and Young, formerly of the Houston Cougars, keeps scoring. On Sunday the guard dropped in 24 on another tidy shooting night (this one 9-of-13) and, well, yeah: Oregon's really good. Bottom line.
STAT OF THE WEEK: Doug McDermott's 24 points against Chicago State on Sunday night gave him 2,513 for his career. If he averages 25.0 for the rest of the season (not including the postseason; his current average is 24.8), he'll finish with 2,963 points, 10 fewer than Oscar Robertson. Only seven players in college basketball history have finished with more than 3,000 points. McDermott has a real chance to become the eighth.
THE GAMES YOU NEED TO SEE
Tuesday: Villanova at Butler, 7:30 p.m. ET, Fox Sports: Villanova has received its fair share of national attention lately, but what of new new Big East member Butler? The post-Brad Stevens Bulldogs are still playing quality defense, Khyle Marshall is shooting 60 percent and grabbing a bunch of rebounds, and their only two losses came in one-possession nail-biters to Oklahoma State and LSU. Monday night could be a helpful reintroduction.
Saturday: Michigan State at Indiana, 2 p.m. ET, CBS: Between Keith Appling and Adreian Payne -- who have taken turns in the past two weeks trading one brilliant performance after another -- it's easy to forget about Gary Harris, who might be the most talented of the Spartans bunch. In any case, this is a big early conference test against a likewise talented but far, far less experienced Indiana team in ever-hostile Bloomington.
Saturday: Duke at Notre Dame, 4 p.m. ET, CBS: Notre Dame survived Canisius in its first game without leading scorer (and everything else-er) Jerian Grant on Sunday night, even if it took OT. Things won't be half as easy Saturday, when Notre Dame coach Mike Brey's former boss, Coach K, comes to town. Jabari Parker ensues.
Sunday: Iowa at Wisconsin, 7:30 p.m. ET, BTN: We're all excited about the start of conference play, which officially kicks off this week. But while the Big Ten takes the stage Tuesday, let's be honest: There isn't a whole lot there. (Ohio State at Purdue? Meh.) Sunday brings Iowa at Wisconsin, though, our first real big-time Big Ten bout -- and no doubt the first of many.
Sunday: Oregon at Colorado, 5 p.m. ET, Fox Sports 1: Oregon's first loss? In just a couple of seasons, Colorado coach Tad Boyle has turned the Buffaloes into the kind of team -- and Coors Events Center into the kind of building -- where, almost by default, you expect an unbeaten team with a player of the year candidate to lose. Oregon has other ideas.
PHOTO OF THE WEEK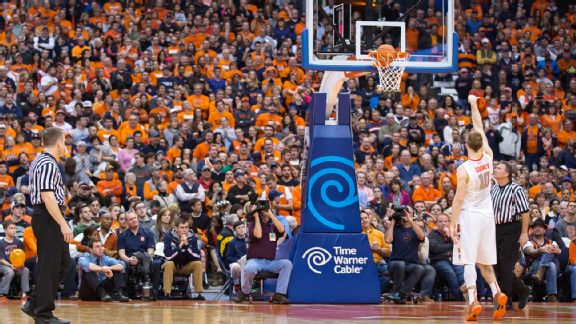 Brett Carlsen/Getty ImagesTrevor Cooney shoots a free throw in an empty half court -- one of four following a pair of fouls in the final minutes of the second half against Villanova. One imagines this is how the basket always looks to that dude.
December, 23, 2013
12/23/13
9:00
AM ET
Game Plan is our Monday morning primer designed to give you everything you need to know about games that were and the games that will be in college hoops this week. Send us feedback and submissions via email and Twitter.
The 2013-14 North Carolina Tar Heels have been so inconsistent and so difficult to analyze that even noting as much has become a running joke. The best strategy is unconditional surrender -- to admit that we can't impose rationale on chaos and, worse yet, that we've already run out of funny ways to say how much the Tar Heels make our brains hurt.
Surrender it is, then. Besides, we have other mysteries to unravel. Such as Maryland.
Thankfully, the 2013-14 Terrapins are not as enigmatic as UNC; their results don't vacillate in quite so wide a range. But they are confusing in their own right, in that their not inconsiderable talent has thus far yielded a downright brutal 7-5 start -- and a very confused head coach.
"I've been trying to fix it ... a little inconsistent ... go and lose at home and then play pretty well in the Paradise Jam and then lose a couple. I don't know. That's the perplexing thing ... can't score 77 at home and lose, so maybe it's on the defensive end. ... no presence at the rim ... just defend better ... trying to do all of this stuff to kick-start us ... fouling too much ... I can keep going, but I don't want to keep you guys here all day ... trying to figure it out ... feeling too much pressure and just need to relax ... and have a little bit more fun, and see if we can play better that way."
[+] Enlarge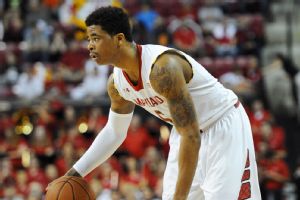 AP Photo/Nick WassThings have not fallen into place for Nick Faust and Maryland, and time is running out to fix the problem.
That is a significantly shortened version (courtesy of Testudo Times) of Maryland coach Mark Turgeon's answer to a question Saturday after his team's latest -- and easily its worst -- loss of the season. It was less a news conference answer than a disoriented soliloquy, a man reaching out and grasping at any possible explanation for why his ostensibly talented team gave up 83 points in 77 possessions to Boston University at home.
He's not alone. The lack of Alex Len is a good place to start, but the inconsistency of the effort overall -- and the fact that the combination of Dez Wells, Jake Layman and Evan Smotrycz hasn't been able to keep pace offensively -- is truly confounding. The Terps aren't really bad at any one thing. But they aren't good at anything, either.
Christmas feels like an early time in the college basketball calendar. For Maryland, it's officially time to panic: The Terps will need a wholesale ACC turnaround to avoid missing the NCAA tournament for the third straight year. Turgeon has to find what's broken and fix it with less time than you might think to spare.
ICYMI: TOP STORIES
1. Notre Dame had the worst weekend ever. We, as an Internet, tend to go overboard with the "bests" and "worsts" and "evers"; it's something we should all really try to work on in 2014. But in the subcategory of "two-day college basketball stretches," you'd struggle to find a worse entrant than Notre Dame, Dec. 21-22, 2013. On Saturday, Notre Dame was on the verge of a massive win over No. 3 Ohio State in Madison Square Garden -- a rest-on-your-NCAA-tournament-resumé-laurels type of victory -- up by eight with 50 seconds left to play. Somehow, in a flurry of deflections and turnovers and big Buckeyes buckets, the Fighting Irish lost. Wait, what? "I don't really know what happened," Ohio State senior guard Aaron Craft said. "It was a big blur." (The play-by-play sheet hardly provides clarity.)
An exasperated Mike Brey called the game "thoroughly disappointing." It was most certainly that, but it was just one loss. What came Sunday was far worse.
In an open letter on the Notre Dame athletics web site, senior guard Jerian Grant announced that he was "no longer enrolled at the University of Notre Dame due to an academic matter that I did not handle properly." Of course, that ends Grant's basketball season. He'll return to school as soon as possible after the spring 2014 semester. As ESPN.com's Matt Fortuna noted Sunday night, Notre Dame students took final exams last week.
See? Worst week ever.
2. Kyle Anderson is balling. Jabari Parker's brilliance in Duke's win over UCLA Thursday (rightfully) overshadowed another takeaway: Bruins forward Kyle Anderson wasn't far off of a triple-double, and in any case finished with a crazy line: 15 points, 10 rebounds, 7 assists, 5 steals. He was even better against Weber State (23 points, 10 rebounds, 6 assists, 6-of-9 shooting) Sunday night. Anderson is beginning to unleash the promise of his unique blend of size and skill, and he has a super-productive running mate (Jordan Adams) too boot. If the Bruins just played a bit more defense ...
3. Oregon keeps winning. This one didn't finish quite as late as Oklahoma State's 78-73 win over Colorado in Las Vegas Saturday, but it was close. And man, was Oregon 100, BYU 96 good. (Also, poor BYU. The Cougars might be the most entertaining team in the country; they're also a snakebitten 8-5.)
STAT OF THE WEEK: Courtesy of ESPN Insider John Gasaway: "Marshall Henderson may become just the 2nd player with more 3FGAs than any teammate's total FGAs. The 1st may have been Henderson last year." A disclaimer, also from John: "'May' meaning research is ongoing. [Jimmer] Fredette 2011 and [Robert] Vaden 2008 came to mind but both just missed 'pulling the Henderson.'"
THE GAMES YOU NEED TO SEE
Christmas means a lackluster Monday, no games Tuesday, Wednesday, or Thursday, and a quiet Friday. Thankfully, there is Saturday afternoon:
Saturday: Villanova at Syracuse, 2 p.m. ET (CBS): No one saw this game coming, mostly because no one saw Villanova coming. But the Wildcats are playing the best overall defense in the country outside of Ohio State; perhaps only No. 1 Arizona is better at keeping opponents from easy shots in the lane. Can the Orange score against that? Will this be a physical, defensive game, or will both teams force enough turnovers and long rebounds to attack in transition? Will everyone pine for the long-lost Big East? I know the answer to exactly one of those questions.
Saturday: Louisville at Kentucky, 4 p.m. ET (CBS): This game requires no atmospheric introduction; it's as big and angry and caustic as any rivalry in any sport anywhere. It is also a very important basketball game, though more so for Kentucky than for Louisville. While the Wildcats have been a matter of national fascination -- seemingly teetering on the edge of personnel implosion while nonetheless remaining as exciting as any group in the country -- Louisville has been chugging along well out of sight, with Russ Smith playing the best basketball of his life, feasting on guarantee-game cupcakes. It has been like a two-week tuneup. Saturday afternoon is going to be fascinating.
PHOTO OF THE WEEK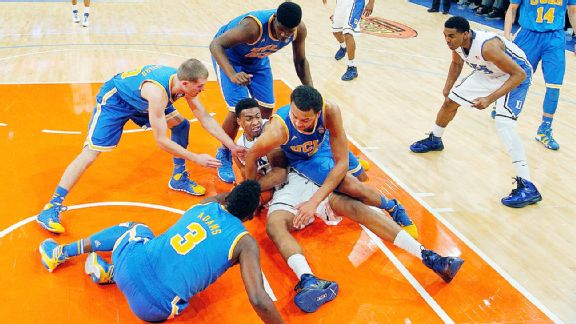 Jim McIsaac/Getty ImagesDuke's Jabari Parker battles to keep a rebound against four defenders in Thursday's 80-63 win over UCLA. UCLA should have pursued the "communal pin" strategy more vigorously: Parker finished with 23 points, 10 rebounds and 5 assists.
Happy holidays, everyone.
December, 16, 2013
12/16/13
10:01
AM ET
Game Plan is our new Monday morning primer, designed to give you everything you need to know about games that were and the games that will be in college hoops this week. Send us feedback and submissions via email and Twitter.
The Texas Longhorns are in sort of a weird place right now.
After a decade-plus of mostly uninterrupted success thanks to a mostly uninterrupted gift of talent acquisition, Texas coach Rick Barnes finally stubbed his toe last season. The culpable rock was Myck Kabongo's run-in with the NCAA: When the former decided to take airfare and instruction from an NBA agent (and mislead Texas compliance when questioned), the latter decided to suspend Kabongo for 23 games.
The whole ordeal left Barnes with a massive hole at point guard on a team that disproportionately required one, and the Longhorns' ugly turnover-prone offense saw them slip to just 16-18 in 2012-13 -- the first sub-20 win season of Barnes' career.
[+] Enlarge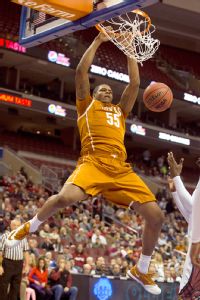 Mitchell Leff/Getty ImagesSophomore Cameron Ridley's emergence in the post has helped Texas get off to a fast 9-1 start.
A year later, with Kabongo in the NBA and the rest of a young group rounding into shape, a more cohesive Longhorns group is off to a don't-look-now 9-1 start. The lone loss came in a close game against BYU in Kansas City; the best win came on the road at Temple. Sophomore forward Cameron Ridley has morphed into one of the nation's best shot-blockers (Ridley swats 12.8 percent of available attempts, eighth best in the country), and junior Jonathan Holmes isn't far behind. Together, the two have made Texas the second-shot-blockingest (20.8 percent) team in the country this season. Simply put: Opponents don't score easy buckets against the Longhorns.
Then again, they didn't last year, either. Texas' problem last season was offense, and while the Longhorns are a little bit better in that regard this season -- Javan Felix is less turnover-prone, Connor Lammert is shooting it well, freshman Isaiah Taylor is a capable addition, and so on -- they're still below average in a variety of ways, most notably shooting.
Even if they were considerably better, it would be hard to put much stock in the numbers, because Texas hasn't really played anyone yet. Which brings us to the crux of the matter: We know the Longhorns are better. We just don't know how much.
The answer could come this week. Texas plays at North Carolina Wednesday, and hosts Michigan State Saturday. Those are two very big games for this team, for this program, and for Barnes in showing that the 2012-13 season remains a mere stumble, rather than a sign of things to come.
ICYMI: TOP STORIES
1. Saturday was pretty great: Arizona played a stout, physically dominant, and thoroughly impressive game at Michigan, wherein forwards Brandon Ashley, Aaron Gordon and Kaleb Tarczewski combined to shoot 20-of-35 (!) and grab 49 percent (!!) of the Wildcats' misses, and those two stats are kind of all you need to know about the Wildcats' 72-70 win. Also this: They look really, really good. ... Meanwhile, VCU struggled in another surprising loss, Kansas pulled it together in a win over New Mexico, Wichita State handled Tennessee even without guard Ron Baker, Indiana looked inept against Notre Dame and, last but not least, North Carolina handled Kentucky in a game that made the Wildcats look not only young but petulant and divided. It was kind of a crazy Saturday, in other words, and Myron covered it all.
2. St. John's fail: "'That last four minutes just showed that we still need to grow up,' St. John's swingman Sir'Dominic Pointer said. Pointer's comment is a little startling, considering he and most of his teammates are sophomores and juniors with plenty of minutes under their belts from the past season or two." -- Kieran Darcy, ESPN.com
3. Villanova keeps rolling, whacks Big 5 rival La Salle 73-52: It's worth noting, for those who are surprised by the scoreline, that this game was close for 20 minutes. And then Villanova's defense -- which entered Saturday allowing the second-fewest points per possession in the country -- locked in. La Salle scored 34 points in the first half and 18 in the second. That's pretty much all you need to know.
STAT OF THE WEEK: Since we led with the Longhorns, now is as good a time as any to tip our cap to Ryan Clark, Mr. Longhorn Road Trip who, after seven years of pure insanity, officially ended his streak of consecutive Texas road games this month. The final tally? 262. Click here for more.
THE GAMES YOU NEED TO SEE
Tuesday: Florida at Memphis, 7 p.m. ET, ESPN: Number cluster inbound! It's a little eerie how similar Florida and Memphis' defenses have been to date: The Gators hold opponents to 46.8 percent (effective) shooting; the Tigers 46.4. Florida turns opponents over on 23.2 percent of their possessions; Memphis 23.6. Neither team is particularly good on the defensive glass (Florida grabs 67.3 percent of defensive rebounds; Memphis gets 67.4), and neither team sends offenses to the foul line (Florida's FTA/FGA rate: 33.1; Memphis': 32.3) too frequently for comfort. Which of those defenses will hold up? And can Kasey Hill and Scottie Wilbekin play in front of that dynamic Memphis backcourt?
Tuesday: Wichita State at Alabama, 9 p.m. ET, ESPNU: Forget Kentucky. A cursory glance at Wichita State's schedule (which Insider John Gasaway brought to our attention last week) reveals a tantalizing story unfolding in Wichita: If the Shockers get past Alabama in Tuscaloosa Thursday night, they will immediately become the nation's likeliest group to go undefeated in the regular season.
Thursday: Duke vs. UCLA, 7:30 p.m. ET, ESPN: You are aware that Jabari Parker is what we in the business call "skilled" at what we in the business call "scoring basketballs." But did you know that UCLA sophomore guard Jordan Adams is averaging 21.2 points, 4.6 rebounds, 2.7 assists and 3.5 steals per game with a 135.3 offensive rating on 27.9 percent usage? Well, were you?! Answer me! Because now you are, and now you know why Duke-UCLA in Madison Square Garden Thursday night is a much better game than it looked in October.
The Texas Twosome (Wednesday at North Carolina, 7 p.m. ET, ESPN2; Saturday vs. Michigan State, 4 p.m. ET, CBS): See intro.
Saturday: Oklahoma State at Colorado, 11:30 p.m. ET, ESPN2:: This one is starting on Vegas time, and I mean that both figuratively and literally; OSU-CU is the closer in Saturday's MGM Grand Showcase bill, and what a way to end the night. (The opener, Marquette vs. New Mexico, is pretty good, too.) Colorado will come fresh from last Saturday's win over Kansas with no basketball, and lots of Tad Boyle tweaking, in between. Plus, the Buffaloes are one of the few teams in the country with the ostensible backcourt size needed to properly limit Marcus Smart's bullish effectiveness on the offensive end. But will the Cowboys be too athletic everywhere else?
PHOTO OF THE WEEK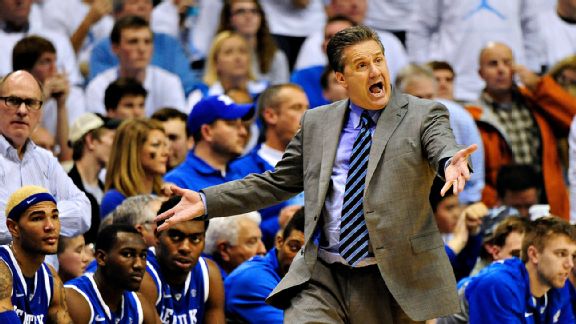 Grant Halverson/Getty Images"If you wanna keep losing, keep acting this way," Kentucky coach John Calipari told his team after their disjointed loss at North Carolina Saturday. Here he is performing "Someone Please Hedge A Ball Screen," his latest interpretive dance piece.
Enjoy the basketball, everyone.
December, 9, 2013
12/09/13
9:00
AM ET
Game Plan is our new Monday morning primer, designed to give you everything you need to know about games that were and the games that will be in college hoops this week. Send us feedback and submissions via email and Twitter.
It's been five years. God, five years already? Five years! Five national champions, five teams of five All-Americans, five draft classes, thousands of college basketball games, hundreds of injuries, and more minutes than I'd like to even attempt to count have passed between the two best games of Maurice Creek's career.
You might remember the first. It was Dec. 12, 2009. Creek was one of Tom Crean's intriguing freshmen then, but no one had any illusions about the fixture at hand: First-year Kentucky coach John Calipari was bringing John Wall and DeMarcus Cousins and Patrick Patterson and Eric Bledsoe to town, and Indiana was going to get rocked.
[+] Enlarge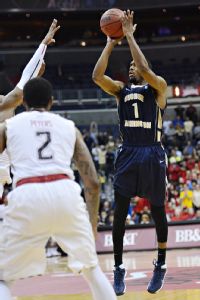 Chuck Myers/MCT/Getty ImagesMaurice Creek led George Washington over Maryland on Sunday.
The Hoosiers only avoided "Monstars"-level demolition that day -- they lost 90-73 -- because Creek was so surprisingly good. He had 31 points in 32 minutes on 14 shots; he went 5-of-8 from 3; he was crafty and sneakily athletic and hardly out of place against UK's future-NBA roster. His future was blinding.
Finally, mercifully, the next great game in Creek's career came Sunday night against Maryland.
The injury-plagued road that Creek traveled between that 31-point Indiana night and Sunday's 25-point, 11-shot clinic against the Terps has been well-documented in this space. The short version is that no player in the past five years -- not even Purdue's famously unlucky Robbie Hummel -- suffered a more brutal string of injuries than did the one-time blue-chipper at IU.
Now Creek is playing efficient minutes -- he'd hit 21 of 46 from 3 entering Sunday night, with a 122.4 offensive rating -- and hitting step-back game-winners for a GW team that has already upset Creighton this season. I'm sorry, friend, but if that doesn't warm your heart, you may want to see a doctor.
ICYMI: TOP STORIES
1. Oregon and Ole Miss score ALL OF THE POINTS (box score): Some fun facts from last night's 115-105 OT Oregon win in Oxford, Miss. (and I won't put parenthetical exclamations behind any of this, but assume their liberal application throughout):
The Ducks scored (about) 1.3 points per possession in an 87-possession game. They shot 58.5 percent from the field, 61.1 percent from 3.
Mike Moser had 24 points and 10 rebounds; Johnathan Loyd had 23 points and 15 assists and made 14 of 16 from the free throw line.
Ole Miss guard Marshall Henderson shot 23 -- yes, 23 -- 3-point field goals. He made 10. He scored 39 points. The Rebels still lost.
In closing, here is the link to the WatchESPN replay. That is all.
2. Askia Booker cashed in on Colorado's karmic debt and downed a much-better-but-still-deeply-flawed Kansas team in the game of the weekend, and one of the best of the season to date. Booker also (probably) created the first-ever euro-step buzzer-beater. Productive afternoon, that.
3. Baylor won Friday's "Basketball Showdown" over Kentucky 67-62. Baylor was good. Kentucky's defense was kind of a mess; its flaws were pushed to the fore. Also: Jerryworld was morbidly quiet. You'd think something called "Basketball Showdown" that isn't an original Nintendo cartridge would be more exciting. Hmph.
STAT OF THE WEEK: Wisconsin's 48-38 win at Virginia on Wednesday wasn't just about two teams playing slow: The Cavaliers scored 38 points in 57 possessions, an average of 0.67 points per trip. They also shot just 3-of-22 at the rim and made three shots total outside the paint. OK, OK, I know that's more than one stat. But jeez. (Hat tip: Synergy, via Luke Winn)
THE GAMES YOU NEED TO SEE
Tuesday: Kansas at Florida, 7 p.m. ET [ESPN]: Florida point guard Scottie Wilbekin was cleared to practice and will play Tuesday, according to the Gainesville Sun, and boy, is that good news for Florida. Even a banged-up Wilbekin is a massive improvement on whatever (literal) five-player configuration Billy Donovan would have cobbled together. Kansas, meanwhile, continues Bill Self's march of doom: The Florida date is the second of two consecutive true road games, and it will be fascinating to see how Andrew Wiggins and the young Jayhawks respond to the challenge ahead. Also: Casey Prather is really good. That too.
Friday: Iowa at Iowa State, 9:30 p.m. ET (ESPNU): It's been a while since both flagship Iowa teams faced each other as members of the Associated Press Top 25; frankly, the last half-decade has been pretty rough. But Fran McCaffery's Hawkeyes are 9-1, Fred Hoiberg's Cyclones are 7-0, both teams are not only rebuilt but playing exciting, up-tempo basketball, and my friends have been arguing for weeks over which team is better. You probably have to be from Iowa to get how big this game is … but yeah. Big game.
Saturday: Arizona at Michigan, 12 p.m. ET (CBS): Michigan's three losses do little to diminish this circled-since-September matchup with Arizona, now arguably the nation's best and most well-rounded team. The Wolverines will be starving for a big win in front of a frenzied crowd. Arizona's size, offensive spacing and elite rim protection would almost certainly be too much for Mitch McGary & Co. on a neutral court. But in Ann Arbor? So you're telling me there's a chance …
Saturday: Tennessee at Wichita State, 2 p.m. ET (ESPN2): It's still early in the season, but we're rapidly approaching put up-or-shut up time for Tennessee, which entered the season with the returning SEC Player of the Year (Jordan McRae), a bruising front line (Jarnell Stokes, Jeronne Maymon) and SEC title contention buzz. The Volunteers have already lost to Xavier and UTEP. That's hardly an irreparable situation, and I'm not saying a win at Wichita State is required (harsh, man) … but we need to see something, you know?
Saturday: Kentucky at North Carolina, 5:15 p.m. ET (ESPN): North Carolina has lost to Belmont and UAB, and beaten Louisville and Michigan State -- the latter of which came Wednesday in Ann Arbor East Lansing. It's enough to make a college basketball analyst's brain turn into mush. But if the likely explanation is that the Tar Heels struggle to lock in except against obviously good opponents, Roy Williams should have no problem getting his team ready for Julius Randle, James Young and the rest of the occasionally brilliant, occasionally unglued Kentucky Wildcats.
PHOTO OF THE WEEK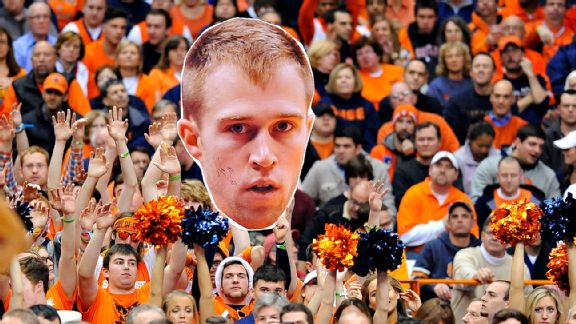 Rich Barnes/Getty ImagesThat's Trevor Cooney. That's the guy Indiana is seeing in its nightmares after he scored 21 on the Hoosiers on Tuesday in the Carrier Dome.
Enjoy the basketball, everyone.