College Basketball Nation:

Garrett Stutz
March, 17, 2012
3/17/12
12:30
AM ET
PORTLAND, Ore. -- Previewing the Round of 32 games at the Rose Garden:
No. 4 seed Indiana (26-8) vs. No. 12 VCU (29-6), 7:10 p.m. ET


VCU coach Shaka Smart enjoys inspiring, insightful quotes, and he's leaning on one that is relevant to his 2011-12 team as it prepares to face Indiana in the South Region with a spot in the Sweet 16 on the line: "Things won are done; joy's soul lies in the doing."
It's from Shakespeare's "Troilus and Cressida," but it could just as easily be from a book on the NCAA tournament, one written as a self-help tome for a select group of so-called mid-majors: "Cinderella: The Year After (and After and After)."
You might have heard this: Smart and the Rams burst onto the scene last year with a surprising Final Four run. Yes, they agree, it was really neat. Yes, they'll tell you, the banners hanging in their home gym still give them goose bumps. But things won are done and losing's soul lies in living in the past.
Said Smart, "We've used that [quote] at times because everyone wants to talk about last year's Final Four run, but that's done, that's over. It's all about now."
The Rams' showdown with Indiana is interesting for a variety of reasons. For one, the Hoosiers are a super-elite program that's been in the dumps of late but is eager to climb back to the top of hoops' Mt. Olympus. VCU is a newbie riding high under Smart's pitch-perfect leadership.
VCU, which has won 18 of 19, is all about its full-court-pressing "Havoc" defense. Indiana is a high-scoring team that isn't afraid to run. The Hoosiers also are great from behind the 3-point line, hitting on 43.6 percent of their attempts, which ranks second in the nation. In their first game here against New Mexico State, they put on an offensive exhibition, hitting 59 percent of their shots, including 7 of 13 from 3-point range. They scored inside and outside, they ran the break, found open looks in the halfcourt and seven players contributed to 15 total assists.
The question on Saturday is whether they can break the Rams' press and again get good looks at the basket. The key, Hoosiers coach Tom Crean said, is to not let the Rams dictate where the ball goes.
"You've got to do a great job of catching the ball where you want to catch it," he said. "If you catch it where they want you to catch it, it's going to be a problem."
VCU has good size, and 7-footer
D.J. Haley
did an outstanding job Thursday of containing Wichita State big man and leading scorer
Garrett Stutz
. But Indiana center
Cody Zeller
offers a different challenge: He's 6-11 and moves like a 3.
"He's as good as any big kid that we've played in the three years I've been at VCU," Smart said of the freshman. "You talk about him running the floor. We definitely can't give him easy baskets in transition. I would guess that one of the things that they'll try to do is get the ball in quickly after makes or, certainly on misses, get the ball outlet quickly and then look for Zeller running to the rim. If you can get the ball in extremely quickly before the press is set up, then that's one way to beat pressure defensive teams."
Against Wichita State, VCU showed it could score out of a half-court offense, which it has struggled to do this season, and make big shots when the screws tighten. And, while Indiana is the pedigreed program, it's the Rams who have been here before.
Of course, four starters are gone from the 2011 VCU team, and Indiana couldn't have looked more poised while it pounded the Aggies. The past, recent and dusty, probably won't dictate much Saturday.
Said VCU senior forward
Bradford Burgess
when asked to compare last year's team to this year's team, "Really, the only similarity is the name on the jersey."
No. 4 Louisville (27-9) vs. No. 5 New Mexico (28-6), 9:40 p.m. ET


Louisville has inside information on New Mexico. Cardinals assistant coach Wyking Jones was an assistant the previous two seasons for the Lobos. He was particularly close to the Lobos' two best players, forward
Drew Gordon
and guard
Kendall Williams
.
It might not matter a whit. It could, in fact, become more of a distraction, something New Mexico coach Steve Alford can anticipate and counter. But the Louisville players and coach Rick Pitino didn't hide the fact they see it as an advantage against the Lobos for Saturday's matchup.
"Well, he can't hurt, obviously, because he recruited some of their players, knows the guys, knows their personalities, when they could get down or when they could be up," Pitino said. "So we're going to have a good feel for them in abbreviated [way]. He gives us things, a feel that we wouldn't normally get."
Said guard
Russ Smith
, "It definitely helps because he knows their personnel very well. As far as the seniors and juniors on the team, he knows some of the calls that might be made. So Coach Jones definitely is helping us a lot, especially in practice and in film the past day."
The key in this one, however, is shooting. I know: Genius. But this game pits two of the nation's top-five field goal percentage defenses, with both hovering around 38 percent. Both defenses won the battle in their second-round victories. The Cardinals shut down a high-scoring Davidson attack, miring a team that likes to run in a half-court game, while Williams played a major role in shutting down Long Beach State point guard
Casper Ware
, the Big West Player of the Year, who shot 5 of 19 from the field and was 2-of-9 from 3-point range.
Williams seems most likely to take on surging Louisville point guard
Peyton Siva
. While Siva isn't the Cardinals' leading scorer, he won Most Outstanding Player as he and his teammates took a surprising roll through the Big East tournament. He scored 17 points -- one below his season's high -- in the win over Davidson, and has averaged 14.4 points, 5.4 rebounds, 5.8 assists and 2.6 steals in five postseason games.
Not surprisingly, the uptick in Siva's play has coincided with the uptick in the Cardinals' fortunes. Pitino credited the change to Siva's late-season ability to vary the speed of his play, which came out of a meeting between the two.
Said Pitino, recalling the meeting, "'Peyton, I'm going to tell you why you're struggling, because you just play at one pace, extremely fast. And because of that, you have a lot of turnovers, because you don't know how to probe and change your pace and create things because you play at one speed.'
"And we showed him a tape of Steve Nash and how Steve always probes and gets in the lane and keeps his dribble and comes back and does something else. And that more than anything else really changed his mindset of learning how to change speeds. And he's been brilliant in the Big East tournament. Brilliant yesterday with doing that. And for someone to make that abrupt change like that and really just visualize himself doing that speaks about his basketball IQ in a big way."
So, is the Siva-Williams matchup going to happen? We'll, er, Siva. Alford wouldn't commit.
"Kendall Williams always gets the top assignment," he said. "If he's the top assignment, Kendall will get that assignment."
While there are some similarities between the teams, there also are plenty of differences. For one, New Mexico doesn't see a lot of full-court press in the Mountain West Conference. And Louisville will be much happier running and creating a frantic pace.
The biggest is this: New Mexico has never reached the Sweet 16. Louisville has been there 17 times, fifth-most in the nation.
But neither history nor Wyking Jones is likely to be the difference in this one. It's probably going to be about getting good looks against defenses that don't give many of them. And converting those looks.
March, 15, 2012
3/15/12
9:42
PM ET
PORTLAND -- Some quick thoughts from VCU's
62-59 upset
over Wichita State in the second round of the South Regional in Portland.


Overview
: VCU, thought to be rebuilding after a Final Four run a year ago, held off this year's supposed mid-major darling, Wichita State, building a 13-point lead in the second half and then holding on during a furious final three minutes. The surprising thing? It wasn't the Rams' "Havoc" defense that did the trick, though it did hold the Shockers to nearly 19 points below their season average. It was the Rams' proving they could score in the half court, particularly when the screws tightened late.
Turning point
: Wichita State's
Toure' Murry
made a 3-pointer with two minutes left that gave the Shockers their first lead of the second half at 59-57. But VCU's
Bradford Burgess
answered with a trey on the other end to retake the lead. The Shockers wouldn't make another shot over the final 1:30.
Key player
: Burgess, a senior who made his 145th start in a row -- adding to his NCAA record -- scored 13 points in the first half, but that 3-pointer was his only score of the second half. Still, he finished with a team-high 16 points with four rebounds and four assists and no turnovers. And, you know, that shot was sort of, well, important.
Key stat
: The Rams hit 42.4 percent from the field, while Wichita State, which ranked 13th in the nation this year by shooting at a 48.5 percent clip, hit only 37.5 percent.
Miscellaneous
: Shockers leading scorer
Garrett Stutz
had a fine year but a terrible game. He played only 16:48 due to foul trouble, and he hit just 2 of 11 from the field. He finished with 4 points and 6 rebounds. He also missed the Shockers' final two shots, including a layup that would have given them the lead with a minute left. ... Both teams had five steals. ... The Rams had 13 second-chance points; the Shockers had 11.
What's next
: VCU advances to play Indiana, which handled New Mexico State in the Portland South Regional nightcap.
March, 15, 2012
3/15/12
12:00
AM ET
PORTLAND -- Let's take a look at the evening games:
No. 5 Wichita State (27-5) vs. No. 12 VCU (28-6), 7:15 p.m. ET
Just call Wichita State-VCU a major mid-major matchup.


Last year, VCU rolled all the way to the Final Four. This year, Wichita State is the vogue pick for a team outside a BCS conference to make some noise in the NCAA tournament. In fact, ESPN's Joe Lunardi, Ph.D. in Bracketology, has called the Shockers "the best true mid-major in the tournament."
"You talk about the power six conferences, [but] any good mid-major team can play with any good power six conference team," Shockers 7-foot center
Garrett Stutz
said.
Further, these teams have a little history. The Rams beat the Shockers 68-67 last year in a regular-season nail-biter. The Rams and coach Shaka Smart went on to become national darlings. Wichita State didn't get invited to the NCAA tournament, despite a 24-8 record, but went on to win the NIT.
The Shockers remember the loss to the Rams with just a bit of a "that could have been us" wistfulness.
"It's something that's been in the back of our minds for a long time now," Stutz said. "When they beat us, that kind of gave them momentum into their NCAA tournament round. So there's definitely still some ... I won't call it a rivalry, but there's still some motivation for us."
VCU was supposed to be rebuilding after losing four starters from a team that was just the third 11th seed to reach the Final Four, but the Rams have won 17 of 18. Their leader is senior guard
Bradford Burgess
, who already has broken Patrick Ewing's record for most consecutive starts (144 in a row).
The Shockers, playing in their first NCAA tournament since reaching the Sweet 16 in 2006, are an intriguing, veteran team with a highly respected coach, Gregg Marshall. They have six players who averaged between 8.3 and 13.5 points per game. Stutz tops that list and adds eight rebounds per game. Seven Shockers play at least 22 minutes a game. Their average margin of victory -- 15.3 points per game -- ranks third in the nation. They are plus-6.7 in rebound margin (12th in nation), shoot 48.5 percent from the field (13th) and average 77.7 points per game (15th).
While Wichita State can wow you with offense, VCU is all about "havoc defense." "Havoc" defense? It's not just that opponents averaged only 59.8 points per game against the Rams. VCU forces a turnover on 27.4 percent of its possessions, grabs 10.7 steals per game and forces 17.9 turnovers per game; each of those numbers ranks first in the nation. The Rams average 20.4 points per game off turnovers.
And the Rams need those points. VCU is not good on the boards -- minus-2 per game -- and shoots a piddly 41 percent from the floor, which ranks 286th nationally. The Shockers can play some D also. They rank 21st in field goal percentage defense (39.1).
So this game turns on whether Wichita State can handle the Rams' pressure and force them to score in conventional ways, which they haven't consistently been able to do.
No. 4 Indiana (25-8) vs. No. 13 New Mexico State (26-9), 9:45 p.m. ET
One of the big stories in college basketball this season was the return of Indiana to the national scene. And lookie here: The Hoosiers are back in the NCAA tournament for the first time since 2008. Isn't that nice?


But if you've been around college basketball for anything more than, oh, 10 years, it still seems a bit off-putting to hear Hoosiers coach Tom Crean asked before a matchup with New Mexico State whether his team will be "blinded by the glitter of the NCAA."
"There's nobody that feels like they've arrived or that they're just happy to be here," Crean said.
This is, by the way, the Hoosiers' 36th appearance in the tournament, which ranks first in the Big Ten and sixth in the nation. This season, Indiana has wins over Kentucky, Michigan State and Ohio State. "Happy to be here" won't be in play until the Sweet 16 in Atlanta.
Of course, college basketball has changed since Indiana's golden years under Bob Knight. Crean, for one, wasn't interested in providing a pat on the Aggies' head for being such a formidable "mid-major."
"They're a big team," Crean said. "I would put them for sure in the upper-half -- well into the upper-half -- of size, strength, body types of what we would face in the Big Ten. There's nothing, quote-unquote, 'mid-major' about them."
That's not just coachspeak. The Aggies appear to have an edge in the paint in this one, with high-scoring senior forward
Wendell McKines
, who averages 18.8 points and 10.8 rebounds, and 6-foot-11 senior center
Hamidu Rahman
.
The Aggies are high-scoring -- 78.4 points per game -- while being a poor 3-point shooting team. That's because they own the boards. Their plus-8.7 rebounding margin ranks third in the nation. They've grabbed 135 more offensive rebounds this season than their opponents.
Further, they are adept at drawing contact. While they are a poor free throw shooting team -- 66.7 percent -- they lead the nation in free throw attempts per game, a stunning 29.9. So, despite the low percentage, they've made more free throws (699) than their opponents have attempted (663).
And, yeah, it's fair to wonder what New Mexico State's record would be if the team hit at, say, a 75 percent clip.
On the other side of the floor, the Hoosiers should be able to take advantage of a weak Aggies defense. Indiana has a nice inside-outside game, with 6-foot-11 freshman
Cody Zeller
(15.5 ppg, 6.4 rpg) -- the Big Ten Freshman of the Year -- manning the paint and the Hoosiers hitting 43.3 percent from behind the 3-point arc.
A major concern is that Indiana lost senior guard
Verdell Jones
to a torn ACL in the Big Ten tournament.
"We miss him," Crean said. "There's no way around it. He's a stabilizing force."
It wasn't too long ago that Indiana was a stable force in college hoops. But the Hoosiers won't officially be back until they stack up a couple of tourney wins.
March, 3, 2012
3/03/12
8:24
PM ET
Believe it or not, a certain massive matchup in Durham, N.C., isn't the only college hoops game on the schedule today. Hard to believe, I know, but it's true.
Here's a look at much of the action -- bubble and otherwise -- that served as the appetizer to tonight's main course. Be sure to check back later this evening for our writers' reactions and analysis from across the country.


No. 7 Marquette 83, No. 12 Georgetown 69
: When March calms down, and the offseason finishes out its usual assortment of draft decisions, coaching intrigue and off-campus arrests (and everything else), I'm going to sit down one week and calculate college hoops winning percentages on senior night. With the exception of Northwestern (which lost in heartbreaking fashion Wednesday), it felt like nearly every team in the country won its final home game of the season this week. A lot of that is just good, old-fashioned home-court advantage, and some of it is skill and so forth, but when you strip all that away, I'm still going to guess pretty much every college hoops team in the country sees a massive bounce in its winning in the final home game of the season. Quantifying emotion is never easy. This feels like a chance.
In any case, Marquette followed this (presumably real, potentially imagined) trend Saturday, easily handling a Georgetown team that was itself coming off a dominant performance in its final home game of the season, a 59-41 victory over Notre Dame. In doing so, the Golden Eagles extended their Big East record to 14-4 and ensured the No. 2 seed in the Big East tournament next week. Meanwhile,
Jae Crowder
made one last-ditch pitch for Big East player of the year: He scored 26 points and grabbed 14 rebounds on 8-of-15 from the field and 10-of-12 from the free throw line. (Crowder missed all five 3-point attempts, a portion of his game that he's really improved this season. When your center can shoot 37 percent from 3-point range, you've got a very difficult team to guard.)
Can Crowder win the award? Because he should. With all due respect to
Darius Johnson-Odom
and like four or five different Syracuse players, Crowder's mix of offensive efficiency (offensive rating: 122.9; including 61 percent from inside the arc, a low turnover rate, and the aforementioned perimeter solidity), rebounding and defense (he's averaging 2.3 steals and 1.0 blocks per game) make him, to me, the most complete, most important player in the conference.


No. 9 Murray State 54, Tennessee State 52 (Ohio Valley Championship)
: With six minutes left in the OVC title game, bubble teams across the country were no doubt finding it difficult to establish regulated breathing patterns. Tennessee State was up 48-43, the Racers were struggling to find stops against the dish-and-kick action of the Tigers' 1-4 low sets, and even worse,
Isaiah Canaan
, Murray State's do-it-all star, was battling through an off night. A two-bid OVC -- and a suddenly shrunken bubble -- were very real possibilities.
But Murray State locked in on defense, stacking great possession after great possession, cutting the Tigers off and preventing easy shots in the paint, and eventually came back to seal the win. The final go-ahead basket was a matter of immediate controversy at the broadcast table; our own Fran Fraschilla was convinced Murray State guard
Jewuan Long
charged on his game-winning basket. The call was close, no question. But all due respect to Fran, who is way better than this than I am, I disagree that it should have been a charge. A few things here. Long shot the ball before contact was initiated; the defender was still slightly sliding under the move, rather than entirely in front of it; and, most importantly, it was the penultimate play of a one-possession game with the NCAA tournament on the line. The ref needs to swallow his whistle there. And, in general, college coaches and players -- frankly, this applies to the NBA, too -- need to stop coaching defense like this! It's bad for the sport. There are plenty of ways to defend a driving player without fouling or attempt to draw a foul. Choose one. Don't run to a spot and hope the ref gives you the benefit of a 50-50 call, especially when your season is on the line. In short: Play defense.
Maybe that's the pickup player in me coming out; I would have little sympathy even if Long committed a blatant charge. But it wasn't. The no-call couldn't have been more appropriate. And every bubble team in the country can breathe just a little bit easier as a result.


Illinois State 65, No. 14 Wichita State 64
: On second thought, bubble teams, you can go back to freaking out now. Why? Because Arch Madness has yielded its first truly mad result of the tournament. Wichita State is the Missouri Valley's best team and No. 1 overall seed, not to mention everyone's pick to be this year's mid-major tournament darling. But that didn't stop the Redbirds -- thanks to
Tyler Brown
's two clutch free throws and two misses in the last six seconds from WSU's
Toure' Murry
and
Garrett Stutz
-- from shocking the Shockers all the same. (Sorry. Couldn't resist.)
Wichita State doesn't have much to worry about in the way of its NCAA tournament seed, of course. But every team along the bubble line, including many of those mentioned below, should be terrified. If Creighton suffers the same fate at any point this weekend, the Missouri Valley will send three teams to the NCAA tournament and steal one bid from a bubble that is destined to shrink even further down the stretch.
Could that third team be Illinois State? Why not? When you beat Wichita State on a neutral court, you deserve the benefit of the doubt.


No. 2 Syracuse 58, No. 18 Louisville 49
: This was always an uphill battle for Louisville for one obvious reason: The Cardinals can't score. Louisville can defend. It can rebound. It can get stops when it needs them. But when you have the Big East's 11th-best offense on a per-possession basis, when your effective field-goal percentage ranks outside the nation's top 200 teams, when you turn the ball over on 21.8 percent of your possessions (national rank: No. 241) and your task is to break down Syracuse's smothering 2-3 defense in the Carrier Dome, well, good luck. Syracuse played its typically potent brand of extended defense, forcing Louisville a downright awful 2-of-23 mark from beyond the arc, and that's pretty much your game right there.
It's going to be interesting to see how Rick Pitino tries to adjust this team as he heads toward the NCAA tournament. A few weeks ago, Pitino told ESPN Radio's Scott Van Pelt that he liked to speed the game up and take more risks in the tournament; in his experience, too many coaches slow down in the tournament, fearing disorganization and disarray. This might be his only course of action in March. The Cardinals can't find any offense, but they can press and trap and slap and claw and hope to get easy buckets from turnovers and bad shots in transition. At this point, with this anemic, predictable offense (prediction:
Peyton Siva
won't
see a defense guard him over the top on another ball screen all season
), does Pitino have any other choice?
Variously Questionable Bubble Losses


West Virginia 50, South Florida 44
: The Mountaineers desperately needed this win. Before this week's victory over DePaul, WVU had lost seven of its previous nine games and seen its once-certain at-large tournament bid -- WVU was once a No. 5 seed in Joe Lunardi's bracket; now it's a No. 12 -- become an entirely precarious matter. This win obviously helps, and not just because it was a win: It also put a ding on one of WVU's potential bubble rivals, South Florida, which has surged into the bubble conversation in recent weeks thanks to a gaudy Big East record and consecutive victories over Cincinnati and Louisville. A win Saturday might have put the Bulls on the right side of the bubble in official fashion. As it is, their profile still looks much better than it used to, but with a 5-10 road record and a 2-8 mark against the RPI top 50, some positive results in the Big East tournament may well be necessary.


UCLA 75, Washington 69
: First things first: This was a really nice win for UCLA. It hasn't been the easiest week for the Bruins (
that's a candidate for understatement of the year
), but with back-to-back good wins (a blowout of Washington State and this plucky victory over the league's standings leader) at least they finished on a positive note. As for Washington, the loss might well have cost the Huskies the outright Pac-12 title. Cal still needs to win get a likely but hardly guaranteed win at Stanford, but either way, the Huskies' argument -- that an outright regular-season conference title in a high-major, albeit really bad, conference should guarantee a spot in the NCAA tournament -- looks even more specious now. Washington, like the rest of this league, has nothing in the way of nonconference results to point to as proof that it is considerably better than the RPI's impression of the Pac-12 as the 10th-best league in the country. It will be fascinating to see how the committee treats UW, and the Pac-12 as a whole, but if I'm the Huskies I'm planning on making a very deep run through the Pac-12 tournament, just to be safe.


Marshall 79, Southern Miss 75
: Will a loss at Marshall damage Southern Miss's bubble chances? Doubtful. Marshall is a quality team -- a deep fringe bubble candidate in its own right -- and a four-point loss in the Herd's building isn't, or shouldn't, be the kind of thing that damages a team's bubble chances. What's more, the Golden Eagles still own an RPI within the top 20. In the past 16 years, no team with an RPI of 20 higher has ever missed the tournament. (The closest was 2005-06 Missouri State, which didn't have nearly as strong a profile as this team.) They should be fine.
Maintenance-Minded Bubble Wins


Xavier 72, Charlotte 63
: Xavier's final home win of the season wasn't what the Musketeers would have planned heading into the season. To wit, from the AP: "It was a bittersweet day for Xavier, which had grown accustomed to ending its final home game with a spray of confetti and a few celebratory snips of the net. The Musketeers' streak of five straight A-10 regular-season titles was snapped this season." That dream was over weeks ago. Xavier
has bigger fish to slice
now. The Musketeers are as close to the bubble as you can be (Lunardi's most recent bracket has
them as the first team outside the field
). A win won't necessarily change that, but a loss would have been disastrous, and Xavier is now in at least slightly better position as it heads into A-10 postseason play.


Northwestern 70, Iowa 66
: It was very easy to imagine Northwestern -- which missed marquee wins (Michigan, Ohio State) in soul-crushing fashion twice in the past two weeks -- losing at Iowa. The Hawkeyes beat Wisconsin and Indiana at home in recent weeks, Northwestern would no doubt be feeling the historic tournament pressure, and so on. But this was an impressive victory, or at least as impressive as a victory over Iowa can ever be. This is a little like Xavier's win: It doesn't provide a bubble bump, but it does prevent a potentially disastrous move in the wrong direction at the worst possible time of the season. Is Northwestern in right now? I'd guess yes. But it's hardly a done deal. Like nearly everyone else on the bubble, the only way for Bill Carmody's team to enter Selection Sunday with any measure of confidence is to play well in next week's conference tournament. That much is clear.


Miami 77, Boston College 56
: Same situation here: A loss would have been a dream-killer. A win doesn't move the needle. Miami basically has two tourney-worthy qualities on its profile: A win at Duke (huge) and a home win over Florida State (slightly less huge, but still important). But other than that, there's not much there. Can the Hurricanes knock off one of this league's top four teams -- especially Duke or UNC -- on a neutral floor next week? That might be the baseline requirement going forward.


Connecticut 74, Pittsburgh 65
: The Huskies have spent much of the past three weeks looking downright determined to overcome their computer numbers (a top-five overall strength of schedule and a top-20 nonconference figure) and somehow, some way, miss the tournament. This week's loss to Providence was an apparent punctuation mark on a pretty much horrible Big East season, or at least horrible relative to this team's elite talent. After this win, though, it looks like UConn will -- just barely -- hold on to a spot above the bubble fray.
February, 21, 2012
2/21/12
10:30
AM ET
Wichita State is no longer living up to its nickname. The team that has lost just one game in 2012 isn't exactly shocking anyone anymore, not after spanking Missouri Valley leader Creighton in Omaha and then turning a BracketBuster game against Davidson into a laugher.
Now 24-4 and ranked 19th, the Shockers have the look of
that
team, the one everyone suddenly is loving as a potential NCAA tournament sleeper.
Which means only one thing: The bandwagon is parked outside.
Wichita State always has had a strong and steady fan base but now nouveau fans are asking to board.
We jumped on with two feet this week, along with various national radio shows that were calling for a few minutes of Gregg Marshall's time, to catch up with the Shockers' coach.
What has fueled your team this season?
Gregg Marshall:
Last season, they were really disappointed they didn't make the NCAA tournament. A couple of times, they had games slip through their fingers and this year, this group was determined not to let that happen.
These guys are tremendously focused and tough, physically and mentally tough. They have a lot of pride. They know how close they were to the NCAA tournament last year and I think they're a little chapped.
A lot of times teams who fail to make the NCAA tournament don't play well in the NIT. Why were the Shockers able to win it and use it as a launch pad for this season?
GM:
A few years ago, we were so upset when we lost in the Missouri Valley finals to Northern Iowa and did not get a bid, we went to the NIT and lost in the first round.
Last year, I went to the players and said, "Look, if we're not going to approach this like we want to win it, I'm not accepting the bid. You guys tell me." They had a closed-door meeting to decide and I honestly didn't know which way it would go. That group re-dedicated themselves and it carried over into this season.
But I will say, if we found ourselves in a situation where we had to go back to the NIT and try to win it again, that would be a huge disappointment. These guys want the NCAA tournament. This is our first recruiting class. They hitched their wagons to us and they haven't been to the tournament.
Now that the word is out, so to speak, how do you keep your guys focused?
GM:
We came back from that Creighton game and I told them to not only make sure they were on time for their classes on Monday, but to go early. I told them that everyone is going to be watching you, to see how you handle this, to see if you're letting it go to your head. They want to make sure it doesn't trip you up in terms of your character, but this is such a good group.
They're fine. I just need to stay out of their way and not mess them up.
Does your team have bigger ambitions than say, a traditional mid-major going into the NCAA tournament?
GM:
I'm not a mid-major/low-major guy. When I was at Winthrop, they said we were a mid-major. What was mid about us? We had to rub two nickels together to get a spark.
Here, we're a high-major. We average 10,000 fans a game. I make over a $1 million a year. We fly on private planes? What's mid-major about us?
We just don't have a BCS football team.
Our guys are high major.
Joe Ragland
could play anywhere in the country. Kentucky offered (leading scorer)
Garrett Stutz
when Billy Gillispie was the coach. We've got some guys that can play.
So that said, how badly would your guys like to turn some heads in the NCAA tournament and be that "Cinderella" team?
GM:
No doubt our guys have a chip on their shoulder. They'd love to get a piece of some of those quote-unqoute high-major programs. If you don't bar the door on us, you better be careful.
February, 11, 2012
2/11/12
10:30
PM ET
OMAHA, Neb. -- Moments after his team humiliated No. 15 Creighton on its home court, Wichita State coach Gregg Marshall sat before a throng of reporters and smirked.
"Maybe now," he said, "we can get some press."
On some days, the comment might have seemed catty and whiny. But after what his squad did to the Bluejays on Saturday, it was easy to concede that Marshall had a point. A Missouri Valley Conference team has been getting loads of national attention this season.
Unfortunately, it's been the wrong one.
The Shockers -- and not Creighton -- appear to be in a different class than the rest of their competitors in one of the nation's most underrated leagues. Their
89-68 annihilation
of the Bluejays was eye-opening for a variety of reasons, the main one being that it came in front of the largest crowd ever to see a game at the CenturyLink Center.
Not that things ever got rowdy.
Instead, most of the 18,735 in attendance sat in disbelief as Wichita State connected on 58 percent of its shots, eight of its 16 3-point attempts and all 17 of its free throw attempts in its most dominating performance of the season. The loss was the worst for Creighton at home since 1995.
"Even if we had played our best tonight, I'm not sure it would've been good enough," Creighton coach Greg McDermott said. "We didn't have an answer for anything they did."
The loss was the third straight for the Bluejays. Wichita State, meanwhile, now has won 20 of its past 22 contests and has a two-game lead over Creighton in the quest for its first Missouri Valley Conference regular-season title since 2006.
Wichita State almost certainly will catapult into the top 25 for first time this season -- and rightfully so. The Shockers are easily one of the better teams in the country from a non-BCS league.
And they might be the best.
Seventh-ranked Murray State lost to Tennessee State this week and should drop dramatically in the polls. Harvard fell to Princeton, Saint Mary's was whipped at Gonzaga and San Diego State fell to No. 16 UNLV.
Should the Runnin' Rebels be ranked ahead of the Shockers?
Only if you pretend their 19-point loss to Wichita State on Dec. 4 never occurred.
[+] Enlarge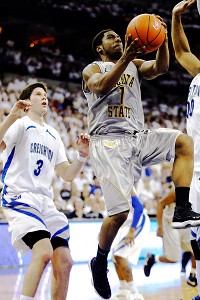 Matt Ryerson/US PresswireJoe Ragland's 24 points propelled Wichita State past No. 15 Creighton and star Doug McDermott, left, who managed just 13 points.
"We always say, '[People] have it out for Wichita State,'" Shockers guard
Joe Ragland
said. "We feel like we're a successful team and we perform well. We just don't get that recognition. I guess now they're going to start paying attention to us."
How could anyone not?
With four senior starters, the Shockers boast one of the most experienced lineups in the country. In
Garrett Stutz
, they've got an agile, versatile 7-footer who entered Saturday's game averaging 21 points in his previous five contests. Stutz played just 13 minutes because of foul trouble, and it didn't even matter.
With Stutz on the bench, Wichita State spread the floor and used its athleticism to beat Creighton to the lane. When they didn't finish with an easy basket in the paint, the Shockers dished the ball outside for an open 3. Ragland finished with a game-high 24 points while forward
Ben Smith
had 22.
"Our defense was atrocious," McDermott said. "It was an embarrassment. Wichita took advantage of a lot of our weaknesses."
And Creighton did nothing to counter on the other end.
The 6-foot-4 Smith held 6-7 Creighton forward
Doug McDermott
to 13 points on 5-of-14 shooting. McDermott (the coach's son) entered the game averaging 23.3 points, which ranked third in the nation.
"At practice, our teammates do a good job of playing like McDermott," Smith said. "We tried to go with the game plan and limit his touches and make it hard on him to catch the ball where he wants to catch it. You've got to hope for the best."
Added Marshall: "[Smith] won that battle against a guy that is probably going to be a first-team All-American."
More than anything, Marshall was proud of his team's poise in what could have turned into a difficult road environment. Creighton pulled within 33-28 late in the first half, but Wichita State responded by scoring on its next seven possessions to take a 49-36 lead at intermission.
Creighton still thought it had a chance trailing 70-55 with 8:19 remaining. But the Shockers scored on eight consecutive possessions to put the game out of reach.
At one point, Greg McDermott was so frustrated with his son's play that he berated him relentlessly on the sideline during a timeout. There appeared to be contact between the McDermotts, as Greg's face was centimeters away from Doug's as he yelled.
"Sometimes, to light a fire under your team, you need to light a fire under one of your best players," Greg McDermott said. "That was an attempt to do that. It obviously didn't pay many dividends.
"I don't do it with many of our guys very often. But we were getting our tail kicked, and they were scoring whenever they wanted. As a coach, you have to try everything. I know Doug can handle it. He's as big of a critic on himself as anybody else."
Indeed, Saturday's loss will be hard to stomach for the Bluejays. Less than two weeks ago, they were riding an 11-game winning streak and were full of confidence. Now their NCAA tournament hopes could be in jeopardy.
Road victories at San Diego State and Wichita State are the only quality wins on Creighton's résumé. Saturday's defeat was its third straight -- and more heartache could be coming next weekend when the Bluejays host Long Beach State. The 49ers have played at Kansas, North Carolina, Pittsburgh and Louisville this season. They won't be intimated by a sellout crowd in Omaha.
"Our effort has to be a lot better," Creighton guard
Grant Gibbs
said. "We have to stay together as a group. I could name a million things, but it starts with caring more and playing harder."
Those things aren't a problem for Wichita State, which can clinch the Missouri Valley Conference regular-season title outright with two more wins.
By then, the Shockers hope, people will have taken notice of what appears to be the best mid-major team in the country.
"We've gotten some [media attention]," Marshall said, "but we haven't gotten nearly the amount of it that the Creighton team has. The way they played early in the year, they deserved it. But maybe now these guys will get some."
The players hope so, too. As they walked off the court Saturday, a few of them extended their right arms and waved to the shell-shocked fans who lingered at CenturyLink Arena. Brash, perhaps, but also fitting.
Goodbye, Creighton.
Hello, Wichita State.
February, 2, 2012
2/02/12
12:51
PM ET
By
ESPN.com staff
| ESPN.com
Editor's note: ESPN.com writers Eamonn Brennan, Jason King and Myron Medcalf are joined by ESPN Insider John Gasaway to discuss four burning questions in college basketball.
Seems everywhere you look, there's a jumbled conference race. Which one intrigues you the most?

Eamonn Brennan
: The Pac-12. And I'm not kidding. Unlike most leagues, this one is wide-open. Sure, Cal is the favorite, but Washington is coming on strong and Oregon is hanging around. Plus, none of the top teams in the conference are so good that they can't be upset by any of the dregs on any given night ... AND there's a legitimate possibility these guys will end up fighting for, what, one at-large bid? It's downright fascinating.
[+] Enlarge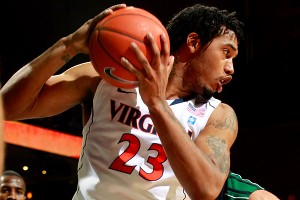 AP Photo/Andrew ShurtleffMike Scott and Virginia have made the chase for the ACC crown an interesting one.
John Gasaway
: The ACC this year intrigues me. No league's been dominated by two teams the way this one's been dominated by a certain two teams. But in 2012 we have two feisty newcomers in the form of Florida State and Virginia. In the standings and in terms of per-possession performance, all four teams are more or less equal right now. This shapes up as an epic confrontation between traditional haves and have-nots, and it's going to be a jewel of a conference race. And in closing, I wish to offer a subliminal message:
Mike Scott
for ACC POY. That is all.
Jason King
: The Big 12 race intrigues me most. It's a three-team affair, and I honestly can't decide which is better between Baylor, Missouri and Kansas. I thought it was the Tigers, but then they lost to a dreadful Oklahoma State team. Then I switched to the Jayhawks, but then they were upset by Iowa State. Baylor has already lost to both schools, but there's no shame in falling at Allen Fieldhouse, and the Bears have bounced back nicely from the Mizzou defeat by winning three straight. Baylor is clearly the most talented team, but I'm not sure that even matters. I expect there to be a three-way tie for first when Kansas visits Waco on Feb. 8.
Myron Medcalf
: The Big 12. Kansas, Missouri and Baylor are all set to battle over the next week or so. Then you have this Iowa State team that's been gold at home and played its way into the conversation. So many teams struggling on the road. I think there will be a lot of movement in the Big 12 standings in the coming weeks. Should be fun.
In order, who would make up your top three right now in national coach of the year voting?

Brennan
: Steve Fisher immediately and unflinchingly replaced one first-round NBA draft pick, three senior starters and the heart of last year's team, and look at the Aztecs just one year later. Remarkable. Then let's go with Steve Prohm. The first-year coach has done a brilliant job guiding Murray State through its as-yet undefeated campaign, with all the unique motivational challenges and solutions that kind of quest entails. I'll take John Calipari at third. Maybe it's more of a statement inclusion than anything else, but every year we expect Kentucky to be good (for good reason), but we tend to underrate the job Calipari does not only in recruiting these players but in getting them to play stifling team defense together from Day 1. Managing stars is hard enough when you've got one or two. Calipari manages entire teams of All-Americans and future lottery picks and does it better than anyone year in and year out.
Gasaway
: Thad Matta at No. 1. This is the best team he's had in Columbus, even if no one realizes it yet. John Calipari: This is the best team he's had in Lexington, and as good as this visually spectacular defense is, the offense is even better. Then Randy Bennett at Saint Mary's. If I had to choose one D-I coach to take a randomly selected group of five D-I players and score the most points per possession, I would take a long look at Bennett.
King
: Right now I'd rank them in this order: Frank Haith (Missouri), Tom Crean (Indiana) and Bill Self (Kansas). There's usually a transition period with a first-year coach, but that hasn't been the case in Columbia. Despite a flurry of offseason controversy and the loss of one of his top players to a knee injury, Haith has turned the Tigers into legitimate Final Four contenders. Crean's team has struggled of late, but touts victories over Kentucky and Ohio State. Not many teams in the country lost as much as Self's Jayhawks, who returned just one starter from last year's squad. The Jayhawks are as thin as they've ever been under Self, yet somehow he has them back in the top 10 and in position to win an eighth straight Big 12 title.
Medcalf
: Steve Fisher is No. 1. Look at what he lost and look and what he's done with that Aztecs program. I'd go with Frank Haith at No. 2. His Missouri team has no size or depth and he might just win the Big 12 anyway. Murray State's Steve Prohm is my third. A first-year coach who's undefeated heading into February despite losing three starters? Impressive stuff.
Which currently unranked team would you NOT want to face off with in March?

Brennan
: West Virginia doesn't look like much fun, I'll tell you that.
Kevin Jones
can bury you before you know it. And despite the Huskies' struggles, I doubt too many teams want to see UConn in an elimination game. And I would happily take a pass on Middle Tennessee State, which plays hard-nosed pressure defense and forces a lot of turnovers, and could be an absolute beast to deal with in a neutral-court situation in March.
[+] Enlarge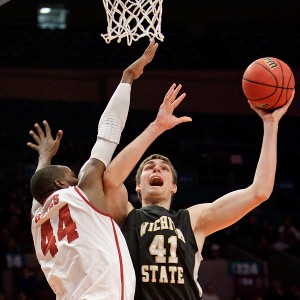 AP Photo/Mary AltafferDon't be surprised if Garrett Stutz and Wichita State pull off an upset or two in March.
Gasaway
: The best team in the country outside the Top 25 right now is Wichita State. The Shockers have dropped a couple of games in Missouri Valley play and, unlike a certain Valley rival of theirs, they don't have a high-scoring star whose name can be effortlessly linked to a smash hit single. (Teach me how to
Garrett Stutz
!) All Gregg Marshall's team does is combine outstanding offense with punishing defense. You do not want to see this team in your bracket. The Shockers were born to be badly under-seeded, and people will yell at you incorrectly when you lose to them.
King
: I feel sorry for the No. 3- or No. 4-seeded school that draws Long Beach State in the NCAA tournament. The 49ers are one of the top 30 or 40 teams in the country. Dan Monson's squad has traveled all over the country and faced Kansas, North Carolina, Louisville, Kansas State, Xavier and Pittsburgh. It won't be intimidated by anyone.
Medcalf
: Iowa State, although the Cyclones should be ranked next week. They have experienced transfers (
Chris Allen
has played in two Final Fours). And they have college basketball's enigma in
Royce White
. Who do you put on a guy who's 6-foot-8, 270 pounds and can play point guard? Kansas and Kansas State are witnesses.
Because of some high-profile misses, the perception is that officiating has been awful this season. What's your take?

Brennan
: It hasn't been universally awful, but it's been bad more often -- and more glaringly -- than not. The good news, I think, is that the restricted area has made it easier for officials to call the block/charge, which is always the most difficult and most maddening play in the game. But beyond the high-profile bad calls and the usual complaints, the real issue this year has been the way referees manage games. Now, after NCAA officials coordinator John Adams sent last week's memo, I fear we'll see a marked rise in technical fouls as the officials' needle swings back in the other direction. What a thankless gig, huh?
Gasaway
: The officiating this year has been no more or less awful than customary. True, the missed goaltending call in the West Virginia-Syracuse game was both blatantly obvious in real time and unusually decisive. It occurred in the closing seconds, and it had the net effect of deducting two points from one team in what was then a two-point game. I think people reacted to that decisiveness, and I don't blame them. That being said, in any given year human-based officiating is what it is.
King
: I think the officiating has been noticeably bad. In the last week, I've seen three really bad calls that affected the outcome of games. West Virginia got hosed against Syracuse, as we all know. Texas'
Myck Kabongo
was clearly hacked on a game-winning shot attempt against Missouri as time expired. And moments before Iowa State's Royce White hit a game winner to beat Kansas State, Wildcats guard
Rodney McGruder
was knocked from his feet as he attempted a shot from the free throw line on the other end. What's even more frustrating is when refs call ticky-tacky fouls to make up for missing the hard ones.
Medcalf
: I don't think the problem is with officiating. The problem is with the limitations of instant replay. Coaches and officials need more flexibility -- not unlimited review power -- to fix the wrongs. I think officiating has been fine. The late-game blunders have made things look worse than they really are.
December, 4, 2011
12/04/11
6:20
PM ET
WICHITA, Kan. -- More later, but a few quick thoughts from Wichita State's
89-70 rout
of No. 18 UNLV.


Overview
: Early-season losses to Alabama and Temple seemed like a thing of the past for Wichita State following a commanding 89-70 victory over 18th-ranked UNLV at Koch Arena.
Joe Ragland
scored a career-high 31 points and
Carl Hall
added 17 for the Shockers, who completely annihilated a previously-unbeaten UNLV squad that defeated NCAA title contender North Carolina just eight days earlier.
This was the Wichita State team people had been expecting to see all along, the one that entered the season on the cusp of the top 25 and was tagged as the favorite to win the Missouri Valley Conference title. The Shockers proved Sunday that they'll definitely be in the hunt along with Creighton and Indiana State (and possibly Northern Iowa). They also picked up a much-needed out-of-conference win against a quality opponent that will look good on Selection Sunday.
Turning point
: Ragland's 3-pointer midway through the first half broke an 18-18 tie and ignited a 9-0 scoring run for the Shockers, who were never threatened after that. Ragland had 19 points at intermission and made all five of his shots from beyond on the arc in the opening 20 minutes. As hot it was offensively, Wichita State also did a nice job on the other end by holding UNLV standouts
Mike Moser
and
Chace Stanback
to a collective 10 points in the decisive first half.
Why Wichita State won
: The basket looked like a hula hoop to the Shockers, who made 59.3 percent of their shots. Whether it was Ragland pulling up from 3, Toure Murry connecting from midrange or
Garrett Stutz
or Hall muscling up for a short jumper inside, the Shockers seemingly couldn't miss.
Why UNLV lost
: It's tough to beat any team that was as hot as Wichita State was Sunday. But the Runnin' Rebels definitely could've stepped it up on defense, where they often appeared soft and overmatched. The other factor was the sellout crowd of 10,269 at Koch Arena, which is one of the toughest road environments in all of college basketball. UNLV was clearly rattled and Dave Rice's squad missed badly on a number of shots.
Star of the game
: Ragland, who had 19 of his career-high 31 points in the first half, is the easy choice here. The senior made eight his nine 3-point attempts to pace the Shockers. Ragland also went 5-of-6 from the foul stripe while notching three assists. Ragland entered the game averaging 8.7 points.
What's next
: Wichita State plays at Tulsa on Wednesday before hosting Utah State on Saturday. UNLV will regroup with what should be an easy win against Cal State-San Marcos Wednesday before traveling to Madison for a tilt with Wisconsin on Saturday.