College Basketball Nation:

Garrick Sherman
March, 16, 2013
Mar 16
12:01
AM ET
NEW YORK -- A quick look at the
Louisville Cardinals
'
69-57 victory
over the
Notre Dame Fighting Irish
to advance to the Big East tournament finals.


What it means:
Louisville is one victory away from winning the Big East tournament for the second year in a row. Notre Dame was eliminated in the semifinals for the fourth consecutive year.
The No. 4-ranked Cardinals (28-5) have now won nine straight games since losing to the Fighting Irish in that five-overtime classic back on Feb. 9. If Louisville wins Saturday, it almost certainly will be a No. 1 seed in the NCAA tournament.
Notre Dame (25-9), ranked No. 24, heads home disappointed, but helped its cause by upsetting No. 12 Marquette in the quarterfinals Thursday. The Fighting Irish were projected to receive a No. 6 seed in the Big Dance in the latest edition of ESPN.com's Bracketology.
This was also Notre Dame's final game as a member of the Big East. The Fighting Irish will play in the ACC next season. Louisville will join them the following season.
The turning point:
Peyton Siva
nailed a 3-pointer on the very first possession of the game, Louisville went ahead by as many as seven, and led almost the entire first half. Notre Dame briefly tied the game at 22, on a
Garrick Sherman
bucket with 6:03 remaining. But the Cardinals outscored the Fighting Irish 10-3 the rest of the way.
Luke Hancock
drilled a trey from the corner before the buzzer, giving Louisville a 32-25 halftime lead.
Notre Dame drew within three points on three separate occasions early in the second half. And trailing 45-41 with 6:58 remaining,
Eric Atkins
missed the front end of a 1-and-1, with a chance to cut the lead to two. The Fighting Irish drew no closer. The dagger was another Hancock 3-pointer with 4:09 left, pushing the lead to double digits for the first time, 55-44. Louisville put the game away from there.
Star watch:
Russ Smith
, who had 28 points in Louisville's quarterfinal win over Villanova, scored 20 more on Friday to lead the Cardinals. Siva added 12, and he also had 6 assists and 7 steals.
Gorgui Dieng
had 8 points, 12 rebound and 4 blocked shots.
Jack Cooley
and
Jerian Grant
scored 14 points apiece for Notre Dame.
Number crunch:
Notre Dame committed 16 turnovers -- nine fewer than Villanova committed against Louisville on Thursday. But the Fighting Irish shot just 36.5 percent from the field (19-for-52), while Louisville shot 45.5 percent (25-for-55). It's the sixth consecutive contest the Cardinals have held their opponent under 40 percent. Louisville, arguably the best defensive team in the country, is on top of its game.
What's next:
The Cardinals, the No. 2 seed in this tournament, will play No. 5 seed Syracuse in the title game. Tip-off is at 8:30 p.m. on Saturday.
The Fighting Irish head back to South Bend and start preparing for the Big Dance.
February, 11, 2013
Feb 11
10:41
AM ET
By
Ryan Feldman
| ESPN Stats & Information
Player of the Weekend – Alex Oriakhi, Missouri
Oriakhi scored a career-high 22 points and grabbed a season-high 18 rebounds in Missouri's win over
Ole Miss
. He now has eight double-doubles this season after getting only two last season for
Connecticut
. Oriakhi is the first Missouri player with at least 22 points and 18 rebounds in a game since Leo Lyons, who had 27 points and 18 rebounds against the
Oklahoma State Cowboys
in February 2008. Oriakhi had 10 offensive rebounds, one shy of the most by any D-I player this season.
Stat Sheet Stuffer – Gary Talton, Illinois-Chicago
Talton had 23 points, nine assists and eight rebounds in a triple-overtime win at
Youngstown State
on Sunday. Talton is only the second D-I player to reach those numbers in a game this season.
Marshall
's
DeAndre Kane
had 33 points, 11 rebounds and 10 assists against
Hofstra
on November 18. The last Horizon League player with at least 23 points, nine assists and eight rebounds was
Cleveland State
's Norris Cole, who had 41 points, 20 rebounds and nine assists against Youngstown State in February 2011.
Clutch Performer of the Weekend – Jerian Grant, Notre Dame
Grant scored 12 points in the final minute of regulation against
Louisville
on Saturday, shooting 4-of-4 from the field and 3-of-3 on 3-point attempts to help the Irish send the game into overtime. For the rest of the game -– the first 39 minutes and in overtime until he fouled out –- Grant shot 0-for-7, including 0-for-4 from behind the arc.
Bench Player of the Weekend – Garrick Sherman, Notre Dame
Sherman didn't check into the game for the first time until overtime. By the time the five-overtime marathon finished and the Irish finally defeated Louisville, Sherman contributed 17 points and six rebounds. The 17 points were the third-highest total of his career, and certainly the most he's ever contributed without playing a single second in regulation.
Scorer of the Weekend – Nate Wolters, South Dakota State
One game after scoring 53 points, Wolters continued his scoring tear by netting 36 points to go along with seven assists and six rebounds in a loss to the Oakland Grizzlies. Wolters scored or assisted on 19 of South Dakota State's 28 field goals. He's the first D-I player this season with at least 36 points, seven assists and six rebounds in a game. He's the first player to post those numbers while shooting 60 percent from the field since
South Florida
's Dominique Jones in January 2010.
February, 10, 2013
Feb 10
12:38
AM ET
SOUTH BEND, Ind. -- A quick reaction to Notre Dame's
five-overtime, 104-101 victory
over Louisville on Saturday night, the longest regular-season game in Big East history:
Overview
: Five overtimes? Of course.
In a season filled with constant upsets and countless endings as strange as they are thrilling, the Irish victory over Louisville was undoubtedly the strangest -- and the most exciting.
For the first 39 minutes, it was utterly predictable. For the final minute of regulation, and the five overtimes that followed, it was as crazy as anything we've seen since Connecticut and Syracuse played six OTs in the 2009 Big East tournament at Madison Square Garden. (In fact, it was the first college basketball game to go over five overtimes since that night in New York.)


This being college basketball in 2013, even the ugliest and least-appealing games can end with utter mind-blowing surprise, and that's also what we got Saturday night. Notre Dame looked cooked with as few as 50 seconds left, but Irish guard
Jerian Grant
hit a trio of deep 3-pointers, Louisville missed a few free throws, and when Grant drove to the basket to make a game-tying three-point play, all of a sudden the game was tied at 60. And for the fifth time in the last six meetings ... overtime.
Just how crazy
was
this? Notre Dame took 39 minutes and 10 seconds to score 48 points. It took 29 seconds to score 12. All 12 were scored by Grant, who was 0-for-6 from the field up to that point.
Nor did the Irish fade in overtime -- all five overtimes, that is -- even as foul problems took stars
Jack Cooley
and Grant and eventually pretty much everyone else off the floor. The Irish clamped down on the defensive end and got to the line frequently to keep the Cardinals from opening another lead wider than a possession.
Louisville's
Russ Smith
had a chance to win the game at the end of the first OT, but the kid Cardinals coach Rick Pitino nicknamed "Russdiculous" took one of the most nickname-worthy shots of his career, waiting until just a few seconds remained before launching a baffling 26-footer that clanged off the glass and left his teammates no time to rebound it. He could have ended the second overtime, too, and he did his part, hitting two key free throws in the final seconds. He could have ended the fourth -- he shot the ball with a dead shot clock and a one-on-three fast break for no other reason than the fact that he's Russ Smith.
Somehow, the star of overtime was
Garrick Sherman
, who didn't even play in four of Notre Dame's previous six games. His rebounding and post buckets were the most important of the game, seemingly over and over again. His tip-in sent us to the fifth overtime. After not playing a second in regulation, Sherman finished with 17 points on 7-of-10 from the field.
Mercifully, that's where it ended. Down three, Smith took another long 3, and it ended. It actually ended.
Turning point
: Pretty much everything that happened from the final minute onward. There's not a whole lot more I can tell you than that.
Star of the game
: For as ugly as Louisville's offense was -- and as wild as things got throughout the various bonus times -- the one consistent factor was the interior scoring of Cardinals forward
Chane Behanan
. His 30 points came on 13-of-20 from the field with added 14 rebounds, and he was really the calmest go-to option Louisville had throughout. The Cardinals didn't win, but Behanan's performance was by far Saturday's best.
Key stat
: Notre Dame entered the final minute of regulation with 48 points. It ended regulation with 60. It ended the game with 104. Your guess is as good as mine.
Up next
: Louisville gets a return home and bit of a rest before a tricky and talented St. John's team comes to town Thursday, while Notre Dame will have a nice opportunity to get that offense clicking again when lowly DePaul arrives Wednesday.
December, 7, 2010
12/07/10
11:46
AM ET
Of the four teams at the Jimmy V Classic, which begins tonight at Madison Square Garden, the team that will rely most on its freshmen to get into the NCAA tournament is Memphis. Kansas has the most anticipated freshman, but
Josh Selby
won't be eligible to play until Dec. 18.
Syracuse and Michigan State have other parts, but they'll need production from their freshmen if they're to compete for league championships, and perhaps nationally.
The headline names for the Spartans and Orange are familiar: for MSU, it's
Kalin Lucas
and for Syracuse, it's
Kris Joseph
. The health of Lucas' Achilles tendon remains a hot topic. MSU coach Tom Izzo said he made a mistake in managing Lucas' minutes in consecutive games in Maui and then at Duke and said he needs "to be careful the next few weeks," with Lucas. However, the key to elevating the Spartans into national contenders may lie with freshmen
Keith Appling
and
Adreian Payne
.
Appling has been sporadic so far, averaging 16.5 minutes and 6.3 points. The Spartans (6-2) need another guard to produce to take the burden off of Lucas. Appling did so in a win over Bowling Green (11 points, three assists and one turnover); he didn't in a loss to Duke (nothing to show for six minutes of action but two fouls).
[+] Enlarge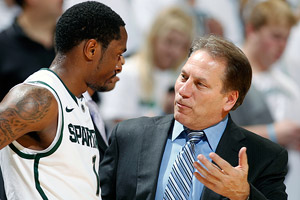 AP Photo/Al GoldisKalin Lucas is still working his way back to full speed for Tom Izzo.
"He had a very good game Saturday,'' Michigan State coach Tom Izzo said. "But he was in foul trouble against Duke. He's a tough kid who can defend. And I do think you'll see a major step with him in the next couple of weeks.''
Appling can be the third option at guard alongside Lucas and
Korie Lucious
with
Durrell Summers
in his own grouping as a scoring wing. For his part, Payne can be a much-needed scoring and rebounding big to complement
Draymond Green
,
Garrick Sherman
,
Delvon Roe
and
Derrick Nix
.
So far Payne has averaged 10.5 minutes and 3.4 points and 4.1 rebounds. He was limited to single-digit minutes in all three games in Maui.
"Payne is one of the most talented inside guys,'' Izzo said. "But the four-and-a-half months he missed this summer with a shoulder separation prevented him from doing the one thing he needed to do -- get stronger. Against UConn, he was like a pinball in there and got bumped around. He showed improvement against Bowling Green [15 minutes, six rebounds and four points].
"For us to be a great team, it's going to come down to still getting Lucas back to normal and those two guys [Appling and Payne] improving,'' Izzo said.
Syracuse (8-0) is looking at similar issues but needs freshmen
Dion Waiters
,
C.J. Fair
and centers
Baye Moussa Keita
and
Fab Melo
even more so than Izzo may need Appling and Payne.
The Orange have veterans in Joseph, big man
Rick Jackson
and guard tandem of
Scoop Jardine
and
Brandon Triche
. But the development of the freshmen will determine how far this team goes in March.
[+] Enlarge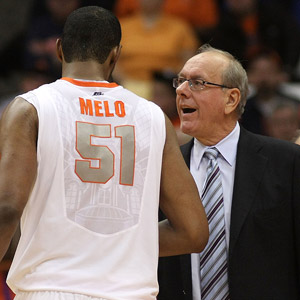 Marc Squire/Getty ImagesJim Boeheim is counting on contributions from young players like Fab Melo.
Waiters (6.6 ppg) and Fair (5 ppg) are averaging just over 13 minutes a game, while Keita is averaging 20.6 minutes and six rebounds a game. Melo is down to 13.5 minutes and 2.6 points and 2.6 rebounds a game.
"The freshmen are making progress,'' Syracuse coach Jim Boeheim said. "Fab has struggled with a sore Achilles for a number of weeks now. It's held up his progress getting him up and down the court. He starts out well and then his foot is bothering him. That's what has held him back.''
Boeheim points to the combined production of Keita and Melo as a positive -- together they are averaging more than eight rebounds a game.
"They're doing a good job, but we need them to get better, but it is a yearlong process; it's not going to happen in two weeks,'' Boeheim said. "Hopefully they'll all keep getting better. Dion has had some good moments and C.J. has been doing a good job. We've got four freshmen among our top eight guys. That's the youngest we've been in a number of years. We have one senior [Jackson], so we're where we should be at this stage in the season where we've scrapped out a couple of wins.''
The Orange are inexperienced and that won't change against Michigan State on Tuesday night.
"You find yourself doing a lot more things in practice than we have,'' Boeheim said. "Last year we were on cruise control with a one hour-and-fifteen minute or one hour-and-thirty minute practice. We did the work, did the running and didn't correct a lot. We just won games and kept everyone in rhythm. This year we're scratching for everything we can get.
"We're not that far away from being 5-3. We were behind in four of our eight games and made some good plays late. We can play a lot better.''
And if the freshmen start producing, that will change. For Michigan State, the freshmen will be a welcome addition to elevate the Spartans rather than a necessary piece to its conference title hopes.
April, 3, 2010
4/03/10
7:07
PM ET
INDIANAPOLIS -- Some thoughts at the half of Butler-Michigan State:
I thought Butler would have more of a home-court advantage. Nope. There are certainly plenty of Butler folks, but it doesn't sound like the Bulldogs have an overwhelming advantage.
I'd love for the NCAA to alternate the seating in each section so we would have more balanced cheering. I don't like seeing one whole side sitting down during the game.
Gordon Hayward is the best pro prospect on the court. The Butler forward has a sweet stroke on 3s and had an NBA-level turnaround jumper. He has kept Butler in the game.
Butler's Matt Howard can't stay out of foul trouble. He picked up his second foul only six minutes into the game.
Michigan State's Draymond Green has quite a skill set. He can make the face-the-basket shot and put the ball on the court and drive to the hoop.
If Durrell Summers and Korie Lucious, who started out with a pair of 3s, can make shots in the second half, the Spartans should win. That's a big "if" though.
Butler has to get more production from other players beside Hayward and Shelvin Mack.
Butler's offensive rebounding has been awful. The Bulldogs went chunks of time without one in the first half. MSU is too good on the glass. Butler's one-shot offense will only take it so far.
Michigan State's Raymar Morgan picked up three first-half fouls. Had he stayed in the game I'm not so sure the outcome would have been much different. The Spartans got quality play from Garrick Sherman.
Mack's 3-pointer to tie the game with 36 seconds left in the first half energized a crowd that had become somewhat listless.
I love that I can look to my left and see clouds and blue sky. I've become a fan of Lucas Oil Stadium for college hoops. Still want to see this game in Conseco for the full-effect atmosphere.