College Basketball Nation:

Gary Bell
February, 28, 2014
Feb 28
11:00
AM ET
Has any Gonzaga team in the past decade ever been more relieved to win a late-season game against a .500 team? Whatever was going through the Bulldogs' heads after Thursday night -- good win, let's go have a sandwich, what kind of sandwiches are available (everyone else spends most of their time thinking about sandwiches, right?) -- at some point, a collective sigh of relief must have been part of the calculus.
Gonzaga's 70-53 win at Pacific will do nothing to improve its NCAA tournament seed. It did little to ensure yet another West Coast Conference title. At least a share of that title was already sewn up. But the win at Pacific was massive in its own way because it ceased the possibility of a four-game season-ending road slide that threatened to turn one of the nation's marquee mid-major brands into just one more bubble team scrapping for its life.
[+] Enlarge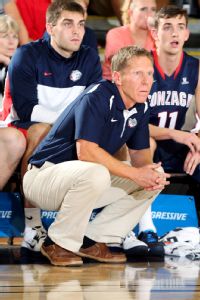 Brian Spurlock/USA TODAY SportsMark Few and Gonzaga missed the chance to get a marquee victory in Maui early in the season.
For most of its post-Cinderella existence, Gonzaga has scheduled so well in the nonconference -- and performed so well in general -- that the Zags didn't have to stress about late-season bubble concerns. But this season is a little different. This season, Gonzaga's nonconference schedule was merely so-so, and the chances it did have it squandered. In Maui, it lost a first-round game to Dayton, which robbed it of shots at Baylor and Cal in the winner's bracket. It ended up playing Chaminade and Arkansas instead. On Dec. 21, it lost to K-State in Kansas City. In early February, it had a win in hand before a late Tigers comeback in Memphis.
Because of all this, the Zags' NCAA tournament résumé wasn't a slam dunk before they embarked on their season-ending road trip. Per the RPI, the Zags' best win is still their Jan. 25 home victory over BYU. After that it's Arkansas and a road win at West Virginia, probably, and that was 12 days before the Mountaineers lost at home to Purdue. Throw in an unusual loss at Portland on Jan. 9, and you've got the makings of a just-OK NCAA tournament résumé.
The Zags' last four league games seemed designed to challenge a team with the potential for bubble issues, almost as though the league office turned up the difficulty level. All four were on the road, beginning at BYU on Feb. 20, followed by trips to San Diego, Pacific and, finally, on Saturday, Saint Mary's. Even knowing how consistently dominant Gonzaga has been these past, oh, 15 years, it was hard to look at that closing stretch and not worry just slightly that a loss would turn into three or four. After the Zags lost at BYU (forgivable) and San Diego (RPI: 149), it was fair to reach for the panic button.
As is, Gonzaga is somewhere in the No. 9 or No. 10 seed range. That's safe enough, relative to most of the dreary bubble, but not as safe as you think: A No. 10-seed may well go to one of the final byes in the field. Saint Mary's has lost to San Francisco, George Mason, San Diego, South Carolina, Hawaii and Santa Clara this season. If the Gaels knock off their rival Saturday, should Gonzaga be worried?
In some respects, the fact that the Zags are where they are is a testament to the job that coach Mark Few has done. The Bulldogs faced huge turnover this past summer: All-American Kelly Olynyk, senior forward Elias Harris, glue-guy prototype Mike Hart. Thanks to a broken hand, Gonzaga was without guard Gary Bell for almost all of January. That the Bulldogs avoided losing all but one game (to Portland) says a lot about their adaptability.
But at the end of the day -- or more accurately the season -- all of a sudden the safe and sound, bubble-immune Gonzaga we've come to know is at legitimate risk of falling down among the Minnesotas and Tennessees of the world. A loss at Pacific would have put them there already. Saturday's game means more than a rivalry.
October, 26, 2011
10/26/11
5:00
AM ET
1. Pitt coach Jamie Dixon said senior forward
Nasir Robinson
should be back at practice sometime next week after missing the past few weeks following a torn meniscus in his right knee. Robinson is one of two key seniors for the Panthers. The other is lead guard
Ashton Gibbs
. Dixon said Gibbs has been playing at a high level, making shots, and proving to be the necessary leader for the Panthers. "He'll play in the NBA some day,'' Dixon said of Gibbs.
2. BYU coach Dave Rose said that so far the two players on the Cougars who appear to be ready to take over for Jimmer Fredette's production are wing
Charles Abouo
and big man
Stephen Rogers
. Rose said both have been highly productive so far in practice. But the one player who has the most NBA potential and is starting to be even more assertive is forward
Brandon Davies
. Davies was reinstated to the team in the fall after being dismissed for an honor code violation last February. The Cougars will need the inside-out combination to have a chance to catch Gonzaga in the WCC.
3. Gonzaga coach Mark Few said he might have his best set of big men in his tenure with
Robert Sacre
,
Elias Harris
,
Kelly Olynyk
,
Sam Dower
and
Ryan Spangler
. If
Gary Bell
and
Kevin Pangos
can have as much of an impact as projected and
David Stockton
proves to be a calming presence at the point then the Zags have a shot to be a deep March team. Gonzaga needed to be deeper inside and with more options. It appears they have that this season.