College Basketball Nation:

Gary Bell Jr.
March, 21, 2014
Mar 21
9:54
PM ET
SAN DIEGO -- In a matter of months, it all crumbled. More like the brick exterior of an old church than a cookie. A gradual but obvious decline.
Marcus Smart
returned to
Oklahoma State
to rid his program of the lingering stench that arose in the weeks that followed last season's opening-round loss to Oregon in the NCAA tournament. He wanted to refine his skills in hopes of securing a lengthier future in the NBA, too.
But Smart had the chance to take a top-three slot in the draft a year ago. He came back to help his teammates -- his brothers -- make a run in March. To pursue a national championship.
[+] Enlarge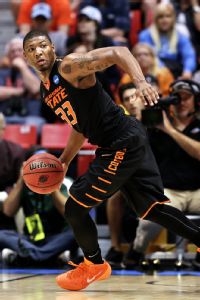 AP Photo/Gregory BullOklahoma State guard Marcus Smart, who scored 23 points and grabbed 13 rebounds vs. Gonzaga, is likely headed for the 2014 NBA draft.
And he could see that opportunity evaporating against No. 8 seed
Gonzaga
on Friday afternoon. But he couldn't plug the leak.
Seconds later, it was over. And then, Smart walked off the court.
"It's very difficult," said Smart, who finished with 23 points, 13 rebounds, 7 assists, 6 steals and 1 block. "This team has been through a lot this season, a lot of downs and a lot of ups, and it's especially difficult for me --
Markel [Brown]
being a senior -- words can't explain it right now."
It was likely Smart's last collegiate game, as most expect him to turn pro. He refused to discuss his future in detail after the game, but he suggested that the loss wouldn't change that plan.
But the game, an
85-77 loss
for No. 9 seed Oklahoma State, was also the conclusion of a bizarre season for the program. The Pokes entered the season tied with Syracuse in eighth place in the Associated Press Top 25 preseason poll.
That position seemed solid. With Smart, Brown and
Le'Bryan Nash
anchoring the team, Oklahoma State had the look of a Big 12 and national title contender.
From there, calamity ensued. Big man
Michael Cobbins
suffered a season-ending injury in late December. In early February,
Stevie Clark
was dismissed by coach Travis Ford following an arrest. Smart
shoved a Texas Tech fan
shortly after that and earned a three-game suspension and national scrutiny. Plus, the team endured a seven-game losing streak.
And it was over, it seemed.
But somehow, the Pokes fought back and became just the second team since 1985 to secure an at-large berth in the NCAA tournament after suffering a seven-game losing streak, according to ESPN Stats & Info. And that's notable, considering their challenges.
"In a sense, you could say that because 64 teams make it to this point and to be considered one of those teams is always an accomplishment, to be a part of this tournament," said Brown, who finished with 20 points. "We fell short of our goals, but it's always a positive when you get into the NCAA tournament."
They could not escape their past in San Diego, though. Without Cobbins, the Cowboys were futile in their attempt to contain 7-foot-1 big man
Przemek Karnowski
(15 points, 10 rebounds). They couldn't stop
Gary Bell Jr.
(17 points) or
Kevin Pangos
(26 points, 12-for-14 from the charity stripe), either.
Smart played 38 minutes even though he picked up four fouls. Nash, the team's best threat inside, played just 17 minutes due to foul trouble.
[+] Enlarge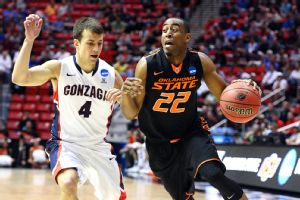 Christopher Hanewinckel/USA TODAY SportsIn his final game for the Cowboys, senior Markel Brown scored 20 points.
The Cowboys weren't big enough, deep enough or strong enough to stop a Gonzaga squad that shot 9-for-18 beyond the arc. Coach Mark Few's program is 6-0 now against the Cowboys and will advance to face No. 1 seed Arizona Sunday at Viejas Arena.
The postgame news conference for the Cowboys felt like a funeral. Brown fought off tears from the podium.
Phil Forte III
buried his head in his hands.
Coaches, team officials and trainers stood along the concrete wall outside the locker room in silence.
But Smart told the press that he had no regrets about returning for his sophomore season. A day earlier, he'd discussed the bond that developed within the team as it endured the drama. And even though Oklahoma State fell short of its dreams, Smart said he was proud of its effort Friday and throughout the season.
"I definitely think I left it all out there," Smart said. "This team left it all out there."
And that's not debatable. Oklahoma State's determination cannot be questioned.
But the season will end in mystery. The Cowboys left it out there, but how much more would they have left right now if everything had come together instead of fallen apart midway through the season?
We'll never know because it's over.
March, 12, 2013
3/12/13
3:10
PM ET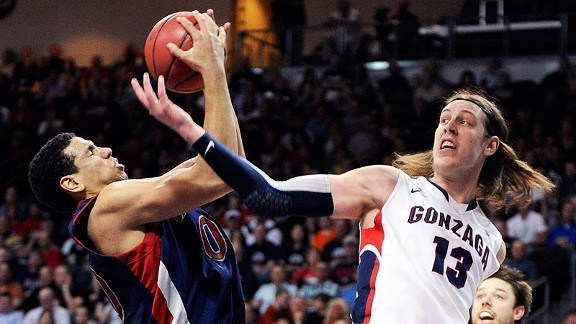 David Becker/Getty ImagesLed by Kelly Olynyk, the Gonzaga Bulldogs are -- and have been -- contenders for the NCAA title.
Honestly, it's like some people can skip an entire decade.
It's like some people went straight from the "aww, what a nice run, Gonzaga sure is cute" Cinderella attitude of 1999 to "wait, Gonzaga is going to be No. 1 seed?" It's like this weird swath of fans didn't see any of the past 13 years, during which the Zags established themselves as the most consistent non-BCS program in the country — a program that earned its stripes by playing anyone anywhere in November and December and routinely dominating its own league. They've won winning 12 conference titles in Mark Few's tenure, combining regular season and conference tournament titles
nine
times and, including this year, gone to 14 straight NCAA tournaments.
Those fans apparently missed all that, and
now they
-- and some media members --
are tweeting at you
.
You hear this sort of stuff a lot about mid-major programs, but never more than at this time of year: "Who have they beaten! They're unproven! Their league isn't that good! They'd be the fifth-best team -- tops-- in [insert my favorite team's conference here]! Herp and derp!"
Usually the origin of this stuff is simple to uncover: Fans want their teams to get in the NCAA tournament, or get that No. 1 seed, and they are willing to use whatever cudgel it takes to make the argument that a mid-major team is undeserving. Or they simply haven't seen a certain team play, and because we humans tend to be visual types, fans don't believe it until they see it (and maybe not even then). But there's also a strain of this attitude that is more difficult to pin down. It's an anti-insurgency thing, a condescension -- you guys are adorable, but the big kids will take it from here.
Everyone loves Cinderella on the first weekend of the tournament. But when she's taking your team's at-large bid, or when she's locking up that fourth No. 1 seed, suddenly everyone's not so in love after all.
Which is why Gonzaga fans should probably brace for impact. The backlash is coming.
In fact, it's already here. You can't swing a jump rope in a circle without finding someone willing to make the case that no, in fact, despite all evidence to the contrary Gonzaga is
not
that good, and no they shouldn't be a No. 1 seed. They're overrated, and they're not going to win the national title. The WCC stinks. My favorite league is better.
Ad infinitum
.
So let's make a few things abundantly clear: Gonzaga is good. Like, really good. They have a legitimate national player of the year candidate in
Kelly Olynyk
, who put up 17.5 points and 7.2 rebounds per game, a 125.7 offensive rating on 29.7 percent usage, and
the highest PER in the country
. Olynyk is joined in the frontcourt by four-year starter
Elias Harris
, who, after ditching American-sized portions (newsflash: we're fat) finally recaptured the form that made him an enticing NBA prospect three years ago. Guard
Kevin Pangos
is one of the nation's best combo ballhandling and shooting threats,
Gary Bell Jr.
is an excellent shooting guard,
Mike Hart
is the platonic ideal of a role player, and the Zags bring
Sam Dower
-- who was ready to start this season were it not for Olynyk's Zeus-like emergence -- and NBA prospect
Przemek Karnowski
off the bench
. Oh, and just for good measure,
David Stockton
now often drops dimes that look way too much like his father's.
All told, the Zags finished their season ranked No. 4 in the country in Ken Pomeroy's adjusted offensive efficiency, No. 13 on the defensive end and No. 4 overall. The
BPI ranks them fifth
.
Massey has them at No. 1
. The
LRMC Bayesian rankings put Gonzaga at No. 2
. The Zags may not have played vintage nonconference schedule, even by their own standards, and they may not have had to plow through the Atlantic 10. But they lost two games all year — one to a scorching-hot Illinois team in November, the other at Butler on a fluky-but-amazing last-second game-winner by
Roosevelt Jones
. (Both Butler and Illinois beat Indiana.)
Oh, and when you go around saying Gonzaga's not getting to the Final Four, or losing on the second weekend of the tournament, or whatever #strongtake you think you're staking out, guess what: Picking a team to lose in the NCAA tournament is the least brave prediction of all time. Of 68 teams, four get to the Final Four. One wins the title. Both of those things are incredibly difficult to do, and rely not only on execution and ability, but also on luck. Oooh, look at you! Picking a team to be one of the 64 that
doesn't
win four single-elimination games in a row! Let's get you a radio show, bro! You're totally crushing it!
Mark Few & Co. may get to the Final Four; they may not. Crazy stuff happens in March. But dismissing Gonzaga as a "pretender" (or whatever) is not only boring and ill-informed, it reeks of insecurity. This isn't college football. We have a single-elimination tournament to settle the matter once and for all. Why fear insurgency? It's what makes the sport fun. And why do you think Gonzaga is an insurgent, anyway? Did you miss the entire last decade? (If so, you've missed a lot, and we need to get you caught up. First things first: Kanye West.)
Seeding is just a number, anyway. If your favorite team is better, let them go prove it. Until then, stop. It doesn't matter what league they play in; the fact that a Gonzaga could exist in the first place is the beauty of college basketball.
Plus: The Zags are really good. They have been for 14 years. It really doesn't have to be that complicated.
September, 21, 2012
9/21/12
9:45
AM ET
In the buildup to Midnight Madness, ESPN Insider and our college hoops team are collaborating on a preview of one high-profile college hoops team per day -- based on Joe Lunardi's top 20 teams in his offseason Bracketology. We're calling it "Countdown To Madness." I'll be tracing three key things you should know about each team we preview. We're calling that Three Big Things. (Hey, that's snappy!) Today: Gonzaga.
1.
I can be wordy. It's an affliction. So when
Brett Edgerton
and I were tossing around ideas for how to structure this series of preseason preview analyses, we decided that hitting on some small number of major points would be the best way to go. We could focus on the key statistics, themes or ideas we have about each team's upcoming season, while maintaining some space for me to, you know, be wordy. I think it's gone pretty well thus far.
But I'll admit: When I sat down to write today's edition, I found it remarkably difficult to pick out
just
three things worth highlighting about the 2012-13
Gonzaga Bulldogs
. And guess what? I blame Gonzaga.
Why? Because from this distant vantage point, still six weeks removed from the start of the 2012-13 season, Mark Few's team appears to be one of the most balanced squads on the West Coast -- if not the country.
The Bulldogs finished ranked in the top 35 in both offensive and defensive efficiency in 2011–12, per Ken Pomeroy's adjusted efficiency metrics. They return four starters (
Kevin Pangos
,
Gary Bell, Jr.
,
Mike Hart
and
Elias Harris
) and, in the place of center
Robert Sacre
, will add one of the most promising emerging big men in the country in versatile forward
Sam Dower
. With the exception of Hart, all of those players posted offensive ratings higher than 110.0 in 2011-12. The Zags shot the ball well from both inside and outside the arc, and got to the free-throw line at the seventh-highest rate in the country.
There's little reason to expect anything different in 2012-13. As a baseline, this team will again be one of the best on the West Coast, the favorite to win the West Coast Conference, and a near-lock to get back to the NCAA tournament.
[+] Enlarge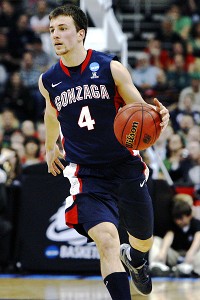 Charles LeClaire/US PresswireAfter a big freshman season, guard Kevin Pangos is poised to lead Gonzaga on a deep run in 2013.
2.
So where's the intrigue? To me, it's comes from the question of how far this team can go -- how much more than that baseline it can achieve.
There are a few reasons to believe that's possible. The first is sophomore guard Pangos, who announced his presence in November with a breakout debut, and followed it up with a season in which he led his team in available minutes played, posted a 119.0 offensive rating, a true shooting mark of 60.5 percent, and a 21.7 assist rate, while making 40 percent of his 197 3-point field-goal attempts. It's difficult to fathom Pangos having a better offensive season than that, but he was just a freshman. If he improves, he'll be one of the best guards in the country -- and if there's one thing we know about the NCAA tournament, it's that having a great lead guard never hurts.
Another reason is senior forward Harris. Harris was one of the most highly touted recruits Few ever landed, and he might not have planned on being a four-year veteran when he first arrived in Spokane. As a freshman, Harris was borderline brilliant, but his sophomore campaign found him overweight; last summer, the native German (understandably) blamed that on his difficult adjustment to our horrendous American portion sizes. As a junior, Harris was good. Not great, but good. His best work came on the defensive glass, where he finished with a 24.4 percent defensive rebounding rate. With one last go at a deep tournament run, does Harris have one last star-turn campaign left in him?
One more is Dower, who will step into Sacre's rather large sneakers in Gonzaga's frontcourt. Sacre was a big, plodding strongman, a guy who never quite found his offensive polish but was nigh immovable when around the rim. Dower is an entirely different proposition, a smooth spot-shooting forward with range out to 20 feet. Dower showed flashes of brilliance in his junior season --
I saw him torch Xavier on New Year's Eve
-- and his offensive versatility is a major weapon yet to be fully unleashed. If he can help Harris anchor the middle of the defense, while keeping that offensive touch alive, he could be in line for a major breakout season.
3.
Then again, he may not have to. Which brings us to the biggest wild card -- the biggest reason this always-solid program might be due for a deep tournament run -- in an otherwise seemingly easy-to-read offseason. His name is
Przemek Karnowski
.
Wait … who?
Funny -- that's the exact reaction I had when Karnowski committed to the Zags this summer. Karnowski wasn't highly sought after stateside, or a big-time name on most recruiting boards. But almost immediately after he announced his decision, the Polish 7-footer
was showered with praise by the folks who know the foreign recruiting scene better than most
. Draft Express' Jonathan Givony called him a "McDonald's All-American-type recruit." ESPN's Fran Fraschilla -- who spends more hours watching tape of European players than I spend playing "Civilization V" (hint: that's a lot) -- said Karnowski was fashioned in "the Marc Gasol mold."
Maybe Karnowski is still a bit raw. Maybe he'll need time to adjust to the American game. But if he's everything he's cracked up to be, he could be a dominant center not just in the dominant-center-free WCC, but relative to the rest of the country as well. However you slice it, there is major upside there.
Even if the rest of the Zags' lineup performs much as it did in 2011-12 -- which, just to review, was quite good -- the addition of a 7-foot force in the middle could be enough to put Few's team over the top.
We know Gonzaga will duel with Saint Mary's and BYU for top WCC honors (and, this year, probably win them), and we know it will be back in the NCAA tournament. But Bulldogs fans are hoping for something more this season. Frankly, it's hard to call those expectations unfounded.
May, 31, 2012
5/31/12
5:00
AM ET
1. The Atlantic 10 will go with 16 games, not 18, in a 16-team conference next season with the addition of Virginia Commonwealth and Butler. The league will go to 14 teams in 2013-14 when Charlotte and Temple leave for Conference USA and the Big East, respectively. Each A-10 team will play the other once with the exception of one rival, which it will play twice. The league has yet to decide the pairings but some are likely set with Xavier-Dayton, Rhode Island-UMass, Richmond-VCU, St. Bonaventure-Duquesne and Saint Louis-Butler, leaving the others to come from some combination of Temple-Saint Joe's-La Salle-Fordham-Charlotte-George Washington. The A-10 will stick with only 12 teams in the conference tournament.
2. Gonzaga hosted Providence transfer
Gerard Coleman
on Wednesday. The 6-foot-4 guard/forward is leaving the Friars after averaging 13.2 points and 5.0 rebounds during his sophomore season in 2011-12. The Zags have had no issue going both national and global of late. The addition of 7-1 Polish big man
Przemek Karnowski
didn't get lot of national attention but it makes the Zags more of a force out West. Gonzaga brings back an experienced crew with
Elias Harris
and
Sam Dower
up front to tutor Karnowski and a backcourt as solid as any in the West with
Kevin Pangos
,
Gary Bell Jr.
, and
David Stockton
. Coleman would be a huge get, adding more experience in practice to push this crew.
3. SEC athletic directors still have to finalize set rivalry pairings, but if they go with the consensus from the coaches, it will be hard to dispute. The obvious ones were Alabama-Auburn, Ole Miss-Mississippi State, LSU-Texas A&M and Missouri-Arkansas. Putting Georgia and South Carolina together makes sense both geographically and on where the programs are presently situated in the conference. That leaves natural rivals Vanderbilt and Tennessee and the league's two top programs, Kentucky and Florida, facing off against each other twice a season. The league will benefit with these pairings if they become official because they will boost the overall power ratings of the top teams, which in turn helps the bottom teams when they play them.
March, 15, 2012
3/15/12
9:31
PM ET
PITTSBURGH -- Quick thoughts on Gonzaga's
77-54 victory
over West Virginia on Thursday in the second round of the NCAA tournament.


Overview:
West Virginia traveled 75 miles for its second-round NCAA tournament game, Gonzaga 2,000. That was about right for the cruising speed for the teams, too.
While Gonzaga zipped, zigged and zagged, the Mountaineers looked like they were anchored to the court.
The Zags ate West Virginia up offensively, shooting 56 percent from the floor and a blistering 53 from behind the arc. They were also smothering defensively, forcing WVU out past the arc, from where the Mountaineers could hit only 3-of-17.
It was nothing less than a clinic from a team that, like West Virginia, is young, but is blessed with the one thing the Mountaineers have lacked all season -- decent shooting.
Senior forward
Kevin Jones
scored only 13 points -- and that's not going to win many games for WVU.
Turning point:
Approximately 16 seconds in. The Mountaineers led 2-0 ... and that was about the end of the highlights for West Virginia. By the end of the half, Gonzaga owned a 40-22 margin, completely dominating and outplaying the Mountaineers. It didn't get better after that.
Key player:
Robert Sacre
came to Pittsburgh salivating at the chance to play some East Coast power ball. The Gonzaga forward didn't really get that game, but he was important nonetheless, contributing 14 points and six rebounds. He got the outside part of the inside-outside compliment from
Kevin Pangos
(13) and
Gary Bell Jr.
(14).
Miscellaneous:
The 23-point loss marked the worst for West Virginia coach Bob Huggins since a 21-point defeat to Duke in the Final Four in 2010, and nearly matched the 24-point beating Illinois handed his Cincinnati team in 2004. … This is the third year in a row Gonzaga has won its opening game in the NCAA tournament. ... These are two of the younger teams in the country. Gonzaga has three freshmen and four sophomores on its roster; West Virginia has seven freshmen.
Next game:
Gonzaga faces No. 2 seed Ohio State, setting up a couple of terrific battles Saturday — between Pangos and
Aaron Craft
at the point and Sacre, who has been begging for more physical games, against
Jared Sullinger
.
January, 5, 2012
1/05/12
5:00
AM ET
1. The A-10 race was initially going to be Xavier and everyone else. Now it's everyone else. Xavier's free fall is hard to comprehend. The Musketeers lost to La Salle by 10 points in the A-10 opener Wednesday. In a nonconference game Temple took out Duke in Philadelphia. Meanwhile, Dayton upset Saint Louis in overtime and Saint Joe's did the same against Duquesne. The race is officially wide open for the title, let alone second, third, fourth and fifth. La Salle coach John Giannini said at A-10 media day in October that he really thought his team could be one of his best, even though he was starting over. At 11-4, he may be right.
2. Gonzaga coach Mark Few has been pleasantly surprised by the progression of
Sam Dower
. The 6-9 sophomore can be a difference maker for the Zags if he continues his recent play. Dower scored 20 points in 22 minutes (how about that efficiency) in the road win at Xavier on Dec. 31, and prior to that opened up the WCC with a 15-point outing against Portland. The preseason hype for the Zags was focused more on
Elias Harris
,
Robert Sacre
and guards
Kevin Pangos
and
Gary Bell
Jr. But Dower could be the difference for the Zags in their quest to be a deep NCAA team.
3. Cincinnati coach Mick Cronin made the smart move by not starting
Yancy Gates
when he returned from a six-game suspension. Cronin may not have done that if the Bearcats were struggling. But he had leverage to do what he pleased since the Bearcats had won six straight without Gates. The Cincinnati turnaround from the brawl may be one of the most significant in-season turnarounds for a potentially dysfunctional team (see: losing to Presbyterian) in recent memory. The Bearcats are going to be competing for a top-5 finish in the Big East for the next two months.