College Basketball Nation:

Gary Williams retires
May, 5, 2011
5/05/11
6:52
PM ET
The timing caught a nation of college basketball observers off guard.
Two months after accepting a commitment from top-50 junior small forward Justin Anderson (Rockville, Md./Montrose Christian), Gary Williams stepped down as the head coach at Maryland.
The timing of the news is a bit odd, but from a recruiting standpoint it's not a complete loss. Maryland wasn't going to be overly aggressive for the remainder of this signing period. Plus, in terms of underclassman recruiting, Williams stepping down at this juncture gives the Terps time to regroup before the all-important summer sprint and string together an elite camp, if needed, and use the momentum of a new hire to make waves with the current juniors and sophomores.
[+] Enlarge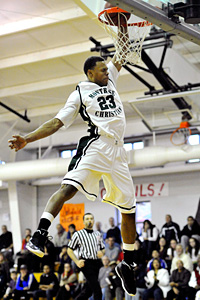 Randy Litzinger/Icon SMIMontrose Christian's Justin Anderson was Gary Williams' top recruit this season.
Williams' departure is a major blow to the Atlantic Coast Conference, which trailed the Big East in terms of high-profile head coaches. As big a loss as Williams is to the Terps -- and he's certainly an enormous figure in Maryland basketball history -- there is room for this program to grow.
Regarded by his peers as one of the elite tacticians and developers of talent in the college game, Williams is a revered, soon-to-be Hall of Fame coach with a national championship in 2002. Though the chief cultivator of a program, he was apathetic to the recruiting scene. Over the years, Williams has preferred to recruit from his areas of comfort and favored developing lesser-heralded players, rather than targeting the high-profile, often-higher-maintenance players from the fertile recruiting areas of Baltimore and Washington, D.C.
Recruiting-wise, this is sleeping giant. Where Williams elected (and it was his choice) to not play ball with many of the local traveling team coaches, the next head coach will almost surely take a different approach. Expect Maryland to move swiftly. Most established head coaches won't interview for the position, but there will be more than a handful who will take it if offered.
The job will be extremely attractive to an elite group of middle-aged coaches, many of whom have secretly mused about the Maryland job behind the scenes. Make no mistake: The Terrapins' head-coaching position is regarded as a gem. Combine the facilities with the recruiting grounds and the fan base and one has to believe that Maryland will land a worthy successor.
The big reason why the position is so attractive is the fertile recruiting area. The right person will be able to recruit the Baltimore and D.C. Catholic leagues, bridge the gaps that exist between some of the key AAU figures and unlock areas that Williams previously didn't attempt to mine.
Williams ran his program with a great passion and steered clear of any NCAA violations. His legacy is that of a remarkable game coach and protector of the program's reputation. He opted not to embrace the local grassroots culture and still won an incredible amount of games in College Park. Expect the next head coach to take a different approach and target the McDonald's All-Americans that Connecticut, Duke, North Carolina and others routinely stole from Williams' back porch.
ACC rivals UNC and Duke started point guards they plucked from Maryland's recruiting base. In fact, the
Duke Blue Devils
signed the last three starting point guards from the D.C. Assault program in
Nolan Smith
,
Tyler Thornton
and Quinn Cook (Bowie, Md./Oak Hill).
Now Maryland has a chance to make a hire that could put a lot of pressure on its rivals in the ACC and send a message nationally that it will protect its house and keep its talent closer to home.
May, 5, 2011
5/05/11
6:38
PM ET
Gary Williams wore his passion on his sleeves.
And under them.
And on his shirt. And on his brow.
Yet while his sweat glands may have been compromised, Williams never was. He was the same guy when he stalked the sidelines at Woodrow Wilson High School as he was when he paced the court at Maryland, a fiercely competitive, baldly honest and endlessly passionate basketball coach.
And that was it -- a basketball coach, a throwback to an era when coaching meant making good players great instead of babysitting great players for a year or two.
[+] Enlarge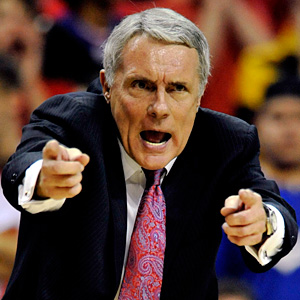 AP Photo/Gail Burton, FileGary Williams: An impassioned, old-school coach with a sparkling résumé, who had a tendency to sweat a lot.
Williams was never a salesman or a showman or a pitchman or a charlatan. Just a coach, thank you very much, one who walks away after more than 30 years in the business with one national title and another even more difficult-to-achieve milestone -- no blemishes.
The NCAA sanctions Maryland endured during Williams' tenure were tied to the regime that preceded him and in their wake, he opted for what now looks like an old-school -- or, detractors would say, stubborn -- way to exist.
In 2009, the Washington Post authored a three-part series about Williams' recruiting style. Instead of what typically occurs -- an exposé that unearths questionable practices -- the newspaper revealed that Williams staunchly refused to associate with what can often be a seedy underbelly in the college game.
His reticence to play the game that some believe is necessary to win the game no doubt cost him players. In recent years, the Maryland-D.C. area has been rich with talent but little of it has stayed home, causing his once-ardent fan base to give way slowly but surely to more impatient critics.
But whether or not you consider it his greatest attribute or his greatest sin, Williams didn't change.
All of which could be why he's decided to hang it up. He told ESPN.com's Andy Katz by phone this afternoon that it was time, that he was ready for a new challenge. He is 66 years old and few of his generation are still stalking the sidelines.
There is no doubt that in recent years Williams looked more beleaguered than energized. When the Terps beat Duke to claim a portion of the 2010 ACC regular-season title, Williams seemed as relieved as he did exhilarated.
These last few years have not been easy. His typical coaching style of attracting blue-collar players who worked to get better hasn't paid the same sort of dividends. And when he tried to bring in the sort of recruits his fan base had been clamoring for -- namely Gus Gilchrist and to an extent, Tyree Evans -- his always simmering battle with former athletic director Debbie Yow went public.
Yow just recently accused Williams of sabotaging her coaching search at NC State and Williams tossed one last zinger on his way out the door, telling John Feinstein, "After Yow left, I thought I might enjoy it more this year.''
But the Terps, struggling without Greivis Vasquez, failed to make the NCAA tournament and just recently lost their best hope for a better next season when sophomore double-double machine Jordan Williams announced he would remain in the draft.
So the time -- if not the timing, as May 5 is awfully late in the carousel spin cycle -- seems right.
But now that Williams has stepped away, what's left?
What's left for Maryland and to an extent, what of the ACC?
The basketball-centric league is full of new faces now. Brian Gregory, Jim Larranaga, Mark Gottfried and the coach to be named later at Maryland join Tony Bennett, Brad Brownell and Steve Donahue in the changing of the ACC guard.
Always dominated by the residents of Tobacco Road, the league would seem to tilt even heavier in Duke and North Carolina's favor as so many new coaches try to gain their footing.
Maryland athletic director Kevin Anderson will have plenty of suitors to choose from. This is a good job, with a fevered fan base, a hot recruiting bed, a national profile, and a top-drawer conference. Needless to say, making the right choice from what will be a pile of resumes will be critical.
But in the batch Anderson isn't likely to find another Williams, a Maryland alum who saw his job as more of a craft than a career.
"Why be a used car salesman when you can be a coach?'' Williams once said.
And for better or for worse, he staunchly stayed true to that notion. The game may have changed, but Williams, perhaps to his detriment, didn't.
During his run, a new generation of coaches took to the sidelines, fashionably turned out in their tailor-made Armani suits.
And Williams just continued to sweat through his.
May, 5, 2011
5/05/11
5:56
PM ET
After 33 years, 668 wins, 17 NCAA tournament appearances, three ACC regular-season titles, nine Sweet 16s, two Elite Eights, two Final Fours and a thrilling run to the 2002 national title, Gary Williams has officially reached the end of his career. As of Thursday,
per a release
from the school,
Williams is retiring
as head men's basketball coach at the University of Maryland:
"It's the right time," Williams said. "My entire career has been an unbelievable blessing. I am fiercely proud of the program we have built here. I couldn't have asked any more from my players, my assistant coaches, the great Maryland fans and this great university. Together, we did something very special here."
For all the success Williams has had at his alma mater -- success that made him a beloved figure among most Terps fans -- it's hard to argue with the coach's assessment of his timing.
Maryland hoops isn't downtrodden by any means, but it has failed to achieve the lofty heights Williams once consistently achieved. From 1994 to 2004, Maryland never missed an NCAA tournament. In 2001 and 2002, the Terrapins went to back-to-back Final Fours, and in 2002 Williams brought his alma mater the only national championship in program history.
Those were the good old days. And man, were they ever good.
[+] Enlarge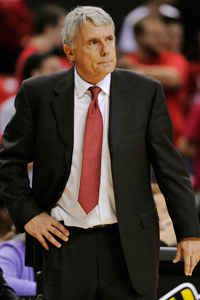 AP Photo/Gail BurtonGary Williams led four schools to a total of 668 wins over the course of 33 years.
Things were never quite that good again. In the years after 2004, the Terps went to the NIT as frequently as the NCAA tournament. In 2011, the better-than-you-think-but-still-pretty-mediocre Terrapins not only missed the Big Dance, but didn't even make it to the NIT. In recent years, Williams found himself taking unusual risks on questionable recruits, openly feuding with former athletic director Debbie Yow (who actually accused Williams of "sabotaging" her coaching search at NC State last month) and becoming the subject of awkward "Wait, we can't fire him, he's Gary Williams!" conversations among increasingly impatient Maryland fans.
This week, sophomore star forward
Jordan Williams
announced his plans to stay in the NBA draft and hire an agent. Without his best and most important player, Gary Williams -- now 66 years old -- would have found himself rebuilding yet again. Like he said, it's the right time.
The only awkward part of the decision's timing is how it relates to Maryland's future. With minimal exceptions, the 2011 coaching carousel
stopped spinning weeks ago
. Coaches were fired and hired, vacancies were created and filled, and eventually everything settled down. Now, the Maryland job -- almost certainly one of the 25 best in the country -- is available. Will athletic director Kevin Anderson have time to find a desirable successor? Who will that successor be? How many dominoes will tip in the wake of that hire?
The future is uncertain, but the past is etched, and none of Williams' recent struggles will outweigh his legacy. Quite simply, he is the best coach in the history of Maryland basketball. Few others come close.
And yet, in many ways, Williams meant even more than his successes.
For Maryland fans, he represented the strength of the school and its alumni, the special bond fans feel when one of their own is leading their team to conference championships and national title runs. For Maryland fans, it was impossible to see Williams and not realize, for better or worse, that he felt everything a college basketball fan feels during the excruciating 40 minutes between victory and defeat. In good years, bad years, and everything in between, no one ever wanted it more than Coach.
For others, Williams was something different. Maybe I'm just talking about myself here, because when Williams was at his best -- read: most frequently televised to a national audience, including sports-obsessed Iowan teenagers -- I was in high school and just realizing what (and who) I wanted to be. I still remember seeing Maryland and Duke wage one legendarily heated battle after another. I still remember thinking Williams, for all his antics, was the living, breathing, sweating embodiment of hard work.
Watching him work a sideline was like watching a pained artist pour everything he had into his life's great love. It was a roller-coaster of joy, despair, exasperation and pride. Seeing Williams sweat through his shirt -- has any coach in history sweat more profusely than Williams? -- meant knowing there was nothing noble about being too cool for school, that sacrifice and dedication and frustration were synonymous with success. Screw the towel. Toss the jacket. Roll up the sleeves. Let's go to work, and let's work hard.
If you pour everything out, good things happen. If you care, you'll succeed. Even better: You get to define success on your own terms.
Maybe that's corny, and maybe I'm projecting from afar. But to me, that's Williams' legacy. That's how I'll remember him.
Your mileage may vary, but one thing is for sure: Maryland's sideline -- and Maryland's program -- will never be the same.
It has Williams to thank for that.