College Basketball Nation:

gators-buckeyes 111511
November, 16, 2011
11/16/11
12:15
AM ET
COLUMBUS, Ohio --
Jared Sullinger
gets most of the attention for No. 3 Ohio State, and rightfully so. He's a legitimate candidate, if not the leading one, for player of the year honors this season.
Yet on a night when Sullinger had a good but not great game, the Buckeyes still managed to beat No. 8 Florida
81-74
at home Tuesday. That's because one of Ohio State's few questions -- its perimeter play -- showed it deserves a little more attention.
If the Gators figured to have one advantage coming into Value City Arena, it was the backcourt led by veterans
Kenny Boynton
and
Erving Walker
and talented freshman Bradley Beal. They left Columbus singing their counterparts' praises.
[+] Enlarge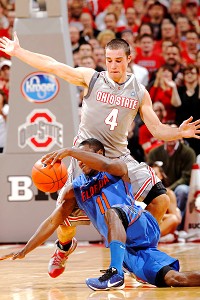 Joe Robbins/Getty ImagesAaron Craft held Erving Walker to just 1-of-6 in 25 minutes of play.
"Their guards are just tremendous," Boynton said of Ohio State.
For the second straight year, Florida was bedeviled by point guard
Aaron Craft
, a sixth man who played starter's minutes last year. Craft dissected the Gators' full-court pressure defense in Gainesville last season in just his second college game. Billy Donovan decided not to press him nearly as much this time around, but Craft found different ways to control the action.
Ask Walker. One of Florida's top scorers, the senior suffered through a 1-for-6 shooting night with Craft guarding him. Craft had three steals and seemed like he had his hands in the middle of every play, diving for loose balls and causing deflections with nonstop hustle.
"I thought clearly he dominated the game from start to finish," Donovan said. "He was the whole key, to me, in the game. More importantly, he really did it defensively. I mean, he physically beat up our guards. And I'm not saying our guards got fouled. Wholly within the context of the rules of the game, he physically manhandled our guards."
If Craft makes up for the loss of defensive stopper David Lighty from last year's top-ranked team, then
William Buford
picks up some of the scoring slack left by former 3-point specialist Jon Diebler. Buford has always been able to fill it up -- he has averaged double-digits since his freshman year and should finish his career as one of the top scorers in Ohio State history.
But this year he also must serve as the only senior on a team that's starting four sophomores. So it made sense that he took over the game in the second half with Sullinger on the bench with foul trouble. When Florida center
Patric Young
got hopelessly mismatched on the 6-foot-6 guard, Buford tripped him up with a sick crossover dribble before draining a 3-pointer for a 62-46 lead, the largest of the game.
How important is Buford? In Ohio State's Sweet 16 loss to Kentucky last season, he shot just 2-for-16 and missed a 3-pointer at the end as the Buckeyes fell 62-60. That disappointment caused him to make some changes in the summer to vary his game.
"I'm just valuing every possession more now," he said. "Trying to be more aggressive and shoot more free throws."
Buford got to the line six times Tuesday night. Ohio State coach Thad Matta talked to Buford during a couple of timeouts about avoiding rushed shots, and the senior did that in the second half.
"He's the one guy who's been through these wars numerous times," Matta said. "So we need him to do that."
Florida led most of the first half, beating Ohio State with some dribble penetration and pick-and-pops while hitting six first-half 3s. Then Craft and Buford got more aggressive with their defense, and the Buckeyes closed out on shooters like
Erik Murphy
, who surprised them with three 3s in the first half. The Gators looked lost for about a six-minute scoreless stretch between the first and second halves, allowing Ohio State to pull ahead for a comfortable lead it would never relinquish.
"It seemed like it was going to be a long night early on," Craft said. "But we did a good job adjusting as a team."
The slimmed-down Sullinger took only eight shots and went long stretches without getting many touches, though he did go to the free-throw line and make all eight attempts. Florida's Young played him to a virtual standstill, though, scoring 14 points to Sullinger's 16 and grabbing six more rebounds than the All-American. Yet the Gators needed a flurry of 3s late just to make the final score close.
"That says a lot about us," Buford said, "because he's the best big man in the country."
The Buckeyes' guards proved they're pretty good, too.
November, 15, 2011
11/15/11
10:12
PM ET
COLUMBUS, Ohio -- Quick analysis from Value City Arena, where No. 3 Ohio State defeated No. 8 Florida
81-74
on Tuesday night.
How the game was won:
Florida hurt Ohio State early with guard penetration, pick-and-rolls and six first-half 3-pointers. But the Buckeyes tightened up their perimeter defense late in the first half, and the Gators struggled to figure out other options.
Jared Sullinger
(16 points) took over inside, and
William Buford
handled the bulk of the scoring as the Buckeyes led by as many as 16 points in the second half and held off a late rally for their second victory in as many years over Florida.


Star of the game:
Buford. He led all scorers with 21 points and added six rebounds and three assists while playing all 40 minutes. Freshman Bradley Beal burned Buford a few times in the first half, but the Ohio State senior picked up his defense as the game wore on.
Star of the game II:
Aaron Craft
had his usual stat-stuffing game. The Buckeyes sophomore point guard finished with 13 points, seven assists, three steals and three rebounds, along with innumerable floor burns. He also helped hold Florida's
Erving Walker
to just four points on 1-of-6 shooting.
Key stat:
Ohio State hit 27 of 34 free throws, while Florida only attempted 21 (making 13).
What each team learned:
The Buckeyes found out they could beat a very good team without a huge performance from Sullinger, who sat out a large stretch of the second half after picking up his third foul. But they let up a little too much late to let the Gators nearly get back in it with a barrage of 3s. Florida learned it can get some offensive production out of
Patric Young
, who had 14 points and 12 rebounds after he got some opportunities in the second half. The Gators need more scoring options, especially on nights when Walker is off.
What's next:
Ohio State should fatten up on its record by playing Jackson State, North Florida, VMI and Valparaiso at home the next 10 days before a Nov. 29 showdown with Duke in the Big Ten/ACC Challenge. Florida's next big test should come Dec. 2 at Syracuse.
November, 15, 2011
11/15/11
5:47
PM ET
COLUMBUS, Ohio -- The last time I covered college basketball, I watched Ohio State destroy opponents in its first two games of the 2011 NCAA tournament in Cleveland.
Those Buckeyes look destined for greatness, but they would fall short in the Sweet 16 against Kentucky. Now comes their first major test of the 2011-12 season in just the second game of the year at Value City Arena.
For an early-season showdown, it doesn't get much better than No. 3 Ohio State vs. No. 8 Florida. Of course, these two teams played last year at this time, and the Buckeyes won 93-75 in Gainesville. The Gators will be looking for some revenge, though no November wins by the Bucks can make up for losing to Florida in the 2007 national title game.
I'm really looking forward to seeing a slimmed-down
Jared Sullinger
, the odds-on favorite to win national player of the year honors. He had his first star-making turn in last year's win over Florida, and we'll see if
Patric Young
can do anything to slow the double-double machine down.
If the Gators have an edge, it's in the backcourt with the experienced duo of
Kenny Boynton
and
Erving Walker
, plus Rutgers transfer
Mike Rosario
and talented freshman Bradley Beal. That's a lot of bodies on the perimeter that Billy Donovan can throw at Ohio State, though starters
Aaron Craft
and
William Buford
can also do a lot of damage for Thad Matta's team. I'll particularly be watching Buford, an explosive scorer who will have to pick up some of the defensive slack left by departed senior David Lighty.
Ohio State is awfully young, starting four sophomores and using freshmen off the bench. Its young players handled the pressure well last season, and that will have to happen again this year.
With the Buckeyes football team struggling, you get the sense that this community is hoping for something special from this basketball team. We'll start to find out tonight if that's the case.