College Basketball Nation:

Gavin Edwards
February, 22, 2010
2/22/10
8:28
PM ET


HARTFORD, Conn. -- A few quick thoughts from
UConn-West Virginia
:
UConn coach Jim Calhoun hasn't mellowed one bit. The bench got a technical foul less than a minute into the game when the coaching staff wanted a push call. Calhoun then directed his anger toward official John Cahill, who wasn't on the play. Why? Well, Cahill was the official who made two controversial calls against Connecticut -- one in the final possession at Cincinnati and then at Syracuse when he granted a timeout to Syracuse after the change in possession.
This doesn't seem like the same building the last time the Huskies played here. When the Huskies took on Cincinnati on Feb. 13 the XL Center lacked any kind of buzz and the Huskies were completely flat.
This is what is tough for the NCAA tournament selection committee: Watch UConn and you have to agree this "looks" like an NCAA tournament at-large team win or lose. But you have to win the game and you can't be excused for past failings. The subjective "eye test" will come into play.
West Virginia's Kevin Jones will be a pro. He is physical, can square up and make shots and he's tough.
What happened to Devin Ebanks' offense? He doesn't hunt his shot one bit. I'm also waiting for Da'Sean Butler to go on one of his runs.
Let's chill, and I mean all of us, on hyping the players who sit out: For UConn Ater Majok was put on too lofty a pedestal and for West Virginia the honor goes to Deniz Kilicli. They are both role players.
UConn's Gavin Edwards maximizes his talent as much as anyone I've seen this season. He finds a way to contribute every game whether it's on rebounds, post-up or setting a screen. He has become a glue guy for the Huskies.
February, 20, 2010
2/20/10
1:29
PM ET
[+] Enlarge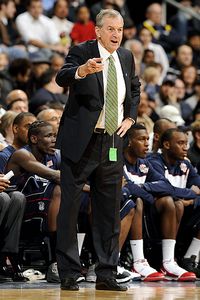 G Fiume/Getty ImagesJim Calhoun missed much of the season because of health issues.
The 2009-10 season has been the worst one for UConn in years. And now for the bad news: 2010-11 could be even worse.
This spring, Connecticut will lose Jerome Dyson and Stanley Robinson, as well as senior Gavin Edwards, and that's going to leave a very young, very open starting lineup in Storrs. Jim Calhoun is seeking to remedy that,
so he'd like high school stars to know one very important fact
: If you want playing time, UConn's your place:
"If you're looking for playing time right away, at UConn, that's going to be available," said Calhoun.
You'd think this would be a pretty normal problem for Calhoun; he graduates stars all the time, and Connecticut always manages to field a nationally elite team. Same old, same old, right?
Not so much, actually. Calhoun missed a large chunk of this season with health issues, and at 67 years old, it's reasonable for recruits to wonder how much longer Calhoun will be at the school. This is a pressing concern:
Roscoe Smith, a 6-8 forward at Oak Hill (Va.) Academy, and Cleveland Melvin, a 6-8 forward from Fitchburg (Mass.) Notre Dame Prep, have verbally committed but not signed. Calhoun's health has been a complicating factor for several recruits. Smith, whose team played back-to-back games at the PrimeTime Shootout, conceded that he had "doubts" about his commitment when Calhoun missed seven games for what he later told Smith was high blood pressure.

"The situation with Calhoun is a big factor because that's the main reason why I'm going to UConn," Smith said last Feb. 13 after Oak Hill edged Elizabeth (N.J.) St. Patrick, 79-78, on ESPNU. Smith, who has yet to sign his letter of intent, said Calhoun called him that week to notify him he would be back from his medical leave.

"Yes, he called me personally and he called my family," Smith said. "He said he's doing fine. He said he will be coaching the next game. For me and my family, that's a good thing to hear, you know?"
Connecticut has a decision to make. How long do they stand by Calhoun? Can they plausibly phase out the coach that built the Huskies program from scratch, won national titles, and made UConn the sort of place where 15-11 seasons are considered grave disappointments? Can Calhoun come to grips with the fact that maybe it would be a good idea -- both for his own health and for the health of Huskies basketball -- to retire? It's hard to imagine that happening anytime soon. Calhoun clearly still wants to compete. For once, though, that impulse stands to hurt UConn more than help.
January, 20, 2010
1/20/10
11:04
PM ET
HARTFORD, Conn. – Connecticut was prepped in advance for St. John's initially by Hall of Fame coach Jim Calhoun on Monday.
Now comes the hard part.
[+] Enlarge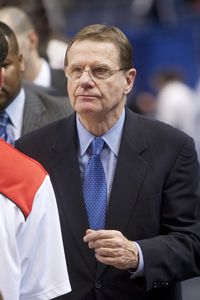 AP Photo/Thomas CainAssociate head coach George Blaney filled in for Jim Calhoun against St. John's.
The Huskies are on their own as they prepare for top-ranked Texas on Saturday in Storrs, a game that could be a season-changing event for Connecticut if it could pull off the upset.
Connecticut raced past St. John's
75-59
to end a three-game losing streak Wednesday night at the XL Center in Hartford. But that was almost expected, even with the distraction of Calhoun on an indefinite medical leave.
"I don't think it was different at all,'' said Connecticut's
Kemba Walker
of playing for associate head coach George Blaney instead of Calhoun. "Texas is going to be huge for us. We've got coach Blaney on our side. I wish Calhoun was better, but we've got coach and he'll do a great job and get us prepared.''
Blaney was adamant prior to the game, as was Connecticut athletic director Jeff Hathaway, that Calhoun was taking his doctor's advice to stay away from the team and rest at home. Hathaway said that Calhoun's medical condition wasn't career-ending, but that he wouldn't return until he was completely healthy or rather cleared by his physician.
Yet, this is still his team, and Blaney made sure to let everyone know that he's the caretaker. Blaney said that he will communicate with Calhoun in preparation for Texas.
"It'll go either way, we'll talk every day,'' Blaney said. "Either he'll call me or I'll call him, but we'll talk.''
But that doesn't mean Blaney doesn't already have ideas of how to compete against Texas' size and depth up front. Blaney went with three guards – Walker,
Jerome Dyson
and
Donnell Beverly
– with
Stanley Robinson
at the four and
Gavin Edwards
at the five. It's a smaller, quicker lineup.
"I'm not afraid to play teams with three guards and I'm not afraid to put Stanley at the four,'' Blaney said. "He can get nine rebounds against anybody. We'll mix and match.''
Blaney and the players were quick to point out how much they needed this win to stop the bleeding of the losing streak. Had they fallen to St. John's with Texas pending, the Huskies' season could have spun out of control. Blaney cited Georgetown and Notre Dame of a year ago, teams that got on a losing skid and couldn't recover. The Huskies could easily be 5-1 in the Big East had the last call not gone against them in the loss to Cincinnati, or had they not given up a monster-double digit lead (19 in the first half, 15 at halftime) at Georgetown.
"I told the team before the game that coach Calhoun is the best in the country at preparing you to face this kind of adversity,'' Blaney said. "We had to get ourselves off the floor after three straight losses (at Georgetown, Pitt, at Michigan). We had to come out fighting and punch someone in the face.''
That's why Calhoun's absence wasn't the deciding factor Wednesday. This was not a Huskies' team that was winning this game for Calhoun. They had to win this for themselves to grab their season back and ensure relevance from this point forward.
"We had to stop it, to have a good feeling,'' Dyson said. "We've still got to take all the things (Calhoun) has told us in the past and bring it into this game (against Texas). Our focus won't be any different.''
January, 20, 2010
1/20/10
6:41
PM ET
HARTFORD, Conn. – Jim Calhoun's latest medical condition isn't going to end his career at Connecticut.
[+] Enlarge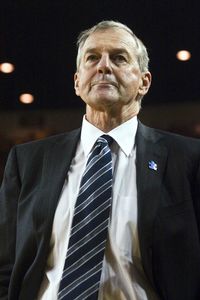 AP Photo/Tony DingUConn officials did not divulge the medical reason for coach Jim Calhoun's absence.
That's how emphatic UConn athletic director Jeff Hathaway was about Calhoun's abrupt departure from coaching the Huskies. Hathaway said during a pregame news conference Wednesday at the XL Center that Calhoun's condition wasn't career ending. Later, Hathaway confirmed that Calhoun's leave of absence has nothing to do with his current contract negotiations and will not affect the agreement that is in place.
The two sides have agreed in principle on a new four-year contract. Neither side has signed the contract but that isn't abnormal in negotiations with an existing coach, certainly one that is a Hall of Famer and two-time national champion. The two sides have been working on the final wording of the deal. His current contract ends on June 30.
Throughout Wednesday's walkup to the game against St. John's, the staff seemed confident that Calhoun would return to the team in due course. But Hathaway said that Calhoun wouldn't return until he had been given the clearance by his personal physician, Dr. Peter Schulman of the University of Connecticut Health Center. Hathaway indicated that Calhoun wouldn't return with conditions. Once he's ready to return in full he will be back. Whether that takes days, weeks or months is unknown.
Outside of saying that Calhoun didn't have a recurring cancer issue (he has had three bouts) or cardiac problem, UConn didn't divulge Calhoun's condition. Hathaway said that would be up to Calhoun. Associate head coach George Blaney, who will coach the team in Calhoun's absence, said that Calhoun, 67, told him that he needed to listen to his doctor on this one.
For those that know Calhoun, a driven, intense and at times admittedly stubborn man, this was a clear indication that he had to heed his physician's advice.
The timeline for Calhoun's absence moved rather quickly. Neither Hathaway nor Blaney said Calhoun had showed any signs of needing to take a break prior to his regularly scheduled doctor appointment Tuesday. Blaney said that Calhoun called him from the hospital Tuesday afternoon and told him he wasn't going to be attending practice and that he needed a break. Blaney said he hadn't spoken to Calhoun since then, while Hathaway said he did speak with Calhoun early Wednesday. He said he also spoke with Schulman.
Blaney characterized Calhoun as his usual "cantankerous self" while Hathaway said he sounded like a man who wanted to coach his team. Blaney said he wasn't sure if Calhoun would watch Wednesday's game, but that it seemed that would be against the doctor's orders. Blaney said earlier Wednesday that he was told he had to stay away from the team and his job, meaning that he wouldn't be checking in at his office until he was cleared. He wasn't hospitalized and is believed to be resting at home.
Once it was apparent that Calhoun was going to take a break, Blaney called into his UConn office
Kemba Walker
,
Stanley Robinson
,
Gavin Edwards
and
Jerome Dyson
, the four most integral players on the team. He said he told them that he needed their help with the younger players because they had gone through this before last March when dehydration forced Calhoun to miss the NCAA tournament first-round win over Chattanooga. Blaney said those players know how to deal with adversity.
During Wednesday's shootaround the Huskies were upbeat, but they did hear from various voices, unlike normal practices where Calhoun is the dominant presence. UConn moved Beau Archibald from director of basketball operations up to assistant coach once it got approval from the NCAA to do so during Calhoun's absence.
Blaney said that he considered making a starting lineup change in Calhoun's absence with Gavin Edwards in place of
Charles Okwandu
, but instead decided against it and said he would keep bringing in Edwards off the bench. He said he might make more substitutions than Calhoun early in the game.
Meanwhile, the St. John's game has become a critical one for the Huskies after losing three straight and with top-ranked Texas coming to Storrs Saturday. The Huskies, 11-6, 2-3 in the Big East, lost at Georgetown, to Pitt and at Michigan in their past three games.
January, 7, 2010
1/07/10
12:46
AM ET
STORRS, Conn. – Seton Hall had Connecticut down three with six-plus minutes left, before the Huskies found themselves in what might be the type of run it needs going forward.
[+] Enlarge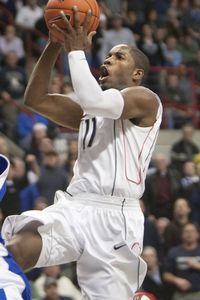 AP Photo/Thomas CainUConn's Jerome Dyson nearly had a triple-double against Seton Hall.
Turnovers, run-outs and conversions on the other end of fast-break baskets led to a 9-0 UConn streak to push the Huskies up six on Seton Hall. The Pirates would trim the lead to two and had a few more possessions, but couldn't quite pull off the upset bid in a
71-63 loss
.
The upset didn't occur because UConn did what it does best: it rebounded, defended and scored in transition when the game mattered most.
If the Huskies are to reach their full potential this season, they must become this type of disruptive team for more than a brief few-minute stretch late in the game. The spurts are in them, but they haven't been put together in consistent bunches yet.
Now is the time.
"We just clamped down when we had to win a basketball game,'' UConn coach Jim Calhoun said of the 9-0 run.
Calhoun praised the potential of the Pirates, especially rebounding machine
Herb Pope
(14 boards in 24 minutes), and noted how much Seton Hall could cause fits going forward. But he also said if the Huskies can put together 40 minutes, they will be "a very good basketball team.''
UConn is flawed without the veteran pieces of a year ago: the shot-blocker Hasheem Thabeet, the iron man Jeff Adrien and the steady presence of point A.J. Price. But they're developing an identity again of having a star late in the game in
Jerome Dyson
, who missed all four attempts in the first half for two points, but flushed out a 16-point, 10-assist, 9-rebound (one shy of a triple-double) performance.
Kemba Walker
is still over-penetrating at the point and had as many turnovers as points (three and three), but he still gets to the line (8-of-9).
Stanley Robinson
can flush on the break as well as anyone, but was turning the ball over too much (four).
The key for this squad is to ensure Dyson is the closer, that
Gavin Edwards
continues to score off the bench (15 points) and that Walker and Robinson make better decisions. It's not enough to get to the Final Four again, but at 2-1 in the Big East (and within a second of being 3-0 had
Lance Stephenson
not been fouled in the final second at Cincinnati), the Huskies are still a Big East contender.
But we will know quite a bit more over the next three games, when the Huskies go to Georgetown on Saturday (fresh off the Hoyas losing at Marquette), host suddenly surging Pitt next Wednesday and then on Jan. 17 go to Michigan in what may be a must-get nonconference game for the erratic Wolverines.
"It's a win in the league in which we didn't play as well as we're capable of, but we were able to at least take advantage, surprisingly enough, inside with some of our bigs early,'' Calhoun said of
Alex Oriakhi
(12 points and 7 boards). "We made foul shots when we had to. We made stops, particularly down the stretch when we had to. And we rebounded when we had to. We have to put that into a whole package for a game and we've had a tough time this season putting that whole thing together.''
December, 21, 2009
12/21/09
1:06
PM ET
Five things to know from Sunday's action:
1. Baylor's
Ekpe Udoh
finally appears to be living up to the promise that he flashed in his two years at Michigan. In Sunday's 94-63 win over Texas-Arlington, Udoh fell a block shy of a triple-double. He set career-highs in points (22) and rebounds (16), while tying his best single-game block total (9). It was the first 20-point, 15-rebound game for a Baylor player since Lawrence Roberts in 2003. After recording only one double-double in two full seasons as a Wolverine, Udoh has six this season for the 9-1 Bears.
2. Kent State's
Chris Singletary
had a tremendous all-around game in an 85-76 win over Texas A&M-Corpus Christi. He put up 14 points and matched a career-high with 10 assists, in addition to 7 rebounds and 6 steals. That is just the fourth 10-point, 10-assist, 5-steal, 5-rebound game this season. Only Singletary and Southern Illinois's
Kevin Dillard
have done so against Division I opponents. The Golden Flashes finished with 25 assists -- their most against a D-I opponent since 2003 – on 29 field goals.
3. Sam Houston State's
Gilberto Clavell
exploded for a career-high 34 points on 14-for-17 shooting in the Bearkats' 107-89 win at Auburn. Clavell is averaging 27.0 ppg in three games this month. However, Clavell's 34 points are not the most by a Bearkat this season.
Corey Allmond
scored 37 a month ago against Kentucky. Sam Houston State is the only school from which two different players have posted a 34-point game this season.
4. Connecticut escaped with a 60-51 win over UCF despite a first half in which the Huskies had nearly as many turnovers (13) as points (20). Perhaps the strangest stat coming out of this game concerns the UConn bench, which attempted only two field goals in 65 minutes of action. Other teams have had fewer attempts off the bench this season, but not while relying on their bench for so many minutes. In fact, the next fewest field goal attempts for a bench playing at least 65 minutes was four by Mount St. Mary's in November. The Huskies'
Gavin Edwards
finished with 11 rebounds and a career-high seven blocks as a reserve. However, he only attempted one field goal in 34 minutes. That is the second-most minutes played off the bench this season with one or fewer field goal attempts.
5. With all five starters in double figures, Marshall blew out High Point 109-76 on Sunday. It marked the Thundering Herd's second straight 100-point effort and third this month. Marshall is averaging a national-best 100.2 ppg in December, and is outscoring opponents by an average of 42.2 points. However, two of its five games have come against non-D-I opponents. Marshall's next game will not be so easy. The Herd head to Chapel Hill on Tuesday to face the Tar Heels.