College Basketball Nation:

Geno Ford
July, 18, 2013
7/18/13
5:00
AM ET
1. The fallout from Kent State winning a $1.2 million settlement from former coach Geno Ford for leaving for Bradley may make coaches re-read their contracts very carefully. According to one prominent coaching agent, "coaches will be forced to structure their contracts a certain way. Buyout language is absolutely huge. A lot of times coaches don't realize it until they are put in a position of getting terminated or leaving for another job. Most times contracts are finalized so quickly these days. These coaches must pay attention to details." We've seen this before in coaches leaving from West Virginia to Michigan in men's basketball and football and a number of others. But many times these are negotiated settlements, rarely a court case awarding the school. The Kent State case should cause coaches to pause and ensure their contracts are favorable in case they bolt early.
2. We released
11 tournaments
that are on our family of networks on ESPN.com Tuesday and Wednesday. There were a lot of twitter inquiries about when the Battle 4 Atlantis will be unveiled. Well, according to those organizers, the field should be announced later this month. Kansas and
Andrew Wiggins
headline the event in the Bahamas with Villanova, Iowa, USC, Xavier, Tennessee, UTEP and Wake Forest. The Battle 4 Atlantis has been on the NBC Sports Network in the past. The one other tournament that should be mentioned on ESPN is the NIT Season Tip-Off, which is run by the NCAA. Duke and Arizona are on opposite sides of the bracket with Rutgers and Alabama as the other two hosts. The NIT Season Tip-Off is the one tournament where teams still have to earn their way to the neutral site.
3. More waivers were granted Wednesday for players to compete immediately.
Malik Smith
got the word he can compete for his former coach at FIU, Richard Pitino, who will be his new coach at Minnesota.
Ryan Harrow
, who wanted to be closer to home where he is dealing with family issues, won his waiver to play immediately at Georgia State after playing last season at Kentucky. Meanwhile, Marshall's
DeAndre Kane
got his graduate degree as expected and will play the upcoming season at Iowa State. Transferring is no longer an epidemic, it is reality, and it seems like more transfers are playing immediately instead of sitting out a year.
July, 19, 2012
7/19/12
3:03
PM ET
As part of our Summer Shootaround series, here are the best- and worst-case scenarios for each team in the Missouri Valley:
Bradley
Best-case:
Geno Ford inherited a massive rebuilding project last season, and it showed on the court. The Braves finished 7-25 overall and 2-16 in the Missouri Valley. This season, Ford is adding just two players (unranked recruit
Ka'Darryl Bell
and little-touted juco transfer
Tyshon Pickett
) to a roster missing obvious breakout candidates or young talent. Still, Ford will have had an entire season and the summer to work with his players. This best-case scenario is less about wins and losses than about establishing a system and building positive steps for the future. It's a long way up from here.
Worst-case:
Bradley's offense fails to improve. Per Ken Pomeroy, the Braves ranked No. 301 in the country in adjusted offensive efficiency, No. 321 in effective field goal percentage, No. 318 in offensive rebounding rate and Nos. 300 and 320 in 2-point and 3-point field goal percentage. All of those things have to improve, and significantly so, to fend off an ugly repeat of 2012.
Creighton
Best-case:
A deep NCAA tournament run. That's the expectation, and it should be, because Creighton returns 2012's most lethal offensive player, forward
Doug McDermott
. McDermott was peerless as a sophomore, averaging 22.9 points and 8.2 rebounds on 60.1 percent from the field and 48.6 percent from beyond the arc. The rest of the Bluejays' supporting cast (except point guard
Antoine Young
) is back, and there's no reason to expect 2012's fifth-most efficient offense to regress now. If anything, it's going to improve, and Creighton will be the MVC title favorite and an Elite Eight-type threat come March.
Worst-case:
The defense doesn't improve. We know CU is going to score; we know McDermott is going to pour in the points. What we don't know is whether the Jays can stop anyone. They didn't last year, ranking No. 178 in adjusted defensive efficiency overall and eighth in Valley play. That weakness held this high-flying offense back last season, and the worst case scenario in 2012-13 is another year of brilliant scoring with little in the way of defense to back it up. "Defense wins championships" is a cliché because it's true.
Drake
Best-case:
The Bulldogs have quietly hovered around the .500 mark in the four years since Mark Phelps took over for Keno Davis. Will 2012-13 be the year they get over the hump? The transfer of
Rayvonte Rice
(who averaged 16.5 points and 5.8 rebounds per game last season) sure didn't help, but versatile forward
Ben Simons
(a 6-foot-8, 42.5 percent 3-point shooter) does return, supported by a cast of capable returners and seven newcomers, including two juco transfers.
Worst-case:
It's easy to see this team taking a step back without Rice. If Simons and
Jordan Clarke
have similar seasons to 2012, that's all well and good, but it's not clear that that will be enough to lift Drake out of the 18-win region and into legitimate MVC contention. The worry is that Drake simply is what it is.
Evansville
Best-case:
The name
Colt Ryan
might not mean much even to most die-hard fans, but Ryan had a very good junior season for the Purple Aces both as an efficient scorer and a turnover-averse assist man. The 2012-13 season will be Ryan's last, so he'll need help from junior guards
Ned Cox
and
Troy Taylor
as well as 6-8 forward
Ryan Sawvell
, who scored at a tidy pace and rebounded the ball effectively in limited minutes as a freshman. The most optimistic projection involves a big coming-out party for Sawvell as a sophomore, which helps lift Evansville out of last season's 16-win, 9-9 MVC territory.
Worst-case:
Even slight improvement from the aforementioned regulars isn't enough to vault the Aces out of the middle of the MVC chase. It's hard to see this team regressing, but there is no guarantee it can live in the same neighborhood as Creighton and Wichita State.
Illinois State
Best-case scenario:
The last time Illinois State went to the NCAA tournament (1998), its new coach, longtime Vanderbilt assistant Dan Muller, was completing his still-standing record of 128 consecutive starts for the program. Now he's back to build on former coach Tim Jankovich's sporadic progress, and he has a chance to succeed right away. Leading scorer
Jackie Carmichael
(who finished fifth in the nation in defensive rebounding percentage, by the way) is back, as is impressive sophomore
Jon Ekey
, along with the rest of a starting five that went 9-9 in the MVC and 21-14 overall. If Muller can get his new charges on the same page from day one, there's good reason to expect ISU to contend for an NCAA tournament bid.
Worst-case scenario:
Adapting a group of veteran players to a new head coach is always a murky proposition. When the process goes well, you get the 2012
Missouri Tigers
. When it doesn't, things can degenerate quickly. This will be the defining challenge of Muller's first season.
Editor's note: ESPN.com's Summer Shootaround series is catching up on the offseason storylines for each conference. For the rest of the best- and worst-case scenarios for the Missouri Valley, click here.
October, 12, 2011
10/12/11
11:57
AM ET
The minute he sat down for his first coaches meeting in the Missouri Valley, Geno Ford figured out what he was in for.
"You know they say in poker, you try to figure out who the sucker is,'' the new Bradley coach said. "Well, I looked around and there weren't any, so I'm just hoping it isn't me.''
Ford laughed when he told the story, but the reality is there's not much to giggle about in the Valley. The league has branded itself into the public consciousness, carving out its own special niche as a well-respected league that is neither BCS nor true mid-major. Winners are rewarded well thanks to the league's reputation, but winning among schools that have capitalized on the Valley's success isn't exactly easy.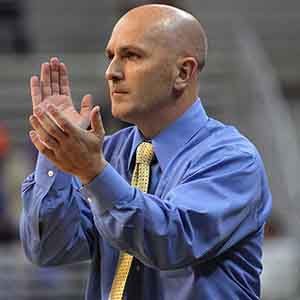 Kim Klement/US PresswireGeno Ford arrived in Peoria after three successful seasons in the MAC at Kent State.
Especially this season. By its own high standards, the conference has been down in recent years, earning just its automatic bid in each of the last four seasons. But all signs point to a return to the glory years, back when the Valley was sending as many as four teams to the NCAA tournament and a Sweet 16 berth was commonplace.
Not exactly an easy time for Ford to bluff at the table.
Bradley has never finished higher than fourth in the league and hasn't reached the NCAA tournament since 2006. That's why Ford is here and ex-coach Jim Les is now at UC Davis.
Ford had a good thing at Kent State -- he led the Golden Flashes to back-to-back Mid-American Conference championships. But he found the ceiling in the MAC hard to penetrate. Though he won those two regular-season titles and 20-plus games in each season, he had to settle for an NIT bid both times, done in both seasons by upset losses in the MAC tournament.
"We all play for the postseason,'' Ford said. "The hope is here, in this league, if you win the regular season, you're either in the tournament or in the major discussion. That's a big attraction, that if you have a special regular season you're rewarded.''
That's what pushed Ford to leave Kent after three years, but it wasn't an amicable parting. The former coach and his ex-employer are locked in a lawsuit that likely won't reach a court date until the summer.
Kent State contends Ford broke his contract -- a deal with four years left at $300,000 per year -- and consequently owes the school $1.2 million. Ford and his lawyers at Bradley contend that KSU granted Ford permission to interview, thereby prohibiting the school from seeking damages.
Ford said he has attempted to settle but has had no luck.
"Hopefully this will get resolved in a short amount of time,'' he said. "It's certainly unfortunate, but it will run its course and I'm looking forward to the conclusion.''
Fortunately lawyers have handled the brunt of the work on the lawsuit, allowing Ford to concentrate on basketball. He has a lot of work to do. Though the Braves have players back -- including
Dyricus Simms-Edwards
, who averaged 16 points in his final 10 games and Taylor Brown, who missed last year with a heart problem -- they also have no big man with experience (
Will Egolf
is out with an ACL tear) and five freshmen who will be put to work immediately.
It's not exactly the loaded cupboard needed to contend in a league top heavy with upperclassmen, but Ford believes it is a recipe he can work with.
"No transition period is a pleasure cruise and there will be bumps and bruises along the way, but if you have guys willing to take a shot, you can make it,'' he said. "We don't have a championship from last year to say, 'Here, if you buy in, this is the result.' So we have to ask them to trust us and trust our system.''
In other words, it's time for the Braves to go all in.