College Basketball Nation:

George Marshall
November, 24, 2012
11/24/12
1:50
AM ET
Overview
: Creighton's finish belied the back-and-forth action in the second half of the Bluejays'
84-74 victory
over Wisconsin in the semifinals of the Las Vegas Invitational at the Orleans Arena. They didn't seize a comfortable edge until the final minutes of the game. The Badgers took a lead with nearly eight minutes to go, but Creighton responded and put them away with an 18-4 run down the stretch.


Turning Point
:
Ethan Wragge
(17 points) hit a 3-pointer that put his team ahead 61-60 with 7 minutes, 46 seconds to play. That shot commenced a rally that turned a two-point deficit into a 12-point lead. Until then, Creighton (5-0) struggled to put away its Big Ten foe. Wragge's team had squandered an eight-point advantage a few minutes prior to that crucial late-game run.
Why Creighton won:
After a slow start (it started off 2-for-10 from the field), Creighton shot 25-for-48 the rest of the way.
Doug McDermott
had a lot to do with that offensive fruitfulness (his team hit 62 percent of its shots after halftime). The national player-of-the-year candidate scored 30 points on a 10-for-23 clip. He became aggressive in the paint as he struggled from the perimeter (1-for-5). That relentlessness inside opened up the arc for Wragge (4-for-7 from 3) and
Austin Chatman
(2-for-2 from deep). The Bluejays were also more aggressive on defense in the second half, especially on the perimeter. Wisconsin (3-2) missed 12 of its 15 3-point attempts in the second half.
Why Wisconsin lost:
The Badgers climbed back into the game as the Missouri Valley favorites nearly pulled away midway through the first half.
Jared Berggren
scored 10 points in a row during a three-minute stretch, tying the game at 55-55 with 10:03 to play. But Wisconsin couldn't maintain that productivity. Berggren's late cramps limited his availability and contributions; he scored two points in the last nine minutes of the game.
Mike Bruesewitz
struggled with foul trouble and eventually fouled out. Neither helped an ailing Wisconsin offense that went 6-for-20 after taking a 60-58 lead with 8:48 seconds on the game clock.
[+] Enlarge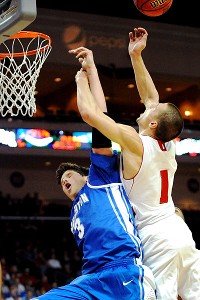 AP Photo/David BeckerCreighton's Doug McDermott (3) and Wisconsin's Ben Brust get tangled up under the basket.
Star(s) of the game:
McDermott looked like an NBA prospect as he showcased his post repertoire when his jump shot wasn't falling. His 30 points led all scorers. He also had eight rebounds and hit nine of 10 free throws. Berggren registered 27 points and seven rebounds.
What it means for Creighton:
The win means that Creighton passed a crucial test. The Bluejays had problems with Wisconsin's defense in the first half, but they eventually found their rhythm and overcame a squad that kept the game tight until the final minutes. Scoring 84 points against one of the top defensive units in the country will build confidence for the undefeated program.
What it means for Wisconsin:
If Bruesewitz, who'd helped his team frustrate McDermott early, had avoided foul trouble, the Badgers would have had a better chance to pull off the upset. But they were ultimately doomed by their offensive inefficiency. They couldn't keep up with the Bluejays in the last 10 minutes. But they played tough most of the game. Wisconsin looked like a top-25 squad in stretches; it just finished poorly. And the Badgers aren't talented enough to recover in that situation when they're facing elite opponents.
More observations:
Creighton wasn't sure about its point guard situation after Antoine Young graduated, but Chatman has played the role well this season. He was a vital contributor against the Badgers. … I don't remember McDermott being so forceful in the paint last season. He's still working on his interior game, but was far more aggressive against the Badgers than he'd been in the past. Huge plus for Creighton. … Wisconsin senior
Ryan Evans
is tough to stop when he penetrates. I wonder why he doesn't drive more often. … Wragge gives Creighton a pure shooter off the bench. With Wisconsin so preoccupied by McDermott, Wragge found space and hit big shots. … Point guard
George Marshall
scored 13 points for the Badgers. But zero assists won't cut it for any point guard in Coach Bo Ryan's system.
What's next:
Creighton will face Arizona State in the tournament championship Saturday. Wisconsin will play Arkansas in the consolation game.
October, 27, 2012
10/27/12
7:24
PM ET
The loss of All-American point guard Jordan Taylor affected early projections about Bo Ryan's ability to lead Wisconsin to the top of the Big Ten in 2012-13, a perennial status for the program throughout his tenure.

Ryan's offensive and defensive systems flow best when operated by dynamic point guards.
For the first time in years, however, the Badgers didn't appear to have that in the months that preceded the start of this season.
And now that the program has announced that
Josh Gasser
-- the player Ryan called his starter at the position during Thursday's Big Ten media day in Chicago -- will miss the 2012-13 season with a torn anterior cruciate ligament, there are even more questions about the Badgers.
According to a Saturday news release from the team, Gasser tore the ACL during practice Saturday morning at the Kohl Center and will undergo surgery after an upcoming re-evaluation by the team's medical staff. He will redshirt this season and preserve his two remaining seasons of eligibility, the school said.
Ryan will have to go with an inexperienced orchestrator regardless of whom he chooses to run the show in Madison.
He could turn to
George Marshall
, a redshirt freshman from Chicago.
Traevon Jackson
, a sophomore who averaged 5.4 minutes per game last season, will be in the mix, too.
But Gasser (7.6 points and 1.9 assists per game, 45.2 percent from the 3-point line 2011-12) offered Ryan's program the best option in its transition to life without Taylor.
"Based on the summer, based on what we've done so far, Josh Gasser is the point guard," Ryan said Thursday.
Saturday's news is another early challenge for the program. The Badgers will compete without forward
Mike Bruesewitz
for the first few weeks of the season as he recovers from a leg injury.
Now what?
Well, throughout the media session Thursday, Wisconsin players and coaches talked about playing faster and diversifying the offense with the addition of freshman
Sam Dekker
. The Badgers, ranked No. 23 in the Associated Press preseason poll released Friday, talked about Taylor's absence as an opportunity for more guys to get involved.
It was clear that they trusted Gasser and thought they'd succeed with him at point guard.
"He's fundamentally sound. He's someone who's tough. Great defender. [He] shoots a high percentage," said Badgers forward
Ryan Evans
during media day. "[He's] someone who's fun to play with. … A guy like Josh, he's going to give you his all."
The Badgers were a mystery in the months that followed Taylor's graduation based on his immense contributions during his tenure. Now, they're even more difficult to assess.
Ryan's legacy suggests that he'll find a way to win, especially with the early talk about Dekker's next-level talent and potential impact this season. But he has to identify a new point guard, a unique situation for a coach who's grown accustomed to utilizing elite prospects at the position.