College Basketball Nation:

Gerald Robinson
March, 9, 2012
3/09/12
1:41
AM ET
NEW ORLEANS -- Four weeks ago it was a question of where, not if, Mississippi State would be dancing.
The Bulldogs were 19-5 heading into the final month of the season. They were ranked No. 18 in the country and primed for solid seeding in both the SEC and NCAA tournaments.
Those days seemed like a distant dream Thursday night in the Mississippi State locker room. A month removed from such lofty aspirations, the Bulldogs crashed out of the SEC tournament
71-61
at the hands of lowly Georgia, the No. 11 seed, to complete a 2-6 skid.
"It hurts," said State forward
Renardo Sidney
. "I know we're one of the better teams down here in the SEC tournament, and we just didn't go out there and play hard. We didn't have no heart."
Huddled around their postgame meals, the Bulldogs looked like they'd just woken up from a bad dream -- a nightmare in which they lost five consecutive games during the month of February.
The only problem is, that's the sobering reality.
Big man
Arnett Moultrie
couldn't bring himself to even speak about it. Faced with a wall of cameras and recorders, Moultrie steadfastly repeated "no comment" before turning to his dinner.
It's an understandable reaction after the forward, who averaged 16.1 points for the Bulldogs this season, was limited to a mere seven in 39 minutes by a relentless Georgia zone defense.
[+] Enlarge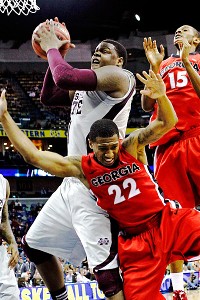 AP Photo/Gerald HerbertMississippi State forward Renardo Sidney found the going tough in the middle of Georgia's zone defense.
"Give Georgia credit. They did a good job of keeping our bigs from scoring inside that zone," said Mississippi State coach Rick Stansbury.
Sidney, who was limited to four points and managed just 19 minutes because of foul trouble, was willing to talk, but found himself at a loss for words.
"It was hard to get the ball down there," he said. "That zone. I can't even explain it."
The only Mississippi State starter who could find his game was guard
Jalen Steele
. With State trailing 59-51 and five minutes to play, Steele reeled off the next nine Bulldogs points to pull them within as close as three points, 60-57. The run seemed to inspire the MSU bench, and it brought the State faithful to their feet.
"I thought it was going to be just like Vanderbilt, where we came out and came back," Sidney said. "We just couldn't get it over the line. We tried to fight back, but they kept coming."
Two minutes later, two Mississippi State turnovers had allowed Georgia to extend the lead to seven, and the rally was dead.
"We had the thought that we lost to [Georgia] on our mind, but we knew it was a new game," said guard
Dee Bost
. "We lost the momentum, and they made plays when they were supposed to."
Steele said the Bulldogs lacked heart, and it showed. Led by guards
Gerald Robinson
and
Dustin Ware
, Georgia rattled off a 15-2 run starting about five minutes into the second half. Although they only trailed by nine, Steele said it took the Bulldogs too long to respond.
"We came out kind of sluggish. We could have came out with a little more energy, but it didn't fall our way," he said.
It was a similar feeling and a fitting ending. The Bulldogs were within a basket inside the last 10 minutes of five of their six recent losses, but they let them all slip away. Having officially hit rock bottom, all they can do is hope their NCAA hope hasn't slipped away as well.
"We were on the bubble going into this game, and we really needed this game," Sidney said. "Just the thought of your season in somebody else's hands, it's kind of tough. Hopefully we get in."
March, 9, 2012
3/09/12
12:05
AM ET
NEW ORLEANS -- After a nightmare finish to the 2012 regular season, Mississippi State entered the SEC tournament needing some wins to bolster its tournament resume.


Unfortunately, the Bulldogs didn't get the memo, instead dropping
a 71-61 upset loss
to the tournament's No. 11 seed, Georgia.
The Bulldogs (the ones from Georgia) established early on that they wouldn't be rolling over or playing dead for Mississippi State's bubble prospects.
Gerald Robinson
set the pace, as usual, putting up 12 points to help Georgia to a 31-29 halftime lead. That scrappiness continued into the second half, where the teams traded the lead in the opening minutes.
Where Georgia got production from Robinson, as well as freshman
Kentavious Caldwell-Pope
and senior
Dustin Ware
, Mississippi State couldn't find consistency from anyone. It took the Bulldogs (the ones from Starkville) until the 7:59 mark of the second half to have a scorer reach double digits. Mississippi State's bedrock trio of
Dee Bost
,
Arnett Moultrie
and
Renardo Sidney
accounted for just 21 total points.
Turning point:
With 16:25 to play,
Brian Bryant
tied the game at 34. Georgia then ripped off a 9-0 run highlighted by two consecutive jumpers from Ware, who finished with 13 points. Robinson and
Donte Williams
each tacked on a basket to make it 43-34.
Jalen Steele
's 19 points helped Mississippi State get it as close as three, but the Bulldogs couldn't bring it all the way back.
Key player:
Robinson led the Bulldogs as he always does, notching 23 points. But Ware was the key to the second half surge that pushed Georgia in front. Ware finished with 13 points on 4-of-7 shooting, but he had no points at halftime. He accounted for 11 points of Georgia's 15-2 run that seemed to kill Mississippi State's morale.
Key stat:
Sidney contributed as many fouls as he did points (4). The Bulldogs' big guy only managed 19 minutes, and didn't come close to his season scoring average. Moultrie got into foul trouble as well and finished with four of his own. He managed to play 39 minutes, but only scored 7 points after averaging 16 this season.
Miscellaneous:
It's fitting that State's final setback happened at the hands of Georgia. The Bulldogs have had a rough month, going 2-6 since a Feb. 11 overtime loss to? Who else but Georgia.
What's next:
Georgia moves on to face No. 3 seed Vanderbilt, who beat the Bulldogs by 11 and nine in two meetings this year. Mississippi State, which spent a good chunk of the season in the top 25 and at one point seemed to be playing for tournament seeding, will now go home and hope for an NCAA bid.