College Basketball Nation:

Gerardo Suero
February, 29, 2012
2/29/12
12:55
PM ET
Gerardo Suero
can't stop smiling.
Doesn't matter if he's on the court or off it.
That's why some have questioned his in-game demeanor.
Does he take the game seriously? Does he even care?
The queries, however, cease soon after tipoff.
It's hard to question a young man's commitment when he produces this stat line every night: 21.7 ppg, fifth in the nation; 5.7 rpg, 3.0 apg.
[+] Enlarge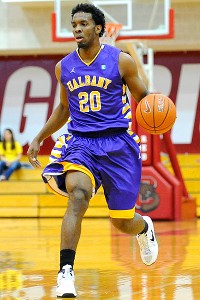 Cal Sport Media via AP ImagesGerardo Suero averages 21.7 points per game for Albany.
"I don't take things too seriously. You enjoy, you have fun, you know. There's no point to take things too seriously all the time or you won't have any fun," Suero told ESPN.com. "You just relax. Before you know me, that bothers everybody because they say my body language stinks. They think I'm not playing hard, they think I don't care so they get mad at me. But once they get to know me, they know I'm not that way."
Suero has been a star in the America East. The latter's conference tournament begins Thursday at Hartford. The league's title game will air Saturday morning on ESPN2.
If Suero leads Albany, a 4-seed, to the championship game, a national audience will have a chance to watch a determined athlete who had to fight for nearly three years after high school just to get the opportunity to compete at the Division I level.
The native of the Dominican Republic came to America when he was 17. Living with a sister eased the transition, but that alone couldn't help him overcome his struggles with English.
"I couldn't say anything in English. Anything," he said.
So he enrolled at Our Savior New America School, a private Christian high school in Centereach, N.Y, where he earned offensive MVP honors during the National Association of Christian Athletes (NACA) national championships in 2008.
There, he bonded with two teammates who hailed from the Dominican Republic. And an ESL (English as Second Language) teacher helped him learn the language.
His game attracted interest from top programs such as Marquette, Memphis, UCLA and Syracuse. But he failed to get through the NCAA's Clearinghouse in part because of his linguistic challenges.
So he spent two years in the junior college ranks (he averaged 21.7 ppg for Technical Career Institute in New York City during the 2009-10 season) trying to accrue the necessary credits to play college basketball. And even after leaving TCI, he had to take additional classes before the NCAA gave him clearance to compete at Albany this season.
"I appreciate every day because it's been tough to get where I am right now," he said. "I appreciate every day I can play basketball."
He said his laid-back demeanor and affinity for laughter helped him get through those trials. That's how he learned to deal with tough times in the Dominican Republic.
Suero's father, Gerardo Suero Sr., was an Olympic sprinter who qualified for the 100- and 200-meter quarterfinals in the 1980 Olympics in Moscow. So it's easy to see where the 6-foot-4 guard acquired his athleticism.
But his mother, Zoralla Castillo, taught him to use laughter and humor as a way to enjoy life.
"She's always laughing. No matter what, she's always laughing. So I probably got that from my mom," he said.
Suero doesn't see his parents very often. But he said his success at Albany is a testament to their belief in his dreams of playing pro basketball.
His native country has produced multiple MLB stars over the years. But Suero said he's never liked the static nature of that game. Plus, Michael Jordan was his favorite athlete when he was kid. So he chose basketball as a 5-year-old in Santo Domingo.
He said his family has always supported his passion and continues to help him navigate challenges he encounters thousands of miles from home.
"It was really tough at first. The first time I came to the United States, I wanted to go back. But my family has always been there, always calling me every day. So that make it easier," he said. "Before I go to sleep, I would pray to go home the next morning. It was really tough. But then my family helped me to get through. Sometimes, I wanted to give up."
February, 2, 2012
2/02/12
7:12
AM ET
By
ESPN Stats & Information
| ESPN.com

Nebraska-Omaha 106, Peru State 71
Nebraska-Omaha attempted 95 shots, the most in Division I this season. Only two other teams have eclipsed 90 shot attempts this season: Troy (93) against LaGrange on Nov. 13, and Stanford (92) against Oregon State on Jan. 7. The Stanford-Oregon State game went four overtimes.
Hofstra 74, Towson 49
Towson went 14-33 (42.4 percent) from the free throw line in Wednesday's defeat. Only Florida A&M (11-31, 35.5 percent) on Dec. 5 had a worse percentage from the stripe (min. 30 FT attempts).
Albany 87, UMBC 76
Albany's
Gerardo Suero
became the sixth player this season to score 30 or more points and make 10 or more shots from the floor without missing a free throw (min. 10 FT attempts).
TCU 58, Wyoming 52
Luke Martinez
of Wyoming attempted 12 3-pointers and grabbed eight rebounds, just the seventh player to do so this season. However, with six points Martinez is the only one of those seven not to reach double-digit scoring.

New Hampshire 52, Hartford 51
Trillion of the Night:
Corban Wroe
of Hartford went 13 minutes without accumulating a single stat in the Hawks 52-51 loss to New Hampshire.