College Basketball Nation:

Geron Johnson
January, 9, 2014
Jan 9
11:12
PM ET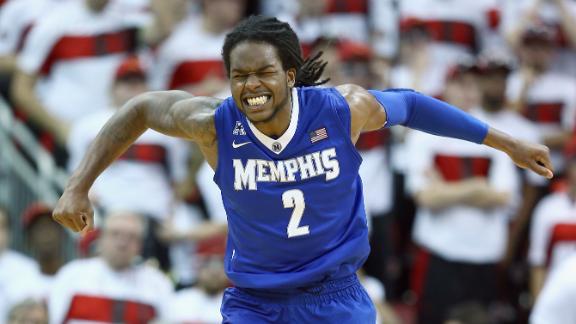 LOUISVILLE, Ky. -- Memphis and Louisville are old rivals, dating back to their days as league partners in the Missouri Valley, Metro and Conference USA.
For one more year, they're playing together in the same conference. And on Thursday night, Memphis showed that the Cardinals aren't simply going to roll through the American Athletic without some company.
The defending national champions were the overwhelming choice to run away with the American title this year before moving on to the ACC. But the No. 24 Tigers beat No. 12 Louisville
73-67
at the Cardinals' own game and on their own court while proving there's more than one contender in this league.
If you needed any proof that this was an important win for the Tigers, you only had to look at head coach Josh Pastner after the buzzer sounded. Pastner pumped his fist and shot back at some Louisville fans in the KFC Yum! Center crowd who he said had been ripping his team's academic prowess. Pastner said later that's all part of the rivalry, one in which the Cardinals had won four straight dating back to 2005.
[+] Enlarge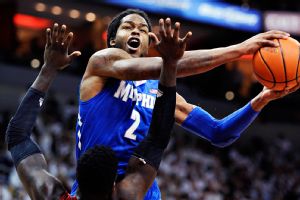 Jamie Rhodes/USA TODAY SportsShaq Goodwin and Memphis were determined to attack the rim against Louisville and it paid off as the Tigers upset the Cardinals.
"It's a big win for the University of Memphis, because since I've been here, we haven't beaten 'em," senior guard
Joe Jackson
said. "We always had a chance, but we let it slip away."
Not on this night, even after Louisville went up 64-59 after a
Montrezl Harrell
dunk with 3 minutes, 50 seconds left. Memphis needed only 37 seconds to tie the game back up, and it would score the final seven points of the game.
Rather than hoist up quick 3-pointers after falling behind, Pastner's team stuck to the game plan, which was to attack the rim and pierce Louisville's soft interior. It was a lesson learned painfully last Saturday against Cincinnati, when the Tigers lost 69-53 -- their worst conference defeat in 15 years -- while settling for jumpers and going 2-for-17 from the 3-point line.
Their final 19 points on Thursday night all came on layups, dunks and free throws.
"That's all we talk about -- going downhill, driving the ball and attacking the rim," said Jackson, who scored 15 points. "That's basically the best part of the game. You don't win by taking jump shots; you win from attacking the basket and finishing and making a free throw."
The Tigers said they developed poise and toughness earlier this season in the Old Spice Classic in Orlando, Fla., where they fought back from a deficit to beat LSU and then defeated Oklahoma State in a rematch from a loss 12 days earlier. They also took Florida to the wire before falling by two last month in the Jimmy V Classic.
"That shows how this team can face adversity," forward
Shaq Goodwin
said. "We had a couple of battle-tested games, and we ended up coming out with wins."
If only Louisville could say the same thing. The Cardinals' lofty ranking was once again exposed as fool's gold based on their feasting on inferior competition; they entered the night with the No. 269 schedule by strength in the country, according to Ken Pomeroy. In their only tests this season against ranked opponents -- versus North Carolina and at Kentucky -- they lost each decisively. Since Memphis is the only other American Athletic team currently ranked, Thursday night offered Rick Pitino's team one of its few remaining chances for a quality win.
Yet even with 2013 Final Four MVP
Luke Hancock
finally getting untracked -- he scored 20 points for the first time since the title-game win over Michigan last April -- the Cardinals suffered the same problems that have plagued them in big games this season.
Other than a solid performance from Harrell, who scored 12 of his 14 points in the second half, the Louisville frontcourt contributed almost nothing. Memphis held a 42-34 advantage in the paint, and its guards made better decisions and more plays down the stretch than the Cardinals' backcourt of
Russ Smith
and
Chris Jones
, the latter of whom bricked through a 1-of-9 shooting night against his hometown team.
Most tellingly, the Tigers shot 50.9 percent from the field against a team that has long prided itself on defense under Pitino.
"We got confused a couple of times with the game on the line with what defense we were in," Pitino said. "We didn't get confused one time last year. I don't know what's so difficult about it. We only played two."
Pitino, whose team fell to 2-1 early on in American Athletic play, later added that "this is a much tougher league than all of us anticipated." Memphis, which will host Louisville on March 1, aims to make sure that is true.
"We made a statement tonight," senior guard
Geron Johnson
said, "but we're going to see those guys who knows how many more times. A guaranteed one more time, and then maybe in the conference tournament. So, it's not over."
These two old rivals still have one heated more conference race between them.
June, 5, 2013
6/05/13
5:00
AM ET
1. Memphis coach Josh Pastner had former Missouri guard Michael Dixon on campus Tuesday for a face-to-face visit. Dixon's case is complicated, as ESPN.com's
Jason King reported
, and there is plenty he must do to become eligible. There are a few issues at play here for Pastner. One of the downsides of social media is that Dixon's arrival was well-chronicled, and his supposed commitment put out for the world to see before it was actually done. Pastner had no time to make a decision before it was presumed to have been made for him. Now, suddenly, his timeline is pushed up because of the assumption that a commitment has been accepted, whether or not an offer was extended. Pastner doesn't need to take second-chance players. He did once with
Geron Johnson
and it worked out. And while there is no guarantee that newcomers
Kuran Iverson
and
Rashawn Powell
will be eligible, according to a source, it's also unknown whether Dixon will be, either. Pastner has done a fantastic job under the shadow of John Calipari and has the Tigers ready to move to the American Athletic Conference next season on an upward trajectory. He was investigating Dixon on his own, but the visit got exposed before any firm decision was made. Now Pastner has to make a public choice of whether to waste his time on taking a player who is searching for an opportunity that not every program may be willing to give him for one year.
2. The U.S. World University Games team will have its hands full with Canada during the competition, set for July 6-17 in Kazan, Russia. The Canadian roster, released Tuesday, isn't as loaded but boasts plenty of major-college talent. Boston College's
Olivier Hanlan
, the ACC freshman of the year, is joined by headline players
Kyle Wiltjer
(Kentucky),
Kevin Pangos
(Gonzaga),
Dwight Powell
(Stanford),
Brady Heslip
(Baylor),
Melvin Ejim
(Iowa State),
Laurent Rivard
(Harvard) and
Jordan Bachynski
(Arizona State). Each of these Canadians will have a significant role on his respective team, with all of them starting the season in position to make a run at an NCAA bid. Ejim may be the most intriguing of the lot, with a real shot to be even more of a breakout player in the Big 12. Pangos will have more scoring next season. Powell led the Cardinal last season. Rivard will be a fixture on a stacked Crimson. Wiltjer has to adjust his role with the newcomers at Kentucky but can still be a matchup problem. Heslip must be more consistent. Bachynski has to absorb some of
Carrick Felix
's numbers after his departure. And Hanlan will be responsible for leading the Eagles higher in the ACC.
3. Iowa State coach Fred Hoiberg has taken plenty of transfers his first few years in Ames. He has had success stories mixed in with quality newcomers. I'll be very interested to see if he can maximize the talent of
DeAndre Kane
, who was a disappointment for Marshall after starting last season with such promise. Kane was essentially asked to leave Marshall by coach Tom Herrion; they weren't going to mesh for one more season. Now Kane has to be in step with Hoiberg if his final year in college is going to be productive. Kane originally was looking to go to Pitt, but that didn't work out, either. He pursued Iowa State and the Cyclones were receptive. It's in everyone's best interest that this works for next season so the Cyclones can be relevant come March for a third consecutive season.
August, 31, 2012
8/31/12
4:20
PM ET
How good is Geron Johnson? I don't know. Beyond
a cursory YouTube search in advance of this post
, I've never seen Johnson play. But his talent clearly exists, and it must be significant. It has to be. Otherwise, given Johnson's history, the risk Memphis coach Josh Pastner is taking on Johnson could very well end up seeming reckless.

On Thursday, Johnson learned that he would indeed be enrolled at Memphis after months of questions about his potential eligibility and worries about the mistakes Johnson has made in his hoops career to date. On Thursday,
CBS's Gary Parrish offered a nice summary therein
:
Johnson is a heralded combo guard from Dayton whose natural talent is only overshadowed by the amount of off-the-court problems he's experienced since becoming an elite recruit. He was arrested for attempted burglary during high school and was an academic non-qualifier upon graduation. He then enrolled at Chipola College in Florida as a freshman but was ultimately dismissed from that team after a marijuana arrest. He then enrolled at Garden City College in Kansas as a sophomore but was also dismissed from that team and school after multiple legal problems, among them allegations that he stole another student's cell phone.
But wait, there's more: When Johnson was dismissed from Garden City College in February, his coach, Kris Baumann,
told the Memphis Commercial-Appeal the following
:
"Like I said (when Johnson committed to Memphis two weeks ago), we didn't have any problems with him at all (before the theft of property citation), and then it just went on a landslide. It was one thing after another on a daily basis. It was just a decision that finally enough was enough.

"I kind of feel bad for them (Memphis) because they did everything they were supposed to do, and the kid these last two weeks hasn't been able to keep his nose clean."
At the time, it seemed difficult to believe Johnson would ever enroll at Memphis. He had been dismissed from two junior colleges in two straight seasons, to say nothing of his high school history of legal and academic issues. Getting caught smoking weed is one thing. Being accused of burglary and theft of a student's cell phone
on top
of a marijuana arrest -- that's the kind of checkered past that will cause most college coaches to stay far away. Who needs the headache?
Pastner certainly doesn't. He may need Johnson's scoring -- his sheer ability to put the ball in the basket is his best quality, and one the Tigers could use after the loss of wing Will Barton -- but Pastner already has a good mix of experienced players and future NBA talent on his squad. He's hardly hurting for personnel. Why take the risk?
Perhaps Pastner sees something in Johnson that others haven't. Maybe he just wants to give the kid a chance. Or maybe Johnson's just so talented that Pastner couldn't resist giving him one last chance. Whatever the reasons,
this qualifies as a major gamble
, and every conceivable outcome is now officially on the table.