College Basketball Nation:

Gerry McNamara
December, 4, 2013
12/04/13
2:01
AM ET
SYRACUSE, N.Y. -- Watching
Trevor Cooney
, it's hard not to think of a certain other Irishman in Orange. Elementary schoolers sang odes on Gerry McNamara's last game at Syracuse while fans openly wept, so Cooney has a few miles to go before he matches his assistant coach in Syracuse lore.
A few more nights like Tuesday, though, and the fans back in his Delaware hometown might want to start reserving the Greyhounds for his last night at the Dome just like the folks in Scranton did for McNamara.
It wasn't just the five made 3-pointers. They were nice, especially the big one he hit early in the second half to start what would be a methodical march to an
easy 69-52 victory against Indiana
in the Orange's first Big Ten/ACC Challenge.
No, like McNamara, what endears Cooney to the crowd is how he plays. He looks more like the kid you'd pick last for dodgeball. Aside from the coaching staff, no one on the Syracuse bench has less hair on their heads than Cooney. He's sort of pasty and scruffy and, in an interview, is polite and unassuming, with not even a hint of bravado.
Looks, they truly are deceiving, because Cooney flat out can play. He is not some arc-camping diva but rather a gritty baller who swiped four steals to go with his 21 points and wrote the first part of what might be his McNamara-esque epic with 9:19 left in the game.
Syracuse led by a comfortable 17 points when Cooney swiped the ball from
Jeremy Hollowell
. He barreled toward the basket for a layup but was hit hard from behind by
Austin Etherington
. Cooney crashed into the stanchion, while the Dome fans went bananas.
While the officials went to review the play -- they'd eventually assess Etherington with a flagrant-2 and eject him -- an initially woozy Cooney huddled up his teammates while the students chanted, "Tre-vor Coo-ney."
[+] Enlarge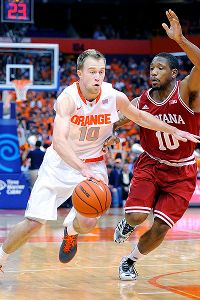 Rich Barnes/Getty ImagesTrevor Cooney drives against Evan Gordon in Syracuse's win.
"That's my little brother," McNamara said. "He's worked so hard, and done so much, it's impossible not to root for him. I've never seen anyone work as hard as he did. I knew when his time came, he'd be a success."
The time didn't come right away for Cooney, as so often is the case here. Immediate gratification is rare at Syracuse, where coach Jim Boeheim still prefers the old-fashioned method of teaching and growing players into their roles.
That was Cooney, who redshirted his freshman season. Instead of looking at it as a year off, though, he made it a year on. Full on. His workouts were "grueling," McNamara said, complete with before-practice Dome stair runs, endless hours in the weight room and even more in the gym. Cooney said it was easy because he wasn't playing, but even McNamara, no slacker himself, was awed.
Even after that redshirt season, Cooney waited some more. Last season, Cooney came off the bench behind an all-star roster that included Michael Carter-Williams and Brandon Triche. He averaged just 11.2 minutes a game and when he did get his chance, his shots didn't always go in. Cooney shot only 26 percent from the arc.
"Coming in here, I knew it would be a process," Cooney said. "I decided to treat it like a journey. I just knew if I kept working, one day it would come."
And now finally, this season, the day has come. He's shooting 26-of-55 from the arc (47.2 percent), and he and teammate
Tyler Ennis
are playing as well as any backcourt in the country, making the transition from Carter-Williams and Triche much more seamless than anyone could imagine.
But that's always the way it is for Boeheim. If there is a better coach at fitting the square pegs into his square holes, I'm not sure who it is. Boeheim doesn't just find the best players; he finds the best players that fit his needs. His is not so much a system as it is a well-oiled machine.
It's why year after year, player after player, Syracuse is still good. Look at this team and you can see the parts working together: the shooter (Cooney), the savvy point guard (Tyler Ennis), the scorer (
C.J. Fair
), the bigs who won't kill you but will do what they need to do (
DaJuan Coleman
,
Baye Keita
and
Rakeem Christmas
). Mix in the confounding zone and it all makes sense.
"We all know this system," McNamara said. "We know how to find the fillers and the guys that we need. We know every play. We know the zone. We know exactly who fits."
It's dangerous, of course, to make any grand presumptions about a team in December. In Indiana's case, it would be downright unfair. The Hoosiers are incredibly young and it's an awful lot to ask a team full of freshmen to come into an atmosphere like this one -- 26,414 on a random Tuesday night in December -- against a defense like that one and play well.
Could they have played better? Yes. Syracuse's zone is now officially Indiana's kryptonite. The Hoosiers looked as puzzled and confused here as they did nine months ago in the Sweet 16, which is a bit surprising. Theoretically, they've watched game tape since.
Still, this by no means sends Indiana into the trash heap.
And bold proclamations about Syracuse are equally dangerous but I'm still willing to make one: The Orange are very good, maybe even best team in the ACC good. At the very least, circle the dates of Feb. 1 (Duke at Syracuse) and Feb. 22 (the Orange in Durham) good.
We've gotten this far and haven't even mentioned Fair much. The leading scorer of a year ago is again at the top of the statistics. He's more than capable of taking over a game, but he doesn't have to. The Orange have four players averaging double figures.
Including the guy sitting right behind Fair in the scoring column: Trevor Cooney, Gerry McNamara in training.
March, 17, 2013
3/17/13
1:44
AM ET
NEW YORK -- When the final horn sounded -- when the comeback was complete, when the championship was secured --
Russ Smith
made a beeline for the TV camera, wagging his right index finger in front of his face.
New Yorkers like the spotlight, and Smith is no exception.
The spotlight couldn't have been brighter at Madison Square Garden this week, particularly Saturday night, as we all said goodbye to the Big East conference as we know it.
It was only fitting that two New York City kids were among the brightest stars on the stage.
Smith had scored a combined 48 points in Louisville's quarterfinal and semifinal victories over Villanova and Notre Dame, respectively.
[+] Enlarge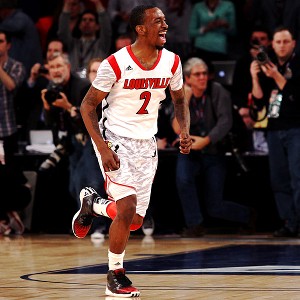 Chris Chambers/Getty ImagesRuss Smith scored 10 points on 2-of-8 shooting but left with a second straight tourney title.
James Southerland
had poured in 53 in the three wins that landed Syracuse in the championship game.
An undersized two-guard from Brooklyn and an oversized three-man from Queens, Smith and Southerland figured to play prominent roles in the tournament finale.
And they did.
Southerland struck first -- and made history in the process. The 6-foot-8 senior with the smooth stroke from the perimeter drained his first 3-point attempt of the game, less than three minutes in, giving Syracuse an early 6-0 lead.
It was Southerland's 17th 3-ball of the week, breaking the record held by former Syracuse guard and current assistant coach Gerry McNamara, as well as former Connecticut guard Albert Mouring.
Southerland hit another one from deep before halftime, and his third triple of the game gave Syracuse its largest lead, 45-29, with 15:51 remaining. He appeared to be on his way to garnering tournament MVP honors.
Seventeen seconds later, he headed to the bench with his fourth foul, and everything changed.
Smith, on the other hand, was practically invisible in the first half. The 6-foot dynamo shot 0-for-4 from the field, collecting just two points from the foul line. But you figured he'd find a way to get involved in the second half.
It didn't take long. He connected on his first attempt after intermission, from beyond the arc. And when Louisville scored 10 consecutive points following Southerland's fourth foul, Smith was involved as well, canning another trey.
The Cardinals eventually surged to the lead, thanks to their smothering full-court pressure. The Orange wilted, at both handling the ball and shooting free throws. The game, shockingly, turned into a rout in Louisville's favor.
Smith, who finished with 10 points, 3 assists and 3 rebounds, was emotional after the game. He has been playing all week in honor of former high school coach, the legendary Jack Curran, who passed away days earlier at age 82.
"It's been just a roller-coaster ride. Especially since the loss of a guy like that, it's had a tremendous effect on me," Smith said. "But wining this tournament cured a lot of the sadness I had, and I'm playing in his name."
Southerland, who finished with nine points and eight rebounds, lamented what might have been.
[+] Enlarge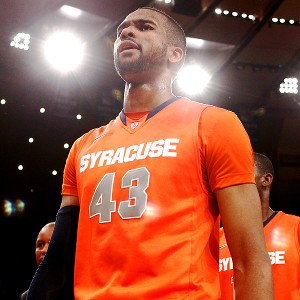 Chris Chambers/Getty ImagesJames Southerland had 9 points and 8 rebounds but also 4 turnovers in Syracuse's defeat.
"I just feel like we kind of made it -- we didn't make some smart plays at the end," Southerland said. "We didn't take advantage of our lead and move the ball around like we should have."
Louisville coach Rick Pitino was thrilled for Smith, and the rest of his team.
"I'm really excited for them that they can be part of basketball history," Pitino said. "I'm really happy that the basketball history took place at Madison Square Garden. And I'm really excited we could do it in (Big East founder) Dave Gavitt's memory, and now Jack Curran's for Russ Smith. It meant a lot for Russ to play well, and he certainly did."
This was the 34th Big East tournament, and the 31st played at Madison Square Garden. There will be a Big East, and a Big East tournament, next season -- but we all know it'll never be quite the same.
St. John's, the city's team, won the first Big East tourney played at the Garden, back in 1983. But the Red Storm haven't played in the championship game since 2000, and were eliminated from this tournament on the first full day.
Someone had to step up to represent the five boroughs.
In the end, two did the job.
The 2013 Big East tournament will be remembered for the classic Syracuse-Georgetown semifinal, and the stunning Louisville comeback in the title game.
But this New Yorker, raised on Big East basketball, will also never forget James Southerland and Russ Smith.
They might not be superstars. Far greater players have played on this stage.
But they were the final act. And they did their hometown proud.
March, 8, 2013
3/08/13
6:46
PM ET
With one of the great conference rivalries about to end, here's a look back at the top 10 games in Syracuse-Georgetown history. The two face off in their final regular-season Big East game Saturday (noon ET on ESPN).
1. "Manley Field House is officially closed" -- Feb. 12, 1980:
This is how a rivalry begins. Syracuse had won 57 straight games at home going into the final match at Manley Field House. But Georgetown put an end to that when Sleepy Floyd's free throws gave the Hoyas a 52-50 win.
Georgetown coach John Thompson rubbed salt in the wound with the famous line: "Manley Field House is officially closed."


2. Pearl's shot topples No. 1 -- Jan. 28, 1985:
Pearl Washington's jumper from the elbow with eight seconds left gave Syracuse its first-ever win against the AP No. 1. Syracuse won 65-63, and the Carrier Dome faithful rushed the court.
The game was also notable for an incident in which a fan threw an orange at the backboard with Patrick Ewing at the line. After Thompson pulled his team from the court, Jim Boeheim settled the crowd over the PA system. This was also the site of arguably the most famous elbow in ESPN history, as Tom Mees dealt with an unruly crowd.
3. Michael Graham's punch -- March 10, 1984:
Georgetown beat Syracuse in the Big East tournament title game in a heated, overtime battle. There was an altercation in the game as Georgetown's Graham allegedly took a swing at Syracuse's Andre Hawkins.
However, Graham was called only for a two-shot foul. "Michael Graham, in front of 19,000 people, punched my player," Boeheim said. "And the ref had the nerve to call it a two-shot foul." The Hoyas won 82-71 in overtime. After the game, an angry Boeheim exclaimed: "Today, the best team didn't win."
4. Syracuse's 10-point possession -- March 4, 1990:
Arguably the strangest game in the history of the rivalry. Thompson received three technical fouls in a row from three different referees, and he walked to the locker room heckled by 33,015 Syracuse fans. That resulted in a 10-point possession for Syracuse.
The Hoyas still led by two in the closing seconds when Sam Jefferson inexplicably fouled Billy Owens at half court. The foul sent the game into overtime, and Syracuse won 89-87 to capture the Big East regular-season crown.
5. Perry McDonald comes up big -- Jan. 31, 1987:
At just 6-foot-4, McDonald drew the assignment of guarding 6-foot-11 Rony Seikaly. Not only did McDonald score a career-high 23 points but his buzzer-beater in the paint gave Georgetown an 83-81 overtime win.
6. Johnson over Zo for the Big East title -- March 15, 1992:
Senior Dave Johnson broke a 54-54 tie with the clock winding down, lofting a 10-footer just over the fingertips of Alonzo Mourning with 3.8 seconds left. Syracuse had lost its first three Big East title games against Georgetown.
7. Charles Smith's coast-to-coast drive -- Jan. 24, 1988:
After Sherman Douglas put Syracuse ahead by one with seven seconds left, Smith took the ball the length of the court and scooped a layup under Seikaly. Georgetown won 68-67, silencing a crowd of 32,419 in the Carrier Dome.
8. "Gerry Mac Drops One on G'Town" -- Feb. 21, 2004:
With three defenders converging on him, Gerry McNamara knocked down a 3-pointer to beat the buzzer and give Syracuse a 57-54 win in Washington, D.C.
9. Ewing takes a swing at Pearl -- March 8, 1985:
It could have been much worse. Early in the first half, Washington gave Ewing an elbow to the ribs. Ewing tried to retaliate, barely missing Washington with a wild punch. The benches emptied, and both players were restrained. Georgetown went on to win 74-65 to advance to the Big East title game.
10. Otto silences Otto's Army -- Feb. 23, 2013:
Otto Porter Jr.
silenced the largest on-campus crowd in college basketball history (35,012). He scored a career-high 33 points in Georgetown's final trip to the Carrier Dome as Big East rivals. The Hoyas won 57-46, holding Syracuse to its second-lowest total in the Carrier Dome.
August, 1, 2012
8/01/12
5:00
AM ET
1.
Keith Clanton
will be the most coveted men's basketball transfer if he wants to leave Central Florida in time for the fall semester after the NCAA handed down a postseason ban for 2013. The senior power forward is a legit, highly-skilled power player who would immediately help a team make an NCAA tournament run. If Clanton were to leave, a number of sources assume (maybe wrongly) that he would stay in state. Florida sounds like a natural fit, but would Gators coach Billy Donovan take a player off his former assistant's team and crush Donnie Jones' chances of at least being a contender for a regular-season C-USA title? Florida State sounds good, too. But the school that would make the most sense is South Florida. The Bulls recruited Clanton hard out of Orlando Christian Prep. The Bulls made the NCAA tournament last season, beating Cal in the First Four in Dayton, then Temple before losing to upstart Ohio in the third round in Nashville. USF has one of the top guards in the Big East in
Anthony Collins
. Coach Stan Heath has a power player in
Toarlyn Fitzpatrick
and a small forward in
Victor Rudd Jr.
But the depth upfront is lacking and the Bulls definitely have a scholarship available. Clanton would come in and immediately bolster this unit and give it a reliable scoring pop for an offensively challenged crew. Heath has depth at guard with
Shaun Noriega
and
Jawanza Poland
along with JC transfer Javontae Hawkins. But if the Bulls could land Clanton then he would be a game changer for USF in the Big East. Oh, and the Bulls -- in anticipation of UCF joining the Big East in 2013 -- scheduled an in-season home-and-home with UCF, including the season opener Nov. 10 at the Bulls' renovated new Sun Dome.
2. The strength of the Duke and Syracuse staffs was on display last week at ESPN's Wide of World Sports Complex in Lake Buena Vista, Fla., at an AAU tournament. Seeing Syracuse's Gerry McNamara and Duke's Jeff Capel, a former head coach at Oklahoma, was yet another reminder how the Olympic commitment for Duke's Mike Krzyzewski and Syracuse's Jim Boeheim has no negative impact on recruiting. Both schools continued to get top commitments during their Olympic coaching experience, and when they're gone they have recognizable faces on the road representing them and their schools.
3. Georgia State left Tuesday for South Africa as coach Ron Hunter embarked on delivering shoes to impoverished children on behalf of Samaritan's Feet. Hunter is making his sixth trip and his first with Georgia State after five sojourns with his former school, IUPUI. A number of schools are going on foreign trips next month to play games. Georgia State isn't picking up a basketball. The 10-day trip is all about doing what is good, pure and right. Once again, Hunter deserves praise for acting instead of reacting, actually doing rather than pontificating, and being hands on with a tangible deed in lieu of simply sending financial assistance.
March, 9, 2012
3/09/12
11:27
PM ET
NEW YORK – The dialogue and the punches have been dissected now to almost every syllable and twitch. Everyone knows exactly what happened in the Dec. 10 brawl between Cincinnati and Xavier, knows every inappropriate word, every horrible action.
What everyone forgets: Xavier was right about one thing.
Remember, it all started because the Musketeers belittled the Bearcats for their lack of toughness, and while Cincinnati might have showed its street grit in the late-game melee, it showed its lack of basketball fortitude in the 23-point loss.
"We were soft,'' Cincinnati coach Mick Cronin said. "We were soft early.''
In perhaps the strangest and most ironic twist in this twisted basketball season, on the same day the Bearcats were criticized for being too hard and played too soft, Cincinnati found the perfect medium.
The Bearcats grew up after that game and grew into a team that has gone from losing to Presbyterian at home to beating Syracuse in the Big East tournament semifinal,
71-68
.
It is nothing less than an astounding turnaround, a morality play lived large on the hardwood.
Plenty of people wrote Cincinnati off early; plenty more were disgusted with the Bearcats after the brawl.
And now? Now they're winning converts by the day.
[+] Enlarge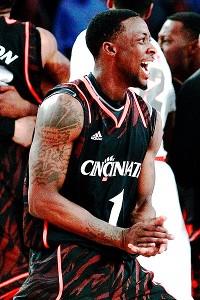 AP Photo/Frank Franklin IICashmere Wright celebrates after Cincinnati upended Big East top seed Syracuse.
Cincinnati did not beat Syracuse because it hit 8 of 10 3-pointers in the first half, though that certainly helped.
The Bearcats won because they outplayed a team that had but one stain on their résumé.
"Where we come from, we play to win,'' Cronin said. "We're not in it for the old college try. When this tournament starts next week, we're quietly going to try and win it. We don't let people outside our locker room define who we are as people or as a team. We try to define ourselves and make sure we're giving our best effort. That's what greatness is.''
Syracuse defined the word for the entirety of this Big East season, rolling through the regular season with just one loss, and that with an asterisk, as the Orange played without
Fab Melo
.
Syracuse came to Madison Square Garden with its orange army, expecting a coronation.
Instead, the Orange head back home empty-handed.
There is no way to sugarcoat it. Syracuse did not play well. A team that rarely turns the ball over coughed it up 15 times, stymied surprisingly by Cincinnati's zone.
Seniors
Kris Joseph
and
Scoop Jardine
were ineffective, their zone even less so.
The Bearcats meticulously and carefully broke it down, dishing out 17 assists on 25 made baskets. Only a last-minute dash thanks to a full-court press even made this game close.
Instead of their first Big East crown since assistant coach Gerry McNamara's epic run to the title, the Orange leave digging for a silver lining, insisting they will learn more from the loss than maybe all of their 31 wins combined.
"Look, we want to win the Big East, we want to win every game we play in,'' Jardine said. "But we could have won the Big East and lost next week and everyone would have forgotten about it. If we lose in the NCAA tournament, nobody would remember if we had won the Big East tournament. That's the truth.''
Of course if you're in the Big East tournament, you view its worth a little differently and the Bearcats are salivating at the chance to claim their first league title of any kind since 2004, when they were Conference USA champs.
"I remember when I came here, I just thought how much I'd love to have a chance to play in that championship game,''
Yancy Gates
said.
Gates, the principal offender in that brawl with Xavier, arrived on campus in the lean years, and though he helped take the Bearcats back to the NCAA tournament a year ago, his senior season appeared headed for disaster.
Before the fight, he was as tentative as his teammates. Cronin would walk into practice and Gates would groan, knowing what was coming.
"I'd be like, 'Man, I wish he'd just stay home or let one of his assistants run practice,''' Gates said.
That's because Cronin was trying to conjure up something that only the Bearcats could find in themselves -- how to be tough. It took a toll on everybody. The players were demoralized, Cronin exhausted.
"This hasn't been an easy year coaching,'' Cronin said. "I'd tell them, 'C'mon guys, I can't do this every day. I want to go home and spend time with my daughter.' They didn't believe in themselves.''
And then somewhere after Xavier called them out, humiliated them on the court, and their coach called them out in a postgame press conference, things changed.
The Bearcats won 10 of their next 11 and came to New York having won seven of their final nine.
Against Syracuse, UC sprinted out to a stunning 17-point lead, the Big East leader in 3-pointers made putting on nothing less than a shooting clinic early.
In between the horrible day in early December and this week, the narrative on Cincinnati has changed entirely. After its double-overtime win against Georgetown, a comeback from 11 points down, the Bearcats were lauded for their pluck, grit and yes, their character.
"We heard people saying all of that about us on television,'' Gates said. "That's the kind of team we've become.''