College Basketball Nation:

Gilbert Brown
March, 19, 2011
3/19/11
9:38
PM ET
WASHINGTON, D.C. -- A quick look at Butler's wild
71-70 win
over Pittsburgh.


Overview:
Absolutely top-shelf basketball in this game, with two experienced and intelligent teams leaving it all on the floor. Sadly it ended in controversy, with two fouls called in the final two seconds.
Turning point:
Gilbert Brown
missed the second of two free throws and just when the game appeared headed to overtime, Petty instead signaled foul with 0.8 on the clock.
Matt Howard
went to the line and hit one to win it.
Key player:
Shelvin Mack
and Brown both need to be mentioned. It was like they were playing H-O-R-S-E. Mack finished with 30 on 10-of-16 shooting (7-of-12 from 3) and Brown with 23 on 8-of-11, 4-of-5 from the beyond the arc. Neither senior wanted to lose.
Key stat:
Butler drained 12 3-pointers to Pittsburgh's six. Long-range shooting kept Butler in the game.
Miscellaneous:
This game didn't play exactly the way as advertised. It was brutal and physical but both teams shot much better than anticipated. How about Pitt shooting 56 percent from the field and 50 percent from 3 and
losing
? … What
Ronald Nored
does for Butler will never show up adequately in the boxscore. The point guard never looks to score but instead runs his offense flawlessly. Nored finished with three assists, but he's the kind of guy you need to give out hockey assists.
What's next:
Cinderella lives again as Butler advances to the Sweet 16 against the winner of the Kansas State-Wisconsin game in New Orleans. The Panthers' run of bad luck in March ends in the worst possible and most painful way.
February, 27, 2011
2/27/11
7:49
PM ET
LOUISVILLE, Ky. -- Overachievement has been a group effort this season at Louisville.
There have been contributions from everyone, and I do mean everyone. That includes a male cheerleader who got into the act Sunday against No. 6 Pittsburgh.
With near-infamous results.
When
Kyle Kuric
got loose for a late dunk that made the score 62-57, cheerleader Jordan Alcazar was so thrilled that he bounded onto the court, grabbed the basketball and threw it toward the ceiling of a delirious KFC Yum! Center.
Just one problem: there was still half a second to play in overtime, so that was a technical foul on Alcazar for imitating Steve Bartman. After making the two technical free throws, Pitt had a final heave from near midcourt at a tie.
It barely missed,
Louisville won 62-59
, and Alcazar's life was spared.
The first comment from Cardinals coach Rick Pitino after the game: "All good things have to come to an end, and the male cheerleader has come to an end."
[+] Enlarge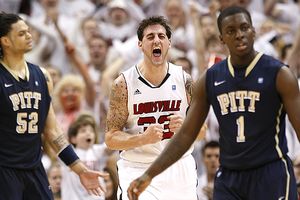 AP Photo/Ed ReinkeWith his career likely over, Louisville's Mike Marra appears to be handling his situation with maturity.
One good thing that won't end anytime soon is this remarkable Louisville season. Neither low expectations nor brutal conference competition nor a plague of injuries nor a trespassing cheerleader has derailed the surprising 22-7 Cardinals, who are close to clinching a double-bye in the Lollapalooza of a Big East tournament.
Pitino himself said he thought this would be "a .500 team," and that was before Louisville began living in the training room. Ten players have missed at least one game with an injury, and only two (
Peyton Siva
and
Chris Smith
) have answered the bell all 29 times.
The only returning starter from last season, forward
Jared Swopshire
, has missed all season with a groin injury that required surgery. Center
Gorgui Dieng
missed six games with a concussion. Forward
Rakeem Buckles
has missed 13 games with a broken finger, then sprained his knee Sunday against Pitt.
Louisville has played through it all, and won through it all. In a league where two-game losing streaks can happen to the best of teams, it hasn't happened to the cohesive Cardinals all season.
Nobody is touting a single Louisville player for first-team all-Big East honors. Nobody is averaging 15 points or playing more than 30 minutes per game. But by sheer collective will, they're 11-5 and tied for third in America's toughest league.
"No ego, no anything," explained senior guard and leading scorer
Preston Knowles
. "I think it starts from the head down. The coaches are doing a great job getting us prepared, I'm doing a great job of leading this team, and everyone is buying in."
Part of Knowles' leadership was telling his teammates earlier in the year that he didn't want to see them scrutinizing the stat sheet in the locker room after the game. The only stat he wanted anyone focusing on was the team record.
Knowles embodied that philosophy Sunday. His biggest play in overtime was nowhere to be found on the stat sheet.
Sixty-five seconds into a scoreless overtime, Knowles positioned himself on the right wing, caught Kuric's eye and mouthed, "Fade." Kuric raised his eyebrows in silent acknowledgement.
This was a play Knowles himself devised earlier this season, to be used specifically when Kuric -- his roommate on the road -- is in the game at the power forward spot. And Kuric was at that point.
In fact, Kuric spent most of the afternoon playing the 4 -- a daunting assignment for a 6-foot-4 wing player against a rugged Pitt team that ranks second in the nation in rebounding margin. But Kuric battled his way to seven rebounds, an effort Pitino described as "awesome," and exploited the mismatch at the offensive end on this key possession.
Knowles positioned himself in front of Kuric's defender to set a screen on the wing. Kuric popped free and took a pass from Siva. He drained the open 3-point shot for a 59-56 lead, and the Cardinals controlled the game the rest of the way.
"That's why I love Kyle Kuric playing the 4," Knowles chirped.
[+] Enlarge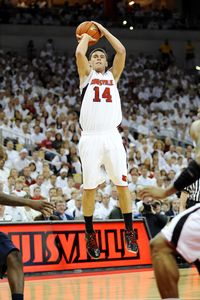 Jamie Rhodes/US PresswireKyle Kuric nailed two crucial buckets in overtime.
Kuric himself is less fond of it in games like this, when he's giving away several inches and plenty of pounds. But that's been what Louisville has thrived on this season -- someone stepping up to do whatever it takes.
"You've just got to come up with the ball," Kuric said.
The Cards came up with the ball just often enough Sunday. They battled the Panthers to a near-draw on the boards (39 for Pitt, 38 for Louisville). They gouged out 16 turnovers while committing only nine. And they defended tenaciously enough to win despite shooting just 34 percent themselves, 27 percent from the 3-point line.
Louisville's matchup zone defense will be difficult to decipher for every March opponent. It's been especially sticky in the Cardinals' past three games.
Connecticut is a 47 percent 2-point shooting team, but shot 36 percent from that range in the Yum! Center. Rutgers shoots 44 percent from the floor, but made just 29 percent of its shots against Louisville at home. And Pitt was held six percentage points beneath its season average in this game.
"We're trying to get totally into the mentality of thinking defense every single time down the floor," Pitino said.
Despite that defense, Pitt's
Brad Wanamaker
nearly willed the Panthers to victory. The most valuable Panther (13 points, 12 rebounds, 6 assists, 3 steals) made two clutch jump shots in the final minute to force overtime.
"I thought hands down he was their best player," Knowles said. "[Ashton] Gibbs gets the publicity, but he makes them go."
But Wanamaker made a curious decision at the end of OT that helped swing the game to Louisville once and for all. Trailing by three in the final seconds, he rose for a 3 at the top of the key but inexplicably passed it inside to
Gilbert Brown
, who blew a layup with seven seconds left.
"We can't get a better look than that," said Pitt coach Jamie Dixon.
Simple arithmetic suggests that Pitt could have gotten a whole lot better look than that. But that wasn't the only eyebrow-raising commentary from the Panthers after this game.
There was this from Ashton Gibbs' Twitter feed: "No way we shouldve lost to them bums smh [shaking my head]."
Interesting take, considering the Panthers didn't lead them bums at any point over the final 38 minutes of play. And they only had a chance for double OT because of a near-epic cheerleader trespassing.
Pitino called Alcazar about an hour after the game and, with magnanimity afforded by victory, told him not to worry about his brush with infamy.
It's been a cast-of-thousands success story for Louisville this season -- but they'll decline any additional help from the cheerleaders from now on.
January, 18, 2011
1/18/11
12:35
AM ET
By
Dana O'Neil, ESPN.com
| ESPN.com
PITTSBURGH -- The Legendary Blue Horizon, home to some of boxing's richest history, sits just a few blocks north on Broad Street from
Brad Wanamaker
's Roman Catholic high school.
So when the Philadelphia native was looking for a way to explain the Big East, and, better yet, to explain who wins the Big East, Wanamaker went with an analogy he and his Brotherly Love natives know well.
"In this conference, it's not just about throwing the first punch,'' the Pittsburgh senior said. "It's about how you respond. You survive in this league. Survival of the fittest.''
You remember Pittsburgh, right? The team picked to win the Big East in the preseason? The one on most everyone's Final Four short list back in October?
The one that promptly fell off the radar after an inexplicable loss to a Tennessee team that used said victory to go on a losing rampage and further discredit Pitt for the loss?
[+] Enlarge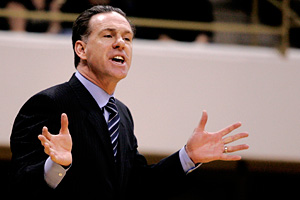 Justin K. Aller/Getty ImagesJamie Dixon directed his Panthers to an early 19-0 lead against No. 3 Syracuse.
Yes, well, the Panthers would like to offer a little bit of a memory jolt: they didn't go anywhere.
And as the Big East gets churning into the meat of things, Pittsburgh has three things going for it: the Panthers are healthy, they are deep and they are talented, a simple formula that works like a Molotov cocktail in this Darwinian league.
With its
74-66 win
over a depleted Syracuse team (the Orange were without leading scorer
Kris Joseph
, and going into the Oakland Zoo without your leading scorer is like going to Las Vegas with an empty wallet), Pittsburgh is 6-0 in the Big East for the first time in school history.
"Since the Tennessee game … we've been on a mission to just prove to everybody and ourselves what type of team we are and what we're capable of,''
Gilbert Brown
said. "I don't think people necessarily forgot about us. They may have doubted us a little bit.''
But the Panthers are out to do more than silence their critics. For all the success Pittsburgh has enjoyed over the past 10 years -- nine consecutive NCAA tournament appearances, a 263-66 record in the Big East, nine 20-win seasons in a row -- there is one glaring hole in the Panthers' résumé .
Pitt has yet to cross the threshold to the Final Four Promised Land. The Panthers have been close -- a Scottie Reynolds coast-to-coast buzzer-beater close -- but they have yet to achieve the ultimate basketball measuring stick.
Is this team capable of doing it?
Dixon won't bite on that, but he does offer this assessment, one that ought to frighten opponents:
"We're improving,'' he said. "We're getting tougher. Confidence is part of toughness and we're gaining confidence.''
This game will only serve to up the needle on the confidence meter.
Pittsburgh dropped a hoops haymaker on the Orange to start, rolling to a stunning 19-0 lead in the first seven minutes.
That can happen against, say, DePaul.
It doesn't happen against the No. 3 team in the country, a team without a loss on its schedule.
[+] Enlarge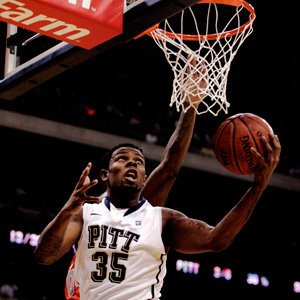 Justin K. Aller/Getty ImagesNasir Robinson scored eight of Pitt's first nine points and finished with 21 points in a win against previously unbeaten Syracuse.
Of course neither does what happened next: Syracuse, which missed its first 10 shots, sank its next five and peeled off a 17-0 run of its own.
A goose egg for one team followed by a goose egg for the other? Go figure.
"We just did not do anything well at the beginning,'' Jim Boeheim said. "We regrouped. I thought we played well the rest of the first half once we got over that start. We made as good a comeback as you're probably going to make.''
Indeed the Orange leave Pittsburgh with little to hang their heads about. This is the place where top-5 teams come to die -- Pitt is 9-0 against top-5 opponents since the Zoo opened nine years ago -- and Syracuse would have been hard pressed even if it could have had Carmelo Anthony in uniform.
Relying on freshmen
C.J. Fair
(16) and
James Southerland
(8) to make up for Joseph's points and experience will only help the Orange in the long run.
But like Wanamaker said, it's not about throwing the first punch.
It's about withstanding all of them.
The Panthers picked and prodded the Syracuse zone, letting
Nasir Robinson
destroy it from the inside out. He put himself in the heart of the zone, taking feeds from up top and then either passing back to his shooters or scoring himself.
Robinson finished with 21.
"Coach preached to me all week to get catches in the middle so that we could work out of that to our perimeter shooters,'' said Robinson, who helped the Panthers shoot 40 percent from beyond the arc against a team that ranks in the top 10 in 3-point defense. "The key thing in zones is getting inside touches.''
The only real disappointment in this game is that the two teams won't meet again in the regular season with, presumably, Joseph in the lineup.
The unbalanced Big East schedule doesn't offer up a rematch at the Carrier Dome.
If these two heavyweights are to meet again, it will have to be in New York, during the Big East tournament.
"I'd love to play them again,'' Wanamaker said. "They're a great team and playing at their place is like playing here. I'm sure people probably will say this has an asterisk because he didn't play. Let them put an asterisk next to it. We don't care. We're used to people doubting us.''
Sounds like a fighter.
November, 8, 2010
11/08/10
11:33
PM ET
PITTSBURGH -- Pitt coach Jamie Dixon and his staff were analyzing the game tape, rewinding missed layups, failed 3-point closeouts, and looking for warts to clean up.
The Steelers were playing the Bengals on Monday Night Football and while the rest of the city's sports fans had probably moved on to the hometown football team, the coaching staff was stuck pausing the Panthers'
83-75
season-opening win over Rhode Island.
And there is a reason Dixon was in midseason postgame form. The Panthers are the Big East favorite, a Final Four contender and got pushed to its final few possessions against a fringe Atlantic 10 contender.
[+] Enlarge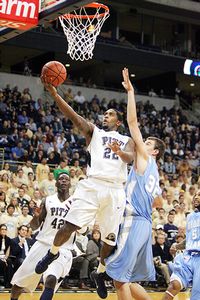 Charles LeClaire/US PresswireBrad Wanamaker led No. 4 Pitt with 24 points in a season-opening victory over Rhode Island.
Dixon did discuss how few teams would open with such a high-quality opponent and the reality is this game was just what he needed for his team on Nov. 8. Sure, there are other quality openers Friday like Syracuse hosting Northern Iowa, Georgetown going to Old Dominion and Seton Hall playing at Temple. But in tournaments like the 2K Sports Classic benefiting Coaches vs. Cancer, there are few first-round games as difficult as playing a pressing team like the Rams.
"There's a reason why teams don't want to play them, especially on Nov. 8, because of how well they play and how well they're coached,'' Dixon said. "It was a good win, a quality win.''
What Dixon discovered about his Panthers is that he has three quality closers in seniors
Gilbert Brown
and
Brad Wanamaker
and junior
Ashton Gibbs
. Gibbs and Wanamaker scored seven of the nine points in a 9-0 run that turned an eight-point deficit into a one-point lead heading into halftime.
Wanamaker got to the free throw line and converted on multiple trips in the final three minutes, as did Brown and Gibbs to close out the pesky Rams. Wanamaker finished with 24 points, Gibbs 22 and Brown 10, the only three players in double figures for the Panthers, something that will likely be common all season. The Final Four contender two seasons ago was interior-based with DeJuan Blair and Sam Young. This squad will be guard-oriented.
"We're always up for a challenge,'' Gibbs said. "That's what coach expects of us. Those are the type of players we recruit. We all need to keep taking on those challenges and playing hard and executing. It doesn't matter what we're ranked. We need to come out every game hungry.''
The Panthers were playing shorthanded with starting forward
Nasir Robinson
out with a right knee injury following a meniscus tear. Robinson said earlier Monday that he was hopeful he could return for the game against Maryland on Nov. 18 at Madison Square Garden. But that might be wishful thinking since he hasn't practiced yet.
In his place, Dixon discovered that he has a hidden gem in redshirt freshman
Talib Zanna
, who started for Robinson. Zanna was efficient in scoring nine points and grabbing 11 boards in 20 minutes.
"I came out and did what I do best, grabbed some rebounds for my team," Zanna said.
The more-heralded
Dante Taylor
was in foul trouble (three in 12 minutes) and
Gary McGhee
couldn't convert some putbacks and wasn't as much of a factor with four points and six boards. If the Panthers are going to be a serious player for a Final Four berth, then the post must develop prior to the Big East.
Dixon and the players agreed that this game felt more like February than November. The intensity and atmosphere at times rivaled a game from the middle of the season. As expected this early, the quality of play wasn't great and that's why Dixon and the staff were watching the game tape just minutes after the final buzzer. The Panthers don't have time to be idle, playing Illinois-Chicago in game No. 2 of the CVC on Wednesday before a game against North Florida on Saturday. Then it's off to New York for Maryland and either Texas or Illinois.
The heart of the Panthers' nonconference strength of schedule will include Rhode Island, the two games in New York and then Tennessee in the SEC/Big East Invitational in the new Consol Energy Center in downtown Pittsburgh. The Vols lost an exhibition game Monday night to Division II University of Indianapolis. Pitt better hope that Tennessee cures its preseason ills so that game will matter for power-rating purposes and a possible No. 1 seed come March, especially since the only nonconference road trip is to MSG.
But for now, Dixon and his group of players will breathe easy after avoiding an opening upset.
"We played a very good team, a team that presses two-and-a-half weeks into the season,'' Dixon said. "We took on the challenge and it'll be a quality win later on in the season.''
February, 21, 2010
2/21/10
2:27
PM ET
PITTSBURGH -- No surprise here. Pitt versus Villanova was feisty, scrappy, at times flat-out ugly and entertaining to the last minute. The
70-65 win
is a huge boon to the credibility and resume of a once-again soaring Pitt team that remains almost impossible to beat at home.
More to come in a column shortly but here are a few immediate reactions:
What makes this Pitt team so dangerous is that it doesn't have a superstar. Every player plays hard and every player can hurt you -- Gilbert Brown off the bench, Gary McGhee underneath, Ashton Gibbs and Jermaine Dixon from the backcourt. They play like all Pitt teams -- hard and gritty -- and will be a very tough out come tourney time.
Gary McGhee is one of most unsung players in the Big East. He plays yeoman's minutes in the post and does every little piece of work you need him to do. He had 10 critical rebounds against Villanova and hit 3 of 4 free throws.
Count Scottie Reynolds out at your own risk. The Villanova guard was all but swarmed by Jermaine Dixon but finished with 20 points and nearly scared the bejesus out of the Pitt crowd when he hit back to back 3s late in the second half.
Pitt now moves into a third-place tie with West Virginia and with a favorable four games to come -- at Notre Dame, at St. John's, home against Providence and Rutgers -- could easily sneak even higher into the final Big East standings. That's astounding for a team that lost so much and was picked ninth in the league.
The road, meantime, doesn't get easier for Villanova. The Cats have a home date this week against South Florida, then travel for the showdown in Syracuse, to desperate Cincinnati before finishing up with West Virginia at home. It's a tough finish for a very good team and could go one of two ways for the Cats: toughen them up for March or exhaust them. Will be interesting to see which way it goes.
January, 18, 2010
1/18/10
1:16
PM ET
The coaches' poll
did get something quite right at the top: The first seven teams are likely the seven that may win the national title.
Of course, there will be teams that can make a deep run in March and get a sniff of the Final Four with a magical Elite Eight run. But based on the current performances the first seven teams: Texas, Kentucky, Kansas, Villanova, Syracuse, Duke and Michigan State are playing well enough, have at least one to two stars, a system that is working and consistent, and a coach that has been there before in this situation to make a Final Four run.
A few other thoughts:
*Kansas State coach Frank Martin has done a tremendous job, overcoming a major slight when he received the nod after Bob Huggins left for West Virginia. For him to be No. 9 heading into Monday's home game against top-ranked Texas is quite remarkable.
*Pitt is No. 11. That's amazing in itself since the Panthers looked lost in December without
Gilbert Brown
and
Jermaine Dixon
. Once again, it's a credit to the Panthers' staff for racing out to a 5-0 start.
*Gonzaga is No. 10. The Zags have emerged as the best team in the West.
*BYU is No. 13 and you can make a strong argument for the Cougars to be No. 1 in the West, but having them as No. 2 is fine.
*Purdue dropping to No. 15 from six is about right since the Boilermakers have lost three straight and are about to take themselves out of the Big Ten race. But I would push them to 16 and put Ohio State ahead of them at No. 15 instead of No. 25. The Buckeyes are a Big Ten contender with
Evan Turner
back. Ohio State won at Purdue and beat Wisconsin last week.
*I have no issues with Tennessee currently at No. 8, although I don't think that will hold, West Virginia still at No. 12 and Clemson, Temple, Georgia Tech, Wisconsin and Butler 16-20, although with Ohio State in there that would push these back a slot.
*I don't get how Connecticut can still be ranked. The Huskies' best win is over Notre Dame. That's it. Yes, the Huskies look like a top 25 team for stretches of games, especially against Kentucky, Cincinnati and Georgetown. But they didn't win the games.
*Northern Iowa has shaken the coaches in the power six conferences to get noticed and found its way into the poll at No. 22. The Panthers haven't lost since, gulp, DePaul (it's only loss of the season) in a sun-burned moment at the Paradise Jam in the Virgin Islands in November.
*North Carolina is still ranked at No. 23. If you were to base this on how the Tar Heels are currently playing then they don't get ranked. But the Tar Heels still have wins over Ohio State (with Turner) and Michigan State at home. Lose one more in this streak and the Tar Heels won't be ranked next week.
*Ole Miss is ranked at No. 24. Mississippi State is not ranked. I'd have to switch these two. The Bulldogs have more nonconference losses out of the power six (Rider, Richmond, Western Kentucky) but the Bulldogs won at Ole Miss and is atop the SEC West without a blemish.
*Of the teams receiving votes, Virginia would be higher up on the list and on the verge of sneaking in if it can win at Wake Forest this week. Not sure I understand how San Diego State, Saint Mary's or Old Dominion could have received a vote this past week.
January, 13, 2010
1/13/10
6:33
PM ET
HARTFORD, Conn. -- Looking forward to watching Pitt tangle with UConn here at the XL Center in a little while. The Panthers have turned a lot of heads -- present company included -- with their 3-0 start in the league.
It's not hard to figure out what's different.
Gilbert Brown
and
Jermaine Dixon
are back. By the grace of good timing, I ran into assistant coach Tom Herrion in the hotel lobby this afternoon and he made the exact right point: it's like having men back in the lineup. Prior to their returns, the Panthers roster had a combined one start in their careers.
But Pitt will get an interesting test from the Huskies. This UConn team isn't as great as some of the legendary ones, but the Huskies like to get out and run and own a lot of speed and athleticism at every position and coming off a loss to Georgetown, you gotta think UConn comes out ready to play.
January, 4, 2010
1/04/10
9:42
PM ET
By
ESPN.com staff
| ESPN.com
Pitt didn't have Gilbert Brown or Jermaine Dixon for practice for much of the first semester. Brown was ineligible and Dixon was recovering from a broken foot. Now that they're on board, the Panthers are complete.
They're still flawed and not very deep off the bench in terms of production, but they're a confident crew. Dixon made 7 of 8 free throws, Brown added 17 points off the bench and the most reliable player, point Ashton Gibbs, scored 19 points on 10 of 11 free throws to lead the Panthers to a 74-71 win at Cincinnati on Monday.
Pitt has now won at Syracuse and Cincinnati to race out to a 3-0 start in the Big East. The third and final road game in a grueling start to the league season is at Connecticut next Wednesday.
Pitt is used to being atop the Big East standings, but no one -- especially after the Panthers lost to Indiana in the Jimmy V Classic -- could have predicted this turnaround. It's early, way early, but Jamie Dixon has to be the frontrunner for Big East coach of the year.
Pitt didn't do anything to warrant an at-large bid save for a win over Wichita State in Kansas City. Pitt had to earn its bid in the Big East. So far the Panthers are doing everything right.
December, 9, 2009
12/09/09
1:45
AM ET
NEW YORK -- The team won't come right out and say it, but it's hard to dispute the notion that Indiana would have no chance to beat No. 4 Kentucky on Saturday if the Hoosiers had not beaten Pitt on Tuesday night.
The Hoosiers still are looking at a monumental challenge Saturday at Assembly Hall in Bloomington. But to pull off a major upset in UK's first true road game of the season, the Hoosiers had to enter the game with some sort of confidence.
They have plenty now after
holding off the Panthers 74-64
in the nightcap of the Jimmy V Classic at Madison Square Garden.
[+] Enlarge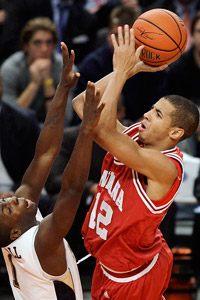 AP Photo/Julie JacobsonVerdell Jones III led the Hoosiers with 20 points Tuesday night.
The young Hoosiers whiffed on all three games in the Puerto Rico Tip-Off Classic, including losses to Boston University of the America East and a George Mason team that is currently 4-5. The other loss was to a likely NCAA tournament team in Ole Miss, and falling to Maryland at home in the Big Ten/ACC Challenge wasn't a confidence killer, either. But the Hoosiers had to beat someone from a power six conference before Kentucky comes calling this weekend.
"Oh man, we were begging for it,'' IU point guard
Jeremiah Rivers
said. "We've been working so hard to get a win. We needed this win so badly. We needed it for our confidence, for our sanity.''
Indiana coach Tom Crean looked like he was running for the Senate after the game, shaking hands with the Hoosier fans, who were clearly louder than their Pitt counterparts at MSG. He brought in his fellow politician/brother-in-law Jim Harbaugh. The Stanford football coach delivered, according to Crean, an unbelievable halftime speech that had the Hoosiers as energized for a half as they've been this season.
Crean even said No. 2 Kentucky was calling Saturday. It's actually No. 4.
"I lied, but by Friday night, they may be No. 1,'' Crean said. "They're the real deal; as much talent on the floor as anybody we'll see.''
Crean said Saturday's game against the Wildcats isn't the Hoosiers' season. And it's not. No one expects the game to be close, let alone a win. What Crean needs to see from this crew -- what he saw Tuesday from
Verdell Jones III
(7-of-13 for 20 points),
Christian Watford
(18 points) and Rivers (a solid floor game) -- is progress.
The Hoosiers defended the Panthers well as
Nasir Robinson
went 0-for-7 inside and Pitt shot just 32.3 percent for the game.
As for Rivers, who was nursing a pinched nerve in his back, Crean isn't concerned about him hanging with Kentucky point guard
John Wall
.
"If he's healthy, he'll do fine,'' Crean said. "Jeremiah is one of the fastest guys in the country. But you're not guarding John Wall with one person. You need team defense, transition defense and it has to be as good as it has been. We're going to have to have a Michigan State times two effort on Saturday.''
Rivers said he'll be ready to play Saturday and that he and Wall will be going up and down the court in a "track meet" since they're both "speedy and athletic.''
What the Hoosiers need more than anything, though, is a rocking Assembly Hall. Crean said he expects it to be as loud as it has ever been.
* Pitt's
Ashton Gibbs
took 25 shots to score 25 points.
Jermaine Dixon
, the only starter back from last year's Elite Eight team, played in his first game of the season after sitting out with a broken foot that was surgically repaired twice in the offseason. Dixon was limited to 13 minutes and missed both shots he attempted.
Gilbert Brown
, who should be a solid scorer for the Panthers, will return from academic suspension on Dec. 19. Pitt coach Jamie Dixon said Brown hasn't been able to practice during his academic suspension. Clearly, though, the Panthers will be better once Brown and Dixon are at full strength.
Pitt now has three straight home games against Kent State, Mount Saint Mary's and Ohio before opening Big East play against DePaul on Dec. 28.
"I think we're going to be good,'' Gibbs said. "Gil can knock down shots. Jermaine is a great penetrator and playmaker for this team. If we start to defend and get stops, the offense will come.''
Still, the Panthers will have to get more inside, something that was a given for them in previous years with DeJuan Blair. Robinson and
Gary McGhee
combined to shoot 10 percent (1-of-10). Freshman
Dante Taylor
came off the bench and was 4-of-4.