College Basketball Nation:

Grant Jerrett
March, 28, 2013
3/28/13
12:55
AM ET
LOS ANGELES -- In a news conference that preceded Thursday's matchup with
Ohio State
in the Sweet 16 at the Staples Center,
Arizona
seemed concerned but calm when responding to queries about a Buckeyes squad that's lost just one game since Valentine's Day.
Mark Lyons
told reporters that his matchup with
Aaron Craft
is significant, but not as important as his team's on-court unity on game day.
Solomon Hill
believes he's the proper neutralizer for a player with
Deshaun Thomas
' versatility.
LaQuinton Ross
? That's a different matter.
"I think LaQuinton Ross is a different guy that we have to have guys keyed in on," Hill said Wednesday of the Buckeyes' forward. "I think he's the big spark off the bench. He's a starter on any other team, and our young guys have to be prepared for him to really put it on the floor and shoot the outside shot."
[+] Enlarge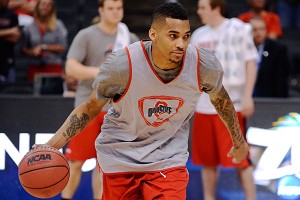 Jayne Kamin-Oncea/USA TODAY SportsLaQuinton Ross, a key player off Ohio State's bench, has definitely caught Arizona's eyes.
Ross is one member of an Ohio State supporting cast that's fueled the Buckeyes' run to the Sweet 16. The sophomore scored 17 points (shooting 6-for-10) in Sunday's victory over Iowa State. And he's not the only meaningful contributor without the surname Craft or Thomas.
Shannon Scott
is averaging 1.8 steals per game.
Sam Thompson
scored 20 points in OSU's victory over Iona in the second round.
Lenzelle Smith Jr.
(9.4 points per game) is the team's No. 3 scorer behind Thomas and Craft. Buckeyes coach Thad Matta might need the length of both
Amir Williams
and
Evan Ravenel
when his team encounters an Arizona frontcourt that features four players who are 6-foot-8 or taller.
The Buckeyes didn't start this impressive rally -- one that includes a Big Ten tournament title -- with two players. And they won't reach Atlanta with two players, either.
"They've been the difference," Matta said. "The thing that I've enjoyed watching come to fruition is just those guys accepting their roles, but then taking great pride in doing their job."
Ross said the team came together after the Buckeyes suffered a demoralizing 71-49 loss at Wisconsin on Feb. 17. The players gathered to discuss their differences following the defeat. They recognized that they were a fractured unit. Ross said every player, stars and reserves, accepted blame.
"[Wisconsin] was able to pick us apart because we weren't together," Ross said.
Since that time, however, the Buckeyes haven't lost -- rolling off 10 consecutive wins. Why? Because they're jelling with one of the NCAA tournament field's best eight-man rotations. Ohio State's players seem certain of the responsibilities they're expected to handle each night. This is certainly not a two-man show.
"It's really important for us to step up and be X factors," Scott said. "We can't be out there watching."
WHOM TO WATCH
Ohio State's Craft: The point guard's defensive wizardry has been on full display in the tournament. Iona's
Lamont Jones
committed four turnovers with Craft on him. Iowa State's
Korie Lucious
recorded five turnovers against Craft's pressure.
"Aaron Craft is exceptional at what he does," Arizona coach Sean Miller said.
Arizona's Lyons: The Xavier transfer scored a combined 50 points in his team's two NCAA tournament victories over Belmont and Harvard. He's also shooting 85.3 percent at the free throw line. But his leadership is a critical intangible for this program. His team feeds off him, whether he's playing well or struggling.
WHAT TO WATCH
The paint: Arizona's frontcourt athleticism could be a problem for the Buckeyes. But Thomas, Ravenel and Williams said they'll play the physical Big Ten style that's fueled their current winning streak. Ravenel said his team can also take advantage of Arizona's youth;
Grant Jerrett
,
Kaleb Tarczewski
and
Brandon Ashley
are all freshmen.
"Intimidation is one of the things that can win games in basketball," Ravenel said.
March, 14, 2013
3/14/13
10:43
PM ET
LAS VEGAS --
Solomon Hill
is the first-team all-league selection,
Mark Lyons
leads the team in scoring and
Kaleb Tarczewski
headlined Arizona's latest nationally ranked recruiting class.
Still, ask anyone who follows the Wildcats to name the most important player on Arizona's roster, and the answer is always the same:
Nick Johnson
.
"No question," Colorado coach Tad Boyle said. "He has the ability to make them an elite level team."
Boyle realized that more than ever Thursday during Arizona's
79-69
victory over the Buffaloes in the quarterfinals of the Pac-12 tournament. Johnson, a shooting guard, scored a team-high 18 points. But it was his pesky defense on Colorado leading scorer
Spencer Dinwiddie
that made the biggest impact.
[+] Enlarge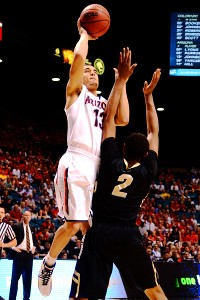 Kyle Terada/USA TODAY SportsNick Johnson scored 18 points as Arizona advanced to the Pac-12 semifinals versus UCLA.
Dinwiddie finished with 18 points, but he missed eight of his 12 shots from the field and was just 1-of-4 from 3-point range. Dinwiddie became irritated when questioned about Johnson's strong defensive effort on him after the game. "I don't know what you want me to say to that," he said, but Boyle understood his frustration.
"Nick locked him up," Boyle said.
As a result, Colorado is headed home to await Selection Sunday while Arizona prepares for Friday's semifinal against Pac-12 regular-season champion UCLA. The Wildcats are 0-2 against the Bruins this season.
Arizona's last loss came on March 2 -- just two days after a setback against USC that knocked the Wildcats out of the conference title picture.
"That whole trip to LA, it was kind of like a curse and a gift at once," Miller said. "Sometimes when you go through what we did, you have to self-reflect and make sure that both individually and collectively we're moving in the right direction."
That certainly seemed to be the case Thursday, and a lot of it was because of Johnson. The sophomore went through a month-long slump in February in which he scored in double figures just once in eight games. Johnson, though, has been back to his old self in the last week. He's averaging 15 points in his last three contests and, more importantly to him, his defensive effort has improved.
"If you look at all of our losses, it's when I didn't bring it on the defensive end," Johnson said. "I know that and I'm taking it personally. I'm going to do my best to bring that high level of intensity every game."
When that happens, No. 18 Arizona looks more like the team that was ranked as high as No. 2 earlier this season instead of the one that dropped four of seven contests in the second half of league play.
"When Nick is playing like he did [tonight], that's when we're at our best, for sure," Miller said. "He does so many things for our team. There are times when he's almost like a point guard out there on offense. He's a defender that has immense talent and he's a capable scorer and shooter, too.
"Like any young player, he went through a stretch where he lost some confidence, but he's got it back now."
Arizona is void of a true star -- but the Wildcats have a ton of nice pieces that make them a threat for a deep NCAA tournament run.
Boyle said he thought Hill would've been named Pac-12 Most Valuable Player if the the Wildcats had won the league title. Lyons, the Xavier transfer, has done a nice job of manning the backcourt even though he's not a true point guard. And freshmen forwards such as Tarczewski,
Grant Jerrett
and
Brandon Ashley
are getting more and more comfortable as their minutes increase.
"When you look at their lineup, they've got the most quality depth of anyone in our league," Boyle said. "They have good players on the floor and they bring good players off the bench. They were dialed in tonight."
None more so than Johnson.
*
In unrelated news
, Boyle said he's confident Colorado will receive an at-large berth to the NCAA tournament, but he doesn't want to get his hopes up. The Buffaloes appeared to be a virtual lock to make the field two years ago but were inexplicably omitted from the field.
"I told our guys we're going to play in the postseason," he said. "I just don't know which tournament."
January, 11, 2013
1/11/13
2:12
AM ET
In Eugene, Ore., the future arrived early on Thursday night.
The
Oregon Ducks
were expected to rise in the coming years as Dana Altman's young, talented roster matured. But the team's
70-66 victory
over No. 4 Arizona, a squad that entered the game with an unblemished record, changed the discussion surrounding the Pac-12 title race.
And next (potentially) became
now.
A surging Oregon squad turned Matthew Knight Arena into the stage for an unlikely upset. The Ducks fell into an 11-0 hole in the first half and then, changed their fortunes -- changed the early Pac-12 championship picture -- with a 41-19 rally. They led by 11 (41-30) at halftime.
The Wildcats had toyed with defeat multiple times in previous outings against Colorado, San Diego State, Utah and Florida. And as they launched another comeback with minutes remaining in the game, it appeared as though Oregon would fall, too.
But the Ducks' resilience -- a stubbornness that forced 14 Wildcats turnovers and held the three big men (
Kaleb Tarczewski
,
Grant Jerrett
and
Brandon Ashley
) in Sean Miller's highly touted recruiting class to a combined 3-for-13 mark -- helped them resist that push.
Oregon led by 13 with 5 minutes to play. The Wildcats, however, pressured the Ducks and cut that deficit.
Nick Johnson
's 3-pointer with 53 seconds on the game clock squeezed that gap to 3.
Dominic Artis
missed a rushed 3-pointer on the other end of the floor and Johnson raced the other way.
Cue the déjà vu, right?
But Oregon's
Johnathan Loyd
chased, forced a turnover and drew a foul. He made 1 of 2 free throws to give Oregon a four-point lead.
No Arizona magic in Eugene. Not on Thursday night.
Oregon connected on 7 of 11 3-pointers and shot 48.1 percent from the field, accuracy that
Mark Lyons
' game-high 21 points couldn't overcome.
[+] Enlarge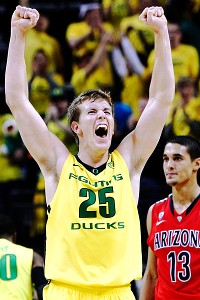 AP Photo/Chris PietschE.J. Singler, who had a team-high 14 points plus 7 rebounds and 7 assists, celebrates the Ducks' upset.
Altman had lost so much from his 2011-12 squad -- including star guard Devoe Joseph -- that he told one preseason publication, "You've got six freshmen. Any way to put that together quick is probably not going to happen. It's just going to take some time."
But Oregon freshmen Artis (3-for-4 from the 3-point line, 10 points, 3 rebounds, 3 assists and 2 steals) and
Damyean Dotson
(9 points, 4 rebounds, 2 assists and 1 block) were crucial participants in Thursday's win.
E.J. Singler
(14 points, 7 rebounds, 7 assists and 3 steals) led four Oregon scorers in double figures.
And now, the Pac-12's list of contenders demands another look.
After the Wildcats knocked off Florida, they were touted as eventual league champs. With each win, they seemed to expand the chasm between them and the rest of the conference.
But Arizona's victories masked some of its struggles, such as its challenges defending the 3-point line (289th in Ken Pomeroy's efficiency ratings).
As they rumbled through multiple tight finishes, the Wildcats' success also overshadowed the recent growth around the league.
It took
Shabazz Muhammad
about a month to get back into shape after missing early games due to an NCAA investigation, but the freshman has been one of the best players in America in recent weeks. He's averaging 19.6 points per game for a UCLA team that's won eight in a row.
Colorado is 1-2 in Pac-12 play but last week's effort at Arizona -- a game that should have ended in regulation on
Sabatino Chen
's 3-pointer -- proved that the Buffaloes can compete with the best in the Pac-12.
But no team had previously announced its place in the title conversation the way Oregon did Thursday night in its only regular-season matchup against the Wildcats.
The Ducks, who will also face UCLA once (Jan. 19 in Los Angeles) during the regular season, were dominant most of the evening. They play fast, they defend well (19th in Pomeroy's efficiency ratings) and they tussle for 40 minutes. They proved as much when they upset No. 24 UNLV in the Global Sports Classic in Las Vegas. But the excitement spawned by that win did not last long because the Ducks lost to No. 21 Cincinnati the next night.
They also endured a wacky 91-84 triple overtime loss to UTEP on Dec. 19.
The squad that showed up Thursday night, however, can clearly play with any team in the league.
It's "the" league now. Not just Arizona's.
December, 14, 2012
12/14/12
9:30
AM ET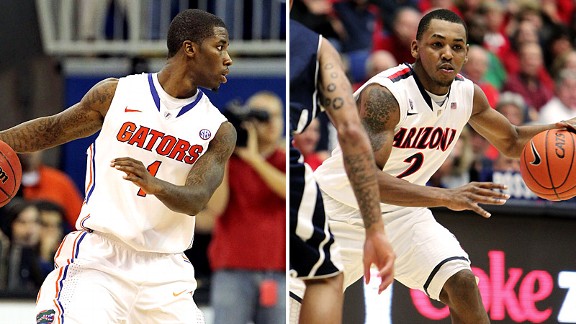 USA TODAY Sports, Icon SMIDon't be surprised to see Kenny Boynton, left, and Mark Lyons take crucial shots on Saturday night.
Editor's note: Each Friday morning, Jay Bilas will break down the weekend's top game. This week it's No. 5 Florida (7-0) at No. 8 Arizona (7-0) at 10 p.m. ET Saturday on ESPN.

Gators outlook:
The difference for Florida this season is defense. Last season, UF gave up 40 percent shooting from 3-point range and got hurt by being overextended. This season, the Gators are staying home more and packing it in. Instead of playing out in passing lanes and denying, they are playing off more, not playing as far up the line, and showing their chests to the ball and building a wall to protect the lane and the rim. That has meant fewer help rotations and better defensive rebounding, limiting opponents to one challenged shot (outrebounding opponents by 10.7 per game). The results are obvious. Florida has a top-five defense, and has done it with both man-to-man and zone. The Gators still press, speed the game and make you play at a speed you don't practice. And they have done a great job of not just forcing turnovers, but converting off turnovers. Florida has scored more than twice as many points off turnovers as its opponents (21.3 to 9.9).
On the offensive end, UF is a ball-screen team that can really stretch out a defense, and really attacks and gets to the free throw line. Florida has made more free throws than its opponents have attempted. Four Gators average between 14.4 points and 10.3 points per game. This is a team that scored 74 points against Wisconsin, a team that gave up only 53 points per game last season, and blasted Marquette and Florida State.
Florida has good, experienced guards in
Kenny Boynton
,
Mike Rosario
and
Scottie Wilbekin
, a strong presence in
Patric Young
(an interior player who, when he keeps it simple, can be really effective), and an elite and versatile defender in
Will Yeguete
, who can defend multiple spots, get offensive rebounds and affect the game without scoring.
Wildcats outlook:
Last season, Arizona was not a great shooting team, but could not compensate for it with second-shot opportunities or post-ups because Sean Miller did not have the personnel. This season, he has the personnel. The Wildcats have great size up front and very good depth. (But don't listen to those who suggest that having big-guy depth gives you extra fouls to waste, which is silly. You don't waste fouls, which puts your opponent at the free throw line for common fouls and leads to losses.) With freshmen
Kaleb Tarczewski
and
Grant Jerrett
, Miller has two big men who can affect the game. Tarczewski is a traditional low-post banger who seeks out contact and can score around the goal, and is the team's top rebounder. Jerrett is a long-armed big man who can step away and knock in an open 3-point shot.
Arizona has good guards, good size and good balance. Another frontcourt player to watch is
Brandon Ashley
, a freshman who has a terrific understanding of the game, can really hit the glass and can go off the bounce. Ashley has been up and down, but he put up 20 points and 10 rebounds against Long Beach State, and just had nine points and six rebounds at Clemson. With Xavier transfer
Mark Lyons
, Miller has an experienced, big-game guard who is unafraid of anything but takes some criticism for being loose with the ball. Lyons has more turnovers than assists, but he is hardly a turnover machine. He can attack pressure and score or get fouled, and that will be an asset against Florida.
Nick Johnson
is leading the Wildcats in scoring, assists and steals, and is a tremendous athlete with explosiveness, transition ability and the ability to defend. Johnson can shoot it and can get to the rim and finish. He has been the Wildcats' best player in the first month and a half. A key player against Florida will be
Solomon Hill
, a versatile and skilled wing who can see the floor and handle the ball. He will be vital in the press offense. Hill has not shot the ball well this season and is coming off a 2-for-16 night at Clemson, but he is UA's most versatile and most valuable player.
Gators go-to:
Kenny Boynton.
An outstanding defender who has been doing a very good job getting into the lane and getting to the free throw line, Boynton is one of the best senior guards in the country. He is averaging 14.4 points and 4.1 rebounds per game, and is shooting 90 percent from the free throw line. He can get hot in a hurry and is rarely rattled. Boynton needs to play well for Florida to win on the road.
Wildcats wonder:
Lyons. He is an attack guard who can really score and is willing to take on any challenge. Lyons is averaging 13 points per game, yet is third on the team in shots taken, and is coming off a 20-point game against Clemson. Against the full-court pressure of Florida, expect Lyons to be on the attack and to look to score against pressure.
Gators X-factor:
Erik Murphy
. The most impressive individual performance I have seen all season was Murphy's 24-point perfect game against Wisconsin in which he did not miss a single shot. Murphy can really shoot it and is a terrific pick-and-pop big man. He is skilled and can score in the post or step away. He will provide a tough matchup for any Arizona big man, but I expect Hill to take him on, which will be a great matchup. Hill is an underrated defender, and he was terrific this summer at the Nike Skills Academies.
Wildcats X-factor:
Kevin Parrom
. This strong senior wing has been through a lot in his career and has come through stronger. He originally signed with Xavier, was the victim of a gunshot wound in his own home in New York, yet has been an efficient offensive player who excels in transition, can drive the ball, hit open 3s and find the open man. Parrom also is a willing defender. In a high-level game with young teammates, his toughness and ability can make a big difference.
Key stats:
Three-point field goal defense and points off turnovers. Florida feeds off turnovers and can turn a mistake or a bad shot into a layup or opportunistic 3 on the other end. And the Gators are not shy about pulling the trigger on a 3 in transition. The Wildcats cannot turn the ball over and expect to win. Turnovers take away a shot opportunity but also take away a chance for an offensive rebound or foul while putting your defense at a disadvantage. Arizona does not defend the 3-point line as well as the rim, and Florida will involve the young big men in ball screens high and flat and on the sides. How the Cats guard those screens and rotate will be a key factor in the game.
Who wins:
Arizona has to get out in front of Florida early and stay in front. The Gators have trailed only twice this season and have not trailed a single second after the first five minutes of any game. This game will be about making decisions and completing plays. The Wildcats have to guard ball screens with a plan, handle pressure in full-court situations, and then handle both man and zone with both aggressiveness and patience. Florida is the better team, but this is the toughest environment the Gators have faced this season. I favor the Gators in this one, but not by much. Florida wins 76-72.
July, 17, 2012
7/17/12
2:00
PM ET
Editor's note: ESPN.com's Summer Shootaround series catches up on the offseason storylines for each conference. For more on the Pac-12, click here.
Shabazz Muhammad
, UCLA: Bruins fans are hoping the 6-foot-6, 215-pounder will change the fortunes of their struggling program. Muhammad will likely spend just one season in Westwood, as he could be potentially be the top overall pick in next summer's NBA draft.
Kyle Anderson
, UCLA: The 6-foot-7 Anderson is versatile enough to play all three positions on the perimeter. As a "point forward," he'll be a huge matchup problem for opposing defenders. A New Jersey native, Anderson was the fifth-ranked player in the Class of 2012.
Kaleb Tarczewski
, Arizona: The Wildcats beat out Kansas, Kentucky and North Carolina for the 7-foot, 240-pound center. Tarczewski runs the floor extremely well for a player of his size and is an explosive finisher around the rim.
Grant Jerrett
, Arizona: Jerrett, who stands 6-foot-10, will team with Tarczewski and freshman
Brandon Ashley
to form one of the most imposing frontcourt rotations in the Pac-12, if not the country. Recruiting analysts have been taken aback by his improvement over the past few years. Jerrett, the ninth-ranked player in the Class of 2012, can score from multiple areas.
Brandon Ashley
, Arizona: The 16th-ranked player in the Class of 2012 chose the Wildcats over Kentucky, Oregon and UCLA. Ashley is a 6-foot-8, broad-shouldered power forward who has good quickness and timing around the basket.