College Basketball Nation:

Greg Anthony
September, 3, 2013
9/03/13
11:45
AM ET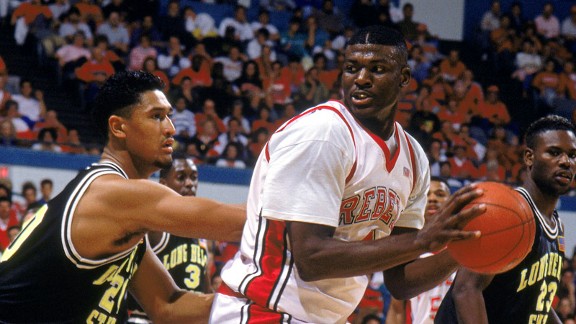 Ken Levine/Getty ImagesLarry Johnson rose from the juco ranks to carry UNLV to a national title.
Editor's Note: Three legendary college basketball coaches -- Jerry Tarkanian, Rick Pitino and Guy Lewis -- take center stage this weekend as the trio is inducted into the Basketball Hall of Fame in Springfield, Mass. We'll be devoting a day to each as we examine what made them HOF-worthy.
As part of our Hall of Fame week celebrations, I'm ranking the 10 best players of Jerry Tarkanian's coaching career. (Check back during the week for other similar lists.) As you might expect, most of them played for Tark at UNLV. But one did not.
Oh, and in case you thought the process of ranking these players was painstaking, well, it was, sort of, but not nearly as much as it could have been, were it not for the help of the Las Vegas Review-Journal and, yes, Tarkanian himself. That's right: In 2010, the Review-Journal published the results of a 25-person panel charged with
ranking the top 100 players in UNLV history
. That was a handy reference, to say the absolute least. Even better? The newspaper also
solicited the views of Tarkanian himself
, who refused to mince words -- both positive and negative -- about his former players. My favorite: "Lewis Brown is [ranked] too high. He was a pain in the [bleep] in a lot of ways." My second favorite: "Jackie Robinson is too high. Jackie couldn't shoot. He could jump to the moon, but he couldn't shoot." Pretty great, right?
Anyway, with some thanks to the paper and the Shark himself, here's a quick rundown of the 10 best players of Tarkanian's tremendous coaching career.
1. Larry Johnson, UNLV:
Sitting on the beach this weekend, before I had even opened my laptop to begin trying to pretend to think about this list, Larry Johnson was locked in at No. 1. You probably don't need me to run down Johnson's credentials, but before he went on to that good-but-disappointing pro career, he posted career averages of 21.6 points, 11.2 rebounds, 2.5 assists, 1.9 steals, 1.2 blocks per game, with 64.3/34.9/78.9 shooting percentages. He won the Wooden Award and a national title, and he was by far the best player on a team that packs this list. Point is, this was a done deal before my editor even assigned me this list. Too easy. As for Tark? "Larry stood out way above everyone," he told the Review-Journal three years ago. "I think he was the best by far." No argument here.
2. Stacey Augmon, UNLV:
As good as Johnson was, UNLV was a force unseen in college basketball because he was surrounded by some rather insane supporting pieces — none more so than Augmon, whom Bill Walton famously dubbed "The Plastic Man." (Bill Walton has been at peak awesomeness levels for decades now, kids.) A four-year player who averaged 13.9 points, 6.9 rebounds, 3.0 assists and 1.9 steals in -- get this -- an average of 36.23 games per season, Augmon was the versatile star-level wing who gave UNLV's overwhelming athleticism both offensive versatility and defensive backbone. He won the NABC Defensive POY award three times. He was crazy-good in ways old box scores can only tease.
3. Armen Gilliam, UNLV:
Armen Gilliam "was the second-best player I coached at UNLV," according to Tarkanian. I'm going to stick to my Augmon guns, but you can understand where the old ball coach is coming from. After all, the historic excellence of Tarkanian's early-'90s teams has long since overshadowed how good the Rebels were in the mid-1980s. But during Gilliam's tenure -- 1984 to 1987 -- the Rebels were 93-11 overall, usually ranked No. 1, and won 38 games in one season, still the most by any one team in a single season. Another single-season record -- 938 points, the most scored by any UNLV player -- belongs to Gilliam, who averaged 23.2 points on 15.3 field goals in 32.3 minutes per game in 1986-87. Also, his nickname was "The Hammer," one of the best hoops nicknames ever. (When it came to awesome nicknames, UNLV players had the market cornered.) Gilliam passed away during a pickup game in 2011 at age 47, but his basketball legacy, including that magical '87 Final Four run, lives on.
4. Sidney Green, UNLV:
Tark on Green: "Sidney Green only had one great year for us. But his senior year was great. He's in the top 10 but not the top five." Is it cool to slightly disagree again? I hate to do it, but look: Yes, Green's senior year was capital-G Great (22.1 points, 11.9 rebounds, 1.4 blocks, 36.1 minutes per game), but it was hardly his only elite year — he averaged 10.7 boards per game for his career, and posted 15.6, 15.0 and 16.7 points per game in each of those three seasons in the early 80s. Coaches are always looking for more from their guys, and you can bet Tark knew what Green had to give even when Green didn't; that had to be massively frustrating. But if we're being fair, Sidney Green was really, really good.
5. Reggie Theus, UNLV:
Theus' career stats -- 12.9 points, 4.4 assists and 4.3 rebounds per game in 91 career games (over three seasons) -- might not pop your eyeballs out of your head. But the teams he played for, most notably the 29-3 Final Four team from 1977, officially put Tarkanian's program on the map. Not only did those Runnin' Rebels teams introduce UNLV to the nation but they did so through a thrilling, up-tempo style -- matching burgeoning Las Vegas flash with genuine substance.
[+] Enlarge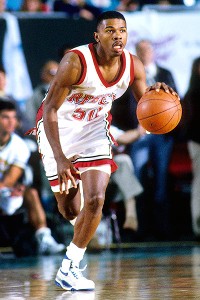 Richard Mackson/USA TODAY SportsGreg Anthony was a perfect fit at the point for Tarkanian's national championship team.
6. Ed Ratleff, Long Beach State:
Tarkanian will always be remembered for his Vegas teams, but Tark gave his first preview of the power shift that was to come during his years at the Beach. Ratleff was by far his best player; he and his teammates went 75-12 in three seasons under Tarkanian, during which Ratleff averaged 21.4 points per game. In 1971, the 49ers led three-time defending champ UCLA by as many as 11 points before Ratleff was called for what he now politely deems a "strange" fifth foul. The 49ers eventually fell 57-55, and UCLA went on to win its fourth national title. Later, Ratleff would play on the 1972 Olympic team that refused its silver medal after a controversial gold-medal game loss to the USSR.
7. Greg Anthony, UNLV:
This might be the craziest thing about those UNLV teams: Just about anywhere else in the country, Greg Anthony would have been the best player on his team for pretty much his entire career. In Vegas, he was the third wheel. But what a third wheel he was -- a smart, capable, push-the-pace point guard who made the Runnin' Rebels go.
8. Eddie Owens, UNLV:
If Theus was the most notable player from the 1977 team that put the Rebels on the map, Owens was the linchpin. A member of Tarkanian's first recruiting class, Owens departed Des Moines for Vegas in 1973 back when UNLV was mostly unheard of, basketball-wise. By the end of his four years, Tarkanian was off and running.
9. J.R. Rider, UNLV:
Easily one of the most talented players in Tarkanian's tenure, Rider's career peaked just after Tark's tenure and was known as much for its downs (particularly later, during his NBA days) as its ups. Still, Rider did post 29.1 points and 8.9 rebounds per game in the 1992-93 season, while shooting 51.5 percent from the field, 40.1 percent from 3 and 82.6 percent from the free throw line, which is so crazy good it almost doesn't matter that it came one year after Tarkanian was forced to resign.
10. Freddie Banks, UNLV:
From Tark, on the Review-Journal's list, which ranked Banks No. 8: "I love Freddie Banks. He was a clutch shooter. God, he hit big shots for us. His ranking is about right." You said it, coach.
Honorable mention, just because:
Anderson Hunt, UNLV: I would tend to lean toward the guy who hit the game-winning shot against Arizona in the 1989 Sweet 16, which might be the most memorable single shot in Tarkanian's entire career. Plus, Hunt could really play, despite being overlooked in favor of the Johnson/Augmon/Anthony glory days trifecta. So, honorable mention. Exactly what it says it is, actually.
June, 10, 2013
6/10/13
10:30
AM ET
In the weeks leading up to the June 27 NBA draft, we'll be taking a look at the 20 schools that have produced the best pros in the modern draft era (since 1989, when the draft went from seven to two rounds).
Click here
to read Eamonn Brennan's explanation of the series, which will be featured in the Nation blog each morning as we count down the programs
from 20 to 1
.
Top Five NBA Draftees Since 1989
Larry Johnson (1991)

Shawn Marion (1999)

J.R. Rider (1993)

Stacey Augmon (1991)

Greg Anthony (1991)
Sixth man
:
Keon Clark
The rest
:
Joel Anthony
, Louis Amundson,
Marcus Banks
,
Tyrone Nesby
,
Evric Gray
,
Kebu Stewart
,
Dexter Boney
,
Elmore Spencer
, George Ackles
Why they're ranked where they are
: When we first conceived of this list, UNLV was one team I expected to be in the top 10, if almost by default. The 1991 team produced three good pros, the best of which was Larry Johnson, whom I remember from his "Grandmama" apex. Shawn Marion, meanwhile, keeps extending an already-excellent NBA career. Without truly digging in, or considering other schools, I had the Runnin' Rebels in around No. 10 on this ledger. If not higher.
After digging, No. 13 feels right.
[+] Enlarge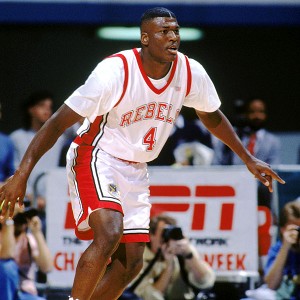 Ken Levine/Getty ImagesLarry Johnson was the biggest name from the early-'90s UNLV teams.
Johnson was the marquee player on the legendary early-'90s Rebels teams, which not only won the 1990 national title and went 27-0 in the 1991 regular season, but
produced one of the greatest college posters of all time
. After being drafted No. 1 overall by the Charlotte Hornets in 1991, to absolutely no one's surprise, he played immediately at an All-Star level.
At the time, some said Johnson would have been drafted in the first round had he declared for the draft after two otherworldly junior college seasons at Odessa College. That might be a bit of a stretch, but in any case everyone expected Johnson to dominate when he got to the NBA, and he didn't disappoint. As a rookie, Johnson averaged 19.2 points and 11.0 rebounds per game. In his second season, he led the league in minutes (40.5) and averaged 22.1 points and 10.5 rebounds. He was an All-Star that year (1993) and again in 1995 and, alongside
Muggsy Bogues
and Alonzo Mourning, made the Charlotte Hornets and their strange green and purple uniforms -- not to mention "Grandmama" -- a mainstay of my fellow millenials' basketball childhoods.
Given all this, it would be a stretch to try to call Johnson's career a disappointment, but it's also fair to say he might have left something on the table. Injuries pockmarked his prime years, particularly in 1993-94, when a back injury forced Johnson to play a less overpowering, more well-rounded brand of basketball. (According to
Basketball-Reference's Win Shares
metric, Johnson's
best season actually came as a rookie
. I'm not sure what this means, if anything, but it is interesting.) When tension between Mourning and Johnson led to both players being traded in the summer of 1995, Johnson was shipped to the Knicks in exchange for Anthony Mason and
Brad Lohaus
. Though he played a key role in the Knicks' Eastern Conference title run in 1999, he never reached his Charlotte heights again. In 2001, at the age of 31, Johnson retired. He played only nine years in the NBA.
What of Johnson's old 1991 Rebels teammates, Stacey Augmon and Greg Anthony? Augmon (whom
Bill Walton
unfortunately dubbed the descendant of Magic Johnson,
Bill Russell
and
Kareem Abdul-Jabbar
) likewise played his only noteworthy years early in his career, during his first five years for the later-
Dominique Wilkins
-era
Atlanta Hawks
. Augmon averaged 13.7 points per game in those seasons, but was never a double-digit scorer from there on out. Anthony fashioned an OK career as a defensive specialist and a backup/spot guard (he averaged 20.9 minutes per game during his career). His best season (14.0 points, 11.3 field goal attempts, 30.4 minutes, etc.) came as the featured guard on the abysmal inaugural edition of the expansion Vancouver Grizzlies.
Marion, meanwhile, is now 34, but is still putting productive seasons on the board. Marion's best years -- when he earned the moniker "The Matrix," one of the least likely nicknames in NBA history -- came during the glory days of the Seven Seconds or Less era
Phoenix Suns
. That was when
Steve Nash
and Mike D'Antoni's up-tempo system revolutionized the league. Rangy, fast and high-flying, Marion was the perfect small forward for D'Antoni's system.
When Phoenix general manager Steve Kerr traded Marion to Miami for a washed-up
Shaquille O'Neal
, it was the Suns' death knell. It also eventually landed Marion on a rebuilding Toronto team, where he could have spent the rest of his days in the basketball wilderness. Instead, Marion made his way to the
Dallas Mavericks
in time to play an ensemble role on the team that won the 2011 NBA title. In 2012-13, Marion averaged 12.1 points, 7.8 rebounds and 1.1 steals. He's still plugging.
J.R. Rider averaged 29.1 points per season as a senior at UNLV and he was just as thrilling in his first moments in the league. In 1994, Rider won the 1994 NBA Slam Dunk Contest with the "East Bay Funk Dunk." Rider was a good but never great pro from 1993-94 through 1999. But he was out of the league two years later, at the age of 30. He was dogged by off-court issues (including several arrests) throughout his career and in subsequent years. In 2009 he attempted
a somewhat sad, if archetypal minor league comeback
, and in 2012 announced he was planning to release a documentary about his life in the hopes of helping other young kids avoid a similar fate.
Are you sensing the common undercurrent here? Relative to how we remember them -- Rider from the dunk contest, Johnson as Grandmama, Augmon as Plastic Man, and so on -- most of the best post-1989 UNLV products' careers have been at least slightly disappointing. Or short-lived. Sometimes both.
When you factor that in alongside the rest of the list, No. 13 feels appropriate, doesn't it?
Why they could be ranked higher
: While our memories of Johnson, Augmon, Anthony and Rider have probably improved, relative to their performance, you could just as easily argue that Marion has been drastically underrated from Day 1. Phoenix's trade for O'Neal was an intentional (and misguided) effort to make the Suns more conventional (slower, bigger, etc.). Instead it revealed just how effective and important Marion was running the floor alongside Nash. Marion has never been a gifted scorer, but his athleticism made up for that in the early years, and his craftiness does now. Despite occasional rumblings that he wasn't the best teammate, Marion has been a huge asset on every team that has employed him. You simply don't find athletic 3s who can rebound and guard the same variety of players as Marion very often. When you do, you should appreciate them. Maybe Marion is still underrated -- and if he is, doesn't that boost UNLV's overall score?
Plus, let's not totally overlook Keon Clark, a solid if forgettable pro, and Joel Anthony, who went undrafted but turned himself into an invaluable defender and rebounder on Miami's 2012 NBA title team (before the Heat went small in 2013, which sent Anthony to the bench, and you know the rest).
Louis Amundson isn't terrible. That's probably all we need to say about Louis Amundson.
Why they could be ranked lower
: We don't spend a ton of time dwelling on the lesser lights of any team's list, but it certainly doesn't hurt a team's rankings to have a deep collection of tenured, productive veterans. UNLV does not have that. As I wrote above, outside of Johnson and Marion, the best Rebels were either disappointing or merely mediocre (or both). Further down the list, even if you set aside Clark, Anthony and Amundson -- which is generous in the first place -- resides a big whole bag of bad. I'm all about Marion, and I love me some Grandmama, but how good is the overall list here, really?
What's ahead?
After legendary coach (and frequent, brazen NCAA target) Jerry Tarkanian was forced out by university president Robert Maxson in 1992, UNLV went dormant for more than a decade. Even when Lon Kruger resurrected the program in the mid-aughts, he did it with the kind of unassuming, defense-first players who fit his system. It had hardly the kind of elite future pros Tarkanian so successfully courted. Only since former Tarkanian player Dave Rice took over in the spring of 2011 have the Rebels looked to run once more. As such, Rice has recruited well, and this summer uber-talented freshman
Anthony Bennett
is likely to be a top-five pick. (
Chad Ford's latest mock draft

has Bennett going fourth to the
Charlotte Bobcats
.) Center
Khem Birch
could be a lottery pick next summer or beyond. After
Katin Reinhardt
's transfer to USC, that's about it as obvious potential pro prospects go. But keep an eye on incoming freshman Christian Wood, a great shooter with a lanky 6-foot-10 frame who might have hybrid-obsessed NBA scouts drooling, even if
he still has much to add to his game
.

Final thoughts
: I was six in 1991, and 10 in 1995. My memories of Grandmama and the Charlotte Hornets were always going to be inflated. Which is not to say Johnson wasn't good. Of course he was. There is no getting around how dominant he could be when healthy.
But the overall story of Johnson's career isn't one of undeniable dominance -- it's one of obvious brilliance at least partially derailed by circumstance. (Nobody tell 10-year-old Eamonn's best friend Jason. Jason owned a Hornets Starter jacket. He'd be crushed.) To an even greater extent, Plastic Man and Anthony never really reached the potential they seemed to have when they ran roughshod over college basketball for two straight seasons. At this point, Rider is a classic mid-'90s NBA cautionary tale. Only Marion, born of a different era in UNLV basketball, has been an above-average NBA player for more than a few years. Marion has been that for 14 seasons, to be precise.
I don't know about you, but when I hear "UNLV" and "pro products" in the same formation, my brain instinctually calls up that classic early-'90s All-Americans poster. It remembers Johnson in the glory days, Augmon back when people thought he was the next Magic Johnson, Rider from the dunk contest. UNLV's draft history since 1989 -- while still very good, and worthy of its spot in the top 15 -- was never going to be so simple.