College Basketball Nation:

Greg Shaheen
May, 10, 2012
5/10/12
5:00
AM ET
1. The National Association of Basketball Coaches' board of directors is meeting in Indianapolis on Thursday, with the issue of transfers and how to handle the requests as a primary agenda item. The board has some notable names, including Wisconsin coach Bo Ryan, who was involved in a high-profile case in which the player was initially restricted from transferring to a number of schools; Michigan State's Tom Izzo; Pitt's Jamie Dixon; Syracuse's Jim Boeheim; Notre Dame's Mike Brey; and NC State's Mark Gottfried, among others. The NABC doesn't have legislative power but does serve as a lobbying group to the membership -- and can also influence other coaches on how to handle a transfer situation.
2. The men's NCAA tournament basketball selection committee will also meet Thursday in Indianapolis. The primary agenda item, according to incoming chair Mike Bobinski of Xavier, is to determine the 2013 East Regional site. The finalists are expected to be Syracuse and Brooklyn (Newark, N.J., is still technically in, but it would be a surprise since the regional was there in 2011). Bobinski said it is unusual for the site still to be unknown less than a year before the event. The dismissal of former NCAA vice president Greg Shaheen apparently contributed to the site selection delay; Shaheen's replacement, Mark Lewis, will be at the meeting. The original plan was for the tourney's 75th anniversary to have a presence at Madison Square Garden. But the NCAA couldn't make a commitment before the Garden had to turn in its Knicks and Rangers schedules to the NBA and NHL, respectively. The 2013 Final Four is in Atlanta. The other regional sites are set in Los Angeles (Staples Center), Dallas-Fort Worth (Cowboys Stadium) and Indianapolis (Lucas Oil Stadium)
3. New Illinois coach John Groce has added two transfers in
Rayvonte Rice
from Drake and
Sam McLaurin
from Coastal Carolina. The Illini are also busy finalizing their last major non-conference game. Illinois will play Auburn on Dec. 29 at the United Center in Chicago to fill the final significant game on the schedule.
April, 10, 2012
4/10/12
5:30
PM ET
The NCAA removed Greg Shaheen Tuesday from his position of interim executive vice president for championships and alliances, replacing him with former Jet Set Sports president Mark Lewis.
Most people couldn't pick Shaheen out of a lineup or begin to guess what that long and wordy title means. To the average fan, Shaheen is just another corporate wonk in an endless stream of them in Indianapolis.
But here's why Shaheen matters:
He's the man that negotiated the most recent 14-year/$10.8 billion television contract with CBS and Turner Sports, bringing all of the NCAA tournament games into living rooms across the country for the first time.
He's the man who helped devise the First Four format, the solution to what looked like a horrifically bad 96-team concept.
He's the man who allowed the media to have an inside look at the selection process, dreaming up the idea of a mock selection that allowed people to actually understand what the committee went through while filling out the NCAA field.
If the NCAA is Oz, Shaheen is one of the few guys in Indianapolis who not only had a heart, a brain and courage; he wasn't afraid to pull down the curtain.
Well, so much for that.
Pete Thamel at The New York Times did an extensive piece on Shaheen during the Final Four, when Shaheen was technically still a candidate for his job but seen as merely a lame duck. He tried to find an explanation to what many considered a sudden and surprising turn against a man most considered the NCAA's most affable and accessible foot soldier.
Thamel merely found people who complained that Shaheen failed to delegate his responsibilities, return email promptly, and what NCAA president Mark Emmert referred to as "organizational structure and senior leadership."
If Shaheen isn't retained to at least run the NCAA tournament, as he's done for more than a decade --
that's apparently still a remote possibility
-- the NCAA tournament will go on without him and most people won't even know he's been there, let alone that he's gone. That's the reality of being a behind-the-scenes guy at a place where there is but one public figure -- Emmert.
But this is just further proof of how out of touch the people who work in the ivory towers in Indy are.
The NCAA runs more like the KGB than an organization of and for its membership. Information comes in dribs and drabs, embargoed or not at all. How things are done and why they are done are explained in such bureaucratic mumbo jumbo that it's easy to give up rather than decipher meaning from the multi-syllable answers.
Shaheen was the polar opposite, a guy who tried to explain things as best he could. Who understood that people wanted answers, not corporate speak. Who believed that letting people into the NCAA selection process might actually help. (And it did. Since attending the first mock bracket, I've stood stalwart against the conspiracy theorists who insist maniacal minds create matchups a la Kentucky-Indiana in the Sweet 16. I know better now that I know how the process actually occurs).
"I think people felt like you were talking to a computer there for a while and there was nobody at the other end of the phone,'' Michigan State coach Tom Izzo told The New York Times, explaining that Shaheen had helped "humanize" the organization.
On CBSSports.com
, Duke coach Mike Krzyzewski went even further in his praise: "Working with Myles Brand, Greg furthered the cause of men's college basketball as much as anyone in the last decade," he said. "It's a huge loss for our game."
Two years ago at the Final Four in Indianapolis, Shaheen sat at the dais to discuss changing the NCAA tournament format, laying out the argument for all models, including the 96-team format.
Let's just say facing a firing squad would have been easier.
It was entertainingly antagonistic and agitated, but Shaheen never got angry or even nonplussed. He answered any and all questions, sometimes even with a deadpan twinkle in his eye.
Afterward I unloaded on him and the entire concept
in a column
, blasting the notion for what it appeared to be -- a cold, hard money grab. I even went so far as to count the words in Shaheen's opening statement (2,505 in all).
Once I filed the column, I sent him a quick email, giving him fair warning that I was going in pretty hard on him. About five hours later, after the column had posted, he wrote back,"A little hard?"
I laughed. He laughed.
We moved on.
And that is the essence of Shaheen. He was one of the few people in Indianapolis who got it. Who understood that it's OK to be human even inside the walls of a gigantic bureaucracy. Who realized that information is not a bad thing. Who wasn't afraid to pull down the curtain on Oz.
For that, he'll likely soon be looking for a new job.
February, 23, 2012
2/23/12
5:00
AM ET
1. Kansas is on the verge of a possible eighth-straight Big 12 title. That's remarkable. The Big 12 has been one of the toughest conferences in the country during that stretch. Bill Self has done a tremendous job with this group, has managed a star in
Thomas Robinson
perfectly, developed a good complimentary player in the post in
Jeff Withey
and dealt with an enigmatic but effective
Tyshawn Taylor
. And remember, the Jayhawks lost their top recruit, Ben McLemore to academics in the nonconference. Self is right there for coach of the year nationally with Mizzou's Frank Haith, Notre Dame's Mike Brey, Kentucky's John Calipari, Syracuse's Jim Boeheim and Michigan State's Tom Izzo.
2. The decision to bring Michigan State AD Mark Hollis (as well as Delaware AD and former Georgetown AD Bernard Muir) on the NCAA tournament selection committee was an intelligent decision. Hollis has been one of the best athletic directors in the country in understanding men's basketball scheduling. Hollis has been a gambler and innovator (one of the creators of the Carrier Classic). He will know how to correctly judge nonconference scheduling. The committee improved in 2012-13 with the Hollis addition.
3. Interim Big 12 commissioner Chuck Neinas announced he will step down on July 1. The Big 12 should consider NCAA vice president Greg Shaheen for the position. Shaheen, who was responsible for coordinating the NCAA's move from Overland Park, Kan., to Indianapolis, has been the glue for the NCAA tournament. Shaheen helped negotiate the latest television contract for the tournament with CBS and Turner and is as connected as anyone at the NCAA in college athletics. But he has to re-interview for his job after the Final Four and according to multiple sources the hierarchy at the NCAA wants him out for a change. Shaheen is too valuable in college athletics to be left idle. The Big 12 could use his vision going forward.
January, 31, 2012
1/31/12
5:00
AM ET
1. NCAA vice president Greg Shaheen tweeted out a number of links Monday to the NCAA site where the exact
team sheets are online for the selection and seeding process
. The selection committee's transparency process up until the actual computer votes for selection has been a long time coming, but is welcomed. Now everyone can easily see what the committee looks at in evaluating the raw numbers.
2. Pitt coach Jamie Dixon never panicked as the Panthers went to 0-7 in the Big East. He said not having
Travon Woodall
healthy was a big deal. And it clearly was for
Ashton Gibbs
and the rest of the team. The Panthers have won three straight (the latest at West Virginia on Monday) and have a winnable Big East schedule that could put the Panthers on the bubble in March. Unlike teams in the Pac-12 and leagues outside the power six -- Pitt has opportunities for quality wins. Also, Pitt will be judged on when Woodall was healthy and when he was not.
3. Missouri coach Frank Haith has to be a finalist for national coach of the year. On Monday Haith coached one of his best games against his mentor and former boss, Texas coach Rick Barnes. Going zone on the final possession was a tremendous move. Haith may not win the award (KU's Bill Self could win it within the Big 12), but he has done a marvelous job coaching the Tigers without its top post player from the preseason. There have been no hiccups in taking over this team.
November, 11, 2011
11/11/11
12:16
AM ET
Editor's Note: For Dana O'Neil's game preview, click here. Also, check out a historic photo gallery of basketball being played on aircraft carriers for decades, including a WWII-era shot of a future President.

SAN DIEGO -- A number of sailors, some on and some off duty, milled around the court atop the USS Carl Vinson on Thursday, giddy about getting to watch North Carolina-Michigan State in an unprecedented event Friday.
The sailors, like everyone else involved in this game -- from the president to the Secretary of the Navy to the captain of the ship to every member of the military on board -- will still actually get the chance, regardless of the weather. The threat of rain is diminishing for Friday night, which is a huge relief to those who fretted over what was a more foreboding forecast a couple days ago.
The conditions were so perfect Thursday evening that Michigan State coach Tom Izzo said during the team's shootaround, "We're playing here. It will be this nice. It's beautiful.''
The decision to play the game on the deck, as originally planned, was actually made Wednesday morning, according to the game's initial innovator, Michigan State athletic director Mark Hollis. Hollis said a half-set was put together in the hangar below deck. And it was a disaster.
[+] Enlarge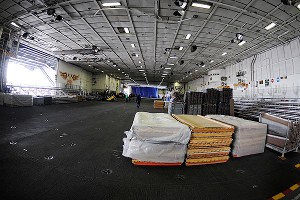 Christopher Hanewinckel/US PresswireCrews stopped construction on the court in the indoor hangar bay after the area was ruled out. The plan is to go forward above deck.
If the game had been moved below deck, it would have had a totally different feel. Seating was only good for 2,500, rather than 7,000. Hollis said the Navy would have had to set up viewing stations around the ship with televisions. It simply wouldn't have been the same.
"It was like a small junior high gymnasium down there,'' Hollis said. "No one wanted it to happen.''
Not the coaches. Not the players. Not the military personnel. No one.
"I had a few of the troops say that if this game isn't outside, they won't see it,'' North Carolina sophomore
Harrison Barnes
said.
Hollis said there is a rain contingency plan -- simply a rain delay. A number of servicemen from a nearby base volunteered throughout the week, setting up the court and the stands. They put a tarp, just like on a baseball diamond, over the court each of the past three days. A tarp was on the court Thursday night.
"We'll stop it if there is any kind of moisture,'' Hollis said. "The biggest concern is the safety of the student-athletes.''
Those student-athletes certainly don't seem concerned, though.
"This is so special to be the first outdoor college basketball game and anyone who doesn't play for Michigan State or North Carolina can't say they played in it,'' Michigan State senior forward
Draymond Green
said. "If we went underneath, we couldn't have said it either.
"You worry about the rain, but I grew up playing outside on the playground, and if there's wind just shoot it off the backboard.''
Hollis said a number of waivers had to be granted by the NCAA.
"There were a lot of operational logistics we were dealing with since we had the government, the Navy, the two institutions and the NCAA,'' Hollis said. "The approval of the uniforms, the long sleeves, the ability to come out a day earlier than normal. There were a lot of things that [Big East coordinator of officials] Art Hyland and [NCAA coordinator of officials]
John Adams
had to help us get through for all the waivers. We also had to get the endorsement of [NCAA president] Mark Emmert and [NCAA vice president] Greg Shaheen.''
The setup on the Vinson's flight deck, where normally 39 jets are stationed, ready to be deployed, is as picture-perfect as any venue in the history of the sport. The court sits on the middle of the deck, with the San Diego skyline across the water. The stands, which seat 7,000, are next to the court, with courtside seating for dignitaries that will include President Barack Obama and First Lady Michelle Obama.
[+] Enlarge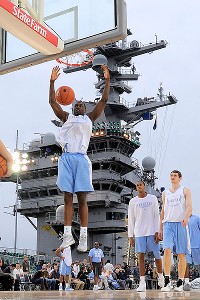 AP Photo/Mark J. Terrill It was quite an experience when the players took the court for the first time Thursday.
At one point Thursday, sailors took turns sitting in their seats in their blue-tinted fatigues. The image was akin to an Army-Navy game.
North Carolina coach Roy Williams said he was filled with pride in advance of the game. His first reaction to coming on board the ship Wednesday was: "Wow. Wow. Every player had their phones and cameras out," Williams said. "No one was talking to each other. Their eyes and mouths were wide open. This is going to be a celebration.
"From the tipoff to the final horn, we'll be working our tails off for the game. But we'll be thinking about the smiles on the faces of the people who serve our country. We're thrilled. It sends a cold chill for me just talking about it. It's the neatest thing I've ever been involved in.''
North Carolina's
Tyler Zeller
said the last time he played outside was in middle school. He said he was a bit worried about his hook shot and sizing up the distance with the potential for wind.
The elements were on everyone's mind, but not in a negative way.
"I like it out here,'' North Carolina junior forward
John Henson
said. "I think we should get the Dean Dome to open up. I'd hate to go down low and miss this experience.''
Barnes called the whole thing "unreal."
"There's no other way to say describe it," he said. "It's so nice with the sky and the cool weather. There will be such a special aura about this game. No matter how far we go in the tournament, we'll never see something like this. We're showing appreciation for the troops, see how they live and this game is put in perspective.''
Michigan State sophomore guard
Keith Appling
called this a once-in-a-lifetime experience.
"I'm only concerned that a couple of my shots get some wind and they could far right or far left,'' he said with a laugh. "It might be embarrassing with the president in the stands.''
Nevertheless, this game will be outside, whether there is wind or mist. That much we know.
"Weather is not going to be a factor,'' Green said. "It's going to be great.''
June, 1, 2011
6/01/11
9:15
AM ET
Because the College Basketball Nation blog is nothing if not service-y, last week we informed you of the
NCAA's rapidly-closing window for 2012 Final Four ticket applications
. That deadline passed Tuesday night; hopefully you got your application in, huh? (No? Come on! The blog can only do so much, guys!)
Anyway, even if you missed your first run at the Final Four, you still have a chance to see the 2012 NCAA tournament live and in living color. On Tuesday, the NCAA announced that
tickets for the preliminary rounds of the 2012 tournament would go on sale in October
.
In the words of "South Park," this is not the tradition at all: In recent years, the NCAA has forced fans to buy tickets a year in advance with little indication of which seats those tickets actually purchased. This year, as part of an "enhanced ticketing system," the NCAA is allowing fans to buy the best seats possible.
They're also coordinating the ticket sale with Midnight Madness, mid-October's annual first practice ritual. According to Greg Shaheen, NCAA interim executive vice president for championships and alliances -- among many other titles -- this move "will only add to the excitement as practice gets underway across the country."
We'll see if ticket madness sweeps the nation, but in any case, now you know. Tickets for the 2012 tournament go on sale in October, and this time, you get to fight over the best possible seats the good old-fashioned American way: By rapidly refreshing ticket lottery windows on your laptop. To the fastest index fingers go the spoils!
March, 16, 2011
3/16/11
12:15
PM ET
Last night, as the college hoops viewing public
frantically scrambled to find TruTV on their cable packages
-- come on, guys, it's not
that
hard -- and
the first two games of the NCAA's new First Four unfolded in occasionally interesting fashion
, one thought popped into my head:
compromise works
.
When the NCAA settled on the 68-team bracket, it made a compromise. In exchange for some marketable form of tournament expansion, the NCAA would appease the howling masses and eschew the 96-team tournament idea it once seemed so determined to implement at last year's Final Four. When the NCAA settled on the half-and-half composition of the First Four, it made a compromise: It wouldn't hit the low-seeded mid-major underdogs too hard, but it also wouldn't capitalize on fan interest in the usually high-major at-large teams battling for No. 11 and No. 12 seeds.
Like its catchy, recognizable name, the First Four itself was a solid idea borne of the middle ground between the NCAA's bottom line and the college hoops fans' desire to preserve the integrity and excitement of the greatest month in sports. Even at this early date, it's safe to say that compromise worked. The last four at-larges can't whine about being there; they were all mediocre enough to miss the tournament. The No. 16 auto-bids might not like the idea of an extra game before the NCAA tournament, but the exposure those teams get should far exceed anything that happens in the ritual No. 1-seed blowouts on Thursday and Friday.
It's all good. Everybody's happy. No one's peeved. We can all embrace the First Four and the new 68-team field, even if
we'll never call the First Four the first round
. (Sorry, NCAA. Not gonna happen.)
And still, the notion lingers. What if the NCAA is just warming us up? What if the master plan is still to come? What if -- gasp -- 96 teams is still an option?
I thought we were done discussing this. Apparently, we are not. The 96-team field is like the monster your child insists she saw in the closet: No matter how much evidence you present to prove the monster isn't real, the child's fear remains.
That fear has been all over the place in recent weeks, especially now that the eyes of the general public (and the generalist media) have turned specifically to the state of college hoops' new tournament format. NCAA tournament selection committee chairman Gene Smith was asked about this in his post-selection teleconference, and the query came from a reporter who seemed to assume the NCAA already had a 96-team bracket in its back pocket. The transcript of that exchange:
Q: Given the stir that's already been created by several teams that got left out, isn't there sort of an inevitability that we're going to see another expansion here soon?

Smith: I'm real comfortable with the size of the field that we're blessed to have. As we went through the debate last year nationally and got feedback from all the different conferences relative to expansion, the feedback was loud and clear relative to that issue. We ended up where we are with 68 teams, the opportunity for 37 at large teams. I do not anticipate it will be something that will happen in the near future. We have great partners with Turner and CBS. I think from an individual perspective, I think we're real comfortable where we are.
Given the unique ability for equivocation Smith showed Sunday night, this counts as one of the few questions the chairman actually answered. And the answer was, basically, "no."
To be fair to the worriers, the NCAA hasn't done the best job of allaying any public belief that a future expansion is "inevitable." On Sunday night, Smith constantly referenced the number of "very good ballclubs" that were left out of this year's field, even though the rest of the world has spent all year complaining about this tourney's soft bubble and the landscape's lack of high-quality teams. Earlier this month, NCAA vice president
Greg Shaheen told the Associated Press that internal discussions about the size NCAA tournament would "always be on the list of topics"
:
"We're always going to be looking at what's the best way to contest the championship," Shaheen said. "Sixty-eight is certainly a start, and where it goes from here is anyone's guess."
OK, so here's my guess: The NCAA tournament stays the way it is for a long, long time.
For one, the NCAA doesn't
need
to expand the tournament. Indeed, it stands to gain little financially from doing so. This summer, the NCAA inked its new 14-year, $10.8 billion joint partnership with CBS and Turner, which will earn the NCAA $200 million more per season on average than the organization's previous deal with CBS. That is a whopping sum, and it came without the added promise of 28 NIT-worthy teams duking it out in early March. Not only that, but the flexibility offered by Turner's multiple networks will allow fans to see every minute of every game on CBS, TBS, TNT, and TruTV.
The money is there. The broadcast deal is there. What motivation does the NCAA have for expanding the tournament now? I can't seem to think of one.
You can understand the fear. The uproar over a 96-team bracket was louder even than the complaints about the BCS; coaches, who get to save their job if they say they made the NCAA tournament, were literally the only people pushing for this idea. Everyone else hated it. And for good reason.
We don't need to go over those reasons again. As Smith alluded to above, "the feedback was loud and clear."
Which is why this little blog post isn't directed so much at the NCAA, but rather at you, the reader. And you, the blogger. And you, the hoops writer. And you, the columnist. Stop talking about expansion. Stop asking about it. Stop acting like there is even a possibility it could ever happen, even if Shaheen and the NCAA refuse to rule out that possibility. Pretend the discussion never happened. Pretend the First Four is all we ever heard about expansion, and now it's here and it's fine and we're not complaining.
Right now, the 96-team field is but a myth. But it's like the monster in the closet: The more you talk about it, think about, worry about it and fear it, the more real it becomes.
Refuse to make the expanded field real. Ignore it. Forget it. If we all pitch in, maybe, just maybe, we'll never have to hear about that terrible idea ever again.
September, 10, 2010
9/10/10
12:05
PM ET
The dust, as they say, has settled.
With
Thursday's announcement that the First Four would remain in Dayton, Ohio,
the site of the opening round for the past 10 seasons, the NCAA officially completed its NCAA tournament expansion. The number of teams is settled. The format is settled. The brand -- "First Four" -- is settled. The TV contract is settled. The location, as of yesterday, is settled. As an overdramatic comic book villian might say:
It is done
.
And for all the fervor of the past six months, all the debates and confusion and outright whinging, there's really only one conclusion to be drawn from the NCAA's final expansion product. It just makes sense.
At every step, the NCAA had the opportunity to do something crazy, something unpopular, or both. It didn't. Instead, the NCAA's tournament expansion path was marked primarily by one wholly welcome quality: reason. Most college hoops observers would agree. We did not see that one coming.
For the sake of perpetuity, though, it's worth remembering. So let's take it from the top.
Step One: How many teams? 96? Please tell me it won't be 96. (But seriously, please tell me it won't be 96.)
Remember
that
? By April, the pertinent rumors surrounding NCAA tournament expansion were settled. They originated, as all things do, on the Internet, where they quickly caused mass hysteria: The NCAA was going to expand to 96 teams whether you liked it or not. The only thing left was convincing you why you did.
Things didn't get any more promising when the NCAA, after months of silence on the issue, finally addressed it at the Final Four on April 1. In the midst of its traditional state-of-the-NCAA speech, NCAA senior vice president for basketball and business strategies Greg Shaheen took the podium, where he proceeded to update reporters on the state of the deliberations over NCAA tournament expansion.
This did not go well
.
Shaheen introduced several options -- including the 68-team expansion we now know and love -- but spent a large majority of his time discussing the various merits of the 96-team format. It was somewhat horrifying, not only for Shaheen, who was mercilessly grilled, but for those of us who, for very good reason, became convinced yet again that the NCAA was convinced the best way to wring more money from its new television rights negotiations would be to create more games.
It didn't seem to matter that 96 teams would dilute the beauty that is the NCAA tournament, that it would be akin to stuffing a bunch of barely watchable NIT games onto the front end of what many consider the best postseason competition in sports. It didn't seem to matter that reporters were furious, that fans were up in arms, and that no one could come up with a really good, basketball-oriented reason for expansion. It was about money. It was that simple.
And then, 22 days later, the NCAA did something nobody predicted: It made the reasonable choice.
Rather than expand to 96 teams,
the NCAA expanded to 68
. It would add three more teams -- which three remained uncertain -- and create four "opening round" games. Gone was the notion of a No. 22 seed battling a No. 1; gone was the notion of your nice, neat, NCAA tournament bracket being torn to unwieldy shreds by the addition of 32 marginal outfits. Instead, sweet simplicity prevailed.
Why? Money. The NCAA announced its limited expansion the same day it announced its new TV rights deal -- a $10.8 billion agreement over 14 years with CBS and Turner, good for an average yearly increase of about $200 million from television rights alone. The NCAA tournament is the organization's largest and most important revenue source, and the NCAA was able to get that money without fundamentally altering the tournament format. Given the damage tournament expansion could have wrought on the casual fan, and given the money available without all those added teams, the reasonable thing to do was keep the tournament as-is. It's a guaranteed money-maker already. Why tinker with the format?
Which means the NCAA accomplished the following: Achieved some measure of expansion, landed a gigantic TV deal that will buoy the organization for the next decade-and-a-half, kept the tournament largely intact, and -- perhaps most awesomely, a word I just made up, because this next part is truly that awesome -- ensured that every single NCAA tournament game would be televised on one of CBS or Turner Sports' various networks.
Every game on TV. A ton of cash. The same tournament. Perhaps the NCAA will expand the tournament in the future, but it's impossible to argue that for now, the folks in Indianapolis reached the most reasonable compromise possible. They got it right. And that was just step one.
Step Two: Who plays in the play-in ... I mean, opening round ... I mean, First Four ... games anyway?
Settling on the nature of expansion and securing that new TV contract was the hard part -- hence the large block of text you just admirably soldiered through -- but it was just the beginning. The NCAA now had another choice to make: How would the extra teams factor in to the new-look tournament? Who would play in those games? What seeds would they receive?
There appeared to be two options. The first: Adding three more play-in games between No. 16 and No. 17 seeds, similar to the "opening round" game held in Dayton every year. The second, and more radical: Eschewing the low-seed format altogether and, in what could be a canny business decision, making the last eight at-large teams vie for No. 11, No. 12, and No. 13 seeds.
There were benefits for each, though more for the latter scenario. The last eight at-large teams always include some high-profile bubble teams with dedicated, travel-happy fan bases; in 2009-10, this group would have included Illinois, Virginia Tech, California, Florida, and a variety of other big-time programs. There's no better way to drum up interest in play-in games than by featuring teams the casual fan has actually heard of. This would have been a big deal.
Here's where the NCAA got reasonable again. If you want to be generous, you could even call it a stroke of genius:
It did both
. As you no doubt know, two of the opening round games will feature the traditional No. 16/17 format. The other two will feature the last four at-large teams fighting for seeds on the Nos. 11, 12, and 13 lines.
The risk to any compromise is that by trying to please everybody, you make everyone angry, but that's not what happened here. Instead, everyone's just happy. The NCAA and fans get two high-profile games, a few small mid-majors get to avoid the stigma of the opening round, and the marginal at-large teams that would have missed the tournament in past years will have to fight to get to the Thursday and Friday games. And the NCAA even came up with a handy, easy-to-remember brand name: the First Four. It's hard to see anything wrong with this solution.
Which, of course, brings us to step three.
Step Three: So, where?
Again, the choice came down to two options: Keep the opening round -- or First Four -- in Dayton, or do something crazy and radical and ultimately more fun. That option -- a dream scenario which would have seen the NCAA set up four separate regions for the First Four in historic basketball sites like The Palestra and Hinkle Fieldhouse -- would have been the exciting call.
In the end, the NCAA chose Dayton. It's the boring and uninspiring choice, but it's a fair one. The past 10 years, Dayton has ardently supported the play-in game; the city regularly turns out more than 10,000 fans for a game pitting two teams that have a less than 1 percent chance of advancing past the No. 1 seed that awaits them in the tournament bracket. It's hard to fault the NCAA for rewarding that sort of dedication.
It wasn't the sexy choice, but it was the reasonable move.
Upon review, that type of decision characterizes the NCAA's entire approach to NCAA tournament expansion. It may not always have been intentional, and it may not be permanent -- the NCAA has left the door to a future 96-team expansion wide open -- but it was almost
universally intelligent, receptive and, above all, reasonable
.
Would the NCAA tournament be better with 64 teams? Sure. Is the current setup better than anything we could have conceivably expected in early 2010? Absolutely. In the end, that's thanks to an NCAA men's basketball committee and an NCAA leadership that did the prudent thing at almost every turn.
Nice work, guys. Now don't screw it up.
April, 22, 2010
4/22/10
12:04
PM ET
Today's big news is going to be a little bit gloomy, because guess what? All your worst fears about the NCAA tournament are true.
A new tournament? Yep. Immediate overhaul beginning in 2010-11? Yes. 96 teams? Bet on it.
According to USA Today
, CBS and Turner Sports have reached a "14-year, multibillion dollar agreement" with the NCAA for the rights to an expanding NCAA tournament, citing "multiple sources with knowledge of the negotiations." USA Today says the expansion could be to anywhere from 68 to 96 teams, but Turner's inclusion on the deal means the tournament is almost definitely going to be expanded to 96, as there is little reason for CBS to include a cable network in its new deal with the NCAA if the tournament was staying similar to its current format. Think about it: 68 teams hardly requires a two-pronged media blitz on cable and network television. But 96 does. (That said, the ability to show multiple games at the same time on the first weekend of the tournament to those without DirecTV's pay-per-view tournament package would be a nice addition to a regular, sanely sized tournament. Not that it's going to matter.)
Confirmation and an announcement are still necessary here, so let's not freak out too much. Maybe it's just a new contract, and maybe it doesn't necessarily reach into 96-team territory. The NCAA has scheduled a teleconference for 12:30 p.m. ET to discuss its new "multimedia rights agreement," so we'll have more answers then. But combined with NCAA senior vice president of basketball and business strategies Greg Shaheen's
disastrous and revealing news conference at the Final Four
, this report portends exactly what those who hate the idea of an expanded NCAA tournament -- which is, like, everybody -- feared. The four horsemen of the expansion apocalypse have arrived, and the NCAA tournament will never be the same.
April, 1, 2010
4/01/10
4:05
PM ET
If you were hoping today's press conference with NCAA senior vice president of basketball and business strategies Greg Shaheen was going to yield positive information regarding the impending NCAA Expansionpocalypse, well, sorry. It didn't. Instead, it got heated.
You can read the full transcript of the press conference here
, and there will be plenty more coverage to come. But for now, two major points should be made:
1. The NCAA has made up its mind; expansion seems more likely than ever. After Shaheen was introduced at the press conference, he discussed at length the various "models" the NCAA is considering -- the current setup, an 80-team-field, and the much-discussed 96-team field that has drawn derision from nearly every corner of college basketball. But Shaheen really only spent time discussing the 96-team-field -- how it would look, where it would be played, when the games would take place, and so on. After that, Shaheen spent much of his time defending the tournament from the popular criticisms. He discussed at length the notion that teams wouldn't have to travel more, that champions would only have to play an extra game or two to win the tournament, and that every team would still have a chance to qualify through the conference tournaments as they do. Overall, it seems the NCAA is already on the PR offensive. This isn't a bad thing! Promise! Questions please?
2. And this is where things got really hairy. The Washington Post's John Feinstein asked a question about teams having to play what will essentially be an entire week's worth of games -- Sunday to Wednesday to Saturday/Sunday to the second round regionals. Feinstein continued to hammer his point in questioning, and Shaheen's response was, um, not convincing. And by "unconvincing," I mean Shaheen refused to answer the question. (Warning: long blockquote ahead):
Q. To follow up, if you're going Saturday/Tuesday, Sunday/Tuesday then with the teams that advance if they're playing Saturday/Sunday games, right?
GS: They would play Saturday/Tuesday.

Q. So you're not going to play any games on Sunday of the first weekend?
GS: No. You'd play half the games on Saturday, half the games on Sunday.

Q. The Sunday teams that advance would play on Tuesday or are you saying Wednesday?
GS: Wednesday.

Q. Basically they'll be out of school an entire week the second week?
GS: Actually, if you were to look at the window for each individual team, you have to take each team and contemplate the fact right now you have half the field leaving campus on Tuesday, returning on Sunday or Monday.

Q. If they lose. I'm talking about the teams that win and advance. You're going to advance 16 teams.
GS: No, actually in the current model you have teams that depart on Tuesday, and even if they win, return on Sunday.

Q. We're misunderstanding each other. Under the new model that you laid out, you play 64 teams Thursday/Friday. 32 advance to games Saturday/Sunday. Then you are down after those games to 32 teams.
GS: Right.

Q. You're saying you play games in the round of 32 Tuesday/Wednesday. They would then advance to regionals when?
GS: They would continue into the regional as it's normally scheduled now.

Q. So they would go Tuesday to Thursday, Wednesday to Friday?
GS: Right.

Q. So they miss an entire week of school. That's what I'm trying to get.
GS: If you listened to my original answer, they leave now on Tuesday.

Q. I'm talking about the second week, not the first week. They play a game Saturday/Sunday, play a game Tuesday or Wednesday, then go directly to the regional. Tell me when in that second week they're going to be in class.
GS: The entire first week, the majority of the teams would be in class.

Q. You're just not going to answer the question about the second week. You're going to keep referring back to the first week, right? They're going to miss the entire second week under this model.
GS: So they're going to go to school the first week, and then they're --

Q. They're going to be under the same schedule you said basically the first week, and then they'll miss the entire second week.
GS: I'm clearly missing the nuance of your point.

Q. You and I miss nuances a lot. Thank you.
(Press conference moderator) Bob Williams: Next question, please.
Get in there, moderator! Things are getting off the rails! Help!
If it seems awkward enough on the transcript, read
Dana O'Neil
and
Pat Forde
and
Gary Parrish's tweets
from the actual media room. Shaheen was cornered, couldn't admit that the tournament was indeed forcing second-round teams to miss classes for an entire week, and so decided to basically ignore the question. Brutal.
As Parrish wrote
, "The truth is that expansion is a money grab. But the NCAA can't say that b/c, you know, it's not a business. Puts Shaheen in bad spot." And from the room, it seems even more clear than on the transcript that the NCAA has already made up its mind here.
As Pat also added
: "It's not a wonderful thing. But there is no doubt left that it's going to happen."
So there you have it. The NCAA wants more money, even at the expense of revealing itself to be apparently unconcerned with the notion of "student athletes," supposedly one of the core reasons it exists. Isn't this the major argument against a college football playoff? That students would miss too much class? And the reason why athletes can't get paid -- because they're amateurs whose focus should revolve around the pursuit of a degree? One bright side: Maybe this means the NCAA is dropping all the student-athlete pretense once and for all, which would actually be a welcome change. How quaint, right?
Meanwhile, those of you (us) hoping expansion was just something the NCAA was noodling around, covering its financial bases before it decided that this was a terrible idea that ran counter to what currently makes the NCAA tournament so awesome? Those hopes are officially crushed. The 96-team field is happening, whether we like it or not. And if today's press conference is any indication, it'll be an even bigger mess than anyone imagined.
February, 12, 2010
2/12/10
9:34
AM ET
INDIANAPOLIS, Ind. -- I am drunk with power.
OK, not really. One of the first few things you learn about being a "member" of the selection committee -- as part of a yearly simulation run by the NCAA wherein a group of media members act as pretend tournament operators, going through a condensed version of what the real selection committee will do in a month -- is that you're kind of powerless. Not entirely powerless, of course; if you're vocal, you can be a difference-maker. But you quickly learn that there's no accounting for taste, and that's as true in basketball as it is in anything else.
Does your fellow committee member hate RPI? Does the chap across the table think Purdue is a No. 1 seed? And just who put North Carolina in the "considerations" pile, anyway? Deal with it, deal with it, and -- well, OK, that last one is ridiculous. You don't have to deal with that.
These are the things we spent most of Thursday balancing. If there's one major thing I learned about the selection committee in our first day, it's that this is how the NCAA likes it. There should be disagreement. There should be an RPI-obsessed guru in the room. There should be your classic, even stubborn "I know because I watch the game" guy down the table. There should be an informed member willing to discuss why, say, the quirks of Illinois's schedule hurt its case for an at-large bid. The NCAA wants this balance, wants it to fluctuate from year to year, and if that balance produces a choice that horrifies your brilliant basketball mind, well, tough. You're just one committee member. You did your best. Now live with the result.
It's been a fun process so far, but we have lots of work ahead today -- we still need to seed a whole mess of teams, as well as adjust our inclusions based on new fake conference tournament "results" coming in -- so let's keep moving. For now, here's a few other rambling thoughts from the first day of my turn as a fake selection committee member. For a full chronology of what the committee actually did all day yesterday (which teams were included, which ones were ranked, and which ones are still on the board),
see Lexington Herald-Leader writer John Clay's blog
, as well as the
full summary on NCAA.com
.
The NCAA keeps the process straightforward, sort of. The actual physical process of deciding on teams is rendered in a computer program run by the NCAA. Committee members are given a secure laptop with access to an intranet program that runs "elections" -- the process by which committee members pick the best eight teams from a large pool, vote on them, eventually rank them, vote on them again, rank them again, and so on and so forth. The common analogy in the room yesterday is that the process is like peeling an onion away. There's plenty of overlap -- you're likely to see each team several times -- That said, the way the NCAA organizes the information it gives to committee members, many of whom might not take a regular look at the RPI and other factors, can occasionally be confusing. Once you get used to it, it's fine. But the NCAA's "team sheets" -- a breakdown of each team's record, schedule, RPI, key wins, and a variety of other categories -- aren't the easiest to read or most visually appealing documents in the world. It would be easy to see why a committee member uninterested in the RPI or "numbers" in general would quickly get frustrated and eschew that process. Hopefully this doesn't happen, but you can see why it would.
This hasn't been an issue practically, but it was brought up early in the process, and I had no idea this happened: The NCAA asks its committee members to consider three polls: The AP top 25, the ESPN/USA Today, and another poll you've never heard of. It's called the NABC regional advisory committee poll. It's a poll created by 31 coaches, one from each conference, that asks each coach to rank 15 teams from his region. NCAA senior vice president of basketball and business strategies Greg Shaheen said the poll was created because coaches were concerned that they didn't have a voice in the committee room. Does this poll play a large role? It's hard to say. We rarely, if ever, looked at the AP or the ESPN/USA Today poll, and though we didn't have access to the regional advisory poll and wouldn't have been able to look at it, it's hard to see any reasonable committee spending more time looking at that than at, you know, RPI, strength of schedule, etc. Maybe it happens. But it seems doubtful.
Does the committee care about tempo-free? Kind of, but not really. Ken Pomeroy's invaluable efficiency ratings are explicitly listed in the "resources" section of our committee materials, alongside Sagarain ratings and Jerry Palm's CollegeRPI.com. But they're listed last, and in our committee, which is made up of media members who write about basketball numbers for a living (and not, you know, conference commissioners and athletic directors), Ken Pomeroy's stats came up maybe once or twice. (They did play a role in the committee recognizing Marquette was this year's most unlucky team, but we might have reached that committee Pomeroy-or-no.) In other words, while the burgeoning tempo-free statistics movement has made major inroads in college basketball media, but it doesn't have much of a place in the committee room. Sad smiley face.
Our group has thus far been very civil. It's easy to see how things could quickly go downhill -- you're stuck in a room poring over repetitive minutiae from early in the morning until late in the evening -- but our group has exactly zero jerks in the room. Discussion has been robust but never angry or frustrated. This makes things much, much easier. (And really, if you can't have fun talking about college basketball and the NCAA tournament, what's wrong with you?)
Shaheen and other NCAA officials ended the day yesterday with a discussion of how, in the past 10 or 15 years, the difficulty in distinguishing between the final 10 or so teams in the tournament has become more and more difficult. It's interesting -- even as the technology improves and makes the committee's actual physical task easier, the amount of information available keeps increasing, thus making the consideration process for each team longer. (Oh, and it's a nice little way of segueing to 96 teams, which is a likely topic of conversation today. I'll update once that happens.)
We're thick in the throes of arguing over the last few teams in, so I should stop typing, but in case you're curious about the exact step-for-step process the committee goes through,
here's the same document of principles and procedures we received and reviewed
before beginning yesterday. We've heard plenty about the NCAA's desire to increase the selection committee's transparency, so it doesn't need to be repeated again, but keeping documents like this public is a good way of doing so.