College Basketball Nation:

Greg Smith
March, 23, 2013
3/23/13
9:58
PM ET
LEXINGTON, Ky. -- Something happened in that halftime locker room last Saturday night at Madison Square Garden.
Sure, there were words of encouragement from Louisville coach Rick Pitino as well as demands to play the way Louisville was capable of for the next 20 minutes. Senior
Peyton Siva
made his plea as well.
But these were words. The Cardinals' play over the five halves of basketball since was the action.
And that's scary for anyone left in this field.
Sure, Louisville can be beaten. The Cardinals lost three consecutive games during Big East play, to Syracuse and at Villanova and Georgetown. They handed Notre Dame multiple lives during a classic five-overtime loss in South Bend, Ind.
But it would take a shutdown by the top-seeded Cardinals, and a patient team that consistently -- and I want to underscore the word consistently here -- makes shots.
Colorado State tried for five minutes. But that was it, as the Rams were swallowed whole by the Cardinals' pressure and the nearly 90 percent home-court advantage Louisville (31-5) had on Kentucky's home floor at Rupp Arena.
"I don't want to put the pressure on Rick and his guys, but they're special," Colorado State coach Larry Eustachy said after the
82-56
thrashing in the round of 32. "They need a little luck like everybody does to win it all, but that's as impressive a team as I've been against, certainly.
"I can't say enough about coach Pitino and how he gets his guys to play for 40 minutes," Eustachy added. "It's as impressive as I've ever seen."
The mature, experienced Rams (26-9) were out of sync, committing a season-high 20 turnovers. Once the pressure increased, the eighth seed was in a vise with no release button.
"I would just describe it as chaos," said Colorado State's
Greg Smith
, who had four turnovers. "Some of those guys are just so fast, and you may think that you have an open lane or you may think the pass is coming, and they close it down so quick. They really have each other's backs as far as their traps and different stuff they throw at different people."
Louisville turned a double-digit halftime deficit to Syracuse into a 17-point win. The Cards crushed North Carolina A&T by 31.
Louisville's
Chane Behanan
said the halftime locker room last Saturday was one of shock.
"You could see the frustration on coach's face," said Behanan. "We all work so hard for him. We knew we had to buckle down. I want to see him in the Hall of Fame (Pitino is on the ballot)."
Siva said the Cardinals try not to remember the first half against Syracuse. But they must. That's exactly how Louisville can be beaten. If the opponent has a hot hand -- like Syracuse's
James Southerland
-- and the Cards are passive, they are ripe to be taken down.
[+] Enlarge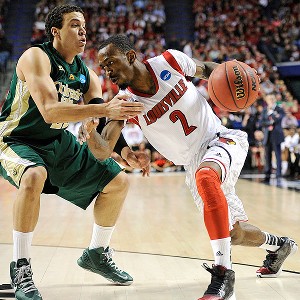 Jamie Rhodes-USA TODAY SportsRuss Smith scored 27 for the Cardinals, who are as dialed in on coach Rick Pitino as he is on them.
And in this field -- where Harvard beats New Mexico and Florida Gulf Coast knocks off Georgetown -- there are no givens.
How do you beat Louisville?
"I can't tell you that secret," said Siva. "Then other people will use it."
But there is one.
"If we don't come out with effort, we'll beat ourselves," said Siva. "We played 35 minutes against Notre Dame and we got beat in overtime. We're not overconfident. How can we be when we lost three straight? Who are we to be overconfident about anything? We lost a close game to Syracuse when I turned the ball over, and lost a close game against Georgetown when I didn't have a good game -- and then at Villanova we didn't make free throws. We've got to take care of the ball and make better decisions and make free throws down the stretch."
Russ Smith
was his ridiculous, or Rupp-diculous, self Saturday with 27 points. He and Pitino exchanged plenty of good moments during the game.
They were loving his effort and productivity at both ends of the court.
The one thing you can tell from watching Pitino the past two weeks, in New York and here in Lexington, is how much he absolutely loves coaching this team.
This is not some foreign concept. John Calipari loved dealing with last season's champion Wildcats at Kentucky. The same is almost always true of title teams and their relationships with their head coaches.
But Pitino is dialed in with this group. The players have bought in completely on how he wants them to play. The practices are intense and don't have much of a break. The individual workouts have gone from 42 minutes at the beginning of the season to 28 now, according to Pitino. The practices range from 2 hours, 25 minutes to 1:45, with the only break for 20 seconds per correction.
"It's counter-productive for a well-conditioned team to wear their legs out," said Pitino.
Pitino said to play the way the Cardinals are handling games right now takes incredible stamina and shape.
He's not about to anoint this his best team (I'd say the 1996 Kentucky team would take that honor). The talent doesn't compare.
"It may not be in my top five (on talent)," said Pitino. "But in terms of execution and intensity and will to win, it's up there. It's not a who's-who in the lottery draft. We don't play for the lottery draft. We play the game for Louisville and move on."
Louisville has some similar traits to the Maryland teams from 2001 and '02. They weren't filled with expected NBA talent. Sure, Steve Blake and Chris Wilcox have lasted in the NBA, but neither one was a lock at the time. The same could be true for
Gorgui Dieng
and Russ Smith. That Maryland team went to the Final Four one year, lost in the semifinals and returned hungry and intact to win it the following season.
Don't be surprised if that occurs with Louisville.
Coaching this lot has invigorated Pitino like he never thought possible.
"If I can keep recruiting guys like this, I want to coach until 70 and beyond because I've had such a blast, and to see guys work that hard inside just fills you up, it really does," said Pitino. "That's not easy to do what they do. I don't think in my best day as an athlete I could have done half of what these guys do in the course of a game. So, it's really amazing what they do on the court."
February, 7, 2013
2/07/13
12:32
PM ET
By
Ryan Feldman
| ESPN.com
Player of the Night -- Chaz Williams, Massachusetts
Williams had a season-high 27 points and eight assists in a win over Rhode Island. The UMass guard shot 9-of-14 from the field, 3-of-5 on 3-point attempts and a perfect 6-for-6 from the charity stripe. For the season, Williams is averaging 16.4 points, 7.0 assists and 4.4 rebounds per game. He's the only player in the country averaging at least 15 points, seven assists, four rebounds and two steals per game. In the last 15 seasons, only three players have had those averages: Ohio's
D.J. Cooper
(2010-11), Pittsburgh's Brandin Knight (2001-02) and Weber State's Eddie Gill (1999-2000).
Freshman of the Night -- Marcus Smart, Oklahoma State
Smart made an impact on both ends of the court, totaling 14 points, eight rebounds, seven assists and four steals in Oklahoma State's overtime win against Baylor. Smart hit a go-ahead jumper late in regulation and a game-tying 3-pointer early in overtime to help the Cowboys get the win. Smart is the only freshman this season with at least 14 points, eight rebounds, seven assists and four steals in a game. He's the first freshman on a current Power 6 team to post those numbers since Marquette's Dwyane Wade in November 2001 against Tennessee.
Scorer of the Night -- Marshall Henderson, Ole Miss
Henderson lit up Mississippi State for 31 points. He shot 8-of-18 from the field, 6-of-14 on 3-point attempts and 9-of-10 from the free-throw line. It was the fifth time this season that he scored at least 25 points and made at least six 3-pointers. The SEC's leading scorer has attempted at least 10 3-pointers in each of his last seven games and his 85 3-point attempts since January 15 is 21 more than any other player in the country.
Breakout Performer of the Night -- Greg Smith, Colorado State
Smith, a senior who had played in 108 career games entering Wednesday, set career highs in points (28), field goals (11) and field-goal attempts (17) in Colorado State's win at Nevada. Smith also grabbed 12 rebounds, the second-highest total of his career, and was 2-for-2 on 3-point attempts, matching a career high for 3-pointers made. It was Smith's third career double-double and first in nearly two years.
Stat Sheet Stuffer -- Joe Burton, Oregon State
Burton's 17 points and seven rebounds are nothing extraordinary, but the 6-foot-7, 295-pound center also dished out 10 assists. Burton is the first D-I center to reach those totals in a game since Northwestern's Evan Eschmeyer in January 1999 against Indiana. Burton now has two career double-digit assist games. In the last 15 seasons, no other D-I player listed within 40 pounds of Burton has had a game with at least 10 assists.
June, 24, 2011
6/24/11
7:29
PM ET
By
Diamond Leung
| ESPN.com
Willie Reed and Greg Smith were early entries in the NBA draft and confident enough that they would be among the 60 selections that they each hosted draft parties and invited media members to cover the event.
They ultimately went undrafted, and that can really kill the mood of a party quickly.
For Reed, the former Saint Louis forward, getting drafted was going to be an uphill climb after he missed his junior season
while being suspended
. Family, friends and former coaches gathered at a restaurant in his native Kansas City hoping to hear his name get called, and it didn't work out that way, according to the
Kansas City Star
.
Before the big night, Reed was told to expect being selected in the second round, between the No. 45 and 60 picks. This both delighted and distressed Reed as he openly expressed his thoughts on his Twitter feed; an emotional timeline of nerves and excitement starting with high hopes: "7 hours til #2011NBADraft. *Deep Breathe* …"

Then an hour before the draft, Reed Sr. said the family received the warning from his son's agent, Todd Ramasar. The reality: brace yourselves for a change of plans.

"(Ramasar) basically said be prepared not to hear his name called," Reed Sr. said.
For Smith, the talented center who left Fresno State after his sophomore season, the party at his uncle's house went quiet as big man after big man kept getting drafted in the second round, according to the
Fresno Bee
.
The draft was whittling to its end. Gloom was setting in. Smith's girlfriend and small daughter sat next to him. Seven picks remained.

With six picks left, [uncle Stephen] Shelley whispered in Smith's ear. As the 56th selection was announced, Smith began to make his way upstairs. Shelley trailed.

The sound of a closing door followed. The draft had shut Smith out.
For every dream that came true during the draft, depressing scenes like these quietly unfolded across the nation for the players who weren't taken. They can perhaps find comfort in the form of riches made overseas and the freedom to choose where to sign, but it's likely they won't soon forget how going undrafted felt last night.
May, 10, 2011
5/10/11
5:59
PM ET
By
Diamond Leung
| ESPN.com
Jerry Wainwright has been hired as an assistant coach under Rodney Terry at Fresno State.
Wainwright's last coaching job was at DePaul before being
fired in the middle of last season
when the program struggled. He previously led Richmond and North Carolina-Wilmington to the NCAA tournament. Terry had spent four seasons at UNC-Wilmington and seven weeks at Richmond serving on Wainwright's staff.
"It's my honor to be reunited with my mentor, Jerry Wainwright, who I believe is one of the greatest teachers of the game of basketball," Terry said in a statement.
Terry, a first-year head coach, should be able to draw from Wainwright's 16 seasons of college head coaching experience. The Bulldogs are rebuilding after the departures of coach Steve Cleveland and center
Greg Smith
, who left for the NBA draft.
For Wainwright, it's a chance to get back into some coaching after a difficult ending at DePaul. He has also recently undergone treatment for prostate cancer, according to
StarNews
.
"There's no way I could pay him [Terry] back for everything he did to help me," Wainwright said. "But your first head coaching job can be overwhelming. Maybe I can save him some time and fill in some spots and help him avoid some of the potholes."

Wainwright was fired by DePaul in January 2010, and has spent the last year or so at his home in Brunswick County. He's received treatment for prostate cancer, but said his doctors at Duke Medical Center gave him a positive report five weeks ago, and he's looking forward to helping Terry build the program at Fresno State.

"I have no reservations, I feel really good," Wainwright said.
November, 10, 2010
11/10/10
5:29
PM ET
By
Diamond Leung
| ESPN.com
Colorado State forward Greg Smith has been suspended for three games following his arrest on a misdemeanor charge of harassment and domestic violence, according to
The Coloradoan
.
"As a program, we take this matter very seriously," Miles said in a statement issued Tuesday through the Colorado State University athletic department. "I will stay closely involved as the situation unfolds with both the legal process and the university's student conduct process. At this time, Greg has been suspended for an additional three games, and I will continue to evaluate his status as more information becomes available."

Smith, according to statements by witnesses and victims in the police incident report, shoved a 19-year-old woman that was identified as his girlfriend and another 19-year-old woman during the argument, knocking one woman to the ground in the parking lot. The verbal confrontation apparently turned physical when Smith tried to retrieve his keys from the girlfriend, who insisted he had been drinking.
Smith, 19, averaged 7.1 points and 3.8 rebounds last season and is a part of the
sophomore class that Miles hopes will help the program take the next step
in competing in the Mountain West.
Smith, who missed the team's two exhibition games, will serve the three-game suspension on top of a two-game suspension because of academic issues, according to The Coloradoan.
October, 5, 2010
10/05/10
10:25
PM ET
By
Diamond Leung
| ESPN.com
In 2002, New Mexico guard Senque Carey suffered a spinal cord injury during a game that left him paralyzed for nearly two weeks and the college basketball community wondering how
he would recover
.
As it turned out his promising playing career had been cut short, but a coaching career -- with assistant jobs at UNM, Portland State and Fresno State -- was yet to come.
Carey announced on Monday a new chapter in his career, resigning after five seasons at Fresno State to coach at a high school closer to home in the San Francisco Bay Area and also work for a mentoring organization.
"The opportunity to coach locally will allow me more time to meet the needs of my family," Carey said in a statement.
Fresno State coach Steve Cleveland praised not only Carey's skills in player development, but also as a recruiter. The team's recruiting coordinator, Carey helped bring in eventual NBA lottery pick
Paul George
and current sophomore
Greg Smith
, a 6-foot-10 center who could be the Bulldogs' next early entrant to the draft.
While Carey might be leaving the college game for now, he'll bring his ability to inspire to Menlo-Atherton High School and also the Riekes Center for Human Enhancement, where he hopes to direct high school, college and pro athletes toward reaching their goals.
Chances are they'll listen to the story of how Carey took a charge that changed his life and eventually got back up from it.