College Basketball Nation:

Harper Kamp
February, 3, 2012
2/03/12
10:40
AM ET
At some level, it probably doesn't matter. What made the incident an incident, so to speak, was the reaction of Cal's
Jorge Gutierrez
. He wigged out. Had he not -- had he let whatever happened on the Arizona bench roll off, had he laughed it off and ran back into the play, and so on -- whatever happened or didn't happen, minor though it may (or may not!) have been, would be far less worthy of our attention.
[+] Enlarge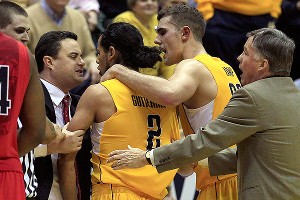 AP Photo/Jeff ChiuCal's Jorge Gutierrez is restrained by teammate Harper Kamp and coach Mike Montgomery during an exchange with Arizona coach Sean Miller on Thursday.
Anyway, in case you missed it Thursday night, in the midst of
Cal's eventual 78-74 home loss to Arizona
, Gutierrez chased a loose ball down and landed precariously on Arizona's bench. As the besuited coaches seated on the sideline sort of scrambled out of the way, one coach, former Cal, now-Arizona assistant Joe Pastnernack seemed to strongly dislike Gutierrez's chosen collision course. He flailed his legs at the Cal guard and, according to Gutierrez (via teammate
Harper Kamp
after the game), said something that Gutierrez didn't like one bit. On the video, it certainly looks like Pasternack is displeased at Gutierrez's incursion into the bench. He looks rather angry as he flails his legs about. (I can't find a legal copy of the video highlights, but just look around. They're out there.)
Does that mean he said something, or intentionally tried to kick the Cal guard? No. Does it mean Gutierrez was making a bigger deal of it than it really was in the hopes of pumping himself and/or his teammates into a motivational frenzy? Maybe? Maybe not? Given Pasternack's face and Gutierrez's reaction, it's hard not to think
something
went awry. But it's really hard to say exactly what.
In the end, it didn't matter much. Arizona coach Sean Miller stepped in and handled Gutierrez without reacting in an obviously negative manner. Cal coach Mike Montgomery came to midcourt to confer his own advice about the situation. Neither team was penalized for the mini fracas, and it didn't really affect the game going forward. Cal had already been closing Arizona's second-half lead when Gutierrez went flying at the 4:46 mark; the Bears continued to their streak after things calmed down. In the end, it didn't hurt, but it didn't help: Cal went on to tie the game at 72-72 with 3:43 remaining, but ended up losing in the final moments all the same.
Great win for Arizona, but Cal may remember it as the one that got away. The Bears lost a home game to a team that was 5-4 and struggling mightily at times in Pac-12 play, and they did it just as Washington has emerged as a co-conference contender with another big win (this one over UCLA) Thursday night. Meanwhile, the Pac-12 as a whole needed a dominant league performance from Cal; without it, it's hard to argue this league has any signal that will rightfully deserve at-large bids come March. The conference favorite's home loss to Arizona won't help that impression.
December, 2, 2011
12/02/11
10:00
PM ET
By
Diamond Leung
| ESPN.com
In a media day monologue that included details of his cancer scare along with humor both dark and self-deprecating, Cal coach Mike Montgomery made one glaring comment while describing the state of his team that was omitted from the Pac-12's detailed official transcript.
"
Richard Solomon
is no longer a freshman, although sometimes we have to check," Montgomery said half-jokingly. "But he's made great progress and has great upside."
It was an honest, little jab at the maturity level of a 6-foot-10 forward talented enough to have played major minutes as a freshman and earned a tryout to USA Basketball's Under-19 world championship team this summer. Solomon showed improvements this season while taking over a starting job, averaging 6.0 points and 7.3 rebounds, leading the team in boards.
But after being
suspended indefinitely
for conduct that Montgomery deemed detrimental to university and athletic department values, Solomon has left the No. 23 Bears a big question mark heading into Sunday's intriguing game at San Diego State.
Cal (6-1) uses a strong three-guard rotation with
Jorge Gutierrez
,
Allen Crabbe
and
Brandon Smith
with high-scoring
Justin Cobbs
coming off the bench. But alongside forward
Harper Kamp
, the Bears are thin in the frontcourt without Solomon.
The attention now centers around freshman
David Kravish
, who has impressed in the early going, averaging 4.7 points and 5.1 rebounds despite an obvious need to eventually add muscle to his 6-foot-9, 210-pound frame.
Bak Bak
and former walk-on
Robert Thurman
haven't received major minutes.
Cal seems to be the Pac-12 favorite after UCLA and Arizona dropped out of the rankings. A 39-point loss to Missouri in the CBE Classic was a definite sign that the Bears remain a work in progress. Solomon's suspension doesn't help, but a brief benching could provide a wake-up call for the talented sophomore and give Kravish a chance to shine.
For now, there's some growing up to be done.
"We expect our student-athletes to adhere to a high standard of behavior," Montgomery said in a statement. "In this particular instance, that was not the case."
November, 21, 2011
11/21/11
2:05
PM ET
KANSAS CITY, Mo. -- California, Missouri, Notre Dame and Georgia enter this week's CBE Classic with a combined record of 13-0. But without any head-turning wins on their résumé, it's tough to get a feel for just how good these teams are.
We'll certainly know more after what promises to be an entertaining two nights of basketball at the Sprint Center in Kansas City, beginning at 7:30 ET tonight with Notre Dame-Mizzou and then Cal-UGA. Here are answers to four questions hovering over the teams in this season's field:
How different will Notre Dame look with Tim Abromaitis in the lineup?
The NCAA forced Abromaitis to sit out the Fighting Irish's first four games because he participated in two exhibitions three seasons ago before redshirting. Notre Dame managed to go 4-0 without its star, although the only quality win was against Detroit. With Abromaitis in the lineup, the Irish should be an upper echelon Big East team. He averaged 15.4 points per game last season and 16.1 ppg in 2009-10.
Has Frank Haith put his stamp on Missouri's program?
It wouldn't be fair to expect the Tigers to be operating in midseason form just three games into the season. But it will be interesting to see how many changes Haith has made to a team that was known for its 40 Minutes of Hell defense under former coach Mike Anderson, who left for Arkansas in the offseason. Undersized Missouri has four guards (
Marcus Denmon
,
Flip Pressey
,
Kim English
and
Michael Dixon
) scoring in double figures, while one big man (
Ricardo Ratliffe
) plays more than 12 minutes per game.
Is Cal legit?
The Golden Bears are ranked No. 18 in the new coaches poll -- and some feel that might be too low.
Allen Crabbe
,
Jorge Gutierrez
and
Harper Kamp
all played key roles for a team that improved dramatically throughout the course of last season. Minnesota transfer
Justin Cobbs
is fitting in nicely, averaging 9.0 points and 4.3 assists in three games. With UCLA in a freefall and Arizona and Washington still trying to work out the kinks, Cal is emerging as a heavy favorite to win the Pac-12 conference.
How does Kentavious Caldwell-Pope stack up against some of the country's other top freshmen?
The 6-foot-4 Georgia guard is having to adapt to the college level quickly. Caldwell-Pope -- the most highly-touted signee in Mark Fox's tenure -- ranks second on the team in scoring (13.3 points) through three games and is playing 29.7 minutes per contest, partly because one of last season's stars, Travis Leslie, left early for the NBA draft. Georgia is 3-0 after victories against South Dakota State, Bowling Green and Wofford, so Caldwell-Pope's first true tests will come this week.
Predictions
Semifinals
Notre Dame over Missouri
Cal over Georgia
Championship
Cal over Notre Dame
November, 16, 2011
11/16/11
1:50
AM ET
By
Diamond Leung
| ESPN.com
BERKELEY, Calif. -- Cal guard
Brandon Smith
said his teammates felt slighted when the media failed to pick the Bears as the Pac-12 preseason favorites, using whatever scrap of disrespect they could find as motivation.
The Bears finished second in the voting to UCLA, which subsequently got embarrassed at home by mid-major teams in its first two games and suspended its top scorer indefinitely. Meanwhile, Cal has beaten its first three opponents by an average of 21 points.
After a
72-55 win
Tuesday against Ohio Valley Conference preseason favorite Austin Peay that saw the Bears lead by 29 points at one point, they spoke of continuing on in the CBE Classic and spreading the word that No. 22 Cal is indeed for real.
"We get to play some top teams, and we're looking forward to the opportunity to show the nation what we've got," said Smith, whose team heads to Kansas City to play Georgia and then either Missouri or Notre Dame. "The ranking, to us, doesn't matter much. It's a just a number by our name. We're out to show what Cal basketball is all about."
It was only two seasons ago when confetti floated down from the rafters at Haas Pavilion with Cal having clinched its first conference title in 50 years. After a transition year last season that went better than expected with a short-handed team,
Jorge Gutierrez
,
Allen Crabbe
and
Harper Kamp
have hopes of winning it again.
"We look at that [second-place Pac-12 pick], and anything we can do to get a chip on our shoulder is good," said Kamp, who sat out the season injured the last time Cal won the title. "We just have to play like we're the underdog, and we need to prove ourselves night in, night out."
The Bears are getting contributions from up and down their roster. Gutierrez scored 14 points and held Austin Peay's
TyShwan Edmondson
to four points on 2-for-10 shooting. Smith said when he finds out the opposing team's best player is a shooting guard and Gutierrez gets to guard him, "I just smile inside."
Kamp and freshman forward
David Kravish
, who has impressed in the early going, scored 12 points apiece and took advantage of an Austin Peay frontcourt that was without top rebounder
John Fraley
, who is out indefinitely with a concussion. Smith scored 11 points and didn't commit a turnover. The Bears have also gotten good production off the bench from Minnesota transfer
Justin Cobbs
, who can play both guard positions.
Even on a night when Crabbe struggled and scored five points on 2-for-12 shooting, Cal dominated. The Bears have led by at least 20 at halftime in each of their three games. Austin Peay was held to 13 first-half points. Now Cal has to show it can do it against better competition.
"It will be a bigger challenge for us," coach Mike Montgomery said.
November, 7, 2011
11/07/11
12:03
PM ET
By
ESPN.com staff
| ESPN.com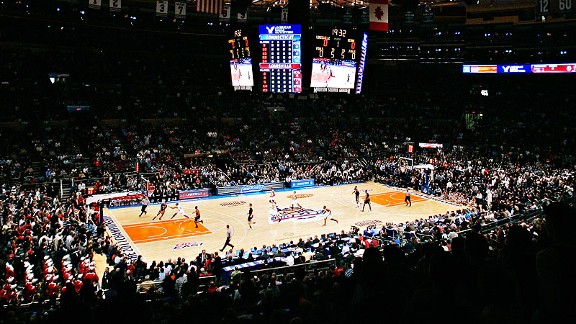 Mike Lawrie/Getty ImagesThe Big East tournament in Madison Square Garden is one thing several of our experts are looking forward to this season.
Dana O'Neil wrote about the top 25 things she's looking forward to this season. Now the rest of our experts weigh in with their selections.
Stephen Bardo
: I'm looking forward to seeing if the trend of mid-major teams advancing deep into the NCAA tournament continues. We've seen Butler, VCU, and George Mason crash the Final Four in recent seasons. This season should have more mid-majors capable of surprise runs, including Belmont, Creighton, Drexel, Fairfield, Harvard and Wichita State.
Jay Bilas
: The Big East tournament in Madison Square Garden. This could be the last season of the Big East as, hands down, the best conference in the country. Before West Virginia, Syracuse, Pittsburgh and perhaps others bolt the league, the last Big East tourney with all of the participants will bring great drama -- and some tears. Things change, but I will miss the Big East tournament.
Eamonn Brennan
: The upheaval in the Big Ten. We know Ohio State is the league's best team, and you can bank on
Jordan Taylor
and the ever-steady
Wisconsin Badgers
pushing the Buckeyes at the top of the conference. But after those two, the league is more unpredictable than any time in recent memory. Will Michigan State bounce back? Will a retooled Illinois team emerge? Can Indiana fight out of the cellar? Will Northwestern finally make the tournament? Where's Michigan's ceiling? Can an experienced Nebraska team make an impact? The search for answers to those questions -- and many more -- begins this week.
Fran Fraschilla
: Madison Square Garden in March. Sadly, I am looking forward to watching the final Big East tournament as I've known it. Regardless of how conference realignment turns out, there will never be another 30-year period in a college basketball conference like we've seen in the Big East. UConn's five-day run through the tournament last March was emblematic of the type of excitement we expected in New York. From Ewing to Mullin to Pearl to Ray Allen to Gerry and Kemba, it's never going to be the same.
John Gasaway
: The last (real) Big East tournament. I'm as realistic and progressive as the next guy. I don't fear change, and there's no doubt in my mind the ACC will be a much better basketball conference once Syracuse and Pitt join it next season. But for the past couple of decades, the Big East tournament has had something that -- to be quite honest -- no other major-conference tournament has had. And with the league losing programs like Syracuse and Pitt (and West Virginia to the Big 12), that "something" is about to disappear. But not before we enjoy one last good old-fashioned Big East tournament, March 6-10, at the Garden. It's as if someone said this will be the last season we play football on Thanksgiving. I'll see you at the Garden in March.
[+] Enlarge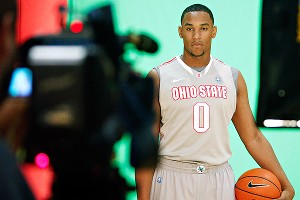 AP Photo/Terry GilliamThe Buckeyes are expecting big things from Jared Sullinger this season.
Doug Gottlieb
: Legit big men in the college game. Having a wealth of young and experienced big men make the games more balanced and better to watch.
Jared Sullinger
,
Tyler Zeller
,
Joshua Smith
, the Plumlee brothers,
Thomas Robinson
,
Quincy Acy
,
Harper Kamp
,
Aziz N'Diaye
,
Derrick Nix
,
Alex Oriakhi
and
Festus Ezeli
are just a few names you will hear about this season. With overall point guard play being down -- in terms of transcendent lead guards -- the focus on size and improving skill will be refreshing. Add to that list, several new talents like
Anthony Davis
,
Cody Zeller
and even
Andre Drummond
, all of whom are very confident and maybe more comfortable on the floor, the intrigue grows. The closer we get to conference play and postseason play, the games generally slow down and become half-court affairs. Expect these big men to become huge storylines this season.
Andy Katz
: How does North Carolina handle the expectation of being No. 1? Will Kentucky be able to mesh a talented roster yet again with a new point guard? What are the chances Connecticut can repeat behind the newcomer Drummond? Will this finally be the season that Xavier or Gonzaga break through to the Final Four? But more than anything, I'm looking forward to seeing how Creighton, New Mexico, Wichita State, Drexel, Detroit and others develop over the course of the season. We've been spoiled with Butler and VCU in March. Can we possibly get another sleeper in 2012?
Jason King
: Conference races. North Carolina seems like a shoo-in to win the ACC, but the other Big Six leagues are intriguing. Kentucky, Vanderbilt or Florida in the SEC? Kansas or Baylor in the Big 12? Connecticut, Syracuse, Louisville or Pittsburgh in the Big East? Ohio State or Wisconsin in the Big Ten? Cal, UCLA, Arizona or Washington in the Pac-12? And I haven't even mentioned darkhorses such as Marquette, Texas A&M, Alabama and Oregon. As much as I love the NCAA tournament, I'm more impressed with teams that emerge as league champions after a brutal 16-to-18-game stretch of games.
Diamond Leung
: I'm most looking forward to seeing how teams coming off conference championships last season do in the underdog role. Inexperienced Kansas, the perennial favorite in the Big 12, shares the coaches' preseason top spot with Texas A&M. In the Big East, Pittsburgh has defending national champion UConn and Syracuse to contend with. Florida lost its starting frontcourt, while Kentucky is getting all the preseason hype in the SEC. Arizona no longer has
Derrick Williams
and will rely on freshmen for production. San Diego State and Utah State only return one starter each. How will these championship-caliber teams from past seasons respond now?
Joe Lunardi
: I can't wait for a reprieve, however temporary, from the stories of realignment and greed in college athletics. It's been a miserable offseason on so many fronts, but we may have a season for the ages once the games begin. Take the three superpowers at the top of the rankings -- Carolina, Kentucky and Ohio State -- along with the last true Big East season we'll ever see, and it's going to be a battle royal for No. 1 seeds and the Final Four.
Myron Medcalf
: I'm most looking forward to watching the race in the Big 12. Kansas has dominated the league for years. And Bill Self will find a way to keep the Jayhawks in the mix. But they'll have to get past a talented Baylor squad. Missouri is also dangerous, and Texas A&M will be tough, too. Those are the teams we're talking about now. Iowa State features a bunch of guys who've been off the grid for a few years. But
Royce White
& Co. certainly possess the mojo to make a lot of noise in the league. This season, the Big 12 is must-see TV.
Miles Simon
: The thing that I am most looking forward to is watching all the super sophomores that came back to school. The trend with the one-and-done-rule has been for players to leave for the NBA -- whether they were ready or not. Now this season, I get to see elite level players like
Harrison Barnes
, Jared Sullinger,
Terrence Jones
,
Perry Jones III
and
Jeremy Lamb
compete for the national title. All of these players passed up big money for the love of their school, coaches and teammates. Having coached in college, I also believe the biggest growth in a player's game comes between their freshman and sophomore seasons (i.e. Derrick Williams for Arizona last season). If these guys produce like I think they will, college basketball will be unbelievable in 2011-12.
Dick Vitale
: I always look forward to seeing the diaper dandies, and there is a great crop coming in this season. Kentucky has Anthony Davis,
Michael Kidd-Gilchrist
and
Marquis Teague
. I cannot wait to see Andre Drummond in the middle for Connecticut.
Austin Rivers
will have an instant impact, and the Dukie fans will love him. I also want to see if North Carolina can live up to its hype. Hall of Famer Roy Williams loves the challenge. Look what he did in 2005 and 2009.
Jay Williams
: I'm looking forward to watching UNC handle the pressure of starting the season at No. 1 and trying to finish as a national champion. Having the most talent doesn't always translate to winning a title. Questions for the Tar Heels revolve around consistent outside shooting and who handles the point guard spot if foul trouble or injury occurs to
Kendall Marshall
?
November, 2, 2011
11/02/11
6:50
PM ET
By
Diamond Leung
| ESPN.com
The Big Three of
Allen Crabbe
,
Jorge Gutierrez
and
Harper Kamp
kicked off Cal's schedule with an exhibition win against UC San Diego on Wednesday, and surprisingly, it wasn't any of them who led the team in scoring.
That honor went to Minnesota transfer
Justin Cobbs
, the sophomore point guard who came off the bench to score 17 points and dish out four assists without committing a turnover in 25 minutes. As freshman Golden Gopher, Cobbs averaged 2.1 points. In this game, he played more minutes than starter
Brandon Smith
, meaning he at the very least will provide some good depth in the backcourt.
"Justin had a really good game, and he deserved to be on the floor," Cal coach Mike Montgomery told reporters. "It's a just a matter of finding people that are producing."
Last week at Pac-12 media day, Montgomery described Cobbs as a strong and explosive player who needed to play more consistently without losing focus so he could limit his mistakes. His strength is his versatility to play either guard position, and Cobbs told reporters after the game he could see himself playing point guard and shooting guard.
"Sometimes, Allen is getting it going or Jorge is playing well and I might have to play the one," Cobbs said. "Other times, Brandon might be playing well and I have to move to the two or either or. I'm just out there trying to contribute in any way possible. I feel like I'm more comfortable at the one, but any way possible to contribute."
So on a Cal team that doesn't lack for experience, depth is developing in the year after a short-handed team managed to at least make a postseason tournament. Expectations are high for a team that is now ranked in both polls, and it's Cobbs who might give the Bears another dimension.
October, 26, 2011
10/26/11
2:47
PM ET
By
Diamond Leung
| ESPN.com
Arizona won a Pac-10 championship and made an Elite Eight appearance last season under Sean Miller, and the respect level for what the coach has accomplished has many believing the Wildcats will be back on top this season despite losing
Derrick Williams
to the NBA draft. His fellow coaches seem to think so, as they ranked Arizona ahead of UCLA and Cal in the preseason poll.
But Miller wouldn't pick his own team as the favorite so far, according to the
Arizona Daily Star
.
"It would be split between Cal and UCLA, because of Cal's experience and UCLA's strength inside," Miller said of his hypothetical pick. "I wouldn't think that we would be the favorite. Hopefully we can compete for the championship, but UCLA's size and Cal's experience, to me, trumps what we have right now."

Miller said UCLA's "physical size is scary" and the Bruins have to be one of the bigger teams in college basketball. Cal has a strong returning core in guard Jorge Gutierrez, wing Allen Crabbe and forward Harper Kamp, Miller added.

"Those two stand out, Washington is always very good," Miller said, "and there's always going to be those one or two teams that surprise you."
Arizona is without its top two scorers from last season and is being cautious about forward
Kevin Parrom
's status after the junior was shot during a visit to New York in September. It does have
Kyle Fogg
expected to take a step forward and one of the top incoming freshmen classes in the nation. Until the Wildcats begin playing games, it's not easy to tell how this team will stack up against UCLA's talented frontcourt and Cal's returning players.
But note that in Miller's statement, he does use the words "right now" when saying the Bruins and Bears are further ahead at this stage. Give him time to get freshman point guard
Josiah Turner
acclimated to the offense and line up big men
Angelo Chol
and
Sidiki Johnson
alongside
Jesse Perry
, and then we'll see who finishes where in the end.
Preseason predictions, after all, are just guesswork.
December, 23, 2010
12/23/10
4:10
AM ET
By
Diamond Leung
| ESPN.com
BERKELEY, Calif. -- The nasty pileup on the floor featured two players who didn't like each other, some apparent extracurricular elbowing and tempers flaring.
Cal's
Jorge Gutierrez
was literally dragged away by a teammate and restrained by his coach after a loose ball situation resulted in the feisty Bears guard getting tangled up with Kansas forward
Thomas Robinson
for a second time.
And out of the scrum, there was
Josh Selby
trying to calm his teammate down with a bear hug.
"To make sure he keeps his composure," explained Selby, Kansas' freshman sensation.
The Jayhawks ultimately
prevailed 78-63 on Thursday
at Haas Pavilion in their first true road game of the season to improve to 11-0. In a chippy game that saw KU's leading scorer
Marcus Morris
get ejected, three technical fouls and Robinson's intentional foul, they learned that there is plenty of room to grow.
"If you're competing, you beat 'em on the scoreboard, not by getting the last word in," Kansas coach Bill Self said. "We have to mature. We don't have a mature team, and we have known that from the beginning. They are competitive, though."
Kansas got big performances off the bench from
Markieff Morris
, who had a career-high 21 points and 10 rebounds, along with 18 points from Selby, who was masterful with his first-half shooting in only the second game of his career.
[+] Enlarge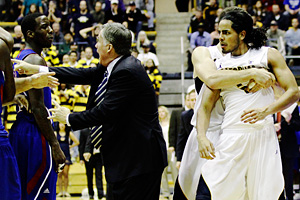 AP Photo/Marcio Jose SanchezTensions ran high Wednesday night between Kansas and Cal.
But the attention was soon focused on two teams that couldn't keep their hands off each other. Robinson got whistled for an intentional foul on Gutierrez in the first half, and it went from there.
Marcus Morris was ejected with 17:23 left for a flagrant foul of
Harper Kamp
, with Self agreeing afterward that Morris "got what he deserved." About a minute later, it was Gutierrez and Robinson going at it again and getting called for double technical fouls. Kamp and coach Mike Montgomery pulled Gutierrez out of the pile.
"You have to love Jorge," Montgomery said. "He's the greatest. But he's a stubborn son of a gun. And if you attack him, he's going to come back at you. It's just his nature. It's what makes him so good."
Said Robinson: "It's a physical game. I don't really remember what happened. I went after the ball. He went after the ball."
The incidents only served to fire up Cal, and the Bears were able to whittle a 17-point deficit down to three. But the technical on Gutierrez was also a fourth personal foul, and Kansas was able pull away behind Markieff Morris' dominance inside and
Tyrel Reed
's career highs of 18 points and seven rebounds.
Self said there's "a great chance" Selby would make his first career start once the Jayhawks return to action next week. The freshman has had the hot hand since coming off an NCAA suspension to sink USC with a game-winning 3-pointer. Against Cal, he finished 6-of-13 from the floor, making three from beyond the arc and also contributing four assists while playing good defense.
"He is a guy that can score when we don't really have a good offense," Self said.
So while Self used words like "disappointed" and "ridiculous" to describe some of his team's antics (
Brady Morningstar
was later assessed a technical for knocking the ball out of
Gary Franklin
's hands after a called timeout), the Jayhawks also had plenty of fun wearing their road blues and going at it in front of 11,250.
Kansas fans showered their team with chants and booed Gutierrez on his home court. They got to see Selby light it up and provide a glimpse of what's to come.
Yes, the Jayhawks still have to incorporate their star and have been shaky at times this season even with Selby in uniform.
"We got to be smarter," Reed said. " We've got to keep our cool and be mature about it."
But thus far, Kansas has come out on top in every challenge it has faced and gotten the last laugh.
November, 9, 2010
11/09/10
10:05
PM ET
By
Diamond Leung
| ESPN.com
BERKELEY, Calif. --
Gary Franklin
is the daring one, the lights-out shooter that Cal coach Mike Montgomery muses has never met a shot he doesn't like, but is being encouraged to keep on firing.
Allen Crabbe
is the conservative one, and while Montgomery appreciates his commitment to limiting mistakes, is also being asked to be more of an aggressive playmaker given his talent and potential.
They are Cal's freshmen wings and the two players that will need to grow up quickly if the rebuilding Bears hope to defend the Pac-10 title.
Cal returns only one major contributor from the past season's championship team. Luckily for the Bears, the gems of Montgomery's recruiting class are accustomed to winning during their prep careers in southern California.
Franklin and Crabbe, who are set to make their college debuts in an exhibition game Wednesday, impressed the coaching staff when they checked their high school titles and egos at the door.
"They've been as committed as anyone could possibly be in our program," assistant coach Travis DeCuire said. "They've never second-guessed anything they've been told, and they're willing to learn. A lot of 'yes coach, no coach, thank you coach,' and a lot of questions being asked. They've been a blessing to have."
Montgomery is so high on Franklin's ability to score that he's leaving the point guard position in the hands of veterans
Jorge Gutierrez
and
Brandon Smith
so the 6-foot-2 star at powerhouse Mater Dei High won't have too much on his plate and can focus on shooting.
"He can shoot it from deep," Montgomery said.
How deep?
Well, put it this way. Franklin is invoking the name Jerome Randle, the departed senior who won Pac-10 player of the year honors and is known for the 3-pointers launched from the Haas Pavilion parking lot.
"Seeing Jerome Randle play and seeing the shots he took, it made me more confident to where I couldn't take any worse shots than he did," Franklin said, smiling. "To his credit, he made those crazy shots that he would take sometimes. I've worked a lot on my jump shot, and I've become a pure shooter. I think Coach Montgomery is confident as well in me as taking those shots that I won't really turn down."
Crabbe, the reigning Mr. Basketball in California, will get his share of looks as well. The 6-foot-6 guard won a state title for tiny Price High in Los Angeles with fellow freshman
Richard Solomon
, a 6-foot-10 forward.
And on a team with Gutierrez as the leading returning scorer averaging 5.5 points per game, less-heralded freshman guards
Emerson Murray
and
Alex Rossi
are expected to get opportunities to play as well.
"As a group, I'm just surprised how humble they are and how willing to work they are," said junior forward
Harper Kamp
, who was medically redshirted last season and will form a frontcourt with injury-plagued center
Markhuri Sanders-Frison
.
"You see freshmen come in a lot, and they have the accolades like these guys have, and they think a little more of themselves than they should, and they don't work as hard. But this group has done a lot of work, and they know they have a lot of work left to do."
Montgomery, of course, expects plenty of growing pains early while teaching his young team the fundamentals, noting, "They don't know what they don't know yet."
But for a Bears team picked to finish seventh in the Pac-10 coming off its first regular-season title in 50 years, maybe things won't be so bad after all if the newcomers are as good as advertised.
"I think we're going to be a problem (for opponents)," Solomon said. "We're used to winning. We're going in with the mindset that we're going to win. We're pretty confident."
December, 12, 2009
12/12/09
4:22
PM ET
Georgetown coach John Thompson III put together this week's schedule to re-create a Big East-like week.
Mission accomplished.
The Hoyas beat Butler in New York at the Jimmy V Classic on Tuesday, then stayed on the road and went West to Anaheim, where they dismantled Washington at the Wooden Classic.
The Hoyas weren't in an exempted tournament like Syracuse, Villanova or West Virginia. If Georgetown was going to prove it was a Big East title contender it had to come this week.
Beating Butler and Washington on neutral courts doesn't mean the Hoyas can knock off the aforementioned three, but at least it proves the Hoyas have matured from a year ago. Sophomore center
Greg Monroe
is playing like a deserving lottery pick, a player that won't just be placed their on potential, but rather on what he has earned. The depth of the bigs on Georgetown's roster is also going to give the other big three in the Big East pause during scouting. The guard play has also been solid.
As for Washington, this was not only a discouraging loss for the Huskies but also for the Pac-10, as it whiffed again on beating a ranked team. The Pac-10 fell to 5-17 against teams from the other five power-six conferences and 0-10 against ranked teams. Washington has one more shot to beat a ranked team and that comes next week at home against Texas A&M.
The Pac-10 will be shut out of the Top 25 this week, or at least it should as Washington hasn't done enough to be ranked. They dropped to 6-2 without a win they can shout about. Cal is not the same team without
Theo Robertson
and
Harper Kamp
. Getting Robertson back will at least give the Bears a shot.
The Pac-10 title race is still likely going to be between Cal and Washington, with Arizona, Washington State, Oregon State, UCLA, Arizona State, Oregon and USC following in some order. An order that will find a few of them likely in the NIT or CBI, not the NCAA.