College Basketball Nation:

Harvard
March, 3, 2012
3/03/12
10:09
AM ET
By
ESPN Stats & Information
| ESPN.com
A scan of the college basketball box scores each night guarantees all kinds of statistical oddities and standout performances. Here are some we found from Friday:

Delaware 72, Towson 65
Robert Nwankwo
of Towson tallied 27 points and 20 rebounds in the Tigers' CAA opening-round loss. Nwankwo is the second player to record 25-plus points and 20-plus rebounds in a loss this season (
Jeronne Maymon
of Tennessee being the other on Nov. 22 against Memphis).
On another note, Towson lost its 31st game of the season, breaking the Division I record for most losses in a season (according to the NCAA record book).
Harvard 77, Columbia 70
and
Princeton 64, Yale 57
Blaise Stabb
of Columbia and
Greg Kelley
of Yale each played five minutes without accumulating a single stat.
January, 28, 2012
1/28/12
10:47
AM ET
By
ESPN Stats & Information
| ESPN.com
University of Chicago 103, #4 Emory 102
Division III: Chicago's
Matt Johnson
hit a three-pointer at the buzzer to give Chicago the win and Johnson a school-record and University Athletic Association-record 49 points. He scored 44 points in his previous game to tie the school record.
You can check the video here.

Harvard 65, Yale 35
Greg Mangano
of Yale scored 17 points; none of his teammates scored more than four points. Only Towson in a 60-27 loss to Drexel on January 4th played a game in which only one player scored more than four points.
Siena 66, Marist 55
Siena's
O.D. Anosike
poured in 21 points and grabbed 12 rebounds in the Saints' 66-55 win over Marist on Friday to record his 16th consecutive double-double. According to Siena, Anosike's streak is now tied for the third longest in Division I since 1996-97. Fairfield's Darren Phillip recorded 19 straight double-doubles in the 1999-2000 season. Next on the list for Anosike is Tim Duncan, who posted 17 straight in the 1996-97 campaign.
January, 31, 2010
1/31/10
3:09
AM ET
Polls are a snapshot of a team over the course of a week, a quick glimpse of who is playing well from Monday to Sunday.
Kansas deserves to be No. 1. The Jayhawks won at Kansas State in overtime in a place where Texas could not. The win will be enough to propel the Jayhawks to No. 1 in the country when the polls are announced on Monday.
But who is No. 2?
That's where the debate gets interesting between late Saturday and Monday morning.
I would lean toward Syracuse. The Orange had quite a week. Remember, this is about what you have done during the week. It's not necessarily about a team's entire body of work.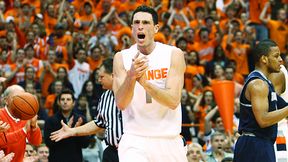 Jerome Davis/Icon SMISyracuse rallied from a big early deficit to beat Georgetown.
Syracuse had one of the more impressive wins earlier in the week when the Orange steamrolled Georgetown in the final 30 minutes at home last Monday. That's the same Georgetown team that took out Duke in convincing fashion Saturday.
Villanova has quite an argument as well with a home win over Notre Dame for its only game of the week. But Syracuse has played a tougher slate than Villanova. Overall, if you compare their sole losses, then losing to Pitt, even at home, may be a tad better than losing at Temple. This argument has holes on both sides so deciding who is most worthy of the No. 2 spot right now might come down to how you feel about the pair. And right now, after Syracuse found a way to win at DePaul when it didn't play well, the edge could go to the Orange.
Of course, the Kentucky nation would have an issue with the Wildcats not being No. 2 after dismantling one of the hottest teams in the country in Vanderbilt. The Wildcats looked quite special in running away from the Commodores. The question is does Kentucky get knocked down this week because it lost a game, even though it was on the road at South Carolina? The answer for now is yes. Remember the poll isn't about where teams will finish in March but how they're playing over the course of a week.
One thing is certain: Texas is dropping lower than No. 6 and Michigan State will at least stay put at No. 5 after a week in which the Longhorns fell to Baylor and Michigan State beat Northwestern.
Maybe I shouldn't have dumped off my original sleeper team so early. UTEP beat UAB in double overtime in Birmingham to draw into a first-place tie with the Blazers in Conference USA. I still think UAB is the only team in the league that can get in as an at-large unless Tulsa wins at Duke.
Here's what's great about the Ivy League. You go, you dress and maybe you can get into the game. Cornell played 18 players in the first strike against Harvard in the Ivy League chase.
San Francisco will not have another crowd like the one it had to beat Gonzaga late Saturday night. But credit the Dons, they did what Santa Clara and others in the league could not -- hold on to beat the mighty Zags. Other WCC teams tend to freeze when they have a chance to shut down the Zags.
The Big East will investigate how the officials handled the West Virginia-Louisville game, especially in going to the monitor to (ahem) look at the shot clock when they may have actually been looking at who should have possession on an out-of-bounds play. Official Mike Kitts didn't make a call and when no call is made on the floor, the possession goes to the team with the alternating possession arrow, which was Louisville. The ball actually did go off Louisville and West Virginia got the ball. So while the call was right it was not handled correctly. Louisville coach Rick Pitino criticized the officials by saying he was "tired of the officiating." The Big East says it will investigate.
Marquette's Jimmy Butler told me Saturday he was speechless after making the game-winning shot to beat Connecticut. The Golden Eagles had been 1-7 in games decided in the final five minutes this season.
Notre Dame's loss at Rutgers is the kind of defeat that can send a team to the NIT.
Siena's win over Marist should clinch the Saints' BracketBuster date at Butler. Announcements are due Monday.
Maybe the most bizarre event of Saturday occurred in the USC-Oregon game. USC manager Stan Holt got a technical foul after saying something to official Bobby McRoy, which led to the game becoming tied at 47-47 with 4:35 left. Holt left the bench and the Ducks went on a 10-0 run to essentially win the game 67-57. USC coach Kevin O'Neill was quoted in the Oregonian late Saturday night saying, "That's on me and that will be rectified -- it already has been -- he's gone. That's incomprehensible to me, in a two-point game, that our manager would get a technical foul. It's unforgivable, it's unprofessional. I apologized to our team for it, also." Holt was a three-year graduate manager. The only remaining question was how he did he get home from Eugene after O'Neill clearly tossed him off the roster?
January, 29, 2010
1/29/10
12:50
PM ET