College Basketball Nation:

Hollis Thompson
June, 29, 2012
6/29/12
5:00
AM ET
1. Alabama took a hit with both
JaMychal Green
and Tony Mitchell going undrafted Thursday. So too did Georgetown after
Hollis Thompson
and
Henry Sims
went unselected. Add New Mexico's
Drew Gordon
, Xavier's
Tu Holloway
, Long Beach State's
Casper Ware
, Wisconsin's
Jordan Taylor
, Ohio State's
William Buford
, Texas'
J'Covan Brown
, West Virginia's
Kevin Jones
and Iona's
Scott Machado
to the list of players who didn't get picked.
2. Mississippi State's
Renardo Sidney
can't be too disappointed. He was a long shot to be selected. He has had one of the most bizarre and most discussed careers I have seen in covering the sport for 22 years. Hopefully he will find his way. The Bulldogs'
Dee Bost
, who didn't get picked either, once famously declared for the draft then returned to school in 2011 after claiming he didn't know the rules.
3. The Big East fully expects Boise State to be a football member and is doing all it can to help the Broncos get the rest of their sports into the Big West, even making a financial commitment. San Diego State spent Thursday lobbying other Big West members to help get the Broncos into the league. Boise State has until Saturday to withdraw from the Mountain West for 2013 or face further penalty. The Big West has to simply make a decision. The basketball conference will be much improved by adding Boise State with SDSU and Hawaii -- three programs that care deeply about their sports.
March, 15, 2012
3/15/12
11:45
PM ET
COLUMBUS, Ohio -- The afternoon slate of NCAA tournament games at Nationwide Arena on Friday will feature a pair of intriguing matchups. San Diego State will try to stop NC State from running away with the upset -- literally. And Belmont versus Georgetown pits one of the nation's top 3-point shooting teams against the squad that's most equipped to defend it.
No. 11 NC State (22-12) vs. No. 6 San Diego State (26-7), 12:40 p.m. ET
Last year, San Diego State charmed the country with its surge to the Sweet 16 as former Aztecs star Kawhi Leonard led the way. But Steve Fisher lost four starters from that team. Preseason projections suggested that the Aztecs would not come close to duplicating last season's achievements.


But this program has proved its doubters wrong this year.
The Aztecs shared the Mountain West crown with New Mexico during the regular season. They're undersized and they're not very deep, but they've held their opponents to a 40 percent shooting clip, second in the conference.
Jamaal Franklin
(17.2 points per game) and
Chase Tapley
(15.7 ppg) are a potent duo for a program that's overcome adversity in close games. They're 4-0 in overtime this season.
"It helped a lot. The NCAA tournament, you get those kind of games like every night, close barn-burning games, and those games at the beginning of the year, early in the year, like UC Santa Barbara, the Creighton game, games like that really prepared us for this moment we have right now," Tapley said.
The Aztecs have been here before. The bright lights of March are not new for the program.
When Mark Gottfried took the Wolfpack job last summer, however, he understood that he'd have to rebuild a winning tradition at NC State.
Leading the Wolfpack to its first NCAA tournament bid since 2006 is a start.
"Our banners, national championship banners are hanging in our gym," he said. "Our guys see them every day. And they understand the tradition and the history of NC State. Been in three Final Fours, won two national championships. So our players are very well aware of that."
There were a multitude of reasons to doubt both teams' chances of reaching March Madness.
To stay here, however, San Diego State will have to overcome its size disadvantage and try to control the tempo against a NC State team that likes to run. The Wolfpack will have to take advantage of their athleticism and transition offense to beat the Aztecs.
NC State's scoring offense (73.6 ppg and 81
st
in Ken Pomeroy's tempo ratings) was third behind North Carolina's and Duke's in the ACC.
C.J. Leslie
(14.6 ppg) leads five Wolfpack players in double figures.
San Diego State hopes to limit NC State's ability to fully utilize its talent by slowing the game down in a matchup against a squad that's shooting 46.3 percent from the field.
But the Aztecs said they feel comfortable picking up the pace, too.
"[We're] not going to get in a transition game, really pick our spots here and there and run," SDSU's
Xavier Thames
said. "And whatever they want to play, we can play. We could play a slow-down game, we could play a transition game."
NC State has to worry about matching up with an Aztecs team that employs a four-guard set.
"I feel that we have four guys on the perimeter, including C.J. Leslie, that can guard any position, 1 through 4,"
C.J. Williams
said.


No. 14 Belmont (27-7) vs. No. 3 Georgetown (23-8), 3:10 p.m. ET
It seems simple.
Belmont loves the 3-ball (8.8 per game, 10
th
in the nation). Georgetown plays the best perimeter defense in America (27 percent 3-point field goal percentage allowed).
Something has to give when the Bruins face the Hoyas in this second-round matchup in the NCAA tournament, right?
"We gotta penetrate when we can and be strong when we penetrate and find shooters on the perimeter and hopefully get inside the defense," Belmont's
Kerron Johnson
said.
Jason Clark
said Georgetown's preparations have focused on neutralizing Belmont's 3-point barrages.
"That's one thing Coach [John Thompson III] has been stressing all this week at practice is defending the 3-point line, not letting them get 3-point shots," he said.
Thompson, however, says it's not that simple.
The Bruins like to run (13
th
in Ken Pomeroy's adjusted offensive efficiency ratings) and they're a great passing team (17.4 assists per game, fifth in the nation). Belmont's 81.5 ppg makes the Bruins the fourth best scoring offense in America.
All-Atlantic Sun guards
Ian Clark
, the conference's defensive player of the year,
Drew Hanlen
and Johnson anchor Belmont. But
Mick Hedgepeth
(double-double in conference tourney title game) and
Scott Saunders
(10.2 ppg, 5.0 rebounds per game) can hurt opponents inside.
"Obviously, they have a terrific shooting team, but at the same time, if you get spaced out, if you start just chasing those shooters, their post players are very good and they're … a very good passing team," Thompson said. "… Protecting the 3-point line and stopping shooters is important, but they're much more complex than that."
But Belmont will need one of its best efforts of the year to upset the Hoyas. The Bruins lost to Duke by a point in their season opener. So they won't be intimidated.
The Hoyas have shot 46.3 percent from the field, the No. 2 mark in the Big East.
Otto Porter
and
Henry Sims
could bully the Bruins inside.
Hollis Thompson
is dangerous from outside (44.4 percent from beyond the arc) and Jason Clark (13.9 ppg) is a gamer.
This has been a trendy upset pick since the matchup was announced on Selection Sunday. But Georgetown is a team that's built to control the Bruins.
But the two teams expect a battle.
Both know March Madness heartbreak.
Wisconsin sent Belmont -- a team looking for its first NCAA tournament victory in its fifth appearance -- home early last year.
Georgetown has lost back-to-back opening-round games to lower seeds. The early losses damaged the Hoyas' postseason reputation and fueled some of this season's upset predictions.
Sims, however, said the only way to change that is to advance.
"It's hard for people to forget what happened until you make something different happen," he said.
January, 26, 2012
1/26/12
11:15
AM ET
Let's just call this the Mike Scott list. Scott's supporters are quick to say that he's the most underrated player in America. But he's not alone.
Multiple players aren't getting enough national love, either.
[+] Enlarge

Jim Z Rider/US PresswireIt's been no surprise this season that Mike Scott gets the ball when Virginia needs a bucket.
December, 27, 2011
12/27/11
9:20
AM ET
Before conference play gets underway, let's take another attempt at ranking all 16 teams in the Big East:
1. Syracuse: The Orange head in to league play unblemished and barely challenged. Syracuse has won games by an average of 21.7 points in the nonconference season.

2. Louisville: Russ Smith has provided a much-needed offensive spark for the Cardinals, scoring 23 against Western Kentucky. The Cards still haven't jelled entirely, but the defense has kept Louisville alive.

3. Connecticut: The Huskies beat a good Fairfield team to end their nonconference schedule but will have to make do in the first three league games without Jim Calhoun. The coach will begin his suspension from NCAA sanctions this week.

4. Georgetown: The eye-opening win against Memphis proved how good the Hoyas are getting … and how much the Tigers are struggling. Jason Clark and Hollis Thompson continue to lead Georgetown.

5. Marquette: The Golden Eagles responded well from the upset against LSU with a win against a decent Milwaukee team. They'll have one more nonleague game -- against floundering Vanderbilt -- before heading into conference play.

6. West Virginia: No shame in the Mountaineers' overtime loss to Baylor in Vegas. If anything, the loss proves how good West Virginia is becoming, thanks largely to the continued great play from Kevin Jones.

7. Seton Hall: The Pirates own an eight-game win streak and an 11-1 record. They'll know how good they really are in a hurry. Seton Hall opens Big East play at the Carrier Dome against No. 1 Syracuse.

8. Cincinnati: Maybe the brawl has refocused the Bearcats. Cincinnati, using a 4-guard offense because of the suspension of Yancy Gates, barely missed becoming the first team in school history to score 100 points in three consecutive games, falling five points short of the record in a blowout of Chicago State.

9. Pittsburgh: The unthinkable has happened twice now at Pitt, with the Panthers dropping their second home loss of the season, this time to Wagner. It's the first time the Panthers have lost to a Northeast Conference opponent in 70 games, and hardly the confidence boost Pitt needs as it readies for the Big East.

10. Providence: The Friars' improvement is officially evident in the state of Rhode Island. Providence beat URI on the road for the first time in its past five tries. Ed Cooley takes his team to New York for the league opener against St. John's.

11. DePaul: The Blue Demons' improvement continues as Oliver Purnell has DePaul off to its best start (9-3) in 12 years. In Cleveland Melvin, DePaul has a legit Big East talent.

12. Villanova: The Wildcats know one thing heading in to Big East play -- they need Maalik Wayns. Nova recently led American by just two before Wayns, sidelined with a virus, came into the game. The Cats won by 21.

13. Notre Dame: The good news: The Irish scored 106 points in a game. The bad news: It was against Sacred Heart. How Notre Dame will do offensively against the likes of Pitt -- the Irish's first league opponent -- will be a little more telling.

14. St. John's: The Red Storm finally got some good news -- Amir Garrett, one of three freshmen who didn't qualify academically, was cleared and played in his first game last week. St. John's needs him with Nurideen Lindsey choosing to transfer.

15. Rutgers: Even in a win, the Scarlet Knights have problems. Rutgers beat NJIT by 24 but trailed early in the second half against the undermanned opponent. That on-and-off-the-gas-pedal attitude won't fly this week when Rutgers finishes its nonconference slate against Florida.

16. South Florida: Things continue to look bleak in South Florida, where the Bulls completed their nonconference play with a loss to Southern Miss. Next up: Connecticut.
December, 9, 2011
12/09/11
10:45
AM ET
Here's my attempt at ranking the Big East teams one month into the season:
1. Syracuse
: Amid distractions and the dismissal of their associate head coach, the Orange have done nothing to undermine their top-five national ranking. Syracuse won its first seven games by an average of 26 points and then survived a slugfest against Florida. SU's defense has been particularly strong, while its offense is a little less reliable.

2. Marquette
: Buzz Williams' chronically underappreciated Golden Eagles ought to get their due soon. They're undefeated, with notches against in-state rival Wisconsin and a good Washington team in New York.
Darius Johnson-Odom
is good enough to make the early short list for Big East Player of the Year.
3. Louisville
: For those who thought Rick Pitino did a masterful job last season, we give you the first month of 2011-12. Pitino has had to hodgepodge together a team amid a myriad of injuries and has yet to lose a game. Louisville has quality wins against a good Long Beach State team and Vanderbilt, and, with everyone finally getting healthy, should only get better as the schedule gets tougher.
4. Connecticut
: Rare is the season when beating Harvard signals that UConn is starting to find its way, but the Crimson is that good. Thursday night's win doesn't answer all the questions, but certainly for a Huskies team still trying to add new parts -- and satisfy old ones in the form of
Alex Oriakhi
-- it's a good step. Connecticut is good and will be better as the season progresses, but as the loss to UCF and the near-loss to Florida State prove, there will be growing pains.
5. Georgetown
: The Hoyas count as a pleasant surprise in the Big East. After losing Chris Wright and Austin Freeman, no one knew quite what to expect. But
Jason Clark
has stepped into the leadership role in the backcourt,
Hollis Thompson
and the emerging
Henry Sims
have solidified the frontcourt, and Georgetown is 7-1 with quality wins against Memphis and Alabama and only a close loss to Kansas.
6. Pittsburgh
: The Panthers will be tough to honestly judge for the next month as they play without Trevon Woodall. That sort of fits right in with Pitt anyway. This is a good team, but one that is a bit confounding. The loss to Long Beach State at the Pete ranks as the biggest head-scratcher, but there's also a sense that Pitt hasn't quite found its groove just yet.
7. West Virginia
: Bob Huggins' work in progress is starting to progress. The Mountaineers took it on the chin against Mississippi State, but rebounded with a mighty impressive double-overtime win against a previously unbeaten Kansas State team in front of thousands of purple people in Wichita. Who this team is now and who it will be come March will likely be decidedly different.
8. Seton Hall
:
Herb Pope
is playing out of his mind -- averaging an impressive double-double of 21.4 points and 11 boards -- and the Pirates are enjoying the benefits. Seton Hall has not played a murderers' row, for sure, but has won its winnable games with authority. Their lone loss, to Northwestern, isn't diabolical.
9. Cincinnati
: This perplexing Bearcats team could provide answers quickly. Cincinnati plays at Xavier on Saturday. In the meantime, we have only a confusing résumé to go by, which is why the Bearcats are in the middle of the pack. This is a talented and veteran team, so how to explain home losses to Presbyterian and Marshall? Yes, the Thundering Herd is a good team, but Cincy ought to be better.
10. Providence
: No one will confuse the Friars' 7-2 record for a sign of a Top 25 team in the making -- this team has feasted on winnable games early. But there's no point in knocking that approach either. Ed Cooley is trying to change the culture at PC and in order to do that, he's first got to change the confidence. Reality will come in the form of Georgetown and Syracuse in back-to-back games to end 2011 and start 2012.
11. Villanova
: Jay Wright keeps tinkering and hasn't found the right combination yet. There is talent on the Wildcats' roster, but it's not working together or working well. A team many thought would make the finals at the 76 Classic instead dropped games to Saint Louis and Santa Clara. The Wildcats are going to have to get smarter and better fast to be competitive in the conference.
12. Notre Dame
: The Irish's power rankings ought to come with an asterisk. Without
Tim Abromaitis
, this isn't the same team. But as coaches like to say, you can only play the hand you're dealt, and right now the Irish can't even bluff well. Notre Dame has lost badly to the two ranked opponents it's faced (Missouri by 29 and Gonzaga by 20). In order to survive, Mike Brey may have to pull out the walk-the-ball-up-the-court method he used after Luke Harangody was injured.
13. DePaul
: The Blue Demons' struggles don't appear to be easing anytime soon. DePaul played well in losses to its two toughest early opponents -- Minnesota and Ole Miss -- but almosts don't count in basketball. There is still much work for Oliver Purnell to do and little time to do it in. DePaul kicks off the Big East season against Syracuse and Pitt.
14. St. John's
: Credit the Red Storm for playing a tough schedule. Unfortunately, right now the young team has nothing to show for it. St. John's has lost to the three ranked teams it's faced, but what is more damning is that it lost to Northeastern and Detroit as well. Steve Lavin is still recovering from cancer surgery, and
Nurideen Lindsey
just decided to transfer out. Not a fun season so far for the Johnnies.
15. South Florida
: Times remain tough for Stan Heath in Tampa, where the promise of talent has never delivered victories. The Bulls this season are 5-4, but don't let the record fool you. USF's losses are either to bad teams (Penn State) or really bad losses to good teams -- a 23-point beating from VCU followed by a 28-point blowout to Kansas. The pressure is on Heath right now.
16. Rutgers
: There are more questions than answers right now for the Scarlet Knights, who have lost four of their past five, including two in a row to LSU and Princeton. Most troubling, Rutgers hasn't broken the 60-point mark in any of those games and is averaging just 66 points on the season.
December, 2, 2011
12/02/11
12:16
AM ET
By
ESPN.com staff
| ESPN.com
November, 23, 2011
11/23/11
10:32
PM ET
Shortly after Wednesday's
91-88
overtime victory over Memphis at the Lahaina Civic Center, the
Georgetown Hoyas
went back to the Hyatt Regency, packed their bags and headed straight to the airport.
While other teams in the Maui Invitational extended their trip so they could spend Thanksgiving Day snorkling and sightseeing, the Hoyas were eager to get back to the mainland.
"We're leaving tonight," coach John Thompson III told ESPN.com by phone. "We're going home."
They should certainly expect a warm reception.
Even though the fifth-place medal isn't as gaudy as the championship trophy it hoped to claim, Georgetown left Maui with plenty of reasons for encouragement following a strong showing in Monday's
67-63
loss to No. 14 Kansas and a banner effort in Wednesday's victory over the eighth-ranked Tigers.
"There's reason for excitement when you come away with a win against a team of that caliber," Thompson III said. "And the Kansas game was winnable, too. This team believes in each other and they believe in what we're doing. Am I pleased with where we are? No, I'm not pleased, because this team has so much room for growth. But I'm not displeased, either."
Nor should he be.
Georgetown lost its top two scorers (Austin Freeman and Chris Wright) from a squad that won 21 games last season. Also gone is reliable forward Julian Vaughn. That's why no one really flinched when Big East coaches picked the Hoyas to finish 10th in the league standings this season. Ten of the 13 players on Georgetown's roster are either freshmen or sophomores.
But it certainly didn't show against Memphis on Wednesday.
The Hoyas played an intense brand of defense, committed just nine turnovers and showed incredible patience on offense. Unlike its opponent, Georgetown didn't force shots or make poor decisions down the stretch. Instead, the Hoyas kept their poise, played with structure and came up big when it mattered most.
"Winning a game [in this fashion] was good for us because we're so young," Thompson III said. "For long stretches there I had three freshmen on the court at the same time. We've got to learn how to win and how to win together. In the Kansas game, we made mistakes down the stretch that we could've controlled. We could've won that game.
"Tonight we didn't make mistakes. We controlled what we could. Will it help? Time will tell."
Freshman
Otto Porter
, whom the Hoyas signed late, continues to be a huge spark. The versatile forward played 40 minutes Wednesday and contributed 9 points, 8 rebounds, 4 steals, 3 assists and 2 blocks.
"He is the most prepared freshman that I've coached," Thompson III said. "Mentally, physically, emotionally ... just being prepared to compete at this level in a way that most freshmen are not. A lot of freshmen don't understand how to compete at this level. But he walked in the door knowing how to compete."
Forward
Hollis Thompson
(12 points, 7 rebounds) certainly caught the attention of the slew of NBA scouts seated courtside with his inside-out game. But the two most impressive players Wednesday were center
Henry Sims
and shooting guard
Jason Clark
, both of whom are seniors.
Sims scored a career-high 24 points on 10-of-17 shooting. He also had 8 rebounds and 5 assists. Sims has never averaged more than 3.6 points in a single season, but now that some of Georgetown's key pieces are gone, the 6-foot-10, 245-pounder is stepping up.
"He had a terrific game," Thompson III said. "He's 6-10 and fairly athletic. He's realizing that if he exerts the effort and the energy, good things will happen."
Clark, who has been one of Georgetown's top players the last two years, had a game-high 26 points. His 3-pointer with 50 seconds left in overtime gave the Hoyas an 88-86 lead and a momentum they would never relinquish.
In Tuesday's win over Chaminade, Clark scored 28 points in 24 minutes. He had 15 points in Monday's loss to Kansas. He made a remarkable 12 of 20 3-point attempts in Maui.
"The good thing about Jason is that he doesn't take shots he shouldn't take," Thompson III said. "He knows where his shots are coming from. He doesn't force anything. He lets it come to him. He takes the right shots. He'll have [the best year of his career] if he doesn't push or press anything."
Actually, JT3 feels that way about his entire team. If the Hoyas continue to improve, there's no reason they can't be one of the top teams in the Big East -- or at least better than 10th.
"We lost a lot with Chris, Austin and Julian," Thompson III said. "They were at the forefront of everything we did the last few years. But we have people that are willing to step up. Our team is much different now. As long as we believe in each other, we'll be OK.
"There isn't a false bravado. They know we have to get better. They know we're not close to being where we should. This win isn't going to change that."
November, 23, 2011
11/23/11
8:43
PM ET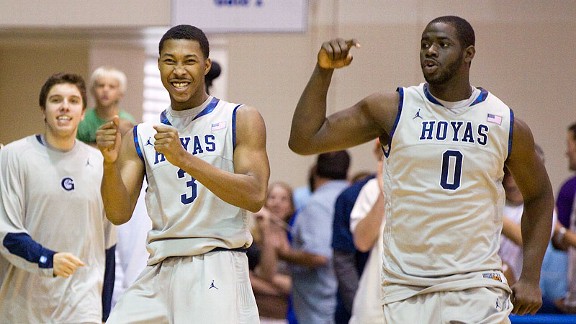 AP Photo/Eugene TannerGeorgetown's Mikael Hopkins (3) and Tyler Adams (0) celebrate the overtime victory over Memphis.
Overview
: One day after a double-overtime victory against Tennessee, the eighth-ranked
Memphis Tigers
were forced into an extra period once again in Wednesday's fifth-place game against Georgetown. This time the results weren't as favorable for Josh Pastner's squad, which fell
91-88
to the Hoyas.


While Memphis, which was thumped by Michigan in Monday's opener, leaves Hawaii as the Maui Invitational's biggest disappointment, Georgetown was arguably the event's most pleasant surprise. The Hoyas' roster features 10 freshmen and sophomores, but they hardly played to their age Wednesday. Georgetown kept its poise while Memphis crumbled under pressure.
Jason Clark
scored 26 points and
Henry Sims
added 24 for the Hoyas, who improved to 4-1.
Will Barton
had 22 points to lead the Tigers.
Turning point
: With his team trailing 86-85 in overtime, Clark buried a 3-pointer with 52 seconds remaining that gave Georgetown an 88-86 lead and momentum it would never relinquish. Clark made four of his seven 3-point attempts and was 9-of-17 from the field overall. Memphis had one last shot trailing 91-88, but
Antonio Barton
's guarded 3 at the buzzer barely nicked the rim.
Why Georgetown won
: The Hoyas' size and overall length was certainly a factor, as Memphis had trouble establishing any sort of presence in the paint. Georgetown also pestered the Tigers into 17 turnovers. But the biggest difference was the Hoyas' patience on offense and overall shot selection late in the game. Both teams made about 49 percent of their field-goal attempts, but Georgetown was more disciplined during crunch time than the Tigers, who forced things and pressed when it mattered most.
Why Memphis lost
: Early on, Pastner's squad was terrible defensively. There's no way such a young Georgetown squad should have 47 points at intermission. The other problem was that Memphis made a ton of bone-headed mistakes down the stretch that likely cost it the game. One of the most crucial errors came in final seconds of regulation with Memphis leading 78-76. Instead of letting some time run off the clock, point guard
Joe Jackson
penetrated into traffic just a few seconds into the shot clock and tried to force a pass to
Wesley Witherspoon
. Georgetown came up with an easy steal with 35 seconds remaining, and the Hoyas capitalized when freshman
Greg Whittington
got an easy put-back off Sims' missed jumper to force a 78-78 tie with 18 seconds left.
More sloppiness ensued moments later, when Memphis couldn't come up with anything close to a quality shot as time expired. Instead,
Adonis Thomas
was forced to throw up a 27-foot 3-pointer that didn't even hit the rim. Also, despite calling a timeout, Memphis failed to get a good look on its final shot in overtime. With none of his teammates open, Antonio Barton had no other choice but to pump fake and shoot an off-balance 3-pointer that would've tied the game. The attempt was way off.
Other observations
: The Hoyas signed a true gem out of Missouri in freshman
Otto Porter
, who had 9 points, 8 rebounds, 4 steals, 3 assists and 2 blocks off the bench Wednesday. ... Speaking of freshmen, Memphis' Thomas (5 points, 1 rebound, 4 turnovers) isn't progressing nearly as quickly, despite being more highly touted ... Memphis forward
Stan Simpson
, a juco transfer, came off the bench and hit some huge free throws late in Wednesday's game. ... The slew of NBA scouts that made the trip to Maui this week surely developed a positive opinion of Georgetown's
Hollis Thompson
, whose versatility was on full display Wednesday. ... Take away
Nate Lubick
's 0-for-6 performance from the field, and Georgetown went 34-of-64 Wednesday. Pretty impressive ... I've been saying this for two years, but Hoyas guard Clark is one of the country's most underrated players. ... Same goes for John Thompson III in the coaching category.
What it means
: There's no way Georgetown is the 10th-best team in the Big East. The Hoyas are big, versatile, athletic and well-coached. Their biggest flaws are a lack of an experienced, high-level point guard and their overall youth. But anyone who witnessed Georgetown's games against Kansas and Memphis could see that their younger players are seasoned beyond their years. At this point Georgetown looks like a fringe top-25 team that could break into the rankings with a few more quality wins.
No one doubts Memphis' talent, and the Tigers have certainly come a long way from last year in terms of maturity. Still, Pastner's team doesn't look crisp on offense and the intensity often seems to be lacking on the defensive end. But the bottom line Wednesday was that Memphis just didn't play smart basketball when it mattered the most.
Up next
: Georgetown hosts IUPUI on Monday before traveling to Tuscaloosa for a Dec. 1 tilt with Alabama. We'll know a lot more about the Hoyas after that game, as the Crimson Tide will provide Georgetown's toughest test of the season to date. As for Memphis, it hosts Jackson State (Monday) and Austin Peay (Saturday) next week before traveling to Miami for a tough road game Dec. 6.
August, 23, 2011
8/23/11
1:55
PM ET
When we remember Georgetown's 2011 trip to China -- assuming we remember it at all -- the first thing that will come to mind is
the ugly brawl between the Hoyas and the Bayi Rockets
during a competition billed as the "China-U.S. Friendship Basketball Match." Flying chairs, screaming fans, debris on the floor -- that slugfest was, for lack of a better word, insane.
But you have to give the Hoyas credit. They could have easily seen the China trip as a failed excursion. Or, in fear for their safety, Georgetown could have decided to skip the rest of their exhibition games and leave the country early. Instead, John Thompson III's team stuck it out. They finished their trip with an 84-63 win over Taiwan this week, and Thompson believes the experience will ultimately be a positive for his team.
From the Washington Post's Gene Wang
:
"It was a unique experience that I'm glad we did," Thompson said of the trip after an 83-64 victory over Taiwan at a gym next to the team hotel. "Time will tell, but I do think that we will see the benefits of this trip come January, February, March." [...] "Overall the trip has been great from a basketball perspective as well as just from a cultural perspective, getting a chance to see this country and learn about this country. It's something that is invaluable."
Even more admirable were Georgetown's attempts at reconciling with the Rockets, which Hoyas officials initiated a day after the melee:
The next morning, Thompson and players Jason Clark and Hollis Thompson met privately with the Rockets coach and two players for a reconciliation discussion that Georgetown officials initiated. The meeting at Beijing Capital Airport included an exchange of an autographed basketball and Thompson inviting Chinese kids to the Hoyas summer basketball camp next year.
In many ways, Georgetown had little control over the mess that ensued in the Bayi game. (Once people start hitting you with chairs, diplomacy tends to go out the window.) But Thompson could control his team's response. Rather than losing all the cultural and political value of the trip thanks to a few hotheaded decisions, the Hoyas regrouped, played out the rest of their obligations and made the symbolic first step toward cleaning up a mess for which they were only partially responsible.
At the very least, that deserves kudos. Georgetown's China trip didn't begin on a high note, but it certainly seems to have ended on one.
August, 22, 2011
8/22/11
10:01
PM ET
By
Diamond Leung
| ESPN.com
As Georgetown's game in Beijing on Thursday began to get heated, one particularly galling moment stood out before the Hoyas and Bayi Rockets began brawling. According to the
Los Angeles Times
, one Chinese player yelled at coach John Thompson III in English, "How can you let your players play like that?" It was the height of disrespect.
The world saw what happened soon after that, and reactions to the altercation ranged from
speechlessness to bravado
to commentaries about
China and its changing place in the world
.
[+] Enlarge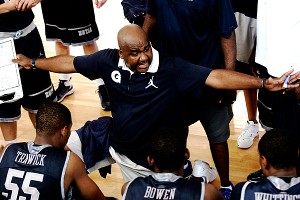 AP PhotoJohn Thompson has continued to teach in the wake of an on-court brawl in China. "From that confrontation or from that conflict, you can learn," he said.
But in the days following the international incident, the public did not hear a single disparaging word about the Chinese team from Thompson. He didn't just want to move on. He set an example for his young team.
"From that confrontation or from that conflict, you can learn,"
Thompson told reporters
. "You can take away. You can grow. You can gain knowledge from that. The word of the day everyone wants to talk about -- diplomacy -- and I think that's just a fancy way in many ways of the lesson our guys learned that we're all the same.
"You realize that there aren't that many difference between us. We hope that this happens -- that out of that conflict a bond is formed, out of that conflict a oneness and a unity can be established between Georgetown University and that organization."
The day following the brawl, Thompson took teammates
Jason Clark
and
Hollis Thompson
with him to
exchange pleasantries with the Rockets delegation
. It had been Clark who had taken exception to a hard foul that touched off the fight, and the senior ended up in an infamous photograph of him on the floor being kicked.
Since then, the Hoyas have traveled to Shanghai and
enjoyed all that China has to offer
. They've gone sightseeing, tried the different foods, participated in clinics, won a game without incident, and represented the school with class.
"We wanted to come here to get some sense of who we are as a team," Thompson said. "I wanted to put ourselves in difficult, adverse, tough situations and see how they respond, see if they rally around each other, see if they support each other. And that clearly has happened."
Even when there was a snafu in Shanghai, Thompson was able to show his team how simply showing deference could turn frowns into smiles, according to the
Washington Post
.
The Hoyas had arrived at the venue to work out on their own for the first time in China, but as soon as they stepped into the gym, those plans changed because a youth team happened to be practicing there, too.

Thompson turned the unexpected meeting into an impromptu basketball camp, instructing the Chinese boys and teens on dribbling and layups and inviting them to join in drills with Georgetown players. The appreciative Chinese in this basketball-crazed country then watched the Hoyas practice for approximately 90 minutes.

Georgetown players presented the youths with elastic wristbands with the school name in English and Chinese and posed for pictures before departing.
February, 9, 2011
2/09/11
9:42
PM ET
If you look up "impressive conference road win" in the imaginary multimedia dictionary I just made up in the confines of my own brain, you would be immediately greeted
by an ESPN3.com replay
of
Georgetown's 64-56 win over Syracuse
.
The Hoyas were never fully in control of the game. Syracuse had plenty of opportunities to take the upper hand, not to mention 27,000 orange-clad maniacs screaming their brains out at every turn. But the Hoyas poked and prodded, found ways into and behind Syracuse's 2-3 zone, stayed focused, got big buckets at key moments, avoided late turnovers when Syracuse had to turn up the pressure, and locked in defensively in the final moments when it mattered most.
[+] Enlarge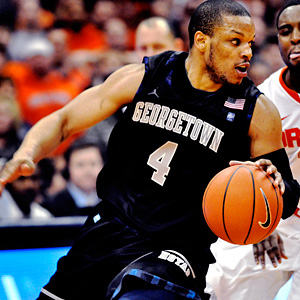 AP Photo/Kevin RivoliChris Wright worked his way into the Syracuse zone and dished out nine assists as Georgetown won its seventh straight game.
No, Big East road wins don't get much more impressive than that. The fact that we just saw this Syracuse team go to Connecticut and get a win makes this win all the more noteworthy. And speaking of noteworthy, there's this: After a 1-4 start in the Big East, the Hoyas have now won seven in a row. That stretch includes a home win over Louisville, a win at Villanova, and now this big-time win in the Carrier Dome, a place they hadn't won in nearly a decade. Pittsburgh is still the best team in this conference. But at this point, if any team can challenge the Panthers, that team appears to be the
Georgetown Hoyas
.
Some assorted bullet-point thoughts about the game:
When you play a 2-3 zone like Syracuse, and your opponent is one of the most efficient teams in the country both beyond the arc and inside it, you have to have length. The Orange do. They had 11 blocks in this game, a product of some tremendous zone extension and interior presence by Jim Boeheim's team. Rick Jackson had three of those, but the majority of the rejections came from freshmen C.J. Fair, Baye Moussa Keita and Dion Waiters, who combined for eight blocks on the night. Keita, who had five, was especially impressive. This is why Syracuse's zone has been, and can be, so very tough this season. The Orange are just long.

That said, there are still plenty of flaws in this zone. Georgetown's guards presented serious matchup problems for Syracuse, especially when Chris Wright worked his way into the middle of the zone and got inside-out looks for Austin Freeman and Jason Clark. Georgetown was also able to get big buckets on baseline action, especially on backcuts late in the game when Syracuse defenders lost their baseline assignments and no one in the middle of the zone was able to help in time. Georgetown's backcuts, which you frequently see in the Princeton offense against man-to-man defense, worked just as well against the zone. And with all those guards on the floor, the Hoyas were able to pass effectively through the zone, much more effectively than anyone might have expected. It takes a lot of guts to try and match up with the Orange with four guards, but it paid dividends for Georgetown on the offensive end.

And yes, even with all that length, Georgetown still got plenty of good looks from 3. The Hoyas were shooting 38.5 percent from long range coming into tonight's game; they made 42.9 percent (9-of-21) Wednesday night.

[+] Enlarge

Mark L. Baer/US PRESSWIREJulian Vaughn scored 12 points and pulled down eight rebounds for the Hoyas.

Still, despite Georgetown's effective ball movement and shooting, it's not like the Hoyas lit it up. No, the Orange's loss came on the offensive end. Syracuse has struggled on the perimeter throughout the season, and those struggles (4-of-16 from 3) were evident again Wednesday night. In recent seasons, Syracuse has always had at least one (and often multiple) knockdown shooters. Gerry McNamara. Eric Devendorf. Andy Rautins. Wes Johnson. This team doesn't have one. It struggles at the guard position in a variety of ways -- perhaps no player frustrates Syracuse fans more than Scoop Jardine -- but the biggest problem area remains perimeter shooting. Until someone proves capable of knocking down shots, it would probably be wise to cut down on the 3s going forward.

It might also be wise to get Fair a greater share of the offensive load. Fair scored 12 points on 6-of-9 shooting from the field and grabbed five rebounds in the process. He was opportunistic and intuitive; he read rebounding angles correctly, found space against Georgetown's interior, and finished his chances when he got them. For as much as Boeheim's freshmen have struggled at times this season, this was a good game for all but Fab Melo.

And, not to pile on, but Melo is still a massive disappointment. The highly touted center prospect started but played a mere three minutes. He was 0-for-1 in that span. Melo's simply not there athletically right now. Maybe next year?

Speaking of four guards, one of those "guards" was frequently forward Hollis Thompson, who has the size to be a forward but the range to stretch defenses out to the 3-point line. John Thompson III got the perfect type of contribution from Thompson on Wednesday night. The forward had a very efficient 11 points -- 4-of-5 from the field, 3-of-3 from long distance -- and added five rebounds, two assists, two steals and zero turnovers. I'm not sure an off-the-bench role player could have a better, more important game than that. He was huge.

Same goes for Julian Vaughn, who went 5-of-8 for 12 points and eight rebounds. Austin Freeman didn't have a great shooting night. Nor did Chris Wright or Jason Clark. That made it all the more crucial for Georgetown's role players to come up with efficient supporting efforts, and Vaughn and Thompson did so.

If ever there was a time you thought Georgetown was going to take control of this game, it came when Jackson picked up his fourth foul with 14:40 left in the game. That didn't really happen. Instead, Boeheim got big contributions from the three aforementioned freshmen. Keita grabbed offensive rebounds in bunches, Fair got a pair of buckets and Waiters came up with two steals to keep Syracuse from falling too far behind while Jackson waited on the sidelines. Even in the loss, it was good to see those players step up at a crucial time in the game. But Georgetown did pull away eventually, and the Hoyas get credit for doing what so many teams struggle to do in the Big East: win big games on the road. Tremendous win for Georgetown.
December, 8, 2009
12/08/09
2:11
PM ET
NEW YORK -- Villanova, Syracuse and West Virginia have all made their marks this season.
These three teams are clearly contenders for the Big East title. Winning elite tournaments in the month of November was a sure sign that none of them is going away anytime soon.
Now it's No. 13 Georgetown's turn.
If the Hoyas beat No. 20 Butler Tuesday night in the Jimmy V Classic (
ESPN, 7 p.m. ET
) at Madison Square Garden and then go to Anaheim and defeat No. 16 Washington in the Wooden Classic on Saturday, it would be an indication of Georgetown's ability to be a part of the same conversation.
Connecticut could also enter the discussion if it can knock off Kentucky Wednesday night (
ESPN, 9:30 p.m. ET
) in the SEC-Big East Invitational at MSG, but anything short of that would likely put the Huskies in second-tier status without a headline win so far this season.
This isn't meant to dismiss Cincinnati's chances to challenge for the title after beating Vanderbilt and Maryland and losing to Gonzaga in the Maui Invitational. Or to totally dismiss undefeated Seton Hall or one-loss Notre Dame with perhaps the conference MVP in
Luke Harangody
. But it's not a reach to say the title will likely come down to Syracuse, Villanova, West Virginia and then possibly the Hoyas or Huskies.
So, for now, it's up to the Hoyas to prove they belong with the elite in what is turning out to be the best conference yet again.
"This will be good for our team, regardless of how things go to get ready for the conference," Georgetown coach John Thompson III said. "This will get us ready for the conference with a league type of week. In the Big East, no matter who you play on a Tuesday you're going to play a tough game on the weekend. We want our guys to go through those emotions this week."
Butler and Washington will present two different challenges for the Hoyas. The Bulldogs defend extremely well, run their system fundamentally, and can shoot from mostly all five spots. Washington will want to push the ball, exploit its speed on the perimeter, and get the game in a high-scoring mode.
That's indicative of the Big East, as well, with two different styles on two different courts in the same week.
Georgetown has actually hit the road this season, but wins at Tulane and Savannah State don't exactly give a true read on the Hoyas yet. And beating Temple by one (46-45), in a game that went down to the final possession in D.C., also doesn't give a true indication whether the Hoyas are ready for prime time.
Sophomore center
Greg Monroe
has been solid as expected with nearly 14 points and 10 boards a game. The play of guards
Chris Wright
and
Austin Freeman
hasn't disappointed either with both players in double figures scoring. The stunner though has been how consistent
Jason Clark
has been through the first six games, averaging a dozen points, five rebounds and three assists.
"I don't think anyone outside of our program expected this," Thompson III said. "We did because we saw what he could do at both ends of the court. He doesn't get tired and he goes 100 miles an hour on both ends of the floor."
Georgetown goes big the rest of the rotation with
Julian Vaughn
,
Hollis Thompson
and
Henry Sims
rotating, something that could cause Butler problems -- especially with
Matt Howard
having foul issues throughout November.
To Howard's credit, he finally shed the foul-prone label in the last two games by committing just one in a win at Ball State and three in a win over Valparaiso, after fouling out of two games in the 76 Classic in Anaheim and picking up four in the fifth-place loss to Clemson. Prior to that, Howard had fouled out of games at Northwestern and Evansville. That's why he is only averaging 23.8 minutes a game this season, down four minutes from a year ago.
Butler has bigs like
Avery Jukes
and
Garrett Butcher
to complement Howard, but if he can't stay on the court against the Hoyas' big men then that will put even more pressure on the shooting of
Gordon Hayward
,
Shelvin Mack
,
Willie Veasley
and
Ronald Nored
.
Georgetown probably has had as little spotlight shone on it this season of any Big East contender, but that's because the games haven't been featured -- yet.
"I don't mind us not getting our pop," Thompson III said. "I don't mind us flying under the radar in November and December. It's all about getting better and if it happens then fine."
If you remember, a year ago Georgetown was a early-season story with a blowout win over rival Maryland in the Old Spice Classic and then a Big East-opening win at Connecticut. But it all went downhill with a flame-out in the league and an NIT berth.
"The good thing for us is that we're not cruising," Thompson III said. "We have a long way to go, a lot of room for improvement. We're pretty good now, but this week will be a big test."
Thompson III is hoping he can get 6-foot-7 freshman forward
Jerrelle Benimon
increased time again Tuesday night. A high-ankle sprain limited his minutes early in the season and kept him out of three games. He played 14 minutes in the win over American last Saturday and made 2 of 3 shots for four points.
"He's an active big body kid," Thompson III said. "He'll give us even more presence and he's strong and aggressive."
Thompson III wanted to be in the Jimmy V Classic because of the cancer research angle. His wife, Monica, is going on four years of being a breast cancer survivor. Thompson III said Monica is doing well.
"It didn't matter who we played," Thompson III said. "I was going to be in this. They do great work with cancer research."