College Basketball Nation:

Ian Clark
March, 19, 2013
3/19/13
11:00
AM ET
I know the feeling. You're nervous. You know the big names --
Ben McLemore
,
Victor Oladipo
,
Trey Burke
-- but who's this Nate kid I keep hearing about? Let me help you. Here are 10 mid-major stars who could really mess up your bracket in the coming days.
Mike Muscala (Bucknell)
-- The Muscala Monster is a dangerous creature. The Bison are capable of upsetting Butler in the second round Thursday in Lexington because they're led by one of America's most underrated stars. He scored 25 points and grabbed 14 rebounds in a two-point loss to Missouri in January. Muscala (19.0 PPG, 11.2 RPG) dropped 18 points in a win against NCAA tourney participant La Salle in December. He's finished with 25 points or more in 10 games. He also has the strength of 10 men. Not really, but he's legit and more than prepared to help Bucknell ruin brackets worldwide.
[+] Enlarge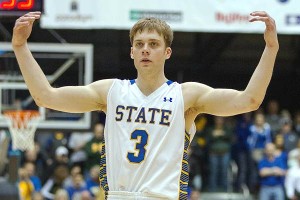 Brace Hemmelgarn/USA TODAY SportsCan Nate Wolters and South Dakota State upset Michigan in the NCAA tournament's second round?
Nate Wolters (South Dakota State)
-- He plays with a chip on his shoulder. Few Division I schools sought his services when he was a high school standout in St. Cloud, Minn. Every season since, however, Wolters has proven he was clearly overlooked. He led the Jackrabbits to their second consecutive NCAA tournament appearance via a silky game that's caught the attention of NBA scouts. He's one of the nation's most explosive offensive performers. Wolters (22.7 PPG, 39 percent from the 3-point line) recorded a Division I-high 53 points in a Feb. 7 win against IPFW. He'll make Thursday's matchup against Michigan in Auburn Hills interesting.
Will Cherry (Montana)
-- Damian Lillard is arguably the top player in the NBA's rookie class. When he was a Big Sky star at Weber State, Cherry was his top adversary. The senior is known for his defensive prowess (1.9 SPG), but he's a talented offensive player, too. Cherry is averaging 13.9 PPG for a Montana team that will face Syracuse in San Jose on Friday. The Grizzlies don't have top scorer
Mathias Ward
, who is out for the season with a foot injury. But Cherry is a proven leader. He's tough, too. He missed a few games in early March after aggravating a foot injury that cost him the first few months of the season. But he hasn't shown any signs of regression since his return.
Siyani Chambers (Harvard)
-- The West Region is probably the easiest region. With Gonzaga as the 1-seed, it just seems more wide open than the other three. So expect the unexpected. Harvard could spur some madness in its second-round matchup against New Mexico in Salt Lake City on Thursday. The Lobos are the better team. But the Crimson have overcome adversity to reach this point. Stars Kyle Casey and Brandyn Curry left the team prior to the season because of an academic scandal. Chambers (12.9 PPG, 5.8 APG, 44 percent from the 3-point line), just a freshman, helped Tommy Amaker's squad recover from those losses and earn another automatic berth with its second straight outright Ivy title.
Matthew Dellavedova (Saint Mary's)
-- The senior was a member of the Australian national team in the London Olympics. He's struggled in his past two games, but Dellavedova will be ready for the NCAA tourney. The Gaels will face Middle Tennessee in Dayton in the First Four on Tuesday night. If they get past the Blue Raiders, they'll see Memphis in the next round. Dellavedova (15.8 PPG, 6.4 APG, 38 percent from the 3-point line) is not just recognized as a mid-major star. He's one of the best point guards in America, regardless of level. He's talented and experienced. And he might help the Gaels nullify your bracket.
Jamal Olasewere (LIU Brooklyn)
-- I don't think we'll see the first 16-over-1 upset. But if it is to happen, I pick the Blackbirds to pull off the feat. Why? Because Olasewere (18.9 PPG, 8.5 RPG) is a tough matchup for any team in the country. The 6-foot-7 forward is active inside, and he's efficient in transition. The Blackbirds must get through James Madison in the First Four in Dayton on Wednesday. If they do, they'll see Indiana on Friday in Dayton. If something crazy happens, Olasewere will certainly be involved.
[+] Enlarge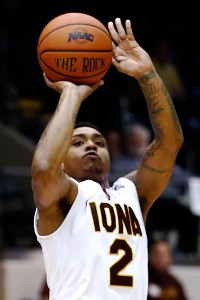 Mark L. Baer/USA TODAY SportsSenior guard Lamont Jones, who is averaging 23.0 PPG, will have Iona prepared to face Ohio State.
Lamont "Momo" Jones (Iona)
-- Iona is second in America with an average of 80.7 PPG. Jones, who started his career at Arizona, is the catalyst for the Gaels' offense. He's averaging 23.0 PPG, third in the nation. He's recorded 30 points or more in six different games. He's certainly a potent performer who guides a Gaels squad that can score in bunches. Iona, however, is facing one of the hottest teams in America right now. Ohio State has won eight games in a row, a streak that the Buckeyes capped with a Big Ten tournament title in Chicago on Sunday. But the Gaels play fast (17th in adjusted tempo per Ken Pomeroy). And their defense is porous. Still, Iona can overwhelm teams with its high-powered offense. That's what makes its second-round matchup against Ohio State in Dayton on Friday so intriguing.
Ryan Broekhoff (Valparaiso)
-- The 6-7 forward from Australia cracked ESPN's "SportsCenter" recently when his buzzer-beating 3-pointer knocked UW-Green Bay out of the Horizon League tournament. He's one of the top mid-major players in the country. Broekhoff is averaging 15.9 PPG and 7.3 RPG for a Crusaders squad that will face Michigan State on Thursday in Auburn Hills. The atmosphere will favor the Spartans, but Valpo will be tough. The Crusaders are a versatile team with an offense that's ranked 44th in adjusted offensive efficiency per Ken Pomeroy. And Broekhoff is the key to that success.
Doug McDermott (Creighton)
-- The Bluejays might be the most dangerous 7-seed in the field. They certainly hit a few bumps during Missouri Valley Conference play. Overall, however, they've been one of the top mid-major programs in the country. They have wins against Wisconsin, Arizona State, Akron and Cal. They lead the nation with a 50.8 percent clip from the field. Their defense is suspect (78th in adjusted defensive efficiency per Ken Pomeroy). But McDermott, their leader, is a legit star. He's averaging 23.1 PPG and 7.5 RPG. He could really go off in the Big Dance. First, he has to lead his team through a tough opening-round matchup against Cincinnati in Philly on Friday. Creighton is definitely a sleeper in the Midwest Region.
Ian Clark (Belmont)
-- On paper, there's a lot to like about Belmont. The Bruins are a strong squad that's faced some of the best teams in the country in nonconference matchups. Belmont can beat Arizona in the second round Thursday in Salt Lake City. And a Sweet 16 run isn't a crazy concept for this veteran squad. Clark (18.1 PPG, 46.3 percent from beyond the arc) is just one of the weapons that the Wildcats will have to neutralize when the two teams meet. He's a stud who could really disrupt brackets throughout the country.
March, 13, 2013
3/13/13
10:45
AM ET
By
Ryan Feldman
and
Katie Sharp, ESPN Stats & Info
| ESPN.com
Guard
Victor Oladipo
's effectiveness on both ends of the court is one reason why the
Indiana Hoosiers
are one of the favorites to win the national championship.
Since last season, Oladipo's offense has improved as much as any player in the country. He's also known as one of the elite defenders in the country.
After shooting just 18 percent on catch-and-shoot jumpers as a sophomore, Oladipo is shooting 45 percent on those shots this season.
He ranks fourth in the country in field-goal percentage (61.4), and is on pace to have the highest field-goal percentage by a guard since Oklahoma State's Chianti Roberts in 1996-97 (62.5).
Oladipo ranks third in true shooting percentage, which measures shooting efficiency that takes into account field goals, 3-point field goals and free throws.
The 6-foot-5 junior can score in a variety of ways. Oladipo leads the Big Ten in offensive rebound put-back points per game. He averages 1.39 points per play and shoots 73.9 percent on offensive rebound put-backs, both of which rank among the top five in the country (minimum 50 plays) and leads all Wooden Award finalists.
Oladipo does more than just score. He and Georgetown's
Otto Porter
are the only players from Power 6 conferences averaging at least 13 points, 6 rebounds, 2 assists and 2 steals per game this season.
Among Wooden Award finalists, Oladipo has the best net rating -- which is the difference between points produced and points allowed per 100 possessions. Oladipo produces 42 more points than he allows per 100 possessions.
Oladipo's 13.7 points per game would be the lowest ever for a Wooden Award winner (current lowest is 14.2 by Anthony Davis last season). He would be the first Wooden Award winner to shoot at least 60 percent on field goals and 45 percent on 3-point attempts.
Oladipo would be the second Indiana player to win the Wooden Award, joining Calbert Cheaney in 1993.
February, 1, 2013
2/01/13
3:07
PM ET
Player of the Month - Kelly Olynyk, Gonzaga
(November:
Mason Plumlee
; December:
Doug McDermott
)
Olynyk's rise from sub to redshirt to star is arguably the most surprising story of the season. January marked the peak of his emergence. Olynyk averaged 21.1 PPG and 7.5 RPG in just 27 minutes per game. His 31.4 points per 40 minutes ranked third in the nation during January. His month included back-to-back 30-point efforts, as well as a game in which he was perfect from the foul line and from the field.
Defensive Player of the Month – Nerlens Noel, Kentucky
(November:
Jeff Withey
; December: Nerlens Noel)
Defense alone is putting Noel into the conversation to be the nation's top freshman. He averaged 6.4 blocks per game in January. No one else even averaged four. It's the highest block average in January since Fairfield's Deng Gai averaged 6.9 in 2005. Of course, he wasn't doing it in the SEC like Noel, who set Kentucky's single-game record with 12. Look at it this way: Noel had three times as many blocks (51) as missed shots (17) during the month.

Freshman of the Month – Jahii Carson, Arizona State
(November:
Marcus Smart
; December:
Anthony Bennett
)
Arizona State was picked to finish 11th in the Pac-12, but now rests squarely on the tournament bubble. Carson's the main reason, and his January shows why. He averaged 17.5 PPG (third among D-I freshmen) and 4.6 APG (tied for ninth among freshmen) during the month. On the season, he's on pace to be the first major conference freshman since Shaheen Halloway in 1996-97 to average 17 PPG and 5 APG.
Scorer of the Month – Erick Green, Virginia Tech
(November:
C.J. McCollum
; December: Doug McDermott)
Green averaged 27.4 PPG in January, over two points more than any other player. It's the highest January scoring average by an ACC player since J.J. Redick averaged 31.0 PPG in 2006.
Virginia Tech went 2-5 in the month, in part because no other scorer emerged. Green accounted for over 40 percent of the Hokies' points.
Free Throw Shooter of the Month – Lamont Jones, Iona
(November:
Jordan Adams
; December:
Tyler Haws
)
Jones hit more free throws than anyone else, and almost shot 90 percent from the line. He went 67-for-75 (89.3 percent) during the month, as he continues to make opponents pay for fouling him. That went a long way toward his 22.1 PPG during the month, which ranked seventh in the nation.
3-Point Shooter of the Month – Ian Clark, Belmont
(November:
Ryan Sypkens
; December:
Jordan Price
)
Clark hit 60 percent of his 3s during January, finishing the month 30-for-50. That led to a 78.0 effective field goal percentage, which led the nation. That's the best shooting January since Boise State's Tyler Tiedeman had a 79.9 eFG pct in 2008.
Rebounder of the Month – Richard Howell, NC State
(November:
Jamelle Hagins
; December:
Andre Roberson
)
Howell led the nation with 13.4 RPG during January. Of course, that includes his 18-rebound effort in the Wolfpack's upset of No. 1 Duke. Howell had at least 11 rebounds in every game during the month and he has two of the top three rebounding games in the ACC this season.

Distributor of the Month – D.J. Cooper, Ohio
(November:
Michael Carter-Williams
; December:
Trey Burke
)
Sacred Heart's
Phil Gaetano
led the nation in assists in January (9.6 APG), but no one had more assists per 40 minutes than Cooper (11.7). He either scored or assisted on 48 percent of the Bobcats' field goals during the month. Ohio went 7-0 in January, and almost no one is as important to his own team.
January, 31, 2013
1/31/13
11:00
AM ET
By
Jeremy Lundblad, ESPN Stats & Information
| ESPN.com
Kelly Olynyk
has been among the nation's best players in January. On Thursday, he'll close out the month as the
Gonzaga Bulldogs
travel to Los Angeles to take on the
Loyola Marymount Lions
(ESPN2, 11 p.m. ET).
Olynyk started the season shuttling between the bench and the starting lineup. Since he became a full-time starter Dec. 28, he has averaged 21.8 points and 7.4 rebounds per game. During that span, he is shooting 64.8 from the field and has made 4-of-8 attempts from behind the arc.
So far in January, he is in the top 10 in the nation in scoring, at 22.0 ppg, and field-goal percentage, at 64.3 percent.
Olynyk is averaging 18.2 points per game this season while averaging only 25.4 minutes on the court. Among Division I players, only
Creighton
's
Doug McDermott
averages more points per 40 minutes.
For the season, Olynyk is shooting 65.8 percent from the floor. The only Wooden Award winners to make more than 65 percent of their shots were Blake Griffin in 2009 and Larry Johnson in 1991.
The last player to average 28 points per 40 minutes while shooting at least 62.5 percent from the field was Arkansas' Corliss Williamson during the 1993-94 season. He lost out on the Wooden Award to Glenn Robinson of Purdue, but no player is having a Big Dog-caliber season in 2013.
Olynyk is fifth in the nation in effective field goal percentage. The last two Wooden finalists with a higher eFG were Johnson in 1991 and Hakeem Olajuwon in 1984.
When you factor in free-throw shooting, it's even more impressive. Olynyk moves up to third in the nation at 71.7 percent, trailing only
Indiana's
Victor Oladipo
and
Belmont's
Ian Clark
.
The last Wooden finalist with a true shooting percentage over 70? That would be Johnson.
Olynyk is part of a wave of Canadian talent playing collegiately in the United States. Consider the following squad of Canadian players:
Center Jordan Bachynski (Arizona State): tied for third in Division I with 4.3 blocks per game.
Forward Olynyk (Gonzaga): third in Division I with 71.7 true shooting percentage.
Forward Anthony Bennett (UNLV): second among freshmen with 18.1 points per game.
Guard Nik Stauskas (Michigan): top 10 in nation with 49.5 3-point field goal percentage.
Guard Myck Kabongo (Texas): preseason All-Big 12 (currently ineligible).
Sixth man Kyle Wiltjer (Kentucky): The dual Canadian-American citizen scored a career-high 26 points off bench Tuesday.
January, 11, 2013
1/11/13
11:17
AM ET
Player of the Night -- Damen Bell-Holter, Oral Roberts Golden Eagles
Oral Roberts moved to 3-0 in Southland play courtesy of a massive game from Bell-Holter. He finished with 25 points and a career-high 20 rebounds in an 80-74 win over
Northwestern State
. He's the first player with a 25-20 game this season, and the first since
Towson's
Robert Nwanko last year. Oral Roberts hasn't seen it done since Caleb Green did it in 2004.
Stat Sheet Stuffer -- E.J. Singler, Oregon
Oregon handed
Arizona
its first loss of the season, as Singler put together a complete performance. The senior finished with 14 points, seven rebounds and seven assists in the 70-66 win. He's the first Oregon player to post those totals against a ranked team since Luke Ridnour did it against
Kansas
in 2002. It's the second time Singler has had seven assists in a game. Both have been against
Arizona
.
Scorer of the Night -- Jud Dillard, Tennessee Tech
Dillard matched a career-high with 34 points in Tennessee Tech's 77-73 comeback win at
Eastern Illinois
. That included 22 points in the second half, as the Golden Eagles erased a 15-point deficit.
Freshman of the Night -- Brandon Peel, Central Connecticut
Coming into the game averaging 2.2 PPG and 4.5 RPG, Peel had a breakout game in CCSU's 84-78 win over
Sacred Heart
. The freshman posted career highs with 17 points, 17 rebounds and four blocks. He's the first freshman to reach those totals since
Tony Mitchell
of
North Texas
last February.
Duo of the Night -- Trevor Noack and Ian Clark, Belmont
Noack and Clark both scored 30 points, as Belmont rolled over
Southeast Missouri State
107-72. They are the first pair of teammates to score 30 or more in a game this season, and the first since
Eastern Kentucky's
Jaron Jones and
Mike DiNunno
last January. Their 60 combined points matches the most combined in a game this season.
Holy Cross
teammates
Dave Dudzinski
and
Justin Burrell
did it on Tuesday.
March, 15, 2012
3/15/12
11:45
PM ET
COLUMBUS, Ohio -- The afternoon slate of NCAA tournament games at Nationwide Arena on Friday will feature a pair of intriguing matchups. San Diego State will try to stop NC State from running away with the upset -- literally. And Belmont versus Georgetown pits one of the nation's top 3-point shooting teams against the squad that's most equipped to defend it.
No. 11 NC State (22-12) vs. No. 6 San Diego State (26-7), 12:40 p.m. ET
Last year, San Diego State charmed the country with its surge to the Sweet 16 as former Aztecs star Kawhi Leonard led the way. But Steve Fisher lost four starters from that team. Preseason projections suggested that the Aztecs would not come close to duplicating last season's achievements.


But this program has proved its doubters wrong this year.
The Aztecs shared the Mountain West crown with New Mexico during the regular season. They're undersized and they're not very deep, but they've held their opponents to a 40 percent shooting clip, second in the conference.
Jamaal Franklin
(17.2 points per game) and
Chase Tapley
(15.7 ppg) are a potent duo for a program that's overcome adversity in close games. They're 4-0 in overtime this season.
"It helped a lot. The NCAA tournament, you get those kind of games like every night, close barn-burning games, and those games at the beginning of the year, early in the year, like UC Santa Barbara, the Creighton game, games like that really prepared us for this moment we have right now," Tapley said.
The Aztecs have been here before. The bright lights of March are not new for the program.
When Mark Gottfried took the Wolfpack job last summer, however, he understood that he'd have to rebuild a winning tradition at NC State.
Leading the Wolfpack to its first NCAA tournament bid since 2006 is a start.
"Our banners, national championship banners are hanging in our gym," he said. "Our guys see them every day. And they understand the tradition and the history of NC State. Been in three Final Fours, won two national championships. So our players are very well aware of that."
There were a multitude of reasons to doubt both teams' chances of reaching March Madness.
To stay here, however, San Diego State will have to overcome its size disadvantage and try to control the tempo against a NC State team that likes to run. The Wolfpack will have to take advantage of their athleticism and transition offense to beat the Aztecs.
NC State's scoring offense (73.6 ppg and 81
st
in Ken Pomeroy's tempo ratings) was third behind North Carolina's and Duke's in the ACC.
C.J. Leslie
(14.6 ppg) leads five Wolfpack players in double figures.
San Diego State hopes to limit NC State's ability to fully utilize its talent by slowing the game down in a matchup against a squad that's shooting 46.3 percent from the field.
But the Aztecs said they feel comfortable picking up the pace, too.
"[We're] not going to get in a transition game, really pick our spots here and there and run," SDSU's
Xavier Thames
said. "And whatever they want to play, we can play. We could play a slow-down game, we could play a transition game."
NC State has to worry about matching up with an Aztecs team that employs a four-guard set.
"I feel that we have four guys on the perimeter, including C.J. Leslie, that can guard any position, 1 through 4,"
C.J. Williams
said.


No. 14 Belmont (27-7) vs. No. 3 Georgetown (23-8), 3:10 p.m. ET
It seems simple.
Belmont loves the 3-ball (8.8 per game, 10
th
in the nation). Georgetown plays the best perimeter defense in America (27 percent 3-point field goal percentage allowed).
Something has to give when the Bruins face the Hoyas in this second-round matchup in the NCAA tournament, right?
"We gotta penetrate when we can and be strong when we penetrate and find shooters on the perimeter and hopefully get inside the defense," Belmont's
Kerron Johnson
said.
Jason Clark
said Georgetown's preparations have focused on neutralizing Belmont's 3-point barrages.
"That's one thing Coach [John Thompson III] has been stressing all this week at practice is defending the 3-point line, not letting them get 3-point shots," he said.
Thompson, however, says it's not that simple.
The Bruins like to run (13
th
in Ken Pomeroy's adjusted offensive efficiency ratings) and they're a great passing team (17.4 assists per game, fifth in the nation). Belmont's 81.5 ppg makes the Bruins the fourth best scoring offense in America.
All-Atlantic Sun guards
Ian Clark
, the conference's defensive player of the year,
Drew Hanlen
and Johnson anchor Belmont. But
Mick Hedgepeth
(double-double in conference tourney title game) and
Scott Saunders
(10.2 ppg, 5.0 rebounds per game) can hurt opponents inside.
"Obviously, they have a terrific shooting team, but at the same time, if you get spaced out, if you start just chasing those shooters, their post players are very good and they're … a very good passing team," Thompson said. "… Protecting the 3-point line and stopping shooters is important, but they're much more complex than that."
But Belmont will need one of its best efforts of the year to upset the Hoyas. The Bruins lost to Duke by a point in their season opener. So they won't be intimidated.
The Hoyas have shot 46.3 percent from the field, the No. 2 mark in the Big East.
Otto Porter
and
Henry Sims
could bully the Bruins inside.
Hollis Thompson
is dangerous from outside (44.4 percent from beyond the arc) and Jason Clark (13.9 ppg) is a gamer.
This has been a trendy upset pick since the matchup was announced on Selection Sunday. But Georgetown is a team that's built to control the Bruins.
But the two teams expect a battle.
Both know March Madness heartbreak.
Wisconsin sent Belmont -- a team looking for its first NCAA tournament victory in its fifth appearance -- home early last year.
Georgetown has lost back-to-back opening-round games to lower seeds. The early losses damaged the Hoyas' postseason reputation and fueled some of this season's upset predictions.
Sims, however, said the only way to change that is to advance.
"It's hard for people to forget what happened until you make something different happen," he said.
January, 17, 2011
1/17/11
3:43
PM ET
By
Diamond Leung
| ESPN.com
The
Belmont Bruins
are mauling their conference foes this season and are off to an 8-0 start in the Atlantic Sun. Their average margin of victory: 29 points, tops in the nation in conference domination.
They sent an emphatic message last week in routing preseason favorite Lipscomb 88-52, the worst loss for their conference rival in the NCAA and Atlantic Sun era. The Bisons never led and trailed by as many as 42 points.
"I've never been beaten like that for 40 minutes," Lipscomb coach Scott Sanderson said afterward. "We never were in the game. It was never in doubt."
Belmont coach Rick Byrd, who took his team to consecutive NCAA tournament appearances from 2006-08 isn't new at this, of course. Earlier this month, he won his 500th game at the school and appears on his way to many more through the rest of the season.
His 16-3 team is evenly balanced with 11 players averaging double figures in minutes per game and three (
Ian Clark
,
Scott Saunders
and
Mick Hedgepeth
) with scoring averages in double figures.
Only Tennessee and Vanderbilt have beaten the Bruins this season, and they most recently beat Campbell by 35. Can anyone in the Atlantic Sun stop them?