College Basketball Nation:

Illini-Boilermakers 022010
February, 20, 2010
2/20/10
7:56
PM ET
WEST LAFAYETTE, Ind. -- Illinois came to Mackey Arena hungry for an NCAA Tournament résumé boost and with a week to prepare for No. 4 Purdue.
[+] Enlarge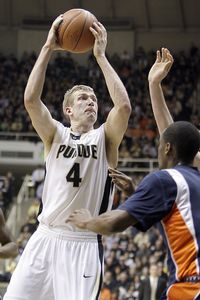 AP Photo/Michael ConroyRobbie Hummel's shooting kept Purdue in the game in the first half Saturday night.
The Illini also devised a defensive plan that shut down one of the Boilermakers' Big Three and its only real inside presence, center
JaJuan Johnson
. They sagged defenders down from non-perimeter threats
Chris Kramer
,
Kelsey Barlow
and
Lewis Jackson
to clog the lane and keep the 6-foot-10 Johnson from going off like he had during Purdue's eight-game winning streak.
But this is how tough the Boilermakers are right now. Even with most of the elements in place for an upset, they fended off the Illinois challenge for a
75-65 victory
, staying in the driver's seat for the Big Ten regular-season championship after a 2-3 start in league play.
"To be 2-3 in the league and now to win nine straight is a huge compliment to our guys," Purdue coach Matt Painter said. "We had take a step back and realize that if we don't rebound the ball and do some of these things that are constants, we're not going to have a chance to get in this race. Now, we've put ourselves in the mix."
The streak has included victories at Michigan State and Ohio State this month, and Johnson played a vital role by averaging 19.6 points during those eight wins. On Saturday, he was double-teamed every time he touched the ball in the paint and had to settle for long jumpers. He finished just 1-for-10 from the field.
That normally spells doom for the Boilermakers, who rely so heavily on their star junior trio. Johnson never broke double digits during a three-game losing skid last month and there were no other answers. But this time, a senior saved the day off the bench.
Guard
Keaton Grant
scored a season-high 15 points, 10 of them in the final 6:06. His three-pointer broke a 56-all tie for good, and he drilled another three to make it 68-60 with 1:30 left. Grant also had 13 points in Wednesday's win at Ohio State after not scoring in double figures in his previous 13 outings.
"You can cheat on some of their guys," Illinois coach Bruce Weber said. "But when he comes in and makes some shots it really makes it tough to guard them because they have so many weapons. Maybe he's figured it out as a senior."
If the Boilermakers (23-3, 11-3 Big Ten) are to make a long run in the NCAA Tournament, they'll likely need a fourth scoring option beyond Johnson,
E'Twaun Moore
and
Robbie Hummel
. Perhaps Grant could be that guy.
"We've got something special going right now and we want to keep it going," he said. "To be a senior and contribute to this team is a great feeling."
Illinois shot 49 percent for the game as point guard
Demetri McCamey
's 3-D -- drive, draw and dish -- looked better than "Avatar." Perfectly utilizing ball screens to set up teammates for wide open looks on the wing, McCamey tied his career high for assists with 11 in the first half alone. He ended with 16 dimes, tying the school record and equaling the most by a Division I player this year. Purdue, on the other hand, hit just 27.3 percent in the first half and needed a second-half flurry of three-pointers to finally take over.
But some of Painter's "constants" -- rebounding and securing the ball -- kept the home team in position to win. The Boilermakers got 17 extra possessions against the Illini through offensive rebounding (15 to 8) and turnovers (5 versus 15).
Of course, a favorable home whistle might have helped, as Purdue shot 28 free throws to just five for Illinois and received the benefit of a couple of close block/charge calls. Weber was so upset that he drew a late technical foul for yelling at official Curtis Shaw. Still, even Weber had to admit that Purdue earned at least some of those calls.
"They wear you down and they get physical, and they do it without fouling," he said.
They also have players who can take over during important stretches. Hummel (22 points, 12 rebounds) did that in the first half while his teammates struggled to figure out the Illini defense. Moore drilled two huge shots off ball screens in the final five minutes, his passes set up both of Grant's three-point daggers.
Those are reasons why the Boilermakers sit in great shape to win the Big Ten and perhaps sew up a No. 1 NCAA Tournament seed. They have one semi-challenging road game left -- Wednesday at Minnesota -- before a rematch with Michigan State at next Sunday. They finish up with Big Ten bottom feeders Indiana and Penn State.
"Our goal from the beginning of the year was to win the Big Ten, and it kind of slipped away from us at the beginning," Moore said. "Now we're in good position, and our destiny is in our hands."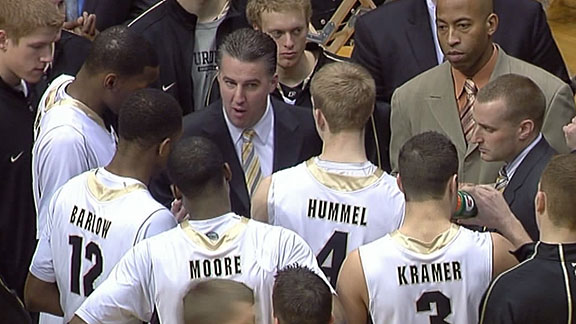 February, 20, 2010
2/20/10
6:20
PM ET
WEST LAFAYETTE, Ind. -- Purdue just keeps on winning.


Despite a record peformance by Illinois guard
Demetri McCamey
and a blazing shooting day for the Illini, the fourth-ranked Boilermakers pulled away in the final three minutes for a
75-65 win
, their ninth straight.
On a day when one of the Boilermakers' Big Three struggled --
JaJuan Johnson
was just 1-for-10 from the field for five points -- senior
Keaton Grant
made a big contribution off the bench. Grant scored a season high 15 points, 10 of them coming in the final 6:02.
His three-pointer broke a 56-all tie, and Purdue would never trail again. He also hit a three with 1:28 to go to make it 68-60.
Robbie Hummel
had 22 points and 12 rebounds, while
E'Twaun Moore
added 18.
Illinois guard Demetri McCamey tied Tony Wysinger's 24-year-old school record with 16 assists. That also tied him for the most assists in an NCAA Division I game this season.
But Purdue closed the game with a 14-5 run to move one step closer to a Big Ten regular season title.
More to come ...
February, 20, 2010
2/20/10
5:11
PM ET
WEST LAFAYETTE, Ind. -- A solid first-half showing by Illinois at Mackey Arena has raised spirits in East Lansing and Columbus, Ohio.

The Illini hold a 35-32 lead over No. 4 Purdue after shooting 50 percent in the first half. They were 5-of-8 on three-pointers, including Brandon Paul's go-ahead bomb in the waning seconds before intermission.

Purdue, on the other hand, missed nine of its first 11 shots and finished the half at just 27.3 percent. The Boilermakers' normally solid ball movement has given way to too many one-on-one drives, which is why they have only four assists as a team, or seven less than Illini point guard Demetri McCamey has all by himself at this point.

Illinois is double-teaming JaJuan Johnson every time he gets the ball into the paint, and that's thrown Johnson off his game. The junior center -- who had 24 points in Champaign last month -- is 0-for-3 for from the field and has only a pair of free throws to his credit.

Purdue is really only in the game right now because of its 10 offensive rebounds. Leading scorer E'Twaun Moore picked up his second foul with 10 minutes left in the half and remained bolted to the bench until the break.

The outcome so far is similar to teams' first meeting, when Illinois went into the half up 32-28. Purdue surged back to win that game; will history repeat?
February, 20, 2010
2/20/10
3:17
PM ET
WEST LAFAYETTE, Ind. --
Greetings from Mackey Arena
, where we could get some major clarity in the Big Ten race Saturday.


No. 4 Purdue (22-3, 10-3) will be in the league driver's seat with a win today over Illinois (17-9, 9-4). The Boilermakers would, at worst, remain in a tie with Michigan State, whom they've already beaten on the road. Their toughest game left is a rematch here against the Spartans next Sunday.
Matt Painter's team has been red hot since a shaky first half against the Illini in Champaign on Jan. 19. The Boilermakers rallied for the 84-78 win in that game and haven't lost since. They're coming off an impressive 60-57 win at Ohio State on Wednesday and could be marching toward a No. 1 NCAA tournament seed status.
The Illini would be in the field of 65 if the tournament began today, but with an RPI of 71 entering Saturday's action, they can't feel entirely secure. Another big road win to add to their upset at Wisconsin 11 days ago would go along way to punching that ticket. But Illinois followed up its big win in Madison with a 19-point loss at home to Ohio State on Valentine's Day; it hasn't played since.
The Illini will have to find a way to slow down
JaJuan Johnson
today. The junior center had 24 points and 12 rebounds -- while going to the free throw line 15 times -- in the victory at Champaign. He has had five 20-point efforts during this eight-game winning streak. Bruce Weber will need better defensive efforts from big men
Mike Tisdale
and
Bill Cole
, who each fouled out of last month's loss to Purdue.