College Basketball Nation:

Incarnate Word Cardinals
October, 17, 2013
10/17/13
10:00
AM ET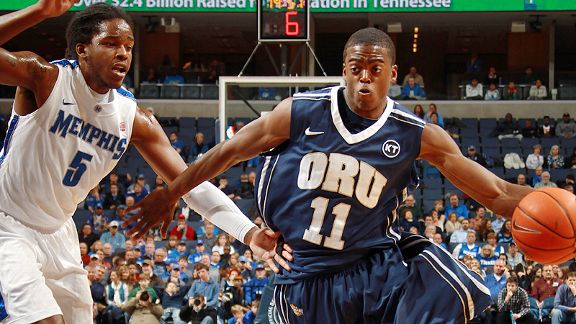 Joe Murphy/Getty ImagesShawn Glover is a big reason Oral Roberts is expected to challenge for the Southland conference crown.
It's college basketball preview season, and you know what that means: tons of preseason info to get you primed for 2013-14. But what do you really need to know? Each day for the next month, we'll highlight the most important, interesting or just plain amusing thing each conference has to offer this season -- from great teams to thrilling players to wild fans and anything in between. Up next: The top-heavy Southland.
Our ongoing theme of conference realignment doing weird things to small leagues continues today with the Southland, which is now a 14-team league (would-be super conferences of the world, eat your heart out) that scrapped together the likes of Houston Baptist, New Orleans, Abilene Christian and Incarnate Word (OK, maybe not). The latter two in that that group were actually Division II teams last season, and, as an aside, it is this writer's humble opinion that Incarnate Word is an awesome name for a school. So there's that.
In truth, the really interesting realignment shake-up in the Southland happened last summer, when Oral Roberts completed its move from the Summit League. The Golden Eagles had been among the Summit League's most consistent competitors before their move; it was generally assumed the same would be true in their new digs. Not so. Oral Roberts finished third behind Stephen F. Austin and Northwestern State last season. The former was one of the country's best defensive teams at any level; the latter finished 15-3 in league play and won the Southland automatic bid with a 68-66 win over SFA at the conference tournament in March.
Scott Sutton's team is even younger this season, but it is still talented: Former Utah transfer Shawn Glover is back for his senior season, Western Illinois transfer Obi Emegano has been earning Sutton's raves, and freshman forward Corbin Byford (who had a stellar prep career but took a medical redshirt last season) is ready to jump in, too. Stephen F. Austin lost three seniors -- including star forward Taylor Smith, who shot 69.4 percent from the field last season -- that could be most difficult to replace on the defensive end.
Only Northwestern State seems to have the combination of returning personnel and previous success to edge ahead in the search for a new Southland favorite. The Southland may not be the toughest pound-for-pound mid-major league in the country; it may have needed to add something called Incarnate Word to boost its membership this offseason. But at its highest levels, among conference contenders, the basketball is better than ever -- and more than good enough to challenge your favorite high-major team come March.
August, 20, 2012
8/20/12
5:30
PM ET
OK, so it's not official yet. Becoming a member of Division I athletics is not an easy process. But I just can't help but be overexuberant about this latest
blockbuster
news from the annals of conference realignment.
From The Associated Press
:
Abilene Christian and Incarnate Word have been invited to join the Southland Conference. Abilene Christian announced on Monday it had received an invitation. The West Texas university says that if it accepts the invitation as expected, all sports except football would enter league play in 2013. [...] A spokesman with Incarnate Word in San Antonio confirmed Monday the school has been invited to join the league.
See, I've heard of Abilene Christian. In fact, Abilene Christian used to be in Division I, when it was a member of -- you guessed it -- the Southland Conference. Since 1973, the school has competed as a Division II member of the Lone Star Conference, where it has excelled primarily at track: It's men's and women's track programs have won a combined 57 track and field championships, fourth in all collegiate sports divisions to only UCLA, Stanford and USC.
True story
.
Incarnate Word, on the other hand -- I'm preemptively sorry to the folks at Incarnate Word for saying this, but it's true -- sounds like the kind of questionable storefront diploma mill that the NCAA has so desperately attempted to destroy since 2007.
It isn't, of course. In fact, Incarnate Word was founded in the 1880s as an outgrowth of a mission by the Sisters of the Incarnate Word. Since then,
according to its website
, it has developed into one of the largest premier Catholic liberal arts institutions in the Southwest, especially lauded for its foreign study offerings. It was also the first "American university granted approval by the government of China to offer accredited degrees in mainland China." Accredited degrees in mainland China? That's a school ahead of its time.
And now that school -- pending the four-year NCAA Division I transitional process, which would allow UIW to begin competition for scheduling purposes in 2014-15 and become fully eligible for championships in 2017-18 -- is about to become a member of Division I. So, if I may, allow me to be the first to officially welcome the University of the Incarnate Word to the NCAA's ever-growing Division I college hoops big tent.
The name may invite "Sisters of the Poor" jokes, but as the old saying goes: Don't judge a book by its transitional Division I cover. Or something like that.