College Basketball Nation:

Isaac Hamilton
September, 27, 2013
9/27/13
5:30
AM ET
1. UCLA made it official with a press release on Thursday that former UTEP signee
Isaac Hamilton
is on scholarship and enrolled for fall classes. But the release wasn't clear about if he was going to play this season. There was a reason for that omission. According to multiple sources, UCLA has moved on a waiver for Hamilton to play this season. The Miners didn't release Hamilton from his National Letter of Intent and his appeal to the NLI was denied. UCLA is still holding out hope Hamilton could be cleared. The 6-foot-5 Hamilton is prepared to sit and the stated purpose of leaving UTEP for UCLA was to be close to his ailing grandmother. UCLA coach Steve Alford said the versatile guard would fit in well with the Bruins. He would. UCLA needs another potential scorer and someone with length on the perimeter. Hamilton averaged 23.5 points last season for St. John Bosco High in Bellflower, Calif. If Hamilton were to get eligible, then the Bruins would add depth in October to a position that desperately needs it.
2. Memphis doesn't open the season until Nov. 14, which means the Tigers can't start practicing Friday like many of the schools that open the season Nov. 8. That's fine with coach Josh Pastner. He wants to manage the preseason grind while pushing his guys, but knows he needs to preserve them some for later in the year. He said the Tigers will start practicing Oct. 3 and within the first week he will give the Tigers a three-day weekend off. He said he remembered his former coach, Arizona's Lute Olson, building in a three-day break for the Wildcats to avoid preseason burnout. The Tigers will have a veteran team entering the American Conference, especially on the perimeter, and the maturity with the team should lend itself well to handling a spread out practice schedule early in the preseason.
3. Credit new Rutgers coach Eddie Jordan for his patience. He didn't overreact to the potential thin roster when he took over. He collected some transfers, but all with a story to tell, and waited out the waiver process. And it worked. Rutgers found out Thursday Pitt transfer
J.J. Moore
was eligible immediately. That came on the heels of Iowa State transfer Kerwin Okoro getting his waiver.
Jerome Seagears
was allowed to come back to Rutgers after a brief spring stint at Auburn without any penalty. The Scarlet Knights now have the depth to be competitive and an intriguing team in the American Conference before moving to the Big Ten.
September, 16, 2013
9/16/13
5:00
AM ET
1. Colorado coach Tad Boyle, his staff and players helped on campus Saturday to aid those in need after floods in the Boulder area that have affected thousands. The team fed displaced families and helped cover short-staffed crews in the cafeteria.
2. BYU coach Dave Rose is expected to be released from the hospital Monday after last week's surgery to remove cancerous spots. Rose will have to take it easy the next few weeks, but the Cougars' staff expects him to be ready for the start of BYU practice Oct. 7. Teams are allowed to start practicing on Sept. 27. But the new rule is for 30 practices within 42 days of a team's first game, so schools can manage the start time to their schedule. That means there will be staggered practice days from Sept. 27 with not every team practicing on the same days.
3. No one should be surprised by former UTEP signee
Isaac Hamilton
ending up at UCLA. Hamilton's family made it clear that he wanted to be at USC or UCLA once he told UTEP he wasn't going to attend so he could be closer to his ailing grandmother. According to Hamilton's father, Greg, Isaac can be on a scholarship but without being released from his national letter of intent, he cannot play this season. UCLA cannot comment on Hamilton's arrival until all his paperwork is in to the school. UCLA coach Steve Alford is on the lookout for talent that can produce from Southern California. The onus will be on Hamilton to be a force in the fall of 2014 by using this ineligible season to his advantage.
September, 13, 2013
9/13/13
5:30
PM ET
Something has always stood in the way. For decades, it was John Wooden's unapproachable dominance. For just as long, it was USC's inability to care about basketball. In recent years, even the Trojans' most engaged hoops moments -- a
flashy new arena
, the inspired hiring of Rick Majerus, apparent recruiting momentum under Tim Floyd -- have almost always fallen flat.


Majerus, who passed away in 2012, withdrew from the job after five days, citing his already flagging health (and, later,
his mother's disapproval of the distance
). Floyd's greatest recruiting success,
landing star O.J. Mayo out of the ether
, was
subsumed by accusations that he hand-delivered an envelope of money to a Mayo handler
; he resigned while under NCAA investigation in 2009. (Eventually, the NCAA ruling forced USC to vacate the 2007-08 season … during which USC won all of 21 games. If you have to vacate a season in which you won fewer than 30 games,
you are doing it wrong
.) Then came the Kevin O'Neill era, about which the less said the better.
Of course, it has not been the most enjoyable era of UCLA basketball, either. Sure, while USC was hiring and then not-hiring Majerus (and how different this story could have been had he taken the job) the Bruins went to three straight Final Fours under Ben Howland. But Howland lost control of his program soon after. George Dohrmann's famous Sports Illustrated piece (
"Special Report: Not the UCLA Way,"
which is now every sports information director's go-to cold sweat nightmare) spelled impending doom, and one last-ditch recruiting class couldn't save the day.
This spring, UCLA fired Howland and hired New Mexico coach Steve Alford. That
didn't go so well
,
either
. It did, however, coincide nicely with USC's hiring of Florida Gulf Coast coach Andy Enfield.
A UCLA program brought low. A USC program with an aggressive, exciting young coach with nothing to lose. A great modern leveling has put both programs in places they aren't particularly accustomed to: recruiting against each other.
This competitive dynamic has been playing out in gyms and over text messages all summer, but it took until September for the first public salvos to be fired. On Sept. 2, Indianapolis native and top-50 2014 wing
Trevon Bluitt committed to UCLA
, the first proof of Alford's concept that his Indiana connections would give the Bruins a pipeline in the midwest. (Alford hired Bluiett's former high school coach, Ed Schilling, as an assistant.) Bluiett committed after a visit he shared with Louisville decommit and the No. 7-ranked 2014 point guard,
Quentin Snider
, whom analysts predicted would sign with UCLA.
Recruiting is a constantly shifting mass of causes and effects, actions and reactions. On Wednesday,
Jordan McLaughlin
, the No. 18 player in the ESPN 100,
committed to USC
. McLaughlin, who attended Etiwanda High in San Bernandino, Calif., was long considered a favorite to select UCLA. But the firing of Howland at UCLA and hiring of Enfield at USC -- and Enfield's ability to sell McLaughlin on a roll as his flashy uptempo distributor and, yes, UCLA's increased focus on Snider -- convinced the highly-touted point guard to choose the Trojans instead.
[+] Enlarge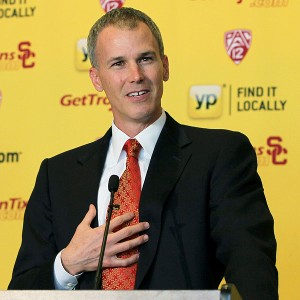 Victor Decolongon/Getty ImagesNew USC coach Andy Enfield and the Trojans added point guard Jordan McLaughlin, the No. 18 player in the ESPN 100, this week.
Then, on Thursday,
Snider surprised almost everyone by choosing Illinois
. (John Groce reportedly worked hard to get Snider on campus one last time before he made his decision. It paid off. Don't look now, but Groce is going to get Illinois good again in a hurry.) More cause, more effect: On Friday, Jeff Goodman reported that
Isaac Hamilton
, who initially signed with UTEP, had
chosen his Southern California destination
after all.
This is where things get especially confusing. Hamilton, you see, was the prize of UTEP's 2013 class. UTEP, as you may know, is coached by Tim Floyd. This summer, Hamilton had second thoughts about his letter of intent -- his family said he wanted to stay closer to home, wanted his ailing grandmother to be able to see him play. They were also "triggered," Hamilton's father said, by rumors that Floyd could return to USC. (For some reason, USC AD Pat Haden had called Floyd about the USC job. Your guess is as good as mine.)
In July,
Floyd out-and-out accused USC of tampering
:
Floyd is suspicious. He said he was called by two Pac-12 coaches and one WCC head coach saying Isaac was going to get out of his NLI. He called new USC coach Andy Enfield and told him to back off of Hamilton and said on June 4 he got a text from the Hamiltons saying that Isaac wasn't going to go to the first summer session and was concerned about what that would mean. […]
"I called Andy Enfield and he told me he's not taking Isaac Hamilton, that 'we're out of that.' But I told him the damage had already been done," Floyd said.
As recently as last week, Floyd was sticking to his guns.
"I'm sorry his grandmother is having health problems," Floyd said in July. "But what I'm doing, I'm doing for UTEP and for everyone else. The NLI is in place so you can field a team. Young people don't have to sign a national letter of intent. You can sign a scholarship paper. The policy is in place to protect the institutions after they've spent all this money in recruiting and built their schedule around and turned down other players."
Floyd's refusal to let Hamilton out of his NLI doesn't mean he can't play somewhere else. But it does mean he has to wait a season to play, and pay tuition while doing so. Which meant that a former USC coach was preventing a would-be USC player from playing at the school because he, the old USC coach, thought a new USC coach had been tampering. See? Confusing.
Even more confusing? After all that,
Hamilton didn't even choose USC
. He chose UCLA.
From Jeff Goodman's report
:
Hamilton, who is from Los Angeles, said he wanted to play closer to his ailing grandmother. He was thought to be headed to Southern California, but the Trojans backed off and UCLA wound up admitting him just one day after new Bruins coach Steve Alford lost out on guard Quentin Snider to Illinois.
Causes and effects, actions and reactions. Elite recruits from California choosing between USC and UCLA; allegations of tampering leveled at a school that didn't even get the player they allegedly tampered with.
I think this means it's official. Begun, the SoCal recruiting war has. It's about time.
August, 1, 2013
8/01/13
10:58
AM ET
1.
Sheldon Jeter
and Isaac Hamilton are still searching for places to play next season. Jeter was initially blocked by Vanderbilt from transferring to Pitt, but a source said that is still where he'd like to land. Jeter still hasn't found a home. The only certainty is that he's not returning to Vandy. Hamilton hasn't been in college yet, and wants out of his National Letter of Intent to play at UTEP. UTEP isn't releasing him. Hamilton wants to play closer to home in Los Angeles, which could mean ending up at UCLA. But like Jeter, Hamilton might have to pay his own way if he isn't let out of his NLI. Jeter is more than likely going to have to sit wherever he lands. Hamilton has a legitimate shot to play next season if an agreement can be reached between UTEP and the Hamilton family about a destination. As long as it's not USC -- since UTEP coach Tim Floyd says there was tampering -- then Hamilton has a chance.
2. Give Wisconsin coach Bo Ryan credit (and St. John's Steve Lavin for agreeing to do it) for staying true to a former player and current staffer in Joe Krabbenhoft. His dad, Kelby, the CEO for Sanford Health, is behind the new Sanford Pentagon basketball facility in Sioux Falls, S.D. Wisconsin plays St. John's in South Dakota to open the season Nov. 8 (Minnesota will play Milwaukee in an NBA preseason game on Oct. 10). "We wanted to help showcase the building and expose people to what a great facility it is,'' said Ryan. "And Steve agreed to play it. It's a great neutral-court game. It's going to be really good for us to get a neutral-court game like that against an athletic St. John's team.'' The Badgers have an aggressive schedule with home games against Florida, Marquette, a road game at Virginia, Old Dominion in Cancun, Mexico, and this opener against St. John's (as well as going to Green Bay). Ryan said the Badgers will skip a year in a return game to Cal, settling on going to Berkeley in 2014-15.
3. The NIT Season Tip-Off is the last early season tournament to produce its brackets. NIT officials said the bracket isn't complete. The four "hosts" are Arizona, Duke, Rutgers and Alabama. The NIT is the only remaining neutral-bound tournament where the hosts have to earn their way to the semifinals. The other similar tournaments pre-determine the semifinalists. While the semifinals are still up for debate, you can lock in that Duke and Arizona will be on opposite sides of the bracket ... The University of New Orleans reported that there was a game in Asia after the 1982 Virginia-Houston game. From UNO, the Privateers played Georgia and UAB in Dec. of 1987 in Tokyo. Regardless, the Georgetown-Oregon game in South Korea at Camp Humphreys will be the first regular-season opener on Asian soil ... Congrats to former NBA and college player Chris Herren on five years of sobriety. Herren has been a huge success in his post-sober life of educating high school, college and professional teams about the hazards of any drug and alcohol addiction.