College Basketball Nation:

Ishmael Smith
March, 19, 2010
3/19/10
8:28
PM ET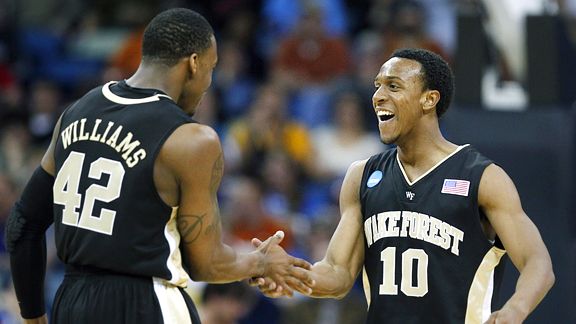 AP Photo/Patrick SemanskyKentucky faces its first real challenge in Ishmael Smith and the Wake Forest Demon Deacons.
NEW ORLEANS –- Getting into an up-and-down, shoot-'em-up game with Kentucky is like chumming off the coast of South Africa … and doing it while sitting in one of those blowup floats.
In other words, you just don't do it.
Try telling that to Wake Forest, which not only wants to run with Kentucky, but wants to run the No. 1-seeded Wildcats ragged Saturday in their East Regional second-round game.
"We're not going to change it up for nobody," Wake Forest sophomore forward
Al-Farouq Aminu
said. "I remember last year it was the same situation. North Carolina was a running team, and everybody was saying, 'You don't want to run with North Carolina.' But that's what we do, no matter what.
"The thing we've got to do is get back in transition, but I don't think they're going to discourage us from running."
There you have it.
The Wildcats (33-2) face their first real challenge of the NCAA tournament. They streaked past overmatched East Tennessee State 100-71 in the first round and looked spectacular doing so.
The Demon Deacons, meanwhile, won 81-80 in overtime against Texas when
Ishmael Smith
swished a pull-up jumper with 1.3 seconds to play. They also did a number on the Longhorns on the boards, outrebounding them by a staggering 59-34.
"We just have to do what we do, play the way we play, and come out and compete," Wake Forest senior guard
L.D. Williams
said. "We can't go out there in awe. If we do, we'll get out butts kicked. We know Kentucky's a good team, but we know we're a good team as well."
There was no lack of confidence in the Wake Forest locker room Friday as the once-forgotten-about Deacons –- suddenly revived thanks to Smith's late-night heroics on Thursday -- prepared to hit the practice floor at New Orleans Arena.
This is the same team that had lost five of six games entering the tournament. But as Smith points out, it's also the same team that was 18-5 at one point.
"We were the ones everybody was saying could do some damage," Smith said. "We're still that team, and now's the time to do it."
Wake Forest is one of the few teams that can match Kentucky's size. The Deacons' starting front line goes 7-foot, 6-11 and 6-9, while 6-11 sophomore
Tony Woods
is one of the first guys off the bench. He had seven offensive rebounds against the Longhorns, and four of those were dunk-backs.
"We match up with them in size, and it's not like we don't see a lot of talented players in the ACC," said the 6-9 Aminu, who had 20 points and 15 rebounds against Texas. "Nobody on our squad is going to be intimidated."
While it's obvious that Wake Forest was already tired of hearing about how big, talented and good Kentucky was by Friday afternoon, the Wildcats have their own chip on their shoulder.
They're tired of hearing about how young they are.
"I want this thing to end on a good note, which is a national championship," Kentucky freshman forward
DeMarcus Cousins
said. "Why not end it on a good note? To be honest, I really don't feel pressure at all. We want it bad but everybody's expectation is for us to lose because we're young."
Cousins also wasn't buying that there were a whole lot of similarities between the Wildcats and Deacons.
"They don't remind me of us," Cousins said. "They're in the ACC. We're in the SEC. Our coaches have different names. They're a big, athletic team. We'll just see how the game turns out."
The always loquacious Smith gigged some of the media Friday, wondering aloud if everybody already had the Wildcats moving on in their brackets.
"I know a lot of you guys probably have them winning the national championship in your brackets," said Smith, who wants to get into broadcasting after his hoops days are over. "If I were you guys, I probably would, too, just watching them play.
"We just want to put ourselves in position."
It may not be an enviable position, especially when the Wildcats shoot like they did Thursday. Freshman guard
Eric Bledsoe
tossed in a Kentucky NCAA tournament record eight 3-pointers, and junior forward
Patrick Patterson
was 9 of 10 from the field.
Told that the Wildcats don't think there's a team in the country that can touch them when they're stroking it from the perimeter, Smith offered a confident smile and then a shrug.
"They're a heck of a team," said Smith, his smile widening. "I believe if they say that, they feel that way.
"Let's just hope that they're not making jump shots so we can have a chance."
March, 19, 2010
3/19/10
2:41
AM ET
NEW ORLEANS -- Wake Forest's
Ishmael Smith
was careful not to immerse himself in basketball Thursday while waiting for his game later that night.
Playing the late game, he knew it would be a midnight finish or later and was determined to get his rest.
[+] Enlarge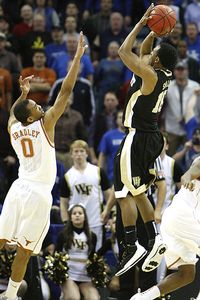 AP Photo/John Bazemore Wake Forest guard Ishmael Smith shoots the game winner over Texas guard Avery Bradley.
Plus, he's a big "Law and Order" fan, and that's where the television in his hotel room stayed for much of Thursday afternoon.
He did break away long enough from all the courtroom drama to see Murray State's
Danero Thomas
beat Vanderbilt with his game-winner.
Little did Smith know that about eight hours later he would cap what had already been a wild and drama-filled day in the NCAA tournament with a buzzer-beater of his own.
"That's how this tournament is," said Smith, whose pull-up jumper with 1.3 seconds remaining sent Wake Forest to a thrilling
81-80 victory
over Texas in overtime.
"You're on top one minute, and the next minute you're not. You've just got to keep fighting and keep gutting it out, and that's what we did."
The Demon Deacons (20-10) have seemingly been in survival mode ever since the middle of February. That's after starting this season 18-5 and making a brief appearance in the Top 25.
And then last season, they were No. 1 in the polls after starting out 16-0.
But coming into this tournament, the only team in the field more disappointing than Wake Forest might have been the one on the other bench Thursday night at New Orleans Arena.
"It was a heck of college basketball game, two resilient teams kind of with the same storyline," said Smith, who flirted with a dubious quadruple-double.
He had 19 points, 12 rebounds, seven assists … and eight turnovers. A lot of those turnovers came in the final minutes of regulation, as Texas climbed back into the game.
But it was Texas, which had lost nine of 16 games coming into this tournament, that couldn't hold an eight-point lead in overtime.
While Smith's shot might have won it for the Deacons, he said freshman Ari Stewart's 3-pointer from the corner was actually bigger. Stewart's 3 with a defender flying at him came with 15.9 seconds to play and pulled Wake Forest within a point
"We're not the prettiest team in the world," Wake Forest coach Dino Gaudio said. "We don't shoot the ball straight at lot of times, but our defense was the difference in the basketball game, as was the backboard.
"So we live to fight another day."
The Deacons obliterated the Longhorns on the boards and finished with a 59-34 rebounding advantage. It's the worst Texas coach Rick Barnes can ever remember one of his teams being decimated on the boards.
But in the end, it was Wake Forest's senior leader and point guard who ensured the Deacons would get a shot at No. 1 seeded Kentucky on Saturday in the second round.
That
John Wall
vs. Smith matchup ought to be one continuous blur.
"I'm sure everybody will be asking who's the fastest," Smith said.
Gaudio won't enter that debate, but he knows who he wants if the game's on the line.
"If I took that little guy out there right now, he wouldn't make three straight 3s if he shot 100 of them," Gaudio said. "But he makes big shots, makes big free throws. He's a lion. This team is led by a tough son of a gun at the point guard."
Yep, it's amazing how the complexion of an entire season can change with one shot come March.
March, 19, 2010
3/19/10
12:49
AM ET
NEW ORLEANS -- Two of the most disappointing teams coming into the NCAA Tournament ended up giving us one of the better games of the tournament.


Senior guard
Ishmael Smith
buried a jumper with 1.3 seconds remaining in overtime to send Wake Forest to an
81-80 win
over Texas in an East Regional first-round game that went back and fourth Thursday night.
It looked like the Longhorns were going to survive after going up by eight points in overtime. They scrapped back from a seven-point deficit in the final five minutes of regulation to force the extra period.
But the Demon Deacons (20-10) made one clutch play after another in the final minutes of overtime, including freshman
Ari Stewart
's 3-pointer from the corner to make it a one-point game with 15.9 seconds to play.
The Longhorns missed four free throws inside the final 50 seconds.
Gary Johnson
missed two with 10 seconds to play, setting up Smith's game-winner.
Wake Forest had lost five of its last six games coming into the tournament. The Deacons take on No. 1 seed Kentucky in Saturday's second round.
They advanced to that second round despite turning it over 20 times, eight of those by Smith.
It's safe to say he made up for those eight turnovers with his high-arching game-winner.
February, 16, 2010
2/16/10
10:11
PM ET
Virginia Tech flat took the game from Wake Forest tonight
, and the Demon Deacons didn't seem to mind much.
[+] Enlarge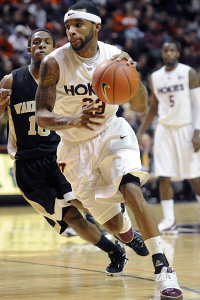 AP Photo/Don PetersenVirginia Tech's Malcolm Delaney scored 31 points against Wake Forest.
Credit the Hokies for coming back from an 11-point deficit with 16 minutes to play. And credit them with just taking over the game in the final nine minutes to win by four. Tech was better on defense, smarter with the ball, aggressive going to the basket and swarming on the glass in scoring arguably its biggest win of the season.
The Hokies take over sole possession of second place in the ACC, and might be ready to move into the Top 25 as well.
Meanwhile, Wake Forest is fully ready to move out again after breaking in at No. 25. The Deacons are undeniably talented and athletic, but have many flaws.
Most glaring: their defense is plagued by breakdowns, which is how you give up 55 second-half points. The biggest culprit against Tech was Wake's best player –
Al-Farouq Aminu
. He was beaten several times off the dribble, lazy rotating to help stop penetration and disinterested in getting a hand up on shooters. After scoring 21 points in the first half, Aminu finished the game with 25 and seemed to lack energy in the final 10 minutes. He largely spectated while guard
Ishmael Smith
tried to keep Wake in the game by himself.
In the Guys You Have To Love Dept., save a spot for Michigan State power forward Draymond Green. In the Spartans' 14-point victory at Indiana, Green made all five of his shots and finished with 14 points, four rebounds and three assists in just 19 minutes of playing time.

He has beautiful basketball instincts. Green is a 6-foot-6 sophomore who rebounds like he's 6-10 and passes like he's 6-2. He has flypaper hands that inhale the ball yet also produce a soft shooting touch and deft assists. With season averages of 10 points, 8.2 rebounds, 3.1 assists and 1.3 steals, he's always got his hands on the ball.
Momentum is a fleeting thing in the Big East. With South Florida whacking Cincinnati to further muddle the turbulent superconference, only four teams currently have won at least two conference games in a row: St. John's, Seton Hall, Pitt and Marquette. The Golden Eagles have won five straight. Rutgers could join that group but is getting licked early by DePaul.
January, 31, 2010
1/31/10
11:02
PM ET
By
Diamond Leung
| ESPN.com
A
15-point loss
at home to Virginia has the defending national champions reeling, with North Carolina having lost five of its past six games.
As Robbi Pickeral notes in the
Charlotte Observer
, the Tar Heels aren't stopping anyone right now.
Cavs sophomore Sylven Landesberg joined what it quickly becoming an "I-lit-up-Carolina" club, scoring 29 points on 11-for-18 shooting. He joins five other perimeter starters in the league who have scored at least 19 against UNC this season: Virginia Tech's Malcolm Delaney (26 points), Georgia Tech's Iman Shumpert (30), Clemson's Demontez Stitt (20), Wake Forest's Ishmael Smith (20) and N.C. State's Javi Gonzalez (19).
January, 4, 2010
1/04/10
11:36
AM ET
Five things to know from Sunday's action:
1. A trio of interesting stat lines in Wake Forest's 96-92 double overtime win over Xavier:
Al-Farouq Aminu put up 26 points and 18 rebounds in 41 minutes of action. That's his second 20-point, 15-rebound game in the span of a week. He joins Texas' Damion James as the only power six conference players with multiple 20-15 games this season.
In the first 102 games of his college career, Ishmael Smith never scored 20 points in a game. On Sunday, he poured in 28 in 49 minutes of action. It's most minutes played by an ACC player since Toney Douglas played 49 for Florida State in 2008.
In the strange line department, Chas McFarland came off the bench to pull down 14 rebounds, but did not convert on any of his five field goal attempts. That's the most rebounds without a field goal by any player in Division I this season.
2. Cal State Bakersfield couldn't manage a win against Loyola Marymount, but
Santwon Latunde
had a historic game for the Roadrunners. He tied a school record with 21 rebounds, while adding a career-high 20 points. He is the fourth player in D-I with a 20-point, 20-rebound game this season. It's the first 20-20 game by a Roadrunner since Kebu Stewart in 1997. Meanwhile, Latunde's teammate
Stephon Carter
had a bizarre game, going 1-for-13 from the field and 13-for-16 from the line.
3. With a 67-50 home loss to Georgetown, DePaul has now lost 21 straight regular-season Big East games. That's the longest regular-season conference losing streak in the nation. The Blue Demons shot under 40 percent for the ninth time this season, and currently rank 303rd in the nation in field goal percentage. More alarming is their performance at the line. After going 4-for-7 against the Hoyas, DePaul actually improved to 53.8 percent from the charity stripe this season. Not only is that last among all 347 Division I teams, but it's not even very close to 346th, currently occupied by Alabama A&M at 55.4 percent.
4. Creighton topped Evansville 72-64 thanks to a career game from Kenny Lawson, Jr, who put up 18 points, 11 rebounds and a career-high seven blocks. That's the most blocks for a Creighton player since Doug Swenson had eight back in 1998. Lawson is the early frontrunner for the Bluejays player of the decade. He is averaging 15.5 ppg, 12.5 rpg and 4.0 bpg in the two games since the start of 2010.
5. Texas Tech beat UTEP 86-78 despite shooting just 39.0 percent from the field. If 86 seems like a lot of points for a team that shot so poorly, that's because the Red Raiders continue to score a huge number of points at the free throw line. On Sunday, they went 35-of-46 from the line. Over its last four games, Texas Tech is averaging 40.8 free throw attempts per game. On the season, the Red Raiders are fifth in the nation in free throws made with 295. In fact, they've made more free throws than 217 teams have even attempted.