College Basketball Nation:

Ivan Aska
July, 19, 2012
7/19/12
5:00
AM ET
1. New Mexico coach Steve Alford won gold at the 1984 Olympics, when he was a player at Indiana. That gold medal was eight years before the 1992 Dream Team. The debate about whether to send amateurs and professionals has arisen again, with NBA commissioner David Stern broaching the subject of a 23-and-under cutoff for the Olympics going forward. Alford isn't a fan. "That ship has sailed,'' said Alford. "We have to send our pros. Everyone else is doing it. The international game has grown and it has grown because we've helped it grow. We have sent players over there for decades, doing clinics and everything else. We've had as much to do with the international game growing by sending our best. We have to send our pros.''
2. Murray State's
Isaiah Canaan
has been all over the summer scene. Canaan was at the Chris Paul, Deron Williams and LeBron James camp. He has been in and out of Murray, Ky., taking classes, and according to coach Steve Prohm has taken another step up in being a leader. But the Racers can't equal last season's NCAA tournament run to the third round on Canaan alone. Prohm said
Ed Daniel
has been sensational in following a similar path to the Amare and LeBron camps. The key may be rising sophomore
Zay Jackson
, who has been a hit in workouts and can complement Canaan on the perimeter. Prohm is banking on Daniel's defense and rebounding as a staple, but he's learning to finish with more consistency. Daniel's scoring in the paint is a must in the absence of
Ivan Aska
.
3. Valparaiso should be picked over Detroit for the Horizon League title now that Butler is out. Valparaiso won the regular season a year ago but lost to Detroit at home by 20 in the conference tournament title game. Crusaders coach Bryce Drew is attempting to enhance the nonconference schedule in the oft-chance the Crusaders can't win the conference/tournament. Drew said he has scheduled games against Nebraska, New Mexico, Murray State, Kent State, Missouri State and Oakland. The games against Murray and UNM are quality RPI games and both will return in 2013. Drew is still trying to get Pitt to agree to a game. Drew would also like to get a home-and-home series with the return game being at the United Center in Chicago in his attempt to be creative for a strong series. Meanwhile, the Crusaders will be more formidable if Cal transfer 6-6
Alex Rossi
gets a waiver to play immediately. Rossi, who played sparingly at Cal in three games, came home for family reasons. The Crusaders are already adding 6-1 South Florida transfer LaVonte Dority at semester. Dority played in nine games last season, playing 15 minutes a game.
February, 17, 2012
2/17/12
9:00
AM ET
When and where:
Saturday (ESPN, 6 p.m. ET), CFSB Center (Murray, Ky.)


Saint Mary's breakdown:
The Gaels are coming off their first home loss of the season, to Loyola Marymount, perhaps the most athletic team in the West Coast Conference and finally healthy. Randy Bennett's team has had a terrific season, but has lost two of its past three games (at Gonzaga and at home to LMU).
Saint Mary's is a very skilled team that lacks size but has players who can spread the floor and a "big guy" in
Rob Jones
who plays inside and out, and plays much bigger than he is listed. Bennett has several very efficient players, including Jones,
Matthew Dellavedova
and the ultra-efficient
Clint Steindl
. But this team will definitely miss defensive ace
Stephen Holt
, who was injured against LMU and did not make the trip to Kentucky after a partial tear to his MCL. Holt is one of the most complete players in the WCC and the West Coast, and is a terrific player. That's a big loss.
But Dellavedova is dynamic off the bounce and in transition and is in attack mode all the time. Steindl is an excellent perimeter shooter who does not make mistakes. The Gaels play a bend-but-don't-break style of defense, and do not force a lot of turnovers.
[+] Enlarge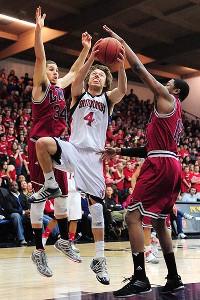 Kyle Terada/US PresswireMatthew Dellavedova scores 15.5 points per game for a 23-4 Saint Mary's team that has lost two of its past three games.
But they do not give up extra possessions via turnovers or offensive rebounds, either. It is unusual to play ahead of the Saint Mary's defense. This is not a super-athletic team or a big team, and it is not a team that shoots a ton of 3s. But it is a team that moves the ball, cuts hard, drives it, and plays with tremendous heart and a great understanding of how to play. I love watching Saint Mary's play, and it would be a great bunch of guys to play ball with.
Murray State breakdown:
The Racers are very well-coached, and have really good guards and solid interior players who play really hard and well together. Murray State ripped off 23 straight wins, and although this team did not play a Big Ten schedule, it did not have a letdown or slip and fall, either. Wins against Southern Miss, Dayton and Memphis prove this team is legit and should be taken seriously.
The backcourt with
Isaiah Canaan
and
Donte Poole
can compete with any backcourt in the country. Both can give you 30 points in a game, and both are hard to contain in transition and off ball screens.
Canaan is the best player, but Poole (a product of Las Vegas) often steps forward and has big games when Canaan is not dominating. Inside,
Ed Daniel
and
Ivan Aska
do a good job, and
Jewuan Long
is the heart and soul of the team.
Murray State has a lot of positives, but the weaknesses are pretty glaring at times. The Racers can be, and often are, loose with the ball. They cough it up far too often. Murray State turns the ball over almost 21 percent of the time, and that is in the bottom half of Division I.
In addition, Murray State has solid "first-shot defense," but allows far too many second shots, and those high-percentage second opportunities put the Racers at a disadvantage.
Gaels' game-breakers:
Dellavedova and Jones. Dellavedova does not look like a point guard, but he knows how to play, and plays like a man. He averages 15.5 points and 6.4 assists, and with his attack mentality, leads the team in free throw attempts.
Once he gets to the line, Dellavedova is automatic. He will be a tough matchup because he is strong and knows how to use his body. Jones started his career at San Diego in the West Coast Conference, and is one of the most versatile big men in the country. Jones has hit 31 3-point field goals, and is an outstanding rebounder.
He averages 15 points and more than 10 rebounds per game, including more than three offensive rebounds per game. Jones will be a difficult cover for Murray State.
[+] Enlarge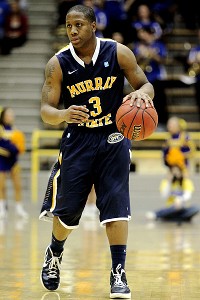 Andy Lyons/Getty ImagesMurray State's Isaiah Canaan averages 19.2 point per game and has four games of 30 or more points this season.
Racers' game-breakers:
Canaan and Poole. Canaan is dynamic enough to take over a game, and has scored more than 25 points in a half. He can hit from deep, use ball screens and can pull up and hit from mid-range as well.
Canaan has hit 79 3-point shots, but has also shot 152 free throws, which makes him very dangerous and hard to guard. He averages 19 points and almost 4 assists per game, leading the team in both categories. Poole is also an excellent 3-point shooter, hitting 53 of 135, while also getting to the free throw line 119 times.
Poole leads the Racers in steals with just more than two per game. To beat Murray State, Saint Mary's has to keep Canaan and Poole from going off.
Gaels' X factor:
Steindl. The long-armed shooter has hit 45 3-point field goals, which accounts for more than 85 percent of his field goals. Murray State cannot leave Steindl, and must find him in transition and force him to put the ball on the deck. If Steindl is allowed to shoot from the same spot where he catches it, he will knock down shots left and right.
Racers' X factor:
Aska. He has all the skills to be a major factor, including the ability to score around the rim. Most importantly, Aska is tough. He averages 12 points and 6 rebounds per game, and he makes his free throws.
Key stat:
Rebounding and turnovers. Murray State is turnover-prone and Saint Mary's does a really good job of taking care of the ball. The Racers surrender too many offensive rebounds and Jones is an outstanding offensive rebounder. Murray State has to take good care of the ball and must finish defensive possessions with big defensive rebounds.
Did you know?
Mark Gottfried and Mick Cronin both coached at Murray State. And Saint Mary's played in the 1939 Cotton Bowl, beating Texas Tech. I'll take obscure BracketBusters trivia for $200, Alex.
Can't account for this:
It may seem odd to name a broadcaster as a "key to the game," but Dick Vitale is doing this game. Murray State is already publicizing Vitale's appearance as an event, and the atmosphere will be different than any Murray State has ever had. Add in that it is Senior Day and you could have an emotional overload. Will the hoopla and distractions work in Murray State's favor? Or will they wear out the Racers, who are not used to having this kind of circus in town? No matter what, it will be fun and memorable for everyone involved. But it is always more fun when you play well and win.
Who wins:
I think Murray State will pull this one out at home 72-70. And it will seal the deal for an at-large bid.
January, 12, 2012
1/12/12
5:00
AM ET
1. Murray State coach Steve Prohm said senior forward
Ivan Aska
(broken right hand) won't play Thursday (Jacksonville State) and Saturday (Tennessee Tech) after being checked by a doctor Wednesday. Aska, who leads the undefeated Racers with six rebounds a game, missed the past two games. Prohm said it may be 2-to-4 weeks before Aska is back in the lineup.
2. UAB coach Mike Davis is convinced that Saint Joseph's coach Phil Martelli is the only one holding up
Todd O'Brien
's eligibility. SI.com reported O'Brien's latest waiver attempt with the NCAA was rejected on Friday. O'Brien, a reserve at Saint Joe's last season, transferred after he graduated and wanted to play his final year of eligibility immediately as a grad student at UAB. But the waiver was rejected. The NCAA told ESPN.com that St. Joe's not supporting his case was one of the factors. O'Brien has been practicing with the Blazers but can't play. Martelli won't return messages to explain his decision to withhold an endorsement of O'Brien's transfer.
3. I know a number of Northwestern basketball fans in the media and they are a passionate lot. But their faith is akin to the nearby Cubs. It's amazing how many close games the Wildcats get in but can't close. Wednesday night was yet another example. The Wildcats were on the verge of getting their first signature win of the season at Michigan. But the Wolverines rode
Trey Burke
's hot hand and won in overtime. Northwestern missed a chance to take out Illinois, too. The Wildcats have never made the NCAA tournament. Barring a run through the Big Ten tournament it's hard to see history happening in Evanston.
January, 10, 2012
1/10/12
5:00
AM ET
1. Unbeaten Murray State's third-leading scorer
Ivan Aska
will go back to a doctor Wednesday to evaluate his broken right hand. Murray State coach Steve Prohm said Monday that Aska, a senior forward, remains doubtful for this week's games against Jacksonville State (Thursday) and Tennessee Tech (Saturday). Prohm said
LaTreze Mushatt
, who started the past four games, will remain in that role. Prohm said he also looked to continue to play four guards during this stretch.
2. UNLV coach Dave Rice will have two semesters to ensure that Pitt transfer Khem Birch left any baggage behind. Rice is coaching multiple four-year transfer players at UNLV that he inherited from Lon Kruger. And so far they've flourished. Birch's bailing on Pitt after one semester isn't a good sign. So the onus is on him to prove that he's not the problem, but that he didn't fit the system. If he's going to flourish in a more wide-open set, then he can't have any other issues during his transfer year in residence.
3. Virginia coach Tony Bennett said
Mike Scott
, the new frontrunner for ACC player of the year, is more versatile this season. He can face, post and has improved his outside shot. But for the Cavaliers to beat Duke Thursday in Cameron Indoor Stadium, they'll have to be at their best defensively and have solid offensive games from Scott and the Cavs' guards. Bennett said in the one-point win over Miami it was too much Scott, solid defense and not much else.