College Basketball Nation:

Izzo stays 2010
June, 16, 2010
6/16/10
10:48
AM ET
It was a big enough story on its own:
Tom Izzo returning
to Michigan State,
pledging his services for life
, making his triumphant return
after a too-close-to-call dalliance with his NBA dream
. All in all, that's a pretty great story, right?
[+] Enlarge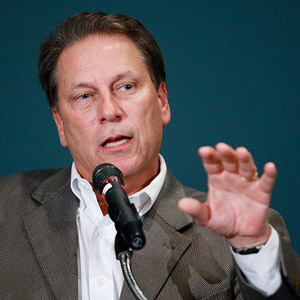 AP Photo/Al GoldisTom Izzo announced Tuesday that he would remain the head coach at Michigan State.
But of course that wasn't the biggest, or at least most sensational bit to come out of Izzo's news conference Tuesday night. Instead, it was a rather heated spat that pitted Izzo, Michigan State athletic director Mark Hollis and university president Lou Anna K. Simon against local columnists and eventually the media at large.
There's were two continual themes throughout MSU's news conference: One, that the media had in some vague way victimized Izzo and his family during the nine days the coach spent carefully pondering the merits of the Cleveland Cavaliers job. And two, that "the Internet" -- meaning sports coverage on the Internet, presumably -- was largely responsible.
Yeah, it went there. Fun.
President Simon took the microphone first so she could bust like a bubble. Simon said it was "amusing" so many rumors surrounded the story and unfortunate that "tweets became fact." That seemed a weird one-off, but it was soon followed up by athletic director Hollis who, in the midst of a stirring speech about what Izzo meant to MSU athletics and Michigan at large, saved time to give a brief rejoinder on media ethics in the digital age.
Hollis said that the media was "out of control." He claimed it was capable of doing "some very bad things to our society." He said the media's "race to be first leaves a great deal of pain in its wake." Michigan State journalism students should ask for a refund; the athletic director and school president were giving this stuff away for free.
When it was Izzo's turn at the podium, he made some reference to false reports being hurtful -- he actually told the assorted journalists that "bloggers drive me crazy, and they drive you crazy too" -- but more than anything he seemed irked by opinions rather than any particular erroneous report.
One of those opinions belonged to Detroit News columnist Lynn Henning. On Tuesday,
Henning wrote that it might be too late for Izzo
to come back to Michigan State. Henning believed Izzo's extended NBA dance proved his heart wasn't in East Lansing anymore. Curiously enough, Henning was the one reporter at Izzo's news conference willing to openly question Simon, Hollis and Izzo's characterizations of the media as careless. Which is where things stopped being polite and started getting real. And kind of silly, actually.
June, 16, 2010
6/16/10
9:53
AM ET
By
ESPN.com staff
| ESPN.com
Michigan State coach
Tom Izzo explains

why he decided not to accept the Cleveland Cavaliers' offer. Izzo also dishes on how much LeBron James factored into his choice and if he got any sense of what James will do in free agency.
June, 16, 2010
6/16/10
1:22
AM ET
Jud Heathcote was the coach, but Magic Johnson was the face of Michigan State in 1979.
Johnson went on to become one of the greatest players ever to play the game and remains an iconic figure in East Lansing.
But Magic will be remembered more for his championships with the Lakers than the one with the Spartans. It wasn't his program. And even though Heathcote is the architect and the godfather still to this day, Michigan State has become Tom Izzo's program.
And now, with his pronouncement Tuesday night that he is a Michigan State lifer, Izzo will be synonymous with the Spartans ultimately as much as Duke will be with Mike Krzyzewski, Syracuse with Jim Boeheim, Connecticut with Jim Calhoun and Arizona with Lute Olson.
To read the rest of this story, click here.
June, 15, 2010
6/15/10
9:47
PM ET
When the puff of smoke came out of the chimneys in East Lansing and Tom Izzo ended his tap dance with NBA riches, telling the Cleveland Cavaliers that LeBron James or no LeBron James, he was staying with Michigan State, it was another reason for college athletics to sigh a breath of relief.
[+] Enlarge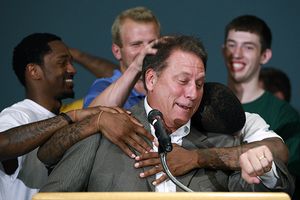 AP Photo/Al GoldisMichigan State is celebrating Tom Izzo's decision to stay at the school.
No one likes rapid change and the college game has been staring down the barrel of it ever since Duke hoisted its national championship trophy.
First came the supposed tourney Armageddon, an assumption that the NCAA tournament bracket would turn into a spreadsheet of 96 teams. Then came the even more terrifying threat of mega-conferences.
Hand-wringing, sermonizing and soapbox orations about the Super-Size-Me greed of the college game ensued (present company included), while everyone pondered the very end of college sports as we know and love them.
And then 96 became 68 and the Pac-16 became the Pac-11, the Big Ten the Big 12 and the Big 12 the Big Ten.
And while I still contend that 68 could become 96 and the Pac-16, Big 16 and SEC Extra may only have been temporarily shoved to the back burner until DeLoss Dodds figures out a way to print more money for Texas, the baby steps of change are welcome in an arena where it took 23 years to move the 3-point line one foot.
Izzo's decision won't have as much impact as Kansas heading to the Big East or landlocked Oklahoma heading to the Pac-10 would have. But it's an equally important win for college sports.
The NBA has turned college basketball into a rental center and makes a living off plucking the game's best and brightest just when they're finally shucking their high school habits and coming into their own.
John Wall
,
Derrick Favors
,
DeMarcus Cousins
, we hardly even knew ya.
For once, someone stared at the Benjamin-wrapped carrots of the NBA and said "no."
I'll admit it. I like Tom Izzo. I like how he coaches. I like what he stands for. I like how he treats people and I like that, in a business I fear is losing its characters along with its character, he doesn't take himself terribly seriously. (Anyone who can show up at Midnight Madness dressed as Sparty one year and a hippie the next doesn't take himself too seriously).
But I also like that the college game gets to keep him, that a future Hall of Famer and arguably one of the best in the game has decided that a great job at a college is even better than what might (after July 1) become the best job in the NBA.
I like the fact that, while we still mourn the death of John Wooden, another coach has chosen loyalty.
After Wooden's passing, I wondered if his endless tenure at UCLA had become as quaint as his endless devotion to his wife, Nell. That if, in an era of chronic ladder climbing and impatient fan bases, anyone would both choose to stick around and be allowed to do so.
Izzo reaffirmed that it can happen and that change, as we've learned since April, isn't always for the better.
June, 15, 2010
6/15/10
9:16
PM ET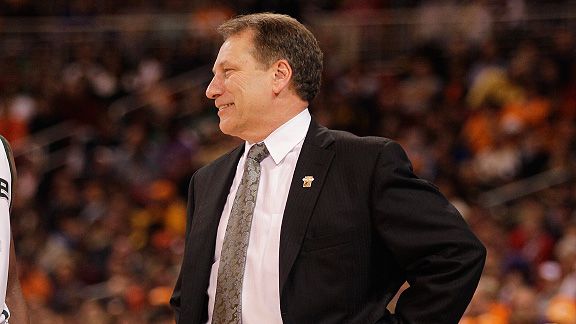 AP Photo/Jeff RobersonIf Tom Izzo was ever going to break for the NBA, this would have been the time.
And so every Michigan State fan's long regional nightmare is over. The Izzo abides.
The Spartans' public relations team announced
Tom Izzo's decision to stay in East Lansing Tuesday night
, scheduling a press conference and including a statement from Izzo that contained 12 words that surely caused an outbreak of joy-induced head explosions (note: may not be an actual medical condition) all over the state of Michigan.
"I'm pleased to say I am here for life at Michigan State," Izzo said.
Thing is, Izzo didn't even need to say it. His decision already did.
If ever Izzo was going to make a jump to the NBA, now was the time. He had a lifetime of riches on the table. He had a supportive fanboy boss in Cavaliers owner Dan Gilbert, a Michigan State alum. He had a better than average chance -- even if
LeBron James refused to commit to the idea
-- to coach the NBA's best player on one of the NBA's best teams. He could have foregone the typical college-to-NBA stepping stone so many coaches before him have taken, avoiding also-rans and cellar-dwellers and taking over an immediate NBA title contender.
And he turned it all down.
The quote is nice, but the decision says it all. Tom Izzo wants to be a college coach. He wants to do that coaching at Michigan State. And he wants to do so until he retires.
Of course, it isn't quite that simple. Izzo considered this job too seriously for it to be dismissed as a mere dalliance, or a wandering eye. Izzo was on the brink. Throughout his deliberation,
reports from unnamed sources close to the coach revealed that he'd grown weary of the demands placed on college hoops coaches
. He'd gotten tired of the recruiting rat race. He was sick of the year-round schedule. According to friends, he was concerned -- "concerned" is putting it politely; "fed up" is probably more accurate -- about what he saw as the increased amount of cheating happening in the sport.
The NBA was a way out. In the NBA, you don't have to kowtow to AAU runners and prissy prep stars. If you don't want to, you can stay out of the personnel business entirely, offering input on front office moves but resigning yourself to coaching the team you're given without worrying about recruiting players to fit your system. You can just ... coach. Would Izzo be happier if his only responsibility was X's and O's?
Add that to the natural impulse among coaches -- especially those as successful and driven as Izzo -- for new changes and challenges, and it's not hard to figure out why Izzo spent so much time mulling this one over.
In the end, though, he turned it all down. This one's not hard, either: Izzo is a legend in SpartanLand. He can coach at Michigan State forever. He has enough talent returning to (not to mention arriving in) East Lansing to reach his seventh Final Four and win a national title in 2010-11. His program is a well-oiled machine. His legacy is intact. He's happy. The media loves him. Fans love him more.
Want to know how popular Izzo is among Michigan State fans? Rather than reacting with distaste for Izzo's drawn-out job chase,
Spartans fans organized a rally at the Breslin Center
-- which included
a teary appearance from MSU center Derrick Nix
-- designed to keep the coach in town. Many fan bases with the Spartans' history of success would have told their coach to buzz off if he didn't like his job. But MSU fans owe so much of that success to Izzo that he could have taken months on his decision without losing support or tarnishing his legacy. Now
that's
popularity.
Why mess with a good thing?
Izzo didn't. Sure, his eye wandered. His distaste for the current state of college coaching became public. His long-held desire to challenge himself in the NBA surfaced yet again.
But Izzo left himself no wiggle room. If this wasn't the time, the time will never come.
"I am going to be a lifer," Izzo said at his press conference Tuesday night. "This is what I'm going to be. And I'm damn proud of it."
Tom Izzo will be a Spartan for life. His decision told the tale before his words ever did. But to Michigan State officials, fans, and players, the words sure sound good, too.