College Basketball Nation:

Jabari Brown
March, 13, 2014
Mar 13
4:26
PM ET
By
ESPN.com staff
| ESPN.com
December, 20, 2012
12/20/12
5:00
AM ET
1. Xavier coach Chris Mack is legitimately concerned about the cramps that forced
Dee Davis
to sit during stretches of Wednesday's loss to Cincinnati and rendered star freshman
Semaj Christon
useless for the Musketeers after 23 minutes. "I'm not a doctor, but this isn't high school anymore, this is big-time Division I basketball,'' Mack said. "They have to take care of their body. They have to hydrate, get the right amount of sleep.'' Not having Davis and Christon at full strength had a dramatic effect in the second half for Xavier. The Musketeers controlled the game in the first half, but were at half-speed in the second and were overrun by the Bearcats.
2. Missouri coach Frank Haith said Wednesday that
Jabari Brown
has proven to have a high basketball IQ. Haith added that Brown is more than just a shooter -- he passes well, moves without the ball and has turned into a quality defender. The Oregon transfer made his debut for the Tigers on Monday against South Carolina State and scored 12 points in 20 minutes (although he did go 1-for-7 on 3s). Brown could prove to be crucial for the Tigers in Saturday's game against Illinois in St. Louis.
3. I've seen the New Mexico-New Mexico State rivalry up close for five years. The Aggies aren't at the level they were under Neil McCarthy in the 1990s. But this is still an intense affair and the Lobos deserve plenty of credit for sweeping a rivalry series in consecutive games, winning on both teams' courts. No other non-conference rivals play home-and-home in the same season on each other's courts in consecutive games as the Lobos and Aggies do. The Lobos are now undefeated along with Arizona, Cincinnati, Duke, Illinois, Michigan, Syracuse and Wyoming. The Cowboys played the weakest schedule of that group, but the start has to be applauded and, barring a collapse, Wyoming will be in the postseason.
November, 30, 2012
11/30/12
5:00
AM ET
1. There are a few issues with the
Michael Dixon Jr.
situation at Missouri. I'm not sure why Missouri allowed Dixon to announce he was transferring from the program instead of dismissing him first. The reporting on the story from Kansas City, St. Louis and Columbia paints a much different picture, indicating that the senior guard was accused of two sexual assaults during his time at the school. Dixon, whom the Tigers suspended to start this season, will likely have trouble finding a new home to finish his college career. Based on the news Thursday, I find it hard to believe that another school would take a chance on him. The Tigers did the right thing by suspending him, but could have taken another step and let him go before the stories broke Thursday. Missouri will be fine on the court without him. This is a deep team that will add scoring guard Jabari Brown, an Oregon transfer, in a few weeks to pair up with
Phil Pressey
. The Tigers are still a legit threat to finish in the top three in the SEC. Having Dixon gone will ultimately be better for all parties involved.
2. Former Texas Tech coach Billy Gillispie left quite an advantageous schedule, one that doesn't have the Red Raiders leaving Lubbock until Jan. 5. Interim coach Chris Walker has taken advantage of the opportunity. The Red Raiders, who are 4-0 and 3-0 against (low-level) Division I competition, are second in the country in scoring at 88.8 points per game. Texas Tech will get a real barometer on its progress Saturday when it hosts No. 9 Arizona. Texas Tech also gets Alabama on Dec. 19 and Arizona State on Dec. 22. That first road game is at TCU in the Big 12 opener. "We just have to play harder and more together,'' said Walker. "We've got to limit (Arizona's) transition and offensive rebounds. That will give us a chance.''
3. We may find out if Wyoming is a pretender or a contender Saturday when the 7-0 Cowboys host No. 19 Colorado. Wyoming coach Larry Shyatt is notorious for light nonconference scheduling, but now the Cowboys will be truly tested. The depth of the Mountain West is legit (see Boise State's victory Wednesday at Creighton). Assistant coach Scott Duncan said that, with a great crowd at the Arena-Auditorium, if Wyoming can continue to play tough defense, limit the 3s and make some of its own, the Pokes can pull off the upset.
November, 2, 2012
11/02/12
10:00
AM ET
Unlike shooting or rebounding or point guard play or the variety of other specific basketball skills we've been highlighting in our
Best of the Best lists
throughout this week, the category of "most important" is far trickier to quantify. It depends not only on a player's contributions, but on the team around him and where the two dynamics meet in the middle. There is also a constant temptation to conflate "most important" with "best" or "most valuable," and those arguments (hello, baseball) always make my head hurt.
My editors asked me to name the 10 players most important to their teams in the country, and that's precisely what I'm going to try to do. But I also attempted to avoid the rabbit hole that is individual talent at the mid-major level. Instead, I tried to narrow the criteria down to players most important to their teams' chances of winning a national title, or making a deep tournament run, or maintaining some level of national relevance. Let's give it a shot:
[+] Enlarge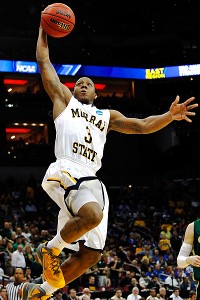 AP Photo/Dave Martin, FileWith much of last season's cast gone, Isaiah Canaan is even more key to Murray State this season.
1. Isaiah Canaan, Murray State
: Last season, Canaan was hands down the best and most important player on a team that went 31–2, leading his team in minutes, points, assists, offensive rating (122.2), 3-point field goal percentage (45.6) and a wide swath of other statistical categories. He dominated the ball, scored at will and facilitated to boot. He was really, really good.
And that was on a team that included seniors Donte Poole, Ivan Aska and Jewuan Long, on a team that already was beginning to bring along guard Zay Jackson as Canaan's new backcourt partner. The first three players are gone to graduation; Jackson is missing the entire season after pleading guilty to wanton endangerment for running over two people with his car in a Walmart parking lot. (
True story
.) So Canaan, already crucial to his team's success a year ago, becomes the primary returner on a squad that still very much maintains conference-title and NCAA tournament aspirations. No one player in the country will mean more to his team this season.
2. Cody Zeller, Indiana
: Zeller, the AP Preseason Player of the Year, obviously is important. He is the unifying force on a team that desperately needed exactly what he provided as a freshman: interior scoring, rebounding, strength, efficiency, you name it. He led the Hoosiers in field goal attempts by a wide margin, and Indiana fans could frequently be heard complaining that Zeller wasn't getting enough touches. Truth is, they probably were right. Before he arrived, with similar personnel, Indiana won 12 games. Afterward, they went 27–9. He doesn't get credit for all 15 wins of that improvement -- other players got better, too -- but there's no question his impact was immense. You know all this already.
Here's the twist, though: All offseason, we've been praising the Hoosiers' depth, and there's no question Tom Crean has a wealth of pieces at his disposal. But right now, aside from Zeller, the frontcourt is looking a little slim. Forward
Derek Elston
(better as a 15-foot jump-shooter anyway) is injured, and the eligibility statuses of freshman
Hanner Mosquera-Perea
(a wide-shouldered rebounding force) and
Peter Jurkin
(a 7-foot center) are both up in the air. Zeller already has much riding on his shoulders, and more help was supposed to be on the way. If it isn't, Zeller's task becomes even more daunting.
3. Doug McDermott, Creighton
: Last season, there were two players in the country who used at least 28 percent of their team's available possessions and posted offensive ratings (a measure of individual player efficiency) above 120. The first was Damian Lillard, who did
this for the Portland Trail Blazers the other night
. The other: Doug McDermott. He shot 63.2 percent from inside the arc (on 400 shots) and 48.6 percent outside (on 111), and he rebounded well on both ends for good measure. Creighton has guys who can play.
Grant Gibbs
is a sublime entry passer,
Jahenns Manigat
is coming on strong and
Ethan Wragge
can shoot it. But there's no getting around the fact that McDermott's incredible inside-out offensive versatility was the main reason his team boasted the fifth-most efficient offense in the country last season,
per KenPom.com
. Seeing as Creighton's defense was so lackluster, the Bluejays very much needed that offense. Even assuming they improve somewhat on the defensive end this season, they'll still need to score like crazy in 2012-13. That's where McDermott comes in.
4. Peyton Siva, Louisville
: Every time we talk about the huge talents returning at Louisville, we talk about how good the defense is going to be. This is for good reason: It was the best in the country last season, good enough to get the No. 4-seeded Cardinals to the Final Four. It will keep them in excellent shape in the season to come. It's bankable like that. Then, after we sing the defensive hosannas, we get around to talking about how so-so Louisville's offense was, and how if the Cardinals are truly a national title contender they have to find ways to score.
Siva is the most crucial piece in this discussion. The UL senior point guard is 5-foot-11 and quick as lightning; the problem is that he just isn't very efficient. He shot 24.6 percent from 3 in 2011-12. He turned the ball over on nearly a third of his possessions (29.3 percent). According to Synergy scouting data, Louisville uses Siva more frequently than any other player to initiate pick-and-roll sets at the top of the key, a play type it favors as a team, but he is merely average in his execution. Why? Because defenses don't have to respect his jumper. They play under the screen, the play dies and Louisville goes to Plan B.
To me, if Louisville is going to turn its offense to something more coherent, Siva is the key. Without a more efficient performance at the point guard spot, the Cardinals will still be a brutally tough out. But they won't reach their full potential.
[+] Enlarge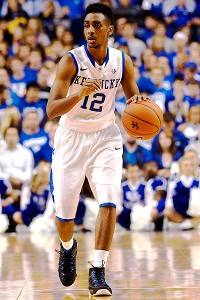 Mark Zerof/US PresswireNC State transfer Ryan Harrow takes the reins of a talented, but again young, Kentucky squad.
5. Ryan Harrow, Kentucky
: The NC State transfer is getting his moment in the John Calipari point-guard spotlight this season, a vaunted role typically reserved for NBA lottery picks. That spotlight can be harsh --
never more so than from Calipari himself
-- but there are good reasons for Calipari's insistence on point guard excellence. For one, his dribble-drive offensive system (which he has used variously in recent seasons, and might return to more in 2012-13) thrives on point guard play more than most.
The second reason? Harrow, who spent last season on the bench after a freshman campaign in Raleigh, is in many ways a veteran in Kentucky's latest amalgamation of highly talented but still raw freshmen. His ability to run an effective offense, while dealing with players still getting used to each other and the college level at the same time, will be key to Kentucky's success this season.
6. Trey Burke, Michigan
: Burke has something of a similar challenge to Harrow's, but one accentuated by what could be a major adjustment at the offensive end. Last season, Burke sprang onto the scene at the helm of an archetypal John Beilein-style "spread the floor and fire away" 3-point-shooting team. The team's three most efficient shooters are gone, replaced by touted freshmen (
Glenn Robinson III
,
Mitch McGary
) unlike anything Beilein has had the luxury of landing during his tenure in Ann Arbor. Now, Michigan's best lineup will look more conventional, with big, athletic, bruising players.
This could be a boon on defense, but it will require a shift on offense; it seems almost unfathomable the Wolverines will shoot nearly as many 3s this season. At the middle of it all will be Burke, a preseason All-American who will see his distribution and leadership abilities fully put to the test.
7. Adonis Thomas, Memphis
: It was tempting to put point guard
Joe Jackson
in this spot. The same could be said for center
Tarik Black
. Jackson has still yet to harness his immense talent in a totally cohesive way; Black can't seem to stay out of foul trouble. But I decided to go with Thomas. Why? For one, he'll be stepping into former Tiger Will Barton's shoes, and there was no mistaking Barton was the best player on a pretty underrated 2011-12 Memphis team. But Thomas could arguably be even better, at least on the offensive end; by all accounts, the 6-6 small forward has been utterly lacing long-range shots all offseason. That versatility would make Thomas, who played power forward until his injury last season, an utter nightmare to guard and could introduce a new dynamism to a Memphis offense that was already pretty good in the first place. I'm really intrigued.
8. Lorenzo Brown, NC State
:
C.J. Leslie
is the obvious pick here, but I think we kind of know what we're going to get with him. He's athletic, he's one of the best in the country at catching on the block or elbow and diving to either side of the rim, and he should be locked in from start to finish this season. Maybe that's presumptuous, but I'm taking Leslie's productivity as a given. (OK, it's definitely presumptuous. Make me look smart, C.J.) Brown, on the other hand, feels more crucial because, like some of the other PGs on this list, it is his job to make the whole Wolfpack thing work. That includes integrating
Rodney Purvis
; playing better defense at the point of attack; and keeping Leslie involved and finding sharpshooter
Scott Wood
on the wing. If Brown has a top season, NC State might indeed be worthy of that lofty, tourney-run-infused No. 6 preseason ranking. If not, the "overrated" refrain will ring out early and often.
9. Phil Pressey, Missouri
: Senior guard
Michael Dixon
's indefinite suspension probably won't last too long, but that's hardly the only reason Pressey deserves a nod here. Along with Dixon -- who is more of a catch-and-shoot player than Pressey, a gifted ball handler, penetrator and creator -- Missouri's backcourt has kind of a crazy/thrilling challenge on its hands in 2012-13. The Tigers have to replace the losses of Kim English, Ricardo Ratliffe and Marcus Denmon with four transfers:
Keion Bell
(from Pepperdine), Jabari Brown (from Oregon),
Alex Oriakhi
(from Connecticut) and
Earnest Ross
(from Auburn). Those players have all been on campus for a while, and it's not exactly like figuring out guys you just picked up in an open run ... but compared to the rest of the country, it's not all that far off, either.
10. James Michael McAdoo, North Carolina
: It will be easy, in the coming months and years, to forget just how good North Carolina's 2011-12 frontcourt was. That's what happens when you have gigantic expectations and bow out of the NCAA tournament short of the Final Four. But let it be known: Tyler Zeller and John Henson (and, oh yeah, Harrison Barnes) were
really
good. Not only did they control the paint and score easily on the offensive end, but they were fast enough to race down the floor in Roy Williams' up-tempo system, getting easy buckets on offense and turning UNC's interior defense into its overall team strength.
Given all that, McAdoo has a ton riding on him in 2012-13. He was a highly touted recruit who probably could have been a lottery pick last season, but he chose to avoid that route (word to Marvin Williams) and come back to prove himself on the college stage. Carolina returns some promising wings (
P.J. Hairston
,
Leslie McDonald
) and brings in a really interesting frosh at point guard (Iowa native
Marcus Paige
), but McAdoo will be in charge of the low block. If he lives up to his heady NBA potential, look out. If not, UNC will labor. It's that simple.
July, 26, 2012
7/26/12
2:11
PM ET
Editor's note: ESPN.com's Summer Shootaround series catches up on the offseason storylines for each conference. For more on SEC, click here.
Five offseason storylines in the SEC ...
1.
Life is good in Lexington:
At any other program, with any other coach, when you win a national title and send your six best players to the NBA draft, you are not supposed to compete for a national title 12 months later. But this is not any other program, or any other coach. This is Kentucky as led by John Calipari, a finely tuned college hoops machine.
After harnessing the insane talents of
Anthony Davis
and the team-first ethos of
Michael Kidd-Gilchrist
-- the NBA draft's No. 1 and No. 2 overall selections -- Calipari has cleared the "one-and-dones can't win a title" hurdle, if it existed in the first place. So now what? Naturally, Calipari reeled in another talented recruiting class -- the No. 2 class in the country, according to RecruitingNation, the first time in four years Kentucky hasn't been ranked No. 1 -- that includes the No. 1-ranked player in the class, center
Nerlens Noel
, and top-15 recruits
Alex Poythress
and
Archie Goodwin
. Sophomore power forward
Kyle Wiltjer
, a top-20 recruit in 2011, will take on a much larger role, and former NC State transfer
Ryan Harrow
will step in at point guard.
Is Calipari's latest refresh as good as Davis & Co.? Doubtful. Then again, few teams are. What's certain is that the Wildcats will again be ranked in the top five to start the season, will defend like crazy and are a clear threat -- if not the outright favorite -- to repeat as national champions. Indeed, the state of Big Blue Nation is strong.
2.
Missouri and Texas A&M deepen SEC hoops:
Few realignment moves have driven as much discussion (read: vitriol) as Texas A&M and Missouri's respective decisions to leave the Big 12 and join the SEC. The 2012-13 season will be the first for both under the new banner, and the Tigers are more likely to make an immediate impact. In addition to returning guards
Michael Dixon
and
Phil Pressey
, a big-time breakout candidate, coach Frank Haith has assembled a transfer-heavy team (
Alex Oriakhi
,
Jabari Brown
, Keion Bell, Earnest Ross) that should compete for the SEC title right away. Texas A&M coach Billy Kennedy has a more protracted rebuild on his hands, but if A&M continues the program growth it experienced in the past decade, the SEC -- where basketball has always been football's little brother -- will be much stronger for it.
3.
South Carolina lands … Frank Martin. Huh?
South Carolina is not a basketball school, but the Gamecocks made the best -- and most surprising -- hire of the offseason when they persuaded Kansas State coach Martin to leave his budding program behind. Martin has relentlessly denied rumors that his departure stemmed from untenable disagreements with K-State athletic director John Currie, particularly involving senior
Jamar Samuels
' NCAA-imposed ineligibility debacle in March. For his part, Martin sounds sincere when he says he felt embraced by South Carolina and that he relishes the chance to build something from scratch in Columbia. It will take a while, but Gamecocks fans have every reason to be thrilled.
4.
Other new faces in new places:
Martin wasn't the only offseason coaching change in the SEC. At LSU, Trent Johnson -- whose final three seasons never came close to his debut 2008-09 campaign -- was replaced by former North Texas coach Johnny Jones. Meanwhile, after two turbulent seasons that capped a 14-year career at the school, Mississippi State coach Rick Stansbury retired. Former Purdue and Clemson assistant Rick Ray, who was an applied mathematics major and Chicago-based actuary before deciding to take a chance on coaching, gets his first crack at a head-coaching gig in Starkville.
5.
Vanderbilt starts fresh, to say the least:
Did any team in the country lose as much this offseason as Vanderbilt? The Commodores waved farewell to their top six players, including all five starters: All-SEC guard
John Jenkins
, Jeffery Taylor,
Festus Ezeli
,
Lance Goulbourne
,
Brad Tinsley
and backup forward
Steve Tchiengang
. That's the entire core of coach Kevin Stallings' excellent four-year run in Nashville. With few proven reserves waiting in the wings, the 2012-13 Commodores are the biggest mystery in the league.
April, 23, 2012
4/23/12
3:30
PM ET
He's still trying to work out the logistics, knowing full well it will be about as popular as a summertime homework assignment.
But if Frank Haith has his way, when Missouri travels to Europe this summer, his players will leave their cell phones behind.
"We want them to be able to get to know one another, to really have a bonding experience,'' Haith said.
[+] Enlarge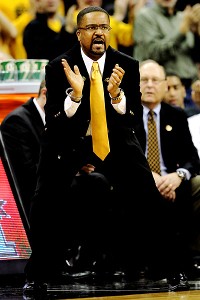 Jamie Squire/Getty ImagesMissouri coach Frank Haith will be adding four notable newcomers to his lineup next season.
With good reason. Stealing a page from the Fred Hoiberg handbook, Haith this season will add four transfers to his lineup, hoping that the express route to experience will help the Tigers' transition from the graduation of their three-headed heart (
Kim English
,
Marcus Denmon
and
Ricardo Ratliffe
).
Transfers are rampant right now in college basketball, with more players switching allegiances every year. Geography, playing time, coaching changes or stylistic loggerheads are just some of the reasons fewer and fewer people are being true to their school choice.
It doesn't necessarily look good for the game, but the choices aren't always for the worse. Hoiberg took his recollected talent to the NCAA tournament this season, ending a seven-year drought for Iowa State.
It can work.
At least that's what Haith half hopes and expects when he adds Keion Bell (from Pepperdine), Jabari Brown (from Oregon),
Alex Oriakhi
(from Connecticut), and Earnest Ross (from Auburn) to the fold this year. All but Oriakhi spent this past season on campus, able to practice and watch the Tigers up close.
"I think it can be tricky, but the thing that was good for us, these guys got to see how last year's team won,'' Haith said. "They saw how chemistry played such an important role to our success.''
Haith felt like he had little choice but to look for players unhappy with their current circumstances. Hired in April of last year, the class of 2012 was either spoken for or knee deep in its final choices. He knew he'd be losing the bulk of his team -- only a season-ending knee injury allowed Laurence Bowers to return in 2012-13.
So he rolled the dice, welcoming in two seniors (Bell and Oriakhi), a junior (Ross), and a freshman that lasted just one semester at his first stop (Brown).
All come to Mizzou for different reasons. Bell, who led Pepperdine in scoring the past three seasons, wanted a chance to showcase his game at a higher level; Oriakhi left because the Huskies are no longer eligible for the postseason thanks to an APR ban; Ross, Auburn's leading scorer and rebounder, denied Tony Barbee's assertion that theirs was a mutual separation, instead insisting he wanted to move on. Brown, a one-time top 30 talent, left after playing just two games for Dana Altman at Oregon.
It's a unique blend of talent (Bell and Ross led their respective teams in scoring last season) and experience that most agree will help Haith keep things going at Missouri.
If, that is, he can get all the personalities to coalesce.
"We want all of our guys to have leadership skills, but obviously these new guys have to earn respect because they haven't done it here,'' Haith said. "
Phil Pressey
, he wants the role that Kimmie had last year -- to be the vocal leader. Laurence is more like Marcus, a guy who will lead by example. I think it is our job to help them find the right way to lead.''
December, 16, 2011
12/16/11
5:00
AM ET
1. NC State coach Mark Gottfried is hoping for an Indiana-Assembly Hall like atmosphere to pull off a second consecutive Saturday upset of a No. 1 ranked team. The Hoosiers knocked off Kentucky last week and the Wolfpack host top-ranked Syracuse at the RBC Center this weekend. Gottfried said the crowd will be standing room only for this event. He said for the Wolfpack to have a shot they've got to take away the fast break, keep the ball out of the paint, not allow second-chance points and be effective from the short corner against the zone.
2. Baylor coach Scott Drew said he relishes the idea of playing at BYU's Marriott Center on Saturday for what will easily be the Bears' toughest game to date. The Cougars have been nearly unbeatable, with one loss in the past 49 games at the Marriott Center. BYU coach Dave Rose said the Cougars will have to pick up the pace to get space on rebounding against the Bears. BYU likely won't be able to rebound in the halfcourt against Baylor's length (see
Perry Jones III
and
Quincy Acy
). This game has to be up and down for BYU to have a shot. Meanwhile, the Bears get Cal transfer guard
Gary Franklin
eligible for this game, deepening an already solid perimeter.
3. Oregon is pleased with its unplanned and essential trade of the disgruntled Jabari Brown, who quit the team after two games, for eligible Minnesota transfer
Devoe Joseph
. Joseph jumped to the top of the Ducks' stat sheet after two games against Fresno State and Portland State, averaging a team-high 15.5 points and five assists a game. Meanwhile, an earlier report by CBSSports.com Thursday was confirmed that Brown is down to Missouri and Georgia Tech, two programs that would take the unpredictable, but talented guard. Brown's absence isn't affecting the Ducks as much as some projected. Oregon has won five of six games without Brown (the only loss was BYU in Salt Lake City). To beat Virginia Sunday in Eugene, the Ducks will have to rebound effectively in the halfcourt against
Mike Scott
and a stingy Cavs defense.
November, 25, 2011
11/25/11
9:19
AM ET
1. The Maui Invitational final between Kansas and Duke is yet another example of why neutral site tournaments are a must in the sport. Elite teams have an aversion to true home-and-home series, outside of forced league agreements. Setting up potential matchups in Maui, and now the events like the Champions Classic, continue to help grow the sport. The Maui Invitational was in danger of being squeezed out by greed once again as elite teams needed/demanded another home game on campus as part of the event. That's why Maui went with the Mainland format to get a fourth game as part of the commitment prior to leaving for Maui (Duke and Memphis played Belmont). It was a must/survival move by Maui scheduler, former South Carolina and Wake Forest coach Dave Odom.
2. The Pac-12 did fine in the NCAA tournament last season with Arizona reaching the Elite Eight, wins by Washington and UCLA in the second round (newly named of the first round), as well. The regular season was pedestrian by power six standards. But the league is ultimately judged like all others by March. Let's see if that occurs again. So far the most consistent Pac-12 teams are Stanford and Oregon State. That could bode well for those two, but not for the league. Cal got blown out by possible Big 12 champ Missouri, but that still doesn't show well. UCLA doesn't have a Division I win. Arizona will be a contender for the league title, but hasn't won a "big game" yet, losing to Mississippi State in New York and San Diego State. Oregon is an unknown after losing its top recruit when
Jabari Brown
quit. Washington is once again subpar on the road, getting blown out at A-10 contender Saint Louis. Washington State got blitzed by Oklahoma on Thursday. USC, Arizona State, Utah, Colorado have been dreadful.
3. Big West commissioner Dennis Farrell said he still hasn't heard one word from Boise State or San Diego State in a request for possible membership if they end up leaving the Mountain West and joining the Big East for football only. The Big West is the most natural destination for the rest of their sports, over a geographically challenged WAC or the perceived lower-level Big Sky. The WCC has shied away from looking for state schools in any expansion. San Diego State would be a major catch for the Big West and fit in perfectly with the all California/Hawaii conference in 2012-13 and beyond. Boise State would enhance the league, as well, but would add travel like Hawaii. These are positive expansion moves -- if it happens for the Big West -- but it's hard to ignore that they would be let downs for the schools if they were to go backwards to a league that has been a one-bid conference for quite some time.
November, 22, 2011
11/22/11
5:00
AM ET
1. Oregon plans on replacing
Jabari Brown
, who quit on the team after two games, with Minnesota transfer
Devoe Joseph
, who becomes eligible on Dec. 10. The swap sounds good, given Joseph's experience over the freshman Brown. But remember, Joseph quit on Minnesota last season, sending the Gophers into a tail spin once Al Nolen was injured and they didn't have a backup point guard. The Oregon staff isn't weeping for Brown and there are no plans to beg him to return. The staff is pleased with Joseph's effort, something that was a concern with Brown. Still, there has to be some pause since they are replacing Brown with a player who quit on his previous team.
2. Cincinnati coach Mick Cronin said injuries and overconfidence were the reasons behind the poor performance against Presbyterian. Meanwhile, Alabama coach Anthony Grant isn't disputing the importance of winning the Puerto Rico Tip-Off when compared to last year's to 0-for-3 finish at the Paradise Jam. Grant said last season's team did get better but this season's team can improve too (maybe more). The Tide beat Purdue in the final and Boilermaker forward
Robbie Hummel
, fresh off a second straight ACL injury, averaged 20 points a game and scored 24, 20 and 17 in the three matches in San Juan. Purdue coach Matt Painter said, "He has looked good from Day 1. We are extremely pleased with his progress.''
3. Oregon State is maximizing its trip to the East Coast after playing in the Legends Classic at the Meadowlands. The Beavers will head to New York City Wednesday to tour Barclays Bank and then the New York Daily News (yes a hoops team willingly to see a newspaper) before heading to D.C. The Beavers will then join the First Family to package 100 Thanksgiving meals for senior citizens, and another 30 for school children at the Capital Area Food Bank. A tour of the White House comes Friday (Craig Robinson has taken each of his previous three teams to see his brother-in-law and sister's residence) before playing at Towson Saturday.
November, 21, 2011
11/21/11
5:00
AM ET
1. The decision by freshman guard
Jabari Brown
to transfer from Oregon stunned the Ducks coaching staff. Head coach Dana Altman said after Sunday's game that he tried to talk Brown out of the decision and he wasn't closing the door. Altman said Brown was frustrated. Another member of the staff said Brown didn't give a reason for his departure. He was playing significant minutes and it was only after two games. Brown was a leader for the Ducks during the trip to Italy in the preseason. The Ducks are flustered, wondering what else they could have done to prevent this departure. If Brown follows through and doesn't come back, this will be a season-changing decision for the Ducks.
2. Drexel looked like the Colonial Athletic Association favorite in a short-handed victory at Rider last Tuesday. But then the Dragons went to the Virgin Islands and collapsed, losing to Norfolk State and Virginia in the first two games, shooting a combined 6-of-34 from 3-point rane. The Dragons were still without two of their three best guards in
Chris Fouch
and
Tavon Allen
, both injured. "We can't make shots and we're having to play guys in spots they're not comfortable in,'' Drexel coach Bruiser Flint said. The Dragons pulled a no-show against Norfolk and couldn't make a bucket against UVa. But Flint isn't worried. The core of the team is still talented enough – especially with
Samme Givens
and
Frantz Massenat
healthy inside and out – to compete for the CAA title. But an at-large berth is taking a serious hit.
3. NC State coach Mark Gottfried has the Wolfpack playing at a high level here early in the season. The Wolfpack are an entertaining team to watch and can score with
C.J. Leslie
,
DeShawn Painter
,
Richard Howell
,
Lorenzo Brown
and, once he's back from an ankle injury,
Scott Wood
. But Gottfried is selling that Belgian big man
Thomas de Thaey
will be the surprise if he can get cleared by the NCAA. The Wolfpack are still awaiting a ruling on the 6-foot-8 forward.