College Basketball Nation:

Jahmar Young
April, 29, 2010
4/29/10
8:39
PM ET
By
Diamond Leung
| ESPN.com
A San Jose State player has declared for the NBA draft and is expected to forgo his senior season, according to a team spokesman, and it's not
Adrian Oliver
.
Forward
C.J. Webster
, who averaged 8.8 points and 4.8 rebounds and at 6-foot-9, 255 pounds has been a load in the pant, is set to pursue a pro career. That he missed a game in February while his fiancee gave birth to a baby girl was apparently a factor in the decision.
Webster follows Nevada's
Luke Babbitt
and
Armon Johnson
, Fresno State's
Paul George
and New Mexico State's
Jahmar Young
as the WAC players who have decided to stay in the draft.
April, 23, 2010
4/23/10
5:30
PM ET
By
Diamond Leung
| ESPN.com
Fresno State forward
Paul George
is staying in the draft after hiring an agent,
according to the Fresno Bee
. It's no surprise given that when George
tweeted his initial decision to declare
, he indicated that ending his college career was a likely scenario.
But the final decision does mean that even before the deadline to test the waters has passed, all four players -- George, Nevada's
Luke Babbitt
and
Armon Johnson
, and New Mexico State's
Jahmar Young
(
forcibly?
) -- have hired or announced their intentions to hire agents.
And for the conference? That means a tremendous loss of talent that certainly won't help in getting the league two NCAA tournament bids once again.
Yes, steady-as-ever
Utah State could dominate
once again, but beat writer
Tony Jones also sees a lack of star power
:
There's (Troy) Gillenwater, San Jose's Adrian Oliver, Tai Wesley, and who else? The league was brimming with next level talent this past season. Not so much in the year to come.
April, 13, 2010
4/13/10
2:59
PM ET
By
Diamond Leung
| ESPN.com
Announcing that a player is declaring and staying in the NBA draft is usually a bittersweet deal that's more sweet than anything, but New Mexico State is putting a new spin on it by declaring that troubled guard
Jahmar Young
is
forgoing his senior season
and in the process of hiring an agent.
It appears New Mexico State essentially forced Young to resign from the team rather than be fired by making the announcement two days after the talented junior got in trouble again and was
charged with felony battery on a police officer
.
The 6-foot-5 Young led the Aggies in scoring with 20.3 points per game, was named to the All-WAC first team, and was the MVP of the conference tournament.
The school also used the same announcement to dismiss redshirting freshman Jacoby Patton from the program after the guard was arrested as part of the incident.
April, 12, 2010
4/12/10
1:52
PM ET
By
Diamond Leung
| ESPN.com
UPDATE: KFOX-TV reports that according to one witness, Young was tased during a physical confrontation with a police officer over a handicapped parking spot.
New Mexico State guard
Jahmar Young
recently put his name in the NBA draft, and it doesn't help his prospects that the junior was reportedly arrested and charged Sunday with felony battery on a peace officer.
According to the
Las Cruces Sun-News
:
Las Cruces Police Sgt. Kiri Daines said Young and others entered the Pic Quik on Don Roser and East University Avenue around 3 a.m., Sunday and, based on disruptive behavior, were asked to leave the store.

"He came in with some other people and [they] were pretty rowdy from what we understand," Daines said. "It was enough for the Pic Quik staff to ask them to calm down. They didn't, and 911 was called."

When officers arrived, there was "an altercation between Young and an officer," she said.

Young's teammate, Jacoby Patton, 18, a redshirt freshman, was also arrested on a misdemeanor charge following the incident and released on bond, Daines said.
Young has
been in trouble before
. And after teammate
Wendell McKines
was arrested earlier in the season and allowed to play the next night,
Tony Jones of the Salt Lake Tribune
criticized coach Marvin Menzies and wrote that New Mexico State is "a renegade program."
This is the same Aggies team that won the WAC tournament behind Young's MVP performance and played Michigan State down to the final possession in the first round of the NCAA tournament.
But despite on-court successes during a 22-win season, there have been academic troubles, and
beat writer Jason Groves
, among others, has questioned the program's disciplinary issues.
I would like to see NMSU discipline Young in some form or fashion prior to any decision in the courts. I doubt that will happen, but at some point, the university and the men's basketball program has to pick an image and protect it. You can only back your student athletes to a certain point, right? Everyone makes mistakes, but how many mistakes are Aggies fans willing to put up with for the sake of wins?
March, 19, 2010
3/19/10
9:10
PM ET
SPOKANE, Wash. -- Michigan State is all over New Mexico State.
The Spartans are doing just about everything right and lead 42-29 at halftime.


Some thoughts.
The Spartans were didn't look anything like the team that flopped in the Big Ten tournament. They shot 56 percent from the field and were 6-of-12 from 3-point range. New Mexico State is at 33 percent from the field.
Durrell Summers has been inconsistent for MSU much of the year, but he scored 12 points in the first half.
It caused a bit of a stir before the game when New Mexico State's leading scorer Jahmar Young replied,"Who?" when asked about Michigan State's two-time first-team All-Big Ten point guard Kalin Lucas, who said he felt disrespected. Lucas scored 14 points in the first half, while Young had just two point, is 0-for-4 from the field a was whistled for a technical foul.
See if you can figure out which team is getting better guard play: The Aggies have six assists and eight turnovers. The Spartans have 12 assists and seven turnovers.
As expected, the Spartans have an advantage on the offensive boards: seven to three.
March, 19, 2010
3/19/10
9:35
AM ET
SPOKANE -- Does Michigan State have another run in it? Can Purdue go far without
Robbie Hummel
? Does the nation's leading scorer, Houston's
Aubrey Coleman
, have enough points in him to shock Maryland and ACC Player of the Year
Greivis Vasquez
? Will Texas A&M slip because of poor free-throw shooting? Does Siena have another Cinderella win in it? Or is Utah State going to break through?
Those are a few of the many questions that will be settled in Spokane on Friday and Sunday.
SOUTH REGIONAL
No. 4 Purdue (27-5) vs. No. 13 Siena (27-6), 2:30 p.m.


Storyline:
Purdue looked like a title contender at one point, but the loss of star Robbie Hummel to a torn ACL has most thinking the Boilermakers won't go far. Siena is dangerous because it's done this before: It's posted first-round upsets the past two tournaments.
What to watch Boilermakers:
Will
E'Twaun Moore
and
JaJuan Johnson
, who combine for 31 points per game, give Purdue enough scoring, or will someone else step up? The other three starters combine for just over 14 points per game. Watch out of senior
Keaton Grant
, who scored in double figures in four of the past eight games.
What to watch Saints:
Four players average between 13.6 and 16.3 points per game, topped by
Alex Franklin
.
Ryan Rossiter
is the force inside (11.1 rebounds per game), while
Ronald Moore
is the distributor (7.8 assists per game, which leads the nation). On the downside: They don't consistently hit from 3-point range.
They said it:
"The only thing we can do to prove anybody wrong is to win basketball games," Purdue guard
Chris Kramer
said. "There's a quote that says losers make excuses and winners make it happen. So we just got to go out there and make it happen."
No. 5 Texas A&M (23-9) vs. No. 12 Utah State (27-7), 5 p.m.


Storyline:
Texas A&M can't shoot the 3 and struggles at the line, which are both Utah State strengths. Both teams play deliberately, which could mean a low-scoring game. Texas A&M might have noticed that a lot of folks are pegging it for an upset. One thing we know: The Aggies are going to win.
What to watch Texas A&M Aggies:
Donald Sloan
, a first-team All-Big 12 pick, averages 18.2 points per game. No other player averages in double figures, though though three average nine-plus points. The defense led the Big 12 in scoring (65.8 ppg). The Aggies have shot .475 from the field in their past four games. They are 30-0 under coach Mark Turgeon when they shoot at least 50 percent from the field.
What to watch Utah State Aggies:
Point guard
Jared Quayle
is where Utah State's precise offense starts. He averages 12.5 points, 4.2 assists and 6.3 rebounds per game.
Nate Bendall
and
Tai Wesley
are smart, capable post presences.
Brian Green
is the best 3-point shooter on a very good 3-point shooting team (42 percent).
The said it:
"They run a ton of sets, obviously, and run them very well," Turgeon said of Utah State's offense."They have counters to counters to counters. And you've got to pick and choose what you show and how much you show. I have a couple of my seniors and I say, 'Is this a lot?' and they say, 'Yeah, this is a lot, coach'."
MIDWEST REGIONAL
No. 5 Michigan State (24-8) vs. No. 12 New Mexico State (22-11), 7:20 p.m.


Storyline:
Did New Mexico State's leading scorer
Jahmar Young
tweak Michigan State's two-time first-team All-Big Ten point guard
Kalin Lucas
this week by replying, "Who?" when asked about Lucas. Absolutely. But Young clearly was making a statement that he -- and, by extension, his teammates -- aren't afraid of the Spartans.
What to watch for the Spartans:
Lucas leads four players who average in double figures.
Chris Allen
, suspended for the Big Ten tournament, is the Spartans best threat from 3-point range. The Spartans aren't big but
Raymar Morgan
,
Delvon Roe
sixth man
Draymond Green
are particularly good at grabbing offensive rebounds.
What to watch for the Aggies:
Young and fellow guard
Jonathan Gibson
combine for 38 points a game, but
Wendell McKines
,
Hamidu Rahman
and
Troy Gillenwater
are physical players who each averages in double-figures. The Aggies like to run-and-gun and try to force turnovers. They are 19-0 this season when they outshoot their opponents.
They said it:
"I watched him. He can play. Everyone can play. What am I supposed to do, bow down because of what they say? That's not going to happen, but it's no disrespect to him at all," said Young when told that Lucas has been offended by his comments.
No. 4 Maryland (23-8) vs. No. 13 Houston (19-15), 9:50 p.m.


Storyline:
It's ACC Player of the Year Greivis Vasquez (19.5 ppg) vs. the nation's leading scorer, Aubrey Coleman (26.0 ppg). Both teams are hot. The Cougars won four games in four days to win the Conference USA Title. Maryland won nine of 10 to finish the regular season.
What to watch for the Terrapins:
The Terrapins averaged 79 points per game, so it's obviously not just Vasquez, but the senior will have the ball in his hands if things are tight late. It's likely Maryland is eager to face a defense that allows foes to hit 46 percent of their shots.
What to watch for the Cougars:
The 6-4 Coleman will get his points, but the Cougars upset chances probably require more than a one-man show. Guard
Kelvin Lewis
, the conference tournament MVP, averages 15.3 points per game and he likely will spend plenty of time guarding Vasquez. He also shoots nearly 40 percent from 3-point range.
They said it:
"I'm not going to get caught up in trying to go back and forth with him. He's a great player in the ACC. And we know everybody is going against us because we are Conference USA," Coleman said of his matchup with Vasquez. "We don't have nothing to lose."
March, 18, 2010
3/18/10
9:32
PM ET
SPOKANE, Wash.-- Many know Michigan State junior
Kalin Lucas
, the Spartans leading scorer, as a two-time first-team All-Big Ten point guard who played for a national title last year. Not New Mexico State guard
Jahmar Young
.
[+] Enlarge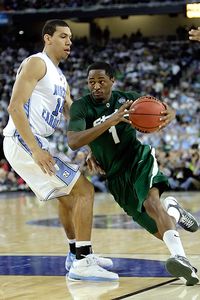 Andy Lyons/Getty ImagesMichigan State's Kalin Lucas was one of the stars of last season's Final Four, but New Mexico State's Jahmar Young doesn't seem to know him.
On Tuesday, Young was asked about Lucas and he replied, "Who?" and claimed not to know who Lucas was.
Young figured out who Lucas was after watching film, though. Twice during a press conference Thursday he referred to Lucas as, "the little point guard."
Hmm.
Lucas was peeved about the unlikely ignorance. "I think he was disrespectful for saying that."
Told that Lucas felt disrespected, Young replied: "I'll clear it up as a man: No disrespect."
Hmm. This could be completely meaningless. Or it could be great fun and add some interesting spice when the fifth-seeded Spartans square off with the No. 12 Aggies in the first round of the Midwest Regional.
The tiff produced a mostly amused eye roll from Spartans coach Tom Izzo, whose five Final Fours in 11 years suggest he doesn't get distracted by media tempests over perceived tweaks.
"Trust me, those comments aren't going to win or lose games," he said. "If [Lucas] needs that to be motivated, I say we're in trouble."
Izzo has bigger concerns, such as a team he admitted might be perceived as "dysfunctional." Suspensions, including to guard
Chris Allen
during the opening round loss to Minnesota in the Big Ten tournament, injuries and sometimes baffling inconsistency have made the Spartans a fashionable pick to go home early.
Maybe. Or maybe not. "Right now, I like where we are," said Izzo, whose team feasted on steaks Wednesday night with former Spartans coach Jud Heathcote.
As for Young, he didn't seem bothered by the persistent inquiries over his perceived diss of Lucas. One could sense that the Aggies leading scorer with 20.9 points per game felt there was a method to his seeming madness.
He's not going to bow down to Lucas. And he doesn't want his teammates to get wide-eyed at facing a perennial power.
"We're not laying down," he said. "We're not bowing down."
March, 10, 2010
3/10/10
3:15
PM ET
By
Diamond Leung
| ESPN.com
The Western Athletic Conference has reprimanded Utah State coach Stew Morrill for directing "
provocative language
" toward New Mexico State guard
Jahmar Young
during Utah State's win on Saturday.
Young and Utah State's
Brady Jardine
went after a loose ball near the Utah State bench, with Young picking up a technical foul and Morrill yelling at the junior.
The conference warned Morrill about a minimum one-game suspension for further violations of the sportsmanship code, to which Morrill fired off his own statement.
"It was a loose ball situation, words were exchanged and my response was inappropriate," Morrill said. "I made a mistake and will work to improve my language. New Mexico State has a good team and Jahmar Young is a good player. He was called for a technical foul on the play and I now have been disciplined by the WAC. That should cover it."
February, 17, 2010
2/17/10
5:06
PM ET
By
Diamond Leung
| ESPN.com
Shortly after a stunning WAC-opening win against defending champion Utah State, New Mexico State forward
Wendell McKines
went on his blog and
called out the team's fans
for being "frontrunners" and failing to pack the house.
McKines eventually apologized for that and his arrest on a warrant for unpaid fines, but
also wrote
, "I really feel like something special is going to happen this year."
Lo and behold, attendance is up in Las Cruces as the Aggies have won seven of eight following McKines' online meltdown, are sitting only a game behind Utah State in the standings and could be the sleeper of the conference tournament.
The Aggies' high-powered offense features five players who average double figures, led by guard
Jahmar Young
(20.9 ppg). McKines (11.7 ppg) and forward
Troy Gillenwater
(15 ppg) both began the season academically ineligible, and their returns have sparked the team.
Louisiana Tech started 5-0 in conference play, but eventually fell back when New Mexico State completed the season sweep last week at home in front of 5,549 on an unlikely play --
Hernst Laroche
's game-winning jumper with 1.1 seconds left.
That leaves perennial postseason team
Utah State at the top
and gives New Mexico State at least a shot to make itself heard down the stretch.
Top Players

Paul George
, G/F, Fresno State, So. -- How good he George? After missing four games with a severely sprained ankle, he dropped 30 on New Mexico State in his first game back last week.
Luke Babbitt
, F, Nevada, So. -- The 6-foot-9 lefty leads the WAC with 9.6 rebounds per game and can score from all over the court, averaging 21.6 points per game.
Armon Johnson
, G, Nevada, Jr. -- Johnson is the reigning WAC player of the week after scoring 23, including the game-winning bucket against Idaho, and leads the conference in assists.
Who's Hot
Adrian Oliver
, G, San Jose State, Jr. -- The transfer from Washington poured in 28 points on Saturday against Utah State, the most by an Aggies opponent this season.
Mac Hopson
, G, Idaho, Sr. -- In the three games since
being suspended
for a curfew violation, he's scored in double figures and had 20 in Saturday's win at Fresno State.
Magnum Rolle
, C/F, Louisiana Tech, Sr. -- The 6-foot-11 transfer from LSU by way of the Bahamas has been especially dominant on the offensive glass.
Who's not
Hawaii -- Second-leading scorer
Dwain Williams
has been
suspended indefinitely
, and fourth-leading scorer
Jeremy Lay
is set to undergo season-ending hernia surgery, as the Warriors have lost seven straight.
Boise State -- The Broncos haven't won this month, but hope they can have better luck with upcoming nonconference opponents Cal State Bakersfield and UC Davis.
Idaho -- The Vandals' one-point loss to Nevada last week left coach Don Verlin declaring his team was no "doormat," complaining about the officiating and
earning a reprimand
from WAC conference commissioner Karl Benson.
Key games to watch
Feb. 20 -- Louisiana Tech at Northeastern: Utah State lost in Boston in November, so it'll be interesting to see if the Bulldogs can steal a BracketBuster win there.
Feb. 25 -- Nevada at San Jose State: Oliver and Babbitt, the conference's top two scorers, square off in what could be a high-scoring affair three nights after Oliver goes up against Seattle's
Charles Garcia
.
March 6 -- New Mexico State at Utah State: This could be the deciding game for the regular-season championship, but Utah State is riding a 21-game conference winning streak at the Spectrum.