College Basketball Nation:

Jalen Steele
March, 8, 2013
3/08/13
9:30
AM ET
Another attempt, my final attempt to rank the SEC. … It's been real.

Florida. The Gators are still the kings of the SEC. Yes, they've fallen a few times this season. But they've been the most dominant team in the conference. They've suffered three SEC losses, all on the road, against Tennessee, Arkansas and Missouri. But they've also achieved the league's top scoring margin (plus-18.8 points per game). The Gators already have won the SEC crown, but a win at Kentucky on Saturday would truly stamp their supremacy within the league.
Missouri. I can't tell you whether Mizzou will make a run in the NCAA tournament. The Tigers are just too inconsistent. But they're 4-1 in their past five games. And Tuesday's 93-63 win against Arkansas -- in Columbia, of course -- allowed the Tigers to display their potential. Phil Pressey has become a more efficient distributor. He has finished with eight or more assists in Mizzou's past four games. He also has recorded 14 turnovers combined in the same stretch. Saturday's road game at Tennessee is a serious test for a Missouri squad that has been shaky off campus. But its ceiling is high, especially if Pressey continues to play maestro and limits his mishaps.
Tennessee. Cuonzo Martin's team faces Missouri on Saturday in a critical game. A loss to the Tigers won't destroy its NCAA tourney hopes. But a win might seal an at-large bid. The Vols lost to Georgia this past weekend, but that didn't nullify the momentum they have amassed in the past month. They have won seven of their past eight entering the weekend. Jarnell Stokes, Jordan McRae and Trae Golden anchor a team that has outplayed most of America's bubble teams in recent weeks.
LSU. The SEC tournament is wide open. Any team could reach the final, it seems. And in a league with so many bubble squads vying for an at-large bid, the tournament's action should reflect the stakes. Johnny Jones' program is not one of the SEC's bubble teams. But it's certainly a sleeper to make a run and spoil the postseason plans of its conference colleagues. The Tigers have won three of their past four and are 8-3 since Jan. 30. With Johnny O'Bryant III (13.7 PPG, 8.7 RPG) inside and its ability to defend the perimeter (SEC squads are shooting just 28.9 percent from the perimeter against LSU, second in the conference), LSU could shock the field in Nashville next week.
Kentucky. Still talented. Still a mess. Still on the bubble. Somehow. After Thursday night's 72-62 loss at Georgia, John Calipari blamed himself for the loss. "I've done a crap job with this team," he said. Well, it's not completely Cal's fault, but it's refreshing to hear a coach accept blame. The Wildcats are young. The Wildcats lack veteran leadership. The Wildcats lost their best player during the most important stretch of the year. But they've had so many chances to play their way off the bubble and they've stumbled. Taking that L at Georgia hurt their NCAA tournament hopes and might have guaranteed an NIT berth. But a win against Florida on Saturday could lead Kentucky to the Big Dance.
Alabama. Let me say this. Trevor Releford (15.5 PPG, 2.1 SPG) could carry Bama to the SEC championship. At this point, I'm convinced any team could win that thing. But Anthony Grant's program also could lose its first game and go home with nothing more than an NIT berth. There's just nothing about the Crimson Tide that makes me a believer. They have lost three of their past four matchups (all road games). This lukewarm stretch sums up Alabama's entire season. So-so. Defense has helped Bama stay alive all year (59.8 PPG allowed in SEC play, No. 2 in the conference). But the team is so inconsistent everywhere else that it has reached the end of the season with minimal mojo.
Georgia. So … Mark Fox's team is 8-4 since Jan. 26. The Bulldogs have knocked off Kentucky and Tennessee in their past two games. Fox's young squad has matured in recent weeks. Kentavious Caldwell-Pope (18.2 PPG, 7.0 RPG, 2.1 SPG) is a star. But without an offensively astute crew around him, the Bulldogs have focused on defense (56th in adjusted defensive efficiency, per Ken Pomeroy). Georgia hasn't even cracked the RPI's top 100. This is not a bubble team. But it's certainly a dream killer right now.
Ole Miss. Last week, a few Ole Miss fans told me they didn't like my placement of the Rebels in the most recent rankings. They were justified in their frustration. Ole Miss should have been lower. This is an average team (at best). We were all blinded by the Marshall Henderson Show earlier this season. For once, Ole Miss was fascinating. Then Andy Kennedy's program caught an allergy to defense (71.2 PPG allowed in SEC play, 12th in the league). Sure, the Rebels are a bubble team. But they're not playing like a tournament team (see Saturday's inexplicable 73-67 road loss to rival Mississippi State).
Arkansas. The Razorbacks aren't that different from the rest of the conference. They're a dazzling spectacle at home. Just bad whenever they're on the road. That's the story of the entire conference -- the nation, really. But Saturday's 30-point loss at Missouri was enough to send any bandwagon into a ditch. Arkansas has lost three of its past four. Not exactly the kind of convincing conclusion to the regular season that the selection committee would like to see from a bubble squad. But … this is Arkansas. A lot of teams have lost on the road this season. Few, however, have matched the extremes of Arkansas' Dr. Jekyll/Mr. Hyde routine.
Texas A&M. I wanted to trust the Aggies. Really, I did. That January road win against Kentucky and an early February victory against Missouri convinced me that Elston Turner (17.7 PPG) & Co. would end the season on a high note. Didn't happen. Things fell apart for this program.
Vanderbilt. The bad news is that Kevin Stallings' program sits at the bottom of the SEC. The good news is that his top five scorers should return next season. And incoming four-star recruit Damian Jones should help in his first season with the squad.
South Carolina. Can Frank Martin build something special with the Gamecocks? We'll see. His first year was a rough one.
Auburn. Bottom line is that Auburn's administration will soon decide whether it's going to give Tony Barbee more time to rebuild after another tough season.
Mississippi State. Last night, Rick Ray sent me a text message that simply said, "Can't make this up. Jalen Steele tore his ACL last night. That's FOUR season ending knee injuries." I know you think your favorite team has endured tough times in 2012-13. But I don't think any team in the country has matched Mississippi State's situation. Still, MSU's fan base will feast on last weekend's win against Ole Miss for months.
December, 14, 2012
12/14/12
9:30
AM ET
Finally, some movement in the SEC power rankings. Tennessee secured a nice win over a mid-major power Thursday. Ole Miss, however, lost to a non-power-six standout over the weekend. Feels good to finally make a few changes.
1. Florida:
If the No. 5 Gators score a convincing win at No. 8 Arizona on Saturday, they could enter next week as a top-three team. They've been as dominant as any squad in the country. But the Wildcats will be the toughest team that they've faced to date. Arizona is deep enough inside to limit
Patric Young
's production, a rare trait for the teams the Gators have played thus far.

2. Missouri:
Frank Haith's squad has one blemish, an 84-61 loss against Louisville on Nov. 23. But the Tigers have yet to play another nationally ranked squad (224th nonconference strength of schedule per ESPN.com's InsideRPI). That will change Dec. 22 when they face undefeated Illinois.
3. Kentucky:
Its most recent wins over Samford and Portland may have helped it recover from the back-to-back losses to Notre Dame and Baylor that cost the team its spot in the Associated Press' Top 25. But they're just appetizers for the Dec. 29 matchup against rival Louisville, the nation's most efficient defense. Kentucky's point-guard problems will be scrutinized in the buildup to that game.
4. Texas A&M:
This is where the league's makeup gets murkier. Yes,
Elston Turner
(16.3 points per game) has led the Aggies to four consecutive wins. But a one-point neutral-site triumph over Washington State is their best victory. Three of the Aggies' first four SEC games will include roads trips to Kentucky and Alabama, plus a home matchup against Florida. So this streak could end soon.
5. Tennessee:
Cuonzo Martin needed Thursday's night's 69-60 win over previously undefeated No. 23 Wichita State, and forced 17 turnovers to hand the Shockers their first loss of the season. The Vols have been one of the top defensive teams in the country all season. But they've averaged just 39.7 points in their three losses. So putting up 69 and avoiding a third consecutive loss must have been a refreshing moment for Vols fans.
6. Alabama:
I think the Crimson Tide (30th in defensive efficiency) will climb these ratings soon. But Alabama has to prove that it belongs in the SEC's top tier. And a loss at the buzzer against Cincinnati and a follow-up loss to Dayton at home -- 11-for-36 from the 3-point line in the two games -- didn't help Anthony Grant's cause. And now that center
Carl Engstrom
is out for the season
, Alabama has one legit center on its roster,
Moussa Gueye
. But the program can get back on track with a win at Virginia Commonwealth on Saturday.
7. LSU:
Friday is a significant day for Johnny Jones' squad. The undefeated Tigers have registered a 6-0 mark against a weak slate so far. Seton Hall (No. 80) is the only opponent they've faced that's ranked higher than 190th in Ken Pomeroy's ratings. And they haven't left Baton Rouge. So Friday's matchup at Boise State will be a better barometer for LSU's progress, especially for a Tigers squad that has somehow gotten away with an average of 18 turnovers per game.
8. Ole Miss:
The Rebels were off to a furious start until they ran into Middle Tennessee State last weekend. They had recorded 90 or more points in four of their first six games, all wins against mediocre opposition. But they scored just 62 points (5-of-21 from beyond the arc, 17 turnovers) against the Blue Raiders. Beware of inflated statistics in November and December.
9. Arkansas:
If the Razorbacks' porous defense (205th in efficiency) matched their offense (80.3 ppg, 19th in the nation), they'd be a contender for the SEC title. But the two aren't equal. So they continue to prove that they score (82 points in loss to Syracuse, 81 in a victory over Oklahoma) but they really can't stop anyone.
10. Vanderbilt:
A year after contending for the SEC title with the help of a veteran rotation, Kevin Stallings must rely on a multitude of underclassmen this season. And it shows. The Commodores are near the bottom of every meaningful statistical category in the conference. But last week's 66-64 win at Xavier might mean that the young squad is growing up fast.
11. South Carolina:
Frank Martin's team is 6-3. And with matchups against Appalachian State, Manhattan, Presbyterian and South Carolina State preceding its SEC opener Jan. 9 at Mississippi State, it will probably be 10-3 soon. But the Gamecocks (228th SOS according to ESPN.com's BPI) could come down to earth once league play begins, especially if they continue to average 19 turnovers per game.
12. Auburn:
So, the Tigers have lost five of their past seven games. Not all bad losses. A double-overtime loss against 2-7 Rhode Island and a 49-point effort in a loss to Boston College, however, were. It might be a really tough year for
Frankie Sullivan
(18.5 ppg) & Co.
13. Mississippi State:
Rick Ray is essentially relying on six guys with
Jalen Steele
sidelined by a wrist injury. So the Bulldogs' struggles have continued. This is how most rebuilding jobs start. It's probably going to be a rough season. But Ray has been a successful coach at other stops. He can certainly pull the Bulldogs out of this basement in the coming seasons. The program's supporters need foresight so that he's given the proper time and resources to do it.
14. Georgia:
When I talked to Mark Fox at the Final Four, he was excited about this team. But it's hard to have an optimistic outlook on the Bulldogs' 2012-13 campaign based on how they've started. They've lost six of their past seven (a streak that includes defeats to Youngstown State, South Florida and Southern Miss) and their only two victories have come against East Tennessee State and Jacksonville.
November, 15, 2012
11/15/12
5:00
AM ET
1. Participants for 2013's BracketBusters and the home/road breakdown were released Wednesday, and already it's easy to pick out what should be the best matchups for the Feb. 22-23 event. The home-road split works out for a Creighton-at-Murray State matchup. If the two teams continue to perform well during the next two months (before actual pairings are announced Jan. 28), that will be a natural game. Davidson and Valparaiso are the other marquee home teams and the Wildcats and Crusaders probably should get either a team from the Missouri Valley (Illinois State), the Mid-American Conference (Ohio or Kent State) or Horizon (Detroit). The other two teams to keep an eye on over the next two months to see if they are worthy of a high-profile game are road teams Albany (won at Washington) and UC Irvine (lost in overtime at UCLA).
2. The surprise of the Tip-Off Marathon might have been Wichita State upsetting Virginia Commonwealth. Sure, Xavier playing as hard as it did and dominating Butler was a shocker. The Bulldogs being so offensively challenged and without a game-changing guard was disappointing. Gonzaga's shutdown of West Virginia was the most significant development. But the Shockers' two-point victory in Richmond should send shock waves in the Valley that Wichita State will be a player in the race behind Creighton. Wichita State coach Gregg Marshall said Tuesday that he is playing with eight newcomers and that they "competed their ass off. (VCU) had not lost in November since 2002. In the last two-plus seasons we have the best winning percentage on the road in the country now at 21-3.'' If Marshall's stats are correct, they indicate how much he has his team ready for foreign courts. And if the first week is any indication, the Shockers will have shelf life through the winter.
3. Let's just give Mississippi State a pass for the season. This simply won't be fair. New coach Rick Ray is down to six scholarship players for next week's Maui Invitational. The latest setbacks are an injury to
Jalen Steele
(fractured right wrist) and a suspension of
Colin Borchert
; Andre Applewhite and
Jacoby Davis
are already out. Ray said Wednesday that he'll have two walk-ons to use against North Carolina on Monday in Hawaii. The Bulldogs split the first two games -- a loss at Troy and a win over Florida Atlantic. But to expect much out of this Bulldogs team is simply not right. Ray deserves a freebie this season as he establishes his program.
March, 9, 2012
3/09/12
1:41
AM ET
NEW ORLEANS -- Four weeks ago it was a question of where, not if, Mississippi State would be dancing.
The Bulldogs were 19-5 heading into the final month of the season. They were ranked No. 18 in the country and primed for solid seeding in both the SEC and NCAA tournaments.
Those days seemed like a distant dream Thursday night in the Mississippi State locker room. A month removed from such lofty aspirations, the Bulldogs crashed out of the SEC tournament
71-61
at the hands of lowly Georgia, the No. 11 seed, to complete a 2-6 skid.
"It hurts," said State forward
Renardo Sidney
. "I know we're one of the better teams down here in the SEC tournament, and we just didn't go out there and play hard. We didn't have no heart."
Huddled around their postgame meals, the Bulldogs looked like they'd just woken up from a bad dream -- a nightmare in which they lost five consecutive games during the month of February.
The only problem is, that's the sobering reality.
Big man
Arnett Moultrie
couldn't bring himself to even speak about it. Faced with a wall of cameras and recorders, Moultrie steadfastly repeated "no comment" before turning to his dinner.
It's an understandable reaction after the forward, who averaged 16.1 points for the Bulldogs this season, was limited to a mere seven in 39 minutes by a relentless Georgia zone defense.
[+] Enlarge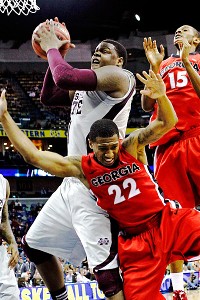 AP Photo/Gerald HerbertMississippi State forward Renardo Sidney found the going tough in the middle of Georgia's zone defense.
"Give Georgia credit. They did a good job of keeping our bigs from scoring inside that zone," said Mississippi State coach Rick Stansbury.
Sidney, who was limited to four points and managed just 19 minutes because of foul trouble, was willing to talk, but found himself at a loss for words.
"It was hard to get the ball down there," he said. "That zone. I can't even explain it."
The only Mississippi State starter who could find his game was guard
Jalen Steele
. With State trailing 59-51 and five minutes to play, Steele reeled off the next nine Bulldogs points to pull them within as close as three points, 60-57. The run seemed to inspire the MSU bench, and it brought the State faithful to their feet.
"I thought it was going to be just like Vanderbilt, where we came out and came back," Sidney said. "We just couldn't get it over the line. We tried to fight back, but they kept coming."
Two minutes later, two Mississippi State turnovers had allowed Georgia to extend the lead to seven, and the rally was dead.
"We had the thought that we lost to [Georgia] on our mind, but we knew it was a new game," said guard
Dee Bost
. "We lost the momentum, and they made plays when they were supposed to."
Steele said the Bulldogs lacked heart, and it showed. Led by guards
Gerald Robinson
and
Dustin Ware
, Georgia rattled off a 15-2 run starting about five minutes into the second half. Although they only trailed by nine, Steele said it took the Bulldogs too long to respond.
"We came out kind of sluggish. We could have came out with a little more energy, but it didn't fall our way," he said.
It was a similar feeling and a fitting ending. The Bulldogs were within a basket inside the last 10 minutes of five of their six recent losses, but they let them all slip away. Having officially hit rock bottom, all they can do is hope their NCAA hope hasn't slipped away as well.
"We were on the bubble going into this game, and we really needed this game," Sidney said. "Just the thought of your season in somebody else's hands, it's kind of tough. Hopefully we get in."
March, 9, 2012
3/09/12
12:05
AM ET
NEW ORLEANS -- After a nightmare finish to the 2012 regular season, Mississippi State entered the SEC tournament needing some wins to bolster its tournament resume.


Unfortunately, the Bulldogs didn't get the memo, instead dropping
a 71-61 upset loss
to the tournament's No. 11 seed, Georgia.
The Bulldogs (the ones from Georgia) established early on that they wouldn't be rolling over or playing dead for Mississippi State's bubble prospects.
Gerald Robinson
set the pace, as usual, putting up 12 points to help Georgia to a 31-29 halftime lead. That scrappiness continued into the second half, where the teams traded the lead in the opening minutes.
Where Georgia got production from Robinson, as well as freshman
Kentavious Caldwell-Pope
and senior
Dustin Ware
, Mississippi State couldn't find consistency from anyone. It took the Bulldogs (the ones from Starkville) until the 7:59 mark of the second half to have a scorer reach double digits. Mississippi State's bedrock trio of
Dee Bost
,
Arnett Moultrie
and
Renardo Sidney
accounted for just 21 total points.
Turning point:
With 16:25 to play,
Brian Bryant
tied the game at 34. Georgia then ripped off a 9-0 run highlighted by two consecutive jumpers from Ware, who finished with 13 points. Robinson and
Donte Williams
each tacked on a basket to make it 43-34.
Jalen Steele
's 19 points helped Mississippi State get it as close as three, but the Bulldogs couldn't bring it all the way back.
Key player:
Robinson led the Bulldogs as he always does, notching 23 points. But Ware was the key to the second half surge that pushed Georgia in front. Ware finished with 13 points on 4-of-7 shooting, but he had no points at halftime. He accounted for 11 points of Georgia's 15-2 run that seemed to kill Mississippi State's morale.
Key stat:
Sidney contributed as many fouls as he did points (4). The Bulldogs' big guy only managed 19 minutes, and didn't come close to his season scoring average. Moultrie got into foul trouble as well and finished with four of his own. He managed to play 39 minutes, but only scored 7 points after averaging 16 this season.
Miscellaneous:
It's fitting that State's final setback happened at the hands of Georgia. The Bulldogs have had a rough month, going 2-6 since a Feb. 11 overtime loss to? Who else but Georgia.
What's next:
Georgia moves on to face No. 3 seed Vanderbilt, who beat the Bulldogs by 11 and nine in two meetings this year. Mississippi State, which spent a good chunk of the season in the top 25 and at one point seemed to be playing for tournament seeding, will now go home and hope for an NCAA bid.
December, 28, 2011
12/28/11
11:25
PM ET
DALLAS -- Here are a few quick observations from Baylor's
54-52 victory
over Mississippi State on Wednesday at American Airlines Arena in Dallas.
Overview:
Baylor point guard
Pierre Jackson
scored a team-high 14 points -- including the game-winning layup with 22 seconds remaining.
Quincy Miller
added 12 points for the Bears, who are off to their best start ever at 13-0. Baylor trailed for nearly all of the second half -- but never by more than four points. The Bears outrebounded Mississippi State (38-31), an area that Scott Drew's team struggled in recent weeks.
Renardo Sidney
and
Jalen Steele
had 10 points each for Mississippi State, which lost for the first time since Nov. 9


Turning point:
Baylor trailed for almost the entire second half before Jackson beat
Dee Bost
off the dribble for what proved to be the game-winning layup with 22 seconds remaining. The Bears also caught a huge break at the 1:35 mark, when Mississippi State's Sidney was whistled for a technical while arguing with an official who had just whistled him for his fifth personal foul. The Bears shot four free throws -- two for the fifth foul, two for the technical -- and made two of them to force a 52-52 tie. Bost missed a runner on the other end. Baylor rebounded and then Jackson made his heroic shot.
Star of the game:
Jackson may have hit the winning shot, but Miller may have been the Bears' top all-around performer in a sloppy game. The freshman forward scored 12 points and grabbed six rebounds in 25 minutes, an encouraging sign considering his recent struggles.
What the win means for Baylor:
The Bears should be ecstatic about being one of four undefeated teams in the country. They've defeated some good teams and have earned the accolades that will come their way. Still, all teams strive to improve, so head coach Scott Drew should use Wednesday's game to address a handful of flaws that may have been masked by Baylor's successful start. Much like they did last season, the Bears play out of control at times. Jackson, in particular, took a ton of terrible shots in traffic against Mississippi State. Instead of trying to take the game over by himself, he needs to get better at sharing the ball and dishing off when he draws help defense. He's an incredible talent who has a knack for hitting huge shots, but he needs to develop some discipline. Drew also needs to let Miller play through his mistakes. He sat out way too long in the second half. He's simply too talented to keep on the bench. Drew also may want to consider tightening his rotation. Playing 10 to 12 guys early in the season is fine when you're trying to figure things out, but by now it may be better to go with a rotation of seven to eight guys.
Brady Heslip
sat way too many minutes in the second half. Still, none of that should diminish the magnitude of Wednesday's victory. No one can question the Bears' legitimacy now.
What the loss means for Mississippi State:
There is no reason for the Bulldogs to hang their heads. They went toe-to-toe against a Final Four contender and could've easily won. If anything, Mississippi State should be encouraged. On a night when leading scorer
Arnett Moultrie
wasn't all that productive (eight points) the Bulldogs got huge contributions from secondary players such as
Brian Bryant
(eight points) and Steele (10). Aside from a silly technical foul in the waning minutes, Sidney turned in a strong performance, scoring 10 points and blocking two shots in just 19 minutes. His poor conditioning is still an issue, but Mississippi State doesn't lose much when
Wendell Lewis
subs for him. This is a deep, talented team that should finish no worse than third in the SEC. Rick Stansbury, who was under fire after a disappointing 2011-12 season, is doing a nice job.
Up next:
Baylor opens Big 12 play Jan. 2 against Texas A&M in Waco. Mississippi State hosts Utah State on Saturday before opening SEC play Jan. 7 at Arkansas.