College Basketball Nation:

Jamal Coombs-McDaniel
April, 23, 2012
4/23/12
3:00
PM ET
For more on Missouri's four incoming transfers,
click here
. In the meantime, a look at some other transfers set to begin play at their new schools in 2012-13.

Malcolm Armstead
, Wichita State (from Oregon)
: The point guard will be a huge boost to a Shocker backcourt that loses leading scorer
Joe Ragland
and
Toure' Murry
. Armstead, who played two seasons at Chipola College under Wichita assistants Greg Heiar and Dana Ford, will be a senior. He averaged 8.6 points and 4.4 assists in his last season with the Ducks (2010-11).

Khem Birch
and
Bryce Jones
, UNLV (from Pittsburgh and USC)
: Birch, the former McDonald's All-American, scorched a path from Pittsburgh to Las Vegas, lambasting his former team on the way out the door. Now he's got a more up-tempo style and a ready-made scoring partner in the form of
Mike Moser
. Jones, who left USC with similar ill will after reports of an altercation with a teammate followed him out of town, is already a proven scorer -- he averaged 11 points per game before his minutes dropped following the addition of
Jio Fontan
.

Rotnei Clarke
, Butler (from Arkansas)
: For a Bulldog team that struggled to score and shoot, Clarke is like a Christmas present. Arguably one of the best perimeter shooters in the game, he averaged 15 points and shot 44 percent from the arc before leaving Arkansas. Butler shot a woeful 28 percent from the 3-point line last season.

Will Clyburn
and
Korie Lucious
, Iowa State (from Utah and Michigan State)
: Fred Hoiberg's Ellis Island recruiting methods paid huge dividends this past season as the Cyclones' coach was able to meld a group of transfers into an NCAA tournament team. Now it's time for more tinkering with the additions of Clyburn and Lucious. Lucious, a true point guard, brings two Final Four berths and an early dismissal from Michigan State to Ames. Clyburn left Utah as the team's leading scorer (17.1 points) and rebounder (7.8).

Jamal Coombs-McDaniel
and
Taran Buie
, Hofstra (from UConn and Penn State)
: If the risks reap the rewards, then Mo Cassara could right Hofstra's downward blip quickly. The Pride won just three CAA games this past season, but with Coombs-McDaniel and Buie, he now has two high-caliber players and two terrific scorers on the bench. Both, however, need to embrace real change at Hofstra. Coombs-McDaniel left UConn in search of more playing time, but also after being arrested for marijuana possession. Buie, the most highly ranked recruit to land at Penn State, was suspended indefinitely in his final year there for a violation of team rules.

Larry Drew II, UCLA (from North Carolina)
: One of the most talked about transfers in recent memory, the Tar Heels' former piñata gets his do-over at Westwood. Certainly he has good timing. After a dismal and fractured season for UCLA, the Bruins landed top recruit
Shabazz Muhammad
, who, along with the Wear twins, give Drew plenty of options. Just how he handles them, and whether he can cut down on his turnovers, will be the biggest question mark -- one no doubt watched by folks in Los Angeles and Chapel Hill, with marked curiosity.

Luke Hancock, Louisville (from George Mason):
The Cardinals rode their defensive tenacity all the way to the Final Four this past season -- mostly because their offense couldn't take them out of Kentucky. Bringing in Hancock will help change that. He's not a bona fide superstar, but he's a solid and efficient scorer who most will remember for the 3-point dagger he dropped on Villanova two seasons ago in the NCAA tournament.

Ryan Harrow, Kentucky (from NC State):
Harrow's addition will go largely unnoticed amid the celebratory din with the arrival of
Nerlens Noel
, but Harrow could be the most critical part of the Wildcats' rebuilding. Kentucky went 4-for-4 in recruiting -- four players signed, four ESPNU Top 100 players -- but none of those guys are point guards. Harrow is. More important, he's a point guard with major minutes under his belt, having started 10 of his final 15 games at NC State.

Colton Iverson, Colorado State (from Minnesota):
You have to feel for a kid like Iverson, who opted for Colorado State a year ago in part because Tim Miles recruited him out of high school. Now Miles is gone, off to Nebraska, and Iverson, with one season of college basketball left, has a new coach to adjust to in Larry Eustachy. Eustachy should be thrilled, of course, to have Iverson, a solid big man who averaged 5.4 points and 5.0 boards despite sharing time with
Ralph Sampson III
in his final season at Minnesota.

Wally Judge, Rutgers (from Kansas State):
A former McDonald's All American who chafed under Frank Martin, Judge gets a second chance with Mike Rice. He's another feather in Rice's recruiting cap, but will need to play hard without the disciplinary issues that rendered him ineffective at Kansas State. The Scarlet Knights could use a big body with experience like Judge's in the Big East wars.

Aaric Murray
and
Juwan Staten
, West Virginia (from La Salle and Dayton
): Bob Huggins made no secret about his frustration with his young Mountaineer team this past season, bemoaning after they lost to Gonzaga in March about the team's lack of defensive pride and offensive ability. And that was before
Kevin Jones
and Truck Bryant left. Murray and Staten could change that. Murray, a highly touted prospect out of high school, averaged 15.2 points and 7.7 rebounds for La Salle. Staten, meantime, is a solid, tough-minded point guard who averaged 5.4 assists in his one season at Dayton.

D.J. Newbill, Penn State (from Southern Miss):
Here's why Newbill is huge for coach Patrick Chambers: He's from Philly. If Chambers is going to turn the Nittany Lions around, he has to make recruiting inroads in the state's biggest city. Newbill helps with that. The fact that he's also talented -- averaging 9.2 points and 6.2 rebounds in his one season with Eustachy -- is a huge bonus for a Penn State team in dire need of skill infusion.

J.J. O'Brien and Dwayne Polee, San Diego State (from Utah and St. John's):
O'Brien, who elected to leave Utah after Jim Boylen was fired, is a solid scorer who averaged 6.4 points despite missing nine games with a broken foot. Polee, a gifted athlete, started 27 games for Steve Lavin as a freshman, but he was on the wrong coast. Polee is from Los Angeles, and the pull to be closer to home, where his mother has an undisclosed illness, was too much to overcome. Now Steve Fisher, who already had an impressive would-be mulligan season, has even more talent to keep the Aztecs moving forward.

Stacey Poole, Georgia Tech (from Kentucky):
Poole, whose playing time headed south as the Wildcats brought in more talented freshmen, made the smart decision to head elsewhere where he will be needed. And Georgia Tech needs him. Poole, a top-50 player out of high school, will help Brian Gregory turn Tech in the right direction. An added plus: Poole's younger brother,
Solomon
, 25th in the ESPNU top 60, has the Yellow Jackets on his short list.

Eric Wise, USC (from UC Irvine):
Wise was looking to up his future stock, and Southern Cal, to up its future. Call this a match made in heaven. Wise averaged 16.3 points and 8.1 rebounds for the Anteaters, and will be a much welcomed shot in the arm for the Trojans, who averaged an offensive 53 points in winning one Pac 12 game all season.
June, 15, 2011
6/15/11
4:25
PM ET
In April,
Jamal Coombs-McDaniel
did the sort of thing that can quickly derail college hoops careers: He and two friends were arrested with 5.6 grams of marijuana, a grinder and a package of blunts during Connecticut's Spring Weekend, an annual weekend of parties before students lock in for final exams.
[+] Enlarge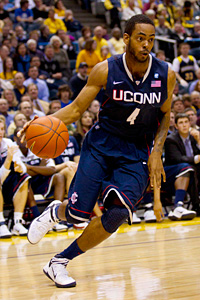 Jeff Hanisch/US PresswireJamal Coombs-McDaniel is considering a transfer to Hofstra.
Coombs-McDaniel was
charged with possession of marijuana and possession of drug paraphernalia
. Two weeks later,
the school announced that Coombs-McDaniel was leaving
the Connecticut men's basketball program. The sophomore swingman insisted the two incidents were unrelated --
he said the decision to leave was made before the arrest
, and his primary reason for transferring would be playing time -- but even so, it was hard not to view the situation as one in which another promising young athlete had lost much of what he'd earned by making one minor, foolish, totally-not-worth-it decision.
Fortunately for Coombs-McDaniel, it doesn't appear that decision will haunt him for the rest of his career.
From the Associated Press
:
Former Connecticut forward Jamal Coombs-McDaniel was admitted Wednesday into a state drug education program that could leave him without a criminal record.

Rockville Superior Court Judge Laura F. Baldini accepted Coombs-McDaniel's application for the program for first-time offenders and ordered him to take 10 drug education classes and perform 75 hours of community service. Misdemeanor drug charges will be dismissed if he complies with the requirements in the next year.
That is entirely good news for Coombs-McDaniel and, if I may so say myself, an entirely reasonable punishment for a first-time marijuana arrestee.
Don't worry: I'm not going to launch into a diatribe on American drug law. Another time, maybe. Though it is worth noting that Connecticut lawmakers just passed a law, set to go into effect on July 1, that will decriminalize possession of marijuana if the quantity is less than a half-ounce. Instead of facing potential jail time, violators will pay a $150 fine. Coombs-McDaniel was charged under the current law, which again, could have landed him in jail.
That doesn't seem all that necessary here, but the ultimate punishment is fair: Coombs-McDaniel will feel some measure of consequence for his mistake, but he won't be saddled with a criminal record for the rest of his career. Nor does he have to spend time in the pokey. Win-win.
After the hearing, the sophomore again apologized to Connecticut fans for his mistake. Next up: Figuring out where to go from here. Coombs-McDaniel told the AP he was leaning toward taking his talents to Hofstra:
"I went down there last weekend and had a good trip," he said. "I like the coaches and the whole situation. The head coach is from Massachusetts. I've known (assistant) coach Wayne Morgan from since I was younger. So it's a good situation. I'll probably take Missouri out of it, because they just signed a kid. But I haven't made my decision yet."
He'd have to sit out a year at Hofstra to fulfill the transfer eligibility requirements, but the move does make some sense, especially considering Coombs-McDaniel's desire for more playing time. In any case, the kid just got a second chance. Even better, he seems to realize how important -- and how rare -- these second chances can be.
March, 20, 2011
3/20/11
12:21
AM ET
WASHINGTON -- A quick look at Connecticut's
69-58 win
against Cincinnati.


Overview:
The Huskies' improbable run through March continues as they advance to the Sweet 16 after dusting their conference foe.
Turning point:
Jeremy Lamb
drained a 3-pointer with 11:44 to play to break a 43-43 tie and ignite an 11-4 run to take Connecticut to the victory.
Key player:
As always, it's
Kemba Walker
. He didn't shoot particularly well from the floor (8-of-20) but he got to the line and there, he was perfect. Walker was 14-for-14 and finished with 33 points.
Key stat:
The Huskies beat the bigger, and presumably more physical, Bearcats on the boards, 34-22.
Miscellaneous:
The UConn big men did a good job containing
Yancy Gates
. Gates had 11 points and only 11 touches. …
Jamal Coombs-McDaniel
gave the Huskies a great boost off the bench with 10 points.
Up next:
The Huskies will face No. 2 seed San Diego State in the Sweet 16 in Anaheim. The previous time UConn headed West for a regional, it went to the Final Four. That was in 2009.
March, 10, 2011
3/10/11
2:11
PM ET
NEW YORK -- A quick look at the quarterfinal between Pittsburgh and Connecticut.
Overview
: Not a bad way to start the day.
Kemba Walker
didn't pass this time. No, he drained it at the buzzer and the
Huskies upset top-seeded Pittsburgh 76-74
.


Turning point
: Hmmm ... tough one. OK, let's go with Walker's hesitation dribble, step back, nailed jumper as time expired. That work?
Key player
: Walker. Were you expecting someone else? The kid epitomizes what this league is all about -- tough, unbelievably athletic, jaw-dropping shotmaker who also happens to be having a blast. If this is his last event the Garden (at least as a college player), he didn't leave anyone wanting. Walker scored 24, plenty of them with an off-the-chart degree of difficulty.
Key stat
: This game went the way it went because of the rebounding. Pittsburgh came to the Garden ranked second in the nation on the boards. Despite losing
Roscoe Smith
in the first half (he needed eight stitches to close a gash following an elbow to the head), the undersized Huskies went toe-to-toe with the Panthers, winning the board war 27-24.
Miscellaneous
:
Ashton Gibbs
and
Brad Wanamaker
didn't go down without a fight. The two Panthers stars scored 27 and 17, respectively. ... Freshman
Jeremy Lamb
is the perfect Robin to Walker's Batman. Aggressive at the rim and fearless, he scored 17.
What's next
: The Huskies, looking more and more like the team that opened so many eyes in November and December, hit the next mile in their marathon when they play the winner of St. John's-Syracuse in Friday's semifinal. Pittsburgh, meantime, will have to see what the selection committee decides. Odds favored the Panthers for a No. 1 seed with a good showing here, but a one-and-done could hurt them.
February, 16, 2011
2/16/11
11:56
PM ET
HARTFORD, Conn. --
Kemba Walker
picked up his dribble, had no play and decided to do something he hadn't done since he was a teenager in the Bronx.
He threw the ball up at the backboard, caught it and laid it in the bucket.
Walker has hit game-winning shots this season and scored more than 30 points seven times now, but never has he converted such a highlight in a college basketball game.
"I had never done that in a game,'' Walker said. "I had seen Kobe and LeBron do it and at that moment it was my only play. The middle was wide open so I had to make a play.''
But it was just one bucket amid his 13 field goals en route to a 31-point, 10-assist, seven-rebound effort for the Big East player of the year favorite in Wednesday night's
78-70 victory
over No. 9 Georgetown at the XL Center. He also turned it over just twice in 40 minutes of play.
[+] Enlarge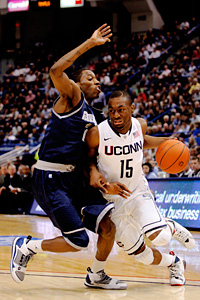 David Butler II/US PRESSWIREKemba Walker had 31 points, 10 assists and seven rebounds in UConn's win over Georgetown.
As much as Walker struggled shooting the ball over the past few weeks, he seemed to erase any doubt that he is indeed the frontrunner for conference POY.
"He's back,'' said Walker's father, Paul "Kenya" Walker. "I saw LeBron do that last night. I've seen Kobe do that all the time. [Kemba] has done that on the playground. And they throw him out, talk about that he's not the best player in the nation. You see all these defenses out there? Just because he had two or three bad games, he's out? No. He's back, he's back, tell them he's back. Trust me, he's back.''
The discussion as to whether or not Walker was indeed the league's best came about when he struggled during a stretch in which he went 5-of-16 at Marquette (0-5 from 3), 7-of-23 in a home loss to Louisville (2-10 from 3), 3-of-14 in a home loss to Syracuse (1-6 from 3), 7-of-19 in a win at Seton Hall and 4-of-16 in a blowout loss at St. John's.
But Walker found his stroke against Providence Sunday night, scoring 22 points and making an efficient 7 of 10 shots, 3 of 4 from deep.
"I'm just having fun out there,'' Walker said. "I had a big talk with [my dad] during my slump and got back to my old self. I just stopped thinking and had a good game.''
Georgetown coach John Thompson III said that the Hoyas did a poor job defensively and didn't help on the ball when Walker was coming to the hoop.
Austin Freeman
was just 4-of-13 from the field, but the Hoyas' issue wasn't on offense as
Chris Wright
made five 3s. The problems came while trying to stop the ball.
Walker had help again from
Jamal Coombs-McDaniel
, who despite averaging 4.1 points a game, had his second straight 20-plus scoring output on 8-of-11 shooting. He scored 25 against the Friars and 23 against the Hoyas.
Coombs-McDaniel and UConn coach Jim Calhoun haven't always been on the same page, but the sophomore is buying into the total team concept now and it has paid off for him.
But the Huskies still need Walker in order to win these sort of games.
"He wasn't making shots, but my belief in Kemba never wavered,'' Calhoun said. "This was big for us."
The Huskies desperately had to win this game to stay in the hunt for a double-bye in the Big East tournament. The top four only have to win three games in New York next month, instead of four. The loss snapped Georgetown's eight-game winning streak as the Hoyas dropped to 9-5 in the league, two games behind second-place Notre Dame and a half-game ahead of a slew of teams. Louisville lost at Cincinnati on Wednesday and is now tied with UConn, St. John's and Villanova for third at 8-5, but only one is going to get a first-round bye if Pitt, Notre Dame and Georgetown can hold the first three spots.
""We're in a fine place, but I can't worry about it,'' Thompson III said. "The margin is so thin in the Big East.''
In the standings he's right, with the difference between third and eighth just one game. But the margin for Big East player of the year probably isn't as close as it appeared a week or two ago. This is still Walker's to lose, as he proved once again on Wednesday night.
February, 13, 2011
2/13/11
10:25
PM ET
By
ESPN.com staff
| ESPN.com