College Basketball Nation:

Jamel McLean
March, 25, 2010
3/25/10
9:30
AM ET
SALT LAKE CITY – Kansas State would prefer to forget the last two times it played Xavier in Cincinnati.
The Musketeers would prefer to forget the last time they played the Wildcats in Manhattan, Kan.
On Thursday night, one of college basketball's most unlikely budding rivalries will be settled in the West Regional semifinals of the NCAA tournament at EnergySolutions Arena.
[+] Enlarge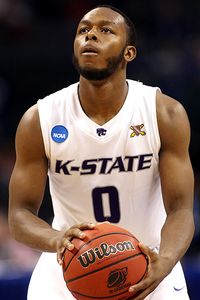 Nelson Chenault/US PresswireKansas State's Jacob Pullen still remembers a 103-77 loss to Xavier in 2007. "You don't forget things like that."
The No. 2-seeded Wildcats and No. 6-seeded Musketeers have played each other three times in the last four seasons. Xavier won the first two games at U.S. Bank Arena in Cincinnati. The second meeting, a 103-77 victory on New Year's Eve 2007, was the one that really left a bad taste in the Wildcats' mouths.
"They beat us bad my freshman year," Kansas State guard
Jacob Pullen
said. "You know, you don't forget things like that, especially when it was New Year's Eve."
The Wildcats were in their first season under coach Frank Martin, and the trip to Cincinnati was one they would like to erase from history. Then-freshman Michael Beasley and another player left their shoes in Manhattan. It was Xavier's highest scoring total in a game since 2001, and the most points Kansas State allowed in a game since 2002.
"They just really did what they wanted," Pullen said. "They laughed on the court, played around. You just don't forget things like that. So when you get the opportunity to play against a team like that, you always remember that, no matter if it's one person from that team or 10 people from that same team. [It's going to be] a little physical, you know? There's some bad blood, but it's nothing serious, nothing to start a fight about."
The Wildcats went a long way in settling the score with the Musketeers in a 71-56 victory in Manhattan on Dec. 8. Kansas State held Xavier to only 29.4-percent shooting and had a 28-8 advantage in rebounds in the first half.
"It was our first road test of the season," Xavier coach Chris Mack said. "We certainly didn't pass it."
The Wildcats held Musketeers star
Jordan Crawford
to only 16 points on 5-for-13 shooting.
"I think it was a pretty good team effort," Kansas State
Curtis Kelly
said. "I just think we did a great job on him. He takes a lot of shots. He likes to put pressure on the defense. We made him take tough shots and we made him force a lot of things that he didn't want to do."
Crawford hasn't taken many bad shots during the NCAA tournament. In Xavier's 65-54 win over No. 11-seeded Minnesota in the first round, Crawford scored 28 points on 11-for-21 shooting. In a 71-68 upset of No. 3-seeded Pitt in the second round, he scored 27 points on 9-for-15 shooting. The Indiana transfer shot a combined 9-for-18 on 3-pointers in two NCAA games.
"They do a good job of denying all five players on the court," Crawford said. "If we can just handle the pressure, get into our offense, execute, I think we can do a good job. They do a good job of taking teams off their offense. Once they get you like that, they get down with a transition and get easy buckets."
A trip to the Elite Eight is on the line this time.
"I don't think it's a real rivalry, like us and [Cincinanti] or Dayton," Xavier forward
Jamel McLean
said. "I think it's a team we have a series with. We've got them, they got us. I wouldn't necessarily say it's like a rivalry. We're about to go out there and rally up and knock each other's heads off."
Sure doesn't sound like a rivalry, does it?
February, 28, 2010
2/28/10
4:59
PM ET
CINCINNATI -- As Sunday's game against Richmond stayed tight throughout the second half and into two extra periods, Xavier senior
Jason Love
reminded his teammates during timeouts that they'd been in this situation before.
Head coach Chris Mack just hoped no one remembered that they had also lost those kinds of games.
[+] Enlarge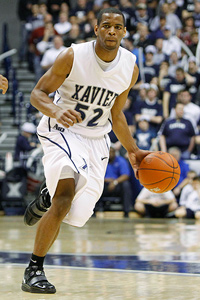 Frank Victores/US PresswirePoint guard Terrell Holloway led all scorers with 24 points Sunday.
Xavier suffered a couple of heartbreakers earlier this season, losing at Butler by one point and falling to Wake Forest in another double-overtime affair. But, hey, it's almost March, and that can only mean one thing: It's time for the Musketeers to hit their stride.
The program has won or shared the last three Atlantic 10 regular-season titles, while advancing to the NCAA tournament Sweet 16 last year and the Elite Eight the year before. A gritty
78-76 win
over No. 24 Richmond shows that Xavier is revving up at the right time again.
"In my years here, we always seem to get better toward the end," said Love, who tied a school record by playing in his 103rd victory Sunday. "It's just that time. It's winning time."
And extra time must mean it's Terrell time. Sophomore point guard
Terrell Holloway
scored a career-best 26 points earlier this season in a double-OT win over Cincinnati. On Sunday, he had 11 of his game-high 24 points after regulation ended, including the first seven points of the second bonus period.
"There's a saying in New York that when the lights are on, it's time to perform," said Holloway, who's from Hempstead, N.Y. "I think that's what happened."
Holloway couldn't even be stopped by a poke in the left eye, which turned him into a Cyclops for a pair of important free throws in the second overtime. He sank both.
Xavier needed Holloway, because leading scorer
Jordan Crawford
wore down while defending Richmond's array of back cuts and dribble handoffs. Crawford finished with 19 points, but none of them came in the final 24:29. Instead, Holloway's drives to the bucket against Richmond's switching defense became the best offensive option.
"It's sort of like that 'what' rule," Mack said. "'What, you're guarding me? You're 6-9, so I'll go around you.'"
Speedy freshman
Mark Lyons
combines with Holloway and Crawford to form a dangerous backcourt, but the Musketeers are strong up front as well. They outrebounded Richmond 47-35, with Love and forward
Jamel McLean
contributing 22 rebounds between them.
That versatility makes this team a threat once again in March. Xavier notched two solid road wins over Charlotte and Saint Louis before Sunday's game, and now it's tied with Temple for the conference lead with 12-2 league record. Temple owns the tiebreaker by virtue of a win at home in the teams' only meeting, but the Owls still must navigate a trip to Saint Louis this week. Xavier should have no problem in its final two contests against Fordham and St. Bonaventure.
So it looks like another co-championship, at worst, for the Musketeers. Boasting an RPI of 18 entering the day, they could be set up for a good NCAA tournament seed. And, perhaps, another run deep into March.
"We're doing a great job of guarding the ball now, and offensively we're getting a lot of production from everybody," Crawford said. "I think we're hitting our peak a little bit."
It is, after all, their time of year.