College Basketball Nation:

James Anderson
April, 14, 2011
4/14/11
2:06
AM ET
By
Diamond Leung
| ESPN.com
BYU junior
James Anderson
will not return to the program next season, he announced Wednesday night at the team's awards banquet.
The Cougars lose the 6-foot-10 post presence after Anderson, who is expected to graduate in the summer, decided to pursue job opportunities rather than play on a team coming off a Sweet 16 appearance.
"I know it's a little unexpected," Anderson said, according to the
Deseret News
. "I'm grateful for my time here."
Anderson averaged 7.6 minutes and 1.1 points, making key contributions to this year's team. He came up with five blocks in the win against San Diego State at home in January. And when leading rebounder Brandon Davies was suspended due to an honor code violation, Anderson started the following game and played important minutes afterward.
Anderson, who was honored along with the team's seniors, served a two-year mission and also redshirted as a freshman before three seasons of action.
BYU loses its tallest player at a time when the status of Davies for next season remains unclear. The Cougars are expected to return forwards
Noah Hartsock
,
Stephen Rogers
and Chris Collinsworth, who underwent season-ending knee surgery.
According to the
Salt Lake Tribune
, BYU could also gain depth from returning missionaries.
Lone Peak High's 6-10 Nate Austin and Orem High's 6-10 Ian Harward will return from missions in Texas and will help the team inside, provided they are not asked to redshirt.
Every bit of depth will help while Davies does not appear on the team's official roster. The program hopes that the school will ultimately reinstate him after the honor code violation prevented him from playing in the postseason.
There was one sign that Davies remains highly regarded in the program. At the banquet, it was announced he would receive the award for "Best Conditioned Post Player."
March, 20, 2011
3/20/11
1:57
AM ET
By
Diamond Leung
| ESPN.com
DENVER -- BYU fans were chanting long after the team had left the court at the Pepsi Center. Their cries could be heard inside the Cougars locker room, where a player asked
Jimmer Fredette
if he could understand the chants.
"3:16?" he asked Fredette, a reference to the famed verse of Biblical scripture.
The BYU faithful were actually chanting "Sweet 16!" The team's hearing problem was one of the few struggles the Cougars experienced as they trounced 11th-seeded Gonzaga 89-67 on Saturday. Behind Fredette's 34, BYU advanced to the regional semifinal round for the first time in 30 years.
"It's been a long time for our fans, and I'm happy, really happy for them," said BYU coach Dave Rose, pausing as his voice cracked with emotion. "I'm happy for our players, happy for our coaches, our administration. I mean, everybody is in this. We're in this together. This is a special team."
Fredette, the nation's leading scorer, delivered one of his most memorable performances, hitting seven 3-pointers and burying the Zags.
The Cougars faced many uncertainties heading into the tournament.
Leading rebounder Brandon Davies had been suspended for the rest of the season in early March after violating the school's honor code. He was relegated to the bench wearing a sweater rather than a jersey. In its first game following Davies' suspension, BYU lost to New Mexico at home. Rose told the team it needed to adjust or this magical season would soon end.
He also implemented associate head coach Dave Rice's new game plan -- a strategy that called for spreading the floor and creating chances based on driving and kicking the ball out to the perimeter.
Against an imposing Gonzaga frontline that included 7-foot center
Robert Sacre
and ultra-athletic 6-foot-7 forward
Elias Harris
, BYU did just that. Fredette scored his first five field goals on 3-pointers. He ran off screens and pulled up in transition to get looks at the basket. While Fredette was 2-for-9 from beyond the arc two days earlier against Wofford, he was 7-for-12 facing a mixture of man-to-man and zone defenses from the Zags.
"You have off nights, then you come back and have good nights," Fredette said. "Kind of the law of percentages throughout the year."
Said guard
Jackson Emery
: "Jimmer's Jimmer. He's going to score from outside, inside, you never know."
The Cougars made half of their 3-point attempts, with Emery and
Noah Hartsock
each notching three. Emery scored 11 of his 16 points in the first half while Hartsock scored 13 on 5-for-5 shooting.
Hartsock got in early foul trouble, but
Stephen Rogers
came off the bench to score 10 first-half points and
James Anderson
blocked two shots to further show that BYU isn't just about Fredette.
The Bulldogs (25-10) saw their 10-game winning streak snapped despite 17 points from Sacre and 18 points apiece from Harris and senior
Steven Gray
. Harris grabbed eight rebounds, and Sacre had seven to help outrebound the Cougars 36-27.
But after a Gray 3-pointer cut the lead to eight with 12:19 left, BYU responded with a 12-0 run capped off by back-to-back 3-pointers from Fredette and Hartsock, and eventually extended the lead to 24. Rose called this the best game BYU has played all season.
"They got points, they were physical, but we tried to be physical back with them even though we don't have the size," Hartsock said.
Not since Danny Ainge led BYU to a run to the Elite Eight in 1981 has the program experienced this level of success. The Fredette worship has become a national phenomenon. In each corner of the Pepsi Center, fans held up homemade posters and marked Fredette's points as he scored them. They left plenty of space available just in case the star senior exploded for more.
The Cougars hope to make more history during a dream season in which Emery has already broken Ainge's all-time steals record and Fredette has broken the school record for points. They'll now face Florida in New Orleans for a chance to go to the Elite Eight.
"It's stuff you've always dreamed of," Emery said. "We know we're not done yet."
March, 3, 2011
3/03/11
12:31
PM ET
By
Diamond Leung
| ESPN.com
The numbers weren't pretty for BYU.
The top-seed hopeful played at home against New Mexico in its first game without forward
Brandon Davies
and got spanked.
Jimmer Fredette
scored 33, starting center
James Anderson
lasted 11 minutes, and the Cougars lost by 18 -- never even had a lead with Lobos big man
Drew Gordon
racking up 15 points and 16 rebounds.
"We did what we wanted to do," New Mexico coach Steve Alford told the
Albuquerque Journal
, "which was beat them inside."
But it all goes beyond stats, rankings and seed lines. BYU was trying to recover from the gut punch it had received a day earlier when Davies was dismissed from the team for the remainder of the season for having premarital sex, according to the
Salt Lake Tribune
.
The past 24 hours, since Davies was dismissed, "have been difficult," Fredette said. "Brandon is one of our good players, and he is like a brother to us, family. It is tough to lose a guy like that. We just have to pull together."

Fredette said Davies spoke to the team and apologized.

"He told us everything. He told us he was sorry and that he let us down. We just held our heads high and told him it was OK, that it is life, and you make mistakes, and you just got to play through it," Fredette said.
Davies was not only a well-liked teammate -- a
BYU student recently blogged
how he was behind a prank on Fredette and coach Dave Rose -- but a man of faith.
Just last week, in fact, Davies
told BYUtv
the school was a "perfect fit" for him and couldn't even be sure if he was going to play next season while deciding on whether or not to serve a two-year Mormon mission. The 6-foot-9 sophomore was going to put off the decision until after the season, which for him is now after after a violation of the school's honor code.
"I'm still not sure," Davies said. "I'm still trying to figure out some things, but either way I think I'll be fine whatever I decide. But at this point, I'm still just not quite sure what I want to do yet."
January, 27, 2011
1/27/11
2:40
AM ET
By
Diamond Leung
| ESPN.com
PROVO, Utah -- With the game in hand in the final minute, the crowd in the Marriott Center chanted in unison, "You got Jimmered!"
Jimmer Fredette
promptly buried a floater in the lane before checking out – an appropriate exit for a player who scored 43 points and left to the sound of more cheers with the ninth-ranked Cougars cruising to a
71-58 win
against No. 4 San Diego State on Wednesday. In a game between two top-10 teams that seemed to double as a rock concert, students stormed the court with the historic 20-game winning streak of the previously unbeaten Aztecs having ended and the idol himself still lingering in their midst.
After Fredette finished with a television interview, fans pressed up against his exit route along the press tables and reached out to touch him.
"It was kind of scary," Fredette said with a laugh.
Think of how the rest of the Mountain West feels after Fredette tore San Diego State apart with an offensive showcase not seen since, well, last week. He topped 40 points for the third time in four games to boost not only his national player of the year candidacy, but also the Cougars into first place in the Mountain West.
[+] Enlarge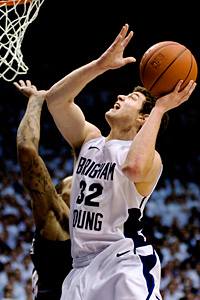 Douglas C. Pizac/US PRESSWIREBYU's Jimmer Fredette made 14 of 24 shots from the field for 43 points in a win over No. 4 San Diego State.
Like San Diego State, BYU is now 20-1 after Fredette went 14-for-24 from the field, scoring on hard-nosed drives to the basket, jump shots off his crossover, and the occasional shot from beyond the arc that's nothing more than a prayer for everyone else.
"You be aggressive, you play your game," Fredette said. "I wanted to be aggressive right from the get-go."
Fredette poured in BYU's final 15 points of the first half, but also needed help as the Aztecs led by a point at halftime.
He got it from the tough play of 6-foot-9 forward
Brandon Davies
, who scored 14 points and helped double the post.
James Anderson
came off the bench with five blocks, helping bother San Diego State's vaunted frontcourt and contain
Malcolm Thomas
(4-for-11, 10 points) and
Billy White
(3-for-9, six points).
Kawhi Leonard
had 22 points and 15 rebounds, but was feeling the effects of flu-like symptoms and given two bags of IV before the game.
Even though it came before a hostile sellout crowd of 22,700, the loss stung San Diego State, which shot only 35 percent from the field and had the nation's longest winning streak stopped cold. The Aztecs grabbed 18 offensive rebounds, but couldn't capitalize.
"We're bitterly disappointed," San Diego State coach Steve Fisher said. "It's been 10 months, two weeks since we've had that feeling [of losing]."
Fredette, whose brother T.J. fired up the crowd before the game with a Jimmer-inspired rap song entitled "Amazing," simply wouldn't let BYU lose.
And the crowd noise was deafening to the point that Fredette couldn't help but hear the "You got Jimmered" bit.
"It was a funny chant," Fredette said. "I guess they turned it into a verb … an action verb."
He said his goal wasn't to put up 40 and that while it's a big win, it's still simply a regular-season win for BYU, which still has to play at San Diego State in four weeks.
All true, but after a virtuoso performance that BYU will not soon forget, one thing could not be denied…
On this night at least, the San Diego State Aztecs were Jimmered.
January, 27, 2011
1/27/11
12:31
AM ET
By
Diamond Leung
| ESPN.com
PROVO, Utah -- A few quick thoughts after BYU pulled away from San Diego State for a
71-58 win
to take first place in the Mountain West.
Jimmer Fredette lived up to the hype. Considering the build-up to this game, it wasn't easy to do, but he did it. He scored 43 points off the dribble, on seemingly impossible 3-pointers and whenever he wanted. Finishing 14-of-24 from the field, Fredette was mobbed after the game as students stormed the court. He needed an officer to escort him off of it.
Kawhi Leonard played very well under the circumstances, as he was under the weather, vomited twice before the game and received an IV. He started, but appeared tired at times. Still, he had a Leonard-like night with 22 points and 15 rebounds. The six turnovers hurt, but the Aztecs forward should go home with his head held high.
BYU's Brandon Davies needed to have a nice game to help Fredette carry the load, and the 6-foot-9 sophomore came through. He scored 14 points, including eight early points in the first half to help take some pressure off. He also did a nice job on defense keeping the San Diego State frontcourt in check. Consider that Malcolm Thomas and Billy White scored 16 points combined. Combine that with five blocked shots from James Anderson, and the big men really stepped up to limit the Aztecs down low.
The atmosphere was incredible. Some 22,000 screaming BYU fans roared at every basket, students brought homemade signs and ran for their seats as early as two hours before the game. The crowd included Fredette's family members as well. The Mountain West was able to put its best foot forward on this night.
March, 15, 2010
3/15/10
12:30
PM ET
There have been plenty of gripes about this year's bracket, and with good reason. I'll get to those in a little bit. For now, here's a quick list of things to love about this NCAA tournament field -- besides, of course, the fact that it's an NCAA tournament field. Man, the tournament is awesome. Anyway, let's do this:
1. Midwest Madness.
In so far as one can feel bad for a perennial power with the talent, size and depth of the
Kansas Jayhawks
, I feel bad for the Kansas Jayhawks. Bill Self's team was the best in the country from the beginning of the season to its end, and though the Jayhawks had the occasional stumble, they always had the feel of last year's North Carolina team -- a team smart enough, experienced enough, and deep enough to win the NCAA tournament with nary a realistic challenger.
On Sunday night, that prediction got a little hazier. To get to the Final Four, the Jayhawks will have to beat some combination of the country's best player (No. 2 seed Ohio State), one of its hottest, most balanced teams (No. 3 seed Georgetown), the co-ACC champions, featuring one the country's toughest guards (No. 4 Maryland), Tom Izzo (No. 5 Michigan State), Bruce Pearl (No. 6 Tennessee), and the lone Big 12 team to beat them, a team with arguably the best shooting guard in the country in
James Anderson
(No. 7 Oklahoma State). This is an absolutely loaded field, rife with experienced players and tourney-proven coaches, and if I were a Kansas fan I would totally put this in the "hate" category, especially given the comfortable region afforded the third No. 1 seed, Duke. But as a fan of college basketball in general? I can't deny how excited I am to watch this region play out. I still like Kansas to make the Final Four and win it all, but with this region, anything is on the table. Anything. Who wouldn't love that?
2. Sometimes, underseeding works out.
Continuing with the "things I could also hate" theme, I give to you No. 5 Temple vs. No. 12 Cornell. Both teams are badly underseeded here, especially Cornell, which nearly beat Kansas at the Phog, which dominated its season from start to finish. It's becoming common to say the Big Red aren't your typical Ivy League team, but it's true; few Ivy League teams have the luxury of a seven-foot center who wouldn't look out of place in any of the country's biggest, most talent-rich conferences. Meanwhile, Temple deserved more from the committee after winning the regular season and tourney titles in a very good Atlantic 10. Temple is a complete, balanced team, one of the best defensive squads in the country. Cornell is as scary a No. 12 seed as there is. It hurts to lose one of these teams in the first round ... but the process of losing either ought to be the best first-round game in the entire field. I'll take it, I guess. (Wait, is that not positive enough? OK, sorry -- I love it! Yay for good first-round games!)
3. Beware the Bears.
Expect Baylor to be a trendy Final Four pick. This is with good reason: The Bears enter the tournament with the fifth-highest points per possession efficiency mark in the country. Quite simply, the Bears make their shots, rebound their misses, and don't give enough away on the defensive end to offset that potent attack.
LaceDarius Dunn
and
Ekpe Udoh
form one of the best inside-outside tandems in all of college basketball. Coach Scott Drew is a name on the rise. And so on. But the best thing about the Bears in this tournament is their draw: Making it to the Elite Eight theoretically means beating No. 2 seed Villanova, easily the weakest of the No. 2 seeds, a porous defensive team that faded down the stretch in conference play. Nothing about Baylor's half of the South region looks particularly frightening. Drawing Duke as their region's No. 1 is likewise friendly. Duke is a very good team, but it's also a team that's banished its young reserves to the bench and played its starters an incredibly high percentage of minutes the last two months. Before this draw, Baylor was merely a sexy Elite Eight pick. After this draw, the Bears should be thinking Final Four. I am.
4. James Anderson vs. Evan Turner? Yes, please.
Q.V.
note No. 1.: "Midwest Madness." I've already gone through why the Midwest region is so very awesome, but this might be the best matchup in the entire bracket. (When you have to hedge that statement with something about
Greivis Vasquez
and
Sherron Collins
meeting on the other side, you know you have a loaded region.) Turner is without question the country's best player, a versatile point guard who does the majority of scoring -- heck, he does the majority of everything -- for his likewise efficient teammates. Turner is capable of taking over a game anytime he pleases. Same goes for James Anderson, a far less-heralded but nearly as effective scorer of the basketball. Anderson's offensive game used to be a tailored version of Turner's -- lots of drives, lots of curl-screens, lots of kicks to shooters. In 2010, Anderson added the 3-point shot to his repertoire, making him nearly impossible to stop. If both teams win their first round games -- Oklahoma State might have problems with Georgia Tech, mind you -- Anderson and Turner would meet in the second round Saturday in Milwaukee. One will be guarding the other for long stretches of that game, I'd expect. Don't miss it.
5. Fast-paced basketball in Oklahoma City.
And no, I'm not talking about the Oklahoma City Thunder. Rather, if seeds hold and No. 7 seed BYU takes down its rather fluffy No. 10 first-round matchup with Florida, the Cougars will not only have won their first NCAA tournament game in ages -- they will have set up a dream matchup with No. 2 seed Kansas State. At 72.9 possessions per game, BYU is the No. 12 team in the country in adjusted pace; Kansas State is No. 31 with 71.1. Both teams feature great guards in
Jimmer Fredette
and K-State's
Denis Clemente
/
Jacob Pullen
duo, and both teams thrive on beating their opponents down the floor and hitting shots in transition. There's no chance this matchup was intentional, but three cheers to the committee here. For sheer entertainment, this second-round game will be hard to top.
March, 11, 2010
3/11/10
10:50
AM ET
KANSAS CITY, Mo. – A few quick hitters before the quarterfinals Thursday:


Texas Tech vs. Kansas, 12:30 p.m. (ET):
The Red Raiders had lost seven in a row before beating Colorado in the first round. Colorado had just put 101 points on the Red Raiders last Saturday in a win at Boulder. So clearly Pat Knight's defensive message got through as the Red Raiders held the Buffaloes to 67 points. But can the Red Raiders pull off the upset of the week by beating top-ranked Kansas? Well, the last time they met, KU stomped on Tech by 26 points. This will be an interesting test for the Jayhawks. This is a game they should win by double figures. If the focus is there, KU should walk to the semifinals. I'd like to see how
Sherron Collins
steps up his leadership role with the postseason now at hand. I don't see how the Red Raiders can keep the KU bigs, notably
Cole Aldrich
off the backboard.


Nebraska vs. Texas A&M, 3 p.m.:
The Huskers pulled the stunner of the first day with a crushing win over Missouri. The Huskers ran with Missouri and sprinted past the Tigers. But will Nebraska be able to get out against Texas A&M? Would they want to do such a thing? The Aggies probably were prepping to face Mizzou in a high-octane affair. That won't be the case now in what could be a grinder of a game. I'm not sure the Aggies would allow Nebraska to shoot over 50 percent the way it did against Missouri. I'm looking forward to seeing how
Brandon Richardson
and
Ryan Anderson
, who went off for the Huskers against Missouri get free against the Aggies.
Donald Sloan
and
B.J. Holmes
for the Aggies are two of the better guards in the conference and
Bryan Davis
' ability to board will prove vital.


Oklahoma State vs. Kansas State, 7 p.m.:
The Cowboys were able to easily beat Oklahoma with a mortal 11 points from
James Anderson
. OSU got quality production out of
Keiton Page
, who went for 24 points and
Obi Muonelo
's 15. The Cowboys also made 11 3s. Oklahoma State was one of three teams to win at Kansas State during the season. So the Cowboys go into this game with a lot of confidence. The more intriguing storyline will be how K-State handles its role as a favored player in the field.
Jacob Pullen
and
Denis Clemente
are coming off a disappointing home loss to Iowa State. There has to be some pride in play to get going on a high note heading into next week.


Texas vs. Baylor, 9:30 p.m.:
This may be the best game of the quarterfinals. It pits two teams that when they play to their potential could be playing in the championship game Saturday night, or, at the very least, the second weekend in the NCAA tournament.
Damion James
went back to being an all-American in the win over Iowa State in the first round with a 28-point, 16-rebound performance. The Longhorns got key play from
Gary Johnson
,
Avery Bradley
and
Jai Lucas
.
J'Covan Brown
only played three minutes as
Justin Mason
got the start at the point. The best news for Texas was the high percentage of shooting from
Dexter Pittman,
finishing 7-of-9 with five boards. Baylor crushed Texas last Saturday 92-77. The key will be whether
LaceDarius Dunn
and
Tweety Carter
can get free against the Longhorns, and who wins the tussles inside between Baylor's
Ekpe Udoh
and
Quincy Acy
and Texas' Pittman and Johnson. This should be an up-and-down affair at the Sprint Center.
March, 9, 2010
3/09/10
1:28
PM ET
February, 24, 2010
2/24/10
12:13
PM ET
The Atlanta Tipoff Club, which awards the Naismith each year, has narrowed its preseason list of 50 "watch" players down to the much more manageable 30 -- what it calls its midseason candidates list, even if, on Feb. 24, the whole "midseason" thing is a bit of a misnomer. But that's beside the point. The point is that we have 30 players to mull over now. True, most of the list won't even crack consideration for the final player of the year award, which is almost certainly going to go to Ohio State's
Evan Turner
or Kentucky's
John Wall
. But the tally is fun to look at anyway.
One minor quibble: The list of 30 manages to include six ACC players -- just one behind the Big East's leading seven -- without including Virginia Tech guard
Malcolm Delaney
, who happens to be leading the conference in scoring with 20.2 points per game for a 21-5 Tech team that's overcome its horrid nonconference schedule to (probably) play its way into the NCAA tournament. Nothing against
Al-Farouq Aminu
or
Gani Lawal
or
Sylven Landesberg
or
Trevor Booker
but it's hard to see how you could include those four and leave Delaney off the sheet.
Anyway, the full list is after the jump. Other quibbles? Let's hear 'em in the comments.
January, 12, 2010
1/12/10
9:25
AM ET
The Morning After is our semi-daily recap post. Try not to make it awkward.
Villanova 92, Louisville 84
: Rick Pitino had his white suit and his full-court press, but he didn't have
Scottie Reynolds
, and that's really all you need to know about Villanova's win in Louisville Monday night. Pitino's Cardinals jumped out to an early lead thanks to Pitino's trademark press defense; if you thought it would be impossible to effectively press a team like Villanova with a guard like Reynolds, you were wrong ... sort of. After Louisville built a 17-point lead on the strength of Villanova's turnovers, it was only a matter of time until Reynolds calmed the Wildcats down and got them back on track, and that's exactly what he did. Reynolds scored 16 points in the final six minutes, shot 9-for-10 from the field (including 5-of-5 from beyond the arc) and made 13 of his 17 free throws as Nova climbed back into the game and sealed a tough road victory against a good team late. If you wanted to, you could make the argument that Villanova is not quite as good as last year's Final Four team. You could not make the same argument about Reynolds.
Oklahoma 62, Oklahoma St. 57
: There were a few good reasons to tune in for Oklahoma-Oklahoma State. For one, it's a great rivalry, and great rivalries tend to be great whether the teams on offer follow suit. Second, those of you who, like me, were confused about Oklahoma's brutal first 15 games -- 9-6 with losses to VCU, San Diego, Houston, UTEP and Gonzaga even with a
projected lottery pick
in
Willie Warren
running the frontcourt -- got a chance to tune in and see just what's wrong with the Sooners. And I think I figured it out: They're enormously disorganized. That could go for the Cowboys, too; Oklahoma State got in its offense well last night but failed to make smart plays in several key situations down the stretch. But Oklahoma especially showed signs of discombobulation. Late in the game and in overtime, Warren would receive an inbounds pass and have plenty of time to get a good shot, and instead would chuck up a short-clock 3. Trying to close out the game in regulation, the Sooners completely failed to switch on a high screen and gave Oklahoma State a wide-open 3, which the Cowboys made. (After this play, as Warren turned and yelled in confusion at his teammates, I yelled: "Come on! Coach 'em up, Jeff!" I have nothing invested in the Sooners. I didn't care if they won. That was just how I felt. Lord knows what it must be like to be a hoops fan in Norman this winter.)
Oklahoma built its lead after the Big 12's leading scorer,
James Anderson
, was knocked out of the game in the second half. After watching Oklahoma for 40-plus minutes, neither this, nor its season to date, seems all that surprising.
Everywhere else
: Last night was a quiet night for big the conferences, but below
the Red Line
, things were busy. Get the
full download here
.
December, 17, 2009
12/17/09
10:37
AM ET
My musings from some of Wednesday's results:
* South Carolina, still playing without two starters, desperately needed a solid win and got one against Richmond as
Devan Downey
scored 18 points and the Gamecocks -- down eight at halftime -- outscored the Spiders 52-26 in the second half.
* Mississippi State continues to look impressive without
Renardo Sidney
. As expected, the 7-foot-1
John Riek
made a cameo for a minute against Wright State. The good news was that
Barry Stewart
made shots, scoring 21 and making 5 of 7 3-pointers.
* Butler was picked fifth in the Horizon League last season, won the conference and started this season as a top-10 team in the polls. That's not going to happen for Loyola University of Chicago. But being picked low in the Horizon must be a positive omen.
The Ramblers are 7-2 -- the best nine-game start in Jim Whitesell's six seasons -- and have already won two last-second games, including a thrilling one Wednesday night in Peoria, Ill. With his team down 12 at one point,
Courtney Stanley
hit a 3-point shot from two steps in front of the halfcourt as time expired to beat Bradley 68-65. It was Loyola's first win at Bradley since 1984, snapping a 10-game losing streak.
Earlier this season, Loyola won at Holy Cross after being down by eight with 1:05 remaining. In that game, guard
Aric Van Weelden
buried a 3-pointer as time expired. Since the start of last season, the Ramblers are 11-1 in games decided by five points or less.
* Meanwhile, north of Peoria in Chicago, Rubo Kreps continued to make life difficult for Oregon State as the Beavers were stunned by Illinois-Chicago with Kreps' driving hoop with 5.6 seconds left. UIC's only previous win was over Division III Illinois-Springfield. The team picked to finish fifth in the Pac-10 has now lost to Texas A&M Corpus Christi, Sacramento State and Illinois-Chicago.
* Speaking of the Chicagoland area, DePaul lost to American on Wednesday night. American had been 1-8 prior to the game. The game was at the Rosemont Horizon. Enough said.
* Ole Miss, down 12 with five minutes to play against UTEP, completed its third straight comeback when it rallied all the way back and then won going away in overtime (91-81). Chris Warren scored a career-high 32, including 11 in OT. It was a huge win for the Rebels, but barring a collapse, both teams should be in the NCAA tournament.
* UTEP's C-USA compatriot, UAB, had a season-changing win over Cincinnati. Elijah Millsap put up 22 and 15 for the 9-1 Blazers, who basically manhandled the Bearcats from start to finish. Even with Memphis not as dominant as usual, there can be no question that Conference USA is improved. Expect multiple NCAA bids come March.

*
James Anderson
continues to be one of the more underrated players in the nation. He lit up Stanford for 28 points and Oklahoma State beat the Cardinal 71-70 as the Big 12 improved to 9-2 in the Big 12/Pac-10 Hardwood Series. Texas A&M still has to travel to Washington.
December, 2, 2009
12/02/09
1:34
PM ET
The Big Ten/ACC Challenge will dominate the news cycle in the sport tonight, but there are other significant games that must not be ignored.
Washington State at Gonzaga
: The Cougars won the Great Alaska Shootout and were led by
Klay Thompson
's 43 points in the win over San Diego. Gonzaga, UCLA and others passed on Thompson and it turned out to be a mistake. The Zags are coming off a Maui Invitational win over Cincinnati. The Cougars could be the sleeper team in the Pac-10 if this keeps up. I've been to this game before, and it's an intense rivalry between two schools separated by 70 miles of rolling hills.
Butler at Ball State
: I know it doesn't sound too tough, but the Bulldogs are coming off two losses at the 76 Classic in Anaheim. Going to a MAC gym isn't exactly an easy task for anyone, especially with the Bulldogs desperately needing a win. This will be a big deal for Ball State, but Butler needs this game to stop the bleeding. Butler didn't have a bad loss at the tournament in Anaheim. But this would qualify as a bad loss.
Siena at Georgia Tech
: The Saints desperately need to win this game if they have any chance at an at-large berth. Siena hasn't won a quality nonconference game yet. The Yellow Jackets are hardly the type of team that will gladly bow down. Siena will have to earn this win down to the final seconds if it wants to pull off the upset. The Yellow Jackets' interior may be too tough for the Saints, though.
UNLV at Arizona
: The Runnin' Rebels are fresh off a win over Louisville at home. I had a number of coaches tell me that the UNLV newcomers, notably the freshmen, are much better than projected. Arizona didn't fare all that well in Maui, but the squad is still trying to find itself with so many new parts and a new staff. This would be a huge win for the Wildcats as they seek to be relevant throughout the season.
Cal at New Mexico
:
I wrote about this game in my Daily Word
but I can't emphasize enough how critical this is to the Lobos. If UNM can pull off the upset over Cal, it would signify to the rest of the MWC that the Lobos are a real player for the league title. Cal could use a true road win to improve its national standing. This will be one of the toughest road games it plays all season.
Dayton at Miami (Ohio)
: The RedHawks nearly beat Kentucky. Dayton took out Georgia Tech. This is a dangerous road game for the Flyers. It should be counted as a quality win because of how hard it has been to win in Oxford, Ohio.
Old Dominion at Richmond
: ODU was the preseason favorite to win the Colonial, but the Monarchs didn't pick up a high-profile win over Missouri or Mississippi State in South Padre Island, Texas. Richmond was the sleeper pick in the Atlantic 10 and has won four straight after losing to what now looks like a solid William & Mary team. This is one of those rivalry games that gets no national pub.
Western Kentucky at South Carolina
: The Hilltoppers could use a win like this to improve their stock. South Carolina should count this as a quality win if it can land it. This is a tough game for Darrin Horn, who used to coach at Western Kentucky.
Oklahoma State at Tulsa
:
James Anderson
is on display for Oklahoma State in a rivalry game that gets no national pub. Tulsa has
Jerome Jordan
in the post as its stud. This should count as a quality win for whoever can land the W.
Ole Miss at Arkansas State
: Yet another dangerous road game for a "power six" team with NCAA aspirations. ASU coach John Brady is always crafty and the Rebels won't get out of Arkansas State easily.
Arkansas at Oklahoma
:
Willie Warren
is back for Oklahoma. Arkansas is reeling. But the Sooners need to play a good, sound game after the debacle in the Great Alaska Shootout. The Razorbacks haven't proven they can be consistent.
Rice at Harvard
: Any time an Ivy League team can get a home game against a Conference USA squad, it is significant. And hey, Rice is known as the "Harvard of the South." This game is a natural.
BYU at Utah State
: The Cougars are the favorites in the Mountain West. The Aggies are the top pick in the WAC. The two schools are bitter rivals. This should be good.
San Diego State at San Diego
: The Toreros have better wins so far this season than the Aztecs. Beating San Diego State will only enhance the profile of the WCC. San Diego State needs something positive before it gets into the MWC, and losing to the nearby rival wouldn't help.
Portland State at Portland
: This is the type of game the Pilots must win -- you can't lose to Portland State after knocking off UCLA and Minnesota and getting ranked in the AP Poll. There will be a lot of eyes on this one.
Missouri at Vanderbilt
: The Commodores were just OK in Maui, but are still an NCAA-potential team and could contend for a top three finish in the SEC East. Mizzou is a difficult out no matter where the game is played. This will be a extremely tough game for the Commodores.
Utah at Weber State
: The Utes shocked Illinois in Las Vegas but now come back to reality with a tough, in-state rivalry game. Winning this game would say a lot about the Utes' improvement.
Northern Iowa at Iowa State
: Huge game in the state for both squads. UNI beat BC in the Paradise Jam while Iowa State is projected to be a top six Big 12 school. The Cyclones are in the midst of a major three-game lineup. After this game, theygo to Cal and then host in-state rival Iowa.