College Basketball Nation:

James Johnson
March, 15, 2014
Mar 15
10:15
AM ET
By
ESPN.com staff
| ESPN.com

Andy Katz discusses a great matchup in the American Athletic Conference tournament, a potential coaching job in jeopardy and the possibility that NCAA tournament games could be played in Brooklyn.
May, 18, 2012
5/18/12
2:30
PM ET
Typically, this isn't an issue. A coach is fired, a new coach is hired, and if the players committed to the old coach don't want to play for him, they are usually released from their national letter of intent --
which they don't even need to sign in the first place
-- and allowed to choose another school, no hard feelings.

That wasn't the case at Virginia Tech this week. On May 10,
Montrezl Harrell
, Virginia Tech's top recruit in the class of 2012 (
and the No. 89-ranked player overall
) decided that he wasn't interested in the Hokies after former coach Seth Greenberg's sudden firing. Tech hired James Johnson, a former Greenberg assistant, in a grasp at "continuity," but by losing Harrell and ACC All-Freshman Teamer
Dorian Finney-Smith
, that
didn't really pan out
.
Anyway, the situation should have been simple. Harrell should have been released from his NLI almost immediately. Instead, Virginia Tech dragged the process out for an entire week, offering little explanation as to why. On Thursday, the school relented,
with associate athletic director Tom Gabbard telling the Hampton Roads Daily Press
that although Johnson wanted to keep Harrell in the fold, he ultimately didn't want a player who was no longer excited about being a Hokie.
"We'd have loved to have kept him, but (Tech men's basketball coach James Johnson's) position is if the young man doesn't want to be here with us on his own part, then we won't keep him here," Gabbard said. "(Johnson) would like for him to be here, but you only get one chance in your lifetime to play college basketball. We released him yesterday." [...]
But why did it take a whole week? From Gabbard again:
"To be honest with you, (an institution) gets 30 days (from the time the release request is filed) if you want them," Gabbard said. "Not only that, it specifically says if you deny it, then he can appeal it. One of the grounds for appeal is not a change of coach. That's not recognized as a legitimate appeal.

"Having said all that, and (Johnson) feels the same way and so does (Tech athletic director Jim) Weaver, you get one shot in a lifetime to do this. If you're not happy, we don't want you to come some place you're not happy or you don't think you're going to be happy. I think if (Harrell) came here, he'd be great, but he's made a decision, and we're going to help him with it."
Gabbard's reasoning on this is remarkably similar to Wisconsin coach Bo Ryan's, who came under fire for his heavy restrictions on freshman Jarrod Uthoff's transfer list this offseason. Among other concerns, Ryan maintained that he didn't make the rule, that he was only following protocol, and that nothing he was doing was outside the rules. Which was true. But just because a rule allows coaches to restrict transfers' permission-to-contact lists doesn't mean those coaches should take advantage of it. It's a bad rule. So is the 30-day digestion and appeals process Gabbard is referring to. Yes, a school
can
wait up to 30 days to allow a committed prospect out of his NLI, and yes, a school
can
hear an appeal on the matter. Just because a school can do these things doesn't mean it should.
Harrell wanted to play for Greenberg. Greenberg was fired. This is pretty simple calculus, and something that shouldn't take 48 hours, let alone a week, to process.
Harrell is back on the market, free to explore his various options (which will likely include Kentucky and Louisville, among others). All's well that ends well, I guess. But this rule, like the transfer rule, needs to be changed. Until it is, schools should do the right thing. This is pretty straightforward stuff.
May, 11, 2012
5/11/12
1:59
PM ET
That was the hope for new coach James Johnson, one Virginia Tech athletic director Jim Weaver cited as a main reason for lifting the longtime assistant to the first head coaching position of his career: continuity.
Less than two weeks since Johnson took the job, the results are decidedly mixed.
[+] Enlarge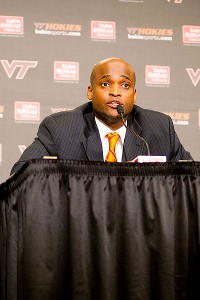 Kyle LaFerriere/US PresswireIn his early days on the job, new Virginia Tech coach James Johnson has had two promising young players opt to play elsewhere.
This week, the most promising Virginia Tech youngster in a generation -- freshman
Dorian Finney-Smith
, a top 20-ranked recruit in the class of 2011 (the No. 4-ranked small forward, behind only
Michael Kidd-Gilchrist
,
Adonis Thomas
and
LeBryan Nash
) and an ACC All-Freshman Team member in his first season with the school --
asked for a release from his scholarship
. On Friday,
per the Washington Post's Mark Giannotto
, Tech's top incoming recruit in the class of 2012 -- power forward
Montrezl Harrell
-- has asked for a release from his national letter-of-intent.
He will get that release, Johnson told the Post, because he wants players "that want to be here and are happy and excited about Virginia Tech."
As of now, you could forgive most Virginia Tech fans for falling short of that standard. One of the main reasons for hiring Johnson was, of course, the hope that Harrell and fellow incoming freshman
Marshall Wood
would decide to stand by their commitments. The good news? Last week, Wood confirmed as much. The bad news? Harrell is seen as a much more promising prospect. Without him and Finney-Smith, the Hokies lose a major portion of the frontcourt Johnson planned to develop in 2012-13. Instead, the Hokies will be rebuilding, playing with just eight scholarship players, and hoping for the best.
Of course, it wouldn't be fair to appraise Johnson's job performance yet. That sort of judgement takes years to render; it is far more complicated than the retention of two key players in the midst of a coaching transition. (And Johnson does deserve some credit for granting Harrell a smooth release and allowing Finney-Smith to transfer to any school "not in direct competition with the Hokies," i.e. anywhere that isn't an ACC school. To paraphrase "Inside the NBA's" Kenny Smith, that's a little like praising parents for taking their kids to school; you're
supposed
to take your kids to school, and coaches
should
grant players their releases. But even so, it's good to see.)
Still, the early returns on the Virginia Tech continuity project are in, and they aren't looking great. Finney-Smith and Harrell were the most important recruiting efforts Johnson could wage this early in his tenure, and neither ended up remaining with the team.
That might or might not be Johnson's fault -- reportedly, Finney-Smith was never comfortable at Tech, and had been mulling a transfer for months, and if two players don't want to be Hokies, well, what are you going to do? But however you look at it, the early results are inauspicious. Virginia Tech fans have reason to be discouraged.
And somewhere, former coach Seth Greenberg, who was so casually fired after a long and relatively successful tenure at the school, is probably wondering what all the fuss was about in the first place. It's been a tough few weeks in Blacksburg, Va.
May, 7, 2012
5/07/12
1:45
PM ET
May, 1, 2012
5/01/12
5:00
AM ET
1. The
Butler Bulldogs
and the A-10 are expected to come a resolution within two weeks, according to at least one source close to the situation. The plan would be for Butler to join the A-10 for the 2013-14 season and replace the
Temple Owls
. Butler has always been the first choice for the A-10, once the Owls were on the move to the Big East. If A-10 commissioner Bernadette McGlade pulls this off it should go down as the second most significant basketball realignment coup behind the ACC getting the
Syracuse Orange
and the
Pittsburgh Panthers
from the Big East. The A-10 would be at 14 if it gets Butler. Expanding to 16, which isn't a necessity, is the only way the
VCU Rams
and
George Mason Patriots
come into the picture out of the CAA.
2. If the automatic qualifier is done for the BCS in college football then why did the
Boise State Broncos
join the Big East? Meanwhile, the WAC could be imploding, making Boise State's move to the conference in all other sports highly suspect. The
San Diego State Aztecs
at least has its basketball program in a stable conference in the Big West while its football program is in the Big East. Boise State may have to reconsider its hoop location. Boise State's Leon Rice was at Mountain West meetings this week. The MWC invited Boise, even though the Broncos are leaving. The Big East didn't do the same with Syracuse and Pitt. Those two schools will head to the ACC meetings, even though they don't play in that league until the fall of 2013 at the earliest.
3. The
Virginia Tech Hokies
' hiring of James Johnson was a surprise, considering he was an assistant with the Hokies two weeks ago before leaving for Clemson. Johnson may very well end up being the best choice, but athletic director Jim Weaver will need to answer if this was a short or long-term solution and whether he actually did a national search. Johnson has paid his dues as an assistant but he leaps into an ACC job at a time when the Hokies can't afford to drop.
April, 30, 2012
4/30/12
1:40
PM ET
James Johnson must be one heck of an exit interview.
Just two weeks ago, Johnson was a departing assistant under former coach Seth Greenberg at Virginia Tech. Now,
per the reporting of ESPN's Andy Katz
, he's the Hokies' new head man, and the best hope Virginia Tech can come out of its surprising transition with the one thing that most concerned athletic director Jim Weaver about Johnson's predecessor: continuity.
Johnson's move to leave for Clemson this offseason -- which he carried through despite Weaver's attempts to match the Clemson deal and keep Johnson at the school -- capped off an unusual exodus of assistants from the program in recent seasons (six have left in the past four years, to be exact), and
gave Weaver the reasoning he needed to end Greenberg's nine-year tenure
with the school.
"I did not like, quite honestly, the way things unfolded with coaches leaving an [Atlantic Coast Conference] program that had the promise on the court that this program has for next year," Weaver said at last week's poorly handled, borderline-shotgun announcement that Greenberg had been fired. That spoke to a lack of continuity in the program and an apparent desire to find someone slightly more staffer-friendly -- a polite way to say Greenberg was not particularly well-liked by his assistant coaches -- and gave Weaver the impetus to spring a firing at a thoroughly unexpected time.
This late in the coaching carousel calendar, nearly a month after most vacancies have long since been filled, the move was a risk. But somewhere along the line, Johnson left an indelible impression on the Hokies' AD, and his return to the program he just left comes with its fair share of built-in advantages.
The first is familiarity: Johnson is not just a former Hokies assistant, one who has been at the school since 2007, when Greenberg had his greatest successes in revitalizing a long-dormant program into a consistently relevant entity, if not an NCAA tournament stalwart. Johnson is also a Virginia native with close ties to the state and years of experience coaching in the area at schools that have recently eclipsed the Hokies' postseason performance (including George Mason and Old Dominion). He is regarded by many in the profession as a talented, up-and-coming recruiter.
Those are the long-term reasons Weaver zeroed in on Johnson. In the short term, Johnson's hire gives Virginia Tech a much better chance of retaining its two 2012 commitments,
forwards Montrezl Harrell and Marshall Wood
. Neither player is sure to make an immediate impact, but Harrell is ranked among the ESPNU top 100 in the class of 2012 (he's the No. 18-ranked power forward, to be exact), and at the very least keeping the newcomers around should help the Hokies remain relevant in the immediate term. As Andy wrote, the Hokies "also return guard Erick Green, forward Cadarian Raines and freshman Dorian Finney-Smith to a team that should have a chance to be in the upper half of the ACC" in 2012.
That is the essential bar for this program, the one Greenberg created in his nine years at the school. Competing with Duke and North Carolina (and, in 2012, NC State and Florida State) is not always a realistic proposition. Competing for NCAA tournament berths -- as Greenberg proved, often unsuccessfully -- is. Little is known about how Johnson will manage this program and its expectations in the years to come. But if things go as planned, the Hokies won't have to go through the long, painful rebuilding process that Weaver risked when he pulled the plug on Greenberg with such short notice in late April.
All things considered, it's unlikely the Hokies could have done much better. Now it's up to Johnson to prove that the impression he made on Weaver two weeks ago is enough to justify a coaching change that ended with the first head-coaching gig of his career.
Oh, and if the head-coaching thing doesn't work out, Johnson can always hit the seminar circuit. Whatever he said on his way to Clemson, it clearly left a mark.
March, 16, 2012
3/16/12
12:01
AM ET
GREENSBORO, N.C. -- Breaking down the Friday afternoon games in Greensboro:
No. 9 seed Alabama (21-11) vs. No. 8 Creighton (28-5), 1:40 p.m. ET
Creighton loves to score in a hurry; the Bluejays averaged 80 points per game and scored 90 or more nine times this season.


Alabama prefers to play at a relative snail's pace, limiting its opponents to only 58.1 points per game, fewest in the SEC and ninth-fewest in NCAA Division I.
Their contrasting styles will meet in a Midwest Region second-round game at Greensboro Coliseum.
"It's tough for us to simulate," Creighton coach Greg McDermott said. "But we're not going to change anything that we do. We're going to shoot a bunch of 3s, we're going to try to jam it inside, we're going to try to fly it up and down the floor, just like we have played all year. You can't change anything at this stage of the game."
Why would the Bluejays change anything now? Creighton has won seven games in a row, including an 83-79 victory in overtime over Illinois State in the Missouri Valley Conference tournament championship game March 4. The Bluejays rank No. 7 nationally in scoring and they've made 42.5 percent of their 3-pointers and 50.9 percent of their shots overall.
Sophomore guard
Doug McDermott
, the coach's son, ranks No. 3 nationally in scoring with 23.2 points per game and was No. 2 in the MVC with 8.2 rebounds. He knows he'll face a stiff challenge from the Crimson Tide, who will be longer and more athletic than most opponents he faced this season.
"I've seen a lot of different defenses this year with double teams and guys just being more physical with me," McDermott said. "But I think that if they're going to put a lot of attention on me, it's just going to open up a lot of things for [my teammates]."
The Crimson Tide recovered from a 3-6 stretch in midseason to earn its first trip to the NCAA tournament since 2006. Alabama overcame the suspensions of four players and myriad injuries to win five of its final seven games. Tide forward
Tony Mitchell
, the team's second-leading scorer with 13.1 points per game, was suspended on Feb. 20 for the rest of the season. Because of the roster upheaval, the Tide used 13 starting lineups and eight in its past 11 games.
"I think that every program at some point during the year, whether it's injuries or illnesses or something, you go through adversity," Alabama coach Anthony Grant said. "I think every coach you talk to says your team's going to face adversity and [it's about] how you handle that adversity. Sometimes that adversity can come through losing; sometimes it comes through winning. But that's just a part of the game. Our team's no different. I think our guys have grown and matured over the course of the season, individually and collectively."
Who to watch:
Creighton's McDermott:
No player will get as much defensive attention as McDermott, who was named MVC Player of the Year and set a Creighton season record with 765 points. Only two other sophomores in MVC history scored 700 points in a season -- Cincinnati's Oscar Robertson and Indiana State's Larry Bird. McDermott ranked second in the MVC in 3-point shooting (49.5 percent) and scored 30 points or more in six games.
Creighton's Gregory Echenique:
Creighton's chances might come down to Echenique's ability to hold his own against Alabama's frontcourt of
JaMychal Green
and
Nick Jacobs
. Echenique, a junior from Guatire, Venezuela, averaged 9.8 points and 7.4 rebounds and led the MVC in blocked shots in each of the past two seasons.
Alabama's Green:
After returning to the starting lineup against Auburn on Feb. 29, Green recorded double-doubles in three of the Tide's final four games. He had 22 points and 10 rebounds in the Tide's 66-63 loss to Florida in the SEC tournament, the 27th double-double of his career. Green, the Tide's only senior, missed seven games because of injuries and suspensions but still averaged 14 points and 7.4 rebounds.
What to watch:
Guard play. The Crimson Tide likes to turn opponents over with a full-court press and half-court traps. The Bluejays turned the ball over 405 times -- 61 more than their opponents had in 33 games -- but senior
Antoine Young
led the MVC in assist/turnover ratio in each of the past two seasons. Gonzaga transfer
Grant Gibbs
was also among the MVC leaders with 5.1 assists per game.


No. 16 seed Vermont (24-11) vs. No. 1 North Carolina (29-5), 4:10 p.m. ET
North Carolina probably won't need forward
John Henson
to defeat Vermont. After all, No. 1 seeds are 110-0 against No. 16 seeds in the NCAA tournament.
But if the Tar Heels are going to advance beyond the tournament's opening weekend and perhaps even to the Final Four in New Orleans, they'll need Henson to return from a left wrist injury that caused him to miss most of the past three games.
Henson, a 6-foot-10 junior from Tampa, Fla., went through about 70 percent of the team's practice in Chapel Hill, N.C., on Thursday morning and then most of the Tar Heels' light workout in Greensboro. The two-time reigning ACC Defensive Player of the Year, Henson is averaging 13.8 points and 10.1 rebounds with 94 blocked shots this season.
Henson says he's ready to play for the first time since injuring his wrist in the early minutes of an 85-69 win over Maryland in the ACC tournament on March 9, but UNC coach Roy Williams isn't so sure.
"We practiced [Thursday] morning," Williams said. "John did a little more than he did [Wednesday]. We let him in some live situations. He did not shoot the ball left-handed a single time. He did not block any shots left-handed. So I'm extremely concerned about that part of it, because that's his dominant hand in a big, big way. He did block one shot, it was right-handed, and he took one jump hook right-handed and it fell about three miles short. But he felt like if the game were to be played today, he felt like he could play. I'm not convinced."
If Henson can't go, UNC freshman
James Michael McAdoo
will probably start his third consecutive game. McAdoo struggled on offense in UNC's 85-82 loss to Florida State in the ACC final Sunday, scoring four points on 2-for-10 shooting. But he grabbed eight rebounds with one blocked shot and four steals.
"We prepare both ways, prepared for [Henson] to play as well as not play," UNC senior
Tyler Zeller
said. "We don't know yet what's going to happen with him, so we have had him in for some plays. We have also had James Michael in with the first team playing a lot also. We're just trying to prepare for whatever we have and make the best of it."
Henson, who has 272 blocked shots in 106 games at Carolina, would be a big mismatch for the Catamounts, who don't start a player taller than 6-8.
"I don't think it's affecting us," Zeller said. "We would love to have John play. He's a fantastic player, a great rebounder, shot blocker, and he can score. So all-around he's a fantastic player. But we also have confidence in our substitutes, and John Michael especially, we have a lot of confidence in him to be able to step up and fit in the role."
Who to watch:
North Carolina's Kendall Marshall:
The Tar Heels point guard has 330 assists this season, an UNC and ACC single-season record. Marshall's assist total is the fifth-highest in NCAA history -- he needs only four more to move into fourth place -- and his 9.71 assists per game were the most by a sophomore in NCAA history.
North Carolina's Tyler Zeller:
The ACC Player of the Year led the conference in field goal percentage (56.9 percent) and offensive rebounds (four per game), was second in rebounds (9.7), third in scoring (18.5 points) and sixth in free throw percentage (83.3 percent).
Vermont's Four McGlynn:
McGlynn's real name is Patrick McGlynn IV, but he goes by "Four." McGlynn, a freshman from York, Pa., didn't start a game all season, but he led the Catamounts with 12 points per game. He shot 39.3 percent on 3-pointers and 88.7 percent on foul shots.
What to watch:
Pace of play. The Tar Heels average 82 points per game, which is No. 2 in NCAA Division I. The Catamounts gave up 80 points only one time in 35 games, an 80-75 loss to Long Island, which was No. 3 nationally in scoring with 81.9 points per game. Vermont held 23 of its last 24 opponents to 70 points or fewer in regulation.
December, 26, 2011
12/26/11
5:00
AM ET
1. Cincinnati was the worse offender during the on-court fight with Xavier on Dec. 10. Xavier's postgame news conference performance was worse than the Bearcats'. And since the brawl, the Bearcats clearly have done more with less than the Musketeers. Yes, the competition was tougher for Xavier than Cincinnati, but the Bearcats seemed to have found themselves during the suspensions. Their offense is running smoother and been more productive. Meanwhile, Xavier was dysfunctional during a three-game losing streak (to Oral Roberts, Long Beach State and Hawaii) before it was snapped Sunday with a victory over Southern Illinois in Hawaii.
2. Virginia coach Tony Bennett has the Cavaliers playing their best basketball of the season. The Cavs swept a trip to the Northwest with victories over Oregon and Seattle. But then Bennett came home to two defections in
K.T. Harrell
and
James Johnson
. Bennett said the issues were playing time. If that's it, then it's another example of players not having any patience. The departures hurt the Cavs' depth but it shouldn't stop the momentum. UVa is off to its best start under Bennett at 10-1 and is clearly the third-best team in the ACC so far.
3. The Diamond Head Classic announced its 2012 field Sunday and it has one if not two teams that should be ranked when the tournament opens next year. Arizona and San Diego State are the two headline teams and may be the respective picks to win the Pac-12 and MWC, respectively, in 2012-13. Missouri Valley contender Indiana State, Miami (Fla.), Ole Miss, Texas Tech, San Francisco and Hawaii round out the field. Hawaii will represent the Big West in next year's field. The Warriors are in the WAC this year, which allowed a Big West team — Long Beach State — to be in the 2011 field. But now Hawaii will be the one Big West rep in the tournament from 2012 forward.